Holding Things in Residential Refrigerator and Cabinets in RV
by Kathie
(Dacula, GA)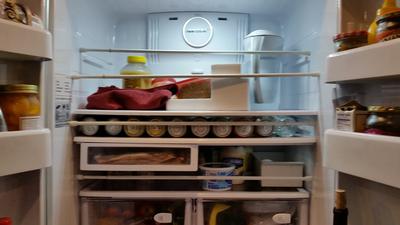 We have a 2015 Fleetwood Bounder and the residential refrigerator and the cabinets are not the sizes of the current expandable shelf rods.
I bought expandable drapery rods at Walmart that fit my refrigerator so that I am sure the things that are in there are not shifting around so they will fall out when I open the doors after we have been on the bumpy roads.
I also bought a clear jar of tiny bungee cords at Walmart that I have knotted two together to create the correct length for all the shelves in all the cabinets in our RV to keep things from falling out at me when I open the doors. I can take them off easily because I put in small eye screws on the sides of the shelves at whatever height I need them to secure the tall items that seem to shift when we travel down the roads. When we are setup for several days, I just remove them and throw them into the drawers or place them on the shelves until we are ready to travel again.
Kathie -->