You have finally made your dream come true and got yourself a recreational vehicle (RV) and are looking for ways to make it more comfortable and home-like. Add our top pick, the Dometic 310 Series Standard Height Toilet to your RV, and you will not have to look for pit-stops at every corner.
Nothing puts a fear in someone in transit than a bathroom emergency. Kids hollering that they need to go and adults squirming in their seats make even the hardiest traveller tremble. Therefore, it is vital that your RV comes fitted with a toilet especially made for the use in a vehicle, and one immune to any bumps on the road.
Our top pick, the Dometic 310 is easy to use, easy to clean and takes up hardly any space, making it a perfect choice for an RV toilet. Dometic is a well-known and trusted name when it comes to RV products. Therefore, it is no wonder that the top pick on our list also goes to a Dometic. The Dometic 310 comes highly recommended from RV, boat and camper van owners, which is why we thought of testing it out. It came no surprise to us that it passes all tests and won first prize.
The Dometic 310 is very easy to install and even easier to take care of. No more feeling like you have to do your business in a bucket. This product is quite comparable to a regular house toilet.
Thetford is another brand which RV owners swear by. Therefore, it was no surprise that the Thetford 31672 Aqua-Magic V Toilet made our list. Thetford has many a happy customer claiming its virtues and when rallying up their final scores, it lost to our top pick only by a margin.
If our runner up option is on one end of the RV toilet scale, our step up pick, the Thetford 38264 RV Toilet is on the other end. It even costs more than ten times what the Thetford 31672 Aqua-Magic V Toilet. If you are looking for something which doesn't say temporary convenience and like to experience luxury in your toilet, then our step up pick is for you.
Table of Contents
The comforts of home on the road
Whether you want to travel the world, but do not want to leave the comforts of your home or whether you find yourself in circumstances forcing you to, an RV or a motorhome is the way to go. There are many types of moving homes such as RVs, camper vans, trailers, so on and so forth.
When you are on the road for days on end, you want everything that makes your living comfortable right where you are. A comfy sleeping arrangement, kitchen and cooking equipment, cozy living quarters and the most important of all a good toilet are key when it comes to living in a motor home. Let us for a moment focus on an RV toilet, why is it so important?
If you are traveling long distances, it might always not be easy to find a convenient washroom. And to add it all, you might not even be comfortable using the toilet in a strange place. Which is when the importance of having your own RV toilet becomes imperative.
Why Hygiene Matters?
When it comes to an RV toilet, for any toilet for that matter, hygiene is paramount. You want something that does not leak, flushes well and does not spread bacteria. Because an RV is an enclosed limited space, infections can spread among its occupants in the blink of an eye.
To top it all, imagine having to live in a small space which smells like a toilet. Thus, when it comes to an RV toilet, the first thing you need to keep in mind is hygiene.
What to look for in an RV toilet
The little things that you should be considering when buying an RV toilet and what we looked for when compiling our list go hand in hand. So here we are discussing these criteria in detail.
As discussed before, hygiene is the most important factor to consider when buying a toilet for your RV. This was number one in our scoring system too. Features which ensured proper coverage from leakage and odors played a huge role when we were considering toilets for our list. You should pay attention to those little details too.
When we did out testing to compile our list for you, we also looked at the following criteria. Ease of installation. Especially if you have stopped midway because you are having toilet trouble you need a new RV toilet which is easy to install.
We also looked the sizes and styles a toilet came in. People of different statures need toilets of corresponding sizes and when picking a toilet, we all want something which will match our personal style. Then we looked at all extra amenities the toilet came with. The kind of flushing system it had so on and so forth.
The last feature we considered was the price, meaning that the price had to match the product on offer.

Our Top Pick: Dometic 310 Series Standard Height Toilet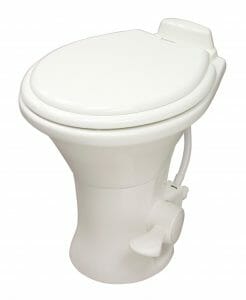 Dometic 310 Series Standard Height Toilet
If this is your first RV, we strongly urge you to consider installing our top pick, the Dometic 310 as your toilet. It will get you off to a great start. You will feel like you are actually at home and not at all as if you were using a portable toilet. Unlike other RV toilets in the same price range, this one is made of Porcelain, this is indeed quite a deal.
When we tell you that the Dometic 310 simply is the best, just don't take our word for it. We will give you good, no make that great reasons.
The model we have chosen for you is the one with the standard height. If you want another model from the Dometic 310, you can have your pick from three more designs, the low profile, the low profile with the hand spray and the standard height with the hand spray. They also come in two color choices, white and bone. Thus, there is a choice for everyone.
When talking about installation, it takes very little time to install this toilet. In fact, if you are handy with your tools, it will take less than thirty minutes to install it and you're ready to go. It also has a foot pedal for flushing and in unlike other RV toilets, the flush is quite strong, cleaning out the bowl well while it flushes.
For anyone who has had issues with lower toilets making your knees creak and uncomfortable to sit on, the height of the Dometic 310 will come as a relief. Because the bowl is made of porcelain, it will sturdier than plastic models and you will not worry about falling out.
If you are more curious about the Dometic 310, you can read all about it in this RV Must Haves article.

Flaws but not deal breakers
The only issue we had with our top pick, the Dometic 310 was that we felt the toilet seat did not match the porcelain bowl when it came to quality. The seat is plastic with ridges to keep it in place making it feel somewhat flimsy. We also understand that anyone with a bit of weight might find the plastic toilet seat a bit of a problem.
However, when compared to the other attributes of the Dometic 310, this a minor flaw and one which can be easily fixed by simply attaching a different toilet seat.

Our Runner Up: Thetford 31672 Aqua-Magic V Toilet

Thetford 31672 Aqua-Magic V Toilet
Our runner up, the Thetford 31672 Aqua-Magic V Toilet is pretty good. And it's great value for money. It's easy to install and easy to use.
The Thetford 31672 Aqua-Magic V Toilet is actually an upgrade from Thetford's earlier version, Aqua-Magic I which itself was very popular among RV owners. This is the reason this one became our runner-up option. The Aqua-Magic V does not quite hold up to the hype as much as the old Aqua-Magic IV did, making some customers who switched from the old version to the new unhappy.
Other than that, it is very easy to install and comes to you packed with all the necessities for proper installation. There is no need to purchase a single item separately. Everything, including gaskets, flanges and anything else you need come to you with the toilet.
The foot pedal flush is very easy to work. When pressed halfway, the toilet bowl gets flushed halfway and when the foot pedal is pressed all the way, the toilet gets a nice strong flush. This model also comes with color options and height options. You can purchase in either of the high or low models and in white or parchment color.

Our Step Up Pick: Thetford 38264 RV Toilet

Thetford 38264 RV Toilet
Our step-up pick, the Thetford 38264 RV Toilet does not look like an RV toilet. For one, unlike conventional white, bone or parchment, our step up pick is black. For the other, it simply looks sleek. And how much are you willing to pay for this sleekness?
It is made of porcelain. It can be mounted on the wall, which is undoubtedly more aesthetically pleasing. The control of the toilet is done with the push button. The flushing mechanism is extremely quiet so that in close quarters such as an RV or a camper van, it will be a blessing in disguise, not alerting the whole neighborhood when you've used the toilet. This is due to the Tecma Silence Plus 2 mode it comes with. It must also be noted this toilet is an Italian made one with European styling and comes in a 12 V high size.
The Thetford 38264 RV Toilet comes with an extremely efficient waste transfer system which means that you can affix it to any holding tank anywhere. It has also been designed in such a way to save water as you are on the go. If we were to talk about water pressure, our step up pick is capable of pumping 120 feet of water with a rise of eight feet. This also comes equipped with a water pump for your convenience.
In addition to all these features, the Thetford 38264 RV Toilet comes with a two-year warranty. This top of the line RV toilet is a perfect choice for an RV already fitted with modern amenities guaranteeing the comfort and convenience of its passengers.

For RV Luxury
After telling you about the luxury that is our step up pick, we thought that it might be time introduce to you a few more RV toilets which can be considered top of the line. If their prices are any indication, they are good choices for anyone looking to updates the amnesties in their RVs.
Thetford 19801 Bone Aria Classic High Profile Toilet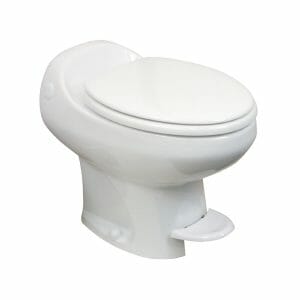 Thetford 19801 Bone Aria Classic High Profile Toilet
Here's another classic from Thetford. Looking at this and our step up pick, we sure can see why people turn to Thetford time and time again for their RV toilets.
The Thetford 19801 is a residential size high-profile RV toilet. In comes in bone color and is made of premium china. For your ease of use and convenience, it has a single-pedal pulsating flush.
Saniflo 023 SANICOMPACT 48 One-piece Toilet with Macerator Built Into the Base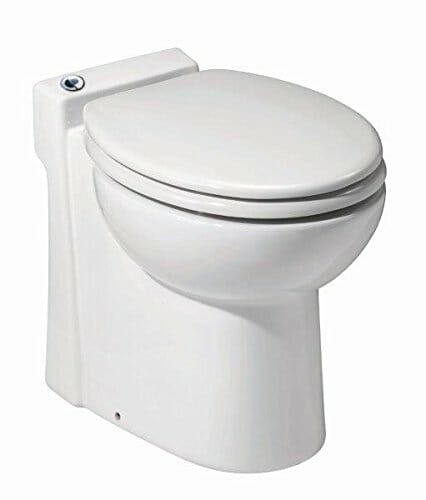 Saniflo 023 SANICOMPACT 48 One-piece Toilet with Macerator Built Into the Base
The Saniflo 023 SANICOMPACT is a good toilet choice for not only RVs and homes on wheels but also for smaller residential spaces where bathroom space is limited. It does not require breaking of concrete or laying down new piping if you are installing it at home. If you are installing it in an RV, you will find the task even easier as there is hardly any plumbing to be considered. It has been designed along modern design concepts and utilizes vitreous china polypropylene as its base material. It is a self-contained macerating toilet which by design itself is very water efficient.
It serves as a space saver not only because it of its compact size, but also because it has been built to handle the influx of both the toilet and a sink if you need. It also uses only one gallon of water per flush.
The Saniflo 023 SANICOMPACT is also very easy to install and come to you with stylish chrome hinges.
RV toilets with hand spray
It is no secret that having spray on a toilet can be a Godsend. Some RV toilets do not come with an affixed hand spray and you need to buy one separately if you wish to add a hand spray to your toilet. But to us, it felt easier to buy toilets with attached hand sprays and we thought you might take to this idea too. Therefore, we have listed below a few RV toilets with hand sprays for your perusal.
Dometic 320 Series Standard Height Toilet with Hand Spray

Dometic 320 Series Standard Height Toilet with Hand Spray
Our top pick was the Dometic 310 series which we have established is the best RV toilet there is. But we are happy to tell you that Dometic does market other models which are if not just as great, then quite good. The Dometic 320 series is one such product. However, it also comes in three other variants out of which two do not come with hand sprays should you decide to choose one.
The Dometic 230 also comes in white and bone colors and is made of 100% vitreous ceramic. The toilet itself is residential size with an elongated and deep bowl. The flushing is done with a foot pedal situated on the side of the toilet. The pedal has to be pressed partially to add water to the toilet and pressed fully to flush fully. And because the flushing is pressurized, you can be sure 360 degrees of deep rim cleaning. Even for such deep cleaning, this RV toilet uses as little as one pint or half a liter of water each flush.
The installation process of the Dometic 320 is also quick and easy as it is a two bolt installation. The toilet seat that comes with the seat is a standard seat, but you have the option of upgrading your seat if you would like another better. The product comes with a two-year protection plus warranty. If you want an RV toilet which does not look like an RV toilet, this is one of your best bets.
Thetford 31667 Aqua-Magic V white Toilet with Hand Flush

Thetford 31667 Aqua-Magic V white Toilet with Hand Flush
The Thetford 31667 Aqua-Magic V white Toilet with Hand Flush is actually another version of our runner-up option, the Thetford 31672 but the Thetford 31667 is sold as a separate model. IT has all the features of our runner-up pick and in addition, it also comes with a hand spray.
Unlike the Thetford 31672 however, the Thetford 31667 does not come in two sizes. It is not made in the lower size but is only available as a standard sized high toilet. The high profile seat with an added two inches to the base is great especially if you have elders who might find it difficult to sit down on lower toilet seats. For your ease of use, it also features a single handle flush, which when partially pressed adds water to the toilet bowl and flushes it fully when pressed fully.
The Thetford 31667 is also extremely easy to install as it comes to you with all the necessary parts for installation. It also comes to you with a three year Thetford toilet warranty.
Dometic 300 Series Standard Height White Toilet


Dometic 300 Series Standard Height White Toilet
Here's another little gem from Dometic. We have already covered the Dometic 310 and 320 series which we love, and we know for a fact that other customers love too. This particular RV toilet we are about to discuss is the previous version of the 310 and 320 and is called the Dometic 3100 series.
This version also comes in four models, the low profile, the low profile with hand spray, standard height, and standard height with hand spray. It can also be ordered in white or bone color. This RV toilet is a residential style one so that you will feel like you are back at home even when you are in your camper van. In addition, the flush pedal it comes with is very easy to use and extremely convenient. The water level in the toilet bowl is adjustable ensuring your ease of cleaning the toilet.
A while back, the Dometic 300 series seemed to be a few issues with leakage which the manufacturer was quick to rectify and compensate any affected customers by replacing (in some cases upgrading) their toilet free of charge.
As long as your previous toilet had not been installed on a raised platform, there should not be a problem replacing it with this toilet. It offers a two-bolt quick installation with an efficient water connection. The Dometic 3100 also comes with a two-year protection plus warranty just like other products offered by Dometic.
Aqua-Magic Residence High Profile White RV Toilet


Aqua-Magic Residence High Profile White RV Toilet
Yes, we do realize that we seem to be oscillating between Dometic and Thetford. That is because they are the leading manufacturers of RV toilets and offer amazing ranges of products. To add to that list, here's another by Thetford, the original Aqua-Magic.
This particular Aqua-Magic version comes in white. It comes in two sizes.
This toilet features a full-size residential seat to ensure your maximum comfort. It can also be customized to suit the owner style and theme of the bathroom. It is also a lightweight toilet, the high profile version only weighing 9.5 pounds. The single pedal flush is powerful and covers the toilet bowl 100%. It also comes equipped with a ball valve which wipes clean with every flush. There is also the option of purchasing a hand spray should you need one, which is how this toilet was included in this particular list.
One small detail to remember is that though this is a residential style toilet, it is still made of plastic and if you were looking for a porcelain or ceramic toilet this might not be the one for you. This toilet is also rather easy to install as it comes with all the necessary accruements for quick installation.

Regular RV Toilets
While we have included some regular standard type RV toilets in the list above, here you can find some with no frills and easy on the budget if that's what you are looking for.
Camco 41541 Portable Toilet

Camco 41541 Portable Toilet
Here's what you need to know. If you are either in a hurry or are really low on cash, you might want to consider buying a portable toilet for your RV. But it should be something that is easy to carry and provides protection against leaking because there is nothing worse than having a leaky toilet in a motor home.
The Camco 41541 Portable Toilet is all this and more. To start off with it can be ordered in two sizes depending your needs. It comes in 2.6-gallon and 5.3-gallon sizes. Then it can also be ordered in two styles, premium and standard. The version we are talking about here is the 5.3-gallon standard portable toilet.
Here's why we like this toilet. The 5.3-gallon holding tank is detachable from the toilet for easy disposing of waste. After disposing of the waste and cleaning the holding tank, it can then be attached to the toilet with side latches. There is a side valve which needs to be sealed so that odors are locked in there is no leakage. And even after continuous usage, there are no odors leaking from the toilet. If you are worried, you can easily use the deodorizing pack the toilet comes with. There is a small pedal type attachment at the base of the toilet for flushing.
As many a happy customer has found out, one of the best things about this portable toilet is that the fresh water is stored separately and does not leak at all.
Thetford 42058 Aqua Magic Style II Toilet

Thetford 42058 Aqua Magic Style II Toilet
We are ending our list with another product by Thetford, namely the Thetford 42058 Aqua Magic Style II Toilet. Unlike the previous Aqua-Magic toilet we talked about this one has a lightweight china bowl and comes equipped with an anti-bacterial seat which is very easy to clean. This particular version also comes in high and low sizes and white and bone colors.
In Conclusion
You have to go when you have to go. There is no doubt about that. Whether you live in your trailer or go globetrotting in your RV, you need a comfortable and sturdy toilet which is easy to clean. Our top pick, the Dometic 310 Series Standard Height Toilet ticks all these boxes.
It comes at the right price and is an amazing deal as it comes with a porcelain bowl. It flushes great and cleans easily. It has many models to choose from so that you can pick the one which fits your RV the best. It also comes with amazing reviews and almost all the customers who purchased it had only good things to say about it. If you are in the market for an RV toilet, look no further than our top pick, the Dometic 310. It will help you do your business that much easier.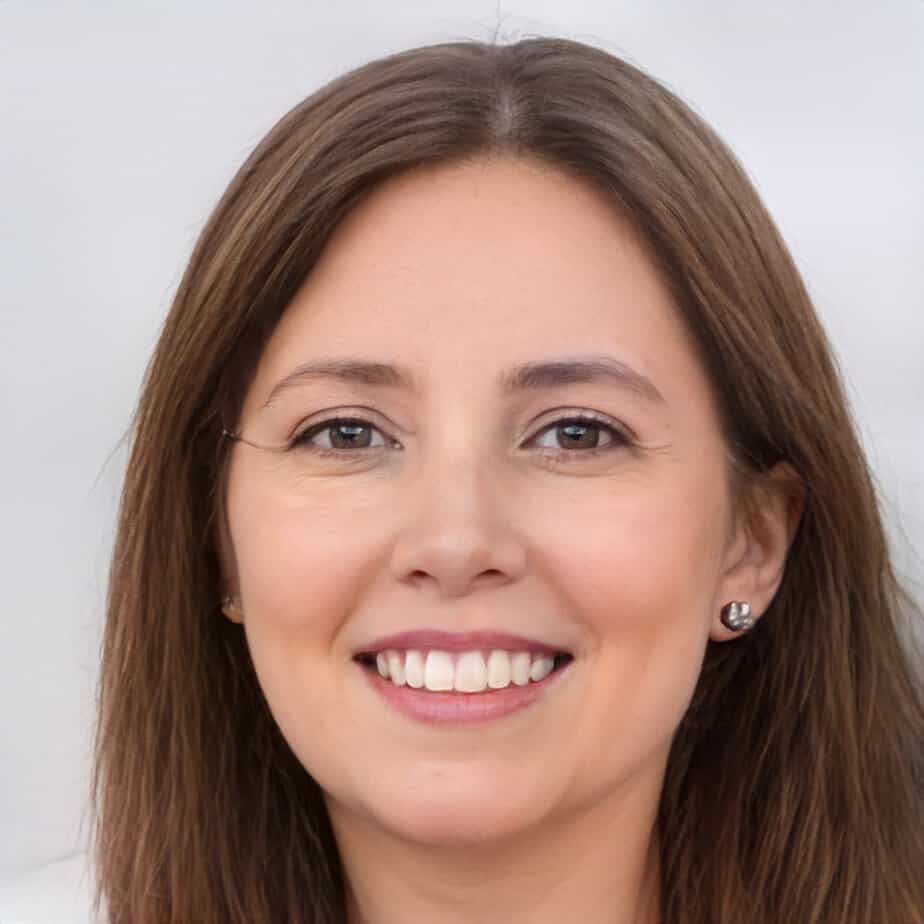 Jill Miller is the founder of Your RV Lifestyle. Trading corporate America for the open road, Jill, along with her partner Jose, began their RV journey, making an unconventional start by wintering in New Jersey. A natural adventurer, she was motivated by a desire to explore the USA and beyond, embracing the varied landscapes, communities, and cultures across the country.
For Jill, the allure of RV living was not about material accumulation, but rather the pursuit of an adventurous, fulfilling lifestyle. A lover of golf, bicycling, hiking, and line dancing, she has carried her passions across the country, engaging with them in diverse settings. Jill's commitment to the RV lifestyle came after years of careful research, numerous consultations with RV owners, and personal trials, including living in a rental RV.