Hitting the open road and exploring new places in the comfort of a motor home can be greatly enhanced with hot water for showering and dishwashing. A traditional water heater with a tank can take up valuable space and add weight to your rig, so a tankless water heater is a great option.
What is a Tankless RV Water Heater?
A tankless RV water heater, also known as an RV-instant-hot-water-heater is an on-demand system for heating water. Instead of heating an entire tank of water, a tankless water heater heats the water as it runs through the pipes as soon as you flip the hot water faucet on.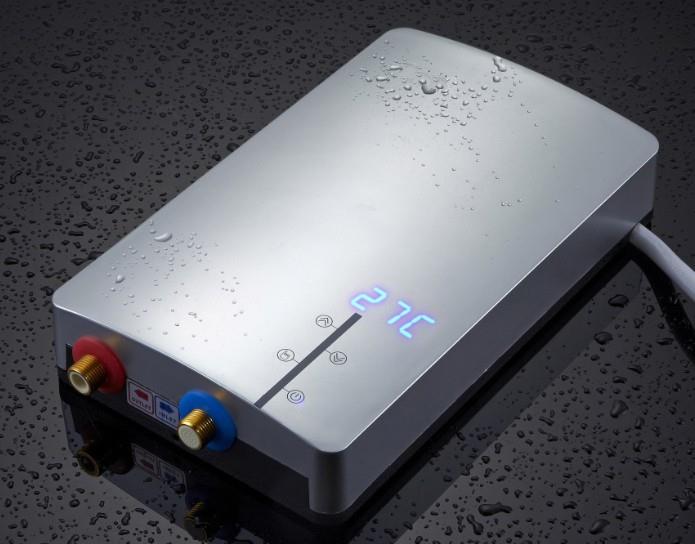 Tankless Computerized Geyser Water Heating Systems by IGeyser / Wiki Commons / CC BY-SA 4.0
What are the Advantages and Disadvantages of a Tankless Water Heater?
There are advantages and disadvantages to tankless water heaters – let's take a look.
Advantages of a Tankless Water Heater
Unlimited and instant hot water
Efficiency – a tankless water heater does need to be left on all the time to get hot water
They reduce the amount of weight on your RV
Require less maintenance than a traditional water heater
Super easy to use
Disadvantages of a Tankless Water Heater
Tankless water heaters only heat with propane
The water needs to run for a bit before the tankless water heater kicks in
It is expensive to change a traditional water heater in an RV to a tankless water heater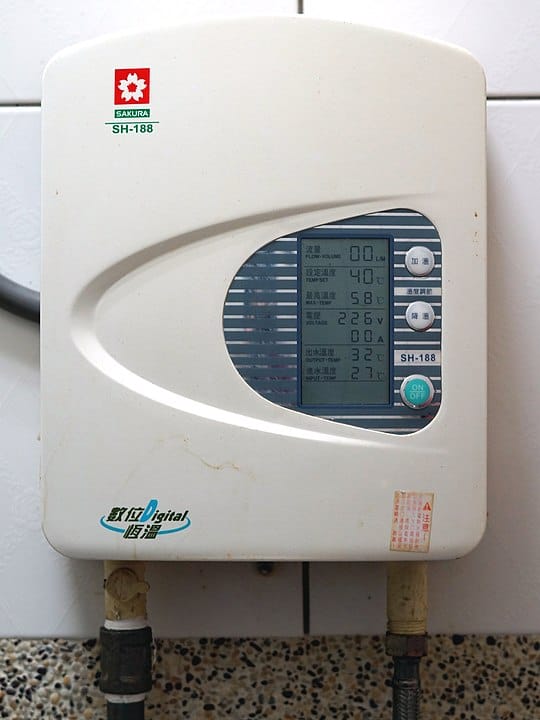 A tankless water heater does need to be left on all the time to get hot water. Tankless water heater by Solomon203 / Wiki Commons / CC BY-SA 4.0
Best RV Tankless Water Heaters
We tried and tested tankless water heaters and here are the top units on the market.
Best Portable Tankless Water Heater: Camplux 5L Tankless Propane Gas Water Heater
The Camplux 5L Tankless Propane Gas Water Heater is one of the best portable tankless water heaters on the market. The propane heater is powered by two D-size batteries and can deliver 1.32 gallons of hot water per minute on-demand.
Weighing 10 pounds, the water heater comes with a five-foot gas regulator and five-foot shower head and has a carrying handle built-in, so it can be used as a portable or mounted to the exterior of the RV. It comes with oxygen depletion sensor protection, so it can be also installed indoors where it is well ventilated.
The Camplux 5L Tankless Propane Gas Water Heater has no warmup time and shuts off automatically when the water temperature reaches 176 degrees Fahrenheit, so can only be used for showering and not for boiling drinking water.
It has a low water pressure operating range of 3.0~110.0 PSI, an operating propane gas pressure of 0.4PSI, and a maximum power output of 30,000btu/hour. It can be used on modified water systems with a 12-volt water pump.
Pros
Can be used as a portable, indoors, and mounted to the exterior
Battery-operated ignition
No warmup time
Oxygen depletion sensor protection
Cons
Peak temperature too low for boiling drinking water
Water pump sold separately
Best Built-In Propane Tankless RV Water Heater: Girard 2GWHAM
Built to last and engineered to deliver a reliable supply of hot water, the Girard 2GWHAM is a top-notch RV tankless water heater with 42,000 BTU of heating power. The water heater has an anti-freeze function that automatically starts when temperatures drop below 37 degrees Fahrenheit and a 12-volt system powers the ignition of the heater. It is easy to self-install, and it has a quiet brushless motor, making it very quiet.
Pros
Easy to install
Self-start anti-freeze function
Very quiet
Operates at less than 3 amps
Cons
Cover door sold separately
Some users report circuit board issues
Best Built-In Electric RV Water Heater: Bosch Electric Mini-Tank Tronic 3000-T
The Bosch Electric Mini-Tank Tronic 3000-T heater is a small water heater that can store up to seven gallons of water which is very needed. The heater runs on 120-volt AC power (1440 watts) and provides a temperature range of between 65- and 145-degrees Fahrenheit, so it cannot be used to safely boil drinking water.
Pros
Compact and neat
Stores up to seven gallons of water
Runs on 120-volt AC
Wide temperature range
Cons
No readout of the current temperature
Not hot enough to safely boil drinking water
Power must be hard-wired
Best Built-In Hybrid Gas/Electric RV Water Heater: Suburban Manufacturing 1236.2037
The Suburban Manufacturing 1236.2037 is a superb hybrid tankless water heater that offers exceptional durability and flexibility. The heater can operate on both electricity and gas and is manufactured from steel with a porcelain lining, making it extremely durable. The tankless water heater features a 12-gallon tank with a 12,000 BTU rating and a full tank of water that can be heated in less than 30 minutes.
Pros
Flexible and durable
Solid steel construction with porcelain lining
Heats full tank in under 30 minutes
Cons
No thermostat to adjust the temperature
Quite large– may be too large for small RVs
Door and remote switch sold separately
Expensive
Best Budget Portable RV Water Heater: EZ 101 Tankless Water Heater
The EZ 101 Tankless Water Heater is a propane-powered portable tankless water heater that comes at a very good price for the features it provides. Two D-cell batteries power the ignition of the heater, and the propane only burns when the faucet for the heater is turned on and off, saving energy and reducing the impact on the environment.
If the tankless water heater is being used inside the RV, a 20-minute timer automatically turns off the heater to reduce the risk of carbon monoxide poisoning. Three dials on the front of the unit adjust temperature and water flow.
Pros
Great price – budget-friendly
Built-in safety and energy-saving features
Easy controls for water flow and temperature
Cons
Susceptible to freezing in cold temperatures
Long-term reliability concerns
Top Pick: Furrion 2.4GPM Tankless RV Gas Water Heater
The Furrion Tankless RV Water Heater is a tough and durable tankless water heater that is engineered for durability and performance on the road. Using Furrion VibrationSmart technology and components designed to withstand intense vibration encountered by uneven terrain, you can comfortably explore off-road without causing any damage to your water heater.
The Furrion RV gas water heater has been engineered with advanced safety features including a pressure relief valve, over-temperature protection, blower block protection, and automatically shut off when the water temperature exceeds safe limits. It features Vortex technology that consistently mixes water to your desired temperature. Designed with the highest quality materials, the Furrion can be retro-fitted to any size RV.
Pros
VibrationSmart technology
Advanced safety features include an over-temperature protection
Vortex technology consistently mixes water to the desired temperature
Can be retro-fitted
Two-year warranty
Cons
Top Pick: RecPro RV Tankless Water Heater
The RecPro RV Tankless Water Heater is an on-demand water heater that immediately begins to heat the water when the faucet is turned on. This tankless water heater has a forced exhaust structure that keeps the air inside the RV clean and safe and a dust net that keeps out dirt.
Pros
On-demand heat technology
Forced exhaust structure for safety
Dust net for keeping the tank clean
Top Pick: Fogatti Tankless RV Water Heater
The Fogatti Tankless RV Water Heater is a tankless RV water heater with a heating capacity of 55,000 BTUs and 3.5 gallons per minute. It has a digital wall-mounted remote controller, so the unit can be controlled from inside the RV and the entire unit is covered by a two-year warranty.
The Fogatti Tankless RV Water Heater delivers instant, endless, and consistent hot water on demand with ultra-energy efficiency provided by propane gas. It has advanced safety features such as antifreeze, overheat, and overpressure protection, flameout, and troubleshooting diagnostic codes.
Pros
On-demand hot water technology
Digital wall-mounted remote controller
Safety features
Two-year warranty
Cons
Frequently Asked Questions
How does a tankless water heater heat water instantly?
Simply put, the flow of the water triggers the heater to turn on when the faucet is opened. The powerful elements in both electric and gas tankless water heaters turn on and rapidly heat the water as it passes through the unit. The time it takes to heat the water is directly related to the distance the hot water has to travel from the water heater to where hot water is being used. When the faucet is turned off, the burners or elements then shut down. Tankless water heaters use less energy than regular water heaters as the energy that is consumed is only for the hot water that is being used.
What are the advantages of a tankless water heater?
These types of water heaters are very energy efficient and eco-friendly as the energy that is consumed is only for the hot water that is being used and there is no water wastage. There is no constant heating and reheating of stored water as there is no storage of water.
How much money can I save?
Tankless water heaters can be great money-savers, depending on several factors, such as what the size of your current water tank is, whether it runs on electricity or gas, and the model, allowing you to dramatically reduce your energy consumption and save between five and 69 percent of your hot water bill.
Can a tankless water heater freeze up?
A tankless water heater can freeze if certain precautions are not taken when the temperatures drop below a certain level. Most indoor and outdoor tankless water heaters have built-in freeze protection against temporary winter temperatures ranging from -5 degrees Fahrenheit to -22 degrees Fahrenheit.
How do you winterize a tankless water heater on an RV?
To winterize your RV tankless water heater, you need to take the following steps:
Unplug or turn off the power to your tankless water heater.
Shut off and disconnect the water supply to the inlet of the unit.
Disconnect the outlet and let the water drain into a bucket or dish below.
Use compressed air to blow any remaining water out the internal pipes.
Is it safe to leave my RV water heater on all the time?
It's safe to leave your RV water heater on all the time, just like at home. You'll want to make sure that there is always water in the heater and that it is turned off before moving your RV.
How often should I drain my RV water heater?
You should drain your RV water heater at the end of every season, anytime it's stored for more than two weeks, or if there's a possibility of it freezing.
Should I run my RV water heater on gas or electricity?
You can choose to leave your water heater on or switch it off between uses. However, it is important to note that leaving a propane heater running will empty your fuel tank pretty quickly. Additionally, leaving an electric heater on runs the risk of burning or frying an element should your tank somehow become empty.
How long should an RV water heater run?
Your typical RV water heater will run for about 30 minutes in total to heat all the water in a freshly filled tank.
What maintenance is required on a tankless water heater?
Regular maintenance on your tankless water heater will keep it in good condition. The following steps can be taken to keep the tankless water heater in tip-top shape:
Flushing the system – the water heater should be flushed at least once a year
Cleaning the air filter – the air filter inside the water heater needs to be cleaned regularly
Cleaning the water filter
Cleaning the tank
How long should a tankless water heater last?
Gas-burning tankless water heaters should operate for 20 years or more, two or three times longer than tank-type heaters. Tankless electric units have shorter life spans, on the order of 7 to 10 years.
What are the pros and cons of using a tankless over storage water heaters?
Buying a tankless water heater is necessary for a lot of reasons. It is one of the best energy efficient home units for supplying heated water for bigger families. It is less space consuming and cheaper. Plus, it helps you save water by storing less than 2 gallons of hot water at a time. Sometimes not even then. (6)
Pros:
Consistent water supply: With the help of faucets, a tankless water heater flushes out cold water in order to supply continuous hot water. This is the only way on-demand water heating systems can offer a constant supply of hot water without the use of storage tanks.
Durable: These units are designed to last for a longer time than tank water units. This is a noteworthy advantage because most tankless water heaters last for longer than 10 years, requiring maintenance less than 5 times in a decade.
Cost-saving: Maintaining tank water heaters is costly and if you've used them for more than 2-3 years, you should know that the maintenance costs increases from there. On-demand water heaters are more efficient than standard units. They help you save more than hundreds in maintenance annually.
Less space consumption: This goes without saying that tankless water heaters take up much less space than tank heating systems. If you want to avoid bulky storage systems, installing on-demand units on walls is a better option. The best part about using such units is that they can be installed almost anywhere in your home.
Efficient: Being energy and performance efficient, the best tankless water heaters qualify for financial tax credits which is good for cutting back on installation costs.
No standby loss: If you've used a storage water heater, you've definitely heard of the term "standby loss." Standby loss is when a unit re-heats water in breaks to make sure the water is hot when you use it. This continuous re-heating of water contributes to energy loss which digs a hole in your energy bills. But this isn't the case with tankless water heaters because they're an immediate on-demand service.
Immediate hot water supply: In the best tankless water heaters, you're never going to run out of hot water to use. That's because these units do not have to rely on storage tanks for supplying continuous water and the hottest temperature.
Dual models: With tankless water heaters, you get both electric and gas-powered models.
Warranty: Such units also offer extended warranties on all of its components including the pipeline. So, in case of damage or improper performance, you do not have to pay additional maintenance costs.
Good for smaller houses: Lastly, on-demand heating systems are best for smaller homes with minimal hot water demands. Opting for tank heating systems for a studio apartment, for example, would be a complete waste of money as tank units are built for bigger families with versatile hot water requirements. Plus, you would find it hard to find a suitable place to fit the tank in as most studio apartments or smaller homes come without a common basement or extra storage space.
Cons:
Irregular water temperature: If there's one thing you need to be concerned about when choosing the best tankless water heater, it should be inconsistent temperature.
Higher installation cost: Installing an on-demand unit is expensive because you need specialized service for proper installation. When you're budgeting the initial costs for the tankless water heater, make sure you feed in the labor costs too.
Limited water supply: What this means is that if you're going to use hot water in your kitchen, you won't be able to take a shower at the same time. Most models accommodate only a single use at a time because of the limited storage space in tankless models.
Additional equipment: During installation, you might have to spend an extra amount of buying specialized equipment such as a water softener, recirculation pump, and other tools for enhancing the performance of the unit. This adds to the overall cost of the best tankless water heater.
Gas heaters are costlier: If you buy a gas-powered water heater, you need to spend extra on installing a separate gas line, which requires better venting- this adds to the cost of the unit.
Need more service attention: On-demand units have prone to sediment build-up more often than tank units. This depletes the unit's efficiency which has a direct effect on flow rate and temperature consistency. Hence, tankless water heaters need more attention for enhancing efficiency and performance than tanks do.
Slower hot water supply: It's true that for some tankless water heater units you need to wait a few minutes before you get a continuous supply of hot water. This isn't true for tank units. Tank units keep the stored water heated and ready for use.
Does the tankless water heater work if the power is out?
No, a tankless water heater- be it natural gas or propane- needs constant electric supply. An on-demand unit works after getting powered by the electric panel board to activate the heating element. Most units come with sensors that detect constant power supply to activate the burner which heats water as it passes through the system. The standard power outlet of most electric water heaters is 120V AC.
If you experience power outages very often, opting for a storage tank model is essential. However, you can opt for other power sources such as solar energy to power specific types of water heaters. You can contact your professional plumber for hooking up the new model. For a non-electric model, natural gas or propane, a solar source would push the unit to work for some time.
Can I repair the tankless water heater on my own?
If you've read this entire guide, you must now be aware of the fact that a tankless water heater takes a long time to make up for its initial cost in maintenance. So, with routine maintenance you can avoid paying more for maintenance. The process to repairing a tankless water heater is simple and quick. Here's what you need to know. (7)
Things you need:
A bucket
Sump pump or submersible pump
2 gallons of white vinegar
A hose
Some pliers
Instructions:
Make sure all the water inlets and outlets connected to the unit are turned off.
Turn of the circuit breaker off, if you have a gas-powered heater.
Pull the pressure relief valve off.
Add the white vinegar into the bucket and place the sump pump in it.
Hose the water inlet toward the submersible pump and connect both of them.
Hose the pressure-relief valve and allow it to pass to the bucket.
Make sure to pump the vinegar through the unit for 20 minutes. This is good for preventing any scale build-up and mineral build-up in your heater.
After 20 minutes, turn the pump off and remove the inner filter housing of the unit. Clean all the filters or replace them with new filters, if needed.
Remove all the vinegar residue from the device by pumping out the heater into the bucket.
Run clean water through all the valves of the unit with the help of the submersible pump. Use the same method as before.
Turn the power switch on after a minute or two.
If the water is getting too hot or isn't hot enough: Make sure you have set your desired temperature to the ideal degree, which is between 105 to 120-degrees. This is the recommended temperature for hot water. If you have pets or a baby around, you can reduce the temperature down to 90 to 100-degrees for safety. Another reason why the water must be irregular is dirty or clogged filters. You need to flush out your water heater (follow the instructions above) to ensure smooth performance of the unit.
If there's no hot water at all: Make sure the power supply to the unit is consistent and working. And make sure the switch board is kept a few meters away from the unit for preventing heat build-up or moisture. You can also inspect the unit's shut-off, inlet, and outlet valves to make sure the minimum flow rate is consistent to activate the burning element of the unit.
Does size matter?
When you buy your first tankless water heater, size is important. The best way to size a tankless water heater is as follows:
Determining the right flow rate
Make sure you know which faucets and devices you want to connect to the water heating unit. The flow rate of the tankless water heater unit, which is measured in gallons per minute, gives you your desired water flow. A better way to understand this step is with an example:
If you want to connect your tankless water heater to the kitchen faucet and, simultaneously, to the shower head, you need a consistent flow rate. The ideal flow rate of a shower head is and should be 2.5 gallons per minute. And the ideal flow rate of a kitchen faucet is somewhere between 0.7 to 1.5 gallons per minute. If you'd like to have to option to run both the kitchen faucet and the shower head together, that makes the unit's flow rate at around 3.2 to 4 gallons per minute. On the other hand, you can install low-flow fixtures to reduce the flow rate demand for water heaters.
The flow rate of a water heater is directly associated with its size. For stronger flow rates, you need a bigger unit.
Determining the right temperatures
The temperature of the water running from the water heater to your shower head and faucet must be consistent and strong. For example:
In warmer climates, your water temperature is most likely to be higher than normal. Based on studies, the average water temperature rise for heaters is 105 to 110 degrees. And the average temperature of un-treated water is 50-degrees. So, you need a temperature rise of about 50-degrees from the desired unit.
When you co-relate both measures, a standard water heater provides 2.6 gallons of water should be around 104 to 106-degrees. Let's take an example to better understand the relationship of water temperature with flow rate.
If you want to run to shower heads at a time when your water temperature is at around 50-degrees, you need a 50-degrees raise of water temperature from the tankless water heater unit to meet the ideal 104-degrees temperature. So, you will need a unit that is able to produce a 50-degrees rise in temperature and has a running capacity of at least 5 gallons per minute.
Does price matter?
Determining the right price before buying is essential when looking for on-demand water heating systems. Many people think that tankless water heaters have a basic task which is to make water hot, so price is not the deciding factor for them. That may be right for other on-demand appliances, but not for on-demand water heating systems. You need to know the type of heaters you're going to get based on the price you're willing to pay for it. We've narrowed down each budget for you so you can make an informed decision.
Under $100
Buying under $100 dollars means buying the lowest priced tankless water heater on the market. There are plenty of models to consider under this price range, but not many to rely on. This is because low prices often come with feature or performance limitations. For example, propane-powered on-demand heaters often work in warmer climates only. And they're often designed for tap water heating and not shower. This can be used in sinks all over your house. But you're going to need something much stronger for hot water showering. That said, some lower priced models often come with complicated installation, especially those that are gas-powered. Keeping that aside, buying under $100 is not a bad idea unless you don't know exactly what you want. When you do, you can choose the features you won't rather than compromising for price.
Under $150
Yes, $50 can be a huge difference when it comes to buying the best tankless water heater. This slightly higher price range can give you models that are best for fewer home showers. You can also buy electric tankless water heaters with less exhaustive power consumption on a day-to-day basis.
Under $250
Most electric tankless water heaters fall under this price range. Here you will find comfortable and quick installation, energy efficient, faster performance, and durability. Models that are under $250 offer hot water on-demand and must be within 50 feet of use. Such models are good for smaller homes where each room has its own bathroom. It also helps when you want hot water in your kitchen sink that's close to another bathroom. That way, you won't need two separate on-demand heaters when you can install one within 50-feet range.
Under $500
Twice as expensive as our previous price range, models under $500 are both gas-powered and electric. They offer excellent water flow rate and come with special features such as battery indicator, temperature settings, and automatic shut-off features. If you want something durable and efficient to use, you might find models best suited for you in this category.
Under $2000
Models under this price range are experts when it comes to providing on-demand hot water and strong flow rates. You can get hot water from multiple outlets, at the same time, and with temperature settings. Brands that sell models at this price are often backed by impressive customer service and extended warranties.
What are the common problems of water heaters?
As with any appliance, tankless water heaters come with their own performance baggage. Such systems use minimum storage space and have maximum performance value. Hence, when replacing convention heating systems with tankless systems, it's important to be aware of the following problems and how to address them.
On-demand heating systems often are slow or inconsistent: This is a major concern among tankless water heater users. Models often fail to provide consistent water temperatures. A quick solution to this would be to request a plumber to install a recirculation pump to the main unit. With a recirculation pump, the water that's heated by the water heater comes out hot from the very beginning and continues to recirculate for as long as the tap or faucet is running. This ensures consistent hot water temperatures.
Difficult or incomplete installation: Old-school water heaters that were tankless were often too complicated to install. So, switching from tank to tankless water heaters was often frowned upon by homeowners. But since recent times, reputable brands are adopting new ways to install pipes and knobs on their units. For example, one unit has the hot and cold-water tap placed on the top rather than the base of the heater. This simplifies the water flow from the top to bottom of the tank. Using flexible pipes whenever possible is also a good way to tackle complicated installation. Flexible pipes are much more efficient, durable, and portable than PVC pipes.
Tankless water heaters require constant maintenance: This may be true for lower-priced models that require constant cleaning and unclogging. But newer models are often backed by durable standards which allow them to remain maintenance-free for at least 1 year until they need to be serviced. The most common problem that requires maintenance in heaters is scale build-up. This happens in homes that use hard water. Hard water decreases the efficiency and flow rate of pipes, unless they're maintained properly. With the help of isolation valves, maintaining and cleaning pipes emerging from tankless water heaters is much simpler and easier for homeowners. You no longer have to spend money on hiring a plumber to get the job done.
Tankless water heaters save space and money for the long run. You can buy based on capacity, type, flow rate, or even price. But almost all on-demand water heaters come with maintenance costs. A good way to make sure you do not spend more than necessary on such systems, look for models with warranty. This means buying from a top-tier brand with excellent customer care service.
Make sure the unit you buy has a warranty and you are able to read each pointer on the warranty beforehand. What parts of the tankless water heater are under warranty and how often can you schedule a servicing appointment with the brand's customer care? Asking these questions, whether you're buying from a physical store or online, is necessary. It helps you cut backs costs and reduce power consumption of your home.
Why is flow rate important in tankless water heaters?
The flow rate is the most important factor in a tankless water heater. We've already mentioned the importance of determining the flow rate of a heating unit multiple times in this guide. The flow rate is the total amount of water, measured in gallons per minute, that flows through the water heater. Most modern heating system manufacturers will give you the maximum flow rate and minimum flow rate of their models.
The minimum flow rate is the minimum water requirement that is enough to activate the heating element of the heating system. The least amount of water flowing through the unit whilst getting heated is somewhere between 0.1 to 0.9 GPM.
The maximum flow rate is the maximum water requirement that is good for supplying hot water to different taps and faucets. This measure can be determined by consumers while keeping in mind the number of faucets you need hot water in. Flow rate is directly affected by temperature in such a way that if the unit needs a lower temperature rise, then the flow rate of that unit would be fast. And if the unit needs a higher temperature rise to meet the desired hot water supply, then the flow rate of that unit would be slow. This is because the unit takes a longer time to heat the water in the latter than the former.
Here are the standard GPM requirements for home use:
| | |
| --- | --- |
| USE | Gallons Per Minute (GPM) Flow Rate |
| Shower Head | 2.0 – or higher |
| Kitchen Sink | 1.0 – 2.0 |
| Dishwasher | 1.0 – 2.0 |
| Bathroom Sink | 0.5 – 1.5 |
| Washing Machine | 1.0 – 1.5 |
| Dishwashing (by hand) | 1.5 – 3.5 |
This concludes why flow rate and temperature rise is important when choosing the best electric tankless water heater on the market. For families, water heating usage per month helps you save energy costs for the whole year. And by calculating the typical hot water consumption of your home you can buy a more energy efficient yet powerful on-demand heating system. (8,9)
Wrapping it Up
After finalizing all tankless water heaters reviews, we have found our best pick of the year – the Stiebel Eltron Tempra 24. It is an electric and energy-efficient contender that is German engineered to perfection. With water control and temperature control features, this helps maximize performance and durability. It turns out that the Stiebel Eltron translates your cost into savings over the years by minimizing maintenance and energy costs. Isn't that great?!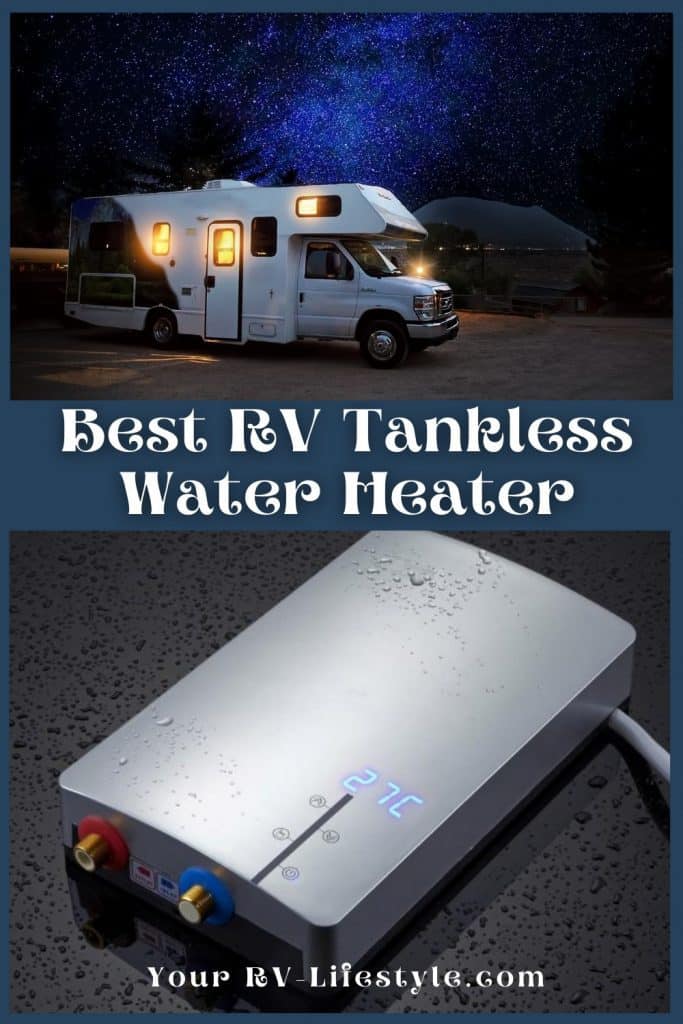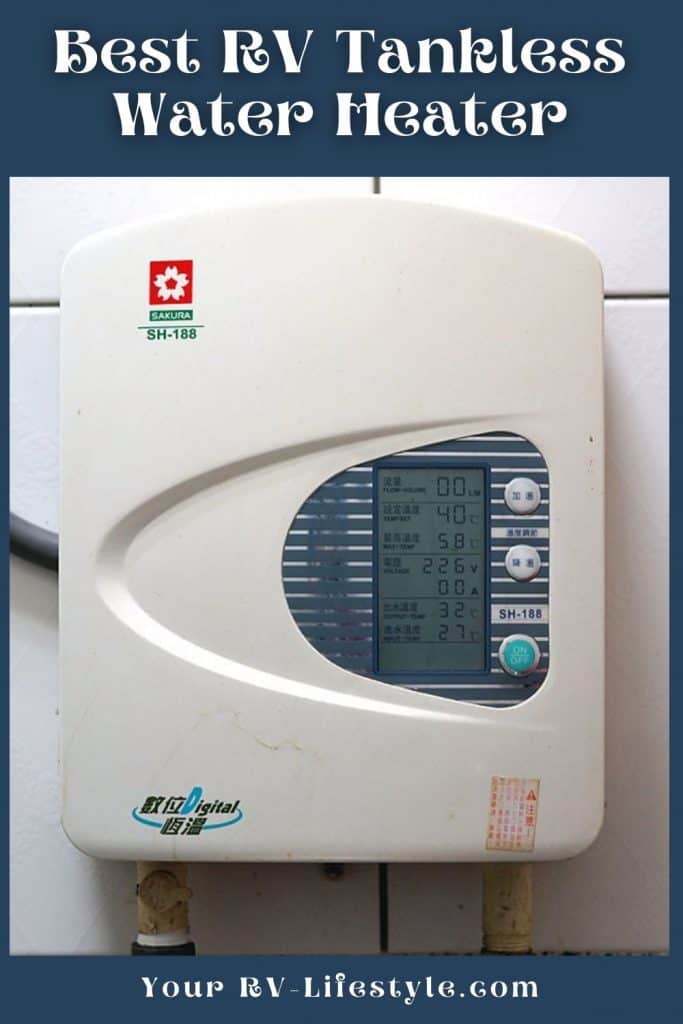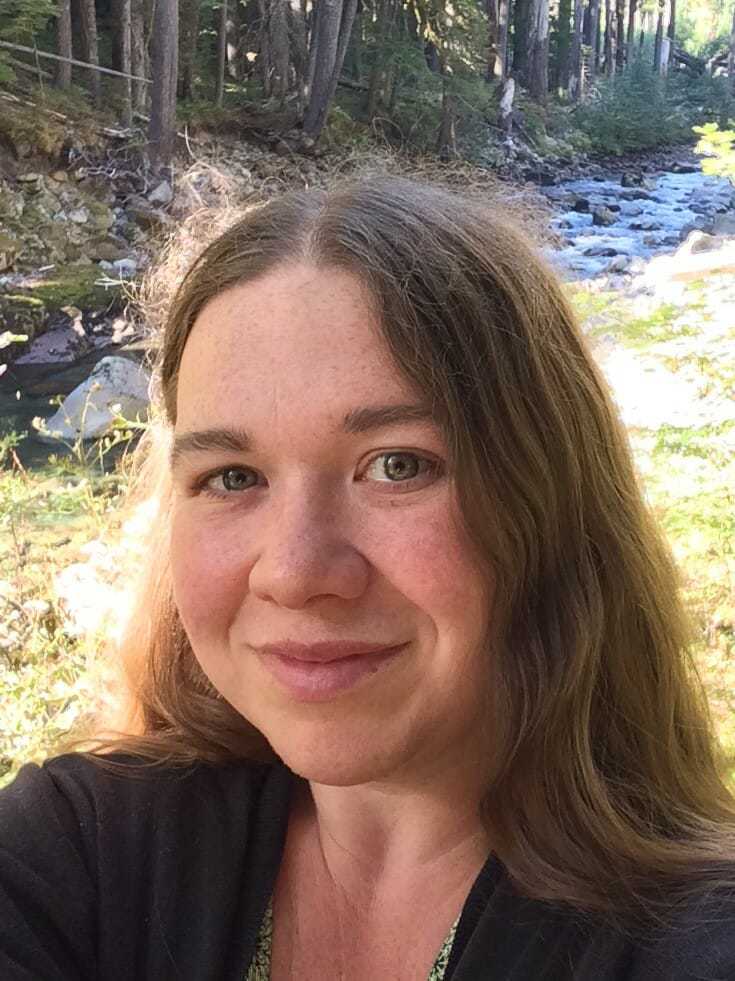 Elizabeth Waddington has an MA from St. Andrews University and a Permaculture Design Certificate. She is a green living consultant, with a passion for sustainable travel, permaculture and the natural world. She lives in rural Fife, just north of Edinburgh, close to the Firth of Forth on the east coast of Scotland.
No stranger to RV travel, Elizabeth has travelled all over Scotland, the UK and beyond in search of natural wonders in her RV. Her camping adventures have taken her to the Grand Canyon, up the Pacific Coast of the US, to Yellowstone National Park, the Grand Tetons and to explore the wonders of Utah. She has travelled extensively in the Pacific Northwest, and around New England. In Europe, she has taken trips through much of the western part of the continent, travelled up to Norway, and down through Romania and Bulgaria to Istanbul. She looks forward to further eco-friendly adventures.