Lapped by the Atlantic Ocean, South Carolina is known for its shoreline of beautiful sub-tropical beaches and marshy sea islands. Tucked between the sandy beaches of the coast and mountainous foothills upstate, South Carolina boasts over 180 miles of picture-perfect coastline, spectacular beaches, and family-friendly beachfront resorts, as well as many state parks and recreational areas that offer an array of outdoor activities and adventures. So, jump into your RV and start exploring these amazing South Carolina beach campgrounds.
Edisto Beach State Park
Home to Carolina's longest system of hiking and biking trails, Edisto Beach State Park is a fantastic family-friendly place to soak up the beauty of South Carolina's southern coast.
Located near the town of Edisto Beach in Colleton County, the oceanfront state park features campsites for tents and RVs nestled along the shaded maritime forest or set along Edisto Island's waterfront, as well as rustic furnished cabins in the woods.
Campsites have water, sewer, and electric hookups, picnic tables, fire pits and grills, and access to comfort stations with hot showers, flushing toilets, and drinking water. Activities in the area include excellent fishing, kayaking, hiking, and biking.
8377 State Cabin Rd, Edisto Island, SC 29438, United States, Phone: +1 843-869-2156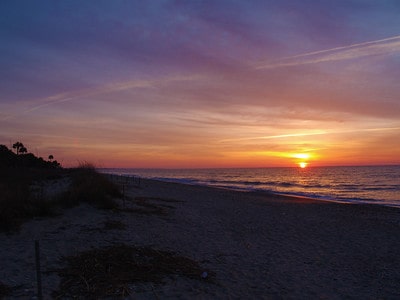 Edisto Island Beach State Park by Danie Becknell / Flickr / CC BY-NC-ND 2.0
Huntington Beach State Park
The coastal park of Huntington Beach State Park boasts beautiful beaches, wetlands, and riparian habitats that teem with marine life.
The park is home to famous landmarks such as the spectacular Grand Strand Beach, the picturesque, Moorish-style winter home of Archer and Anna Hyatt Huntington, after which the park is named, and the Brookgreen Gardens.
Huntington Beach State Park Campground offers sites for tents and RVs with water, sewerage, and electrical hookups, picnic tables with charcoal grills, and easy access to restrooms with flushing toilets, drinking water, and hot showers. Several nature trails like the Kerrigan Nature Trail and the Sandpiper Pond Nature Trail have viewing decks where visitors can learn about the local fauna and flora.
16148 Ocean Hwy, Murrells Inlet, SC 29576, United States, Phone: +1 843-237-4440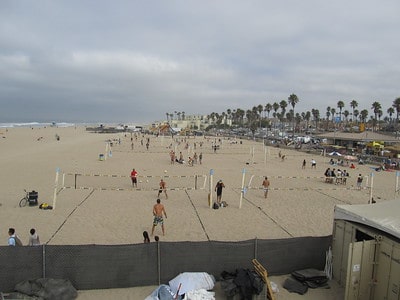 Huntington State Beach, Huntington Beach, California by Ken Lund / Flickr / CC BY-NC-ND 2.0
Myrtle Beach State Park
Located in the heart of the Grand Strand, Myrtle Beach State Park is a small state park along the South Carolina coast that stretches along the Atlantic Ocean and features several miles of pristine forest.
The 312-acre oceanfront park features saltwater aquariums, interactive natural history displays, and live animal exhibits and plays a significant role in preserving the natural heritage of South Carolina's coastline.
Myrtle Beach State Park Campground has 302 sites for tents and RVs full of individual electricity and water hookups, picnic tables, fire pits, and access to comfort stations with showers, toilets, and drinking water. Campsites are shaded in a forest of pine trees and are a short walk from the beach.
4401 S Kings Hwy, Myrtle Beach, SC 29575, United States, Phone: +1 843-238-5325

Myrtle Beach State Park by Colette Eshleman / WikiCommons / CC BY-SA 4.0
Ocean Lakes Campground
Located in the Grand Strand Area, Ocean Lakes Campground offers multiple lodging options, including various sized RV parking spaces, as well as single-family houses available to rent. The campground boasts a wide range of amenities from a two-acre family fun center with a large swimming pool area, a water park, a games center, a mini-golf course, and a café. There are also laundry services, a general store, a nature center, bicycle rentals, and an RV sales and supplies store onsite.
Outdoor activities range from hiking, mountain biking, cycling, swimming, fishing, beachcombing, and kayaking, as well as volleyball, ping-pong, and other fun family-friendly games. A recreation center can be used for all kinds of celebrations and often hosts craft fairs, bingo evenings, and dances, so you will always be entertained!
6001 S Kings Hwy, Myrtle Beach, SC 29575, United States, Phone: +1 843-238-5636

Myrtle Beach, South Carolina by The ed17 / WikiCommons / CC BY-SA 4.0
Lakewood Camping Resort
Set on a beautiful half-mile-long beach, Lakewood Camping Resort offers RV sites as well as vacation rentals with over 1,300 sites boasting full hook-ups, picnic tables, fire rings, water and sewerage disposal, and daily trash removal. There is free Wi-Fi around the campground
Amenities at the campground abound and include a stunning beach where you can stroll, swim, sunbathe, and fish, as well as a full-sized water park with two swimming pools, and watercraft rentals for use in the sea, and bike rentals. There is a general store, a laundromat, a coffee house / café, an ice cream parlor, and several food trucks selling delicious fare.
5901 South Kings Hwy, Myrtle Beach, SC 29575, Phone: 843-238-5161

South Myrtle Beach by Loadmaster (David R. Tribble) / Wikicommons / CC BY-SA 3.0
Myrtle Beach Travel Park
The Myrtle Beach Travel Park is another campground in the Grand Strand area and offers spacious RV sites, as well as travel trailers, and villa rentals. On-site amenities include a heated indoor swimming pool, a large outdoor swimming pool, a lazy river with tubes, a games arcade, a fishing lake, a camp store, and a pavilion at which religious services are held.
Recreational activities in and around the campground range from basketball, volleyball, and horseshoes, to cycling, beachcombing, and fishing. There is also a playground for the kids, a laundromat, and a snack bar, and multiple events are hosted at the campground during the year for extra entertainment.

Myrtle Beach has plenty to do from relaxing on the beach during the day to spending the evening in the amusement park.
Myrtle Beach KOA
Located within walking distance from some of the most famous Myrtle Beach attractions, Myrtle Beach KOA is a family-friendly campground set in a park-like setting full of shady trees next to a tranquil lake. The campground has multiple campsites for RVs and tents, as well as cabin rentals, and amenities include a swimming pool, fishing in the lake, a dog park, bike rentals, and a pavilion for events.
Other facilities and services include an on-site theater, a beach shuttle, a playground for the kids, a splash pad and a jumping pillow, and a doggie daycare for fur babies. Various food options are available, including a bar and grill and a pancake breakfast every weekend morning in the summer months.
613 5th Ave S, Myrtle Beach, SC 29577, United States, Phone: +1 800-562-7790

North Myrtle Beach, South Carolina by Loadmaster (David R. Tribble) / WikiCommons / CC BY-SA 3.0
James Island County Park Campground and Cottages
The James Island County Park Campground and Cottages have 124 campsites for RVs with full hookups, water and sewerage, and waste disposal, as well as 10 cottages available for rent. The campground has 24-hour staffing, free Wi-Fi, laundry facilities, a general store, and a round-trip shuttle service to the downtown Charleston visitor center, and Folly Beach County Park.
The 643-acre James Island County Park is home to one of the only water parks in Charleston called Splash Zone, which has one of the tallest outdoor climbing facilities in South Carolina. Features in the park include a spray fountain, saltwater fishing and crabbing, bicycle and kayak rentals, an 18-hold disc golf course, hiking trails, large playgrounds for all ages of children, and an off-leash dog park.
871 Riverland Drive, Charleston, SC 29412, Phone: 843-795-4386

Folly Beach, South Carolina by Brian Stansberry / WikiCommons / CC BY 4.0
Mt. Pleasant/Charleston KOA
Located on the grounds of historic Oakland Plantation next to Isle of Palms, Shem Creek, Daniel Island, and Patriot's Point, the Mt. Pleasant/Charleston KOA campground is set amongst huge mossy oak trees and a peaceful landscape with plenty of bird wildlife.
The campground has numerous sites with full hook-ups for both RVs and trailers, as well as tents and amenities including clean restrooms with hot showers and flushing toilets, laundry services, general stores, free Wi-Fi, and bicycle rentals.
Other amenities range from a large lake for fishing, boat rentals for use on the lake, a 1.5-mile nature trail, and various games such as cornhole, disc golf, and horseshoes. There is also a swimming pool and dog park on-site for the pooches.
3157 N Highway 17, Mount Pleasant, SC 29466, Reserve: 800-562-5796

Mt Pleasant by Ron Cogswell / Flickr / CC BY-NC-ND 2.0
Hilton Head Harbor RV Resort and Marina
Hilton Head is a beautiful island located in the Calibogue Sound right off the coast of South Carolina. The Hilton Head Harbor RV Resort and Marina is based right on the marina and offers 200 well-placed sites with full hook-ups, a host of amenities, and easy access to the Intracoastal waterway.
This waterfront campground has everything you need for a comfortable and relaxing vacation from top-class amenities and facilities to a five-star restaurant onsite, two swimming pools, laundry and exercise rooms, a convenience store, bathhouses, a convenience store, and equipment rentals for kayaks, paddleboards, and jet skis. There is also free Wi-Fi around the campground and several tours can be organized from the marina.
43 Jenkins Rd, Hilton Head Island, SC 29926, United States, Phone: +1 843-681-3256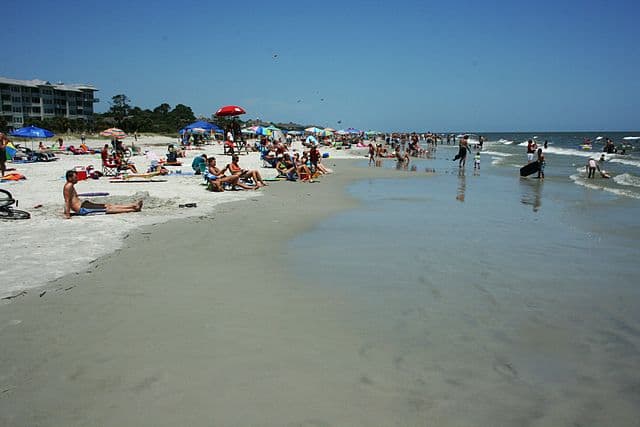 The beach on Hilton Head Island, South Carolina by Thierry Caro / WikiCommons / CC BY-SA 3.0
Hilton Head Island Motorcoach Resort
Located in the heart of Hilton Head Island, the Hilton Head Island Motorcoach Resort is a 50-acre gated campground that is conveniently located within walking distance of the beach, restaurants, and several shops.
Boasting a cool, shady locale with plenty of trees, the campground has a resort-like setting and offers excellent amenities such as a large swimming pool and heated spa, tennis courts, exercise and laundry facilities, a playground for children, a dog park, and dog wash, and onsite bike rental delivery. Outdoor activities range from basketball, volleyball, and shuffleboard to beachcombing, biking, swimming, and fishing.
133 Arrow Rd, Hilton Head Island, SC 29928, United States, Phone: +1 843-785-7699

Sunset on Hilton Head Island by Lee Coursey / Flickr / CC BY-NC-ND 2.0
Best Things to do in South Carolina
South Carolina is packed with things to see and do. The coastal city of Charleston exudes Southern charm with elegant buildings and churches, military forts, and interesting museums, while Myrtle Beach is a playground of golf courses, water parks, and 60 miles of pristine beaches.
Add to that, vast Southern plantations with grand antebellum mansions, superb state parks, and reserves, and diverse landscapes of mountains, lakes, low-lying country, and coastal plains that offer a wealth of recreational activities, and the Palmetto State promises an unforgettable experience.
Here are some of the best things to do when visiting South Carolina on an RV camping trip.
Wander Around Charleston's Historic District
The Charleston Historic District is a charming, historic part of the city that is home to magnificent 18th and 19th-century antebellum architecture and is designated as a National Historic Landmark District. There are over 1,400 historic homes, churches, and other buildings with elegant antebellum designs, including many distinctive Charleston "single houses" in soft pastel hues.
Explore the Historic District in true Charleston style on a horse-and-carriage ride or on a guided walking tour that includes a peek into some of the beautiful homes. You can also tour several historic homes, such as the 1808 Nathaniel Russell House and the Aiken-Rhett House, which have priceless collections of fine and decorative arts.

Charleston Historic District by Photoartel / WikiCommons / CC BY-SA 3.0
Soak Up Some Sun on Myrtle Beach
Myrtle Beach is South Carolina's go-to spot for summer getaways and vacations. Miles of white sandy beaches lapped by azure blue seas and balmy weather make this a fantastic spot to spend a day or two soaking up some sun and swimming in the Atlantic Ocean.
There are numerous traditional seaside pleasures along the coast to enjoy from taking in amazing views on the Myrtle Beach SkyWheel to musical shows at the Carolina Opry. Broadway at the Beach offers a wealth of entertainment and shopping and is home to Ripley's Aquarium, a pedestrian-only area around Lake Broadway, water parks, swimming pools, and mini-golf. Myrtle Beach is also renowned for its celebrity-designed golf courses.

Chairs on Myrtle Beach by JefferyGoldman / WikiCommons / CC BY-SA 4.0
Go Bird Watching in Huntington Beach State Park
Huntington Beach State Park is a pristine stretch of coastline that includes Murrells Inlet which is considered by many to be the best birding location in South Carolina. The park features a diverse range of landscapes from beaches and wetlands to a freshwater lake that is home to sea turtles, alligators, and over 300 bird species.
You can explore the park on several trails such as the Sandpiper Pond Nature Trail and the Kerrigan Nature Trail, both of which have observation decks over the water. The park is also home to an immense 1930s Moorish-style castle that was once the home of the owners of the land, the Huntington family.

A Great Blue Heron at Huntington Beach State Park by Fran Trudeau / WikiCommons / CC BY 2.0
Explore Fort Sumter National Monument in Charleston
Fort Sumter is a federal sea fort built on an artificial island in Charleston Harbor to protect Charleston from naval invasion. It is believed to have been constructed during the War of 1812 when the British invaded Washington by sea.
Today, Fort Sumter is open to the public as part of the Fort Sumter and Fort Moultrie National Historical Park and you can explore the fort on guided tours led by National Park Rangers who bring the events of the American Civil War to life. You can also enjoy a 90-minute sightseeing boat tour along the Cooper River to Fort Sumter National Monument.

Fort Sumter National Monument by JERRYE & ROY KLOTZ MD / WikiCommons / CC BY-SA 3.0
Explore South Carolina's Plantations
South Carolina is home to over 2,000 plantations, many of which are breathtakingly beautiful with grand historic homes surrounded by spectacular gardens and grounds. Scattered around the state, the plantations are a symbol of the state's deep-rooted cotton and tobacco industry and the story of slavery.
Significant plantations include Boone Hall Plantation near Mt. Pleasant, Magnolia Plantation, and Middleton Place which is home to America's oldest landscaped gardens. The best way to see and experience these grand old dames is on a plantation tour around the state.

Former rice-growing slave plantation near Charleston by denisbin / Flickr / CC BY-NC-ND 2.0
Have a Picnic on Hilton Head Island
Hilton Head Island is a quiet spot in the Lowcountry region that has some lovely white sandy beaches and top-notch golf courses. There is plenty to do on the island – visit the Harbor Town Lighthouse and Museum and the Coastal Discovery Museum to learn more about the island and its heritage buildings; or bird and wildlife watching at the Pinckney Island National Wildlife Refuge which is nestled between the island and mainland. Rent a bike and explore the island on two wheels.

Sunrise on Hilton Head Island by Lee Coursey / Flickr / CC BY-NC-ND 2.0
Check Out the South Carolina State Museum in Columbia
Located along the banks of the Congaree River in downtown Columbia, the South Carolina State Museum is dedicated to displaying the art, culture, natural history, science, and technology of South Carolina. Exhibits are spread over four floors and encourage visitors to be hands-on, and interactive.
The South Carolina State Museum has a 4D interactive theater, a digital dome planetarium, and an observatory that presents engaging shows for all ages.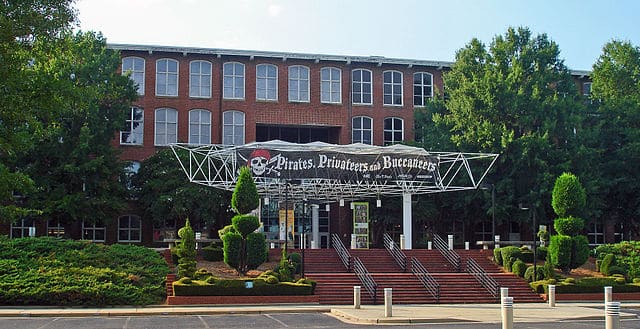 South Carolina State Museum, Columbia, South Carolina by Akhenaton06 / WikiCommons / CC BY-SA 3.0
Travel to Africa at the Riverbanks Zoo and Garden in Columbia
Set along the banks of the Saluda River in Columbia, the Riverbanks Zoo and Garden is a 170-acre zoo, botanical garden, and aquarium that is home to more than 2,000 other animals, representing more than 350 species.
A two-acre African Plains exhibit takes visitors into the heart of Africa where they can see lions, giraffes, ostriches, baboons, and zebras in their natural habitats. An African forest exhibit called the Ndoki Forest area is a home for elephants, gorillas, and cute little meerkats, and Siberian tigers and Komodo dragons can be viewed in the exotic animal section. You can zipline through the botanical gardens for a thrilling experience.

Riverbanks Zoo and Garden by ucumari photography / Flickr / CC BY-NC-ND 2.0
Hike in Caesars Head State Park
The best place to experience the raw beauty of the Blue Ridge Escarpment is from Caesars Head State Park in Cleveland. Named for the granitic gneiss outcropping on top of the escarpment, the park is crisscrossed with hiking trails that lead to cascading waterfalls and offer breathtaking views year-round.
The Hawk Watch program is an annual highlight in the park when visitors can see hundreds of soaring, swirling migrating raptors such as kites, falcons, hawks, and eagles from a perch at 3,208 feet above sea level. The park is spectacular during the fall when the hardwoods are ablaze with color and wilderness trailside camping, picnicking, and fishing in the scenic Middle Saluda River are popular activities.

Caesars Head State Park by Thomson200 / WikiCommons / CC0
Explore the Night Sky at the DuPont Planetarium in Aiken
Located in the Ruth Patrick Science Education Center on the campus of USC-Aiken, the DuPont Planetarium presents shows that focus on astronomy and the beauty of the night sky. The planetarium has a 45-seat theater with a 30-foot diameter tilted dome that uses a Digistar II graphics projector system that displays more than 9,000 stars. Hour-long shows are presented on the 1st and 3rd Friday and Saturday of every month.
Wander Around the McLeod Plantation Historic Site
The McLeod Plantation Historic Site in Charleston is a 37-acre site on James Island and an important piece of American and Gullah history. Listed on the U.S. National Register of Historic Places, the former forced-labor plantation features the original plantation home, clapboard slave cabins, machinery used for processing cotton, and an outdoor riverside pavilion. Take a guided tour of the plantation for a fascinating insight into the dark history of the South.

McLeod Plantation Historic Site by Corey Seeman / Flickr / CC BY-NC-ND 2.0
Take a Boat Trip at the Brookgreen Gardens in Murrells Inlet
Built on the site of four former rice plantations in Murrells Inlet, Brookgreen Gardens is a 9,100-acre sculpture garden and wildlife preserve that features botanical gardens, a Lowcountry Center, and a wildlife sanctuary.
You can explore the gardens on several walkways that wind their way through the sculpture garden and marvel at over 1,450 pieces of American figurative sculpture or you can take a pleasant boat trip around the park.

Brookgreen Gardens by gigi4791 / Flickr / CC BY-NC-ND 2.0
Get Your Naval Fix at the Patriots Point Naval & Maritime Museum in Mt Pleasant
The Patriots Point Naval & Maritime Museum is home to three museum ships: the USS Clamagore (submarine), the USS Laffey, and the USS Yorktown, which has been the centerpiece of the museum since 1975. The vessel houses 25 aircraft, as well as a Medal of Honor museum.
The museum has several exhibits on-shore, including a cannon dating back to the Civil War, two helicopters, and a three-acre Vietnam Experience that takes visitors on a journey through the Vietnam War.

Patriots Point Naval And Maritime Museum by Ryan Pethick / WikiCommomns / CC BY-SA 4.0
Catch a Show at the Peace Center in Greenville
Located in the heart of downtown Greenville, the Peace Center is the cultural hub of the region and features a 2,100-seat concert hall, a 400-seat theater, an amphitheater, and a variety of rehearsals and event spaces.
The center presents a wide variety of performances throughout the year from Broadway shows and ballet to jazz concerts and comedy shows. There is an elegant theater lounge where you enjoy a meal and cocktails before or after shows.

The Peace Center in Greenville, South Carolina by DXR / WikiCommons / CC BY-SA 4.0
Have a Picnic in White Point Garden in Charleston
White Point Garden is a beautiful public garden in the heart of Charleston that boasts fantastic views of Fort Sumter and the Charleston Harbor. Established in 1837 and located right on the tip of peninsular Charleston, the gardens are set on the site of an area that was once used as a fortification for the city during the Civil War.
Today, the 5.7-acre park features exquisitely manicured gardens and grounds, grassy lawns shaded by old oak trees, meandering pathways with benches dotted throughout the park, and several interesting military relics from the past. A gazebo at the center of the park is perfect for picnics.

White Point Gardens by Wally Gobetz / Flickr / CC BY-NC-ND 2.0
Observe Some Magnificent Raptors at the Center for Birds of Prey in Awendaw
The Avian Conservation Center & Center for Birds of Prey is a sanctuary in Awendaw that cares for and rehabilitates injured raptors, such as hawks, falcons, and owls. The center is home to nearly 50 species of birds and offers visitors the unique opportunity to observe birds of prey in their natural habitat.
You can stroll around the center on several pathways that are lined with interpretive signs and see a variety of owl species from around the world in a separate two-acre area of the park. Hour-long guided tours and flight demonstrations are offered twice a day and are well worth it!

The Center for Birds of Prey in Awendaw by Matt Drobnik / Flickr / CC BY-NC-ND 2.0
Soak up Amazing Views from the Myrtle Beach SkyWheel
The Myrtle Beach SkyWheel is a 187-foot-tall Ferris wheel that offers spectacular panoramic views of the Myrtle Beach coastline. The wheel has 42 glass-enclosed, climate-controlled gondolas that seat between two and six people. Specially designed VIP gondolas have leather seating and glass floors and can seat four people and each ride typically lasts between 8 and 10 minutes.

Myrtle Beach Skywheel, Myrtle Beach, SC by Claire P. / WikiCommons / CC BY 2.0
Enjoy Traditional Southern Cuisine on a Charleston Culinary Tour
A guided foodie tour with Charleston Culinary Tours is a great way to experience Charleston's acclaimed culinary scene and sample some of the best southern food in the state. These walking tours highlight the best of the city's food and drink, stopping at several restaurants and bars, as well as the city's acclaimed Farmer's Market.
You'll not only sample some incredible food and drink, but also meet the chefs, restaurateurs, and mixologists that create the delights. You can also take specialized tours themed around cocktail mixology, chef's kitchen experiences, and farm-to-table restaurants.
Visit the Charles Pinckney National Historic Site in Mt Pleasant
Charles Pinckney was the 37th Governor of South Carolina and is honored at the Charles Pinckney National Historic Site in Mt Pleasant, which was created to preserve the remainder of his country's home and plantation.
Explore the life story of Charles Pinckney and the realities of 18th-century plantation life in the museum at the site and check out the quaint coastal cottage that dates back to 1828. The grounds surrounding the museum are beautiful and perfect for a picnic and a stroll along the nature trail.

Charles Pinckney National Historic Site by Don O'Brien / WikiCommons / CC BY 2.0
Feed Alligators at Alligator Adventure in Myrtle Beach
Located in North Myrtle Beach, Alligator Adventure is a large reptile zoo and home to alligators, snakes, frogs, lizards, and turtles. Visitors can get up close and personal with the alligators, touch them and watch them being fed in the summer months. Professional handlers present live shows and give interesting talks about the reptiles, sharing fascinating facts about these fascinating creatures.

Alligator Adventure, North Myrtle Beach by Kyaw Tun mahuyar / WikiCommons / CC0
Take a Tea Tour at the Charleston Tea Garden on Wadmalaw Island
Located on the historic Wadmalaw Island in the heart of the Lowcountry, the Charleston Tea Garden is the only tea plantation in North America. Operated by the family-owned Bigelow Tea Company, the Charleston Tea Garden produces nine Charleston Tea Garden teas and is the only brand of tea in the world that is made exclusively with 100% tea grown in America.
Visitors can explore the beautiful 127-acre tea plantation on guided trolley tours and enjoy free tours of the tea factory and see the entire process of making tea from leaf to bag. Don't miss the chance to enjoy a cup of tea with Waddy the Frog, a metal amphibian who was custom-made for the garden by a local sculptor from Johns Island.

Visit the Charleston Tea Plantation on Wadmalaw Island, South Carolina by Corey Seeman / Flickr / CC BY-NC-ND 2.0
Visit the Fort Moultrie National Monument
Located on Sullivan's Island, Fort Moultrie National Monument is a series of fortifications that were built to protect the city of Charleston. The forts protected the city for more than 170 years from the Revolutionary War and through to World War II.
The first fort that was built on the site was known as Fort Sullivan and was constructed from palmetto logs, which inspired the flag and nickname of South Carolina, as "The Palmetto State." You can explore the national monument on guided tours twice daily or on self-guided tours using interpretive signs posted throughout the fort.

The Fort Moultrie National Monument on Sullivan's Island, South Carolina by DiscoverWithDima / WikiCommons / CC BY-SA 4.0
Marvel at the Pearl Fryar Topiary Garden in Bishopville
Nestled in the small town of Bishopville, Pearl Fryar's Topiary Garden is a hidden gem that attracts visitors from all over the world who come to admire the magnificent topiary creations. Established in 1981, Pearl Fryar began creating his fantastical garden with whimsical topiaries, which is now one of the state's top tourist attractions.
Wander around the three-acre property and marvel at the surreal wonderland that is filled with over 300 topiaries, including arches, spheres, cones, and fish skeletons.

Pearl Fryar Topiary Garden, Bishopville by Judson McCranie / WikiCommons / CC BY-SA 3.0
Delve into the Depths of the Old Charleston City Jail
Take a tour of Charleston's historic city jail that once held everyone from pirates to Civil War POWs. The old city jail's long and haunting history began in 1802 and served as the city jail from 1803 to 1939.
Convicts ranging from murderers to petty criminals were housed in the jail with each floor keeping a different type of inmate with the ground floor accommodating the jailers and the "gentleman" prisoners. Union POWs were incarcerated inside the jail during the Civil War.
Visitors can explore the jail on guided tours that provide interesting historical information about the jail and its use, while at the same chatting about the rumors of haunting and ghost stories that are associated with the prison.

Old Charleston Jail, Charleston by Michael Rivera / WikiCommons / CC BY-SA 4.0
Canoe in the Woods Bay State Park in Olanta
Woods Bay State Park in Olanta is a natural wonderland that is home to a mysterious geological formation of unknown origin. The park was established to protect one of the best examples of a large Carolina Bay, which is an egg-shaped depression in the earth filled with shallow freshwater.
Thousands of these mysterious elliptical geological oddities are scattered across the coastal plains of the Mid-Atlantic and are home to a wonderfully diverse range of wildlife, including rare and endangered plants and animals.
The best way to explore the park is by canoe where you can paddle around the shallow waters of Carolina Bay. You can also explore the park on boardwalks that wind their way through the swamps and wetlands.
Take in the Beautiful Architecture of Drayton Hall
Drayton Hall is the oldest unrestored plantation house in the country and one of the beautiful examples of Georgian Palladian architecture in North America. Built in the mid-1700s for John Drayton, the building is still in its original condition and is the only plantation house in the region to have survived both the American Revolution and the Civil War.
You can explore the National Historic Landmark on professionally guided tours of the residence and take self-guided tours of the surrounding gardens, which are also ideal for spending the day relaxing with a picnic.

Drayton Hall by Wally Gobetz / Flickr / CC BY-NC-ND 2.0
Explore the Old Slave Mart in Charleston
The Old Slave Mart in Charleston once housed an antebellum slave auction gallery and is now a museum devoted to its tragic history. Built in 1859, the market was used as a private auction house to auction off slaves, as well as livestock and farmland.
When the Union took over Charleston during the Civil War, the cruel industry ended, and all the auction houses were dismantled, except for the Old Slave Mart. Today, the market houses a museum devoted to showcasing the history of slavery in Charleston.

Old Slave Mart Museum, French Quarter, Charleston, SC by Warren LeMay / WikiCommons / CC0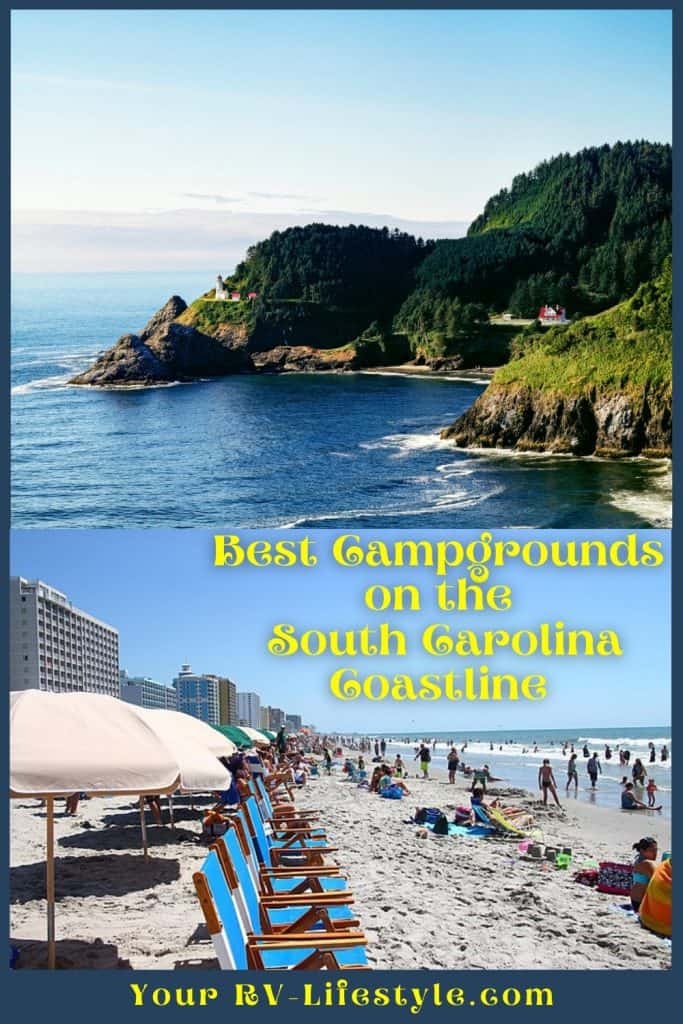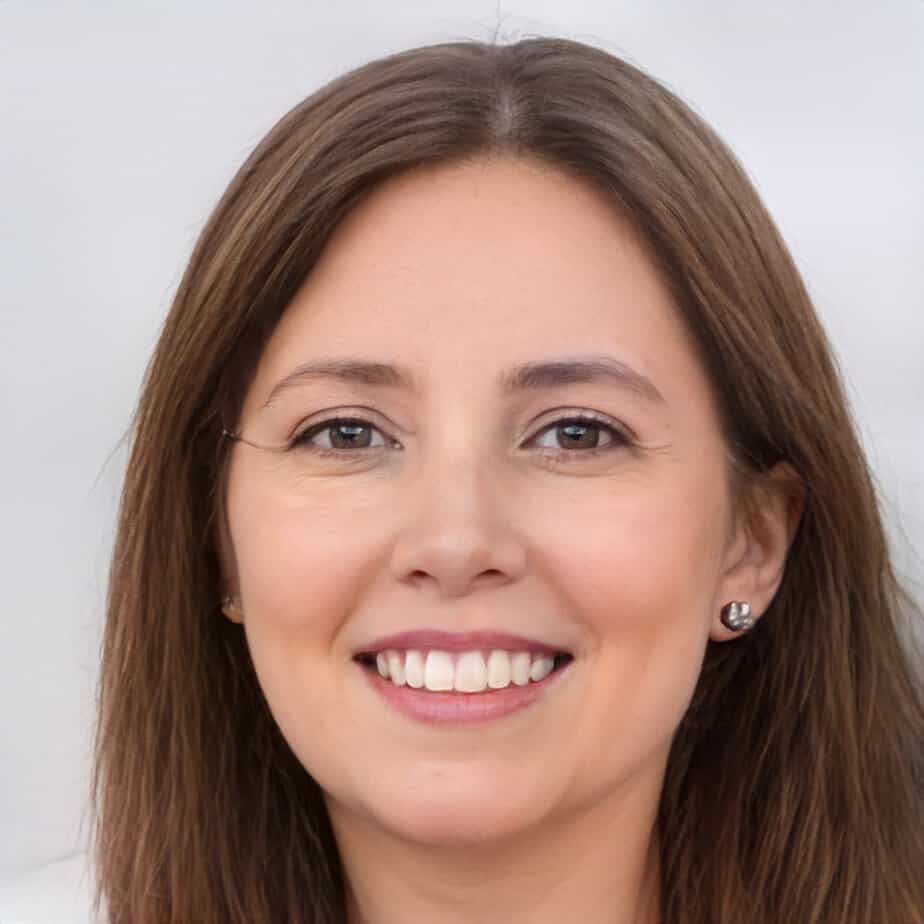 Jill Miller is the founder of Your RV Lifestyle. Trading corporate America for the open road, Jill, along with her partner Jose, began their RV journey, making an unconventional start by wintering in New Jersey. A natural adventurer, she was motivated by a desire to explore the USA and beyond, embracing the varied landscapes, communities, and cultures across the country.
For Jill, the allure of RV living was not about material accumulation, but rather the pursuit of an adventurous, fulfilling lifestyle. A lover of golf, bicycling, hiking, and line dancing, she has carried her passions across the country, engaging with them in diverse settings. Jill's commitment to the RV lifestyle came after years of careful research, numerous consultations with RV owners, and personal trials, including living in a rental RV.