Let's face it, nobody wants to talk about toilets, but it is a subject our bodies will not allow us to ignore, and camping can add additional challenges. That is why we have assembled a list of ten portable potties that can end the discussion and let us take care of business.
There is a broad assortment of portable potties on the market. Some are as simple as a bucket with a seat and a lid, while others claim to offer all the comforts of home. All the toilets reviewed here are flushing toilets.
All the toilets reviewed have a familiar toilet seat, a freshwater reservoir, a flushing mechanism, and a detachable separate portable holding tank that can be emptied at any dump station or toilet. The capacity of the holding tank could be a determining factor for your selection based on the number of people sharing the toilet, and the length of trips. In our case, there are just two of us, and a smaller 2.6-gallon holding tank is good for three to four days. Some holding tanks can hold 5.0 gallons or more.
One advantage of 5.0-gallon models is that they are taller; closer in height to a standard bathroom toilet. The smaller units are lower. We have s wooden stand that is about six inches high on which we set our smaller potty. A disadvantage can be weight. Water weighs approximately eight pounds per gallon. A full 5.0-gallon waste tank will weigh 40 pounds.
Some toilets are sold with a starter kit of holding tank treatment that liquifies solids and reduces odor, much the same as the treatments used in RV holding tanks.The element of design that is a personal consideration is the shape of the unit. While all are perfectly functional, we prefer square-based units rather than oval or round units. The square base seems to provide a slightly more stable base, especially if the unit is sitting on grass or soft ground. However, the oval styles work perfectly well too.
A Simple Hack

A shower tent makes an excellent "outhouse" when set up near the camper.
We have found that a simple utility or shower tent makes an excellent bathroom or outhouse. Our vintage camper is small and to use the toilet inside would require setting it in the middle of the floor and putting it back in its storage closet after use. Setting up the shower tent outside the camper makes it convenient, private, comfortable, and outside!he major differences in the potties reviewed here are overall design, size, and apparent quality of construction, especially the seals for the holding tanks that prevent leakage and odors.
Preferences and Ranking
Obviously, smaller tanks are easier to handle. If you require a larger capacity holding tank, hopefully you will have a strong teenager to take care of latrine duty. In any case, any of these beats looking for a secluded tree, only to find poison ivy facing your exposed quarter.
Treatment, Cleaning, and Storage
Most portable potties are sold with at least a starter packet of "toilet treatment" that helps control odor and makes emptying easier. Some of these packets, packaged for larger RV holding tanks, treat up to 40 gallons of water, therefore, you may need only a tablespoon or two of treatment for a 5.0-gallon, or smaller, tank.
The following brief Dometic video provides a good overview of general portable toilet use and care: Using and cleaning the Dometic 970 series portable toilet.
Typically, we take the waste tank to a camper dump station and empty it there. Smaller capacity units can be carefully emptied into a toilet. It is a good idea to have rubber gloves available. After dumping, thoroughly rinse the holding tank and place a small amount of tank treatment the holding tank. Most portable toilets are made of ABS plastics with special finishes that help flush easily and prevent the contents from clinging to the toilet bowl.
Do not use household toilet bowl cleaners, bleaches, scouring powder, or scrubbers designed for ceramic toilet bowls. Warranties may not cover damage due to the use of damaging cleaners, therefore, use only recommended portable toilet cleaning products. These will degrade the toilet bowl surface and damage flushing seals, allowing liquids and odors to escape. Clean the toilet thoroughly before putting it in extended storage. Proper care and cleaning will greatly extend the life of the toilet.
Use Tips
Put water or a sheet of toilet paper in bowl before using it for solid waste.
Close the lid before opening the wastegate.
Keep paper towel or other wipes handy to clean the toilet after use. Do not flush these in the toilet.
Note, leaving this, or any other closed container, in the hot afternoon sun will cause the holding tank to build up pressure. The only release for this pressure is the flush handle or leaks in seals due to excessive pressure. While occasional workmanship issues may result in leaks of fluids or odors, most such events are the result of improper cleaning, failure to fully close the flush handle, or leaving a unit exposed to direct sunlight.
Note that even with perfect seals, flushing any toilet briefly opens the holding tank, allowing odors to escape. These odors can be minimized by using commercial holding tank treatments as recommended.
To ensure long lasting satisfaction and use: (1) read and follow each manufacturer's assembly, operating, cleaning, and storage guidelines, (2) clean units thoroughly after each outing, and (3) do not leave units exposed to direct sunlight. Excessive heat buildup in the freshwater and waste water tanks can cause pressure that will affect seals, distort the shape of the holding tanks, and weaken construction materials.
About Ratings
There are many ratings available on the web and most range from very good to totally dissatisfied. However, on a scale of 1-5, all these units scored 3 or better overall. Ratings here are based on a minimum of 50 or more ratings available from multiple sources online, unless the model is relatively new, and no ratings have been posted.
About flushing
For the toilets reviewed, flushing is a two-step process. Add fresh water to the bowl using the bellows or pressure pump. Toilets with a pressure pump have a flush button that releases water under pressure into the bowl, presumably for better bowl cleaning. To transfer the contents of the bowl to the holding tank, there is a flushing handle that opens a valve and allows the bowl contents to flow into the holding tank. The flush handle must be manually opened and closed.
About Prices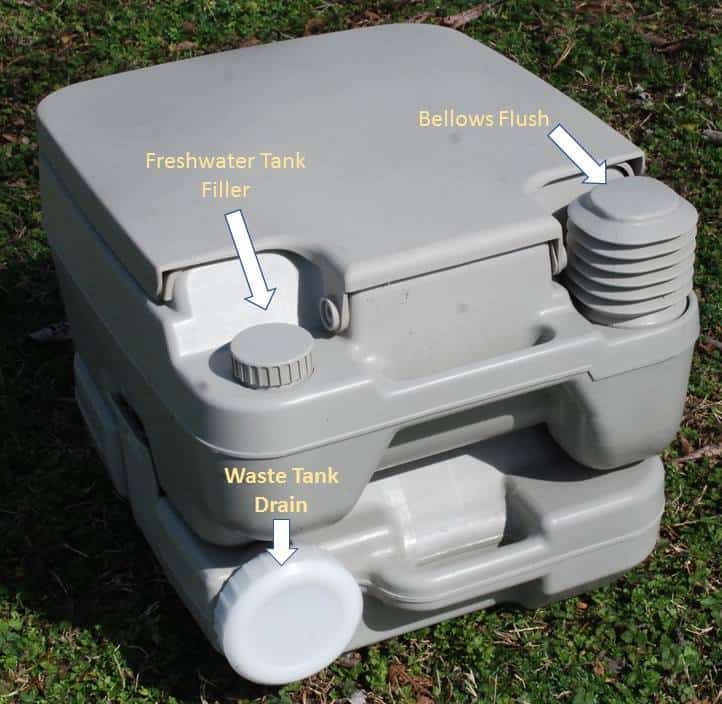 This is a typical design with a bellows plunger that pumps water into the toilet bowl 
All the units reviewed here list for between $60.00 and $160, based on the manufacturer's suggested retail price. Actual in-store and online prices may vary significantly from the manufacturer's suggested retail price.
Any of these toilets are ideal for use out and about in the great outdoors, camping, on boats, or RVs when away from "facilities" for extended periods. They are multi-purpose and extremely versatile and may have home uses for convenience in workshops or garages, or for patients or potty training toddlers.
Manufacturers Represented
The manual pump builds pressure in the holding tank. When the flush button is pressed, water is released under pressure to rinse the bowl.
Camco – Camco is a large US business that produces plenty of outdoor portable products and accessories. Launched in 1966 with one product, Camco has grown to more than 700 employees and 130+ products.
Coleman – Established in 1900, Coleman is a recognized, established producer of camping and outdoor equipment.
Dometic – Another recognized manufacturer that focuses on the RV market and has been around since 1968.
Earthtec Toilets is a division of Sequoia Brands, a company dedicated to bringing environmentally friendly solutions to specialty products. Earthtec's focus is on products that are serviceable and dependable.
Palm Springs Outdoors produces a variety of products for both camping and backyard living.
Reliance – A respected brand in the industry that has been around for 45 years.
Thetford – A company well recognized for its camper toilets, Thetford mentions that one of its aims is to make mobile living more comfortable, which is exactly what we are looking for.
The Reviews
Number 1. Camco 41531 Portable Toilet 
The Campo 4531 lightweight toilet is especially convenient for small campers, tent camping, and day use. It is a compact unit that is ideal for one or two people for a long weekend. Let's face it, portable potties are not high-tech, but this one feels almost like home.
The detachable 2.6-gal. holding tank is not only sufficient for two-to-three days, it works like the "real thing."  Most users find that it is of durable construction providing years of dependable service.
A bellows plunger delivers freshwater to the bowl. The sealing slide valve makes flushing easy and locks in odors. As with all portable toilets we recommend a reliable brand of toilet treatment to help control odors and make the unit easier to clean. Durable parts and seals mean long-term use.
This toilet is only 11 in. high. We recommend setting it on something sturdy that raises it six inches for more comfortable use.
Features:
Pumping flush action cleans the bowl
Sliding gate valve seals in odors
Easy to clean
Sturdy construction—compact and lightweight
Durable parts and seals—long-term use
A personal favorite that is reliable, functional, and compact.
Number 2. Earthtec ETEC Portable Potty 
Earthtec has combined the unlikely pair of terms, "portable potty" and "high tech" to a achieve a top-tier environmentally friendly product. For example, the ETEC is supplied with a pump that Earthtec claims takes the "nasty" out of emptying the holding tank.
Earthtec toilet will support up to 440 lbs. The 5.0-gal. tank will hold up to 50 flushes.  The ETEC is also supplied with a cleaning wand that attaches to a hose (not supplied) and is designed to clean all areas of the holding tank.
Designed and produced by a company that considers the environment while delivering an essential service.
The real "high tech" is in the Nano-technology coating on the bowl and inside the holding tank. This coating adds a hardened, very slick friction-free surface that allows toilet bowl and holding tank contents to slide easily through and out of the toilet.
Earthtec toilets also have a swing-out discharge tube that makes it easy to empty the holding tank into campground dump stations without spilling a drop and cuts down on odors during the process.
Features:
        5-gal. holding tank
        2.8-gal. freshwater tank
        Non-stick uses nanotechnology polymer
        Airtight to lock in odors
        Included 2-piece cleaning hose attachment
        Warranty
Number 3. Palm Springs Outdoor 
Described as a heavy duty portable toilet, the Palm Springs outdoor toilet is claimed to provide comforts of home. It is sure better than a hike into the woods.
Manufactured from high density polyethylene (HDPE) for superior strength and durability.  This outdoor toilet has a 3-gal. fresh water tank and a 5-gal. waste water tank. "Double sealed valves" between the tanks and one-piece construction of the waste tank prevents leaks and reduces odors.
The larger capacity waste tank also raises the unit to the height of a household toilet. Of course, a full waste tank will weigh close to 40 pounds.
It includes a great list of specifications that all focus on providing quality for a low price.
A less familiar name in portable toilets, but a solid product at a competitive price. We see this as a solid option that will take care of business.  
Features
High capacity 5-gal. waste tank
Double seals to prevent leaks and odors
Multi-use: camping, boating and fishing
An extra bathroom when needed.
Standard toilet height
Easy to empty and clean
No. 4 – Thetford Campa Potti MT 
The Campa Potti MT is Thetford's update of the earlier Campa Potti MG. It has a 3.6 gal waste tank, an intermediate size for those who want more capacity than the smaller 2.5-gal. waste tanks but who do not need the heavier, larger, heavier models. The freshwater tank holds 4.0 gal.
The new design is also easier to carry and has a lid that latches shut.
It has a rotating pour spout for the waste tank that makes it easy to empty into a public dump station or a toilet.
All Thetford toilets include starter packs of deodorant treatment for the holding tank.
This update of an earlier model has improvements that make it a strong player in this group.
Features
Improved, cleaner seat and cover design
More ergonomic carrying handle
Lid latches securely closed
Redesigned valve handle, fill cap and pump
Bellows pump flush
Rotating pour spout
Sealed valve keeps odors in holding tank
No. 5 – Thetford Round Porta Potti Curve, 92860 
The Thetford 92860 has a 5.5-gal. high capacity holding tank as well as a 4.0-gal. freshwater tank. The larger capacity also means that it is roughly the same height as a standard household toilet.
The Curve has a more modern style.
As with all toilets in this review, the manufacturer claims easier waste disposal and clean-out
According to the manufacturer, the toilet will hold in excess of fifty flushes before needing to be dumped. We recommend checking the level. A full holding tank will weigh about to 44 pounds.
One feature we liked is the toilet paper compartment on the lower right side of the unit. Another feature is the electric flush button (uses 6 AA batteries—included). Of course, this means one more appliance that requires batteries.
A combination of styling and functionality for a family of four or more.
Set it up in a utility or shower tent this could be set up for larger family reunions or at a temporary worksite without having to rent a commercial portable potty.
User comments included that it was inclined to tip over if not restrained in a moving vehicle (camper) and the electric flush, while convenient, adds a potential point of failure.
Features
5.5 gal. high-capacity holding tank
Electric (battery) flush
Sleek modern design
Easy to clean
No. 6. Camco Camping Toilet, Model 41541
This toilet features a larger seat and an increased bowl size than many of the portable toilets reviewed. The Camco uses a bellows plunger to pump water into the bowl and pull handle on the front to empty the bowl into the 5.3 gal. holding tank.
The Camco Model 41541 is approximately the same height as a standard toilet, making it more comfortable for some users.
A simple, single locking latch makes removing the holding tank easy. The same spring-loaded latch automatically reattaches the holding tank. Like most toilets reviewed, the seal between the holding tank and flush valves keep odors in the holding tank.
Most owners found this to be a very good portable toilet, especially for the price. The negative comments focused on seals for the holding tank and occasional leaks.
The Camco is a good value for a family of four (or more).
Features:
        Interior surface of non-stick ABS
        Sliding gate for odor-free operation
        Swivel dumping tube for easy clean-out
        Seat comfort
No. 7 – Zimmer, Camping Toilet 
Described as "super compact," the Zimmer camping toilet may be the choice if other toilets do not quite fit in an available space. At 13.5 in. wide and 12 in. deep it has a smaller footprint than other portable toilets. Still it has a comfortable 15 in. height. The toilet weighs less than 10 pounds empty.
Pressing the bellows plunger adds water in a swirling action that helps clean the bowl. Flushing is completed by pulling the flush handle in the front of the toilet.
Features:
Strong, one-piece, leak-proof tanks
50 – 60 flushes from 2-gal freshwater tank
Takes up less space than other toilets
Lightest empty weight in this survey
Low price point makes this a good value
Easy to carry whole unit or holding tank
A bit of a space-saver with a comfortable 15-in. height may make the Zimmer worth considering.
No. 8 – Coleman Portable Flush Toilet 
Coleman is another brand name broadly associated with camping and outdoor living. This is, however, the only one of two reviewed that scored less than 4 out of 5.
We like the styling of the unit, even if it is rounded. We were intrigued by the slide valve that empties the toilet bowl. This is a full-height unit that holds 4.8 gal. in the freshwater tank and 5.3 gal. in the holding tank–great for larger groups. It has a fixed dump nozzle in the back. This is better than no nozzle but is not as convenient as the longer nozzles that pivot in for storage.
Regarding the rating, the most common complaints related to seals and leakage. Most such leakage problems that are not manufacturing defects, can be avoided by proper care and cleaning. The Coleman may be a bit more finicky about care, cleaning, and storage. Pressure build up in the holding tank could cause a brief reverse flow. To prevent this, operate the flush lever slowly to allow the tank to depressurize to prevent splash back.
Features:
Snap-down lid fastens securely
Ergonomic seat for comfort
Slide valve for one-handed flushing
Compartment for chemical storage
Molded carrying handles
Unique styling and the slide valve for one-handed flushing make this model stand out.
No. 9 – Dometic 970 Series Portable Toilet
This is a 5-gal. porta potty that offers a modernistic design with smart features to take care of user waste effectively and efficiently.
The 970 is a step up in design, features and flexibility from the Dometic 962 also reviewed here.
One feature we would like to see on more portable potties is the waste tank liquid levels thanks to an indicator on the front that makes it easy to know when it requires emptying.Dometic claims it is eco-friendly and only needs about one pint of water for every flush.
Overall, the 970 series include some great features that will make any camping trip a more convenient and there are plenty of consumer reports to back this up around the web.
Dometic claims this as a durable toilet, with a comfortable, adult-sized seat that will stand up to the rigors of camp life. The high-density polyethylene construction adds strength and toughness.
Several reviewer comments suggest this toilet is harder to clean and that there problems with leaks around seals.
The Dometic has unique styling and features we like.
Features:
Unique style, sturdy portable toilet
5-gal. holding tank
Push-button flush
Comfortable adult-sized seat
Easily read tank level indicator
Smaller holding tank available
No. 10 – Reliance Model 3320 
No products found.
The Reliance Model 3320 Portable Toilet Model has a 2.5 gal fresh water tank and a 5-gal holding tank. This toilet has a high injection piston pump with a tubular manual flush nozzle that ensures removal of all waste into the holding tank.
The waste holding tank includes an exhaust valve (orange button) to relieve waste tank pressure, and a waste level indicator.  There is an easy-to-read waste water level indicator.
The toilet has a 325 lb. weight capacity and what is described as a comfortable seat and height. This is a relatively new product, and if it lives up to the manufacturer's claims, it should be well worth considering.
The Reliance Model 3320 with Manual Jet valve flush ensures a clean flush
Features
Pressure pump flushing
Tubular manual flush nozzle
Waste level indicator
325 lb. weight capacity
Comfortable 17-inch seat height
Tubular manual flush nozzle
Toilet has a 325-lb weight capacity
Table of Key Information of Portable Toilets Reviewed
No.
Make and Model
Flush Mechanism
Fresh Water (gal.)
Holding Tank (gal.)
Empty Weight (lb.)
Seat Height (in.)
1
Camco 41531
Manual Bellows
2.0
2.6
11.0
12.0
2
Earthtec ETEC
Manual, Bellow
2.8
5.0
13.5
16.5
3
Palm Springs Outdoor
Manual Bellows
3.0
5.0
13.0
16.5
4
Thetford Campa Potti
Manual Bellows
4.0
3.2
10.0
13.4
5
Thetford 92360
Electric (Battery)
4.0
5.5
14.5
16.5
6
Camco 41541
Manual – Lever
2.0
5.0
11.0
16.5
7
Zimmer
Pressure Pump
2.0
5.0
10.0
16.5
8
Coleman
Pressure Pump
4.8
5.3
13.5
16.5
9
Dometic 970
Pressure Pump
2.3
5.6
13.5
16.5
10
Reliance Flush & Go
Pressure Pump
5.0
5.0
12.0
16.5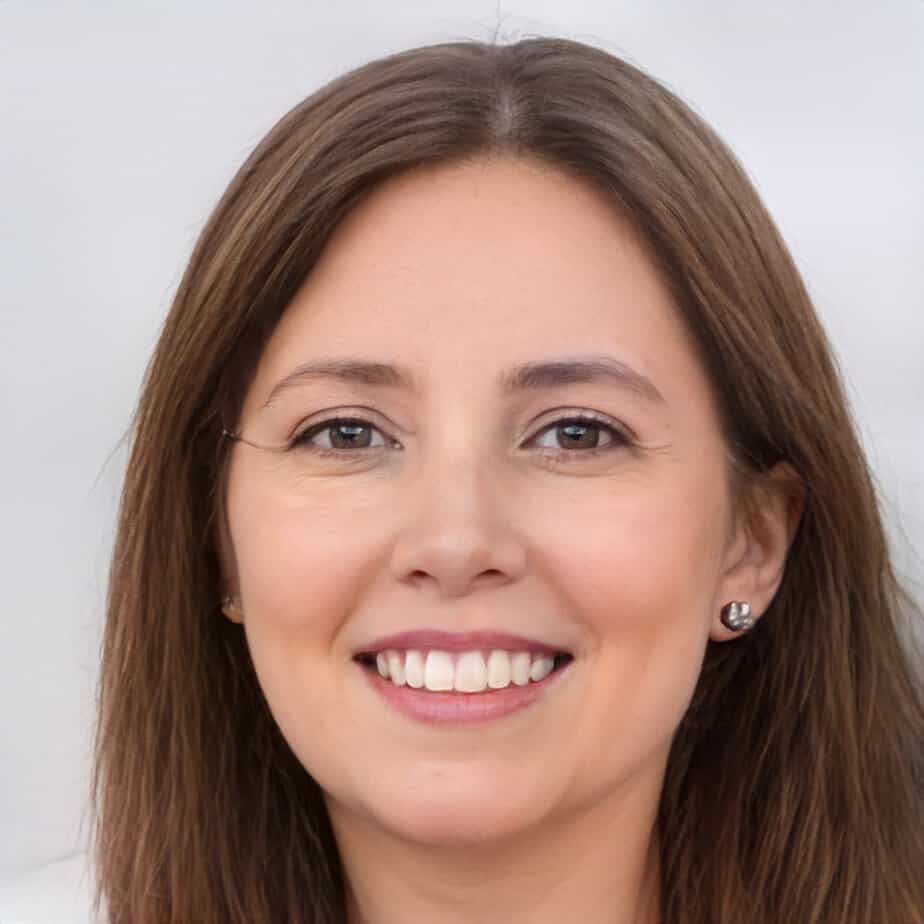 Jill Miller is the founder of Your RV Lifestyle. Trading corporate America for the open road, Jill, along with her partner Jose, began their RV journey, making an unconventional start by wintering in New Jersey. A natural adventurer, she was motivated by a desire to explore the USA and beyond, embracing the varied landscapes, communities, and cultures across the country.
For Jill, the allure of RV living was not about material accumulation, but rather the pursuit of an adventurous, fulfilling lifestyle. A lover of golf, bicycling, hiking, and line dancing, she has carried her passions across the country, engaging with them in diverse settings. Jill's commitment to the RV lifestyle came after years of careful research, numerous consultations with RV owners, and personal trials, including living in a rental RV.