Whether you are a new couple, honeymooners, or have been together for years, finding the romance can often be a challenge. Our hectic and often chaotic lives can sometimes leave little space and time for romantic connection. Romanic RV vacations can be the perfect way to bring romance back into your lives. In this article, we will explore the idea of a romantic RV vacation, think about what it really means, and share a range of tips for your loving adventure for two.
What is a Romantic RV Vacation?
The first thing to consider is what a romantic RV vacation actually is. What does 'romantic' really mean? And what implications does that have for planning and taking such a vacation?
At its core, the term 'romantic' is all about feeling, and atmosphere. It is about the connection between two people who love each other very much. While often, 'romantic love' is held up in contrast to the steadier, deeper love of an old married couple, trivialised with Hallmark cards, pink hearts and hot-house roses, really, it is simply about connecting with the one you love, creating an atmosphere of intimacy and happiness, and showing your loved one that you really care.
An RV vacation can be the perfect way to create this feeling and atmosphere. But while most people are familiar with images of romance, fewer understand that 'romantic' is not an objective adjective, it is very much a subjective one. What one person finds 'romantic' may leave another cold. It is important to understand that a romantic RV vacation can be many different things – it can take a range of different forms, depending on the individuals involved and their specific situation.
For this reason, it is important, when considering a romantic RV vacation, to think about yourself and your partner. Rather than blindly following a 'formula' for romance, consider who both of you truly are, and how you personally find a connection, and a sense of romance.
Why RV Vacations Can Be So Romantic
While it is important to consider yourself and your partner as individuals, however, it is important to consider too the ingredients that generally make for a romantic vacation. An RV vacation can deliver many of these things:
Spontaneity, and the Chance to Seize the Day
When you own an RV, you can head off for a vacation at the drop of a hat. You can seize the day and inject some spontaneity into your life. With no hotels to book, trains or planes to catch, and far fewer things to orchestrate, you are your partner can be far more free to head off and spend some quality romantic time together. You can be freer to make impulsive choices, and go wherever the wind takes you.
Privacy, and the Chance of Some 'Alone Time'

Getting off the beaten track can mean some amazing wildlife encounters, as well as the chance to find a little romance. Bison in Yellowstone, early morning.
Romance can be a little tricky to ignite in the middle of a crowd. In any case, why be the same as everyone else? When you are planning your romantic RV vacation, you can think about doing something a little out there and going somewhere not a lot of other people go. Avoid the tourist hotspots and mass tourism centres and you can forge your own path to romance. Take yourselves off somewhere the two of you will be undisturbed, be it a shady glen, a secluded cove, a wind-swept strand or some other quiet corner and you can enjoy some time off the beaten track.
What is more, staying in your RV rather than in a hotel or another accommodation option where there are a lot of other people around can give you a much higher level of privacy – making it far easier for you to focus only on each other.
The Opportunity To Put Yourselves in the Way of Beauty

Gazing out over the Grand Canyon from North Rim.
A beautiful setting can really help the romantic atmosphere along. If you put yourself in the way of beauty and you are with the right person there can be nothing better. RV vacations often really allow you to get out there and be in beautiful landscapes in a way that is not possible with many other types of holiday. Imagine setting up camp just inches from a sandy beach with waves lapping gently on the shore, imagine pitching up in a green glade in the heart of an ancient woodland, or surrounded by the giants of an old-growth forest. Imagine looking out over a bucolic orchard, vineyard or rolling fields of farmland, or the dusty vista of a cactus-strewn desert… on an RV vacation, there are almost endless options to put yourself in the way of beauty.
The Chance to Let Nature Do The Talking

Even when the weather is not what you might wish, a stunning scene can help create a romantic mood. Sunset Point, Bryce Canyon.
Not sure what to say? Let nature do the talking for you. There is nothing more romantic, many would say, than looking out over a sparkling ocean on a calm summer's day, or up at sparkling stars wheeling through the night sky above your heads. A sunrise or sunset can always lift the mood and will make the heart rejoice. One of the things people commonly say about RV vacations is that they see far more sunsets and sunrises than they have before. RV vacations really allow for free and easy commune with the natural world.
Adventure, and the Chance to Try New Things Together
Another ingredient often said to foster romance is adventure. An RV vacation allows couples to see things they have never seen before and do things together that they have never done before.
You and your partner should be adventurous together – it is only when we push ourselves and see others around us pushing themselves too that we can see what we, and they, are capable of. Likely you will both fall in love with each other all over again. For some, adventure might simply be navigating a strange new place, for others it might be a hike in the mountains, for some dare-devils it may be a no-holds-barred thrill-seeking ride on, for example, a white-water rafting, heli-skiing or paragliding adventure. Whatever you do on your romantic vacation, if you challenge yourselves and each other, you will see your own true, best selves shine forth, and can become closer for the experience.
An RV vacation can put you in the path of many such adventures – they lay in wait around practically every corner on the road!
The Chance to Forget the Time
Time on a romantic vacation should pass like a hazy blur. Watching the clock can be the antithesis of romance. On an RV vacation, you are in control, so you can forget the clock and scheduling everything down to the last second. Instead, you can enjoy the spontaneous fun of discovering new things and making mistakes together. Even if things go wrong, that can often be a bonding experience.
Opportunity to Get the Heart Pumping
Whether it is running through the rain, cycling along a country lane, ice-skating across a frozen lake or simply gazing into each other's eyes as you try something new and scary together, getting the heart pumping is just the thing to kick-start a bit of romance. The best romantic moments are the moments when you feel most alive, as though you and your loved-one are the only ones who are living at this peak of intensity and nothing and no one can bring you back down to earth.
An RV vacation, which can bring you into close contact with the natural playground of the great outdoors, can offer plenty of opportunities to get some exercise endorphines, and get that adrenaline pumping.
Opportunities for Al Fresco Dining
There is often something very romantic and sensual about dining outdoors, and an RV vacation offers plenty of opportunities to eat outside, both at the campground itself, and as you set out to explore the surrounding area.
As well as enjoying barbecues and campfire meals, couples on RV adventures can head on out for a romantic picnic on a serene, secluded beach backed by swaying palms or looming pines, choose an outdoors venue for a dining out evening meal, or simply eat an ice cream together in some beautiful, natural location.
These are just some of the reasons why an RV vacation can form the perfect backdrop for romance.
Preparing for Romantic RV Vacations
While there is something to be said for the level of spontaneity that is possible with a romantic RV vacation, it really could save a lot of heartache if you do take the time to plan ahead at least a little. You may have planned delightful picnics, envisioning clear blue skies and soft sand,for example, but what will you do if the weather is less than perfect? It can help to have contingency plans in place.
Before you head off your your romantic RV vacation, before you even decide on a destination you should:
Consult the weather forecasts.
Check traffic conditions, road works or road closures on potential routes.
Check over your vehicle to make sure everything is in order.
Check you have the basics – fuel, water, food etc… for your stay. (Making a list of things to pack can help you make sure that you can quickly assemble everything you need.)
Choosing a Romantic Destination for an RV Vacation
Choosing a romantic destination for an RV vacation can be helpful. While you could just hit the road, since romance can be found just about anywhere, doing a little research before you go can help make sure that you get the romantic break you are expecting.
The first thing to remember when choosing a romantic destination is that you are choosing a romantic destination for you and your loved one. Be sure to try to make your trip a romantic holiday for you, not the romantic holiday you feel that you should have. Make sure you consider your own needs and wants as well as those of your partner, finding a balance between both of your needs, and finding a destination that will suit you both.
For example, many people's go-to image of a romantic destination is, perhaps, an idyllic sandy beach bathed in warm sunshine. But such a destination may not be right for everyone. A snow clad mountain scene, a woodland or forest glade, a desert oasis or even a city destination may suit you better as a couple. Always think about your own personal preferences as a couple before deciding on a destination for your romantic RV vacation.

A romantic stop on a journey through Grand Tetons National Park. Self-taken.
Personally, my husband and I have found romance in all sorts of places. Our romantic camping adventures have taken us to National Parks in California, the Pacific Northwest, Montana, Wyoming, Utah and Arizona. We've found hidden gems of campgrounds in New England… we've travelled all across the wilds of Scotland, and elsewhere in the UK, down through France, Germany and Switzerland to the Alps. We have camped near romantic castles, near quaint villages, on picturesque farms, in mountain glens and sweeping valleys, near tranquil lakes, wild lochs and roaring waves. We have found connection, peace and romance in a wide range of breathtaking natural settings. But the journeys for you and your loved one may be very different.
Activities for Romantic RV Vacations
One of the questions for those taking a romantic RV vacation is what you should do together while you are away. There are a range of different activities which could be romantic, and which you might wish to incorporate in your time away.
Romantic Activities for the Campground:
First off, let's take a look at some romantic activities that you can enjoy right there at your camping spot. For example:
Snuggle up in a Hammock, or on a Picnic Blanket
Finding a lovely spot for a cuddle is easy when you are in a beautiful natural setting. Don't restrict yourself to the immediate environs of your RV. Consider slinging a hammock for two between two trees, for example, or spread a picnic blanket on a beach or an enchanting meadow.
Share a Hobby
No matter what you like to do, doing something together is the important things. Consider hobbies, old or new, that you are your loved one can share. Do a spot of birdwatching today, take photos together, paint or draw together, make music together, read to one another… there are plenty of hobbies that could keep you happy and busy together around camp.
Build a Campfire

Nothing sets the tone like a campfire in a beautiful natural setting.
As the day begins to draw to a close, the flickering flames of a campfire can make things begin to heat up. Stoke the romance by building a campfire and settling down together to gaze into its fiery glow and enjoy some romantic cuddling and conversation.
Cook Up A Romantic Meal Together
Dining together can be romantic, but cooking together can be romantic too. Whether you are enjoying toasting marshmallows over your campfire, manning a barbecue together, or bumping elbows in your small RV kitchen – just the simple acts of preparing food together can be very romantic. Doing it together also means that one person in a couple does not end up doing the lion's share of the work.
Stare at the Stars
Finally, when the sun goes down, gazing up at the glorious night's sky with your loved one, and seeing the stars beaming back down can also be another ingredient for romance. Lie on a blanket on the ground, or in a hammock and gaze upwards together, or share special moments looking through a telescope for a closer look at the heavens.
Romantic Activities Out and About:
Romantic activities for an RV vacation are not only restricted to things you can do at and around camp. Here are some other activities that you might also enjoy that many could consider to be romantic:
Farmers Markets & Pick Your Own Places
Farmers markets and pick your own farms, orchards or vineyards can all be romantic places to visit. Not only will you be able to pick up farm to fork produce to enjoy later in the evening, you can also enjoy magical moments – popping strawberries in one another's mouths, perhaps, laughing together over comically shaped vegetables, or sharing a tender kiss amongst the vines.

A romantic vineyard could be the perfect place for a little romance.
Shopping (Or Window Shopping) Excursions
As well as shopping for food in attractive places, some couples also enjoy other types of shopping. They might treat one another to a special gift such as a piece of jewellery or something truly meaningful to them. Some couples love antiquing – finding objects imbued with history and freighted with meaning can help you take pleasure in your own shared history, perhaps.
Historic Attractions
Historic sites and attractions can also be very romantic places. Visit castles, for example, to find fairytale romance. Play at homesteading on an historic farm. Experience the romance of the seas on historic ships, or the romance of the rails on a vintage train. There are plenty of historic places to visit that will help romancing couples to get into the right mood.
Natural Attractions

A cabin made for two? History and natural beauty: Cunningham cabin, with breathtaking views of the Grand Tetons. 
Of course, nature also offers a wealth of attractions that can often add romance to an RV vacation. If you see a wonderful waterfall at dawn, look out through primordial mists over an ancient forest, see the sun glinting off the water as white-capped waves lap against the shore, or experience sunset over wonders of the world like the Grand Canyon, then you will find it easily understand why trips to such sites are conducive to romance.
Active Adventures
For some, looking at nature is not enough. RV vacations are also the perfect opportunity to immerse yourself in such environments. Hiking, cycling, kayaking, canoeing, sailing, climbing, and many more outdoors pursuits can all be extremely romantic activities to enjoy.
Food & Drink for Romantic RV Vacations
Food and drink can be key ingredients in creating a romantic mood. Here are some romantic meal ideas for your RV vacation:
One Pot Campfire Curry & Flat Bread
Spicy food has been shown to inflame the passions! Chemicals in the spices and chilli can actually mimic the processes of arousal and could be perfect to get you both into a romantic mood. So cook up your favourite curry recipe and toast a flat bread over the fire then tuck in together to enjoy sensuous eating with your hands.
Fiery Chocolate Chilli
Another spicy option to heat things up a little, this chocolate chilli also offers the indulgence of chocolate to the mix, a dish that looks and feels sophisticated but which takes next to no time to knock up. This can also be served with bread, or with a dish of rice.
Salmon Fillets With Pesto Crust & Fresh Greens
This simple yet classy dish is sure to impress your loved one, yet is not very difficult to prepare, even with the limited facilities on a campsite. The pesto can be prepared ahead of time using fresh herbs, pine nuts, garlic and olive oil – ingredients that can put a spring in your step and which some say also act as natural aphrodisiacs!
Honey Glazed Vegan Kebab Sticks
Honey is always associated with romance – as in honeymoon – and fertility, think of the phrase 'the birds and the bees'… and it turns out that honey really can be good for your love life. Honey is good for you in a range of ways, and better health can lead to a better relationship with your loved one. Spread vegetables, halumi, and whatever else you fancy with honey and soy and grill kebabs over a campfire for something just a little bit different, with a hint of smokey sweetness.
Arugula, Fig & Feta Salad
Grilled vegetables, fig, feta and (another natural aphrodisiac) arugula can be combined to create a delicious (and fancy looking) special occasion salad, served warm to keep off the winter chill, or cold to beat the heat on a hot day. Healthy yet delicious, this could be the perfect thing to serve your loved one on your next romantic RV vacation.
For a sweet treat after your main meal of the day, you could also consider romantic desserts – chocolate is often a favourite ingredient for romance – how about melting some in a fondue pot and dipping fruits into it. This treat could be perfect with a glass of wine, or even champagne, or, if the weather is chilly, perhaps hot chocolates would go down a treat.
There are, of course, also plenty of other romantic meal ideas that you could serve. As before, we sure to always bear your own tastes and your partner's tastes in mind, rather than just serving meals that others have told you will be romantic, or that you feel 'should' be so.
Setting the Mood on Romantic RV Vacations
As well as thinking about where you will go, what you will do and what you will eat and drink while you are away, there are also other things that you can consider doing in order to set the mood on your romantic RV vacations. For example:
Consider Romantic Lighting

Setting candles on a picnic bench outside your RV could create just the right mood.
While the sun beating down on a warm summer's day, or the glow of the pale moon or the twinkling stars over the beautiful vista can be more than enough to create a romantic mood, you can also consider enhancing the mood with romantic lighting inside or around your RV. Candles inside your RV, or at an outdoors seating area could be lovely for creating a romantic ambiance, and you could also consider solar fairy lights indoors or out, for a magical mood that can enhance an already romantic setting.
Consider Romantic Mood Music
Likewise, the burble of a brook, or the lapping of waves on the shore, the sound of birdsong, or the wind in the trees can all be ideal ingredients for romance. But you could also consider making your own music, serenading your loved one, if you are a musician, or bringing romantic music along to enhance the mood. Portable speakers for campsites mean that you can listen to romantic music easily wherever you are.
Romance is everywhere on RV vacations, you just have to give yourselves a nudge in the right direction. If you are with the right person, and in the right mood on your RV travels, romance awaits around every corner.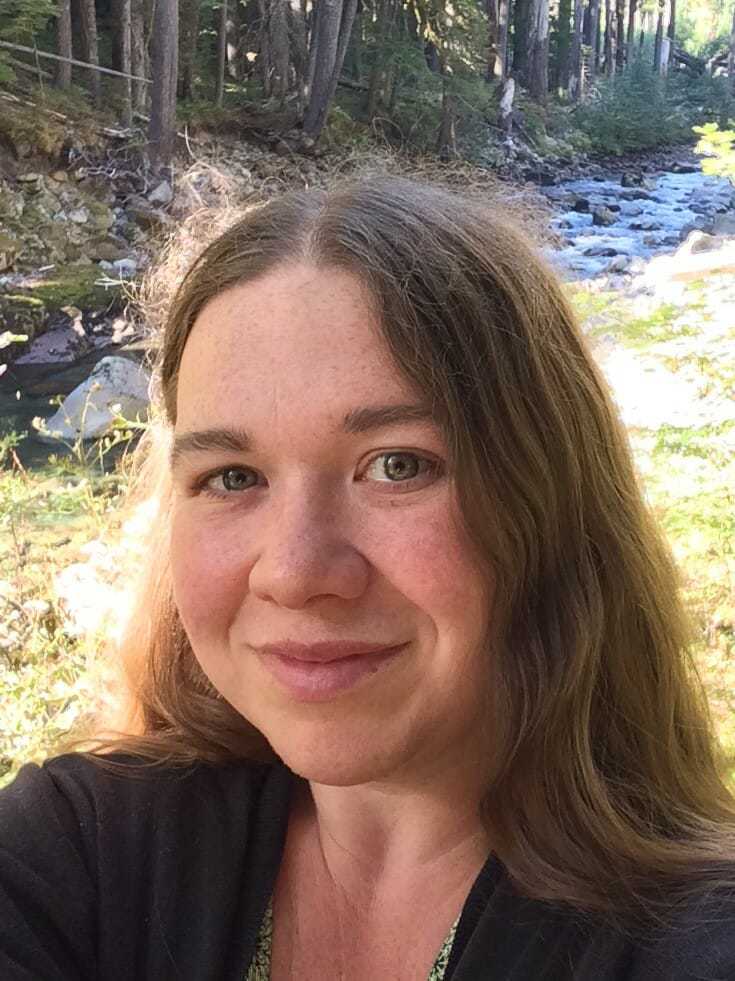 Elizabeth Waddington has an MA from St. Andrews University and a Permaculture Design Certificate. She is a green living consultant, with a passion for sustainable travel, permaculture and the natural world. She lives in rural Fife, just north of Edinburgh, close to the Firth of Forth on the east coast of Scotland.
No stranger to RV travel, Elizabeth has travelled all over Scotland, the UK and beyond in search of natural wonders in her RV. Her camping adventures have taken her to the Grand Canyon, up the Pacific Coast of the US, to Yellowstone National Park, the Grand Tetons and to explore the wonders of Utah. She has travelled extensively in the Pacific Northwest, and around New England. In Europe, she has taken trips through much of the western part of the continent, travelled up to Norway, and down through Romania and Bulgaria to Istanbul. She looks forward to further eco-friendly adventures.