When it comes to choosing the best stove for your RV, there are an overwhelming number of options. How do you know which one is the best? That question alone might have you paralyzed with indecision.
In this guide, I'll walk you through seven of the most popular types of stoves, including:
Gas stoves
Alcohol stoves
Stove and oven combos
Stove and sink combos
Wood stoves
Electric cooktops
Portable stoves
Together we'll go over the pros and cons of each, as well as who each option is best for. By the end of the guide, you'll hopefully know which stove is best for your needs.

There are several different types of stoves to choose from. This guide will help you pick.
Things to Consider Before Choosing a Stove for Your RV
The key to choosing the right stove for you is being clear about your needs and wants. In fact, this is one of the most important tips we have when it comes to designing and organizing your kitchen.
For example, is it more important for you to have a four-burner stove with an oven, or to have extra countertop space? Are you willing to spend time installing a propane tank, or would you prefer to occasionally refill an alcohol stove? These are just a few of the questions you'll have to consider.
Furthermore, the type of RV you have will play a big role in what kind of stove you choose.
With these things in mind, let's take a look at the options.
Gas Cooktop
Drop-in gas stoves are possibly the most common type of stove for RVs. They run on liquified petroleum gas (LPG) such as propane or butane, which can also power your RV's refrigerator and water heater.

A gas stove is a popular and powerful option for RV owners.
Pros to Gas Cooktops
Chances are that you've cooked on a gas stove before. They're powerful cooktops that heat up instantly and have a range of power settings, so you're never forced to boil something when you'd rather simmer it or vice versa.
There are a few more upsides to these types of stoves, including:
They look nice and make your RV feel more like home
Propane is relatively cost-effective, especially if you refill tanks rather than exchange them
Refillable tanks are eco-friendly
It's also not difficult to monitor how much fuel you have left in your tank, especially if it's mounted outside the RV. One trick is to look at the tank first thing in the morning and see where the condensation is – that's your fuel line. We have a few other tips for measuring your propane levels, too.
Cons to Gas Cooktops
Despite all the upsides, gas stoves aren't for everyone. Bear this in mind before buying one:

Propane tanks need to be housed in a special compartment to avoid explosions in case of a leak.
While rare, propane can leak and cause explosions, which is why proper installation and ventilation is key. If this sounds too complicated or pricey for your needs, scroll down to the electric, alcohol, or portable stove sections.
Who This Option is Best For
Fixed stoves take up valuable counter space and propane tanks need plenty of room, so this option is probably best for:
Class A motorhomes
Class C motorhomes
Fifth-wheels
Large travel trailers
Don't be discouraged if you're in a class B or a small travel trailer. If your heart is set on installing a gas stove, there are plenty of creative ways to do it even in the tiniest spaces, such as the teardrop camper in the video below.
Gas Cooktop Recommendation
This three-burner stove from Atwood is one of the highest-rated options on Amazon. At a little over three pounds, it packs a lot of punch in a small package. Atwood is a trusted brand and many of the customer reviews agree that this is a good value for money.
Alcohol Stove
Alcohol stoves have traditionally been more popular on boats than in RVs, but some users are turning to them for their compact design.

This single-burner alcohol stove from Origo is small, can be installed in a countertop, and comes with a glass lid for storage.
Pros to Alcohol Stoves
An alcohol stove might be the right choice for you if you want the following benefits:
You don't need to install a gas tank or fuel lines
Denatured alcohol is less volatile than propane or butane
There's no chance of dangerous leaks or explosions like with gas tanks
Cons to Alcohol Stoves
However, there are a few reasons why gas stoves are still more popular than alcohol stoves:
Alcohol stoves are usually more expensive than gas stoves
Refilling alcohol stoves is tricky and can lead to fires if not done properly
Alcohol is less powerful than butane or propane, so cook times are longer
I've witnessed one instance of a small fire starting in a sailboat because the alcohol stove was refilled improperly, but this could've been easily avoided if the user had looked up directions first. The fire was also easily put out and the only real damage was all the foam left by the fire extinguisher.
Interested in owning an alcohol stove but what to increase the efficiency of cook times? Investing in the right tea kettle will help you boil water quicker.
Who This Option is Best For
If you have a class B motorhome or a smaller travel trailer like a pop-up, A-frame, or teardrop, an alcohol stove gives you the freedom to cook with fuel without sacrificing valuable space on storing a gas tank.
Alcohol Stove Recommendations
When upgrading my class B RV, I decided to try this single-burner alcohol stove from Origo. It has a drop-in design and the option of adding a glass lid so you still have counter space when the unit isn't in use. I like how small the unit is and that the denatured alcohol isn't as volatile as propane.
Stove and Oven Ranges
Want more of a taste of home? Gas ranges with both a stove and an oven give you the same flexibility as a full-sized kitchen. They run on LP gas like propane.

This travel trailer has a three-burner stove and oven combo.
Pros to Stove and Oven Ranges
In addition to all the pros of a gas cooktop, stove and oven ranges offer the following benefits:
You're almost never limited by what you can cook
You can cook for more people at once
Cons to Stove and Oven Ranges
While it might be tempting to go all-out with your main cooking appliance, larger appliances also come with larger challenges:
Ovens are significantly heavier and take up more space
They use more fuel
Installation may require custom cabinetry
They have a tendency to burn the bottom of whatever you're cooking unless you use a pizza stone
Who This Option is Best For
If you live in your RV full-time or travel for several months out of the year, you might prefer to have an oven with your stove. Due to its size and weight, this option is best for larger RVs, such as:
Class A motorhomes
Class C motorhomes
Fifth-wheels
Larger travel trailers
Do the cons outweigh the pros for you or is your RV simply too small for this option? You can still get some of the benefits of a stove and oven range without having to install one. Check out our recommendations for the best toaster ovens.
Stove and Oven Recommendation
Dometic is a trusted RV equipment supplier with great warranties and customer support. Their Atwood brand stove and oven unit is definitely a safe choice in this category.
There's even a portable stove and oven available from Camp Chef. It's only 35 pounds, can run on a 1-lb propane tank, and has hundreds of five-star reviews.
Stove and Sink Combination
This clever contraption combines the stove and sink into one appliance. They're rare and seem to be more common in boats than RVs, but that doesn't mean it's not the right fit for you.
Pros to Stove and Sink Combinations
In addition to the obvious upside of conserving space, stove and sink combos have a few more benefits:
Many products come with a lid and collapsible faucet so you can have counter space when the appliance isn't in use
You only have to cut one hole in your countertop instead of two like with a conventional stove and sink
Cons to Stove and Sink Combinations
However, be aware of some downsides:
There's usually only one or two burners
The sink is small
The odd shape makes it tricky to cut a hole in your countertop
Who This Option is Best For
Thanks to its efficient use of counter space, the stove and sink combo works well in:
Class B motorhomes
Pop-up and A-frame campers
Teardrop campers
Small travel trailers
You'll still need to have a propane tank, but it's possible to mount one to the outside of your rig or make a sealed, vented box to house the tank inside your RV. The video below demonstrates how to make this set-up in a class B.
Stove and Sink Recommendation
This two-burner and sink combo from Dometic sets the standard for this category. Plus, this model comes with a lid for easy storage.
Wood Stove
Not all road warriors are chasing 70 degrees and sunny. Maybe you're the type of person who prefers traveling in the winter for ski trips and snowshoeing. Having a warm RV is essential for those conditions, and a wood stove definitely delivers.

Wood stoves are popular with RV owners who spend a lot of time in cold places, but they present a unique set of challenges.
Pros to Wood Stoves
A wood stove might be an unconventional option, but it comes packed with a bunch of bonuses:
It keeps your RV warm
You can use wood around your campsite instead of buying fuel
There's no chance of explosive leaks like with a gas stove
They're small enough to install in a class B
Cons to Wood Stoves
Needless to say, though, these stoves come with their own downsides:
Installation needs to be precise
They can cause fires or lead to carbon monoxide poisoning if not installed properly
They're not ideal for RVs with small children
Storing wood takes up more space than a gas tank
Check out this article (as well as the comments section) for more pros and cons. Some RVers swear by them, while some have sworn them off.
Who This Option is Best For
It might seem like a wood stove can only work in a bigger rig like a class A or a fifth-wheel, but I've seen them in a class B and class C. Basically, if you're set on having a wood stove, you're creative with space, and you're willing to invest in properly installing one, you can make it work in any rig.
Don't want a wood stove but still want to keep your RV toasty? We've compiled a list of the best RV heaters to fit any budget and size.
Wood Stove Recommendation
This tiny wood stove from Dickinson Marine was actually designed with boaters in mind, but many customers have found it works well in small RVs and cabins, too. It can run on wood, charcoal briquettes, or coal.
Electric Cooktop
Like the stove and sink combination, this appliance is a great alternative for small spaces.

Electric stoves fit perfectly against your countertop and are easy to clean.
Pros to Electric Cooktops
Whether you choose the traditional coil model or a sleek induction design, electric cooktops have several pros:
Induction cooktops give you counter space when the cooktop isn't in use
Induction cooktops are one way to keep your RV clean
There's no need to install a propane tank
Not having to buy fuel will save you money
Cons to Electric Cooktops
Don't look yourself into an electric cooktop just yet. Consider these cons:
They don't heat up as quickly as gas stoves
Not all cookware works well with induction cooktops
If you're running the cooktop off a battery and not shore power, it can drain your energy quickly
Who This Option is Best For
If you have a robust battery or generator set-up that is not reliant on shore power, an electric cooktop might be a good fit for you. I've seen this work best in class B motorhomes that charge a second "house" battery off the alternator and keep the battery topped up with two or three solar panels.
Electric Cooktop Recommendations
This single-burner induction cooktop is actually portable, so you can unplug and store it when not in use. Not only does this option require no additional installation, but it also comes with hundreds of five-star reviews.
If you want something built-in, this double-burner induction cooktop from True Induction is a good choice. Customers love how well it fits into tiny homes and RVs, and how safe it is to use.
Portable Stove
Buying a portable stove is the best option for people who don't want to do any installation at all. Depending on what model you pick, these kinds of stoves can run off of propane or butane. They're great off-grid cooking solutions that help conserve energy.

Portable stoves are easy and inexpensive options for people who love to cook outdoors.
Pros to Portable Stoves
There are a few reasons why some people prefer portable stoves over anything else:
They're the cheapest option
You can cook anywhere
They store easily and conserve counter space when not in use
Cooking outside more often will help keep food smells and fumes out of your RV
Cooking outside is one way to keep your RV cool in summer
Cons to Portable Stoves
This option isn't for everyone for these reasons:
It can take a few minutes to set up each time you use it
They're not ideal for people who prefer to cook indoors most of the time
The cost of small propane canisters can add up
Who This Option is Best For
Class B motorhomes
Pop-up and A-frame campers
Teardrop campers
This option is my personal favorite. I originally planned to install a single-burner drop-in alcohol stove, but counter space in my class B is at a premium, so I decided to stick with a portable propane stove.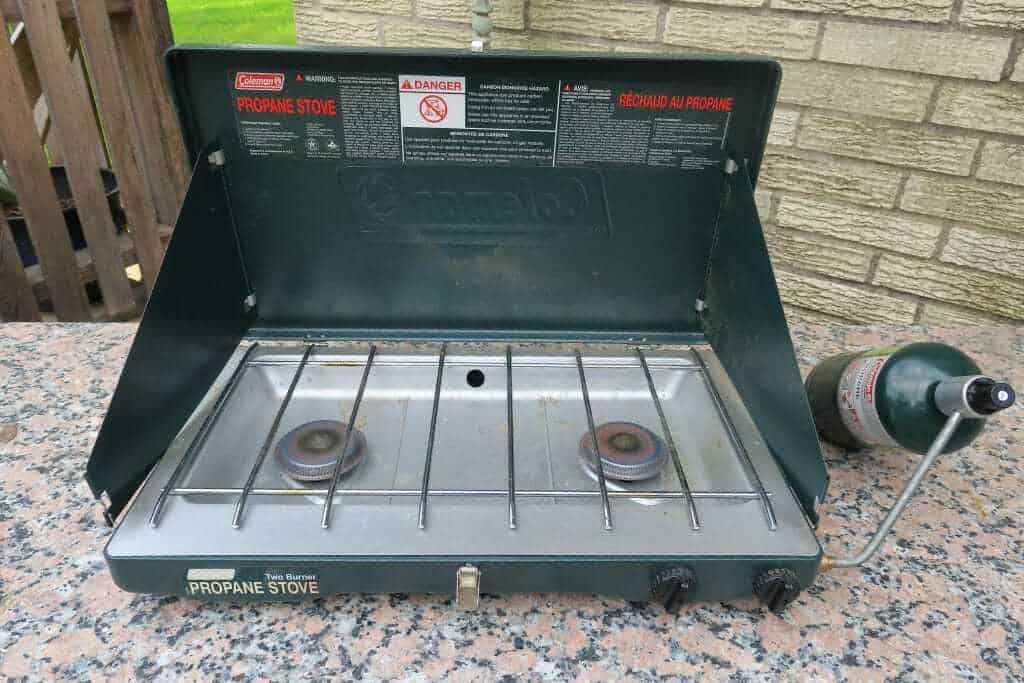 The stove I use most often is this portable propane stove from Coleman.
I cook outside when the weather is beautiful, which also prevents fumes and food smells from permeating the inside of the RV. When it's too rainy or cold to cook outside, I use a single-burner Jetboil stove next to a small, open window or I run appliances off my solar-powered battery instead.
Portable Stove Recommendations
The most popular portable propane stove is probably this classic Coleman gas stove. It has two adjustable burners and an adjustable wind guard so it can accommodate a 10-inch pan and 12-inch pan at once. The stove runs on 1-lb canisters you can get inexpensively from most sporting goods stores or large supermarkets. Having used this myself for several years, I can confirm that it's reliable, durable, and powerful – all the things you want from a stove.
A portable butane stove is another option. This single-burner model from Iwatani Corporation of America is the highest-rated butane stove in its price point, with plenty of glowing reviews from customers about its power and compact design. It comes with a carrying case for easy transport and storage.
If you're in the market for a gas grill, check out this article comparing the best gas grills available. They're not as compact as stoves, but they give you the option to grill on the go.
Start Cooking With Your New RV Stove
By now you hopefully know which RV stove is best for you. It all comes down to what you're willing to install, how big your RV is, and perhaps most importantly, how you like to cook. Remember, there's no one-size-fits-all "best" stove in the world. There's only the best stove for you.