Custer State Park

Custer State Park is just beautiful, with plenty to keep you occupied.
This is a State Park, so you will need to get an entry pass.
As of summer 2005, a pass good for 1-7 days was $5/person or
$12/vehicle, and an annual pass was $20. We knew we would be spending
at least two days in Custer State Park, or one of the other state
parks, so we opted for the annual pass.
The park is well worth visiting. Here are some highlights:
The three scenic routes in the park itself are Needles Highway, Iron
Mountain Road and the Wildlife Loop. Get a park map and stop at the
scenic points along the way. Also drive the Peter Norbeck Scenic Road
into the park – with it's pigtail bridges and three places where you get
a clever view of Mount Rushmore as you come through one of the route's
narrow tunnels.
Travel in an RV is not possible in some places in
Custer State Park. If you plan to stay in a campground within the park
itself, check out the best route to get there. Area maps and brochures
show the details on low clearance, narrow tunnels that are too small for
most RVs.

For touring around the park roads, you will probably enjoy a
more relaxing ride if you are in a smaller tow vehicle or small RV.
Plus you will have greater flexibility to pull into the scenic Black
Hills overlooks and sights. Needles Highway in particular has some
hairpin turns and very windy roads.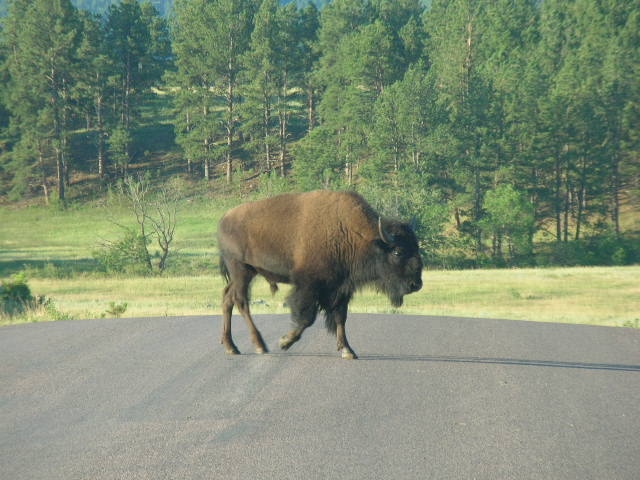 Do at least some of your touring in the early morning or at twilight for
best wildlife viewing. We saw plenty of bison, deer, turkeys and
pronghorn. And there are about 30 burros who live in Custer State
Park…you are very likely to see them along your drive, probably
causing you to stop as they meander alongside and on the roadway.
If you want to bike these roads, be mindful that the bison can
be dangerous (they can run at speeds of 35 mph). One morning while we
were driving, we came across a group of cyclists who had stopped because
there was a herd of bison ahead, on either side of the road. The
cyclists were hesitant to proceed because there were baby bison among
the group. They asked if we would go slowly so they could tag along
cycling close behind us, hopefully giving the appearance of one long
vehicle. It worked… but at least for us, it confirmed our reluctance
to be out on a bicycle on roads where bison are to be found. If you are
braver than us, go for it! And motorcyclists delight in these Black
Hills roads.
See the lakes. Sylvan Lake is beautiful – walk around it, picnic,
swim, fish or rent a boat. Stockade Lake is a larger lake with
swimming, fishing, a boat launch and picnic areas.

Center Lake has a small beach, fishing access and allows
non-wake boating. Legion lake is another option, located near the
Legion lake Resort and not far from the Badger cabin.

Outdoor activities in Custer State Park run the
gamut. There are numerous hiking trails in varying degrees of
difficulty. There are places to fish, horseback ride, swim, boat and
picnic.
The park has about 7 campgrounds plus a Horse
Camp, interpretive programs and general stores with apparel, snacks and
gifts.
There are four resorts (Blue Bell, State Game Lodge, Legion Lake and
Sylvan Lake). Blue Bell Lodge offers a chuck wagon and Blue Bell Stables
has horseback trail rides.
Fishing is allowed anywhere in Custer State Park, a valid South
Dakota fishing license is required. Be sure to pick up the helpful
Fishing Guides in a SD Visitor Center or in the park. The Game Lodge
has a fly fishing school and fly fishing trips. Or you can take part in
the free park program to try fishing with park provided gear.
A few interesting rock formations to note are the
Needle and the Cathedral Spires on Needles Highway. You can also visit
the hand-built cabin of the state's first poet laureate, Charles
Badger Clark.
In the fall, a major event held in Custer State
Park is the Buffalo Roundup. This annual event attracts thousands who
come to see the park staff and horseback riders round up the park's
1,500 bison. The roundup and auction serve to keep the herd size at
appropriate levels.

The Buffalo Roundup Arts Festival kicks off the weekend, with
entertainment, family activities, food and artisans and crafters. Check the Custer Chamber of
Commerce for details on the Roundup.
Other state parks in the Black Hills area are the Angostura
Recreation Area (southeast of Hot springs) and Bear Butte State Park
(northeast of Sturgis).
The George S. Mickelson Trail runs 109 miles
from Edgement to Deadwood through the heart of the Black Hills. The
multi-use trail can be enjoyed by hikers, bikers, horseback riders,
snowshoers and cross-county skiers. It features more than 100 converted
railroad bridges and four hard rock tunnels.
Beyond Custer State Park, visit other places in the Black Hills