You're in the market for an RV or a motorhome but don't know where to start? A Class C RV might just be the answer to your travel needs.
What is a Class C RV?
Class C RVs are a distinct type of motorhome that is a perfect blend of Class A and Class B RV. Larger than the Class B campervan and smaller than the bus-like Class A RV, the Class C RV typically ranges in size from 20-33 feet and has an over-cab bunk or storage space above the cab of the truck.
Built on a truck chassis, the Class C RV offers more interior living and storage space than the Class B campervan and is usually packed with useful amenities and features, such as a private bedroom, a larger bathroom, and more space in the kitchen for preparing and cooking meals.
Class C RVs are ideal for families of up to five people and are more affordable with better fuel economy than Class A motorhomes. They are also easier to drive and maneuver than larger RVs.

Class C RVs are a distinct type of motorhome with an over-cab bunk or storage space above the cab of the truck.
Pros and Cons of a Class C RV
We weighed up the pros and cons of Class C RVs.
Pros
Easy to drive and maneuver

More affordable than Class A RVs

Extra over-cab storage area/space for an extra bed

More interior space and higher ceiling height than Class B RVs

Interior bathrooms

Most can tow a car

Great for small families with kids
Cons
Smaller tanks for gas, potable water, greywater, and sewerage

Limited cab use when stationary

Less storage than larger Class A RVs

Class C RVs are easy to drive, more affordable than Class A RVs, and offer extra storage space.
Best Class C RV
Winnebago View
The Winnebago View is a Class C motorhome designed with the camper's needs in mind. Built on a Mercedes-Benz sprinter chassis, this RV is 25 feet, six inches long, has a gross vehicle weight rating of 11,030 pounds, and can comfortably sleep up to four people.
The Winnebago boasts a large u-shaped dinette and a galley kitchen with a double basin sink, two-burner induction, and LP range cooktop, fridge, and pantry space. The living space features a sofa and pedestal coffee table, and a murphy bed comes down over the couch. An insulated sleeping deck boasts premium thermal and acoustic insulation, and the bathroom has a stand-up shower and ample wardrobe storage space.
The chassis includes advanced safety features like active brake and lane-keeping assist, and there is an MBUX touchscreen infotainment system with an interactive voice interface, navigation, Wi-Fi hotspot, and more.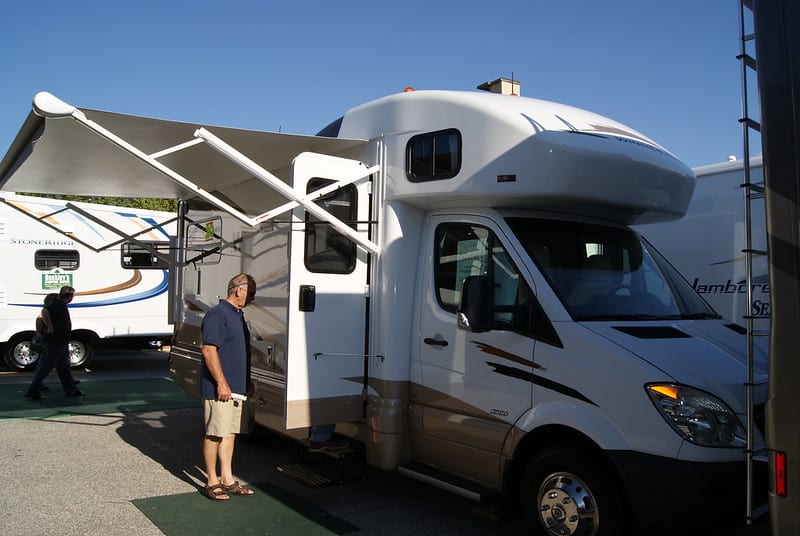 The Winnebago View is a Class C motorhome designed with the camper's needs in mind. Winnebago View 24J by Tony DiGirolamo / Flickr / CC BY-ND 2.0
Tiffin Wayfarer
The Tiffin Wayfarer is a 25-foot, eight-inch-long Class C camper with luxurious details that offer upscale comfort for four people. Boasting a trailer hitch capacity of 5,000 pounds, this motorhome has a 30-gallon fresh water capacity, a 28-gallon black water capacity, and a 32-gallon gray water capacity.
The Wayfarer has a queen bedroom with ample wardrobe space, LED reading lights, inverted outlets for a CPAP machine, and an optional TV and there is extra sleeping space in the overhead cab bunk. The interior of the motorhome has stylishly finished in neutral tones, LED lights, privacy shades, a stereo system, and separate speaker zones[MR1] .
A galley kitchen has an LP cooktop with a built-in cover, a washer/dryer, a convection microwave, an electric/gas refrigerator, and a single bowl sink. Other features include a Girard 16′ Wind Sensor awning with speakers, an exterior television, and an AC condensation drainage system that runs internally through the roof insulation.

The Tiffin Wayfarer is a 25-foot, eight-inch-long Class C camper that offers comfort and style.
Coachmen Freelander
The Coachmen Freelander is available in sizes from 24'3" to 32'11" in length and a 12,500 to 14,500-pound gross vehicle weight rating and has several different floorplan options providing a motorhome for all needs.
The Freelander has an L-shaped kitchen, a large u-shaped dinette, and an over cab bunk, as well as a private bedroom with a queen-sized bed, two dressers with nightstands, and a hanging wardrobe space. Interiors have LED ceiling lights, a wall-mounted thermostat, and an exterior solar port connection for campers who prefer to camp off the grid.
A small dinette has a flip-down bunk for additional sleeping space and a full bathroom boasts a large stand-up shower and linen closet storage space. Exterior features include a power patio awning with an LED light strip and a Roto-Cast rear warehouse storage compartment.

The Coachmen Freelander is a comfortable family-friendly Class C RV.
Jayco Redhawk
The Jayco Redhawk Class C RV is a budget-friendly campervan that is available in a variety of different floor plans and lengths ranging from 24 feet, eight inches to 32 feet, and six inches. Boasting a gross vehicle weight rating of 14,500 pounds, the RV includes upgrades to solar, AC, and battery systems and can sleep up to five to six people.
It has a beautiful interior with stylish designer touches and finishes, including LED-lit, pressed countertops, hardwood cabinet doors, fronts, and pleated blackout shades. The galley kitchen has a Furrion® all-in-one cooktop and oven, a residential-size microwave, a stainless-steel kitchen sink, and a decorative kitchen backsplash.
The bedroom features a queen-sized bed, an overhead bunk space has a 750-pound capacity with twin bunk beds for children and the bathroom has a skylight and a shower. Driving features include remote-controlled, side-view mirrors; swivel driver and passenger seats; driver and passenger airbags; power windows and door locks; a tilt steering wheel, aircon and cruise control, and privacy curtains for the cab area.
Forest River Forester
The Forest River Forester Class C RV is a fantastic family-friendly option for a motorhome. Boasting a gross vehicle weight rating of 14,500 pounds and measuring up to 32 feet and three inches in length, the Forest River Forester is a great choice for campers who are looking for affordability and comfort with a touch of luxury.
Forester Class C motorhomes are "Certified Green" by TRA Certification and are available in three chassis platforms with 14 different floor plans, spacious interiors with well-appointed décor. The motorhome has a 44-gallon freshwater tank and black and gray water tanks with a holding capacity of 39 gallons each.
The bedroom is cozy and comfortable and features an upgraded memory foam mattress, a television, and blackout roller shades. A spacious living area has a dream dinette, LED floor lighting, a LED flat panel adjustable side TV, and a USB charging station. The bathroom boasts an oxygen-infused shower head with flexible extension and a skylight, an electric roof fan, and a motion sensor light.
Home chefs will delight in Forester's kitchen which has a recessed three-burner cooktop range with flush glass cover, a convection microwave, a 12V fridge, sink covers, and a flip-up countertop extension for extra prep space or casual meals.
Exterior features of the Forest River Forester Class C RV include a power patio awning with an LED light strip and slide-out awnings, roto-cast storage compartments, a driver-side security light, tinted frameless windows, heated, remote exterior mirrors, and an outside shower.

Hit the open road in a Forest River Forester.
Airstream Atlas Touring Coach
The Airstream Atlas Touring Coach is a luxurious Class C RV inspired by the trailblazing Airstream Interstate series and built on a Mercedes-Benz® Sprinter van chassis. Intelligently designed with richly appointed features and finishes, the Atlas Touring Coach doesn't have a bed over cab design like most Class C RVs but has a power slide-out with a Murphy bed and a couch.
The motorhome has a large residential-style bathroom that offers all the creature comforts of home such as a spacious shower with sliding glass doors, teak inlays, and Kohler® stainless steel fixtures. Other high-end features of the motorhome include rooftop solar panels, and a 40-inch Samsung LED Smart TV with a built-in soundbar.
A designer kitchen makes cooking on the go convenient and easy with a refrigerator, freezer, and convection microwave, a cooktop, a deep sink, and retractable faucet, and plenty of storage.
The Airstream Atlas Touring Coach is powered by a Mercedes-Benz® 3.0L V6 turbo diesel engine with impressive fuel economy and exclusive Air Ride Suspension. Standard-setting Mercedes-Benz safety features include an MBUX Infotainment System with Garmin navigation and lane guidance, collision prevention assist, lane-keeping assist, and a dedicated camera monitor for the rear and side cameras.
Leisure Travel Vans Wonder
The Leisure Travel Vans Wonder is a stylish, 25-foot motorhome with a spacious interior and a host of intelligent features. The Wonder offers a variety of unique floor plans with two different living areas: the front galley with swivel driver/passenger seats and a comfortable lounge in the rear with huge windows.
The Wonder's sleek exterior body boasts contoured sidewalls, aerodynamic integrated front, and rear fiberglass caps, and a fiberglass flex roof. Interiors are beautifully finished with the highest quality materials from modern cabinetry to high-end Ultraleather® upholstery.
A rear lounge with large windows is light and airy and has a sectional sofa and two lounge chairs with built-in footrests and a sleek, integrated entertainment unit. A master suite has a 58-inch × 74-inch Murphy bed and SMART technology can be used to control the Wonder's climate controls, lighting via your phone. A large galley kitchen makes cooking on the road a joy thanks to a large Corian® countertop with flip-down extension and premium appliances, including the Dometic 10 Series fridge.
Decorated in neutral hues, the interior also boasts stylish ceiling panels with diffused lighting, a removable dinette table that can also be converted into an optional inflatable bed system, and swiveling captain's chairs extend the living area, allowing up to four to sit around the removable dinette table.
Technical features include a powerful twin-turbocharged 3.5L EcoBoost® V6 gas engine with optional intelligent all-wheel-drive; advanced driver-assist technology; electric power-assisted steering, and auto start-stop. Other notable aspects of the Leisure Travel Vans Wonder range from Adaptive Cruise Control, Pre-Collision Assist with Automatic Emergency Braking, Forward Collision Warning, Post-Collision Braking, Side Wind Stabilization, and Lane-Keeping System.

The Leisure Travel Vans Wonder is a stylish, 25-foot motorhome with a spacious interior and a host of intelligent features.
Frequently Asked Questions
Do I need a special license to drive a motorhome?
It is best to double-check the rules of the road for whatever state or country you are planning on traveling through, however, typically, you will not need any type of special driver's license to drive a motorhome.
What is the difference between a class A, B, and C RV or motorhome?
A class A motorhome is built on a large bus or truck chassis. They are the bigger motorhomes and generally, you will find features like air ride suspension and breaks on these. A class B motorhome is essentially a van with a living area in the back. Class C is built on a truck chassis with added area in the back, and an overhead bunk above the cab.
What is the best speed limit to stick to on the highway?
A motorhome is classified as a non-commercial vehicle, so can follow all normal car speed limits. Bear in mind that the faster you go, the less control you will have of the vehicle and the less mileage you will get out of the tank. The best gas mileage will be found at around 55 to 60 mph. Always err on the side of caution when driving a motorhome.
Do I need to get my RV weighed at weigh stations?
Weigh stations are only for commercial vehicles that are hauling commercial loads, so you don't have to weigh your motorhome at a weigh station.
Which is better – diesel or gas?
The answer to this question will depend entirely on what you plan on using your RV for. If you plan on taking long trips around the country, or if storage space is a major concern, diesel is your best option as it is more fuel-efficient than gas. If you plan to just use your rig during the summer for short trips and then store it in the winter, the better way to go is gas.
Can I use my RV in the winter?
Most definitely! Many motorhomes come fully equipped for cold weather with features like heated holding tanks and water lines, enclosed underbellies, added insulation, and large furnaces.
Do passengers need to wear a seat belt in the back of the motorhome?
It is always recommended that any passenger in any vehicle wear a seat belt. Seat belts are life-saving devices and should always be worn whether the law stipulates it or not. Once again, it is best to double-check the rules of the road for whatever state or country you are planning on traveling through on whether there are different rules.
What is the difference between the chassis and house battery?
Both of these batteries are lead-acid batteries. This means that they are composed of lead plates and sulfuric acid. The chassis battery is meant for a quick strong punch of current to get the engine started. This is the same as a car battery. The house battery is what they call a deep cycle battery. These are meant for a lower current for longer periods. This battery is what will power your lights, appliances, etc.
Can I deduct any part of my motorhome from my taxes?
Yes! A motorhome can be considered a second dwelling! If you finance your motorhome, you can write off the interest on your payment. You can also write off the taxes paid on the initial purchase, as well as the cost to register and renew your plates each year (https://www.mhs2go.com/).
Happy camping!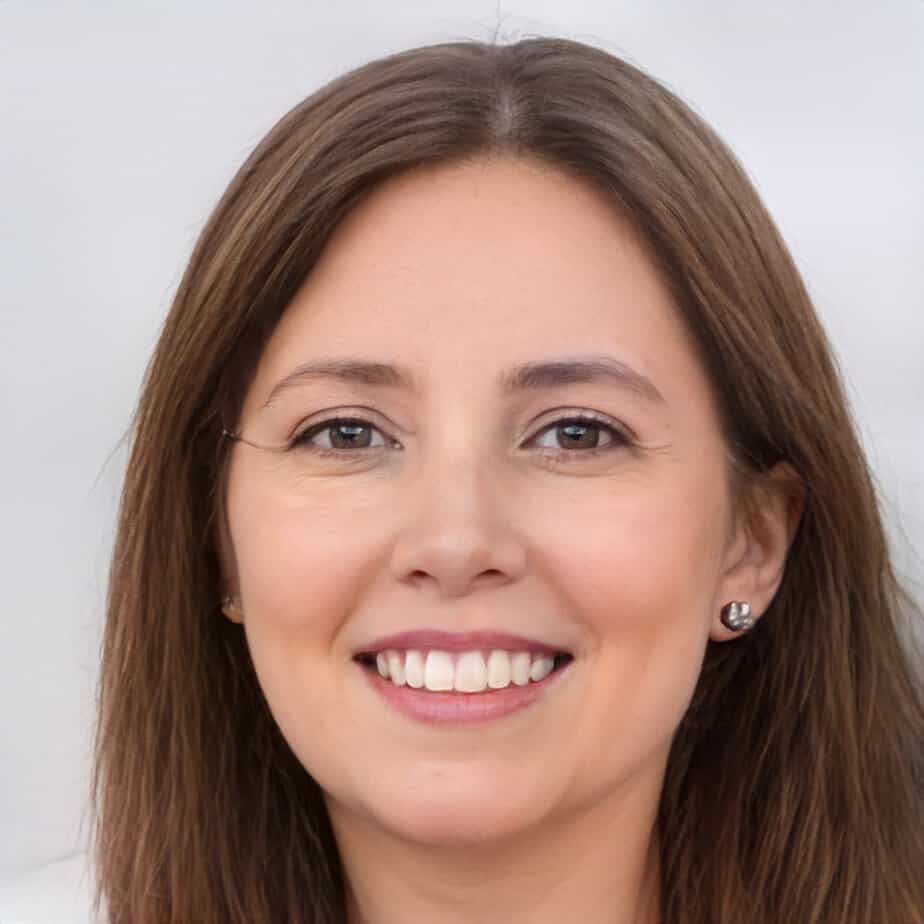 Jill Miller is the founder of Your RV Lifestyle. Trading corporate America for the open road, Jill, along with her partner Jose, began their RV journey, making an unconventional start by wintering in New Jersey. A natural adventurer, she was motivated by a desire to explore the USA and beyond, embracing the varied landscapes, communities, and cultures across the country.
For Jill, the allure of RV living was not about material accumulation, but rather the pursuit of an adventurous, fulfilling lifestyle. A lover of golf, bicycling, hiking, and line dancing, she has carried her passions across the country, engaging with them in diverse settings. Jill's commitment to the RV lifestyle came after years of careful research, numerous consultations with RV owners, and personal trials, including living in a rental RV.