A pop-up camper is a perfect vehicle for people who are new to road-tripping or camping, as well as experienced travelers that don't want the inconvenience or cost of a large RV.
The smallest type of motorhome on the road, pop-up campers are incredibly convenient because they are collapsible, which means they are easy to tow and store. And, despite their small size, they can accommodate between two and eight people, depending on the model.
Pop-up campers with bathrooms are even better, allowing you to travel wherever you like without the hassle of a huge RV or motorhome and enjoying the added convenience of not having to take pit stops every so often when you need a bathroom break!

Pop-up campers with bathrooms offer the added convenience of not having to take pit stops every so often when you need a bathroom break!
What is the Difference Between a Pop-Up Camper and a Standard RV?
A pop-up camper is a type of recreational vehicle that is towed behind a motorcar or a truck and that can be collapsed for easy storage and transport. When fully set up, a pop-up camper is similar to a tent, but provides plenty of interior space for living and sleeping and is far easier to set up and take down.
A conventional pop-up consists of a metal trailer frame and a box, a hard roof, and "soft walls" made of canvas, vinyl, or a similar material. The walls have windows with screens and the frame has pull-out bunks for sleeping.
Basic pop-up campers usually include several features such as sleeping bunks, a fold-down dinette that serves as both bench seating and a tabletop, storage cabinets, an onboard freshwater tank, a sink, interior DC lighting, and a 12-volt DC power system (including an AC to DC converter and a deep cycle battery.
Many pop-up campers also include additional features such as an electric or gas absorption refrigerator, an electric water pump, a rooftop air conditioner, an exterior shower, a water heater, one or two propane tanks, and a skylight or roof vent. Some premium models also include a shower, toilet, wastewater tanks, and a slide-out section to increase interior space.

A pop-up camper is a type of recreational vehicle that is towed behind a motorcar or a truck and that can be collapsed for easy storage and transport. Mazda E2000 LWB campervan by Nachoman-au / WikiCommons / CC BY-SA 3.0.
Types of Pop-Up Campers
In addition to traditional pop-up campers, there are several special types of pop-ups on the market, including:
High wall pop-ups: these have a taller box which allows for residential-height countertops and more storage space
Teardrop Campers: a trailer pop-up camper with a distinct teardrop shape
Motorcycle campers: lightweight pop-ups small enough to be pulled by a motorcycle
Toy-hauler pop-ups: an open cargo deck for transporting ATVs, motorcycles, etc.
Off-road pop-ups: a pop-up with rugged construction and raised suspension for off-road use
A-frame: a small solid wall folding camper
Flip-out pop-up camper: features a soft tent roof that flips over to become a bunk
Inflatable trailer: compressed air side walls and roof

Teardrop Campers are trailer pop-up campers with a distinct teardrop shape. The teardrop camper is based on a traditional teardrop design with a galley in the rear except for the transform popup feature by Tacticaltv / WikiCommons / CC BY-SA 4.0.
Things to Consider When Shopping for a Pop-Up Campervan
There are several factors to take into consideration when shopping for a pop-up camper.
1. Weight
The weight of a pop-up camper is determined by the weight it can hold, and it will depend entirely on the type of vehicle that is going to tow the camper. The heavier the camper, the more features it is likely to have, however, it will mean needing to have a heavier duty vehicle to tow the camper.
2. Heating and Cooling System
Having a heating and cooling system can make your road trip more comfortable when days are hot, and nights are cold. A powered rooftop fan is also a great feature to have on a pop-up camper for not only keeping interiors cool on hot days but keeping away flying insects like flies.
3. Kitchen with Appliances
A kitchen area with appliances is super convenient and makes cooking on the road that much easier. Most models come with a small refrigerator, a sink for washing, and a stove. High-end models can also feature an oven, a microwave, and countertop space for preparation.
4. Storage Space
Storage space is essential but the more storage space the pop-up camper offers, the heavier it will be to tow. Good planning will allow for less storage space to be needed and you won't have excess items that are not used.
5. Bathroom Facilities
Some popup campers come equipped with a bathroom and toilet which can be very handy when camping in the backcountry or if you want to avoid busy campsite bathrooms.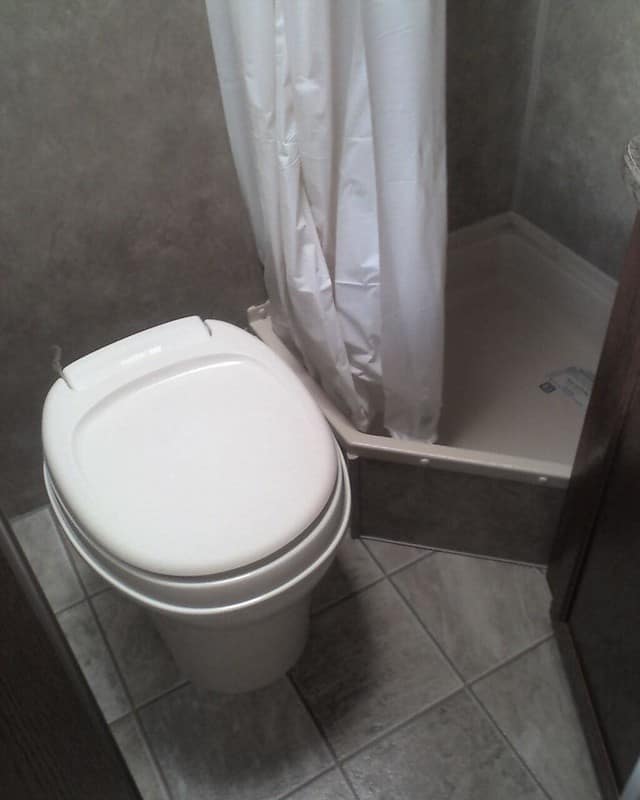 Some popup campers come equipped with a bathroom and toilet which can be very handy when camping in the backcountry or if you want to avoid busy campsite bathrooms. Toilet and shower of our new trailer by Kevin / Flickr / CC BY-NC-SA 2.0.
What Kind of Bathrooms Are in Popup Campers?
When it comes to bathrooms in pop-up campers, there are two different kinds of toilets, as well as multiple bathroom configurations. The type of bathroom will depend on your needs such as whether you are traveling alone or with a family.
1. Wet Bath
A wet bathroom is a bathroom in which the toilet seat is built into the shower stall. This design allows campers to have full bathrooms without using up precious extra space. In a wet bath, you will need to keep the toilet paper in a waterproof container to avoid it getting wet.
2. Dry Bath
A dry bathroom is similar to a residential bathroom in that it features a toilet that's separate from the shower. This design, however, does take up more space.
3. Fully Enclosed Bath
Some pop-up campers make use of actual walls to surround the bathroom space, providing extra privacy.
4. Curtained Bath
Some pop-up trailers with bathrooms simply separate the space with a curtain. This stops the water from splashing out and gives a modicum of privacy.
5. Cassette Toilet
A cassette toilet is a toilet that is installed over a small, removable waste tank. When the waste tank is full, you take it out through an exterior service door and empty it into a standard toilet. Once that is finished, you put the small waste tank back into your van.
6. Outdoor Shower
Some campers come with just a toilet inside and an outdoor shower to rinse off when you need to. Outdoor showers are super convenient and very easy to add if your camper doesn't come with one.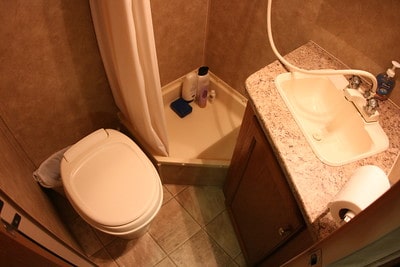 A dry bathroom is similar to a residential bathroom in that it features a toilet that's separate from the shower. Trailer bathroom by Kevin / Flickr / CC BY-NC-SA 2.0.
Best Pop-Up Campers with a Bathroom
We hit the road with a range of pop-up campers with bathrooms and decided on the top picks for camping in comfort and style.
Best Overall: TrailManor 2518
The TrailManor 2518 Series is like a Class A RV that can be towed behind your truck. Packed from bottom to top with amazing amenities and features, this pop-up camper will have you wanting to hit the road and head into the country to camp every weekend!
The TrailManor 2518 Series can be towed behind all manner of the vehicle from a properly equipped minivan to a crossover, or an SUV and can be easily stored in a standard size garage. The set-up is quick and easy and unlike a tent camper, you can even do it in the rain without everything inside getting wet.
The exterior of the camper has LED tail and running lights, a six-gallon DSI gas/electric water heater, an outside patio light, and an outside shower, as well as a 110 volt outside receptacle, radial tires, and a park cable hook-up.
Inside the pop-up camper, you'll find three distinct living areas: a sleeping area with a king-size bed and a privacy curtain, a dining area with a dinette, and a kitchen with a two-burner stove, three-way refrigerator, marble look countertops, and LED interior lights.
The camper has a dry bath with cassette toilet and shower, roof vents, 12-v power in the living area, and a suburban 20,000 BTU furnace. It has pre installed wiring for a radio/ stereo and some models have a front power slide-out.
Specifications:
Weight: 2,600 pounds
Person capacity: 4 – 6 adults
Dimensions closed: 82 feet
Dimensions opened: 118 feet
Best for Luxury: Forest River Rockwood HW296 Camping Trailer
The Forest River Rockwood HW296 Camping Trailer is a sports-lover's dream. It comes with a roof rack that can support up to 150 pounds of outdoor sports equipment from kayaks, canoes, and mountain bikes to surfboards, kitesurfing equipment, and more.
The beautifully designed interior boasts an L-shaped sofa that converts into a bed, a wood-effect floor with wood units to match, LED interior lighting, and a spacious cooking area/kitchen with a covered three-burner range.
Digital amenities in the ESP include USB and aux ports, a media receiver with Bluetooth, a Wi-Fi booster, an MP3 player, and a recharging station with two additional USB ports – ideal for the digital nomad. A 190-watt roof-mounted solar panel with a 1000-watt onboard inverter provides renewable energy to your batteries and allows you to power your outlets while camping off-grid.
Other top features include a 12-volt electric water pump, extra storage over the bunks, a patio light for outdoor dining or relaxing, and a Vinolon Supreme Tent with smoked vinyl windows. It boasts a 20-gallon tank for freshwater so you will have access to clean water when heading into the backcountry.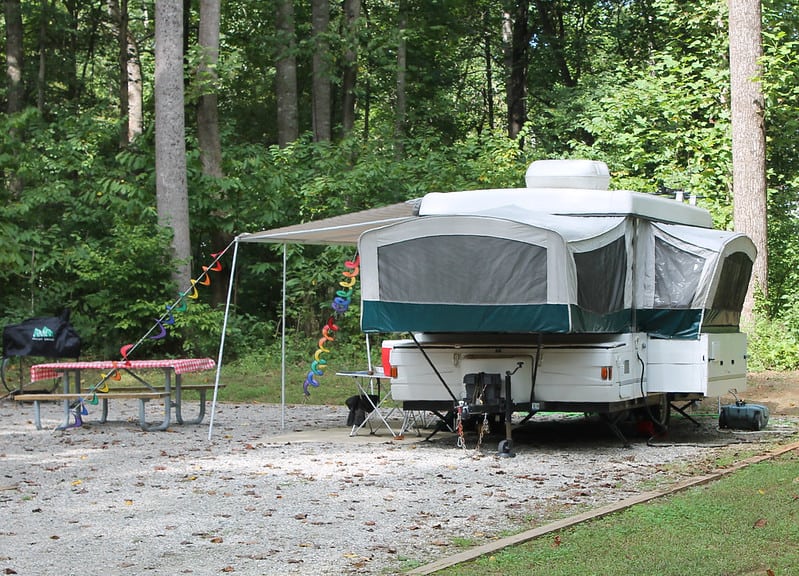 Camper at Powhatan State Park by Virginia State Parks / Flickr / CC BY 2.0
Best Pop-Up Camper for Families: Coachman Clipper Classic
The Coachman Clipper is a fantastic option for a family-friendly pop-up camper with over a dozen floor plans and countless extra options. Weighing in at 2,840 pounds, the camper can accommodate up to four adults and three children and can be tailor-made to suit a wide variety of personal needs.
The Clipper Classic is spacious and airy with a king-size bed, a queen-size bed, a gaucho bed/sofa with thick heated mattresses, a four-seater dinette that can be converted into extra beds for children. A bathroom has a shower and a cassette toilet and a kitchen with a dual-burner stovetop, a refrigerator, a sink, and the interior has air-conditioning and a furnace for cold weather camping.
Some of the best features of this amazing camper include a Jensen Bluetooth stereo, LED interior lighting, solar panels, a storage security system, and a bike rack.
Specifications:
Weight: 2,840 pounds
Person capacity: 4 adults, 3 children
Dimensions closed: 228" x 85" x 55"
Dimensions opened: 281" x 85" x 144"
Best Hybrid Camper: Taxa Mantis
The Taxa Mantis is a hybrid camper that is designed as a habitat basecamp for enjoying the beauty of the outdoors. It features most of the amenities found in a standard RV but has some added extras that make it special.
It not only has a wet bath with a cassette toilet and shower but also has an exterior shower as well with hot and cold water. The small but super compact space boasts a full galley kitchen that features durable Baltic birch-wood cabinetry with high-pressure laminate countertops, a sink, two-burner stove, an open shelving system, a storage tower with a milk crate drawer system, a cooler platform with a 12V outlet, and a 16-gallon trash can.
The full queen/king-size bed offers 21 cubic feet of under-bed storage and can comfortably sleep two adults. It can also be converted into a dinette and a couch to create room for the whole family and the optional folding couch/bunk bed system adds sleeping space for two more adults. You can add a hammock or an optional rooftop tent for additional sleeping space.
Specifications:
Weight: 2,972 pounds
Person capacity: 4 – 6 adults
Dimensions closed: 19' x 7.6' x 6.9'
Dimensions opened: 19' x 7.6' x 9.10'

Pop-up campers come in all shapes and sizes.
OPUS Off-Road
The OPUS Off-Road is a fantastic little camper for off-road enthusiasts. The quick-inflating tent takes just 90 seconds to inflate to full size and when fully set up has eight-foot ceilings, a full outdoor kitchen, plenty of windows, and skylights.
The four-man tent has an interior that has been specially designed to be functional, comfortable, and luxurious. Spacious and light with plenty of windows and skylights, the tent has a ceiling height of 2.5 meters, a large kitchen with a two-burner gas hob, a cabinet-mounted three-way fridge, a work surface with drawer units for storage. A demountable table and a seating area are great for relaxing, and fixed double bed areas have inner privacy tents.
Optional extras include a BPW WS3000 stabilizing hitch coupling; a Saracen WS3000 Hitch Lock, which comes with reduced insurance premiums; a Nemesis Ultra Wheel Lock with a guaranteed 20% discount on insurance premiums from SafeGuard Insurance; a 10-meter mains extension lead; a 12 Volt 110 Ah Leisure Battery; an Enduro Remote Control Motor Mover that rotates 360º and can move an OPUS up a 1-in-4 slope.
The OPUS Off-Road has 23-liter water and waste carriers and two high-quality lockable OPUS Alloy Roof Bars made from lightweight aluminum with smooth end molded caps. A carrier provides space for a variety of sports equipment such as mountain bikes, kayaks, and surfboards.
Forest River Flagstaff
The Forest River Flagstaff is another great hard-sided A-frame pop-up camper with a wealth of amenities. This hard-sided pop-up camper has the solid exterior of a travel trailer with the soft material shell of a tent camper, giving you the best of both worlds.
Easy to tow and set up, the Forest River Flagstaff has a white fiberglass exterior with an autumn wood interior and comfortable, stylish furnishings. Amenities include a comfy seating area with a dinette, a kitchen with a two- or -three-burner indoor range, a 12-volt refrigerator with a 100-watt roof solar panel, a microwave, and plenty of cabinets and storage space.
Different models offer different bathroom types from a Port-A-Potty to a hard wall shower with a residential flush toilet and the interior has LED lighting throughout. Other features include a 12-volt water pump, a 30-amp detachable power cord, a 35-amp converter, a courtesy light on the front, an outside griddle, and an automatic gas regulator.
Specifications
Weight: 2,648 pounds
Person capacity: 3 adults
Dimensions closed: 250" x 84" x 68"
Dimensions opened: 250" x 84" x 168"
Best Truck Pop-Up Camper: Four Wheel Campers Raven
Described as 'virtually indestructible,' the Four Wheel Campers Raven is a truck camper made entirely from a robust aluminum frame with a removable camping pod attached by a series of safety hooks and clasps. It is easily set up and removed so the truck can be used for everyday activities like going to work, moving about town, or shopping and as a camper on the weekends.
The Four Wheel Campers Raven is available in a variety of options from base models to luxury options with built-in showers and comfy bench-style dinette seating. All models come with a large queen-size bed that fits on top of the truck and on popping the roof, a spacious dining area that seats two is opened, as well as a kitchen area with a fully functional kitchen. Other features include cooling and heating systems, window, insulation, lighting, and stylish furnishings.
Specifications:
Weight: 1,040 pounds
Person capacity: 2 adults, 1 child
Dimensions closed: 118" x 80" x 60" (70" floor)
Dimensions opened: 118" x 80" x 78" (70" floor)
BunduTec WILD
The BunduTec WILD is another truck camper that caught our eye and made the list of best truck campers. Made from high-quality materials and boasting ample storage space, this two-person pop-up truck camper is made for half-ton pickup trucks and is a popular alternative to the tow-behind variant.
Strong and lightweight, the BunduTec WILD is framed in wood and lined with lightweight aluminum, and the interior features a comfortable seating and sleeping area, a bathroom with a shower, and a toilet. A kitchen has a two-burner stove, refrigerator, and a sink, as well as a water heater, and a furnace for cold weather camping.
Other features include LED lighting throughout, multiple USB and 12-volt outlets, an electric roof lift, and a roof fan vent. Optional accessories with the BunduTec WILD include a glass sink countertop, electric corner jacks, stylish overhead cabinets, and a skylight.
Specifications:
Weight: 1,630 pounds
Person capacity: 2 adults, 1 child
Dimensions closed: 151" x 84" x 63" (84" floor)
Dimensions opened: 151" x 84" x 85" (84" floor)
A-Liner Somerset Utah
The A-Liner Somerset Utah is a tent-side pop-up camper with an 80-inch interior height and length of 18 feet, so plenty of room to move. It comes equipped with two king-size beds and an additional slide-out bed and has a curtain-covered marine toilet inside that can be covered when not in use. There's also space for a cassette toilet if need be.
Utah features a six-seater dinette, a kitchen with a stove and a sink, and a spacious storage trunk on the outside. The exterior of Utah is also equipped with many features, including recessed tail lights, a spare tire, dual LP tanks, double slide-out entry steps, an outdoor shower, patio lighting, an outdoor grill, and mesh screening on the windows.
Specifications:
Weight: 3,500 pounds
Person capacity: 4 – 6 adults
Dimensions closed: 18′-9″ x 7′-5″
Dimensions opened: 23′-7″ x 10′-8″
Frequently Asked Questions
How do I prevent odors from my wet bath toilet?
This depends on the type of toilet you have in your pop-up camper. If it's a recirculating toilet, make sure to follow the instructions on how to use it, especially regarding how much chemical solution you need to put in. Don't skimp when it comes to sanitizing chemicals. If you skimp, it will stink.
It's also important to keep your toilet in good working order. A valve that doesn't seal correctly or a leaky connection will quickly up the stink factor in a small camper.
How do I dump the waste? Do I need a portable waste storage tank?
Some pop-up campers have traditional black water and gray water holding tanks like on a regular RV, in which case, all you need to do is drive up to the dump station, pull out your RV sewer hose, and dump the waste. If your tanks are full before your stay is over, then you'll need a portable storage tank to transport the waste to the dump station.
Many pop-up campers have cassette toilets with a removable waste storage tank that can be removed when the tank's full to dump the waste at a dump station.
Must I use special toilet paper in my pop-up camper toilet?
Yes, you should use special rapid dissolving RV toilet paper to avoid clogging your waste system.
Is a pop-up camper difficult to set up?
Most pop-up campers are very easy to set up with two people as they have built-in cranks and slide-outs that are usually quite easy to maneuver.
Should I store my pop-up camper expanded or closed?
It is best to store your pop-up camper with the pop-up closed. As with any RV, everything needs to be cleaned and put away properly so that the RV is all set to go the next time it's time to go camping. Leaving the tent set-up will expose the material to the elements and possibly damage it. Make sure the canvas is well-dried before collapsing the sides and roof to prevent mildew.
Can I store my pop-up camper with a cover over it?
Yes, you can, however, don't put an airtight cover over the top of the camper as this will restrict airflow and may cause mildew to grow. Choose a fabric that will allow airflow but still help keep off dust and dirt from the roof of the pop-up.
What happens when it rains?
Since a pop-up is a soft-sided RV, the canvas will get wet and will need to dry out. If you prefer the canvas to stay dry, you can always spread an awning or a tarp over the top of the pop-up. While the roof is made from hard material for extra protection from the elements, the canvas can be torn by flying branches in a storm, so keep that in mind.
Happy camping!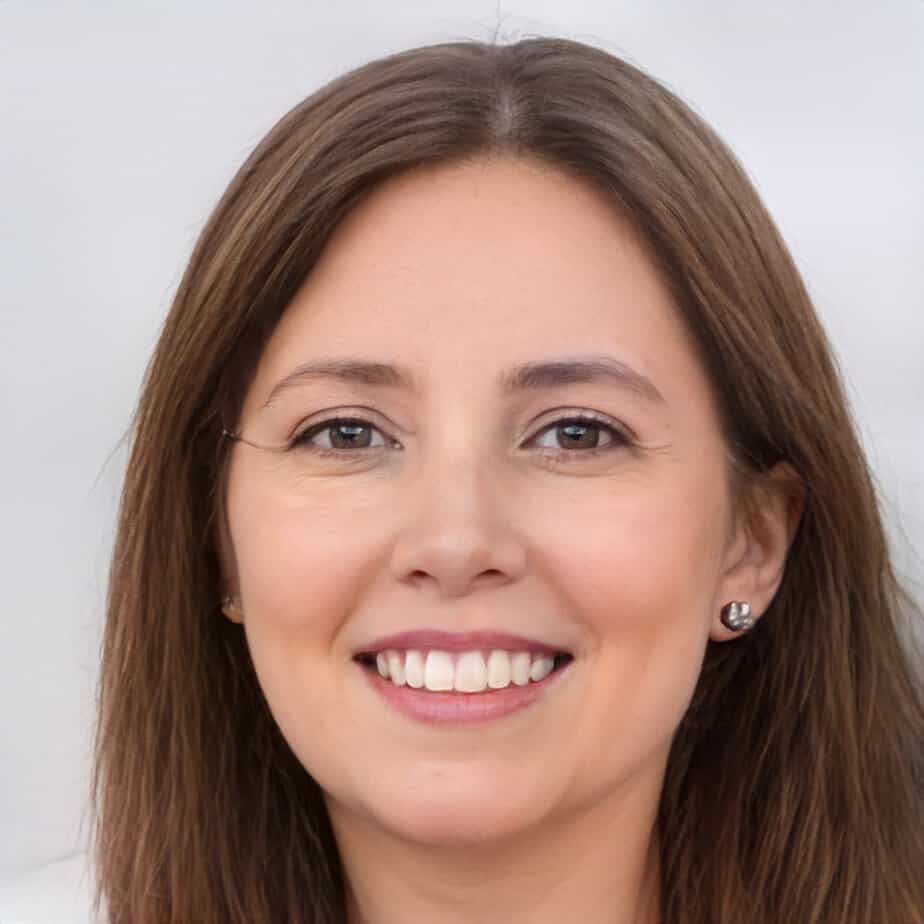 Jill Miller is the founder of Your RV Lifestyle. Trading corporate America for the open road, Jill, along with her partner Jose, began their RV journey, making an unconventional start by wintering in New Jersey. A natural adventurer, she was motivated by a desire to explore the USA and beyond, embracing the varied landscapes, communities, and cultures across the country.
For Jill, the allure of RV living was not about material accumulation, but rather the pursuit of an adventurous, fulfilling lifestyle. A lover of golf, bicycling, hiking, and line dancing, she has carried her passions across the country, engaging with them in diverse settings. Jill's commitment to the RV lifestyle came after years of careful research, numerous consultations with RV owners, and personal trials, including living in a rental RV.