Van life is just what it sounds like… living life out of a campervan or an RV and for adventure-lovers, outdoor enthusiasts, and people who love to head off the beaten track, it's heaven. Living out of a van doesn't mean you have to skimp on luxuries – campervans and RVs range from basic models to the super-luxurious with all the bells and whistles.

Van life is heaven for those that love the open road and the unknown.
Why Choose Van Life?
People choose to live in a campervan or an RV for a variety of reasons ranging from saving money or wanting a new challenge in life to getting off the grid. It does take a certain type of person to leave their home for a smaller one on wheels and live in it alone or with a partner, however, it offers so many amazing opportunities of going to and seeing places you might never have seen.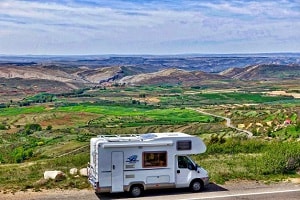 Living in a campervan allows you to travel to places and see things you may never have seen before.
Best Vans for Van Life
We hit the road and tried some of the top campervans and RVs on the market and came up with a list of the best vans for making van life comfortable and easy.
Best for the Campervan Life: Pleasure-Way Plateau
The luxurious Pleasure-Way Plateau is a 23-foot campervan that is ideal for travelers with a wanderlust for adventure. Built on a Mercedes-Benz Sprinter chassis, this amazing van is packed with an array of amenities and features from a sophisticated power system and heating system and a 2,000-watt inverter to premium cabinetry and countertops and swivel chairs.
The spacious interior features an inflatable air bed fitted for the cab, MCD blackout roller shades, and folding privacy/sunshades for all the windows. Vinyl flooring, a vinyl soft-touch headliner, microfiber suede upholstery on the rear walls, and recessed LED lighting under the cabinets and along the roof create a cozy and warm ambiance.
A fully equipped galley kitchen features a convection microwave oven, a three-way refrigerator/freezer, a burner stove, a large under-mount stainless steel sink with a Corian® cover, a solid surface countertop, and Baltic birch drawer boxes. A private enclosed wet bath features a shower, stainless steel sink, residential-style ceramic bowl toilet with a foot flush, and a medicine cabinet and vanity with a mirror.
State-of-the-art technology in the van includes a Bose® soundbar w/ Bluetooth®, a rear 24" Smart LED TV with a swing-out mount, a Blu-ray™ player, and multiple USB charging ports.
Pros
Comfortable and spacious layout
Amazing features
Exceptional warranty coverage
Cons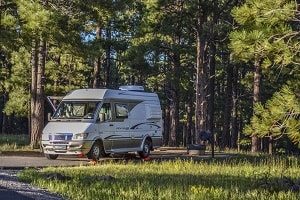 Life in a campervan is peaceful and relaxing and takes you to places you may never usually go.
Best Pop-Up Campervan: Air Opus
The Air Opus is one of the best pop-up campers on the market. Small, lightweight, and easy to tow, the Air Opus comes with everything that you might need for a trip into the wild and is super easy to store after your trip.
One of the best features of this pop-up camper is the "Air Pole Technology," which sees the trailer opening up and self-inflating into a full-sized camping trailer in just 90 seconds. This state-of-the-art technology uses air tubes and an electric pump, making setting up and taking down a quick and hassle-free process.
The Air Opus has a spacious interior with electric lighting, skylights, and windows. It also features a fully fitted kitchen with a microwave, a comfy dining and living area, and a built-in bedroom. It has a ceiling height of 2.5 meters which offers plenty of standing room for tall adults.
Specifications:
Weight: 2,387 pounds
Person capacity: 2 adults
Dimensions closed: 206" x 66" x 53"
Dimensions opened: 206" x 66" x 120″
Best Class B RV: Thor Motor Coach Sequence
The Thor Motor Coach Sequence is a super, cost-effective camper van with standout features that is easy to drive and very comfortable to live in. Built on a gas-powered RAM Promaster® 3500 van chassis, the Thor Motor Coach Sequence is powered by a fuel-efficient V-6 engine and has a front-wheel-drive platform and a 36-foot turning diameter. It also has a towing capacity of 3,500 pounds.
Measuring 21 feet in length, the spacious interior is comfortable and stylish with residential vinyl flooring, dander and scratch-resistant sofas, TecnoForm® Euro-style cabinets, LED lighting, and plenty of storage space.
The kitchen is packed with all the features you need to create culinary magic, including a stainless steel sink with covers, a two-burner gas cooktop with lighting above, a 12-volt electric fridge, and solid surface kitchen countertops, a pull-out countertop extension, a pop-up outlet, and a convection microwave.
The Thor Motor Coach Sequence features a Pop-Top SkyBunk® sleeping area with a 200-watt solar panel and a fully-enclosed wet bath with a sink, a deluxe shower curtain, and plenty of storage.
Additional extras include a Thule bike rack that can carry two full-sized adult bikes; an extendable Thule roof ladder with an innovative magnetic support system to access the roof of the campervan, and a Thule patio awning with supporting legs and aluminum gussets that are easily rolled in and out with a press of a button.
Pros
Larger than most camper vans
Extremely affordable
Impressive features
Cons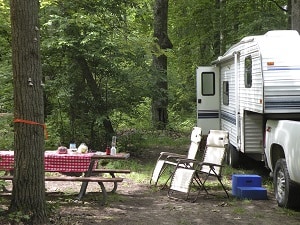 Hungerford Lake Recreation Area at Equestrian Campground.
Best for Traveling Families: Coachman Clipper Classic
The Coachman Clipper is a fantastic option for a family-friendly pop-up camper with over a dozen floor plans and countless extra options. Weighing in at 2,840 pounds, the camper can accommodate up to four adults and three children and can be tailor-made to suit a wide variety of personal needs.
The Clipper Classic is spacious and airy with a king-size bed, a queen-size bed, a gaucho bed/sofa with thick heated mattresses, and a four-seater dinette that can be converted into extra beds for children. A bathroom has a shower and a cassette toilet and a kitchen with a dual-burner stovetop, a refrigerator, a sink, and the interior has air-conditioning and a furnace for cold weather camping.
Some of the best features of this amazing camper include a Jensen Bluetooth stereo, LED interior lighting, solar panels, a storage security system, and a bike rack.
Specifications:
Weight: 2,840 pounds
Person capacity: 4 adults, 3 children
Dimensions closed: 228" x 85" x 55"
Dimensions opened: 281" x 85" x 144"
Best RV for Dry Camping: Roadtrek Zion
The Roadtrek Zion focuses on the former and is built for comfortable camping with plenty of space for extras like bicycles, kayaks, and tents. Built on the Ram ProMaster chassis, this versatile campervan boasts an open concept floor plan that allows for extra gear to be packed in the spacious center aisle.
The 21-foot campervan has a beautifully designed interior with a spacious galley, a comfortable sofa and bed, a full bathroom, and an abundance of storage space. Large windows flood the interior with light and an 11,000 BTU roof-mounted air conditioner keeps the interior cool in the summer.
Additional features include a retractable power awning for shade, an outdoor shower, a heavy-duty, magnetic bug screen for the rear and passenger sliding door, power steps, folding side mirrors for tight spaces, and environmentally-friendly solar panels.
Pros
Ideal for outdoor adventurers
An impressive amount of storage space
Good warranty
Cons
Best Truck Pop-Up Camper: Four Wheel Campers Raven
Described as 'virtually indestructible,' the Four Wheel Campers Raven is a truck camper made entirely from a robust aluminum frame with a removable camping pod attached by a series of safety hooks and clasps. It is easily set up and removed so the truck can be used for everyday activities like going to work, moving about town, or shopping and as a camper on the weekends.
The Four Wheel Campers Raven is available in a variety of options from base models to luxury options with built-in showers and comfy bench-style dinette seating. All models come with a large queen-size bed that fits on top of the truck and on popping the roof, a spacious dining area that seats two is opened, as well as a kitchen area with a fully functional kitchen. Other features include cooling and heating systems, window, insulation, lighting, and stylish furnishings.
Specifications:
Weight: 1,040 pounds
Person capacity: 2 adults, 1 child
Dimensions closed: 118" x 80" x 60" (70" floor)
Dimensions opened: 118" x 80" x 78" (70" floor)
Best Value for Money RV: Winnebago Solis
Rated among the best Class B RVs, the Winnebago Solis is a fantastic investment that is packed with great features and promises a comfortable home-away-from-home from which to live while on the road. Well-equipped for backcountry adventures and extended-season camping, the Solis boasts a flexible interior, plenty of storage, and can comfortably sleep four adults.
Despite its smaller size, the Winnebago Solis is designed in a way that it features an array of superb features for optimal comforts, such as the pop-up top, a stylish dinette, a smartly designed water system, and cassette toilet, and a Murphy bed.
The van features a kitchenette with a sink, stovetop, an added slide-out countertop space, and plenty of overhead shelving for storage. There is a bathroom with a shower and toilet, and the back of the van is converted into a sleeping area with additional sleeping space in the pop-up top.
Pros
Sleeps four people
Packed with great features
Efficient use of space
Cons
Below-average warranty protection
Craftsmanship issues
Marzinski Campground and Trail.
Best Value Pop-Up Camper: SylvanSport GO
The SylvanSport GO is another ultra-lightweight pop-up camper that is ideal for first-time campers or those looking for a small pop-up camper. This four-person camper is 100% waterproof and comes with insulating bed platforms that are great for camping in colder areas.
It is easy to tow and back into spaces at campsites due to its size and it has a great roof rack with a low loading height of just 53 inches and a carrying capacity of 165 pounds so you can load up those mountain bikes, kayaks, and surfboards!
It has a waterproof tent pod that deploys and retracts from the hinged case which is mounted below the equipment rack and offers multiple comfy dining and sleeping options when set up with a standing height of six feet and five inches. The tent is 80 inches long and 116 wide and can comfortably accommodate four people. The tent can also be removed so the trailer can be used to haul gear or supplies.
Specifications:
Weight: 840 pounds
Person capacity: 4 adults
Dimensions closed: 143" x 75" x 53"
Dimensions opened: 154" x 124" x 108"
Best for Outdoor Activities: Forest River Rockwood Extreme Sports Package Camping Trailer
The Forest River Rockwood Extreme Sports Package Camping Trailer is a sports-lovers dream. It comes with a roof rack that can support up to 150 pounds of outdoor sports equipment from kayaks, canoes, and mountain bikes to surfboards, kitesurfing equipment, and more.
The beautifully designed interior boasts an L-shaped sofa that converts into a bed, a wood-effect floor with wood units to match, LED interior lighting, and a spacious cooking area/kitchen with a covered three-burner range.
Digital amenities in the ESP include USB and aux ports, a media receiver with Bluetooth, a Wi-Fi booster, an MP3 player, and a recharging station with two additional USB ports – ideal for the digital nomad. A 190-watt roof-mounted solar panel with a 1000-watt onboard inverter provides renewable energy to your batteries and allows you to power your outlets while camping off-grid.
Other top features include a 12-volt electric water pump, extra storage over the bunks, a patio light for outdoor dining or relaxing, and a Vinolon Supreme Tent with smoked vinyl windows. It boasts a 20-gallon tank for freshwater so you will have access to clean water when heading into the backcountry.
Image by W. Bulach / WikiCommons / CC BY-SA 4.0.
Best Off-Road Pop-Up Camper: OPUS Off-Road
The OPUS Off-Road is a fantastic little camper for off-road enthusiasts. The quick-inflating tent takes just 90 seconds to inflate to full size and when fully set up has eight-foot ceilings, a full outdoor kitchen, plenty of windows, and skylights.
The four-man tent has an interior that has been specially designed to be functional, comfortable, and luxurious. Spacious and light with plenty of windows and skylights, the tent has a ceiling height of 2.5 meters, a large kitchen with a two-burner gas hob, a cabinet-mounted three-way fridge, and a work surface with drawer units for storage. A demountable table and a seating area are great for relaxing, and fixed double bed areas have inner privacy tents.
Optional extras include a BPW WS3000 stabilizing hitch coupling; a Saracen WS3000 Hitch Lock, which comes with reduced insurance premiums; a Nemesis Ultra Wheel Lock with a guaranteed 20% discount on insurance premiums from SafeGuard Insurance; a 10-meter mains extension lead; a 12 Volt 110 Ah Leisure Battery; an Enduro Remote Control Motor Mover that rotates 360º and can move an OPUS up a 1-in-4 slope.
The OPUS Off-Road has 23-liter water and waste carriers and two high-quality lockable OPUS Alloy Roof Bars made from lightweight aluminum with smooth end molded caps. A carrier provides space for a variety of sports equipment such as mountain bikes, kayaks, and surfboards.
Best for Adventure: Antero Adventure Motors Longs Peak
The Longs Peak Adventure Campervan by Antero Adventure Motors is the ideal van for adventurers and camping enthusiasts. Built on a Mercedes Sprinter chassis, this van is durable and reliable and designed to make the most use of the space available.
The Longs Peak Adventure Campervan is packed with first-class features to make your camping experiences unforgettable. The "O.G." Off-Grid Power System is a power package boasting 210-amp hours of Lithium-Ion battery storage, 180 watts of rooftop solar, a 2000-watt inverter, and multiple outlets in strategic places all over the van.
The Smart Floor System boasts full-length L-track inseTS that allow you to configure the seating and accessories in several ways and the DayDreamer Multi-function Bed quickly converts from a sleeping area to an eating dinette or becomes a workspace.
Other features include upgraded off-road wheels and tires, side steps, LED sidelights, a roof rack system and roof vent, a rear bumper step, vented side windows, bug screens, and privacy screens, and an external shower station port, an on-board air compressor, and a powered awning.
Pros
Designed for maximizing space
Solar panels for eco-friendly energy
Off-Grid Power System
Cons

Living out of a van doesn't have to be a hardship!
Jayco Jay Sport by Jayco
Offering four different floor plans, the Jayco Jay Sport has something for everyone. This versatile pop-up is airy and stylish with ample places to relax and modern furnishings that make it feel like a small home-away-from-home. The camper comfortably sleeps eight people and features a spacious fully functional kitchen area with a range of appliances that have been pre-plumbed for propane.
The Jayco Jay Sport pop-up camper has a heavy-duty, corrosion-resistant frame with a domed, seamless fiberglass roof and a mildew-resistant aluminum ceiling to which a water-repellent tent is attached on either end for extra space. Although there is no bathroom, there is an exterior shower and optional add-ons include a canopy awning and a double-entry step.
The OPUS Off-Road has 23-liter water and waste carriers and two high-quality lockable OPUS Alloy Roof Bars made from lightweight aluminum with smooth end molded caps. A carrier provides space for a variety of sports equipment such as mountain bikes, kayaks, and surfboards.
Frequently Asked Questions
Do I need a special license to drive a motorhome?
It is best to double-check the rules of the road for whatever state or country you are planning on traveling through, however, typically, you will not need any type of special driver's license to drive a motorhome.
What is the best speed limit to stick to on the highway?
A motorhome is classified as a non-commercial vehicle, so can follow all normal car speed limits. Bear in mind that the faster you go, the less control you will have of the vehicle and the less mileage you will get out of the tank. The best gas mileage will be found at around 55 to 60 mph. Always err on the side of caution when driving a motorhome.
Which is better – diesel or gas?
The answer to this question will depend entirely on what you plan on using your RV for. If you plan on taking long trips around the country, or if storage space is a major concern, diesel is your best option as it is more fuel-efficient than gas. If you plan to just use your rig during the summer for short trips and then store it in the winter, the better way to go is gas.
Happy camping!