Our top pick for the best hiking boot is the Salomon Quest 4D 3 GTX. Packed full of features including Contagrip soles to provide supreme grip, a waterproof and breathable upper and an excellent level of ankle support, this boot does it all. Whether you're heading out for a day hike with your favorite hiking backpack, or taking on a multi-day hike far from home, the Salomon Quest 4D 3 GTX ticks all the boxes.
Our step-up pick is the Scarpa Zodiac Plus GTX. This boot provides many of the best features of a true mountain boot, such as supreme stability and traction, but with a lighter weight. Quality leather uppers mean this model is built to last and with regular care will last for years. The Scarpa Zodiac Plus GTX is a great choice if the majority of your hikes take you into challenging terrain off the beaten track.
Our budget pick is the Keen Targhee II Mid hiking boot. These boots combine great value for money with plenty of features you'd expect to find in a higher priced boot. The Keen Targhee II Mid definitely offers the best value for money of any boot we reviewed. Classic Keen styling combines with a low ankle collar, excellent foot support and good traction to create the best entry level boot we've seen.
A little background
Finding your best pair of hiking boots can feel like hitting the jackpot. When the time comes to replace your trusty boots, it can be a difficult task. Selecting your next best pair of boots is a big decision. If you've had your boots for a long time, you might be tempted to stick with your tried and trusted formula of a heavyweight boot that took months to break in, but then fitted like a glove.
The right hiking boot is one of the most essential pieces of your hike. With them, you can take on the toughest of hikes with confidence. Using an ill-fitting boot will make your hike miserable and uncomfortable.
Technology has certainly moved on in leaps and bounds since heavy leather boots were our only option, and I can see major improvements in the majority of brands over the last few years. The best materials have been combined with intelligent design to create lightweight boots that can fulfill almost any purpose you're looking for. If you prefer shorter hikes, a sandal can work well, but for anything over 5 km, you can't beat a decent boot.
Whether you enjoy fast trails with ultralight equipment, or winter hikes through snowmelt streams and rocky trails, there's a new hiking boot out there to suit you. Selecting the best boot for the task can certainly make each and every trail you hike even more of a pleasure than before. There are many features to choose from, including water resistance, ankle support, lacing systems, tread patterns, and breathability.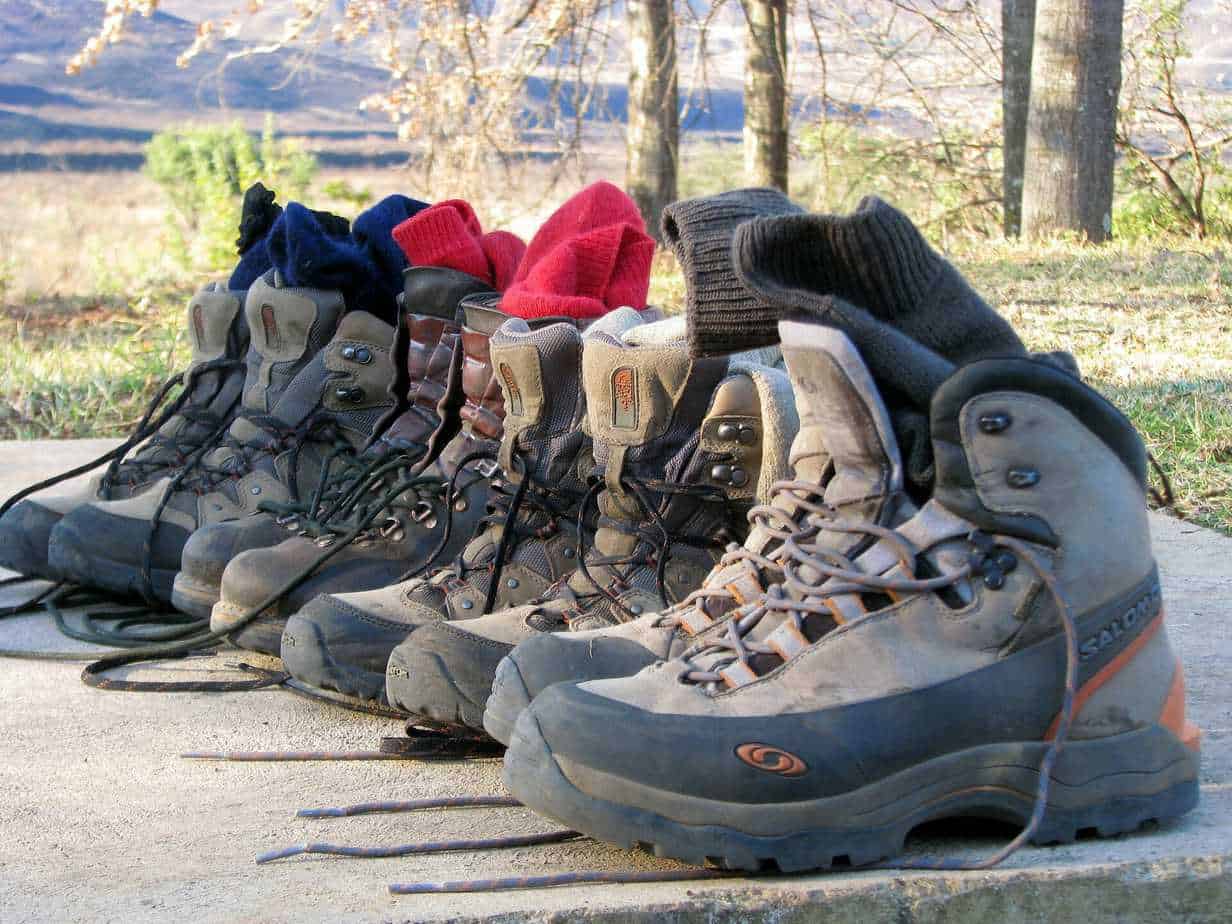 From heavyweight leather to lightweight synthetic, there's a boot out there to suit you.
Many of our favorite brands have really upped their game to provide a huge amount of choice for you to select the best boot for your needs. So, let's take a look at some of the features which you'll want to pay attention to when making your choice.
How we picked
Hiking boots are usually split into three categories: lightweight, midweight and heavyweight. The type of hiking you tend to do will in part determine which category of hiking boot you'll be looking to purchase.
These days, lightweight and midweight options are definitely more popular, and it's these two categories that we've focused most on in this review. Out of all the models we reviewed, only one falls into the heavyweight category.
Let's take a look at those categories in a bit more detail.
Lightweight Hiking Boots
This category of boot tends to cater to those hikers completing day hikes on fairly even terrain. The lightweight hiking boot tends to feature low cut ankle collars, which provide a medium level of ankle support. Of course, as the name implies, they are indeed a lightweight option, which also makes them comfortable and relatively easy to break in.
This option also suits experienced hikers, heading out on multi-day treks with heavier backpacks and tents. Bear in mind, this will only apply if you have strong ankles and feet. This is because they don't provide the same amount of foot and ankle support that a midweight boot will. For some hikers, a midweight boot is the best option, so let's take a look at them next.
Midweight Hiking Boots
The midweight category offers a more solid construction and better support than a lightweight boot, as you would imagine. If you enjoy multi-day hikes and feel that your ankles benefit from a good level of support, these are probably the best option for you.
A midweight boot which provides good ankle support and traction is a great choice. 
Midweight boots also provide long-lasting uppers with robust soles that provide the best amount of traction over a wide range of terrain including snow and rock. We reckon that a midweight hiking boot will give you the best of both worlds – great support combined with a medium weight boot that doesn't require too much breaking in.
Heavyweight Hiking Boots
As the name suggests, these are made of tough stuff. They are usually fully waterproof, exceptionally supportive and with tough soles that can safely take you over almost any type of terrain. Of course, this all comes at a price, and here, the trade-off is weight. These boots are heavy.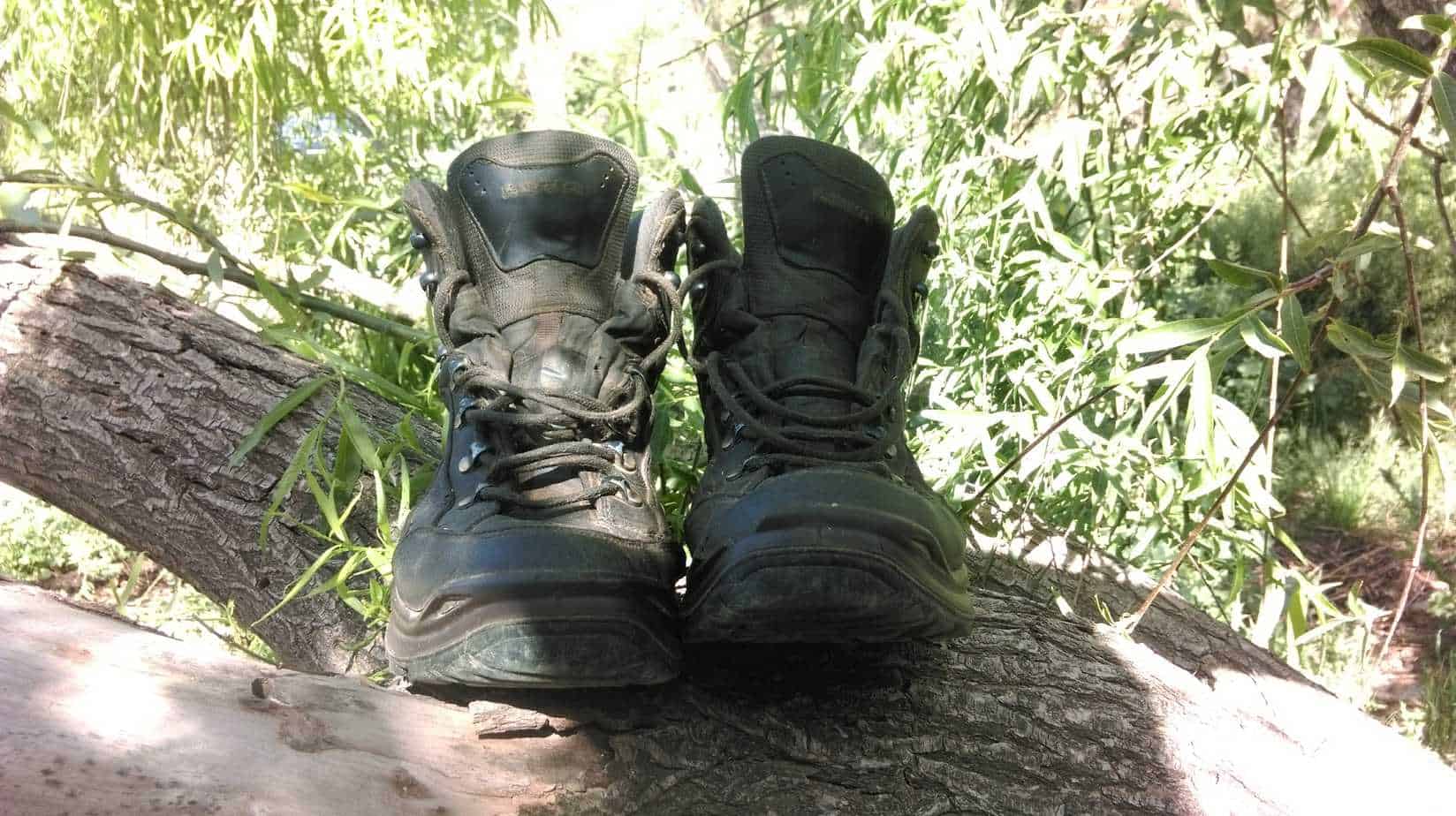 For some hikers, a heavyweight leather boot is a great choice. But they will require more care and breaking in before use to ensure ultimate comfort. 
The heavyweight boot is becoming less and less common, as technology improves and the functionality of both the lightweight and midweight boot becomes more advanced. That said, if you're carrying heavy loads over rough and tough terrain, sometimes the best heavyweight boots are still hard to beat.
Hiking boot features
To start with, it's best to familiarize yourself with some of the features you should be looking for in the best hiking boot. These include:
Weight
Water Resistance
Breathability
Ankle stability
Comfort
Traction
Durability
Let's take a look at those features in a little bit more detail:
Weight
It's important to find the right balance between weight and support. While you will definitely feel the additional weight of a heavier boot if you've been out hiking all day, sometimes this is a necessary compromise for additional ankle support and tough soles. It can be a good idea to experiment with taking a short hike in a trail shoe or similar design with less ankle support, to see if you can cope. If not, it's always safer to prioritise ankle support over weight.
Water Resistance
There's nothing worse than stepping through a river on your hike and feeling water start to seep through your boots. Selecting a water resistant hiking boot is a great idea, with the majority of boots now offering some degree of protection from streams, puddles, and rain. Many manufacturers now use Gore-Tex, a material which is water resistant but also breathable, meaning microscopic molecules of sweat can escape but larger molecules of water cannot get in. This tends to be indicated by the word 'GTX' in the name of the boot. Unless you know you're only going to be hiking in dry conditions, then I would always recommend selecting a hiking boot with some level of water resistance, and as a general rule, Gore-Tex is the best option.
Breathability
The majority of options available these days are water resistant, but breathability is also a key point. Any water resistant treatment needs to allow sweat that has built up inside your boot to escape, otherwise your feet end up uncomfortably soaked in sweat rather than that water from the stream. This is achieved through the use of breathable membranes which allow smaller sweat molecules to escape, but prevent larger water molecules to enter. Some lightweight choices designed for summer hikes focus on breathability at the expense of water resistance, which isn't so important if you only hike in hot weather.
Ankle stability
The ankle collar of a boot is an important feature which adds stability. When using trails which can have uneven sections, having additional ankle support to prevent you rolling over on your ankle is a great advantage. The amount of stability offered by a particular boot can be adjusted to a certain degree by using the lacing system to provide more or less tightness through the footbed and ankle collar. The majority of manufacturers allow for different tensions to be achieved in these areas through the use of locking eyelets.

The locking eyelets around the ankle collar of these boots allows for an adjustable fit through footbed and ankle.
Comfort
This is obviously a difficult category to judge, as what I find comfortable might feel totally different to someone else. Despite that, there are a few factors to look out for which can give you a good idea as to the comfort of a particular boot. These include the amount of padding around the ankle collar – look for a decent amount to provide a comfortable fit against your ankle. Some of the less expensive models also have a thinner insole, so it's worth taking a note of this if you're in a hiking shop comparing different models. If not then don't worry because that's where we come in! We've rated each boot in terms of comfort, taking into account all of the factors mentioned above.
Traction
Of course, any decent hiking boot should offer a good level of traction, but depending on where you plan to hike then some models will be better suited than others. The sole of a hiking boot has what's referred to as a 'lug pattern' which is the design and style of the markings on the sole. A boot with deeper cut lugs will help you keep your footing through mud and snow, while a shallower lug pattern will be better suited to a wide variety of easier conditions. Boot models designed specifically for winter hiking will usually have a deeper lug pattern, while the majority of light to midweight boots we reviewed have a shallower lug pattern which makes them perfect for maintained trails with some rocky sections.
The lug pattern will vary depending on the type of terrain the boot is intended for. This is a good general purpose pattern with medium depth intended to help traction over a variety of terrain.
Durability
If you're planning to invest in a new pair of boots, then you want to make sure they can go the distance. Many of us expect our investment to see us through at least two or three seasons of reasonable use. Of course, if you're planning on hiking everyday then you can expect them to last a little less long. Leather uppers are the most durable and will last you a long time. Many manufacturers now choose to use a combination of leather and mesh uppers, which cuts down on weight and increases breathability, but also will decrease durability. Look out for a boot with fewer seams, as these are areas which will tend to show signs of wear and tear first.
A leather hiking boot is designed to last for years.
Our Pick
Salomon Quest 4D 3 GTX
Our recommendation for the best hiking boots goes to the Salomon Quest 4D 3 GTX. Thi boot is packed full of quality features which will make every hike a pleasure. The stylish leather and synthetic upper are combined with a rubber outsole which has been specifically updated in order to provide supreme grip and traction on even the most challenging surfaces. The chassis of the Salomon Quest 4D 3 GTX is designed to help guide your step and decrease fatigue.
I have always been impressed by the performance of Salomon's well known trail running shoes, and these boots provide all that performance and more. Comfortable straight out of the box, these boots need very little miles completed in them before they feel amazingly comfortable. The ankle collar is significantly higher than many other hiking boots, but these provides the best support for your ankle out of any boot we tested. This, combined with the intelligent lacing system which allows total customization of the lace tightness around both the footbed and the ankle collar.
As the name of this boot suggests, Salomon has combined a Gore-Tex liner with nylon mesh panels within the boot to provide the ultimate combination of breathability and water resistance. Again, the high ankle collar comes into its own here as it provides a greater degree of protection than many other hiking boots with a lower profile collar. The lug pattern on the sole of this boot is designed to help slow you down when descending steep sections of trail, while also providing a great level of grip across a wide variety of surfaces.
Flaws but not dealbreakers
There's really very little to let this boot down, but there are a few minor points to be aware of. While this boot is breathable, it's not best suited to regular hiking in hot and dry weather as you may find the breathable liner is not quite up to the job.
The Salomon Quest 4D 3 GTX is a relatively heavy boot compared to some of the others we reviewed. This is in part due to the higher ankle collar and the fact that it is a very robust and durable boot. These flaws are most definitely not dealbreakers – in fat if you're looking for the all-round best boot to provide everything you're looking for in a hiking boot, you can't go far wrong if you select the Salomon Quest 4D 3 GTX.
Step-up Pick
Out step-up choice is the Scarpa Zodiac Plus GTX. This boot provides an exceptional level of support, stability and traction. Verging on a true mountain boot, the Scarpa Zodiac Plus GTX is well suited to long trails with challenging terrain. It's important to note that these will require a breaking-in period, unlike some of the lighter models of boot which will feel comfortable straightaway. I think this is something that's well worth doing, as once broken in these boots are fabulously supportive.
The high ankle collar provides a great deal of stability and protection, which when combined with the sole allows you to feel confident when negotiating sections of loose rock or other difficult terrain. An interesting difference in this boot is that it contains no shank within the sole, unlike the majority of models we tested. This saves weight, meaning that the Scarpa Zodiac Plus GTX is lighter than some of its equivalent competitors.
The full leather upper of this boot provides excellent water resistance and is combined with a Gore-Tex lining which provides breathability on warm conditions. It's important to note that leather will require regular treatments with a suitable product in order to preserve the water repellency. This boot is a relatively expensive choice, but given that it provides a high level of technical features and quality workmanship, this is definitely a boot worth investing in.
Budget Pick
Sale
For our budget pick, we think the Keen Targhee II Mid is the best option out there. For what it offers, this boot is incredibly well priced and comes in at less than half the cost of many of the other choices we reviewed. This boot comes with Keen's trademark toe cap, which provides great protection. The Keen Targhee II Mid is comfortable straight out of the box, with a medium height ankle collar that provides a good level of support and stability.
One feature that really makes this boot stand out is the unusual yet highly efficient lacing system. The webbing which makes up the middle eyelet of the ankle collar extends all the way around the heel of the boot. This provides a much higher level of security for your heel than many other boots. The rubber sole of the Keen Targhee II Mid provides a good level of traction across a wide variety of surfaces. One downside is that the slightly bulky rubber toe cap can interfere if you're looking for precise foot placement when climbing up rocky bluff or negotiating tricky uphill sections of trail.
This boot falls into the lightweight category, so provides a good amount of features without weighing you down. While this boot does offer water resistance, the low ankle collar compromises this, so if you plan on travelling through streams deeper than around 3.5 inches, you can expect to get wet feet. This boot is a popular choice for thru-hikers on both the Pacific Crest Trail and Appalachian Trail, which I feel gives this boot a well-earned seal of approval as a budget pick.
Best hiking boots for women
We selected the Salomon X Ultra Mid 3 GTX as the best hiking boot for women. These midweight boots are packed full of great features which combine to make a great all-round boot that's built to last. Despite all the benefits that these boots offer, they still come in at a very manageable 1.83lbs, only a little more than many popular hiking shoes. The advantage, of course, of the Salomon X Ultra Mid 3 GTX is that they offer fantastic ankle support thanks to the padding.
A great advantage of selecting a women-specific boot is that they have been designed specifically for the shape of a womens foot, which leads to a more comfortable hiking experience. This boot utilizes an asymmetrical chassis, which is surrounded by a layer of foam to help cushion and absorb impact. The foam is directly connected to the sole of the boot, which helps stabilize your heel allowing you to feel secure in any terrain. These boots use a combination of leather and Gore-Tex treated fabric to provide a waterproof yet breathable boot to protect your feet come rain or shine.
One of the features I like best about this boot is the attention to detail given to the tread pattern. This combines two different types of rubber, which are placed in specific areas on the sole. The intention is to provide the best level of grip on a wide range of terrain. This is combined with Salomon's Descent Control technology, which includes a patterned section on the heel which provides grip and control when moving downhill.
Best lightweight hiking boots
Many hikers are tempted to select a hiking shoe when looking for a lightweight option, but if you need the additional stability of an ankle support, then it definitely makes more sense to select a lightweight hiking boot instead. Our best pick here is the Merrell Moab 2 Mid. Coming in at a respectable 2.4lb, it doesn't feel like you're compromising any features to compensate for that lack of weight. These boots are still a great choice for a wide variety of hikes.
Featuring a suede leather and mesh upper, these boots are designed to feel supremely comfortable over long trails. One of the best advantages of these is that they don't need too much breaking in, so these boots feel great straight out of the box. The insole has been designed to provide support for your heel and arch, while the cushioned ankle collar and tongue provide cushioned support here too.
As well as being lightweight, these boots offer waterproof protection in addition to a breathable liner to keep your feet feeling cool in hot conditions. Merrell are well known for their Vibram outsoles and the Merrell Moab 2 Mid is no different. The combination of Vibram TC5 outsole and an air cushion in the heel provides both exceptional traction over a variety of surfaces, and an excellent level of comfort.
Best heavyweight hiking boots
At the other end of the scale in terbestms of weight, we have the Asolo Power Matic 200 GV boot. Coming in at a hefty 4.13lb, these boots look far more like a traditional hiking boot than many of the others we reviewed. One advantage of this which is clear straight away is the high quality, full-grain leather upper. This provides an excellent level of water resistance which extends almost all the way up the ankle collar of the boot. This high ankle collar provides the best support of any boot we reviewed too, making this boot a great choice if you favor that particular feature.
Despite the traditional look of these boots, they're still packed full of modern features. This includes a Power Matic sole, combining Vibram and rubber to provide traction over a wide variety of terrain. While this boot is very comfortable, it is worth noting that it will take a significant amount of time to break these boots in. While many of the more modern boots feel great straight out of the box, it's going to take longer until you feel the full benefits of the Asolo Power Matic 200 GV. You should expect to take these boots for quite a few shorter hikes, as well as treating them with a leather treatment regularly, before they feel fully molded to your feet. With that said, if you're looking for the best traditional, waterproof and heavy duty boot, then it's definitely worth taking that time.
Best hiking boots for summer
If you spend the majority of your time hiking in warm, summer conditions, then you can safely trade the extra weight of a waterproof boot for features more suited for hot weather. Our pick for the best hiking boots for summer is the Merrell Moab 2 Vent Mid. These boots combine a suede leather and mesh upper, with a breathable mesh lining. This mesh allows the boot to breathe, keeping your feet dry as temperatures soar.
These comfortable boots feature a flexible Vibram sole, and feel great right out of the box. One drawback of these boots is that they only offer one set of lacing hoots on the ankle collar rather than the two or three found on many of the other pairs of boots that we reviewed. While this shouldn't put you off, it does mean you'll have slightly less room for adjustments.
Merrell Vibram TC5 sole provides great traction with a light sole which is best suited to hikes on sandy trails with a relatively low incline, than to scrambling up rocks. These boots are great value for money and are perfect if you're looking for the features of a breathable hiking shoe but with the added protection and support offered by the addition of an ankle collar.
Best hiking boots for winter
If you complete the majority of your hikes in cold conditions, then a boot specifically designed for winter hikes is going to be your friend. Whilst Adidas are definitely better known for their sports shoes, the Adidas Sport Performance Men's Terrex Tracefinder hiking boots are a fantastic choice for winter hiking.
The stylish mesh and textile upper combines with 200g of Primaloft insulation to keep your feet warm in those cold winter conditions. And if you hit snow then the Climaproof waterproof membrane will protect your feet, keeping you dry as well as warm. The ankle collar on these winter hiking boots is cut higher than the majority of other boots in our review. The advantage of this is that they offer increased ankle support as well as keeping more of your feet and ankles dry – always a bonus when hiking through snow!
This Adidas Terrex Tracefinder winter hiking boot also has a specially designed outsole made from Stealth rubber. This, when combined with the Boost midsole helps to provide both excellent traction and a high level of comfort. The lacing system of this boot is designed to allow you to achieve a variety of fittings. Select a snug fit across the footbed, with a loose ankle collar, or a loose fit around the footbed with a tighter ankle collar, according to your personal preferences and the conditions you're hiking in.
Best hiking boots for comfort
If you're looking for ultimate comfort from your hiking boots, then the HOKA ONE ONE Tor Ultra High WP is the boot for you. Whilst they certainly look quite a bit different to your average hiking boot, they provide a great combination of comfort, support, traction and a light weight of just 2.3lbs.
The intention behind the design of this boot was to combine the supreme cushioning comfort of a running shoe with the ankle and foot support of a hiking boot. This is achieved through the use of a rocker sole. This is a slightly unusual choice for a boot, but it certainly seems to work incredibly effectively. It definitely does take some getting used to, so while these boots don't need any breaking in from a comfort point of view, you might want to take them on a few shorter hikes while you get used to the different feel of the rocker sole.
The ankle shaft of this boot is cut particularly high, with the intention of providing an above average level of ankle support. Unlike the majority of hiking boots, the HOKA ONE ONE Tor Ultra High WP doesn't have supportive shanks inside the sole. Instead, the mid and outer soles are made from a very thick rubber which provides stability. This allows for a great deal of flexibility in the footbed, another feature which makes these boots so comfortable. They are also available in a women's model.
Best Hiking Boots for Wide Feet
If you have wider feet, then finding the best pair of boots to suit you can be a challenge. Hiking in a pair of boots that are too narrow is never going to be a good idea, so instead consider investing in the Lowa Tibet GTX Wide Trekking Boot. These are a relatively expensive choice, but they do offer masses of features as well as that all-important wide fitting.
The Gore-Tex lining helps to keep your feet warm and dry. They're not the lightest boots we reviewed, but they still fall into the midweight category and so are suitable for multi-day hikes over a wide variety of terrain. The high ankle collar offers a great level of support around your ankles, and also allows for customization through the footbed and ankle by adjusting the tension of the laces.
The nubuck leather of these boots offers a great quality finish which will last for many seasons. The Vibram outsole is combined with a full-length stabilizer to offer support and traction over difficult terrain. You might find these boots a little too much for short day hikes over easy ground, but if you're looking for a fully functional, wide fitting boot for multi-day hikes over challenging terrain, the Lowa Tibet GTX Wide Trekking boot is the best choice.
Choosing the perfect pair of hiking boots
Now we've taken a thorough look at all our hiking boots and their respective features, let's compare them all in a little bit more detail. If you're struggling to decide between comfort and support, or whether weight is the most important factor for you, we can help you decide which boot fits the bill best for your specific criteria.
First of all, let's look at the weight of each pair of hiking boots. Whilst there might not seem to be a huge range between them, if you hiked the same 40 km trail in the heaviest boot and then in our lightest boots, you'd definitely feel the difference! The majority of heavier boot will provide a higher level of support, which you may feel is worth the additional weight. I always choose a boot with a high ankle collar as my previously broken ankle is weaker and prone to roll when I am tired and walking on difficult terrain. So I am happy to carry the additional weight that comes with this type of boot, as this is definitely the best compromise for me.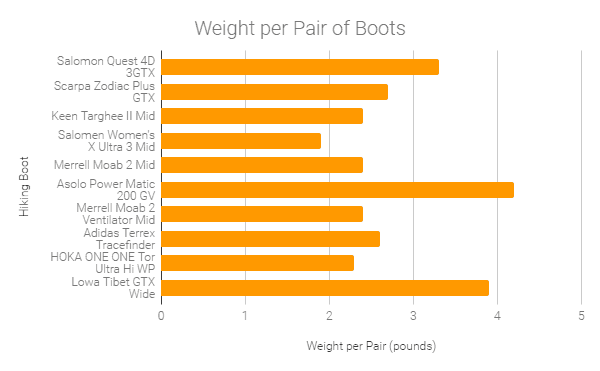 Generally, the heavier the boot, the more support they will offer. We rated each of the boots we reviewed out of 10. In terms of support we looked at the height of the ankle collar, adjustability of the lacing system and the comfort of the insole.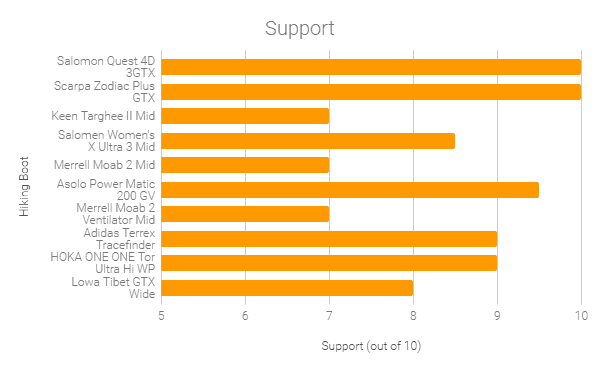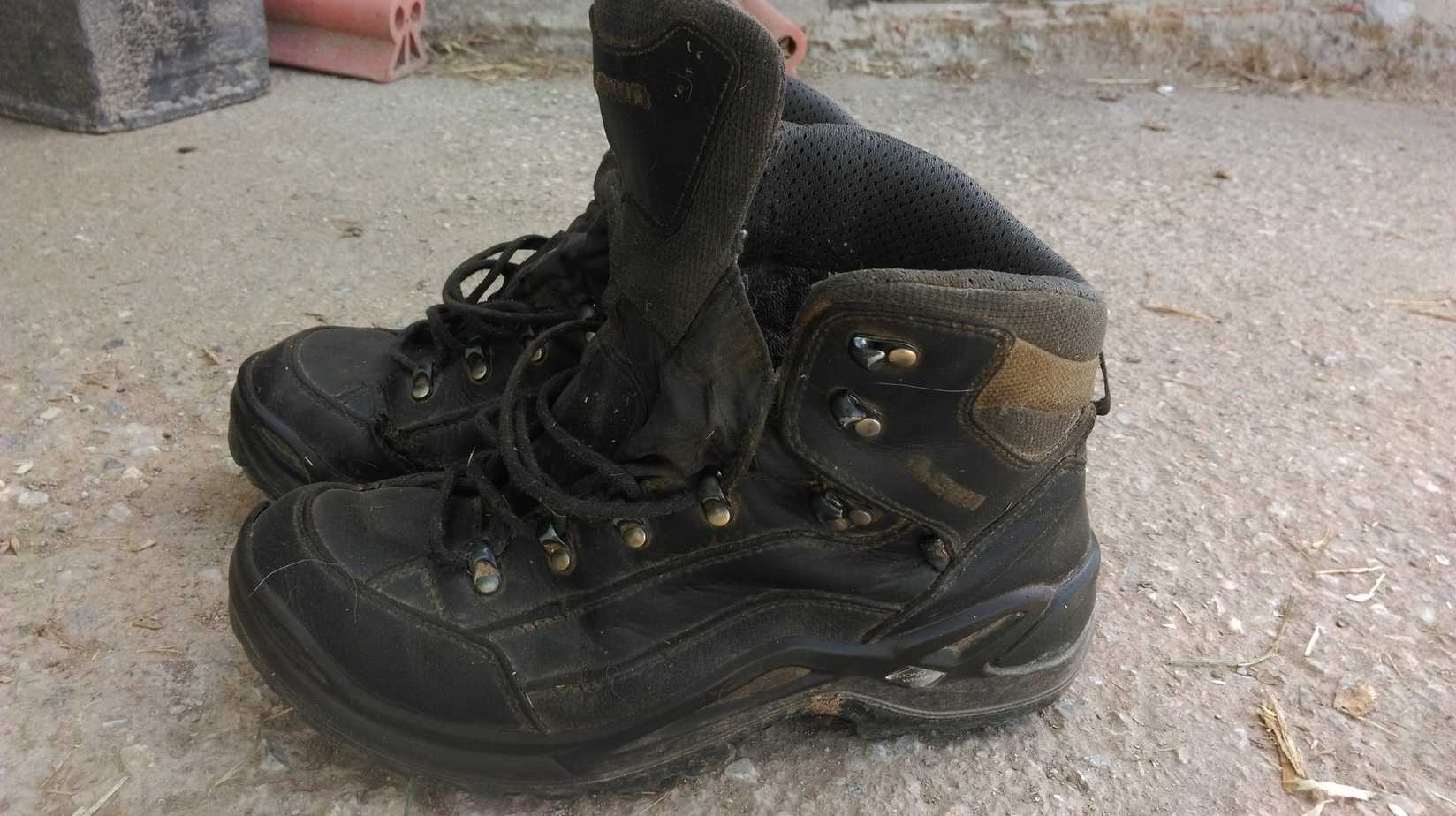 A supportive mid to heavyweight leather boot will provide a medium height ankle collar with comfortable insole and an adjustable lacing system. 
If you hike a lot through areas with rivers, streams or muddy sections, then a waterproof boot is going to be your friend. Likewise, if you hike in all weathers including rain, having a waterproof boot is going to help you stay warm and dry. While the majority of boots we reviewed are advertised as being waterproof (with the exception of the Merrell Moab 2 Ventilator), this doesn't mean that they all have the same level of waterproofing. Again, we gave each boot a score out of 10.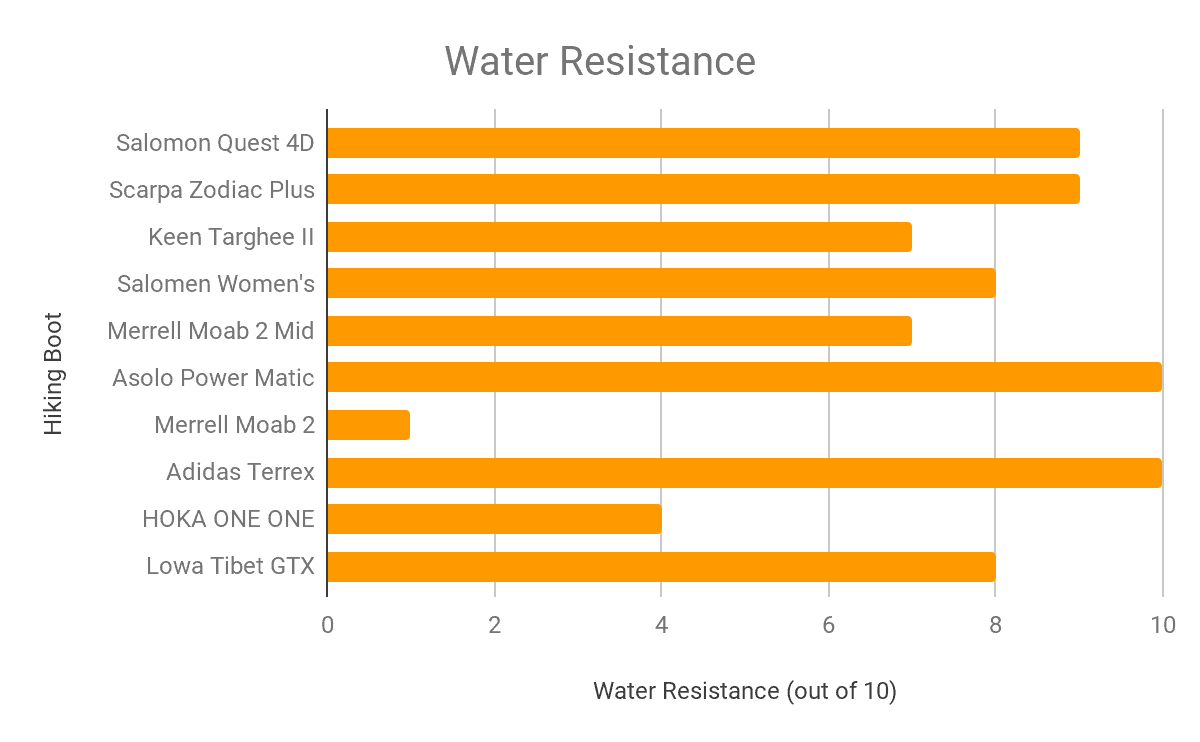 Last of all, we took the comfort of each boot into consideration. Some boots feel great right out of the box, while others require breaking in before you feel how comfortable they really are. This category is, of course, more down to personal preference than any of the others, but it can be a useful indicator.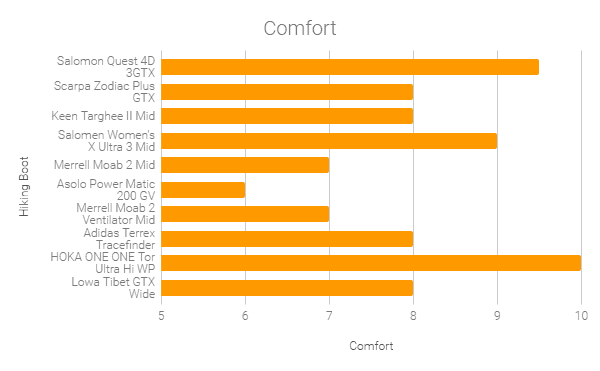 The Competition
There's hundreds of options to choose from if you're in the market for a new hiking boot, but many of these didn't make it into our shortlist of the best. Beware a boot which promises a lot for a relatively inexpensive price, as they rarely deliver. We've seen models with side splits, delaminated waterproof membranes and broken seams after just a few months use. By selecting one of our recommended options, which best suits your needs, you'll be choosing the best of the best. A hiking boot should swiftly become one of your best and most essential pieces of kit – allowing you to cross rivers, scramble up rocky sections of trail and allow you to descend tricky sections in complete confidence.
With the right hiking boot, you'll be ready to take on any trail you choose!
Wrapping it up
We feel that the Salomon Quest 4D 3 GTX provides the ultimate combination of comfort, support, traction and durability for a reasonable price. It's not the cheapest option in our lineup, but it certainly offers the best value for money in our opinion. Combine that with the hundreds of miles this boot has completed with many happy hikers, as well as Salomon's 2 year limited warranty and you're looking at a clear winner.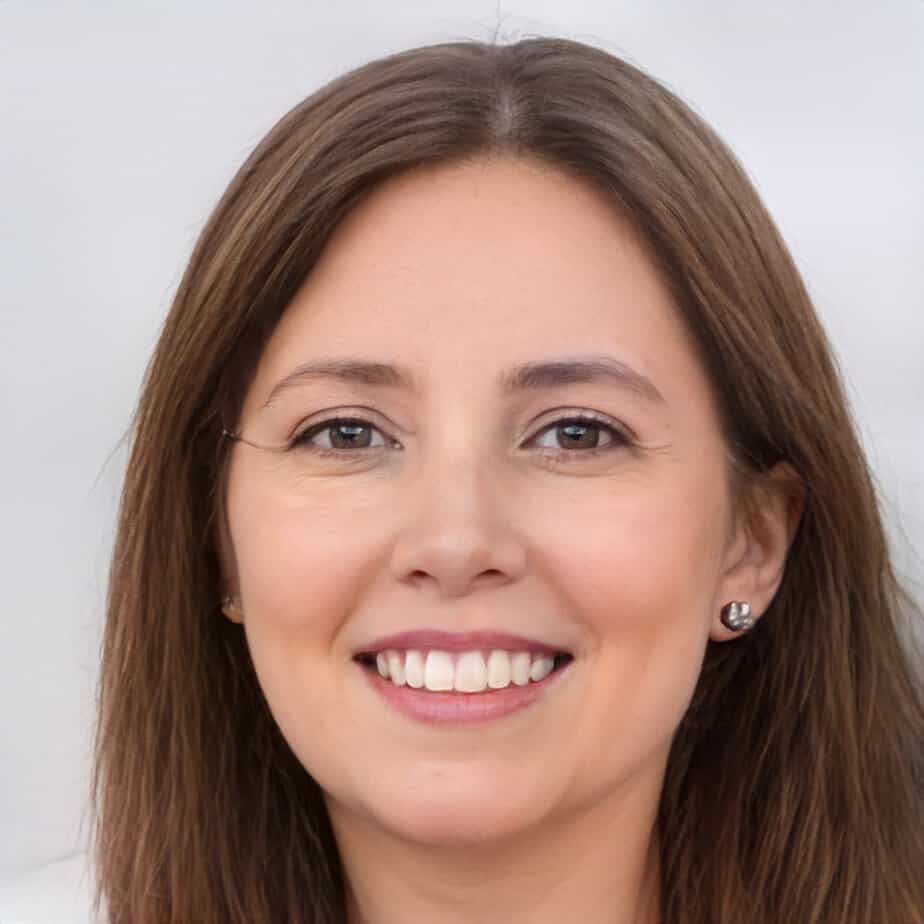 Jill Miller is the founder of Your RV Lifestyle. Trading corporate America for the open road, Jill, along with her partner Jose, began their RV journey, making an unconventional start by wintering in New Jersey. A natural adventurer, she was motivated by a desire to explore the USA and beyond, embracing the varied landscapes, communities, and cultures across the country.
For Jill, the allure of RV living was not about material accumulation, but rather the pursuit of an adventurous, fulfilling lifestyle. A lover of golf, bicycling, hiking, and line dancing, she has carried her passions across the country, engaging with them in diverse settings. Jill's commitment to the RV lifestyle came after years of careful research, numerous consultations with RV owners, and personal trials, including living in a rental RV.