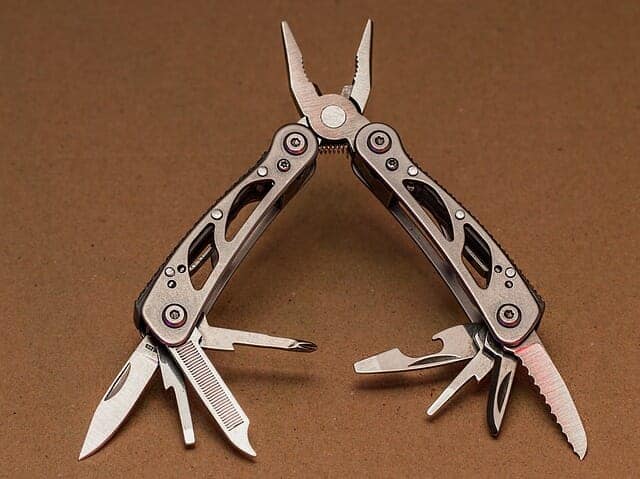 The Gerber Suspension Multi-Plier is the best multi tool for most people. This tiny tool can handle up to 12 different components for countless number of jobs. It has an open frame, safety lock mechanism, and a spring-loaded plier and screwdriver compatibility. Made of stainless steel, it resists rust, stains, and constant wear and tear. We like the Gerber Multi-Tool because it has the right balance of durability and flexibility. It even has all the important features needed in a multi tool at a good price. The Nylon sheath protects the frame from environmental elements such as water, dust, and rain.
The Leatherman OHT Multi-Tool has 16 components and a higher price tag to boast of. It's not only effective at what it does, it's aesthetically pleasing too. It contains hand-operable tools as well as a spring-loaded design. This means you get a multi-tool that features dual performance of wire cutters, screwdrivers, pliers, and other tools in one single tool. The oxygen wrench and strap cutter are some of its special features. If you want a solid replacement for a pocket multi-tool, go for the Leatherman multi-tools. It offers both one-handed and two-handed operation, is made of the highest quality material, and comes with visual imprints that allow perfect identification of all the 16 components.
How about something that's not so expensive but impressively durable? The Gerber Dime Multi-Tool is a good option for most budget-minded buyers. You can use it to make quick adjustments for your home repair tasks. Or if you work in a commercial shop, it comes in handy for pry opening objects, re-connecting wires, etc. For the price, this best multi tool is definitely worth it. It is pocket friendly too with a durable stainless steel design and one-handed operation spring-loaded components. You can keep this in your pocket and use it as and when you like. It's the best keychain and pocket knife tool for the price.
A Little Background
Multitools have a robust and effective construction. A multi tool can be used for a wide range of applications and is an essential part of your tool box. A multi tool may not be an easy tool to use for a novice. As an alternative, you can also use an oscillating multi-tool, which is electric powered. But a standard, non-electric multi tool consists of a screwdriver, knife, carabiners, wire strippers, pliers, etc. It's important to know the right way to use one.
Most multi tools come with a safety lock mechanism which allows you to keep all tools from slipping out. All you have to do is press the lock with your finger. After which, you can slide any specific metal tool outside the multitool right away. After the tool is out, press the lock again to ensure the rest of the tools a securely placed inside the casing of the product.
Some products are spring-loaded while some open by itself. If the multitool is a manual one, you will have to remove any one tool by hand and keep the rest inside for safety. You can use your fingernail or pry a tool from inside the housing using a pen.
If you wish to switch between two tools, make sure you disengage the housing. Then the repeat the process mentioned above until you get what you need.
Once everything is taken care of, push the tool back into the housing and press the lock at the butt end of the multitool. You can store the product in a high-quality sheath or a pouch for safety reasons.
How We Picked
The best way to lay hands on the top-performing multitools on the market is to take into account certain features that make the best multi tool. If you haven't used a multi tool before or have no clue who to ask for professional assistance, this will help you. The following considerations are what we looked at when choosing the best products for you, especially those that are power tools you need for emergency repairs and maintenance. They can be used for professional-level application or for occasional use.
You need a multi tool to perform various tasks such as repairing a blown light bulb, fixing the wiring of a broken dishwasher, etc. There's no limit to what you can do with a full-sized multi tool. Almost all full-size multi tools tackle repairs, damages, and broken appliances, tools, or other devices. However, they're only equipped at handling smaller tasks. The larger repairs tasks, for example, need more appropriate tools to fix. Even for performing bigger tasks, you might need a full-size multi tool as an extended tool for further assistance. That's why a full-size multitool is all you need to get through.
Portability
One of the key features of the best multi tool is that it's portable and handy. The design and ergonomics of the multitool must meet industry standards to minimize space consumption and maximize effective use. If your multitool has a higher number of tiny tools for versatile use, make sure they're organized in such a way that it makes pulling and pushing each tool out easy. Designs that are too bulky can be hard to remove and wear on your belt.
Number of Tools
How many tools does your multitool have? Some multitools have less than 10 tools while some more than 25 to 30 tools. The total number of components in a multitool will help you get a variety of tasks done. If you want something specific, such as a knife or a plier, make sure you consider its quality and durability before buying. The primary tools a multitool should consist of are pliers, knives, and punch or awl.
Size
There are two kinds of multitool: full size and pocket size. Pocket carry tools come with either clips or without them for better portability. Full size ones have a tough external surface which would be unsafe to carry around in your pocket. But pocket carry multitools come with a tough, but miniature design to promote better handling and portability. You should decide between a full size or a pocket size multitool after answering the following questions:
How often will I use the multitool?
Do I have a separate tool bag to carry all my tools?
For what application do I need a multitool?
This determines the right type and size of the best multi tool on the market. It also determines the right price you should be willing to invest in one.
Our Best Pick
The Gerber Suspension Multi-Plier has many advanced features it should be proud of. It boasts of unmatched safety, durability, and effectiveness. This is a stainless steel, China-manufactured, steel black multi tool with has 12 integrated tools in 1. It consists of a needle-nose plier, cable cutters and stripper, a straight and serrated blade, screwdriver, scissors, bottle opener, can openers, saw, awl, and lanyard ring.
The Gerber tool comes with ergonomic features for each group of tools. For example, the screwdriver tool, along with the rest of them, has a fully-locking mechanism for safe use. The housing is coated to ensure durability and sturdiness. While the spring-loaded pliers and wire cutter are housed in an open frame design. An open frame design means you get to see which tool is where for easy accessibility. The Safe.T.Plus system guarantees easy and user-friendly handling featuring a lock-release button and a durable Nylon ballistic-cloth. The tool works great for all kinds of tasks. It is able to withstand the most stressful situations gives you the right tools in the right order. The open frame, which is the most striking feature, offers a lighter design and higher level of grip. It's a good choice for people dealing with complicated tasks while the stainless steel is both corrosion and abrasion resistant.
Our Best Step-Up Pick
What's not to love in the Leatherman OHT Multi-Tool? A multi tool that looks tough, sharp, and has over 16 components is one to look forward to. This one is a pure hand-operable tool with components ranging from needle-nose and regular pliers, hard-wire cutters, spring-action cutters, knife, serrated knife, strap cutters, saw, cleaning brush, can and bottle opener, tank wrench, screwdriver in different sizes, and a cleaning rod. It's a great option for anyone looking to pay a higher cost for unmatched design and performance.
We consider the Leatherman as being class-apart for its manufacturing process. You get spring-loaded design and handles that come with visuals to allow quick identification and accessibility. The strap cutter and oxygen wrench are unique components to have for extended compatibility. These tools are reversible, which means they can be rotated to different angles. The oxygen wrench is the ideal fire department tool for EMS. Lastly, this multi-tool Leatherman is under extended warranty for a period of 25 years. In case of any damage, the company is responsible for repairing or replacing components without additional costs! It is a lightweight and durable workhorse for all your professional needs.
Our Best Budget Pick
The Gerber Dime Multi-Tool is an especially practical when you want something affordable. It comes with 10 components including a nose spring-loaded plier, wire cutter, blade, package opener, scissors, flat driver, crosshead driver, bottle opener, tweezers, and a file. It has similar features to its counterpart, which is the Gerber Diesel Multi-Plier. This one is a good multi-purpose tool with lots of important features to offer. For starters, it has a stainless steel body which is compact, portable, and lightweight.
The spring-loaded scissors, flathead screwdriver, and fine-edge blade all make this multitool different than the rest. It's so pocket friendly and user-friendly that you'll barely notice its weight in your pocket. We liked its butterfly opening design which works well with the one-handed and two-handed operation. In comparison to other butterfly opening designs, this one feels sturdier and has a good overall build quality. All the components present in this multi tool are sharp, well-engineered, and durable. You won't find something so substantial and strong at its most diminutive size. Especially at such as good price. We think the Gerber is an incredibly well-executed product despite its minute size and average price.
Our Best Pick with 7 Tools
No products found.
The Leatherman Skeletool Multi-Tool is a compact yet rugged multi tool which includes wire cutters, a carabiner, exchangeable bit driver, knife, pliers, and a bottle opener. This 7-component Leatherman Skeletool is made of durable stainless steel quality. It weighs light and can be accessible with a single hand too. We like this because it comes with a long-lived warranty of at least 25 years. You can pair the Skeletool with a variety of essentials including one of its own which is the Leatherman Skeletool CX or the Leatherman Wave. Each component, including the pliers and wire cutters, are strong and highly functional. We recommend this best pick for DIY use, small repairs around the house, commercial space, or even your car!
The knife blade is large and sharp enough to regular use. The pliers are strong enough to withstand everyday stress without damaging or cracking, and the drivers work for all kinds of loosening and tightening of bolts and standard screw sizes. With the Leatherman multi-tool knife and plier, it is also possible to extend the functionality of something by yourself. Now, you do not have to rely on a professional to come fix something for you. Everything can be taken care of by this best multi tool pick for newbies.
Our Best Pick with 12 Tools
The Stanley 84-519K 12-in-1 Multitool is known for its versatility and accuracy. It comes in a stainless steel construction and a Nylon holster. We found the long-nose pliers, knife, wire cutter, standard saw, screwdriver, bottle opener, jaw pliers, and file extremely useful and durable. In fact, this best pick contains 2 types of pliers, 4 types of screwdrivers, and 2 types of knives. Isn't that great for a handy, portable multi-tool. The multi-tool blades offer extreme durability when it's most required. We recommend you use the Stanley for everyday carry. That being said, it makes a good alternative to extremely high-end multi-tools for camping, trekking, and for other outdoor activities.
On a side note, if you need something to carry out simple projects at home or at the office, this is a good option too. Or if you're preparing a disaster repair or emergency kit for future use, it's essential that you buy this product too. Each component works as one might expect, while all the blades and tools are sharp and really effective. You know we can't guarantee quality with every multitool, but in our tests this one meets promises and is backed by a reputable brand.
Our Best Pick with 14 Tools
You can choose the Leatherman Wingman Multitool for any one of two reasons: first, if you want a blade-in and blade-out design or if you want a sharp blade knife multi tool which you can carry in your pocket or desk drawer. The Leatherman Wingman Multi-Tool comes with 14 components including a knife, plier, screwdriver, wire cutter, wire stripper, scissor, a package opener, bottle opener, can opener, a file, and a ruler. It is compatible with one-handed operation and has a quick-to-locking mechanism for extra protection. We like and support this best Leatherman Wingman because it doesn't sacrifice on quality and can come in handy in emergency situations for quick tasks. As a note, if you want something more durable and replaceable, go for the Leatherman Charge. It offers crucial, upgraded features which is good for small and big jobs.
Our Best Pick with 16 Tools
No products found.
The RAVPower Multitool Knife 5-in-1 is especially useful when traveling outdoors for camping, trekking, and other adventures. It is a multi-purpose pocket tool kit with 16 components out of which 10 are different kinds of screwdrivers. It has the skill to be a plier, can opener, knife blade, bottle opener, and a 9-in-1 screwdriver set. Tiny as it may be, the RAVPower tool is a class apart when it comes to durability and safety. It has built-in protection that surpasses common industry standards. For starters, the integrated safeguard on the Black oxide multifunctional knife protects it from accidently shutting on your fingers during use. To close it, you need to push the tool towards the housing.
The ergonomic handle looks and feels solid. We liked how well it fits in along with the other tools. If you're a carpenter or a maintenance professional, this best multi tool should come in handy. The blade is really sharp and accurate. The pliers and screwdrivers are a beast. Each of its tools come out without difficulty as tools should, so you're not sacrificing on convenience over quality.
Our Best Pick with 24 Tools
With 24 components to offer, the Punada Multitool 24-in-1 Pocket would make a good gift for your dad. It includes a wire cutter, needle nose pliers, long blade knife, small and medium screwdriver, metal file, ruler, short blade knife, saw hook remover, bottle opener, can opener, and 11 different kinds of screwdrivers. This heavy duty stainless steel multi tool feels sturdy and solid. It has the kind of housing and frame design that should last for a lifetime. For a pocket portable knife, the Punada has got everything covered. The safety lock mechanism coupled with its safety guard design ensures each knife closes automatically when not in use. It comes with an ergonomic handle which is good for gripping and handling, especially for longer hours. We would recommend the Punada Multitool for general do-it-yourself projects, maintenance repairs, accessory installation, camping, hiking, and other outdoor activity.
The compass bracket on the housing feels like a gift you want to look after. And for use, you need not open the pliers to access the rest of the tools, all you need to do is access the tools you actually need without opening the pliers. This is a good feature as it allows quick accessibility of each and every component in the housing.
Our Best Pick for Self Defense
No products found.
You've never seen a pen quite like the Tactical Pen Self Defense Tool EDC. It turns itself into glass breaker, LED flashlight, hex wrench, scraper, bottle opener, and a screwdriver. Not to mention, it's a good Heaven writing ballpoint pen too! This multi tool is a must have for everyday use. It's practical, heavy duty, and extra versatile. On the plus side, the pen feels so light and comfortable that you'd forget it's a tactical multi tool pen. Make of high-quality materials, it has a solid grip, smashing end, and a strong LED flashlight.
The ink cartridges are smear-proof and dries quickly once it touches paper. And the serrated edge of the housing allows you to access each tool, that is the scraper, screwdriver, glass breaker, and hex wrench, comfortably. This best multi tool is ideal for emergency situations. So, you need to have it on you wherever you go. You never know what you might need the pen for tomorrow. The glass breaker, as small in size as it may be, is a beast! It can break glass as quickly as if it isn't a big deal. We highly recommend this tool for extreme conditions when you have little left to work with.
Our Best Pick for One-Handed Operation
We know you want the Gerber MP600 Multi-Plier when you ask for something that offers comfortable one-handed operation. This one houses 15 tools including needlenose pliers, regular pliers, pinch cut wire cutters, lanyard ring, serrated knife, can opener, screwdriver, ruler, wire crimper, screwdrivers, bottle opener, and a fine edge knife. It's the ideal go-to multi tool for outdoor activities. Plus, it's made of durable stainless steel and a bluntnose configuration for extra safety. You wouldn't want to look past this best failsafe tool which also includes a ballistic nylon sheath.
Gerber does a great job with this multi-plier. The finishing and texture is smooth and durable and cleans up well after plumbing or automotive work. With one-handed operation, you can gently upright the tool you want to use and squeeze the slider button the lock it. This safety feature is good because it ensures you do not accidently hurt yourself or other objects around you while you're handling it with one hand only. We think the Gerber Multi-Plier is an incomparably accurate and solid pick for professional use. It has extreme high-quality and durability. And the construction lasts for a lifetime provided that you lubricate all the parts once every few months.
The Competition
Most people carry a multi tool only when they know it's absolutely needed. So, only professional technicians, electricians, trekkers, campers, adventurers, etc. carry them. There are all different ways to obtain a wide collection of tools, but for that you need to buy seperate tools all the time. Wouldn't it be easier to have all important tools such as a swiss army knife, a screwdriver, a plier, etc. all under one housing?
A multi tool is good when it's durable, effective, and tough. Durable means longer lasting, effective means sharp, and tough means corrosion and abrasion resistant. Even if any one of these qualities is missing in a multi tool, it's considered too weak to use by consumers. And that's what we considered when shortlisting our top 10 picks. There are others that we couldn't include such as the Bear Grylls Ultimate Multi-Tool which also showed great promise and compatibility. Which one is your favorite?
Frequently Asked Questions
Which is the ideal knife blade for the best multi tool?
Among the all multi-tool accessories, the blade knife is the most essential component. There are 5 ways to determine the right knife blade for a multi tool: By hardness, wear resistance, toughness, edge retention, and corrosion resistance. Similarly, there are 3 main types of knife materials such as carbon steel, stainless steel, and tool steel. For example, the Victorinox Swisstool Spirit offers a multi-tool design with a tough straight edge army knife.
Hardness
The knife blade hardness is what helps the knife resist all kinds of materials such as wood, metal, plastic, cloth, etc. A good knife blade won't break or scratch when pressure is applied to it. The best knife blades for multitools are 420HC, 154CM, or S30V which is probably the best knife blade on the market. A swiss army knife has both sharpness and hardness you would love to try!
Wear and corrosion resistance
Wear resistance is when the knife blade is able to withstand regular use, environmental factors, and stress. The best knife blade is abrasive and adhesive wear resistant. And it is sharp and tough when it comes into contact with smaller particles. If your knife blade isn't wear-resistant, it is prone to damages much quicker than most other higher-grade models.
Corrosion resistance is the knife blade's ability to withstand moisture, dust, stains, and grease without attracting rust. A corrosion resistant body promotes sharpness while a wear resistant body promotes toughness in a blade knife.
Edge retention
Unless you're buying a cheese knife, edge retention is important. It has the ability to remain sharp during and after pressure is applied to the edge. Measuring edge retention in a multitool is simple when you know exactly what to look for. A good knife which is corrosion and wear resistant with a tough body has a far greater edge retention level than a knife which isn't resistant to rust or common wear and tear like the Victorinox Swiss Army.
One more thing that sets a blade knife apart from the others is the size. A knife blade has to be of the right size and make to be compatible with a multi tool. While you may prefer a pocket knife like the CH knife, which is a better alternative for specific use. But in a multitool, a good blade knife can be both practical and extremely useful.
What are the different types of tools that make up the best multi tool?
If you want a precision multitool to give you the highest quality possible, look for the following tools:
A or fixed or folding knife
Pliers: Pliers are used to hold one or more than one objects in the right place and tightly. A plier can also be used to bend wires and other materials that are too hard to get done by hand.
Crimper: A crimping tool is responsible for joining two metal pieces or wires together.
Wire stripper:  A wire stripper is a small device which strips electrical insulation from the electrical wires. It can be used for a wide range of tasks such as connecting two wires together, as a wire extender, etc.
Cutting hook: A cutting hook is also known as a Billhook. It is used to cut smaller items and materials. A cutting hook has a unique curved edge blade which makes cutting more flexible for materials such as vinyl and other fabrics.
Saw: A saw, when compressed into the tiniest size, can be used to cut harder materials such as wood.
Ruler: Many top-performing multitools come with a ruler for accurate measurement.
File: A file is the most common multitool tool which is used to shave extras from materials. It is commonly used on materials such as wood and metal.
Awl: An awl tool has a long and spiked design used for making tiny holes in materials such as rubber, wood, and other fabrics. It can also be used to stitch wood pieces together or make holes in leather materials.
Why use a multi tool?
Although a multi tool is small, it can be used for a wide range of applications. Be it a standard pocket multi-tool or an oscillating multi-tool kit.
Remove Old Pain
A multitool can help scrape old paint from every corner of your house. You can remove blisters, peel paint, and scrape dried up paint using a metal scraper.
Trim Door Ends
If you have plenty of door casings, you can use various tools commonly found in a multitool is trim them. A blade knife is a good tool that'll help you cut through the casing, be it wood, so the doors fits well on the flooring.
Sanding
For smaller tasks, you do not have to rely on a separate sanding tool to get a smooth texture. You can use a file on wood to give it a smooth topcoat. The small size will allow you to reach gaps and crevices easily.
Cutting Wires
Be it electrical wires or plumbing wires, with the help of a saw, knife, scissors, or a number of tools available in a multitool, you can reach to the smallest wire without difficulty. In fact, you can also cut plumbing pipes made of copper, plastic, other any other material easily with a multi tool. The best part about using a multi tool is that it can reach the hardest corners at awkward angles easily.
Wrapping it Up
This multi-tool review is a good one: The Gerber Suspension Multi-Plier has more to offer to its users than popular choices. It is popular, too, in its own unique ways. The Gerber comes from a fine line of excellent multitools such as the Gerber Diesel Multi-Plier, Leatherman Wave Multi-Tool, Leatherman Mut Multi-Tool, and Leatherman Charge. However, the Suspension is a good choice still for most people. It's the ultimate multi-tool with needle-nose pliers, screwdriver, and a secure safety lock mechanism. If you want an army knife that does a lot more than its blade, go for this one.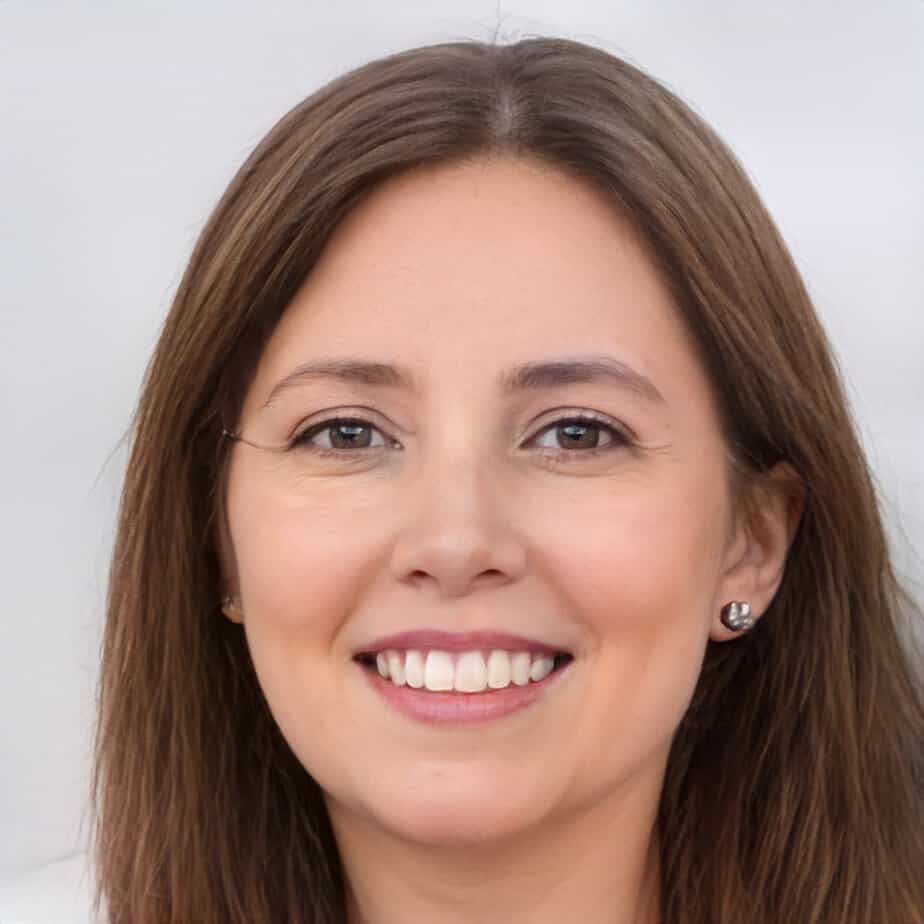 Jill Miller is the founder of Your RV Lifestyle. Trading corporate America for the open road, Jill, along with her partner Jose, began their RV journey, making an unconventional start by wintering in New Jersey. A natural adventurer, she was motivated by a desire to explore the USA and beyond, embracing the varied landscapes, communities, and cultures across the country.
For Jill, the allure of RV living was not about material accumulation, but rather the pursuit of an adventurous, fulfilling lifestyle. A lover of golf, bicycling, hiking, and line dancing, she has carried her passions across the country, engaging with them in diverse settings. Jill's commitment to the RV lifestyle came after years of careful research, numerous consultations with RV owners, and personal trials, including living in a rental RV.