Lake Powell RV Travel

We wanted to see Lake Powell on our way from northern Arizona into Utah.
So we drove to Page Arizona after leaving the Grand Canyon.
We stayed at the Wal-Mart for an overnight and then checked into
the Page Lake Powell Campground. This park was convenient to route 89
and the stores in Page. Here we enjoyed 50 amp service and good water
pressure to flush tanks, do laundry and refill the fresh water tank.
We spent a few days in the area to see some of the sights:
We decided to spend the money to take the boat tour out to Rainbow Bridge National Monument.
A boat is pretty much the only way to see this natural wonder, and we
figured the boat tour would also be a good way to see some of Lake
Powell and its interesting scenery.
This was a seven-and-a half-hour boat trip. A few hours out, a
few back and 90 minutes to make the walk to see the world's largest
natural stone bridge. It was a worthwhile trip.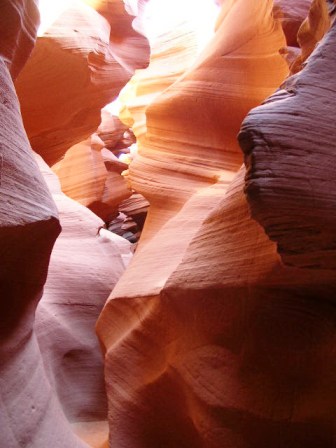 We also took the short hike through Lower Antelope Canyon,
an interesting slot canyon on Navajo land in Page, AZ. There is a
Lower Antelope canyon and an Upper Antelope canyon. Both are on Navajo
land, but are under the auspices of different tribes.
There is a fee to enter the canyons and
a charge for a tour guide as well. There are several tour companies in
town that run trips out to the Upper Canyon.    We just showed up at the
entry point for the Lower Canyon, paid the $6 fee and $15 tour fee and
enjoyed the climb through the narrow passages.   This was our first time
in a slot canyon and it was amazing!
At this point, we were ready for some free activity. We took the tour at the Glen Canyon Dam
and saw the exhibits at the Carl Hayden Visitor Center. There are
three interesting films shown at the Visitor center – about Glen Canyon
history, the construction of the dam, and the operation of the dam. It
was time well spent.
For the next leg of our journey, we headed out on Route 89 from Lake Powell into colorful southwest Utah.