Easy Guide to Towable Trailer Types
Towable trailer types range from pop-ups, truck campers and retro teardrops... to full-sized trailers and roomy fifth-wheels. These towable RVs can be towed behind a car, pick-up, SUV or van. And they come in a wide range of prices.
Travel Trailers
Travel Trailers come in many different sizes and floorplans. Lengths range from 10 feet to 35 ft, with dry weights (without fluids or personal belongings) from 2000 to about 9,000 lbs. And prices from $10,000 to $100,000.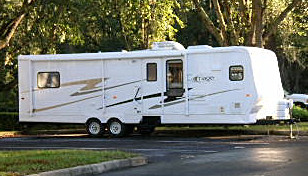 Travel trailers have their own heating, air-conditioning, electrical systems and water tanks. Smaller trailers have more compact space, usually with sofas or dinettes that make into beds. As you move up in size - full baths, kitchens, dining areas, and separate bedrooms are typical.
The use of slideouts and lighter materials in these trailer types has expanded living space without adding unwanted length or weight. Many travel trailers can be towed with a properly equipped full size car, SUV or pick-up truck. Many trailers will require load distributing hitches and other special devices designed to control sway, and make for a more comfortable ride.
Bottom line: This trailer type provides a lot of variety in an economical choice for Rvers.
Learn more about these trailer types and towing.



Fifth-Wheel Trailers


Fifth-wheels are so named because they have an extension on the front, which houses the bedroom, and ends in a plate that looks like a wheel (that's where the 5th wheel part comes in).


This wheel attaches to a receiving hitch (called a fifth-wheel hitch or goosewing hitch) in the bed of the full sized pick-up truck that will tow it. The arrangement effectively provides living space and increased support and stability for towing. It is very important to match up the size and weight of the 5th wheel trailer type and its associated pick-up.
Fifth-wheel trailer lengths range from 21 to 40 feet. Dry weights (no fluids or personal belongings) range from 8,000 to 18,000 lbs. Generally, fifth-wheels offer plenty of room inside - often with multiple slides adding extra living space. Fifth-wheel trailers provide full kitchen area, dining area, living room, bathroom, and bedroom. Smaller or older models may have limited headroom in the bedroom area. It is pretty standard to have a VCR, and TVs. And a washer/dryer may come standard or as an option.
Fifth-wheel trailer types include their own heating, air conditioning, propane supply, electrical systems, and water tanks (fresh water, grey water, black water). Many newer models have designs that provide more storage inside and out. Prices range from $15,000 to $150,000.
Bottom line: The 5th wheel is another favorite with full timers due to the large living area (Class A motorhomes is another fulltimer favorite). Fifth-wheels are a great choice if you will be in one place for an extended period of time.
Pop-Up Campers, Tent Campers, Folding Trailers

This type of trailer may be known as a pop-up, tent camper or folding trailer. These are a relatively inexpensive enhancement ($4000 up to $25,000) to the camping trip - providing a couple of double beds, some screened in sleeping space, a sink, a cooktop, small fridge, and usually a dinette that converts to another sleeping area.
As you move up in size and price, you may find a toilet, shower, furnace, rigid walls and/or roof, or other amenities.
Lengths range from 10 to 18 feet.
These are fun to see. Children of all ages have to marvel at how this all folds up into an easily towable box. Set up is usually easy - newer models may include a lift system. And most can be towed with the average car, SUV or truck.
Bottom line: This trailer type is a great addition to the camping experience for families who want a little comfort thrown in.
Learn more about Pop-Up Campers
Truck Campers, Slide-In Campers, Camper Shells

Truck Campers are also called Slide-In Campers, or Camper Shells. These trailer types attach to the back of a pick-up truck. They come in lengths from 5-21 feet, and range in price from $4000 to $30,000.
They come in models that will fit almost any pickup, and like all other RV types, offer a range of choices. Some will have minimal accommodations while many include full bath and kitchen facilities, dinettes, beds, heating, air conditioning, electric, waste water and fresh water tanks, propane, and generators. Some models are even using slide-outs for more space.
Bottom line: Because the camper shell is removable, these trailer types are often used by weekend RVers. When used on a 4-wheel drive equipped truck, they can be a perfect retreat for the wilderness seeker.
Teardrop Campers
These are cute little campers with a retro flair. The compact design allows them to be towed by very small cars (some models even by motorcycles). Compact means a sleeping area for two, and a kitchen area that is accessed from a hatch-back type lid at the rear of the trailer.
The kitchen area may be a simple shelf and storage, or may include sink, stove, cooler and other options. Average body length is about 8-9 feet, and 4-6 feet wide. Teardrop type of trailers range in price from around $4000 to $10,000.
Bottom line: Teardrops were first introduced in the 1930s, and have regained popularity for use on long weekends, tailgating, sporting events, camping, and long rides in the country.
Home | RV Days | About This Site | Privacy | Contact Us | Site Map
Copyright © 2004-2005 Your RV Lifestyle All Rights Reserved