Camping is a fantastic way to get out into nature and enjoy the great outdoors! For adventurers and nature-lovers, there is nothing better than packing up your RV or backpack and heading into the great wide yonder to explore.
You don't have to save such adventures for the summer months – winter camping is super fun and can be a great way to see the wilderness from a different perspective. The most important aspect of winter camping is staying warm, and a good camping heater will help make your winter camping experience a memorable one.
A good camping heater will help make your winter camping experience a memorable one.
Types of Camping Heaters
There are two kinds of camping heaters from which campers can choose: electric and gas heaters. While both have the same function of creating heat, they differ in several ways such as how they work, safety, heating capacity, and convenience.
Gas
When it comes to camping heaters, gas is the way to go as they run on either butane or propane and produce more heat and are far more convenient to use than electric heaters. Gas heaters should, however, be used only in well-ventilated tents or RVs to manage the carbon monoxide levels produced from the butane or the propane.
Propane heaters are powered by burning liquefied petroleum gas (LPG), which is a very clean and efficient fuel that burns cleaner than most gasses. They do, however, release a small amount of carbon monoxide, so should be used in very well-ventilated areas.
Butane heaters are fueled by burning liquified butane gas. This type of gas is not as heat efficient compared to propane but releases less carbon monoxide. It is also slightly more expensive than propane gas.
Gas heaters should be used only in ventilated tents since airflow helps manage carbon monoxide levels. It is also essential to pay attention to any whistling or hissing noises, which indicate that gas is escaping from a leak in the hose and check the connecting hose regularly for leaks.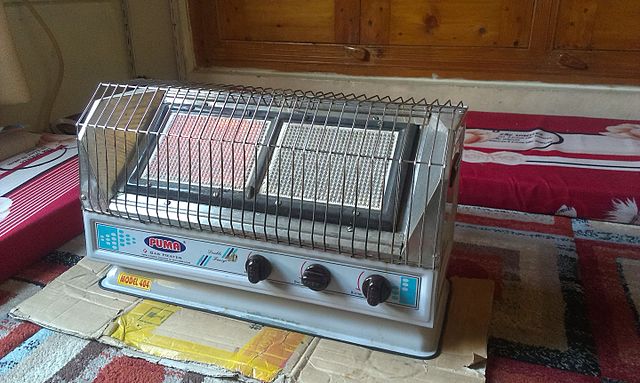 Gas heaters should be used only in ventilated tents since airflow helps manage carbon monoxide levels. A picture of PUMA Gas Heater running on Natural Gas by Kskhh / WikiCommons / CC BY-SA 4.0.
Electric
An electric heater is typically much safer than using gas, however, it requires a direct connection to a power source making it slightly less convenient than a gas heater. Electric heaters need to be plugged into a generator or run on battery power, which inevitably runs out at some stage. Rechargeable electric heaters can be recharged but you will need an extra reliable source of energy for recharging.
Some electric tent heaters for camping can be charged with solar panels so if your RV uses solar power, the electric heater can simply be connected to these.

An electric heater is typically much safer than using gas, however, it requires a direct connection to a power source making it slightly less convenient than a gas heater. Goldair GCH200 ceramic heater by Benchill / WikiCommons / CC BY-SA 3.0.
Halogen
Halogen heaters are a fire hazard but can be used safely if they are hung in the center of the tent.
Wood-Burning Stoves
Wood-burning stoves can also be used for heating spaces, but the major drawback is ventilation. They should be only used in areas that are properly ventilated unless the fumes could build up to cause poisoning to the human body when inhaled.
What to Consider When Choosing the Best Tent Heater
When it comes to deciding on which camping heater to buy, there are several factors to take into consideration in addition to the heat source.
Size and Weight
The size and weight of the tent heater is an important factor and will depend on how you plan on camping (RV or tent) as they can weigh anything from between one pound to 15 pounds or more. The size of the tent heater correlates to the amount of heat the unit produces and the larger a portable tent heater, the more heat it will produce.
Safety
Safety is of the utmost importance when using a tent heater, which can be a potential fire hazard when placed too close to tent walls and other flammable surfaces. Look for a portable tent heater that has an automatic shut-off system when the unit overheats, tips over or detects excessive amounts of carbon monoxide in the air.
Heat Output
Electric heaters measure heat output in watts for corded products and volts for battery-powered heaters and the higher the wattage or voltage, the more powerful the heat output. A typical wattage range would be about 750 to 1,500 watts, while voltage has a narrow range of 5 to 20 volts.
Tent heater manufacturers often state the maximum square footage a heater can warm up effectively. Propane and butane models are rated by British Thermal Units (BTUs), which measure heat output per hour. Depending on tent size, most campers look for a gas heater that puts out between 2,500 to 5,000 BTUs per hour.
Runtime
The runtime of a gas tent heater refers to the amount of time it takes the heater to burn through a full tank of propane or butane. Both battery and gas-powered tent heaters have a limited runtime that can impact their ability to provide continuous warmth in cold weather. Due to the varying fuel tank sizes, the runtime of a gas tent heater ranges widely from just one hour to 48 hours.
Noise Level
Electric heaters are generally quieter than gas models – butane and propane heaters tend to create a loud humming sound while in use. You may prefer to get a quieter heater if you are a light sleeper.

Safety is of the utmost importance when using a tent heater, which can be a potential fire hazard when placed too close to tent walls and other flammable surfaces.
Best Camping Heater
We tried and tested a variety of both electric and gas portable heaters and came up with a list of high-quality electric and gas units to suit your next outdoor adventure.
Best Overall: Mr. Heater MH9BX Buddy Indoor Portable Propane Heater
The Mr. Heater MH9BX Buddy Indoor Portable Propane Heater is the best overall when it comes to portable heaters for camping. It is long-lasting, provides ample warmth in cold weather and is light and easy to carry around.
This portable camping heater option pumps out between 4,000 and 9,000 BTU, heating an area of up to 225 square feet. Nearly 100% efficient, this imported heater is clean-burning and approved for both indoor and outdoor use.
The heater is very safe to use as it has an automatic shut-off system that immediately turns the heater off when low oxygen levels are detected. It also has a swivel-out regulator, a fold-down handle, and connects to a propane tank. The heater has a run time of three hours.
When operating the heater at altitudes over 7,000 FT above sea level the heater may shut of
Pros
Lightweight and easy to use
Run time of three hours
Automatic shut-off system
Swivel-out regulator
Foldable handle
High-temperature wire protection
Easy to replace ceramic burner tile
Wide heat radiation
Cons
Cannot be used at high altitudes
Best for Small Spaces: Mr. Heater MH12HB Hunting Buddy Portable Space Heater
The Mr. Heater MH12HB Hunting Buddy Portable Space Heater is one of the best portable camping heaters on the market. Boasting a compact and rugged design, this heater is strong, sturdy and very durable, and can survive even the harshest weather conditions.
Designed specifically to be used in small spaces of sizes up to 300 square feet, the Mr. Heater MH12HB Hunting Buddy Portable Space Heater is best for compact and small camp tents or RVs. The portable device has an impressive power output of between 6,000 and 12,000 BTU and can be used with a one-pound disposable cylinder tank or connected directly to a gas supply with a swivel regulator.
Several safety features have been built into this device to help avoid both hazards and environmental pollution, including a low oxygen shutoff system, which turns the device off automatically when the oxygen levels in the room deplete to a dangerous level. Another great safety feature is the tip-over safety feature that automatically shuts off the device in case the heater is knocked over.
Pros
Suitable for small camp spaces
Low oxygen shutoff system
Automatic tip-over safety shut-off
Easy-to-start ignition button
Cons
Not suitable for high altitude usage
Suitable for small indoor spaces only
Best for Outdoors: Mr. Heater MH450T Tank Top Heater
The Mr. Heater MH450T Tank Top Heater is a great option for outdoor spaces with a narrower shape and a top-side radiator that pushes the heat in a wide arc. The lightweight heater weighs about 5.5 pounds and is very easy to carry and move around the camp. It can also be attached to cylinder sizes of up to 20 pounds.
A distinctive feature of this portable camping heater is that it can produce heat of between 29,000 and 45,000 BTU, making it a very good source of radiating heat outdoors. This heater also comes with an auto-shut-off safety feature, as well as an oxygen depletion sensor that ensures safety from low levels of oxygen over extended heating periods.
Pros
Lightweight
Auto-shutoff feature
360-degree radiant heating arc
Easy-to-start push button
Cons
Best Butane Heater: Camplux JK-1000 Portable Butane Heater, 4,400 BTU Outdoor Camping Gas Heater
One of the best butane camping heaters on the market, the Camplux JK-1000 Portable Butane Heater, 4,400 BTU Outdoor Camping Gas Heater is packed with great features and is easy on the pocket.
Designed to be portable, lightweight, easy to use, and durable, this portable camping heater has a special feature that distinguishes this heater from others in that it can be used for mild heating up of liquid or cooking items as well as heating the space in which it is placed.
It produces about 4,400 BTU of heat which is good for indoor use and another great feature is the piezo-electric ignition, which makes the heater easy to switch on and off and the special enamel-coated heating surface helps radiate heat properly. This heater has a very fast heat-up time, and it takes about five seconds to go from cold to toasty warm.
The Camplux JK-1000 Portable Butane Heater has a superb safety system that includes a built-in pressure sensor canister ejection system, which automatically cuts off airflow when the pressure reaches unacceptable levels and prevents gas leakage. It has an individual control knob for maximum heat regulation and can be adjusted to various angles to disperse heat around the space.
This heater has a run time of five hours and is suitable for a variety of uses from heating indoor and outdoor spaces to boiling water and cooking.
Pros
Suitable for indoor and outdoor uses
Leakage and overheating protection
Compact and portable
Easy to clean
Heating and warming mode
Short heat-up time
Cons
Only suitable for small areas
Best for Portability: Texsport Sportsmate Portable Propane Heater
The Texsport Sportsmate Portable Propane Heater is a small and compact heater that is lightweight and very easy to move around. Made from durable stainless-steel, the heater has an excellent ground balance due to its round bottom with four protruding flat surfaces for stability.
The portable heater weighs just one pound and has an aluminum reflector with a safety grid that helps to distribute the heat generated further into the atmosphere. It generates an output of just 2,890 BTU and is suitable for small spaces. It shuts off fuel supply automatically, when the flame goes out, to prevent potential fire hazard and it has a steel handle for carrying the heater around. The Texsport Sportsmate Portable Propane Heater comes with a one-year warranty.
Pros
Automatic shut-off system
Made from durable aluminum
Safety grid
One-year warranty
Cons
Low heat outage
Suitable for small spaces only
Dewalt Portable Heater
The Dewalt Portable heater is a compact battery-powered and propane portable heater in a classic yellow and black color scheme. It has three USB ports for charging personal electronics and accessories and a dual tank capacity that provides up to seven hours of run-time.
The heater has an integrated high velocity fan to effectively disperse convective heat and a powerful LED light bar that offers bright light for cooking, reading or working. It has a quiet and reliable electronic ignition and is powered by the 20V MAX and FlexVolt battery families. It weighs seven pounds so is quite heavy to move around.
Pros
Seven hours of runtime
Built-in light strip
Three USB ports for charging phones and electronic devices
12,000 BTU output
Cons
Heavy
Requires both propane and battery power to work all features at once
Dewalt batteries are expensive
Best for Versatility: Campy Gear Portable Propane Heater and Stove
The Campy Gear Portable Propane Heater and Stove is a dual function camping stove and heater with a heat output of 9000 BTU that produces 360-degree radiant heat. The unit has a sturdy stand that can support pots and pans of up to 12 inches and has adjustable flame control for cooking.
The Campy Gear 2-in-1 Heater and Stove is compatible with 110g and 230g butane / isobutane / propane fuel canisters that can be inserted into the stove or it can be connected to a one-pound propane cylinder by an extension hose or adapter for a longer usage. The heater comes with a one-year warranty.
Pros
Dual functionality
Produces 360-degree radiant heat
Sturdy stand for supporting pots
Compatible with various canisters
One-year warranty
Cons
Camplux JK-1000 Portable Butane Heater
If you want a more compact heater that is very light, the Camplux JK-1000 heater is one of the best options out there.
Weighing in at just eight ounces without the butane added, this is a super-light option that can be packed away very easily. If you are hitting the backcountry, this is a great backpack-friendly option.
Even if you just want to use it around the camp, this is a good portable heater. Plus, there is a grate on the top that can hold a small pot for heating up water and making coffee. This is an added bonus for those who would like some hot drinks on those cold mornings.
Pros
Super light and great for packing on longer trips
Uses butane instead of propane
Has built-in safety features
Super easy to work and will last a long time
4400 BTU output
Cons
Not super durable as the outside materials can dent easily
There have been cases of the ignition knob of sticking and being hard to manage
Honeywell 360-degree Surround Heater
The Honeywell 360-Degree Surround Heater is a compact, portable heater with good radiation of heat. This super affordable option is convection-powered, making it very energy efficient and suitable for small to mid-sized rooms or tents.
It requires very little electricity to operate on its lowest level and it features an adjustable thermostat as well as two heat settings, a 360-degree tip-over switch, overheat protection and an easy-grab, cool touch carry handle.
Pros
Affordable
Electric-powered and energy efficient
Has 360-degree fan heating
Thermostat and fan strength settings
360-degree tip-over switch
Overheat protection
Cons
Not very durable
Needs electricity
Frequently Asked Questions
What kind of heater is best for camping?
Propane heaters are preferred by most campers for their portability, convenience, and affordability. Electric heaters tend to be less popular as there may not be a power supply at your campsite, which makes them useless. Propane heaters are both safe to use and can produce more warmth.
What are the safety tips for using the best camping heater?
Keep electric heaters away from fabric or the walls of your tent to prevent fire. It is best to get a heater with an automatic switch-off function. Make sure butane or propane heaters are used in well-ventilated spaces to avoid carbon monoxide poisoning. Always ensure you always have backup fuel canisters and keep them in a safe place away from the heater.
What heater is safe to use in a tent?
All electric heaters and most propane heaters are ideal and safe for indoor use.
How does a portable gas heater work?
A gas heater works by heating gas using a mechanical or electronic thermostat. The heater is ignited by an electric filament or pilot light and a valve actuates gas flow is actuated with a valve. Flames heat a radiator in the air duct but outside the flue, convection or a fan may distribute the heat.
Are portable gas heaters safe?
Using a gas heater comes with risks. They carry the risk of carbon monoxide poisoning, so you should have a carbon monoxide alarm in the area or in your tent. Also make sure your extra gas cylinders are stored safely.
Can you use a portable heater in a tent?
Yes, you can safely use heaters in tents as long as there is good natural ventilation. The CO2 emitted from the heater can be dangerous if it's allowed to gather. The best option is to get a heater that has an automatic shut-off if it senses the air levels getting dangerous.
Are portable ceramic heaters safe?
Ceramic heating units are safe because they don't have the toxic emissions that come from other space heaters, like carbon monoxide. Only heaters that burn some type of combustible fuel create carbon monoxide and ceramic heaters work by using electricity to warm ceramic plates inside the heater.
Why does my portable gas heater smell?
If your heater smells like gas this could be caused by a leak in the exchanger. There aren't any normal reasons for your heater to smell like gas. If the smell is coming from the air ducts a leak in the heat exchanger is the most likely cause.
Is it safe to use a propane heater inside a tent?
Propane heaters are perfectly safe for use in tents, but they do emit carbon monoxide so they should only be used in an area with good ventilation. Make sure you get your propane heater checked out regularly to ensure there's nothing wrong with it.
Happy Camping!