As full or part-time RVers, we venture forth to the great outdoors not to spend crazy amounts of money on concrete slabs to park our RVs, but to enjoy the wide open spaces at our fingertips.
However, with nightly camping rates hovering around $38/night on average, it can often be tough to explore as much as we'd like to without breaking the bank.
I remember when I first started RVing 4 years ago… I was excited and exhilarated by the thrill of charting my own course, camping where I wanted to, and (hopefully) saving some extra cash in the process.
But I — like many new RVers — was quickly shocked by the high rates charged at many RV parks and campgrounds.
My early experiences with expensive RV parks got me wondering – where is free camping near me?
And that question took me on a quest to figure out the best way to RV full-time while finding the best free camping near me. I discovered that the key lies in having the right tools in your tool belt to find free RV camping no matter where you're at.
In this article, we'll look at the tools that I and many other RVers use to find free camping, the best ways to use these tools, and extra hacks to find all the free RV camping near you that there is to find.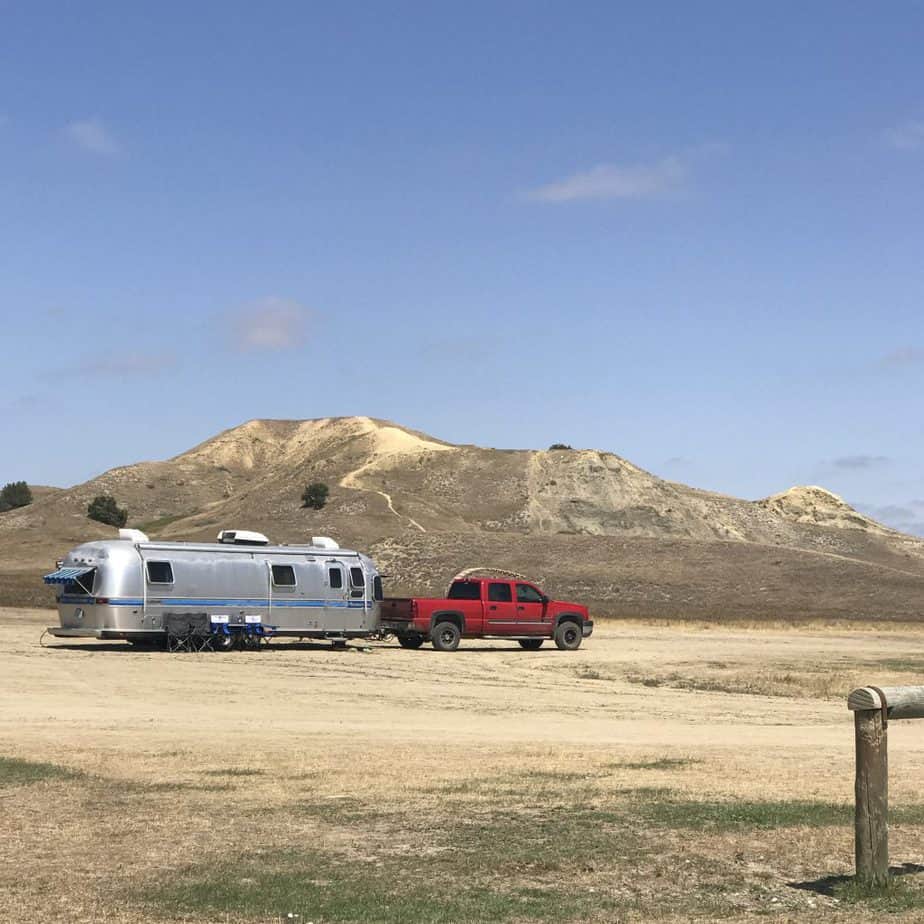 This free campspot in the middle of the Badlands National Park is just one of many free camping sites near me I've managed to find over the years.
Why The Ability To Boondock (aka Dry Camping) Is A MUST For Finding Free Camping Near You
Let's start our journey to free camping with a chat about boondocking. Boondocking is the art of camping for days on end without needing to plug your RV into water, sewer, or electric.
By equipping your RV to boondock, you'll be able to camp for free in some of the most beautiful places in the country. That's because the majority of free camping near you will only be free if your RV is "self-contained".
Let's chat about how to make sure you're RV is self-contained so you can camp for free:
Water conservation is key – If you take a "normal" shower, you'll fill your grey tank in 1-2 days. If you're boondocking, you'll have nowhere to dump it and will have to move.That's why things like short showers (i.e. "Navy Showers") and conservative dishwashing are must-dos when you dry camp.
Use a portable tote-tank to extend boondocking – Portable tote tanks will allow you to dump your grey and black water without having to move your RV – that way you can stay in your free campsite for longer.
Portable fresh water bladders – Portable water bladders can be used to fill up your fresh water tank without having to move your RV. That way you can extend your free camping beyond the capacity of your RV's fresh water tank.
No matter how you boondock, you'll want to figure out the best way to camp without hookups if you want to use free camping near you.

By being able to boondock, my wife and I can camp for free wherever we can park our vintage Airstream Motorhome. This is a hip spot we found outside Nashville, TN
Ten Must-Have Tools To Find Free Camping Near You
Ever since I put the right tools at my fingertips, I've been able to find free camping near me no matter where my wheels have turned. These are the tools you'll need if you want to do that same:
1. AllStays App – As the name implies, AllStays will show you all the different types of camping you can find near you.
AllStays allows you to filter for free camping, rest stops, public lands, national parks, etc. near you. The AllStays app charges a small one-time fee that you'll make back in no time with all the nearby free camping you'll find.
2. Campendium.com – Like AllStays, Campendium will allow you to filter and search for free camping near you.
Campendium is best to use along with AllStays so you can be sure you're finding all the best campsites near you. Campendium also features reviews from people who have stayed at many of the free camp sites you'll find.
AllStays features reviews as well, but campground reviews on Campendium are usually more descriptive.
3. Harvest Hosts – Harvest Hosts is a network of vineyards, golf courses, breweries, museums and more that allow free RV camping.
Harvest Hosts charges RVers a small annual fee to be part of the network which will get you access to 1,400+ free camping sites around the country. Harvest Hosts code of conduct asks members to only stay one night (unless other arrangements are made with the host) and that you make a small purchase from your host.
But what could be better than camping for free AND enjoying a bottle of wine, fresh produce, or other goods from your host?
This friendly bovine was one of our fellow campers at a Harvest Hosts farm in PA. We even got to buy some of her fresh milk and cheese before we rolled out!
4. Boondockers Welcome – Much like Harvest Hosts, a membership with Boondockers Welcome will help you find free camping near you for 1-2 nights in driveways, farms, and neighborhoods where people welcome RVers.
Unlike Harvest Hosts, many hosts on Boondockers Welcome don't ask you to purchase anything during your stay – they just want a great review if you have a good time!
5. Freecampsites.net – As the name implies, this website will show you all the free campsites near you with none of the fluff.
While the web interface might seem a bit wonky, I use freecampsites.net all the time to make sure I'm finding all the free camping near me that I can.

NBD, just a free campsite near Zion National Park we found on freecampsites.net…
6. Wal-Mart, Cabelas/Bass Pro Shops, and Rest Stops – While not the sexiest tool in the toolbox, these places are known to provide free overnight camping near virtually any place in the U.S.
Here are some extra tips that'll help you do overnight parking safely.
The AllStays app also has a filter that'll allow you to search specifically for these places and to read reviews from others who have camped for free near you. A Wal-Mart parking lot probably isn't the vision most of us have for the RVing experience, but in a pinch it can be a great option to rest for a night on a long road trip.
This video does a great job of showing exactly how to find the types of free campsites we've talked about so far: <iframe width="560″ height="315″ src="https://www.youtube.com/embed/xEPePD_Uvj8″ frameborder="0″ allow="accelerometer; autoplay; clipboard-write; encrypted-media; gyroscope; picture-in-picture" allowfullscreen></iframe>
7. RV Membership sites like Thousand Trails – Membership camping is a growing trend among RVers. While there is a one-time buy in fee (which can be quite large) and a smaller annual maintenance fee, once you are into a membership like Thousand Trails you'll benefit from "free" camping near you.
Thousand Trails, for example, has a network of 140+ RV parks where you can camp for zero nightly cost — with full hookups — once you are a member.
Pro-tip: By purchasing a "used" membership, you can save a bundle on the buy-in fee at membership campgrounds you might be looking at.
8. Bureau of Land Management Lands (BLM land) – BLM lands are lands managed by the federal government that generally offer free camping near you.
To find this free camping, you can use the AllStays app, Campendium.com, or search for "free BLM camping near me" on your favorite internet search engine.
Be aware, however, that public lands have stay limits and restrictions that you'll want to be mindful of.

The view out the front door of my RV at a free campsite on BLM land near Bryce Canyon National Park
9. U.S. National Forests – Much like BLM lands, national forests often allow free camping near major sites like national parks and historical monuments.
National forests continue to be one of the best ways I find free camping near me. The AllStays app and Campendium both have filters that will allow you to find free camping in national forests near you.
10. Airstream Courtesy Parking – My wife and I travel in a vintage Airstream and are part of the Wally Byam Airstream Club.
As owners of this unique type of RV, we benefit from a special way of finding free camping near us – courtesy parking. Basically, this means that fellow Airstreamers from all over the country offer free 1-2 night camping to folks like us travelling around.
Even if you don't have an Airstream, if you have a unique type of RV brand with a large following (e.g Bluebird, Tiffin, etc.) you might find free camping near you through clubs related to that brand.
If you have an RV like an Airstream, owners often create clubs where you might find free RV camping simply because you "belong" to that group.
When starting out at RVing, most folks (myself included) are likely to jump on Google and search for "free camping near me". While you can find a few camping spots this way, I've learned over the years as a full-time RVer that it really takes a certain set of tools to locate the best free camping near you. By sticking with the 10 tools above, you'll be able to find majestic free camping near you.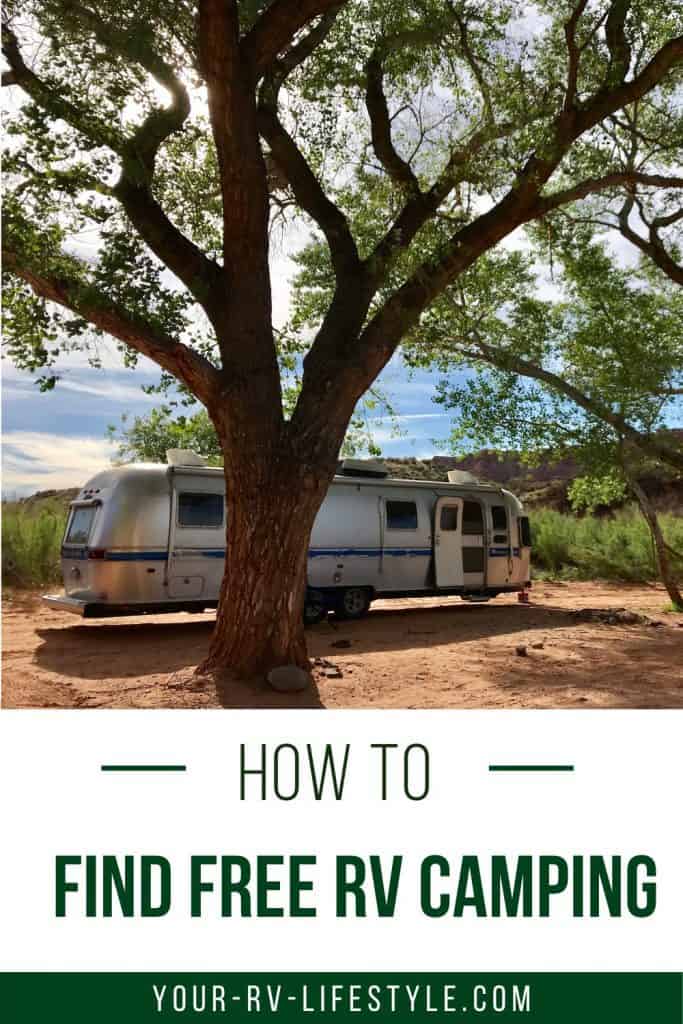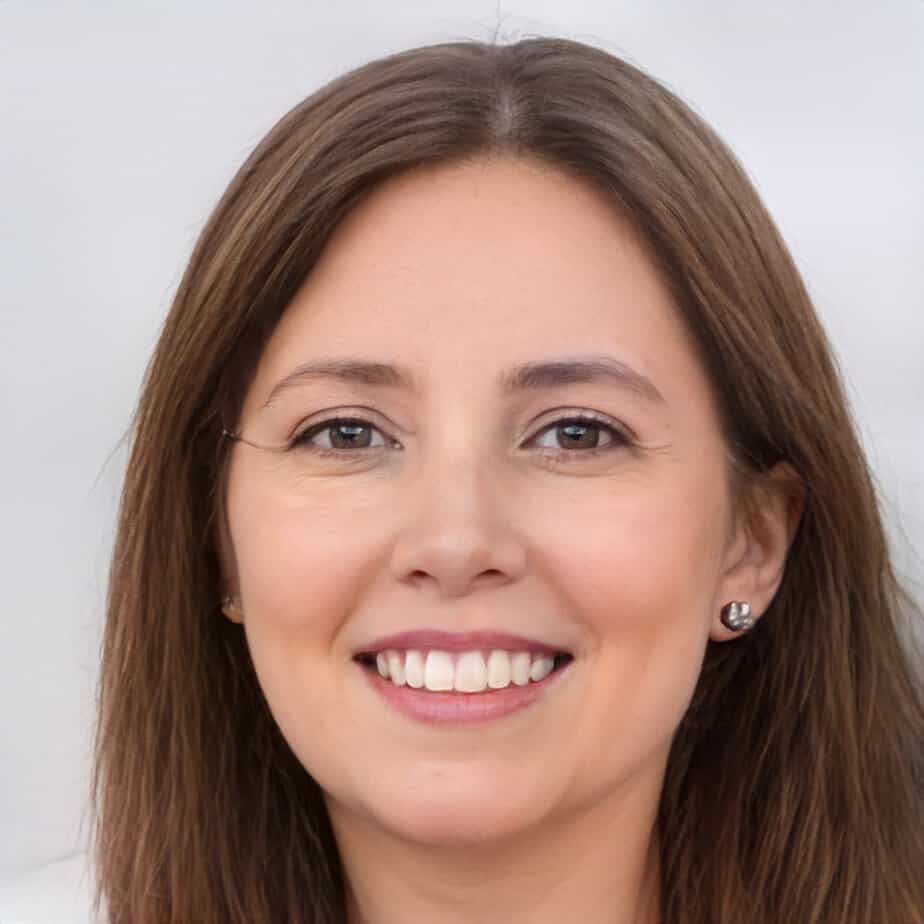 Jill Miller is the founder of Your RV Lifestyle. Trading corporate America for the open road, Jill, along with her partner Jose, began their RV journey, making an unconventional start by wintering in New Jersey. A natural adventurer, she was motivated by a desire to explore the USA and beyond, embracing the varied landscapes, communities, and cultures across the country.
For Jill, the allure of RV living was not about material accumulation, but rather the pursuit of an adventurous, fulfilling lifestyle. A lover of golf, bicycling, hiking, and line dancing, she has carried her passions across the country, engaging with them in diverse settings. Jill's commitment to the RV lifestyle came after years of careful research, numerous consultations with RV owners, and personal trials, including living in a rental RV.