So you have read a few articles or watched some videos on the internet about van living. Perhaps you have just gotten started with van living. Whatever road you are on, let me explain the good, the bad, the ugly of van living and how to make the most of it.

One of the perks of van living is you have the opportunity to save a lot of money.
The Good
There are many perks to van living. Here are some of the positive things van living can bring you:
Saves Money-Without rent, mortgage, utilities or other expenses that city life brings you are able to save more money. That is of course you don't spend it at campgrounds, restaurants or gas money traveling everyday.
Gives More Freedom-The typical 9 to 5 life doesn't give much room for other experiences you may want to enjoy. Van living can give you that freedom to explore other avenues in life.
Allows You To Travel-This is an obvious one. With your house always with you there is the potential to have many adventures. This could be within your home state, across the country, or maybe even a neighboring country.

Van living gives you the opportunity to travel and explore many areas.
Shows You What You Truly Need-There's not much space for van living. It is also not a convenient lifestyle. This way of life can show you what you truly need material wise and what really matters in life.
Always Have A Bed To Sleep On-As long as you have your van you always have a bed to sleep on at night despite where you are at. It's as if you have your own mini hotel room.
Allows You To Visit Family On The Other Side Of The Country-If you have family and friends spread across the country, van living provides you a road trip to visit those you care about. For those of you traveling with kids, check out this article.
There are many other perks that are going to be unique to everyone. Check out these articles for more travel ideas: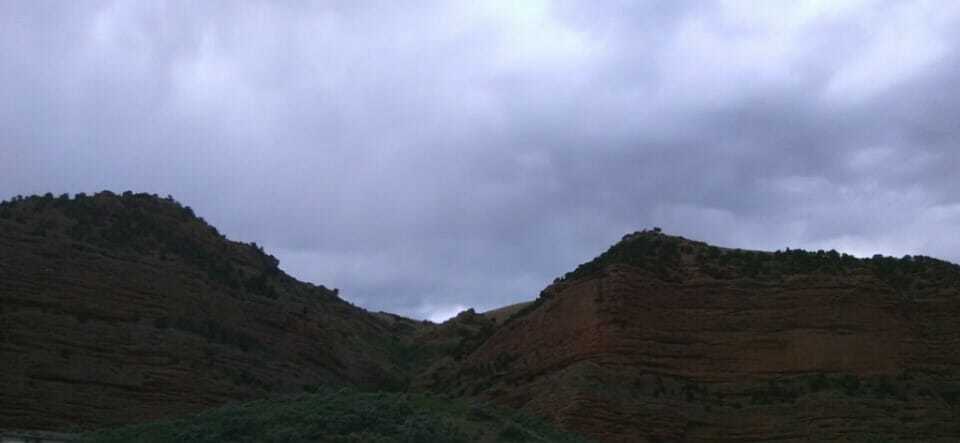 One of the downsides to van living is the potential for bad weather.
The Bad
Van living can't be all fun and games. This is life we are talking about and there will be difficult times. Here are some of the negatives to van living:
Never Guaranteed A Place To Park-Especially if you are in an area where tourist season is booming parking your van somewhere may get tricky. Even free land like BLM or National Forests can be full. Don't think free public land is just one big open area. There are mountains, trees, terrain, private land and other factors that make finding a spot difficult.
Limited Traditional Stability-Stuff like not having a place to live, an address, finding work if you are not a digital nomad can make van living a bit stressful.
Limited Privacy-Let's face it, a van is not a house. You will be spending a lot of time outside, parking lots, parks, etc. This results in not a lot of privacy when you don't have those big 4 walls around you.
Weather Permitting-You will probably want to stay in your van when there's a weeks worth of rain or 60 mph winds in the forecast. If you are like me who can't sit still and loves to exercise this can drive you a little mad. Here are some tips and tricks with fitness on the road.

With the lack of space, van living can bring difficulties for couples who are trying this lifestyle.
No Electricity-You may have a simple camper van design and that may mean no electricity. You will be relying on the sun for light and won't be able to plug in your electronic devices.
No Bathroom Or Kitchen-Again with a simple model you will basically have a bed. No running water for a kitchen or bathroom as well as no privacy.
Relationship Difficulties With Lack Of Space-If you and your spouse are attempting van living it can be a romantic idea. There is also the reality of being in such tight quarters with them and that can bring conflict as well as a lack of space.
There are also other situations that may drive you a little mad such as trying to organize your van or constant clutter. Have no fear, I do have solutions at the end of this article.

Mechanical issues can arise and create stressful headaches with this lifestyle.
The Ugly
So now to the ugly side of van living. Don't worry there's not much but enough to take caution when living this lifestyle. Here is what you may encounter:
Discrimination-Unfortunately, you do have your bad seeds that put a bad name to van living. You may get stereotyped and possibly discriminated against if you live in your van.
Laws-There are laws that can make van living go less smoothly. This includes laws that make it illegal to sleep in your car in cities like Santa Cruz.
When Things Go Wrong Mechanically-This can be stressful and costly, especially if you are out in the middle of nowhere.
Police/Security Knocking On Your Window– If you are stealth camping you may run into this. It can be quite intimidating. Here are some tips and tricks on stealth camping.

Enjoying nature and hiking is one way of making the most of van living.
Making The Most Of Van Living
There will always be challenges with whatever lifestyle you live. That shouldn't deter you from trying van living. Here are some ways to make the most of van living:
Don't Have High Expectations-I know you have probably seen some perfect picture on the internet involving van life. Yes you can have those picturesque moments but try not to have your expectations that high 100% of the time. If you stick to realistic expectations with van living you will be able to enjoy it better.
Stop Comparing Yourself To Others-If you stick to what you want out of van living as opposed to comparing yourself to others it will be more tolerable when you do run into the bad and the ugly.
Know What You Want Out Of Van Living-Ask yourself, "What is it that I want out of van life." It could be to save money, you want to travel, or perhaps you want to downsize. Whatever the reason is, if you have a clear goal of what you want out of van living the transition will be smoother.
Stop And Smell The Roses-Yes you will encounter some magnificent sights and experiences. It won't be all the time so cherish the simple beauty that is around you whether that be a sunset or walking on a beautiful trail with your loved ones.
Preventative Maintenance On Your Van-Make sure that your van is up to snuff when it comes to maintenance. This will prevent less headaches in the future. Better yet learn the ins and outs of your van so you can keep things from breaking or fix them if they do.

Using a tarp can give you more outdoor space during bad weather.
Tips On How to Solve The Bad and The Ugly
Of course some tips and tricks will make your van living a lot easier to manage when the bad and ugly arises. Here are some tips to solve the above issues:
For the lack of parking, plan ahead and have a plan B or C. This even includes spots like Rest Areas for overnight parking.
Improvise when it comes to privacy. There are items like a family size or pop up privacy tent to provide you with privacy when boondocking.
When we were in an area with many trees we would use a 15×20 ft tarp and some paracord to create extra shelter for outside of the van. We would extend it over the doors and some windows as well so we could leave the door open during a summer heat storm.
Using battery packs and solar panels can provide you with some electricity for your phones or other electronic devices.
Having a solar shower bag is super handy to stay clean with van living. Using a mini stove can provide you with some hot drinks and food. Here are some more tips on how to cook without a kitchen.
When it comes to your conflicts in a small space with your spouse, communication is key. Also figure out ways to give each other space such as one going for a walk for an hour while the other stays at the van.

Staying away from certain stereotypes that can come with van living will get you less noticed with police or security.
The ugly side of van life you have to take in stride. Some of these things may happen or you may get lucky and dodge them. If you do encounter these situations just remember to:
Avoid doing anything illegal.
Distance yourself from the "stereotypes."
Cooperate with police or security.
Don't freak out if things go wrong.
Here are some more tips and tricks for living in a minivan camper successfully.
Van living can provide you with many enriching experiences to help you with many factors in life. It will not always be easy. Things will go wrong but it's how you handle them is what makes a difference in the outcome of any situation. So go make the most out of van living!