Joshua Tree National Park is often mentioned as one of the favorite parks in the country, and for good reason. The iconic Joshua Trees which grow in only a very specific region of the country at elevations between 2000 and 6000 feet and giant rock formations that exist in the park make for extraordinary sightseeing.
Although there are over 300 campsites within the park, getting your spot can be challenging and many find better luck outside of the park borders. Here is everything you need to know to camp in and around this national treasure for those looking to fulfill their RV lifestyle dreams.

Experience all of the magic of Joshua Tree National Park. 
1. Plan Ahead for reservations:
While it may be obvious, with only four campgrounds that allow reservations the earlier you book the better. Travel October through May pretty much guarantees crowds and peak time periods will even be full mid-week. The campgrounds that ARE reservable in advance are; Cottonwood in the far south of the park, Black Rock which is in the NorthWest corner, Indian Cove, and Jumbo Rocks. Reservations can be made at recreation.gov or by calling (760)367-5500.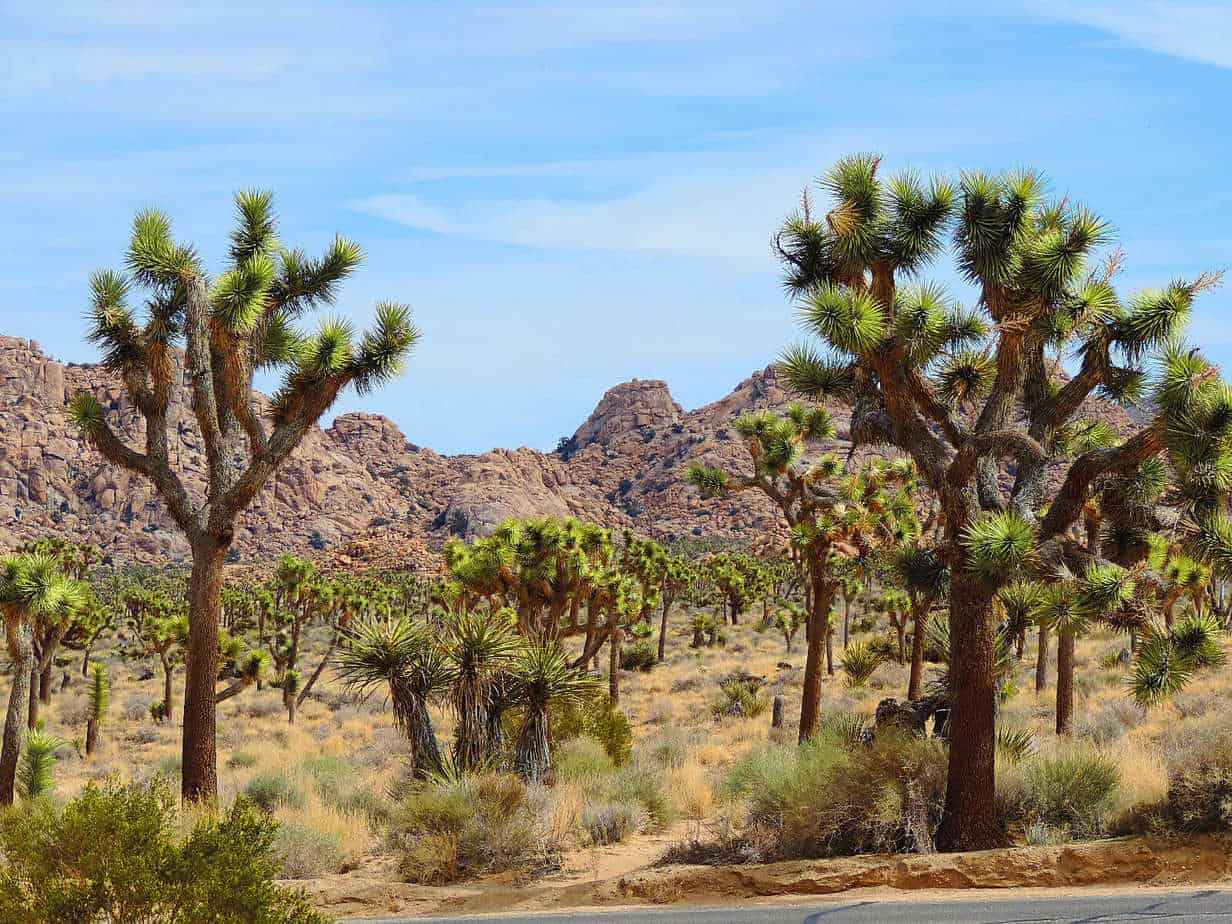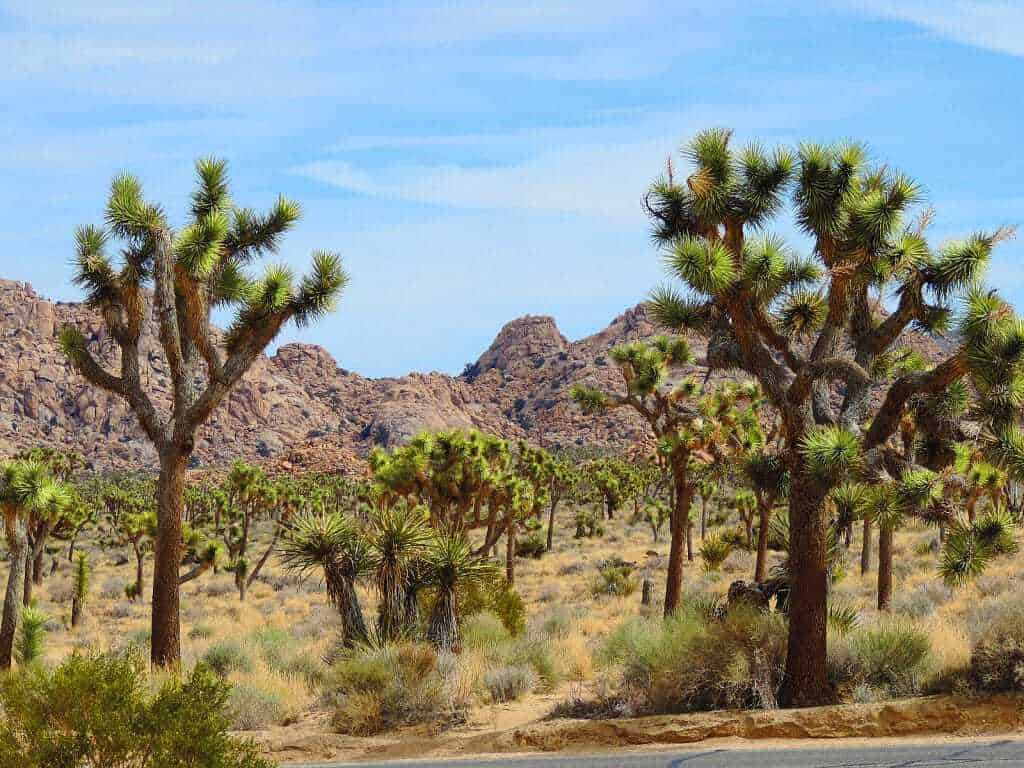 Practice your photography skills on the iconic Joshua Trees. 
2. Choose the first-come option:
Four other campgrounds within the park, Belle, Hidden Valley, White Tank and Ryan, all operate on a first come, first serve booking system. The process here is simple. It often works best to arrive around 9-10am. This is when those leaving for the day are most likely packing up. When you see a campsite that is empty, or soon to be, you head to the self-serve pay station to fill out the slip. Just post your yellow copy on your campsite post and you're in! The attached envelope is for your payment and it is requested that you pay within 1-hour of your arrival. When you reluctantly leave just remove your yellow tag so another lucky soul will know it is available.

Think small and be prepared to be astounded by the scenery in the park.
Of all of the campgrounds in the park only two, Cottonwood and Black Rock, have water available and flush toilets. The remainder of parks have firepit rings, pit toilets (often supplied but best to bring your own), and tables but you are responsible for your own water supply. Elevation can be a concern for those with heart issues so if this is an issue it is important to pay read up on the information on each campground. The camps range from 3000 to 4200 feet above sea level. Most importantly, pack it in and pack it out. Garbage is a huge issue for any campground and you can be part of the solution by leaving the park cleaner than when you arrived.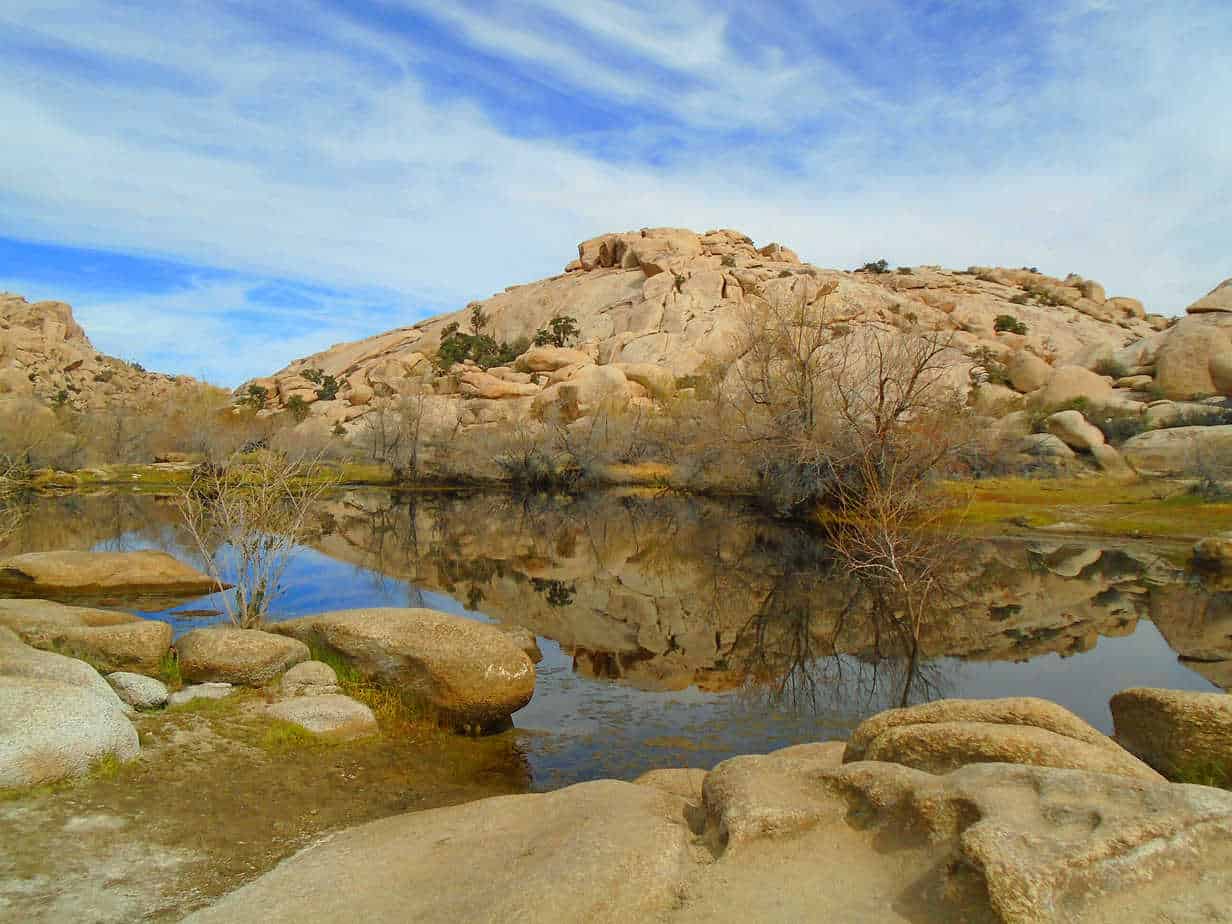 Hike in to discover petroglyphs and hidden pools among the towering rocks. 
4. Follow the rules:
To preserve this stunning region and allow others to continue to enjoy it it's essential to follow a few simple rules. One big one is to not attach anything to the vegetation. And this means all vegetation, not just the Joshua Trees themselves. This means no hammocks, no tent lines, no rock climbing equipment. Check-out is noon and there is a 30-day maximum stay allowed each year with only 14 of said days allowed during the packed October-May time period.  An additional reminder is to watch where you walk. The desert landscape is alive with a stunning array of cacti and foliage that deserve your respect.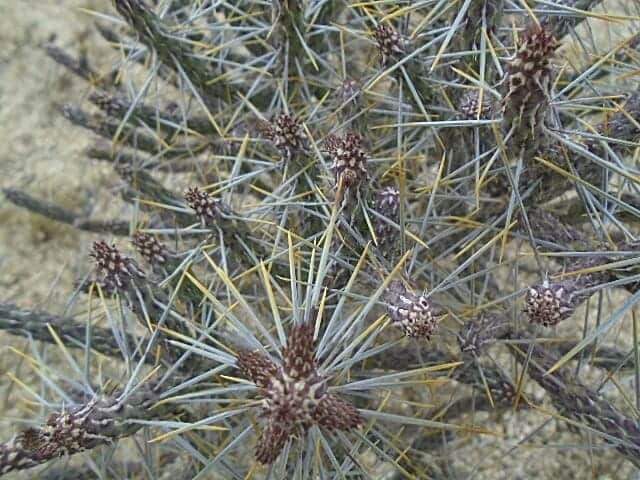 Watch your step to avoid crushing the desert foliage and cacti and avoid injury.
5. Size is important:
Big rig owners be warned: the campgrounds in Joshua Tree are not well-suited for large RVs and trailers. Cottonwood Campground, just outside the south entrance of the park, is the only option allowing an actual big rig. Indian Cove and Black Rock which are accessed from outside the park do allow RVs, although it is dry camping. Within the park, the majority of sites are open to vehicles less than a total of 25' in length so tent campers, truck campers, and camper vans are the best option.

Camping in the park allows for stunning vistas.
6. Boondocking is an option:
One way to get around camping challenges inside of Joshua Tree National Park is to boondock outside the park. Both the north and south entrances have nearby BLM land that is available for boondock camping. Don't expect services of any sort and be sure to only camp in the allowed dispersed camping areas and not accidentally set up on private property. Many visitors to the park prefer this option for the monetary savings and the peace and quiet. One thing to keep in mind is that boondocking outside the southern park entrance will require a fair amount of road time to experience the main highlights of the park. The north entrance BLM land does offer a less scenic locale but easier access to the park.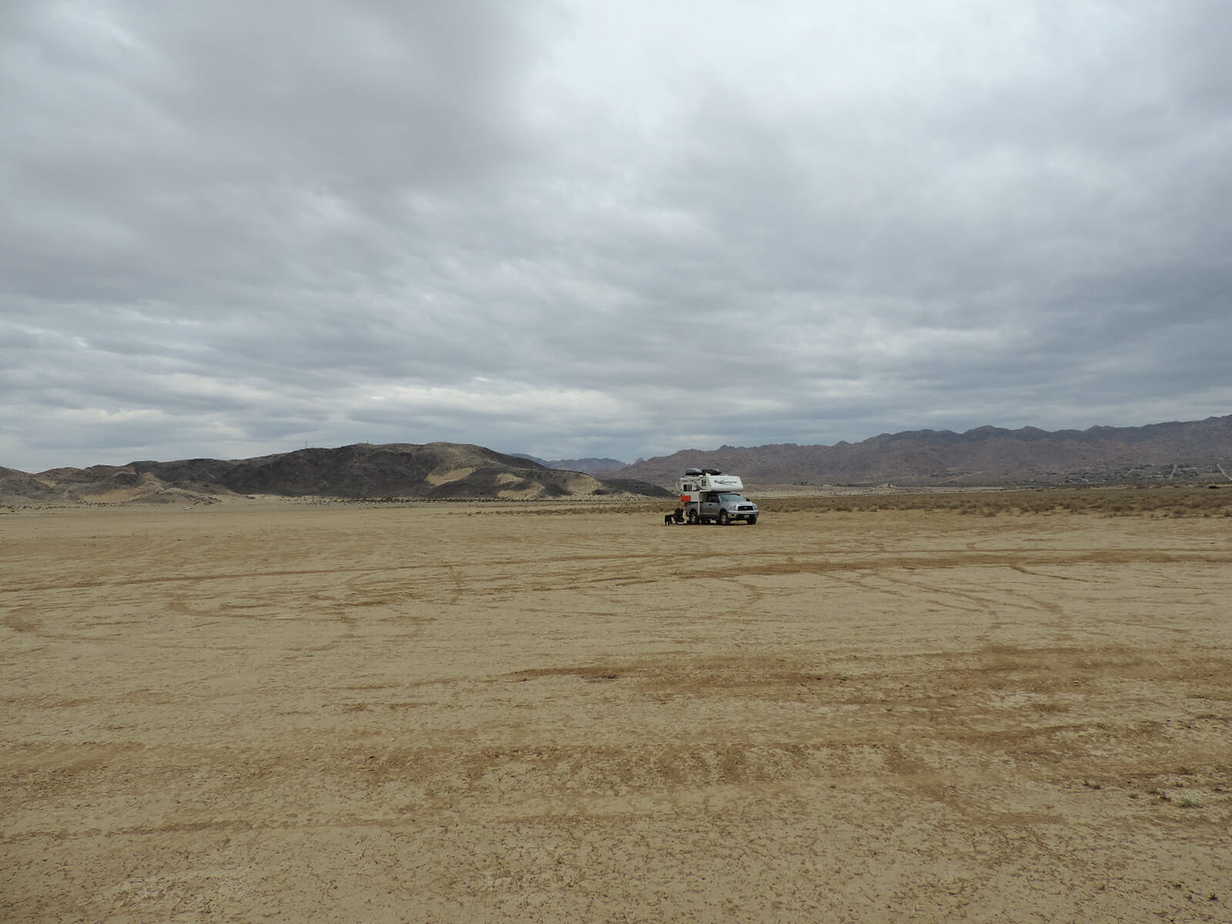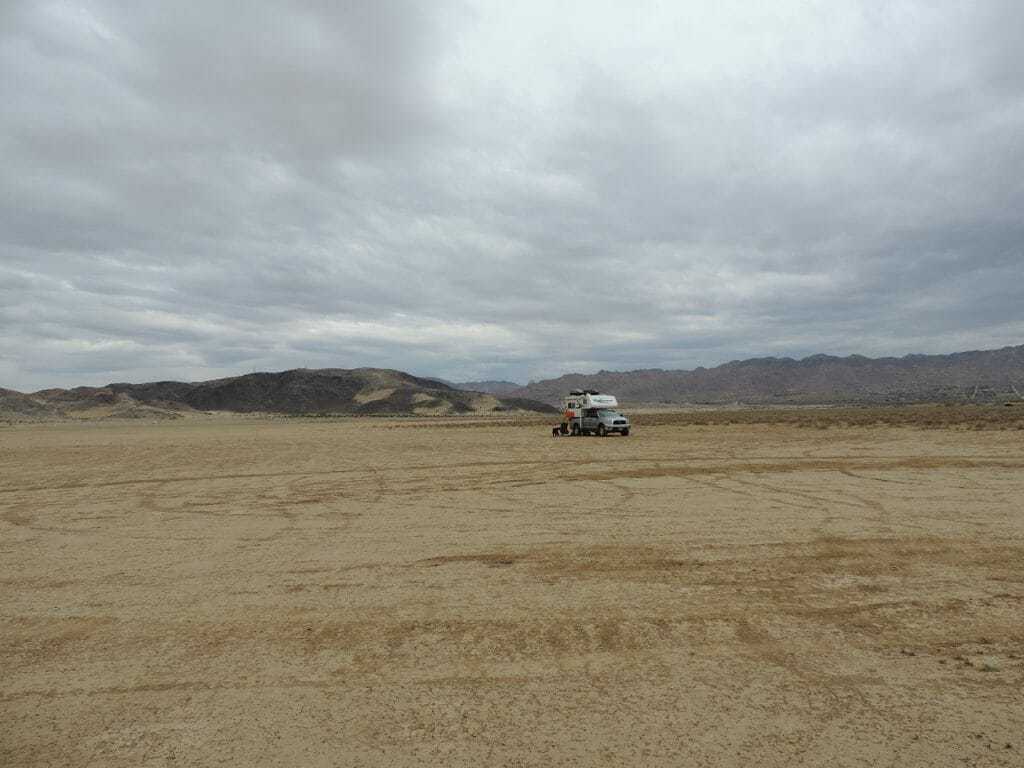 BLM land is open and free, but watch the weather forecast to avoid getting stuck during rainstorms. 
7. Choose a private campground outside of the park:
There are certainly other options for camping outside of Joshua Tree National Park. Seven private campgrounds surround the park and offer up good access, comfortable facilities and ease of booking. One of the options, Joshua Tree Lake RV also provides an eclectic stay with a variety of interesting structures built around their man-made lake and even host their own burning man each season, but be sure to check out all options to find the one that is best for you.

Camping outside of the park can come with some interesting views of their own. 
Joshua Tree may not be one of the easier National Parks to gain access to in terms of campsites but the multiple options both inside, and out, of the park make it doable for anyone. With a bit of planning, and perhaps some luck, everyone can plan a visit to one of the most stunning locations in the United States.