Are you trying to figure out how to change out your manual jack for a power jack because you're tired of knocking your shoulder and back out of whack? Whether you're just starting RVing or you've been at it for a while — no one wants a manual jack!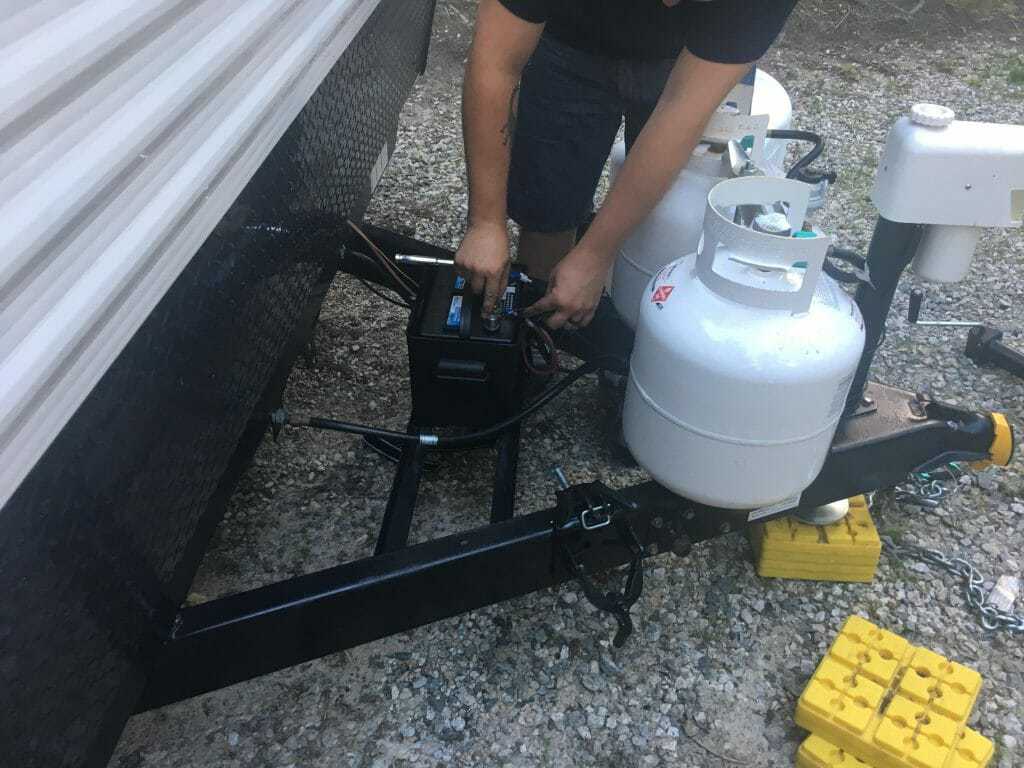 Every time you need to lift or lower your rig, it is a whole ordeal trying to get the thing to move. If you have any aches and pains — they're worse now and if you didn't have them before — you do now!
The good news is that changing out a manual jack for a power jack isn't really that hard. There are a few things that you need to know that I didn't understand though. Now that I know, I wanted to share them with you.
What Power Jack Do You Need?
Before you rush off and purchase the power jack that is rated for the most weight — calm yourself. You probably don't need it.
I was looking at the weight the power jack said it could hold and comparing it to the overall weight of our RV. Thankfully, my husband informed me that we only needed to compare the weight to the hitch weight because, well, it's not having to hold up the whole RV since it's sitting on wheels and tires.
We find a lot of power jacks that would work for us and truthfully we went for the one that we got because it had a lot of great Amazon reviews and it was on Prime! Easy peasy.
We got it put on and it has been great. My husband is very glad that his arm no longer has to deal with the whole cranking of the manual jack.
What Brand of Power Jack Do You Need?
Unless you just feel comfortable with a certain brand, you don't need to pick a specific one. As I said earlier, we just picked one that was the right weight and had good reviews.
That's normally how we found the best rv resources and products.
This is the specific one that we got if you want to get it too.
Pro Tip:
If you're searching Amazon for your power jack, make sure that you don't accidentally just choose the cover. Lol If you don't read it, you'll see the picture and low price and snatch it up but it will only be a cover vs. the power jack which is why it is so cheap.
Here's the cover in case you just need one of those. It does help you protect your new power jack.
Sale
Maybe you don't want to get the Ram Power Jack like we did. We got it because it was inexpensive and in white to match our RV and because of the great reviews but here are some others you might consider for your RV Power Jack needs.
This power jack is a little pricier than the one that we got but Lippert is a very well-known name. Most of the things in your RV are likely made by Lippert even if you've never paid attention to it.
This power jack is rated for 3,500 lbs just like the RAM one we use. It's a little fancier than the RAM power jack with its LED lights and sturdy design. If our RAM ever messed up, we would go up to this one but it's been doing great.
This Husky Power Jack is rated for 4,500 lbs so if you want more then this is a great pick. We obviously don't need it with our rig but there are others out there that you might feel a little more comfortable having this power jack holding you up.
It's got great reviews and it isn't too much more expensive than the power jacks that are rated for 3,500 so if it makes you feel more comfortable — just go for it.
Once you have your powerjack, they will have some instructions (most likely) but we're going to give you some tips about how to change out your manual jack for a power jack below.
The 411 – Changing Out Your Manual Jack for a Power Jack
Now that you have your power jack in hand, it is time to take off the manual jack and get your shiny new upgrade on the RV. But how?
First, you need to collect all of the tools you'll need to get started. The good news is that you don't need a lot.
Yeah… long list. Lol
Here you see the sad manual jack after we've taken it off. But let's show you what took place before that.
Here's hubs getting ready to rid himself of the evil manual power jack.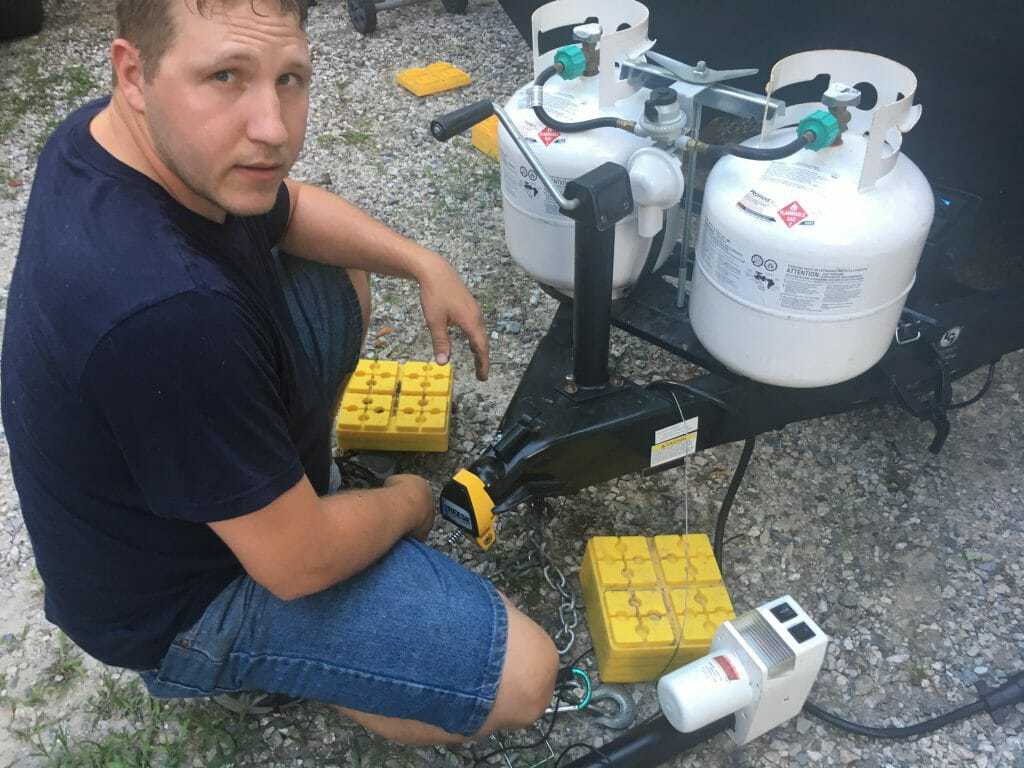 Now you can see that the manual jack comes apart so one part pulls down and one part is taken up and off so you can replace it with the power jack.
Now where the manual jack was, it is time to put the power jack there.
Once you have the power jack put in place, it is time to tighten down the bolts.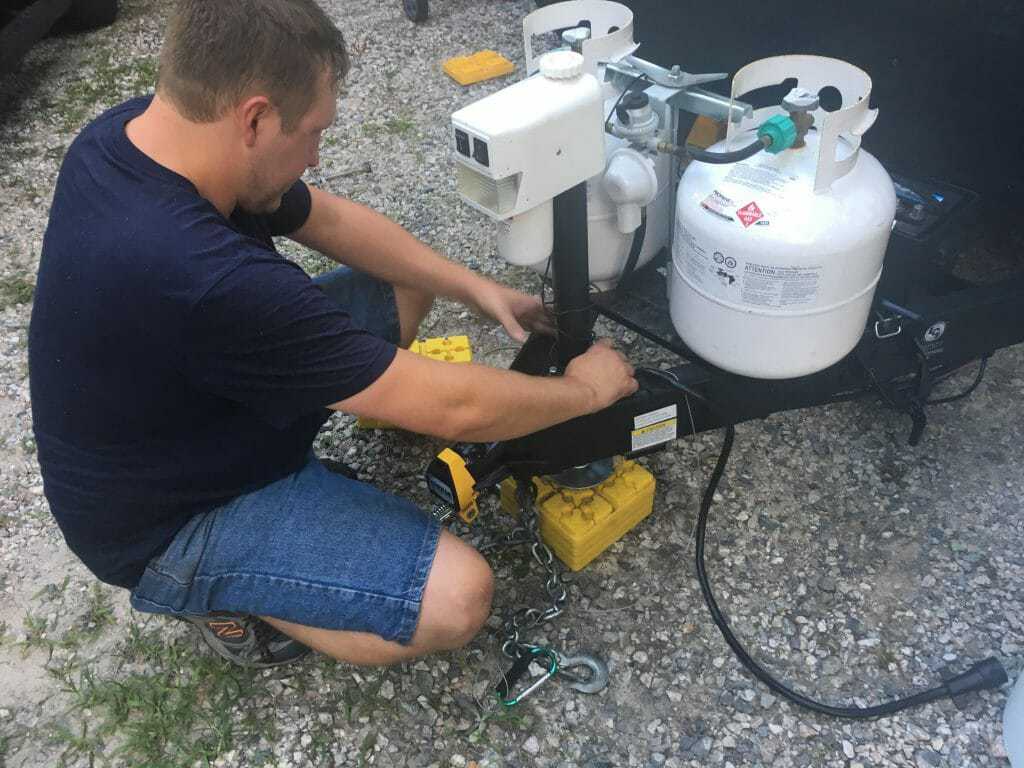 That looks about right. Lol
Make sure to tighten everything down real good.
I said — real good!
Now you have to connect the power jack's power cable to the positive electrode of the battery. To connect the power jack's power cable to the positive part of the battery, you place the exposed wiring between the washer and the battery cable. Make sure it is touching the positive electrode.
Tighten the nut back down with the socket and socket wrench. Make sure it is soundly in place.
Now you put your battery cover back on and you're good to go!
One thing to note. Before you raise your manual jack to take it off and replace it, make sure all of your stabilizer jacks are tightened and supporting the RV.
You may also want to wait until you are on a site that is pretty level. You don't want your RV rolling off.
To keep from having a rollaway RV, make sure you have the wheels blocked off with chocks and RV wheel stabilizers.
Sale
Now that we have safety taken care of and you know how to change out your manual jack for a power jack, you're good to get started on your project. It doesn't take very long at all and doesn't require too much physical effort.
Make RV Life Easier
When you're living full-time on the road or even if you're a weekender — you want to make it as easy and enjoyable as possible. A power jack definitely adds an element of easy into the setting up process.
Feeling extra DIY today? Check out our guide on DIY RV water supply systems today.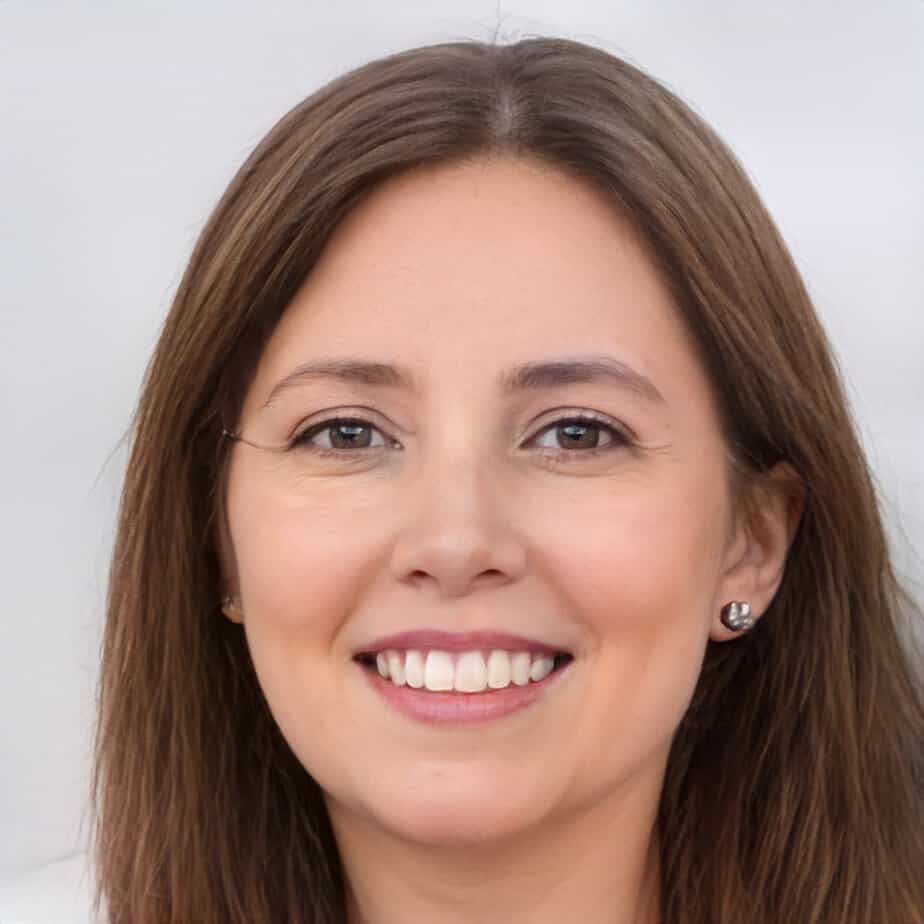 Jill Miller is the founder of Your RV Lifestyle. Trading corporate America for the open road, Jill, along with her partner Jose, began their RV journey, making an unconventional start by wintering in New Jersey. A natural adventurer, she was motivated by a desire to explore the USA and beyond, embracing the varied landscapes, communities, and cultures across the country.
For Jill, the allure of RV living was not about material accumulation, but rather the pursuit of an adventurous, fulfilling lifestyle. A lover of golf, bicycling, hiking, and line dancing, she has carried her passions across the country, engaging with them in diverse settings. Jill's commitment to the RV lifestyle came after years of careful research, numerous consultations with RV owners, and personal trials, including living in a rental RV.