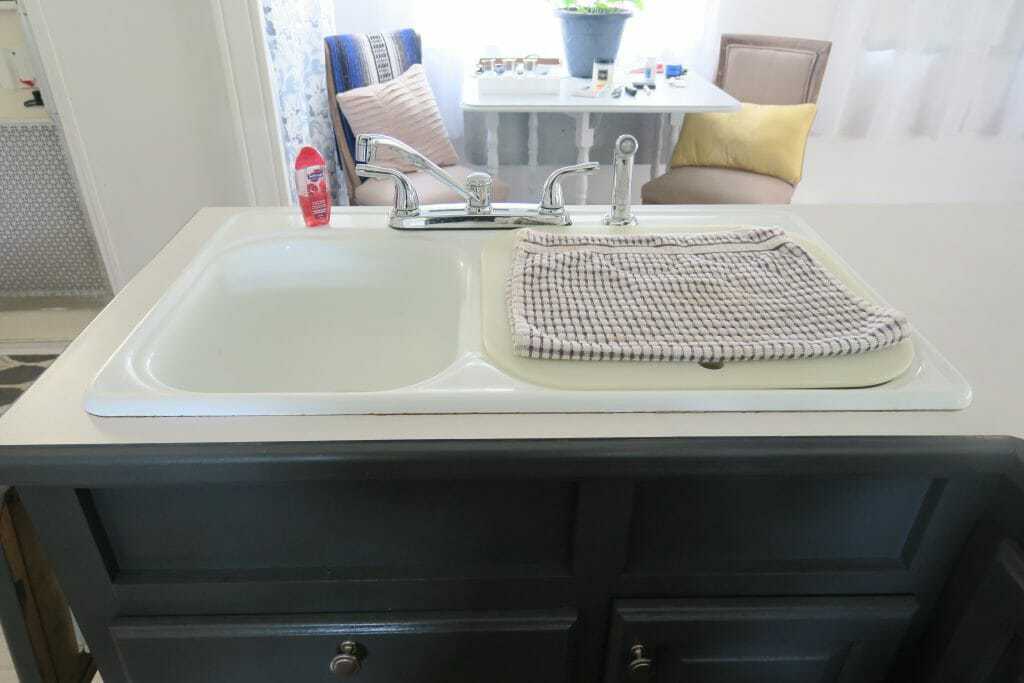 Having a sink and water supply are critical for any RV.
It's becoming more popular than ever to do customized conversions of vans or completely renovate old motorhomes in order to create the RV of your dreams. While this certainly allows you to build an RV perfectly suited to your wants and needs, it also comes with a lot of choices. For instance, what sort of water supply and sink system will you install in your rig?
There are several options to choose from, all of which have different advantages and disadvantages. Luckily, I recently decided to upgrade the water supply and sink in my class B van, so I've done all the research for you.
In this guide, we'll go over the pros, cons, and product recommendations for:
City water hookups
Electric pumps
Hand pump
Foot pumps
I'll also walk you through the system overview of each, so by the end of the article, you'll have a pretty good idea of what's involved for upgrading your RV's sink and water supply.
Things to Consider Before Choosing a Water Supply System for Your RV
Whether it's a pop-up camper or a giant motorhome, any brand new RV will have a water supply and sink already installed. As such, this guide is more for someone who is doing a thorough renovation of their RV or is researching upgrades to their current system.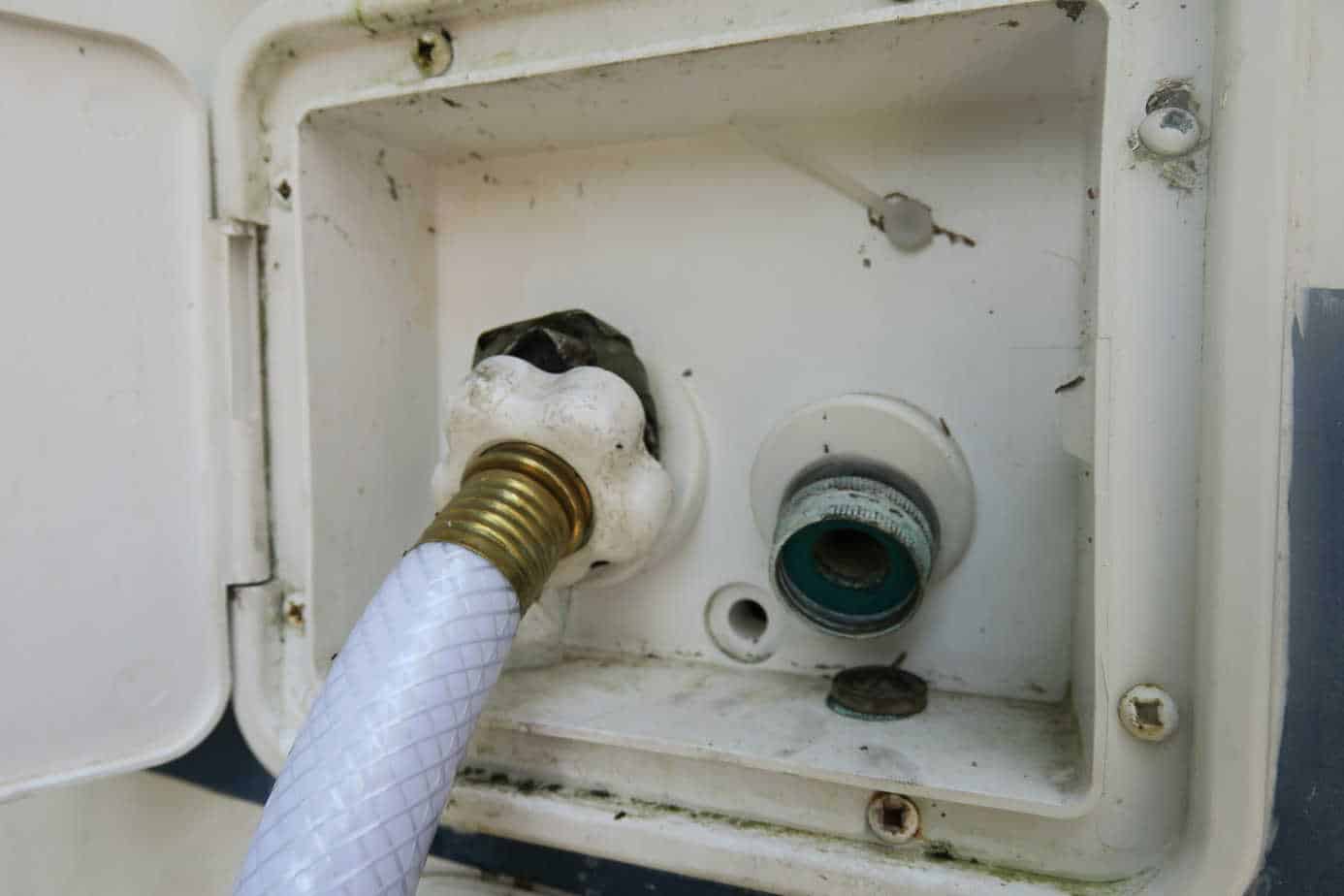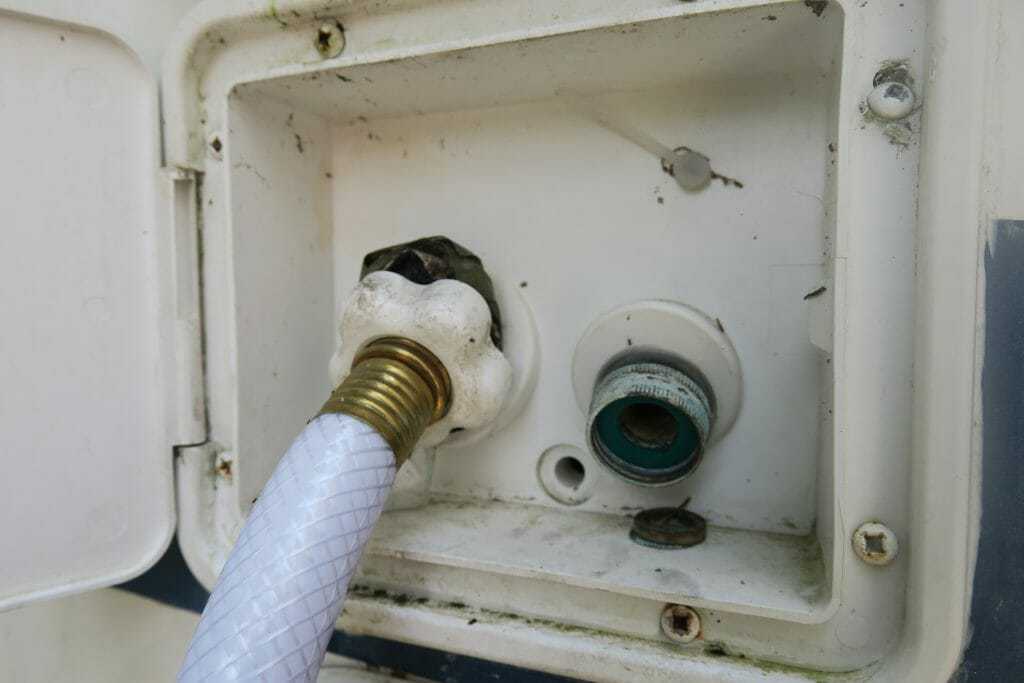 This city water hookup and freshwater connection are both outdated. There are a few options for upgrading both systems. 
With that in mind, consider these five factors before moving on to the next section:
What features are important to you? For example, would you rather have a sink that supplies hands-free running water or one that saves water?
How big is your RV? This will determine how big of a freshwater holding tank you can install, or whether or not you have the space to set up a system with an electric pump and tankless water heater.
What's your budget? The cheapest systems are also the most low-tech.
What's your energy supply? Is having enough power no concern for you, or are you running off of a small solar grid? The answer will determine if you're eligible for a system with an electric pump.
What's your DIY skill level? If you're new to renovating and don't have much experience under your belt, chances are you'll want to go with a low-tech system.
Different System Types for Your Sink
There are a few different ways to supply your sink or other needs with running water. We'll go over a few of the most common and basic set-ups below.
City Water Hookups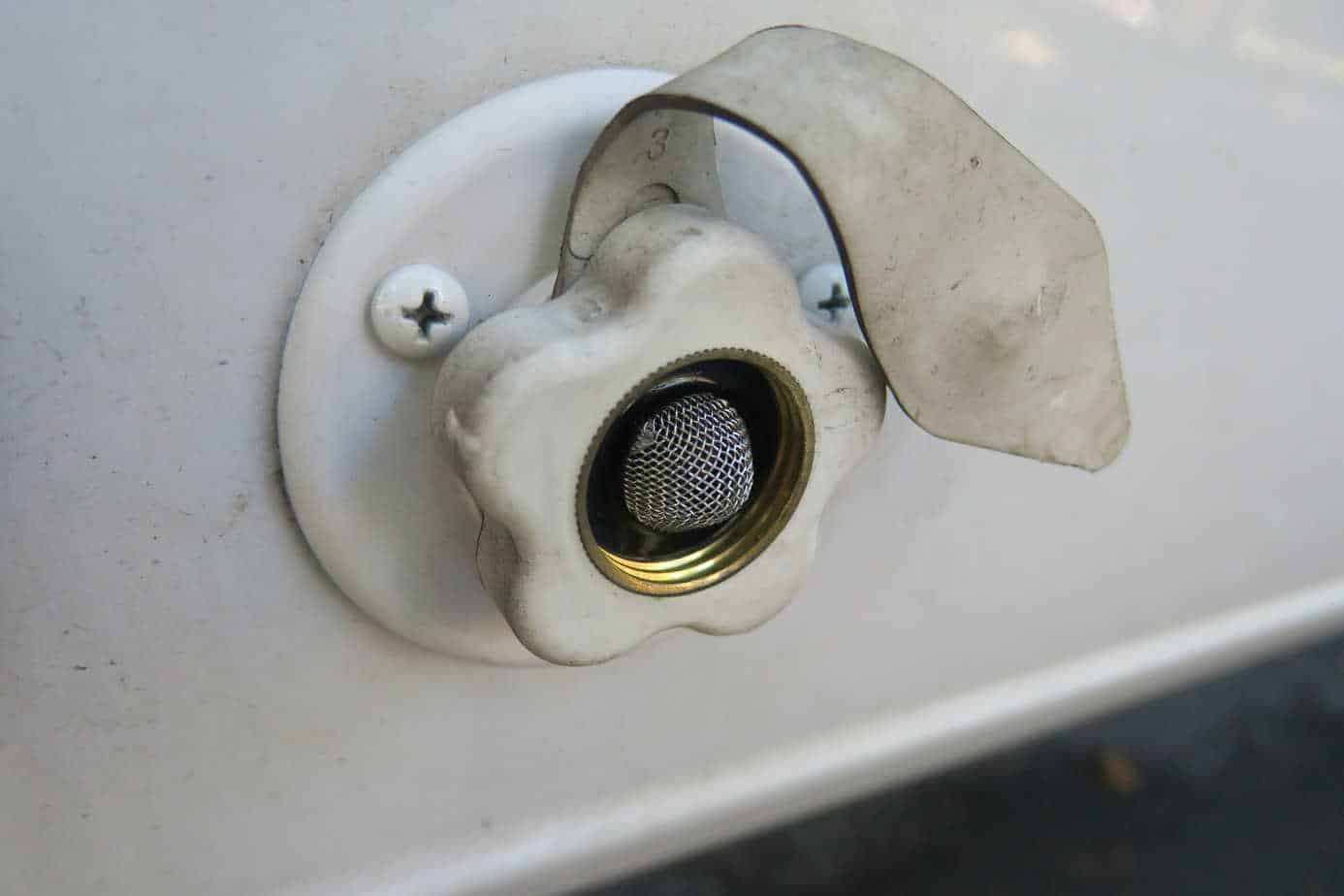 A city water inlet allows RVers to connect to the local municipal water supply. 
A city water hookup allows you to connect directly to the local municipal water supply. When parked in a campground, you can run a hose from a spigot to a port (also called an inlet) on the outside of your RV. A tube running from the port to your sink then supplies a steady supply of water with the turn of your faucet's handle.
Pros to City Water Hookups
A city water hookup comes with the following benefits:
It provides consistent water flow without needing a freshwater tank, electric pump, or manual pump
It can be the most budget-friendly choice
It's great for RVs that are short on space
It's hands-free
Installation is straightforward
These upsides alone are why I have a city water hookup on the outside of my self-converted class B van. It runs straight to my sink and nowhere else. However, it's not the only water system that I have, for reasons you'll see below.
Cons to City Water Hookups
While that list above might seem like a lot of clear advantages, a city water hookup alone is probably not going to be the only water system you want or need. Consider these downsides:
You'll need to cut a hole in the side of your vehicle
You won't have access to water away from a hookup
That second point is the biggest reason why you'll need more than just a city water hookup for your rig. Without some sort of tank-based system, you won't be able to venture far beyond the campground.
System Overview
The following is an overview of my personal city water hookup system. This is a very simple system that only supplies one sink in my small RV.
In addition to a sink, some beverage-grade hoses, clamps, and a greywater tank, you will also need:
A city water inlet 
This city water inlet from JR Products is reliable and popular. It's the one I use on my own rig. To install, you'll have to cut a hole to size in the side of your RV, then connect it to a hose that runs to your sink (or whatever else you want to supply). Watch the video below for a quick overview of how to install it:
A potable water hose 
This is what you'll use at the campground to connect the spigot or hookup to your inlet.
It's important to get a hose that won't add funny tastes or leach chemicals into the water, especially if you want to use it for drinking. This 25-foot-long hose from Camco is not only lead and BPA-free but is the #1 best selling drinking water hose on Amazon.
A pressure regulator
The water pressure at some campsites is too high for the small tubes running through your camper. It could cause serious damage if you're not careful.
Connect a lead-free pressure regulator like this one to the spigot before you attach the potable water hose. You'll be able to monitor and control how much water is flowing into your RV. The video below goes into this process more in depth:

This RV sink can run on a city water hookup or from a freshwater holding tank using an electric pump. 
An electric pump draws water from your freshwater holding tank and supplies it to your sink or any other plumbing you may have. Simply turn on the faucet, and you have instant running water.
Pros to Electric Pumps
The main advantage of electric pumps is that they offer hands-free running water wherever you are. You don't need to be hooked up to city water at a campground to use your sink or shower.
For many people, this is as good a reason as any to move forward with installing an electric pump. Of all the solutions in this guide, it's is probably the most convenient.
Cons to Electric Pumps
This level of convenience won't be a priority for everyone. Consider these disadvantages:
Installation is complicated
It's expensive
It requires several additional parts
It can put a strain on your electrical system, which isn't great if you want to save energy in your RV
It isn't the best if you want to save water
It requires a lot of space, which isn't possible with some smaller RVs
System Overview
In addition to a sink and a greywater tank (which as you've gathered by now is standard for all of these systems) you'll need:
Electric pump
The go-to brand for RV electric pumps is SHURFLO. This one can pump three gallons per minute, runs on 12V DC, and according to many satisfied reviewers, is extremely quiet when operating.
Accumulator tank
To get the most out of your pump, you'll also need an accumulator tank. It's essential for keeping the water pressure up without overheating your pump.
Strainer
The final piece of the puzzle is to add a strainer to the head of your pump. This will keep debris out of the pump that might otherwise damage it and reduce its longevity.
freshwater tank
Electric pumps tend to use a lot of water, so you'll need a freshwater tank that's up to the task. This 20-gallon tank from Barker Manufacturing comes with many of the hoses, clamps, and fittings you'll need to hook it up to your pump.
Tankless water heater
While not mandatory, chances are that if you like the convenience of an electric pump, then you'll also love having instant hot water. A tankless water heater can warm your supply up instantly without having to hold it in a separate tank. This guide will walk you through the best option and things to consider.
For an even more comprehensive look at how you can install an electric pump in your RV, check out this thorough overview.
Hand Pumps

The hand pump on the right manually supplies water from a tank. The faucet on the left connects to a city water inlet and can be used when there's access to a city water hookup.
If you don't want to fuss with electrical components, a hand pump might be the right fit for you.
A hand pump is a combination faucet and pump that draws water from your freshwater tank by moving a handle back and forth. It's a very simple solution, one that I personally use and enjoy in my RV because it doesn't put any pressure on my solar-powered electrical system.
Pros to Hand Pumps
Here are the upsides to a hand pump:
There's no electricity needed
Installation is easy
They're affordable
The all-in-one construction helps save space in small RVs
They help you conserve water
Cons to Hand Pumps
Hand pumps aren't for everyone. If you want to wash dishes or do other things hands-free, this probably isn't the best option for you.
System Overview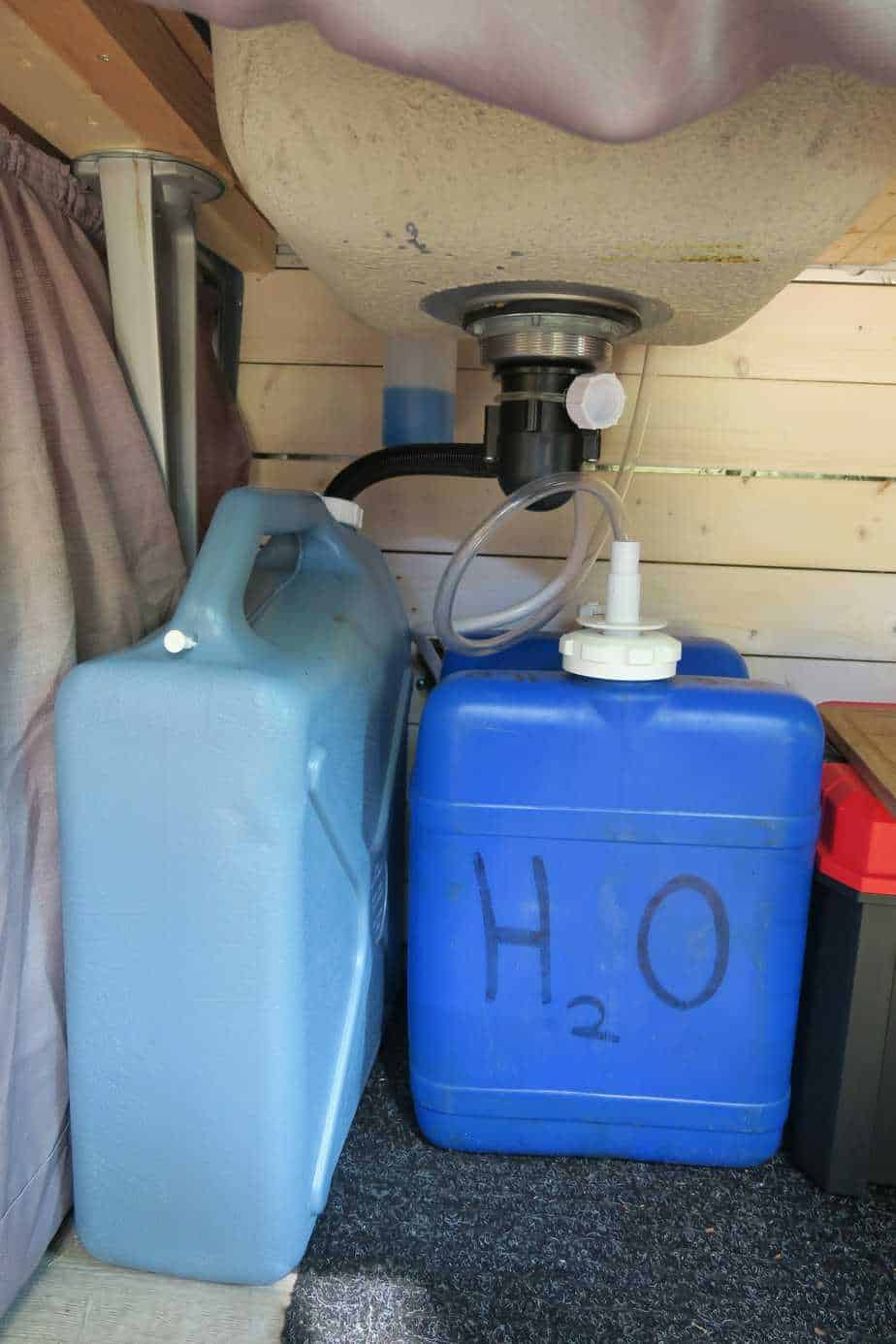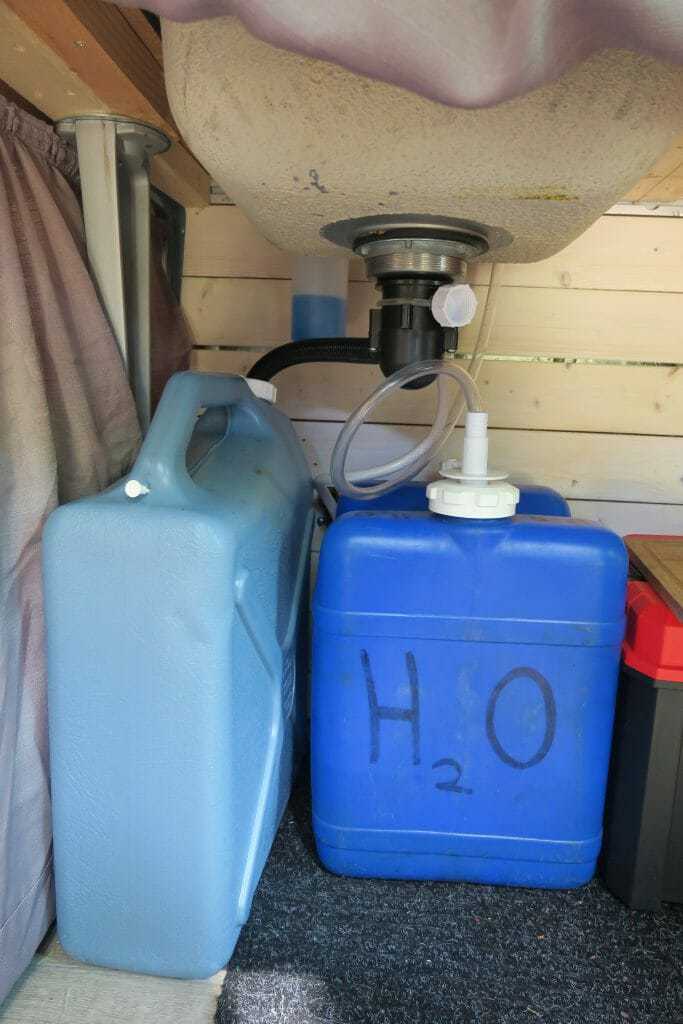 A look under think of my freshwater and greywater tank. 
Here's an overview of my hand pump system. It's easy enough that even someone with no DIY experience can probably tackle it on their own.
Hand pump
I use this chrome hand pump from Valterra. It's more commonly found in boats but works just as well in my RV. To install, you'll have to cut a hole in your sink or countertop.
Freshwater tank
I run a clear beverage-grade hose from the hand pump down into my freshwater tank, which is currently a rugged and BPA-free seven-gallon tank from Aqua-Tainer. I screwed a threaded PVC fitting into the spigot opening to help hold the hose and prevent splashing while the RV is moving.
Greywater tank
The black drain hose that came with the sink runs down into a smaller grey tank. This catches all my greywater.
Instead of a greywater tank, you could get a portable tote tank. These tote tanks hold grey or black water and have a set of wheels attached so that you can easily move them to the appropriate dumping station. Check out our guide for choosing the best tote tank.
This is just an example of how a manually pumped tank-based system can work. I have a small class B RV, so I have a small system. You can use the same principles but on a larger scale in your vehicle.
To see another example of how some RVers used this system in their rig, check out this guide.
Foot Pumps
A foot pump is another manual option mounted to the floor of your RV. You push the pedal with your foot, which then draws water from your freshwater tank to your sink. This method is traditionally found in boats, but more and more RVers are considering it for their customized vehicles.
Pros to Foot Pumps
If you like the idea of a manual pump but want a little more convenience, this might be the system for you. Here are some other benefits:
You can have hands free running water
It's a little more powerful than a hand pump
You can still save water
Installation is easy enough for beginner DIYers
Overall, this is a nice happy medium when it comes to convenience, budget, and ease of installation.
Cons to Foot Pumps
There are a few downsides, of course:
It's a little more expensive than a hand pump
You need to buy an additional faucet
System Overview
As per usual, you'll need a sink, freshwater tank, and greywater tank. You'll also need to connect the following components with some tubing:
Foot pump
Marine supply company Whale built this foot pump for boat galleys but many RVers are finding that it works just as well in small rigs.
Faucet
Whale has a matching faucet that is perfect for using with their foot pump. It has no handles and will automatically start supplying water whenever you press on the pump.
Install or Upgrade Your RV's Water Supply System Today
There several different ways to bring running water to your sink. You can choose to go the traditional route with city water hookups and electric pumps, or you can experiment with energy and water-saving systems like hand pumps and foot pumps.
Whatever your needs and constraints are, whether they're budgetary or space-related,  there's a solution out there that fits you.