Choosing an RV can be a difficult business. Even when you get it right, you can still end up with an RV that does not perfectly meet your needs. No RV is 100% perfect off the shelf. Even one you build yourself might need certain modifications after you discover its strengths and weaknesses. Fortunately, there are plenty of ways to customise an RV to allow it to more perfectly meet your own personal needs and wants. To help you reach the end result you want, whether you are creating your own RV from scratch, or customising a model that you own, here is a list of DIY hacks and upgrades that you could consider:
DIY Energy-Producing Upgrades
One of the first major things to consider when looking at ways to improve an RV is customising the vehicle to make it possible to generate your own energy. Being able to run on your own power and enjoy off-grid adventures can significantly increase the range of what is possible in your RV. Of course, whether you are living in your RV, or simply heading off for vacations, generating your own power is also a great way to go greener. Mods that allow you to produce energy in a green and eco-friendly way is definitely one of the very best upgrades to consider for almost any RV.
Solar Panels
There are plenty of guides and tutorials online which will help you learn how and where you can source, buy and install solar panels on the roof of your vehicle. Yes,you can pay someone to install a solar system for you. But in order to get an optimal design, it might be better to go the DIY route and design and install the system yourself. Of course you will have to do a lot of research. But you will likely get better results at the end of the day.
Wind Power Generation
Installing a wind generator is another option for those looking to make the most of renewable energy in their RV. This could work well instead of or in addition to the solar panels discussed above. In some parts of the world, wind power may be more available than solar, and harnessing the power of the wind could be a good option for those who want to generate their own power even during the gloomy winter months when sunlight can sometimes be in short supply.
DIY Energy-Efficiency Upgrades
Of course, there is a significant cost involved in installing power generation for your RV. In the meantime, however, while you save up for these bigger upgrades, you could also do plenty to save energy in your RV. In addition to considering a range of other eco-friendly changes, you could also consider taking on one of these DIY energy efficiency upgrades for your RV:

There are plenty of different eco-friendly lights you could install to upgrade your RV. 
Solar/ LED Lighting
Even if you cannot install a full solar array on your rig just yet, you could still take on a DIY project to upgrade the lighting in your RV. You can switch out existing bulbs for low-energy LED ones to save energy. What is more, you could also consider investing in some solar lighting that can be run off a small, single solar panel even if you cannot afford a full solar array. Even affixing one or more solar lanterns, or a string of solar fairy lights to your RV's exterior could make a difference to how much power you need for lighting after dark.
RV Stoves & Heaters
In order to upgrade your RV for cold-weather RV trips, it could also be a good idea to consider installing a wood-fuelled stove, rocket mass stove or efficient electrical heaters to run off solar panels or a wind turbine. Each of these ideas are great upgrades for those who want to make their RV more eco-friendly but also more liveable in the winter months.
Thermal Blinds
Thermal blinds can make a big difference to how much heat your RV loses in cold conditions. As well as reducing your heating bill, thermal blinds can also be a great upgrade for those who want to do things themselves, as they are relatively easy to make on your own.
RV Skirting
RV skirting can also help keep your RV warm in winter. But skirting can be expensive to buy. Rather than relying on the market and buying your skirting, however, you could also consider making your own. There are plenty of different materials that you could use. Some RV owners have used reclaimed plastic or metal sheeting, or even reclaimed timber for the purpose, while others have even had success using a thick layer of cardboard to do the job. When you do the job yourself, it does not need to cost the earth.
RV Insulation
Another RV upgrade that you can take on yourself as a DIY project is insulation. There are plenty of eco-friendly materials and green insulation ideas to choose from when you are improving your RV. Even something as simple as stuffing gaps with cosy wool or recycled newspapers can make a surprising amount of difference.
Awnings
Another cool DIY hack for RV owners is to avoid shelling out tons of cash for an awning and instead using some basic sewing and DIY skills to make your own. An awning can provide shade and help save money on air conditioning or cooling in hot summer weather. It can also provide a more pleasant place to dine or enjoy a drink outside your RV. One cool way to make your own awning might be to upcycle the material from an old tent, or even old umbrellas that might otherwise have been thrown away. A curtain rod and simple pulley system could provide a support for your new DIY awning.

An awning is great on an RV – if yours doesn't have one, consider making your own.
Water & Waste Upgrades
Another way to improve your RV is to enhance your water and waste situation. Upgrades might include increasing your water or waste carrying capacity, improving your water flow, or making it easier to save water in your RV. Other hacks might make it easier for you to deal with food waste in a green and eco-friendly way. Some examples of upgrades, modifications and hacks you could consider include:
Larger Water or Waste Tanks
If you find that water is one of your main challenges, and especially if you want to spend more time off-grid, then you could consider investing in larger water and waste tanks and installing these in your RV.
An Improved Water Pump
Another great way to upgrade your RV without having to find the money, or space, for larger tanks is to upgrade the water pump. Upgrading your water pump can improve the water pressure and the consistency of the flow from faucets and your RV's shower if it has one. Improving the flow and ensuring water streams correctly from the faucets can also help you prevent water waste.
Eco-friendly Compost Toilets
Upgrading the toilet in your RV could also be a good solution. A more eco-friendly low-flow model or a composting toilet is another great way to go greener and save water in your RV. There are plenty of great models on the market specifically designed for RVs, so doing a little research should help you to find the right option for you.
New Faucets & Shower Head
If money is low, one simple hack to improve the water situation in your RV is simply to replace the faucets and/or shower head for better options. Having the right ones will make it even easier to prevent water from being wasted and, especially if you install them yourself, can cost very little and yet make a surprisingly big difference.
A DIY Outside Shower
For a bit of fun, or if you do not have space for a shower in your small RV, you could consider taking on a DIY project and fitting your own outside shower on the side of your vehicle. An outside shower can be great for cooling off on a hot day, or even for getting the mud off before you go inside. You can even make your own privacy screen for your outdoors shower using a shower curtain (or reclaimed material) and wire or piping.
Upgrading from a Waste Bin To A Composting System
The waste water is not the only waste that you will have to deal with in your RV. Another low-cost upgrade could include replacing a waste bin in your RV kitchen with a bin for small-scale composting. Not only will this help you reduce waste in your RV, it could also make it easier for you to grow your own food. A wormery is one great composting solution that works well for small spaces.
Space & Storage Upgrades
Once you have upgraded your RV to the point where it meets all of your basic needs, you may next wish to turn your attention to hacks and upgrades that will help you to tackle the issue of space. No matter how large your RV may be, even the biggest of RV's can leave you limited in terms of space and storage, especially if you are living in the RV full time. Here are some modifications and upgrades that you might like to consider:
Turn Bunks into an Office/ Workspace
If you have an RV with extra bunks that you do not usually use, you could consider replacing them with an office or workspace, or perhaps a space to enjoy a hobby while you are on the road. Upgrading and modifying your RV is all about creating a space that works perfectly for you, so if you do not need something, you should always get rid of it and upgrade the space to make it work for you. Support structures for a lower bunk might work perfectly, if raised slightly, to support a desk or work area. While the upper bunk area might work well for storage.
DIY Dining Booth or Seating Area Upgrades
Another way that you might like to customise your RV is by removing a built in dining booth or seating area and replacing it with something more suited to your needs. Some RV owners choose to replace such built in furniture with some custom storage, while others go a different route and do not replace it with any other built in furniture but rather with free-standing pieces or folding items that can be more flexibly used and arranged.
Fold Out Bunks & Beds
One way to reclaim some space in your RV is by installing fold-out beds or bunks in place of fixed bed arrangements. There are plenty of cool ideas out there that allow you to hinge bunk beds so that they can be folded up flat against a wall when not in use. You could even have a desk affixed beneath, hinged in so that items can be kept in place when the bed is folded down.
Other RV owners have developed further nifty upgrades, such as fold-out beds for kids that can be placed across the front seats in a smaller RV or camper.
Build In Extra Cupboards or Shelves

Regular cabinets may look neat – but look at all the wasted space. Adding additional shelves between existing ones may help upgrade your RV storage.
Even if you do not want to heavily customise the existing interior of your RV, you could still consider building in extra small cupboards or shelves in your toilet or in the kitchen, for example. Having a small shelf in your RV shower, for example, could make it much easier to store and reach things you need, without it taking up much space.
Shelves placed high up in your RV living space could help you maximise the space available for storage – they could even be a place for some pot plants, or even a space to grow some food. Shelves can be easily affixed with suction hooks for one quick and easy DIY option.
Another easy way to increase storage and give yourself extra space in your RV is by installing some new shelves inside your existing cupboards.
Add Dowels or DIY Partitions in Cupboard for Easier Storage
You can also upgrade your existing cupboards by adding dowels or other partitions inside them that will allow you to stow things like plates on their sides and make the most of the vertical as well as the horizontal space.
External Mounts for External RV Storage
Another hack to increase storage capacity on your RV is to add an external mount to the rear of the vehicle. Bicycles and kayaks are not the only items that could be mounted externally on the back of your RV – you could also use an external mount to stow a blue boy for carting water or waste, or even something a little more unusual – like a small greenhouse!
Consider a Tow-Along For Extra Space
Another thing to consider is adding a tow-along for extra storage, or even for extra utility space. Some RV owners have thought outside the box and even created tow-along trailer gardens, or tow along outdoors kitchens. There are plenty of cool DIY projects that you could take on to turn a trailer into an amazing upgrade for RV vacations of RV living.

Fixing a tow bar could be an upgrade for your RV that adds a whole range of options.
Hang Curtains as DIY Space Dividers
Upgrading your RV is not always about making more space, sometimes it is simply about using that space more wisely. One quick fix for improving the utility of your RV is dividing different areas using extension poles and curtains as DIY space dividers to give you more privacy.
DIY Stove Covers or Sink Covers For Extra Counter Space
A lack of counter space can sometimes be a problem in RVs. One simple hack is to make a DIY stove cover or sink cover to give you more space for prep. A sink cover could even double as a chopping board – you can simply cut a wooden chopping board to fit.
DIY Countertop Extensions/Fold-Outs
Many RV DIYers have also added to their countertops by creating their own simple fold-out extensions, which will hang down or slide into existing cabinets when not in use.
Rolling Under-Bed Storage
Storage space underneath a bed in an RV can sometimes be difficult to get to. Installing some rolling under-bed storage could be a relatively inexpensive hack that makes life a little easier on the road.
Slide Out Shelving/Cargo Trays For External Storage Spaces
Another tricky spot to get to when trying to retrieve items you have stowed away is the back of deep external storage spaces. One upgrade you could consider is installing some simple slide-out shelving or wheeled cargo trays in such spaces to make it easier to get things from the back of these spaces.
Vertical Storage Solutions
One final space-saving or storage upgrade to consider is creating some vertical storage solutions. Vertical storage solutions help make the most of the vertical space in your RV as well as the horizontal space. They don't just include shelving or hooks that go right up to the ceiling but also other ideas like hanging storage (think hammocks) or storage straps or brackets that allow you to stow things on the inside of the roof of your RV.
Practical & Cosmetic Hacks & Upgrades
So, you are happy with the basic function and space in your RV. There are still a range of practical and cosmetic hacks and upgrades you could consider. Here are some examples:
Replacing RV Carpet With Hard Flooring
One of the biggest cosmetic changes you can make in an RV is switching out your carpet for hard flooring. Not only can some flooring – sustainable wood, bamboo or cork, for example – be better for the environment than carpets, they can also look beautiful, and be more practical too. Replacing the flooring might be a bit of a challenge, but you really only need basic DIY skills to give it a go.
Upgrading Handles
If money is a little too tight for big changes, you can still make a surprising amount of difference to the appearance and function of your RV by switching out little things, like the handles on RV doors and kitchen cabinets. Upgrading to more pleasing handles could be one way to make your RV feel more homely.
Upholstery Upgrades
Upholstery is one of the features in an RV that dates most quickly. If you are not keen on the upholstery on benches or seating, then why not upgrade to something you truly love? For a truly personal touch, why not consider doing it yourself? You might even be able to recycle some old fabrics to make your upgrade greener.
Chalkboard Paint on Doors or Appliances

Could chalkboard paint free your creative side and be a great upgrade for your RV?
Giving your RV a lick of paint is one of the easiest ways to change the whole feel of the interior space. Chalk paint, for example, will work well on a range of surfaces. It comes in a range of beautiful colours.
One cool hack,however, that can look great as well as being practical is to coat a cupboard door, fridge or wall with chalkboard paint. You can then write on it with chalk to make notes on your route, make a shopping list, or let your creative juices flow.
Beautiful Green Walls & Pot Plants

Pot plants really brighten up any inside space – including the inside of an RV.
Finally, one of the very best ways to upgrade your interior and make your RV look and feel great is to grow your own plants inside. Plants not only make your space look great, they will also help you breathe easier, and having green around you is proven to reduce stress.
These are just some of the many DIY hacks and upgrades you could consider for your RV. When you make the right changes, you can continue to make your RV perfect for you, and ensure that it suits your changing needs and wants over the years, so you can keep hold of it for as long as possible.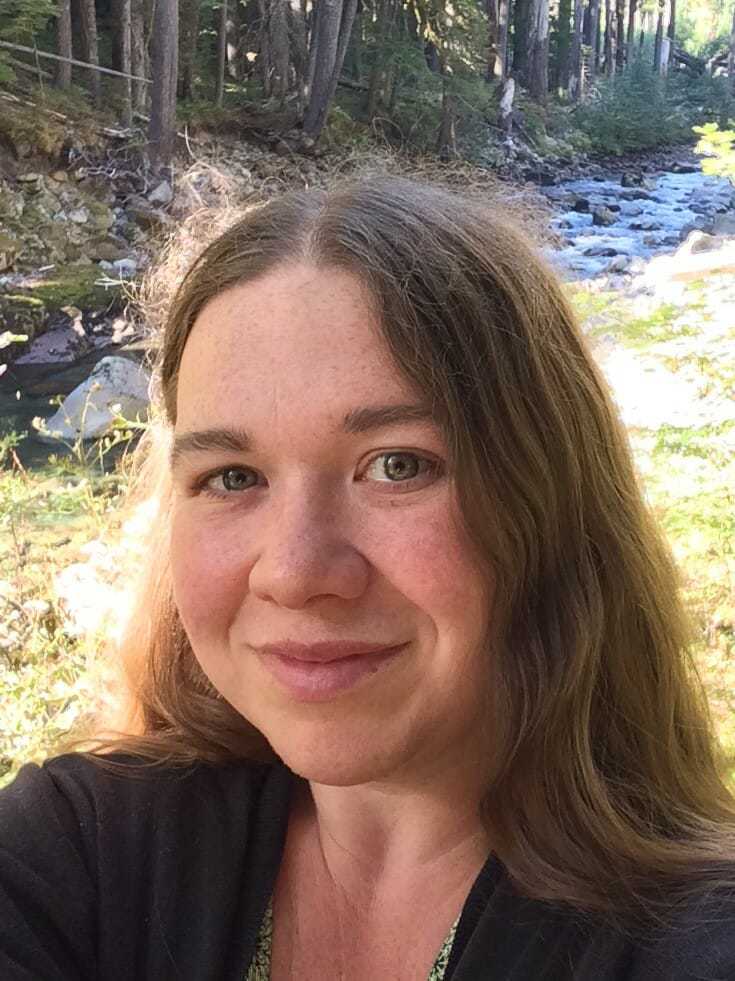 Elizabeth Waddington has an MA from St. Andrews University and a Permaculture Design Certificate. She is a green living consultant, with a passion for sustainable travel, permaculture and the natural world. She lives in rural Fife, just north of Edinburgh, close to the Firth of Forth on the east coast of Scotland.
No stranger to RV travel, Elizabeth has travelled all over Scotland, the UK and beyond in search of natural wonders in her RV. Her camping adventures have taken her to the Grand Canyon, up the Pacific Coast of the US, to Yellowstone National Park, the Grand Tetons and to explore the wonders of Utah. She has travelled extensively in the Pacific Northwest, and around New England. In Europe, she has taken trips through much of the western part of the continent, travelled up to Norway, and down through Romania and Bulgaria to Istanbul. She looks forward to further eco-friendly adventures.