Taking an RV road trip can be an amazing experience – but it makes sense to avoid common pitfalls by taking the time to plan your adventure properly.
General Advice for Planning an RV Road Trip
There are many ways to skin a cat and as many different RV road trips as people taking them. With so many variables, it is inevitable that things will not always go smoothly. But it is possible to forestall the worst calamities by bearing in mind a few simple things:
Know Before You Go: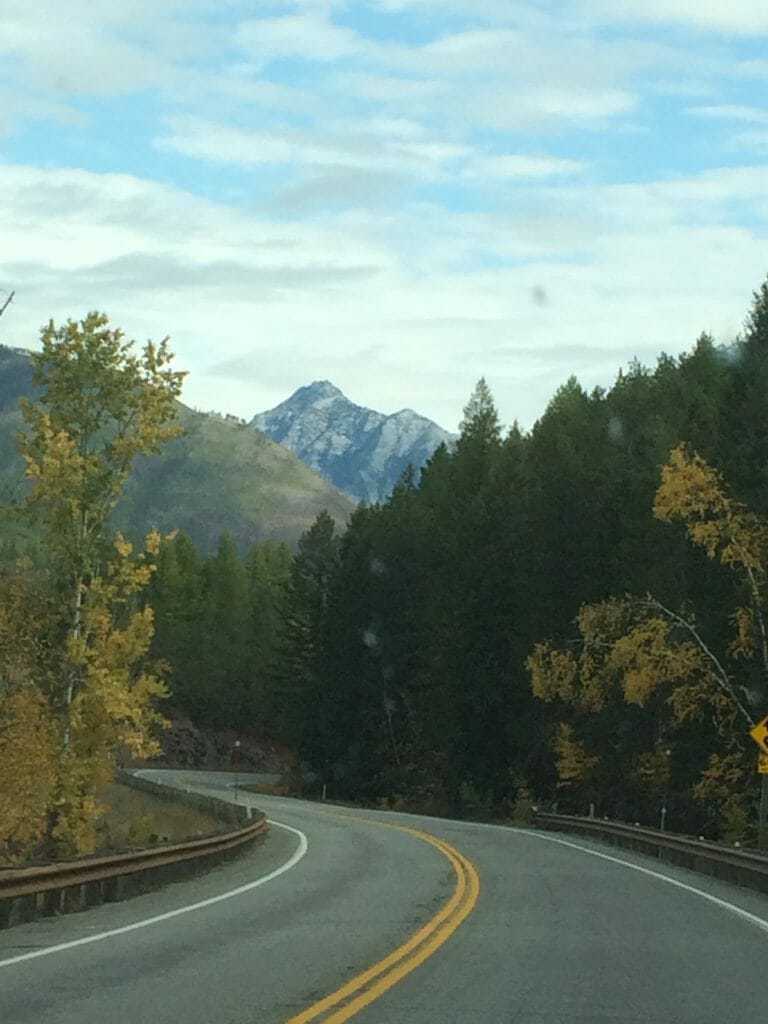 On an RV road trip, you don't always need to know what lies around the next bend. But a little planning can help. 
No one wants to take a road trip that is planned down to the minutest detail. Part of the joy of a road trip is the joy of the unexpected encounters and detours of the open road. But a little planning can go a very long way.
Make sure that you know the basics about your destination, including of course the traffic rules and what side of the road they drive on.
Make sure you meet all the legal requirements, including visas if those are necessary for the country you are visiting.
Whether you are taking your own RV or hiring one when you get there, make sure you know all of the costs involved and can shoulder them.
Alongside the basic practicalities, it is useful to have a good idea of some not to be missed highlights that you plan to include on your itinerary. You would kick yourself if you later found out you were just a few miles from a must-see attraction without knowing it.
Bring Everything You Need:
Don't forget your toothbrush. Also make sure you pack a good first aid kit, any paperwork you need relating to insurance or vehicle hire, your passport, snacks for the journey, plenty of water, clothing suited to the country or region through which you are driving and a good music playlist that you will not tire of before the end of the vacation.
Make Sure You Are Covered For Accidents:
No one likes to imagine the worst, but make sure that you are covered for damage to the car and medical bills for yourself should something bad happen.
Don't Just Rely On Technology:
It is all well and good having the latest state of the art gadgetry, and Sat Navs and other devices do have their place but don't forget that these things can run down/ break/ be damaged or stolen. Make sure you have a good old fashioned map as back up.
Know When To Cut Your Losses: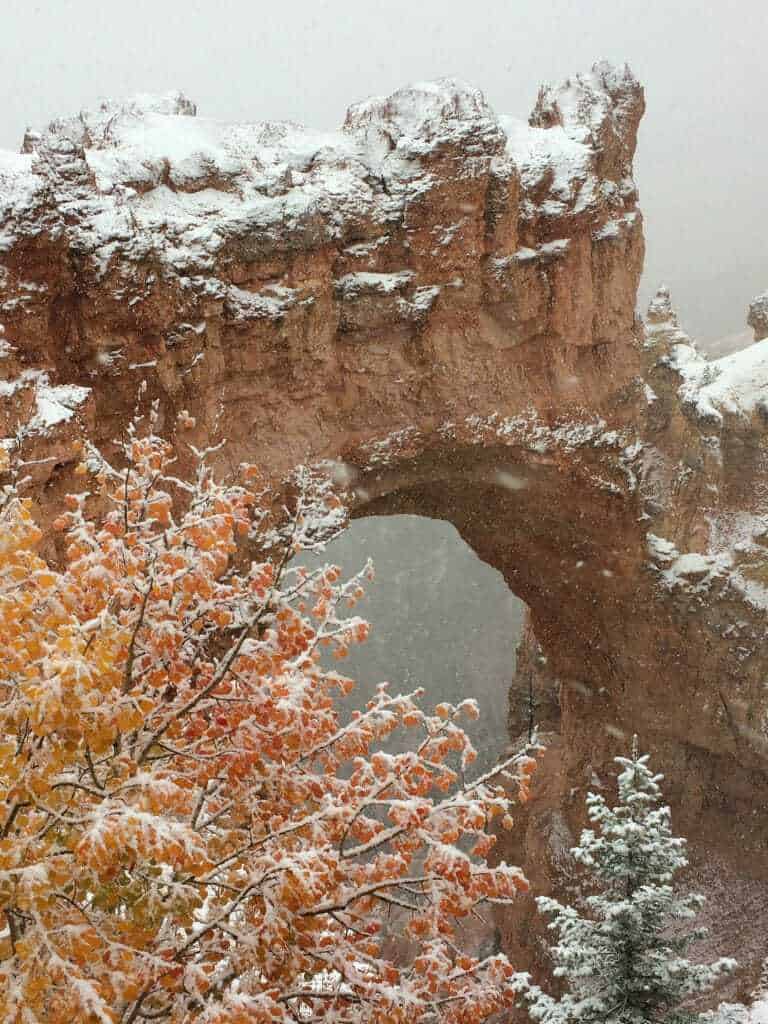 Snow and fog at Bryce Canyon, Utah curtailed our trip – sometimes you might have to turn back rather than risk disaster. Don't be afraid to cut your losses on an RV road trip.
Sometimes, nothing seems to go right at all. Know when to say enough is enough. If you are tired, fed up, if the weather is bad or the road is blocked, it is okay to stop somewhere you didn't intend. Don't be so focussed on your destination that you forget that it is not set in stone. Better arrive late than not at all!
Choosing Destinations For an RV Road Trip Route
Determine Your Budget
Before you begin to look for your dream RV road trip destinations, it is important to begin by determining your budget. How much money do you have available for your next trip? Determining your budget can help by narrowing down your options and ensuring that you can compare only those options that are realistically within your reach. Think about how much you are willing and able to spend on the holiday as a whole, and on different elements of the trip. This can help you to build up a more realistic idea of what exactly is possible within your means.
RV ownership or even rental can make it far cheaper to travel – as you will have transportation and accommodation all in one. This can help you to stretch your budget further. But there are other things you can do to make sure that your budget goes as far as possible – for example, you can do what you can to save fuel on your adventures.
You can also cut the costs of your RV stays (and increase the amount available for other elements of your road trips) by saving energy in your RV. Thinking outside the box, you could also save money on food, for example, by growing your own.
Thinking about ways in which you can cut costs in other ways can help you make sure you have as high a budget as possible to plan your RV adventures.
Consider Your Own Personal Circumstances & Preferences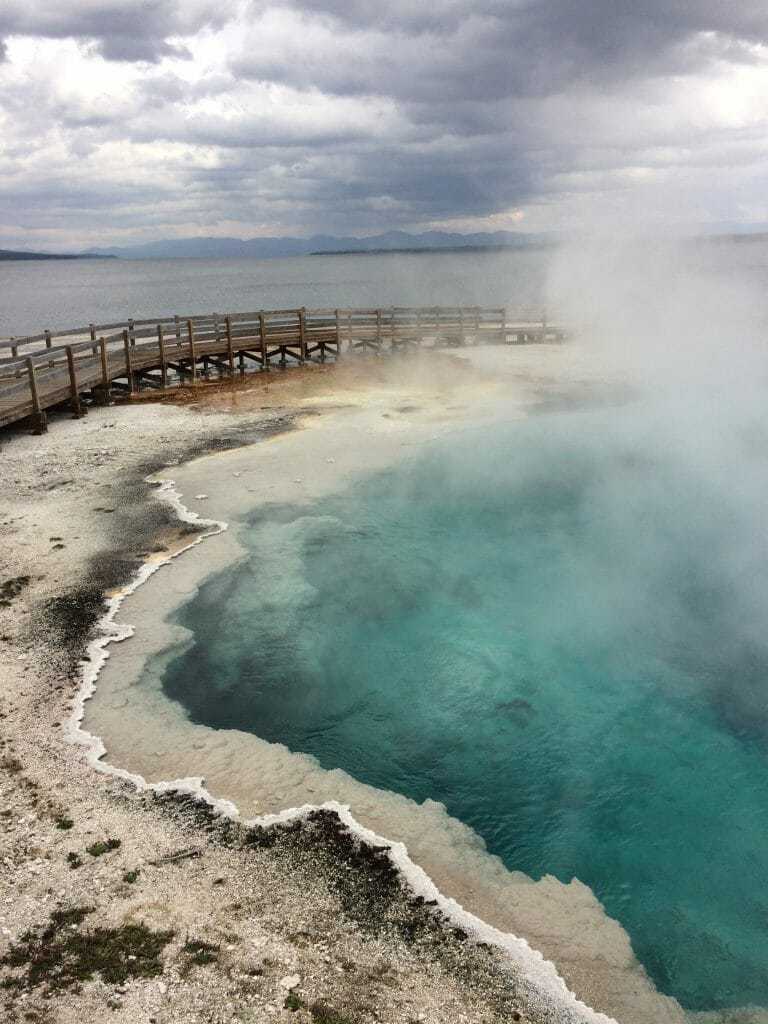 A breathtaking Yellowstone scene – too chilly for some, perhaps, but for many others a dream RV road trip destination. 
When considering potential destinations that are within your budget, don't just be tempted to mindlessly follow the crowd. Think about how a particular destination will or will not suit your own specific circumstances and preferences. What will be ideal for one person will be another person's nightmare.
For example, many would love a sunny beach vacation in an RV. Some may find their bliss on a beautiful beach beneath swaying palms. Others, however, will find a beach vacation rather boring, with little to do but sit in the sun.
Some people may come alive at the idea of a chilly retreat amid snow-capped mountains, while others will have nightmares of shivering and frozen toes. Some may dream of the desert, while others cannot stand the dry, oppressive heat.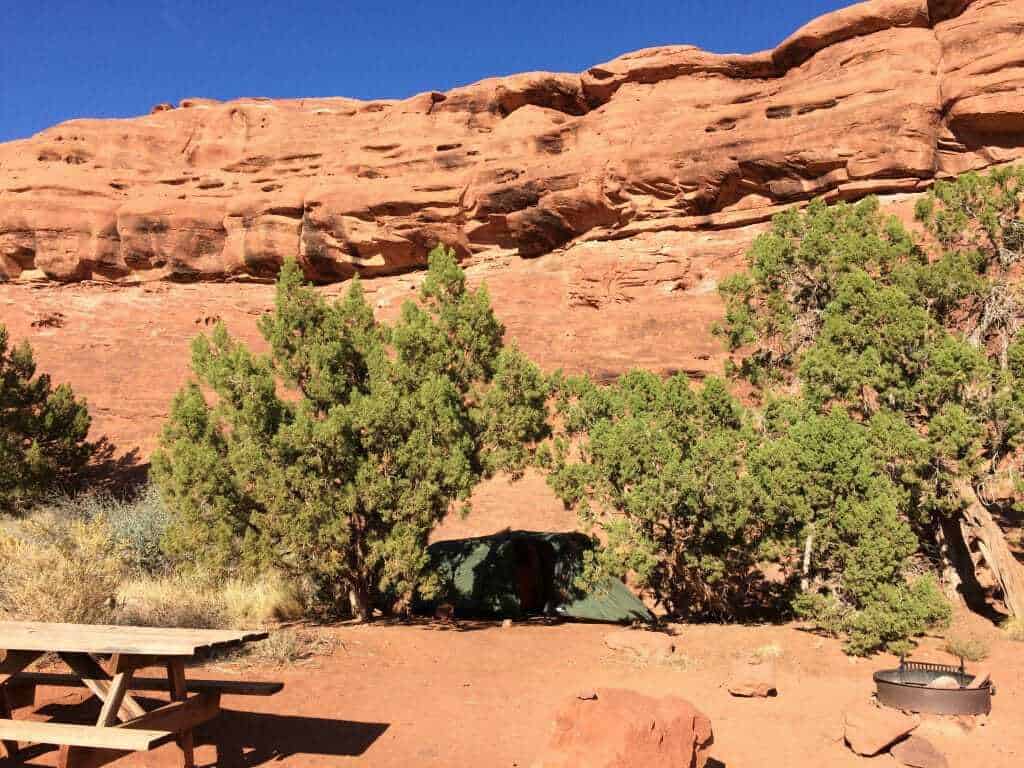 Breathtaking desert landscapes of Canyonlands – ideal for some, perhaps, and a favorite RV road trip destination. 
What could be lovely for a romantic couple's retreat could be torture for single people who will be surrounded by couples at a certain destination. Families may thrive around other families – but having too many kids around at a destination may be the death-knell for a romantic retreat, or make it difficult for older travelers to enjoy a truly tranquil and quiet escape.
Think About the Preferences of Your Travel Companions
Of course, unless you are heading off for a solo RV adventure, you will also have to take the preferences of your travel companions into account. Try to find destinations that will cater not only for your own interests and tastes but also those of your travel companion or companions.
Consider Your Own Previous Experiences

Personally, I highly recommend the Grand Tetons National Park as an RV road trip destination. One of the many breathtaking natural areas we have enjoyed. 
Another thing to consider when trying to settle on a destination for your next RV road trip is your own personal experiences. Think about where you have been before, and what you did or did not like about it. Pin down your own personal likes and dislikes, and consider how your previous travel experiences could help you to decide where to travel to next.
Consider The Experiences & Advice of Family & Friends
It is not just your own personal experiences that can help you determine the best RV road trip destination for you. You can also learn from the experiences and advice of family and friends. Listen to those you trust if they say that you would love a particular destination, and consider going with their recommendations.
Read & Watch As Widely As Possible To Be Inspired
More broadly, there are plenty of places to find inspiration for your next RV road trip destination. In addition to speaking with family and friends, you should also read, watch on TV and look online as widely as possible. Look at social media and travel blogs, read travel guides by major travel brands like Rough Guide and Lonely Planet, read travel magazines and brochures, watch travel shows on TV… browse the web… you will find plenty to inspire you to find your own dream RV adventure.
Be Open Minded & Creative
When it comes to choosing a travel destination for your next road trip, you should be sure to be open minded and creative. Don't narrow your choices too far, or be tempted to always choose an option similar to the trips you've had before. Think outside the box and follow the path less traveled by and you could end up having an adventure more amazing than you ever imagined.
Choosing When To Go On an RV Road Trip As Well As Where
Before you begin to consider where you should choose to visit on your next RV road trip, it can also be helpful to settle on your dates. When would you like to go? Think about when you will be able to get time off work (or when the kids will be off school). Consider practicalities, like whether you will need some time to get your documentation in order or will need time to save up for your getaway. It can also sometimes be a good idea to narrow down the field to a certain time of year. There are a number of reasons why you might want to consider this question in tandem with considering where you wish to go.
There are a number of factors relating to a particular holiday destination which can determine when it is the best time to visit. Below are some of the considerations which may dictate when you would like to travel to a particular place:
Climate & Weather Conditions

At Mount Glacier National Park, roads are often closed at certain times due to wildfire or snow.
One of the main considerations, of course, when it comes to planning an RV road trip in a specific destination will be the climate, and what the weather is likely to be like when you get there. As mentioned above, you should definitely take into account the personal preferences in this regard of you and your travel companions.
But you should also think about how the weather will make a difference to your experience – both when driving your route, and when staying at your destinations. A snowy landscape, for example, might sound wonderful on paper – but actually driving through it could be far from idyllic. Delaying your trip by as little as a month could mean snow will have melted, for example, and make for a very different road trip experience.
In certain areas, roads may not even be open at certain times of the year due to wildfires in the summer months, flooding in the rainy season, or snow on mountain roads in winter.
The Natural Beauty of Different Seasons

Beautiful russet foliage is one of the joys of the fall in woodlands and forested areas. 
Another factor which can determine the best time of year to visit a particular holiday destination is what the natural environment will look like in each different season. For example, some locations may be at their most beautiful with spring flowers, others will bloom in the height of summer, some will be stunning with autumn color while others still may have a stark, snowy beauty in the depths of winter. All the seasons can be beautiful, but which will be best to travel in will depend on where exactly you want to go, as well, of course, as what you want to do when you get there.
An Annual Festivals and Events Schedule
You may wish to decide to travel to a destination at a particular time of year because you wish to attend an event or festival that happens at a particular point in time. Checking annual festivals and events schedule for potential destinations could be another way to help you decide when best to travel there.
Attending or Celebrating a Specific Event at a Certain Time of Year
Finally, you may wish to set your dates based on the dates of a specific event that will take place, or has taken place, at a certain time of year. For example, you may be planning an RV road trip to attend a wedding of a friend or family member, or planning to go to a specific place to celebrate an anniversary or birthday of your own.
Planning Your RV Road Trip Route
So, you have decided where you would like to travel to, and when. You've laid the groundwork and it is now time to delve into planning your RV road trip route in a little more depth. Here are some more tips to help you avoid some of the most common pitfalls:
Don't Over Reach – It Will Always Take Longer Than You Think:
Always, always factor in more time each leg of your road trip than you think you will need. Whether it is down to traffic problems, the weather, toilet breaks or rest stops, you will inevitably find that you take a lot longer to get from A to B and from B to C than you imagine.
When trying to determine how long each leg of your trip will take, don't simply rely on Google maps or guesswork. Look into everything and be sure to consider things like traffic conditions, road works, weather conditions, the state of the roads and infrastructure, the road type and the terrain (a distance of x number of miles can take a lot, lot longer on winding, steep mountain roads than on a highway).
It is also important to consider your own level of experience as a driver (and how fast or slowly you personally tend to drive). Even two drivers obeying all the rules of the road can take very different lengths of time to reach their destinations. Some drivers may also require more breaks than others, which should also be taken into account.
Don't Forget to Factor in Rest Time
No matter what your driving style, it is vitally important to make sure that you factor in adequate rest time into your itinerary. It can be tempting, when looking at a road trip route on paper, to try to visit, see and do as much as possible. But there is no point in planning a route that has so much driving that you are too tired to see the things you wish to see and do the things you wish to do. Of course, not having adequate rest time can also be a safety issue – driving tired is never a good idea.
Don't Forget What You Are Driving
You will be glad if you have made sure that you planned a route that is suitable for that vehicle. RVs cannot always go where cars can – especially if they are particularly large ones. Think carefully before planning a route that will take you on very narrow, winding routes – or on unpaved roads. Look out for low bridges and other obstacles that may mean lengthy detours from your intended route.
Don't Make it All About the Driving

Leaving the RV behind can lead to an array of interesting wildlife encounters, as well as exposing you to some truly stunning landscapes and flora.
The journey is, of course, a big part of the experience on an RV road trip. But it is a mistake to make your whole trip about the drive. Make sure that you plan some time outside your vehicle – seeing the sights, enjoying the environments in which you find yourself, and stopping to smell the flowers. Consider leaving your RV on campgrounds or sites as much as possible, and venturing out to explore by other means – such as on foot, by bike, or on the water in a kayak or canoe, for example.
The tips above should help you to tailor-make an RV road trip that is perfect for you and those with whom you are traveling. Follow the advice above and you should avoid many of the common problems and enjoy a relaxing, delightful and stress-free RV road trip, wherever and whenever you choose to go.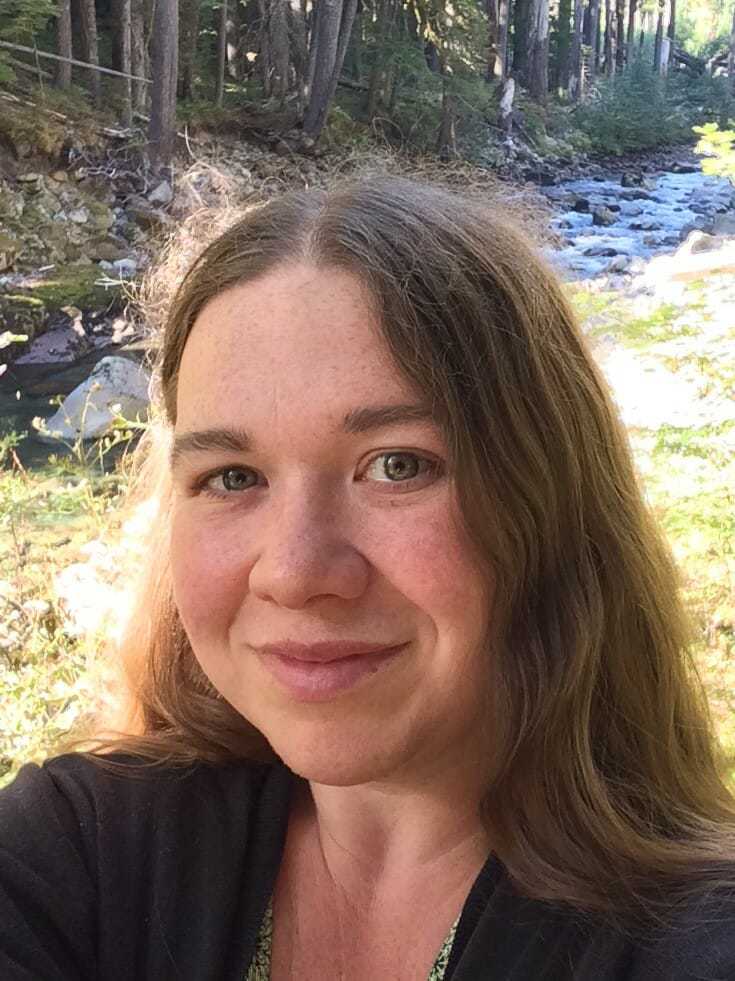 Elizabeth Waddington has an MA from St. Andrews University and a Permaculture Design Certificate. She is a green living consultant, with a passion for sustainable travel, permaculture and the natural world. She lives in rural Fife, just north of Edinburgh, close to the Firth of Forth on the east coast of Scotland.
No stranger to RV travel, Elizabeth has travelled all over Scotland, the UK and beyond in search of natural wonders in her RV. Her camping adventures have taken her to the Grand Canyon, up the Pacific Coast of the US, to Yellowstone National Park, the Grand Tetons and to explore the wonders of Utah. She has travelled extensively in the Pacific Northwest, and around New England. In Europe, she has taken trips through much of the western part of the continent, travelled up to Norway, and down through Romania and Bulgaria to Istanbul. She looks forward to further eco-friendly adventures.