RV Books and More
We can't say enough about how RV books helped us when we started out on our RV lifestyle. In the very beginning, we read about those who were living our dream - to get ideas, to validate our thinking, to learn. And then we read more to increase our knowledge and get different perspectives. As a result, we think we made well informed decisions.
Now we receive questions from RVers remind us of the value of our reading when we started out and as we go along. Many of the things you need to know can be found in the pages of a book targeted to the RVer.
Here's an assortment of RV books about the basics of RVing, camping and campgrounds, the fulltime RV lifestyle, buying an RV, RV maintenance, travel and even recipes for the road. Take advantage of the personal experiences of those who have "been there, done that". And don't miss the guides to help you plan your trip and stops.
---
DVD: Better Business Bureau: Buying a Recreational Vehicle: Learn to make the right choice when buying an RV in this 50-minute DVD from RVtravel.com and the Better Business Bureau.
Avoid buying the wrong RV. Get expert advice on how to finance an RV and avoid making a frequent mistake that can leave you "upside down" on a loan. Chuck Woodbury, a veteran RVer and recognized RV industry authority, advises you on what to look for in both a new or used RV.
---
Drive your Motorhome Like A Pro
This is a how to guide that is designed to help provide drivers with the knowledge they need to become a safer and more confident driver. Perfect for both beginner and experienced drivers.
The book details basic mechanics of maneuvering, what to do before you start, driving situations, braking, and the mind set needed to be a safe driver.

---
The Next Exit details exactly what you will find at each exit along the Interstate: gas stations (including which brands and if they offer diesel), campgrounds, truck stops, casinos, laundries, retail stores (by name) shopping malls, movie theaters, factory outlet malls, drug stores, hospitals, rest areas, and more.
And with the RVer's Friend, RVers can determine if a Travel Center welcomes them for an overnight stay, if it has a dump station, propane, Internet access and which RV mechanical services are provided. Two best selling RV books packaged together for extra savings.
---

Get the latest in easy solutions to all sorts of maddening RV challenges. Easy-to-do, money-saving ideas.
This RV book has hundreds of tips, innovations and tricks to make your RV lifestyle fun, easy and safe.
---
This RV book has been an industry standard for almost 15 years. And now it has even more more pages, updated for the latest appliances, accessories and procedures.
Easy-to-understand, troubleshooting tips and step-by-step procedures to save you money.
---
Retire to an RV: The Roadmap to Affordable Retirement  provides you with exactly the right information to decide if fulltiming is for you.
RV Lifestyle experts Jaimie Hall Bruzenak and Alice Zyetz share their combined knowledge based on 17 years on the road and five previous books.   Plus 41 solo and couple RVers share their real-life experiences.  We love the different perspectives - very important for making the decision!
Available in print, ebook or Kindle/Nook/iPad

---
This is a terrific book. Author Jaimie Hall has spent the last ten years traveling fulltime by RV and working along the way. And what she has learned is spelled out in this well-written, well organized book.
A great resource based on real experience. Jaimie is widely known as an expert on the working RV lifestyle.
---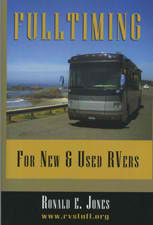 Fulltiming For New & Used RVers

If you are thinking about hitting the road full-time in a recreational vehicle, then this book should be essential reading.
It's the most current and comprehensive guide to full-time RVing ever written, packed with verything an aspiring full-time RVer needs to know. Even experienced RVers will find enough valuable information, tips and tricks to justify the price of this book many times over.
---
Frugal Shunpicker's Boondocking Guides

Enjoy the freedom to camp off the grid, amidst the best nature has to offer and save money too. In many areas of North America, including the most scenic states (Texas, New Mexico, Arizona, Utah, California, and Colorado) there are still plenty of free, scenic, legal, and safe camping areas.
These guides tell you where to find these places, so you can enjoy the wonderful experience of boondocking.
More about boondocking.
---
Whether it's trip planning, buying a new RV or guidance on operating and maintaining your rig, it helps to be informed. We are big believers in doing appropriate research when it comes to making decisions about the RV lifestyle. Here are some more RV books and publications.

And be sure to browse our other RV products.
Today's RVer is typically well equipped with sporting gear and apparel, cell phone, camera, computer and other modern conveniences that enhance the RV lifestyle.
---
Home | RV Days | About This Site | Privacy | Contact Us | Site Map