RV Publications
We are big believers in taking advantage of available RV publications. There are a variety of RV books, magazines and videos that provide great insight into the RV lifestyle. They offer valuable tips for RV buying decisions, RV maintenance and repair, RV living and travel ideas.
We started our own journey into this lifestyle by reading about it. And we continue to enjoy and learn with our regular magazines and other RV publications.
We have found it worthwhile to get different perspectives and ideas. Here is an assortment of links to valuable RV publications.
---
Great DVD on Buying a Recreational Vehicle:
Learn to make the right choice when buying an RV in this 50-minute DVD from RVtravel.com and the Better Business Bureau. Avoid buying the wrong RV. Get expert advice on how to finance an RV and avoid making a frequent mistake that can leave you "upside down" on a loan. Chuck Woodbury, a veteran RVer and recognized RV industry authority, advises you on what to look for in both a new or used RV.


RV Education 101 E-books you can download NOW. A variety of topics that are of interest to RVers. And the instant downloads mean you can get started right away.


Most Scenic Drives in America
. We are getting a lot of use out of this book - it has lots of ideas for routes to take, along with beautiful pictures.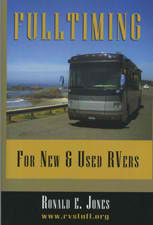 RV Videos; Learn about various types of motorhomes and towable RVs, towing procedures, RV maintenance, storage and more. Easy-to-follow DVDs are a great way to learn and use as a refresher.
How To Buy An RV And Save Thousands 4th Edition, by Don Wright, has advice and insights on features to look for, and pitfalls to avoid in buying an RV.
RV Buyers Survival Guide Edition II by Bob Randall, provides helpful tips on the deal making process.
The Dummy's Guide to Buying a Pre-Loved RV
Support Your RV Lifestyle: Experienced RVer authors this well-written 400-page book. Research and real-life experiences provide great insight on ways to earn income on the road, and find satisfying jobs to fit your RV lifestyle.

America's Great Road Trips & Scenic Drives Six (6) disc DVD set with plenty of ideas for where to travel.
Campground Directories and Regional RV Publications for the RVer: Lots of directories and RV publications for regional trips or travel throughout North America, The Next Exit, casino guides, owner's handbooks, cookbooks and more.
The RV Book - By Mark Polk. This comprehensive book covers all aspects of RV ownership; from selecting and buying the right RV to setting it up at your favorite campground. Everything you need to know!
The Gypsy Journal is a newspaper published from the road by fulltime RVers, with down-to-earth observations on RV travels.

Live Your Road Trip Dream: Travel for a year for the cost of staying home.
Great Boondocking books tell you where to stay in southern Texas, Utah, Arizona and New Mexico.
Highways Magazine is a free subscription when you join the Good Sam Club.
Watch It Made in the U.S.A: A Visitor's Guide to the Companies That Make Your Favorite Products. What a great book full of interesting stops to make while on the road!
RV Canada ebook: Everything you need to know from an expert in RVing!
---
Home | RV Days | About This Site | Privacy | Contact Us | Site Map