Japan is one of the most popular destinations globally and there is a good reason why. From its rich culture to the food and highly efficient transportation system, the country has numerous gems to offer. Here are the 100 best things to do in Japan, carefully curated by our resident local expert.
1. Mt. Fuji (Shizuoka)
Mount Fuji is one of Japan's most iconic landmarks. The mountain is an active volcano that stands 3776 feet. Peak climbing times are in Spring and Autumn, and the mountain takes 2 days to climb. Every new year, thousands flock to the top to see the rising of the new sun.
2. Nara Deer Park (Nara)

This public park is home to hundreds of semi-tame deer. They are considered holy by the residents and wander freely. Buy some deer biscuits from a local vendor and feed them to as many deer as you want! It is a wonderful outing for the whole family.
3. Sapporo Snow Festival (Sapporo)

This snow festival is one of the biggest in Japan. Every year, giant snow statues are built to epic proportions. Be it Godzilla, your favorite cartoon or famous architecture – the variety is endless. The festival takes place during one week in December.
4. Blue Cave (Okinawa)

Situated in the middle of Okinawa's main island, this cave shines with a beautiful blue light. Sunlight filters through to create a spectacular snorkelling destination. Visit the cave in the summer months for the best experience.
5. Jikokudani Monkey Park (Yamanouchi)

Watch monkeys bathe in the bubbling waters of 'hell valley'. The monkeys come to the natural hot spring all year round, but snapping a picture of them in the winter months, surrounded by snow, is particularly special. Why not visit an Onsen in the area to warm up after your outing?
6.Kamakura Daibutsu(Kamakura)

This is the second tallest bronze statue of the buddha in the whole of Japan. It has been sitting in the open air for over 700 years and has been ravaged by the elements. You can go inside to see what the interior metal looks like. It takes an hour and a half by train to get to Kamakura from Tokyo.
7. Watch Sumo Wrestling Practice (Tokyo)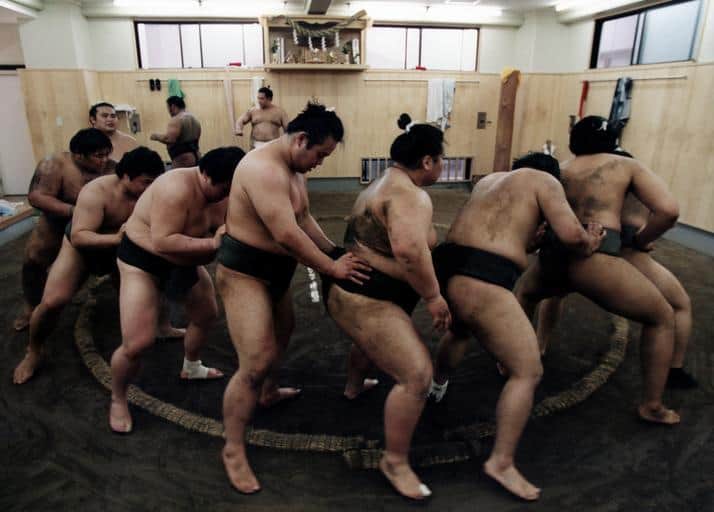 In the Ryogoku district, you'll find some 45 stables (practice areas). Phone one ahead of time and head on down to watch morning practice. This ancient art is chock-full of tradition, so remember to be respectful! This guide has some great advice
8. Ainoshima Cat Island (Fukuoka)

If you like cats, then you'll love this island! A 20 minute ferry will get you the island populated by fishermen and cats. Grab some cat foot before you go and be prepared to take some adorable photos!
9. Tofuku-ji (Kyoto)

This buddhist temple located in southeastern Kyoto is famous for it's Autumn colour. Visit in September/November and take in the magnificence of a valley of maple trees. The temple is a 10-minute walk from Tofuku station.
10. Tokyo Imperial Palace (Tokyo)

Located in the center of Tokyo (and a short walk from Tokyo Station) is the home of Japan's Imperial Family. Guided tours of the grounds are held daily via the Imperial Household Agency.
11. Anime Heaven in Akihabara (Tokyo)

Akihabara is well known to be the home of anime. Even if you are not a fan, take to the streets and wander around. Particularly impressive at night, you'll be surrounded by anime characters, maid cafes and impressive tech stores. Get off at the Akihabara station and begin your adventure.
12. Studio Ghibli Museum (Tokyo)

If you've ever seen a Studio Ghibli movie (and you should), you'll love this museum.This attraction is so popular, it's usually booked out within a few days. Keep in mind, you can only book a month in advance, so plan wisely
13. Tsutenkaku(Hitachi) Tower (Osaka)

Situated in a part of Osaka that the central city, this tower stands out as an impressive landmark. Head on up to the observation deck and enjoy 360 degree views of Osaka. The tower also houses a limited edition Glico store where you can buy interesting types of pocky and pringles.
14. Kabuchiko Robot Restaurant (Tokyo)

This is a robot-lover's dream restaurant. Ignoring food completely, this venue focuses on it's spectacular show of glossy robots accompanied by singing, bikini-clad women. A night of neon and fun will be sure to have you waving your glow sticks. Check out the showtimes here.
15. Lake Ashinoko (Hakone)

Formed in the wake of Mt. Hakone eruption, this lake is the epitome of natural beauty. Great views of the mountain and mt. fuji can be seen from its untouched shores. If you fancy a trip, hop on a boat and head to the other end of the lake. The trip takes 30 minutes one way, giving you ample time to soak up the beauty.
16. Enoshima Island (Kamakura)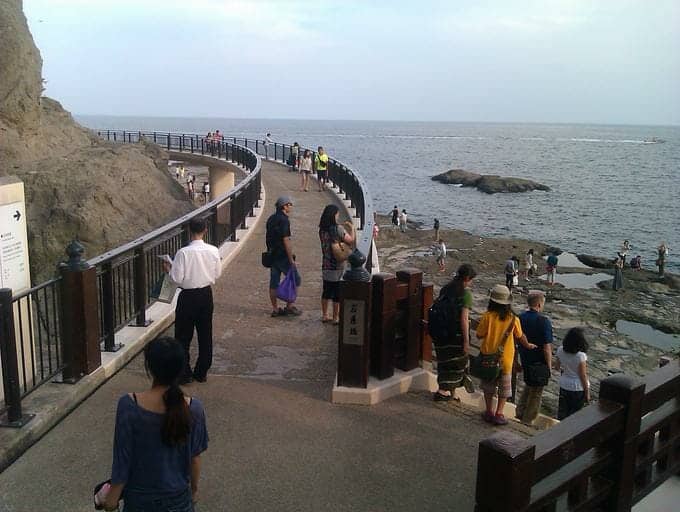 This island is just to the side of Kamakura and can be reached by a historic electric railway. The island is designed as one big shine, steps leading you through a maze of temples and deities. Visit the Enoshima sea candle for spectacular views of the surrounding ocean and Mt. Fuji.
17. Zao Fox Village (Shiroishi)

These foxes freely roam around this preserve in amongst visitors. For a small fee, you can feed and pet (tame) foxes before walking through the park. One of the cutest experiences you can find in Japan.
18. Mount Yoshino's Cherry Blossoms (Yoshino)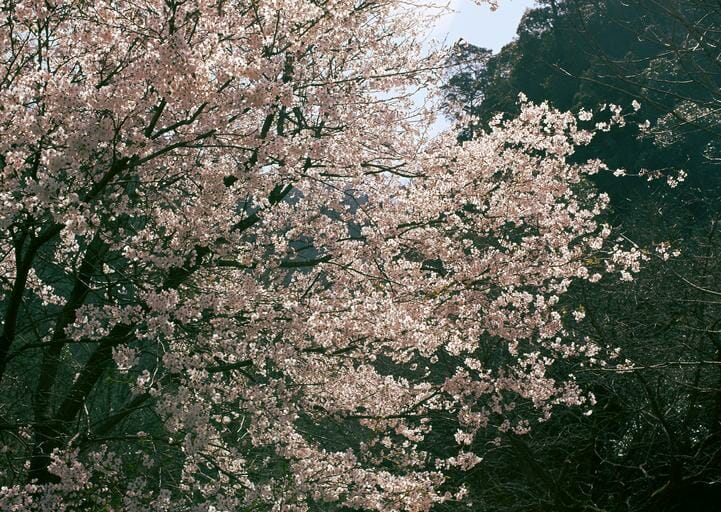 Cherry Blossom season is exciting for Japanese and foreigners alike. At Mt. Hakone, you can see an entire forest become awash with pink cherry trees. This is one of the most popular spots, so arrive early to beat the crowds.
19. Gunkanjima Island (Nagasaki)

This tiny island is only 15 kms across and is the island that Japan forgot. Originally devoid of green, this coal mining island has slowly been taken back by nature. Famously featuring as the villain's lair in the Bond film 'Skyfall', you can visit via ferry from Nagasaki harbour. Book your ferry here.
20. Underwater Fireworks Festival (Kamakura)

This is the only spot in the entire world where fireworks are set off underwater. Take a seat on the beach with the locals and watch fireworks being set off below the ocean. The festival takes place during summer (July/August) and promises to be unforgettable.
21. Mt Rokko (Kobe)


Mt Rokko provides a pleasant backdrop to the city of Kobe. Various attractions such as a golf course, a botanical garden and an observation deck promise a lovely day out. At night, you can see a fantastic view of the city lights. The main peak is easily reachable from the Rokko Cable car or the Rokko Arima Ropeway.
22. Todai-ji (Nara)

Todai-ji, Nara's principal temple is home to the largest wooden building in the world. The giant wooden hall houses one of Japan's largest bronze statues of buddha. The buddha stands at 15 meters and is complemented by various smaller deities. A short 30 minute walk from Kintesu Nara Station will get you to this awe-inspiring temple.
23. Osaka Castle (Osaka)

Beautiful at any time of year, this historic building is often referred to as Japan's most beautiful castle. Entrance into the 2km grounds if free while access to the castle costs a nominal fee. The castle is particularly beautiful during cherry blossom season or autumn. Take a walk from Tannamachi station and enjoy the beautiful scenery.
24. Sumidagawa Fireworks Festival (Tokyo)

This festival is held in the Asakusa neighbourhood and dates back to 1733. Pyrotechnic companies compete each year, letting off some 20'000 fireworks and dazzling crowds numbering close to a million. This is one of Japan's biggest and most impressive fireworks display. It is held on different dates each year, so check the times here.
25. Cup Noodle Museum (Yokohama)

Contrary to popular belief, cup noodles were invented by one man. Take a trip to this fun museum where you can learn to make your own freeze-dried noodles and decorate your own personal cup noodle cup. Choose a combination of flavors to suit your taste buds and enjoy! If you have kids, there is an excellent kiddies playground area to learn about the manufacturing process.
26. Meiji Shrine (Tokyo)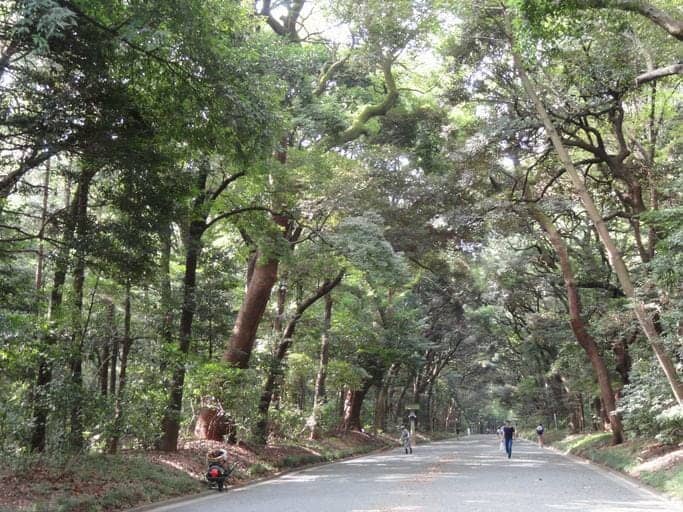 If the hustle and bustle of Tokyo are getting to you, head on over to Meiji Shrine to get some space. A 10 minute walk from Harajuku station will get you to this tranquil forest. Stroll through the oversized pathways and soak up the quiet peace that emanates from such a large forest.
27. Kobe Mosque (Kobe)
This was the first mosque ever built in Japan (1935) and is a must for those of Muslim faith. A 15 minute walk from the nearest station, the mosque will inspire you with it's beautiful Turkish architecture. Nearby you'll find a Muslim-friendly grocery store where you can buy halal foods.
28. Naha Tug of War (Okinawa)

Who doesn't like a good game of Tug of war?! Accommodating up to 30'000 participants, you'll enjoy this event's light-hearted fun. The rope weight 40-metric-tons and is a whopping 200 meters long. Grab onto one of the smaller lines coming off the main rope and lead your side to victory!
29. Shiraito Falls (Fujinomiya)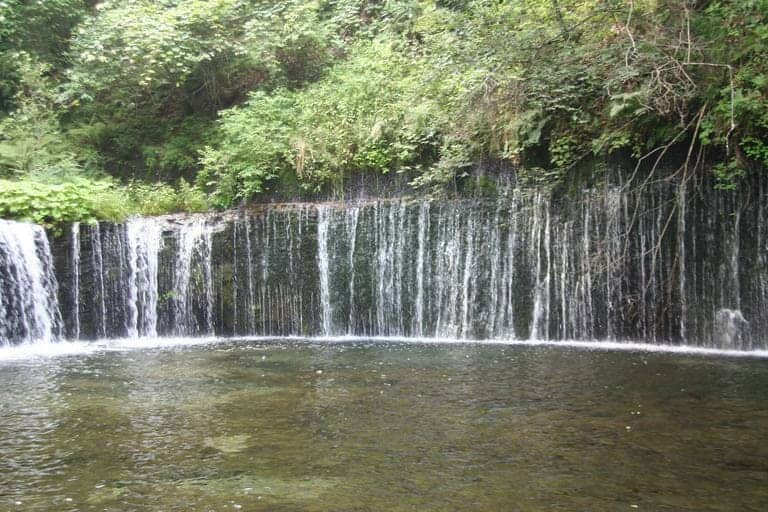 Underground snow-water from mount fuji forms this waterfall by springing out of a wall of lava rock. Praised in poetry in ancient times, it's beauty is astounding. Only accessible by bus from the JR Fujinomiya station, this waterfall is worth the trip.
30. Seikei Cutlery Festival (Gifu)

The best place to see a traditional sword forging demonstration. This festival is held in October and is a great place to find a new kitchen knife at a reasonable price. Wander around the stalls and view some of the best blades that Japan has to offer.
31. Ride along the coast of Wakayama

Hire an RV and drive along the beautiful coastline of Wakayama. Park off and visit the museum to see shows and information about whales and dolphins. For an example itinerary, visit this page
32. Awa Dance Festival (Tokushima, Shikoku)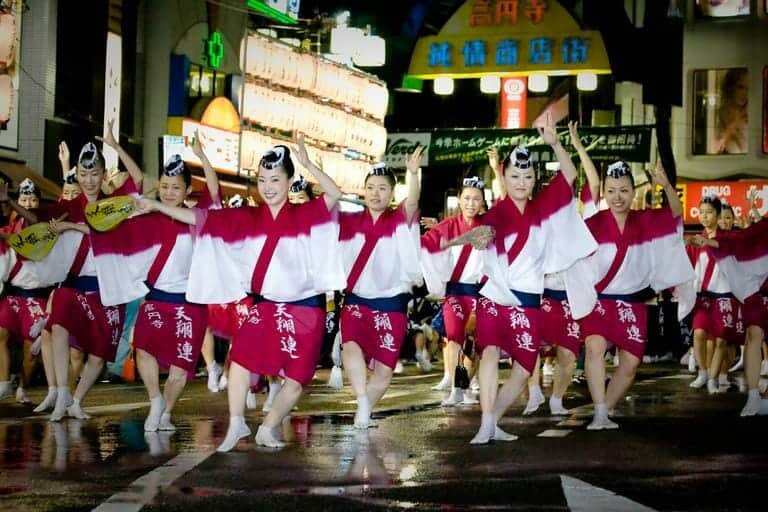 Jolly and energetic, this is one of Japan's biggest dance festivals. If you are hesitant to join in on the festivities, consider this proverb the locals use, 'It's a fool who dances and a fool who watches! If both are fools, you might as well have fun dancing! '. The summer festival is held in August from the 12th to the 15th, but be sure to check the dates before you arrive.
33. Wisteria Tunnel (Kitakyushu)

Walk through a pastel tunnel of cascading wisteria flowers. You can only see these flowers in late April or early May, as any other season the tunnel will appear a mangled net of branches. Truly a spectacle to behold, this tunnel will transport you into a seasonal fairyland.
34. Osake Museum Ponshu Kan (Niigata)
If you are a sake-lover, then this museum was made for you! With tastings of over 117 different sake, most of them brewed in Niigata, you'll be transported to sake heaven. For a unique experience, pop into their hot spring (onsen) which is blended with sake.
35. Hakone Onsen (Hakone)
Head on over to Hakone to experience the wonders of an Onsen (natural hot spring) town. The waters of Hakone are believed to have many health and beauty benefits. The town is easily accessible from Tokyo as a day or weekend trip and boasts many ryokan hotels.
36.Shibuya crossing (Shibuya, Tokyo)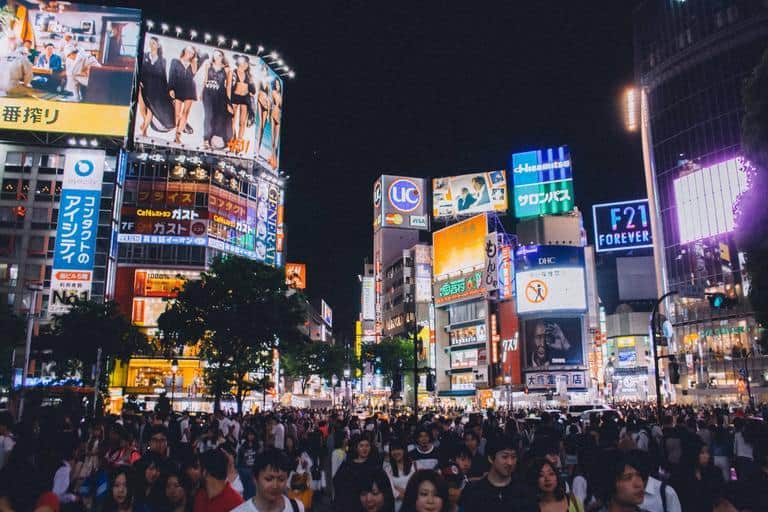 What better way to experience Tokyo than by its busiest crossing? At peak times, over 1000 people cross over the roads in every direction. Stand in the middle and snap a fantastic picture of the hustle and bustle. Watch the live cam to get an idea of the hustle and bustle.
37. Nada District Sake Breweries (Kobe)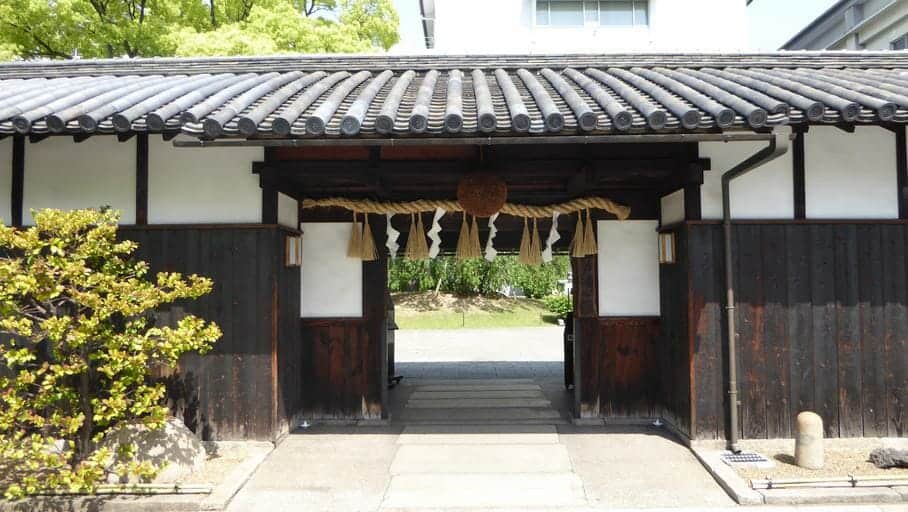 About 30 minutes train ride from Osaka, this area produces sake that is characterized by a sharp and dry taste. Start at Oishi Station, and walk up to Uozaki Station, passing by various breweries and tastings on your way.
38. Hiroshima Peace Memorial Park (Hiroshima)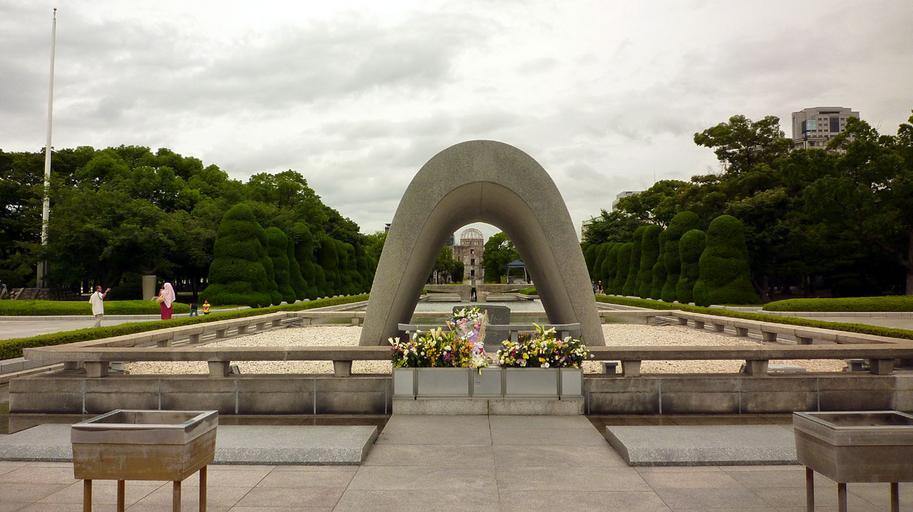 The peace park is built in the previously destroyed political and commercial heart of the city. Dedicated to the victims of the nuclear bomb, this site serves as a reminder to all about the terrible horrors of war.
39. Atomic Bomb Dome (Hiroshima)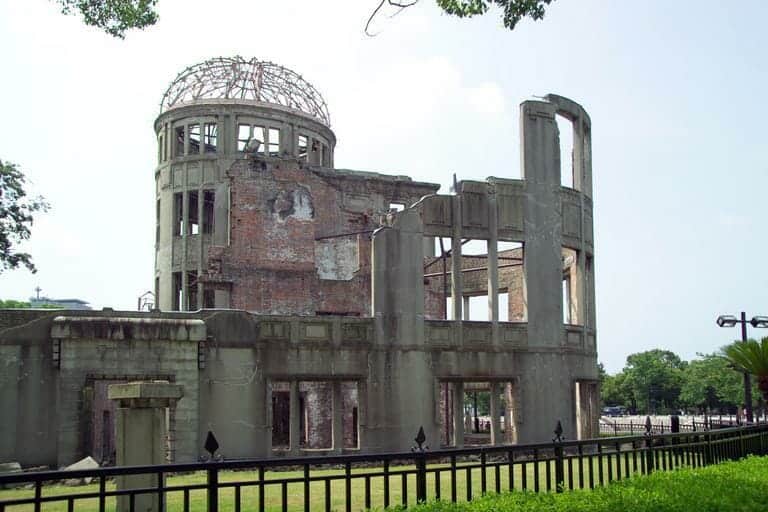 After the explosion of the atomic bomb, this was one of the few buildings left standing. Serving as a grim reminder of the 220'000 people that died from the bomb, this building is worth a visit. To get there, take the Hiroshima Electric railway from Hiroshima Station to Genbaku Don-mae station – the journey takes 16 minutes.
40. Tenjinbashisuji Shopping Arcade (Osaka)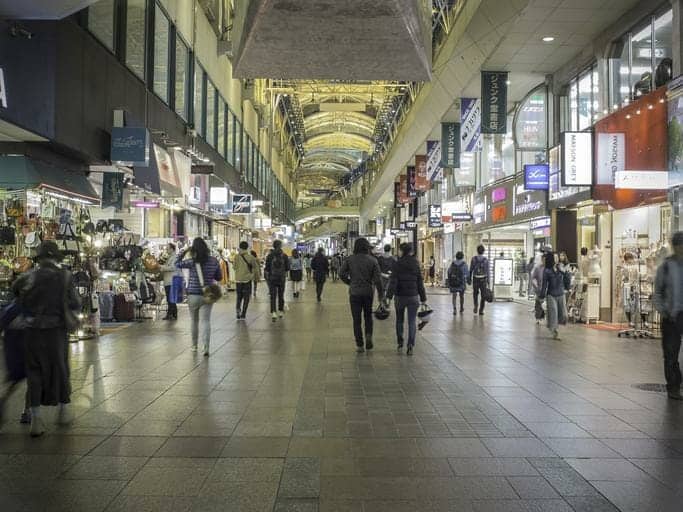 Stretching out at over 2kms, the covered arcade is one of Japan's longest shopping street. From local shops to sale shops to international brands, you'll find it all here. Pick up some delicious Takoyaki (a local delicacy) while you roam the streets looking for the best deals.
41. Nipponbashi Denden Town (Osaka)

Ahihabara's counterpart this area's name directly translates to 'electric town'. Along with all the anime of your dreams, you'll be able to find any electronics you could wish for here. Particularly impressive is the model shops, some which have electric slot car racing competitions. Beware of the maids, they can pounce on unconfident men and talk them into spending a small fortune at one of the many maid cafes.
42. Sagano Bamboo Forest (Kyoto)

Classified as one of Japan's Soundscapes, this forest will win over your senses with a stoic calm. Only 30 minutes from Kyoto, you'll be able to enjoy the sound of wind rustling rustling through thousands of towering bamboo trees.
43. Take a snow RV Trip to Minakami (Minakami)

Japan is well known as one of the best snow destinations for powder. Taking an RV van is the best way to save some money on accommodation and enjoy the first ski at the mountain. Camping in the snow is possible, but parking by an onsen will make your trip so much more enjoyable. Take a look at this guide to see how.
44. Gyokusendo Cave (Okinawa)

This cave is the second longest in Japan and spans over 5kms. 850 meters of the cave is open for the public to visit. Pathways wind their way around the cave, showing off impressive stalagmites and stalactites that span from ceiling to floor. Part of the Okinawa resort, it is easily accessible from Naha by a 30 minute bus trip
45. Sake Brewery Tour (Nara)

Although not well publicised, Nara is believed to be the home place of Sake. You'll find a few breweries in the area that offer tours and incredibly well priced tastings. Be sure to grab a bottle or two and educate your friends about the birthplace of sake. This guide will show you the best spots.
46. Indoor Amusement Park Joypolis (Tokyo)
If you are in Tokyo on a rainy day and outdoor activities don't appeal to you, then Joypolis is the solution you are looking for. Enjoy four floors of jam packed entertainment and one colossal indoor rollercoaster. Play a real FPS using their state of the art VR equipment or get involved in their horror house. Either way, you'll be sure to have fun!
47. Geisha District of Asakusa (Tokyo)

Geisha are entertainers who sing and dance while serving customers dinner (generally called a banquet. Asakusa still has over 45 Geisha working and you can book one for a dinner if you wish. Else simply walk down Kannonura Street and chances are, you'll see a geisha fully made up with white makeup walking to an event.
48. Kinkakuji Temple (Kyoto)

This impressive Zen temple will sear itself into your memory with two upper levels that are entirely covered in gold leaf. It overlooks a vast pond and on still days, the image of the temple is mirrored in the reflection. Commonly named the 'golden pavilion', the temple is best seen during autumn, when the red leaves complement the gold. Access the temple via a 40-minute bus trip from Kyoto station.
49. Shopping in Ginza (Tokyo)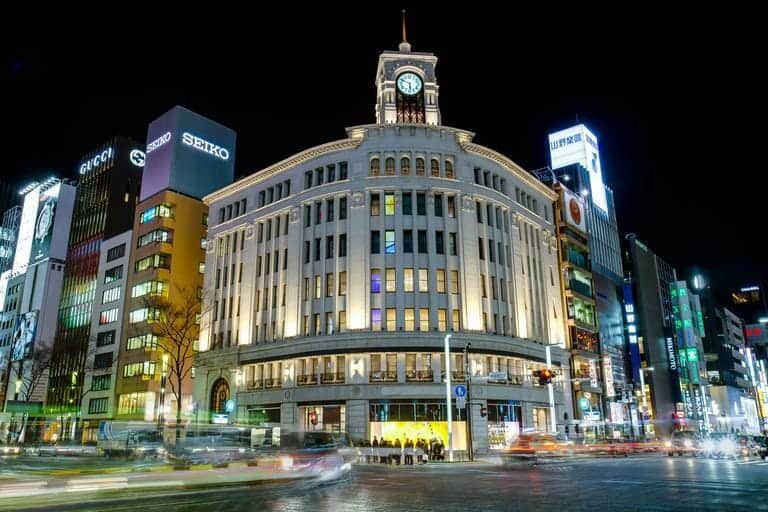 Almost every single leading brand in fashion and cosmetics can be found here. The area is well known for its upmarket shops and has some of the most expensive real estate in Japan. There are a variety of shopping malls and stores to choose from, simply get off at the Ginza station and shop till you drop.
50. Tokyo Skytree (Tokyo)

The tower stands at 634 meters and serves as a television broadcasting tower. At it's base is a large shopping centre and aquarium, but the highlight is the two observation deck at the top of the tower. Catch some of the best 360 degree views of Tokyo during the daytime and at night. Special booking is needed when there are firework events taking place.
51. Tokyo Tower (Tokyo)

This tower was built during Tokyo's economic boom in the 50s and stands at 333 meters tall. You can take an elevator up to various observation decks to enjoy a bird's eye view of Tokyo. The tower was modelled after France's famous 'Eiffel Tower' and was the tallest structure in Japan before the Tokyo Skytree.
52. See Harajuku Fashion (Tokyo)

Each year, Harajuku produces some of the world's wackiest fashion. Young designers striving to make a name for themselves or fashion enthusiasts dress in outrageous clothing designed to shock. Bright, colorful and big, it'd be hard to miss these walking fashion icons. Just get off at Harajuku station, and wander around the shopping district to bump into one.
53. Scuba Dive in the Toilet Bowl (Okinawa)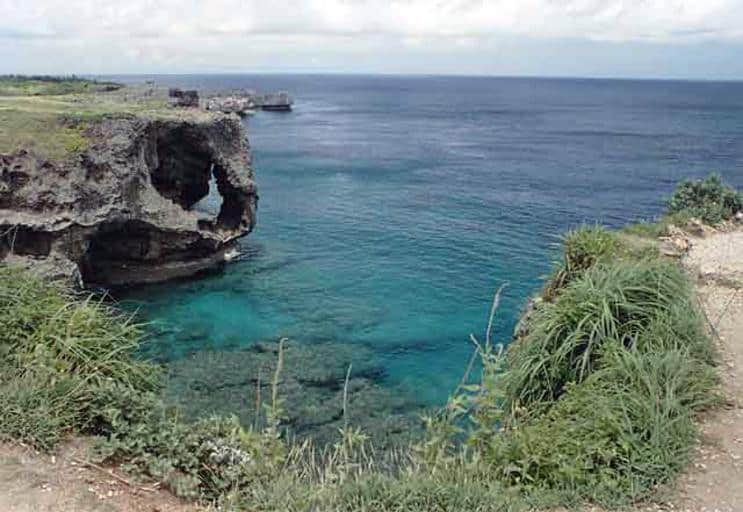 If diving in a place called the toilet bowl sounds gross to you, you'd be wrong. This tropical area is rich with marine life and offers bright blue, clear waters with a visibility of 70 meters. If you aren't a fan of diving down deep, snorkelling and splashing are rock pools is also possible This area is called Manzamo is the cape of the island and offers sparkling views of the East China Sea. Check out this extensive list of beautiful diving spots in Okinawa.
54. Pick Tea at Greenpia Makinohara (Makinohara, Shizuoka)

This area dwarfed by Mt Fuji is where most of Japan's green tea is grown. Join in on the fun and pick a batch of young green tea leaves with the locals. The smell of tea and the beautiful countryside views will relax you and invigorate the senses. This farm is accessible by car or taxi from Kanaya station and takes approximately 20 minutes to get to.
55. Gotemba Premium Outlets (Gotemba, Hakone)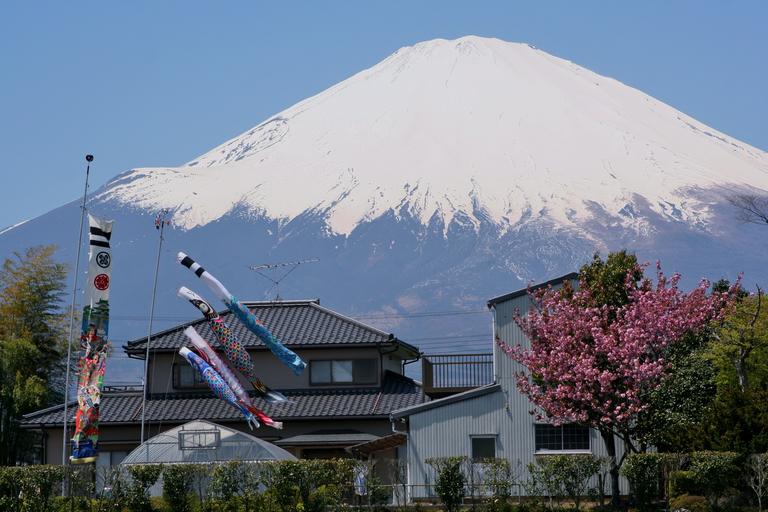 Found at the base of Mt. Fuji, this quaint mall offers 200 retail shops and restaurants. Shop international brands at reasonable, slightly cheaper prices while enjoying views of Mt. Fuji. Take a fun trip on a 50-meter Ferris wheel to get the most out of the views. Catch the free 20-minute shuttle from JR Gotemba Station to get to the mall.
56.Nakijin Castle Sakura Viewing (Okinawa)

The castle ruins are a designated UNESCO World Heritage Site and offer a beautiful, somewhat sparse view of the old grounds. It truly shines during cherry blossom season when the castle is lit up at night, illuminating the pink flowers. Visit during late January or early February to catch this spectacular night-time view.
57. Karuizawa Mountain Resort (Nagano)
This upmarket resort is located at the base of an active volcano called Mt. Asama. Various outdoor activities are on offer during all seasons such as hiking, golf and skiing. Many rich and famous Tokyoites own a second holiday home here, and in recent years the area has seen its fair share of rich foreigners.
58. Hase-dera Temple (Kamakura)

Dedicated to Kannon, this temple is situated in the idyllic seaside town of Kamakura. Home to more than a few deities, this temple's main attraction is its wooden statue of Kannon. The statue is one of the biggest wooden sculpture of Japan and is impressively gilded in gold. It has an interesting back story shrouded in mystery. Accessible from Kamakura Station via train, this temple will inspire and impress.
59. VR Zone (Tokyo)

With VR becoming increasingly popular, this VR amusement part is kitted out with high tech equipment and enjoyable games. Choose from 15 different games, don your headset and be ready to get transported into a different world. The area is accessible via a short walk from Shinjuku Station.
60. Shiga Kogen Ski Resort (Nagano)

This Ski area is composed of 19 different ski resorts that have banded together on one pass. With 52 individual lifts and enough mountain to keep you busy for 2 days (at least), this is a must visit for ski lovers. Book your stay with one of the many local hotels and be sure to visit the snow monkeys while you are in the area!
61. Godzilla (Tokyo)

Located in Shinjuku, you'll see this massive Godzilla peek its way through the buildings. Every hour on the hour, a small light and sound show takes places, surprising unaware onlookers. If you want a closer look at the colossal sculpture, then you'll have to go the extra mile and book nights stay at the Gracery Hotel.
62. Tsukiji Fish Market (Tokyo)

Fancy eating the freshest fish Tokyo has to offer? Then head to the Tsukiji fish market early in the morning. If you want a special treat, wake up extra early (5 am) and go watch the tuna auction. Expert chefs look at the catch for the day and make their bids on the assortment of tuna. Afterwards, head to the market to grab a breakfast of fresh sashimi.
63. Universal Japan (Osaka)

Home to a fantastical recreation of Hogwarts Castle from Harry Potter, this amusement park will keep all ages entertained. With the recent addition of a Spiderman 4KHD experience, the park proudly facilitates over 8 million visitors a year. The most popular of all is the Minion Park, home to your favorite, adorable green monster.
64. Craft Beer Tasting(Osaka)

If you love craft beer and want to find some of it in Japan, you'll have a tough time. However, Osaka has recently cultivated a small craft beer cult following and there are some delicious brews to be tasted. Head to Garage 9 or another quaint beer shop to taste some of Osaka's finest. Use this guide to show you the way.
65. Naoshima Island (Naoshima)

Dubbed the 'art island', this is one of Japan's most unique islands. You can find an abundance of art installations and galleries on the island. Most famous is the pumpkin that sits on the end of a pier looking rather out of place.
66. Lake Nojiri (Shinano, Nagano)

This idyllic glacier lake is a mere 4 hours from tokyo and is a perfect getaway destination. If you don't want to sit around and do nothing, then take a pick from one of the many activities. You can sail, windsurf, wakeboard, play golf and even go fruit picking. During your visit, stay in one of the local hotels in the nearby town of Shinano.
67. Nanzoin Temple and the Reclining Buddha (Sasaguri, Fukuoka)
Home to one of the biggest bronze statues in the world, this reclining buddha weighs around 300 kgs and measures an impressive 41 meters in length. The temple housing this happily reclining buddha is one of the 88 temples in the pilgrimage of Shikoku. Nanzoin is a quick three minute walk from Kido Nanzoin-mae Station
68. Mt. Inasayama (Nagasaki, Fukuoka)

This mountain stands 333 meters and offers one of Japan's top 3 night time views. The top of the mountain can be reached by ropeway, bus or car, all paths leading to the observation deck. Enjoy spectacular views of the soft lights radiating from the city at night.
69. Kawayu Onsen

This beautiful onsen hosts a campsite right next door. Why not hire an RVand go camping right on nature's door step. If you are unsure of what route to take, check out this blog for a detailed explanation.
70. Philosopher's Path(Kyoto)

This path got its name from a famous Japanese philosopher who used to walk this path as his daily commute to Kyoto University. Spanning two kilometres, the walk is whimsical and surrounded by natural beauty. During spring it is flanked by rows of pink cherry trees, making it one of the best spots for Hanami (flower party/viewing).
71. Lake Biwa(Kyoto)

This lake takes up over a sixth of the entire prefecture of Shiga. As a freshwater lake, it plays an important role as a water source to 14 million Japanese and an abundance of wildlife. Take a look at the dreamlike floating torii gates of Shirahige shrine and watch the idyllic sunset. The shrine is a 12-minute bus ride away from JR Kyoto station.
72. Yunessun Spa Resort (Hakone)

Commonly referred to as a 'hot spring theme park', this resort offers unique waters. Take a dip in a wine bath to beautify your skin or head to the coffee bath to give yourself a kick start. If bathing in strange liquids isn't your thing, there are many other baths available.
73. Senbei Okoku (Niigata)

Senbei is rice cracker snacks that have been enjoyed in Japan since ancient times. Here you will be able to make, decorate and enjoy your very own, personalized Senbei! Be sure to check out their large range and grab something to take home with you. It will take a 20-minute walk from Niizaki station to get there.
74. Kobe Beef (Kobe)

Kobe produces some of the best beef in the entire world. Intricately marbled with soft fat, these steaks will literally melt in your mouth. The fat is so soft, that the beef must be handled in refrigerated conditions, else the fat will melt like butter. In kobe, you'll find the best restaurants serving the beef at a premium price. Take your pick and enjoy meaty heaven.
75. Okinawa Beaches (Okinawa)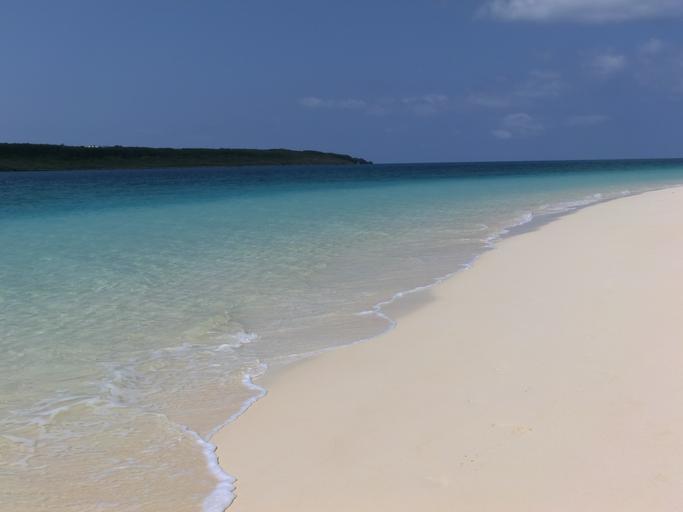 Long overlooked, this tropical paradise features perfect beaches of white sand and clear blue waters. With so many beaches to choose from, you'll be outdoors every day, working on your tan and enjoying the tropical paradise.
76. Camp in the Tohoku Countryside
Hire an RV during the summertime, and drive through the Tohoku countryside. If you follow the coastline, you'll pass an aquarium, a beach and views not usually accessible to tourists. Parking your RV is an easy task as there are plenty of open spots along the way.
77. Ramen Museum (Yokohama)

At first, you'll look at the small museum and wonder why everyone made such a fuss. Walk downstairs and you'll be surrounded by a small park of old, charming ramen shops. Each offering their own special ramen from a variety of locations in Japan, this is a great place to do some culinary travel without moving more than a couple of metres!
78.Tokyo Disneyland(Toyko)

Disneyland is a classic destination for lovers of Disney and Japan does not disappoint. Enjoy special events, themed food restaurants and fun attractions all year round! Check out their website for more details
79. Tokyo Disney Sea (Tokyo)

Fan's of Disney gather here to enjoy the more oceanic themed Disney movie displays. Treat yourself to stunning views of Little Mermaid themed playgrounds and rides. Why not stay in one of the hotels and enjoy the splashy fun for a few days.
80. Sensoji Temple (Tokyo)

Wandering through the Tokyo metropolis, it's easy to become overwhelmed with the magnitude of the city. When you are looking to ground yourself, head to this beautiful temple. This is Tokyo's oldest temple, dedicated to the goddess of mercy – Kannon. Walk the 200-meter shopping street and delight in the strange and wonderful things you find there.
81. Eat at the Kill Bill Restaurant Gonpachi (Roppongi, Tokyo)

Dine on delicious food prepared by excellent chefs while soaking in the ambience of the restaurant in which 'Kill Bill' was filmed. Exactly like you remember it in the movie, the restaurant is usually full and lively. Make sure you book ahead of time to avoid disappointment.
82. Fushimi Inari-taisha Shrine (Kyoto)

Walk through thousands of vermilion torii gates that lead you up into the woods of Mt Inari. This shrine is dedicated to the god of rice and is one of Kyoto's most popular hikes. Walk up the 233-meter mountains will take around 2-3 hours, but you can turn back whenever you wish.
83. Sanjusangendo Temple (Kyoto)

At 120 meters, the main hall of this temple is Japan's longest wooden structure. It holds an impressive 1001 statues of Kannon. A large wooden statue of a 1000-armed Kannon is flanked by 500 human sized statues on either side. The temple can be accessed by bus from Kyoto station.
84. Miyajima Island (Hiroshima)

Ranked as one of Japan's 3 best views, Miyajima island is most famous for its floating torii gate. Semi-wild deer roam the island and sleep along the abundant hiking trails. Stay overnight at a ryokan for the most authentic experience and enjoy watching the peaceful sun rise over the floating shrine.
85. Hamamatsu Fruit Park (Shizuoka)

With over 4300 trees of 160 different species, there is something to pick during every season. Experimental harvesting programs are sold and allow you to go into the park and harvest your own fruits. Equipped with greenhouses full of strawberry plants, early spring is a great time to go. Visit this site for a detailed list of activities.
86. Owakudani (Hakone)

Build in the surrounding area of a volcano, this area is full of volcanic gases and hot springs. Treat yourself to an egg boiled in the water that is rumoured to extend your life by 7 years. Catch the ropeway and enjoy beautiful views of Mt Fuji on clear days. It is not recommended for those with respiratory problems due to volcanic gases.
87. Umeda Sky Building (Osaka)

Visit this spectacular high rise building that overlooks the Kita district in Osaka. On the 39th floor, you'll find the 'Floating Garden Observatory' which is suspended between the two towers of the building. The building stands at 173 meters and is a short 10-15 minute walk from Osaka or Umeda station.
88. MAZDA Zoom-Zoom Stadium (Hiroshima)

Unbeknownst to some, Japan is baseball crazy. This family friendly outing will seat you next to roaring Japanese fans, cheering on their favorite team. Be sure to book early, else finding a seat might be a difficult exercise. You can use this guide to book your tickets in advance.
89. Niigata Manga and Animation Museum (Niigata)
Niigata is the birthplace and childhood home of a surprising number of anime and manga artists. This museum has some of their most famous works and walks you through the creation process. They have a voice acting booth where you can try out your skills. The museum is only 5 minutes walk from the niigata station.
90. Sapporo Beer Museum (Sapporo)

Opened in 1987, this is the only beer museum in Japan. Walking through the halls, you'll learn all about Sapporo's beer brewing history. You can enjoy a tasting after your museum experience, but note that the museum is closed on Mondays.
91. Sofukuji Temple (Nagasaki)

Nestled away in the hills of Nagasaki, you can find this quaint little temple. Nagasaki is known for being the 'Chinatown of Japan' as the Chinese lived there during the closed period of the country. Shofukuji was built by the Chinese but manned by the Japanese and has a number of great statues to look at. It is a short walk from the Shokakujishita station.
92. Gion (Kyoto)

Kyoto is well known for being the cultural centre of Japan. Gion is a bustling district that is home to many modern-day geishas. Surrounded by traditional wooden architecture, you'll be able to see fully dressed Geisha walking down the street at all times of the day. Take the bus to the Gion bus stop and wonder the beautiful, historic streets.
93. Kifune Shrine (Kyoto)

About 30 minutes away from central Kyoto, this shrine spans an entire area called 'Kibune'. The shrine is dedicated to the god of water who is believed to be the protector of those at sea. You can purchase a fortune paper that you dip in water to reveal your fortune. The shrine is particularly beautiful in the snow and at autumn.
94. Aokigahara Suicide Forest

Dubbed the 'suicide forest', Aokigahara is famous for the number of people who commit suicide there each year. Head into the forest near Mt. Fuji for a creepy yet naturally beautiful day. A fun fact: if you place a compass on the ground, it will spin and point in strange directions due to the lava rock.
95. Play with monkeys in Arashiyama Monkey Park (Iwatayama, Kyoto)

There are a grand total of 120 monkeys living in Arashiyama Monkey Park. You can play with them, feed them and generally enjoy the natural environment. You'll also be able to see wild birds and deer in the area.
96. Shunki Reitaisai Samurai Festival (Tochigi)

Approximately 1000 Japanese men dressed as Samurai take to the streets for this unique event. Marching form one shrine to another, the event is spectacular to watch. It takes place on the 17th and 18th of May from the Toshogu Shrine.
97. Hire an RV in Hokkaido in the summer (Hokkaido)

Instead of braving the droves of tourists in winter, head to Hokkaido in the summer. Rent an RV and enjoy the mild summer heat and sweeping green landscapes. Hokkaido is well known as one of the best food producers in Japan, and you'll be able to find the best food fresh from the source.
98. Dotonbori (Osaka)

A crazy area filled with tourists and clothing stores. If you want to experience the city life in Osaka, head to Dotonbori bridge on the weekend. Throngs of tourists gather to take photos of the famous running 'Glico Man' and enjoy the abundance of shops.
'
99. Try Pachinko (Everywhere in Japan)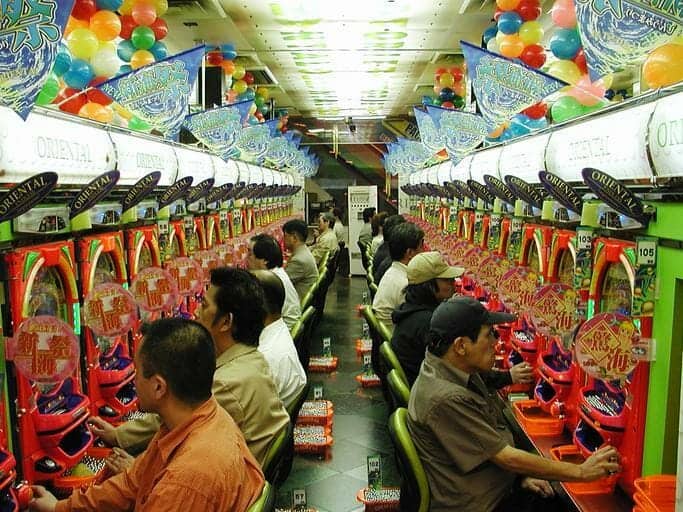 Head to a Pachinko parlour to experience a truly unique gambling environment. Thousands of machines line the walls and the Japanese flock to these establishments to try their luck. The game can be quite complicated, so check out this guide to make the most of your visit.
100. Sing at a Karaoke Bar (Everywhere in Japan)
Your trip wouldn't be complete without heading down to a local Karaoke bar. Rope a few friends in and enjoy cheap drinks while belting out your favorite tunes. Karaoke originated in Japan and has grown increasingly popular, so you'll be able to find bars literally everywhere.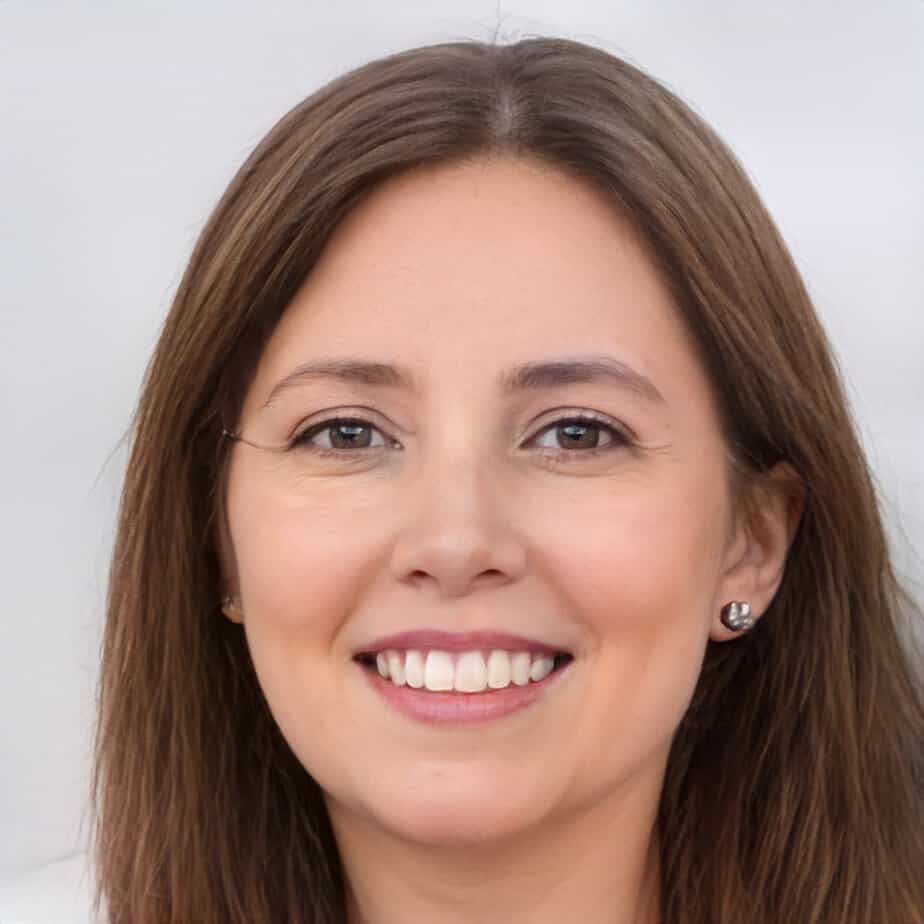 Jill Miller is the founder of Your RV Lifestyle. Trading corporate America for the open road, Jill, along with her partner Jose, began their RV journey, making an unconventional start by wintering in New Jersey. A natural adventurer, she was motivated by a desire to explore the USA and beyond, embracing the varied landscapes, communities, and cultures across the country.
For Jill, the allure of RV living was not about material accumulation, but rather the pursuit of an adventurous, fulfilling lifestyle. A lover of golf, bicycling, hiking, and line dancing, she has carried her passions across the country, engaging with them in diverse settings. Jill's commitment to the RV lifestyle came after years of careful research, numerous consultations with RV owners, and personal trials, including living in a rental RV.