Edinburgh is the entertainment centre of Scotland. Each August, for 25 days, the city is home to the world's largest arts festival, Edinburgh Fringe. The streets fill with thousands of musicians, players and comedians. Whether you walk into a pub, club, to a street corner or corner shop, you're liable to catch a show – most of which are free!
The city undulates, rising and falling in narrow winding alleys, extra-wide roads and cobbled streets. When you visit, stay in a beautiful and historic hotel or be a backpacker and rent a bed in quirky hostels. Last time I went, I stayed in a converted church and even spent a few nights in a shipping container hostel.
In a city as vibrant as Edinburgh, there's so much to do that I wrote you this list to make memories that won't fade.
Things to do
1. Summit an extinct volcano: Arthur's Seat

Arthur's seat by John Mason / CC BY 2.0
Beautiful in the way only torn earth can be. Jagged yet reclaimed by grass and life, Arthur's Seat was once an active volcano last erupting 350 million years ago. Today it's extinct, a beautiful viewpoint you can reach quickly. Depending on the route you choose, summit the top in 30-60 minutes.
Arthur's Seat is located at the end of the Royal Mile, making it incredibly accessible if you're planning to spend the rest of your day in the city. Allow 2-3 hours and bring a snack and a camera. The view is something you'll want to show off.
Address: Edinburgh EH8 8AZ
Recommended tours
2. Edinburgh Castle ££
Edinburgh Castle dominates the city skyline day and night. While the sun shines, it's an impregnable fortress with sheer rocky sides, the silhouette is dark and imposing by nighttime. Castle Rock has been home to a Royal castle since the 12th century and has evidence of human occupation as early as 200 AD.
Edinburgh Castle has a rich history as a royal residence, military barracks, prison, garrison and fortress. While it is primarily a tourist attraction, some parts of the castle remain in military use today.
Tickets are relatively inexpensive with concession prices for children. For a little extra, you can find 2-3 hour guided tours.
Address: Castlehill, Edinburgh EH1 2NG
3. Walk the Royal Mile

The Royal Mile in Edinburgh by Ralf Steinberger / CC BY 2.0
The Royal Mile is Edinburgh's pulsing artery, along which flows the life of the city. It got its name in the 16th century because the King habitually used the cobbled road to travel between Edinburgh Castle and Palace Holyroodhouse. The Scots mile-long (1.12 miles) thoroughfare connects these two landmarks.
Today, historic shops, cafes, bars, churches, libraries, and museums saturate The Royal Mile. You can buy a deep-fried mars bar (that's a real dessert here) and walk a short way to the National Library. Hiding on side roads that twist and connect by alleyways and steep staircases are buskers by day. Residents say these spaces fill with ghosts at night.
Address: The Royal Mile, Edinburgh EH1 1SG
4. Fringe Festival – Every artform, everywhere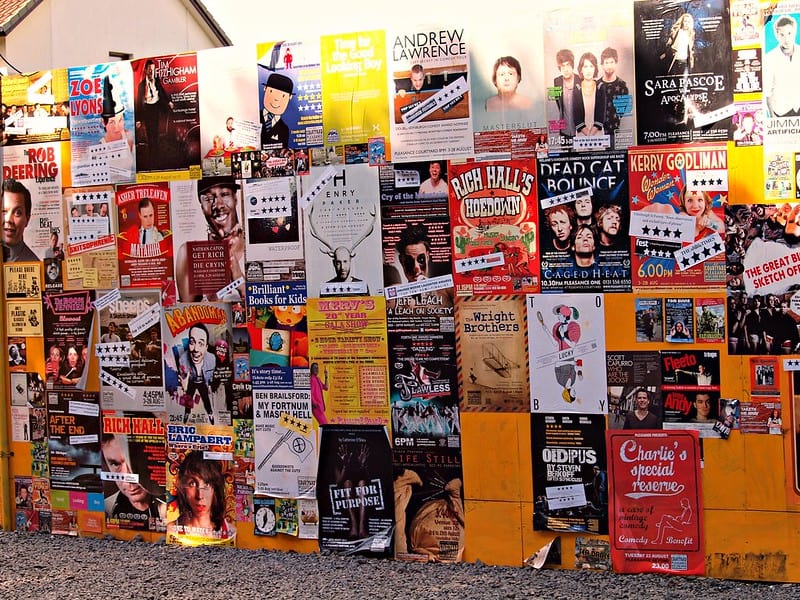 Posters for Fringe by zoetnet / CC BY 2.0
Fringe Festival is the world's largest arts festival. Every August, for 25 days, the streets come alive with thousands of actors, musicians, comedians, magicians and more. Every space becomes a stage. You'll experience the oddity of a comedian in the corner-store and singers on every staircase. Visiting Fringe is one of the best things you can do in Edinburgh.
Fringe is mostly free, though you may need to book ahead or pay for some shows. There are optional bucket collections at the end of most performances if you want to support the artists. Check edfringe.com for more information such as an index of every registered show and performer.
Book your accommodation ahead of time. Edinburgh Fringe Festival is so famous that even the spare rooms of locals tend to fill up.
5. Camera Obscura – 6 floors of optical illusions and a viewpoint ££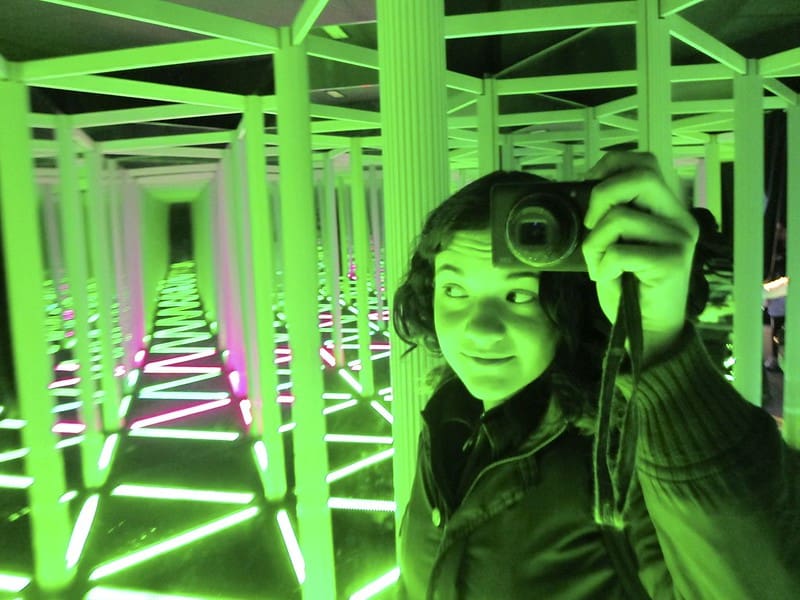 Mirror Maze at Camera Obscura by Jennifer Morrow / CC BY 2.0
Camera Obscura, Edinburgh is a crazy house of optical illusions. Imagine a mirror maze and a hundred illusions just as trippy with lots of photo opportunities – bring a camera or smartphone. Camera Obscura, Edinburgh is suitable for all ages. There is a viewpoint terrace which offers 360-degree views of Edinburgh.
Book ahead online if you're planning a visit.
Address: Castlehill, Royal Mile, Edinburgh EH1 2ND
+44 0131 226 3709
6. Royal Yacht Brittania – Step aboard the Queen's floating palace ££

Royal Yacht Brittania by Char / CC BY-SA 2.0
The Brittania, built to be the last royal yacht. Designed to travel the globe as a floating palace, the Royal Yacht Brittania would double as a hospital ship in wartime. King George VI ordered the ship two days before his passing. The responsibility of commissioning the yacht passed to the Queen.
The Brittania was built in Scotland and was one of the last fully rivetted ships produced. During its service, there were four royal honeymoons onboard. The Brittania played a significant role in the evacuation of Aden, South Yemen 1986 the Queen decommissioned it in 1997.
You can book tickets here
Address: Ocean Dr, Leith, Edinburgh EH6 6JJ
7. Stroll through Princes Street Gardens

Sunbathers in Princes Street Gardens by This is Edinburgh / CC BY 2.0
Laying at the foot of Edinburgh Castle are two adjacent public parks. These gardens are remnants of the Nor Loch, drained to make New Town Edinburgh in the 1760s. The hollow space left by Nor Loch created a unique landscape with mezzanine-like features in the grass.
These gardens span the south side of Princes Street. With all the things to do in Edinburgh, The Princes Street Gardens are a perfect place to relax in the midsummer sun for a picnic between seeing Edinburgh Castle and heading to New Town.
Address: Princes Street, Edinburgh, EH2 2HG
8. Book a walking Ghost Tour £

Ghost Tour by Ben Snooks / CC BY-SA 2.0
Edinburgh, Scotland is a mix of winding streets and three distinct architectural styles which wrap themselves around the landscape. As the sun sets, Edinburgh drapes itself in shadows and mystery. The city has many ghostly and haunting parts to its history.
Dozens of well-established tour companies will guide you through the city maze while scaring you with the stories of centuries past.
You'll find tours ranging from free to the price of lunch as well as hop-on-hop-off tours (join and leave as you fancy. Say, if you see somewhere selling the perfect hog roast).
Recommended tours
9. Pay respect to Greyfriars Bobby, a genuinely loyal dog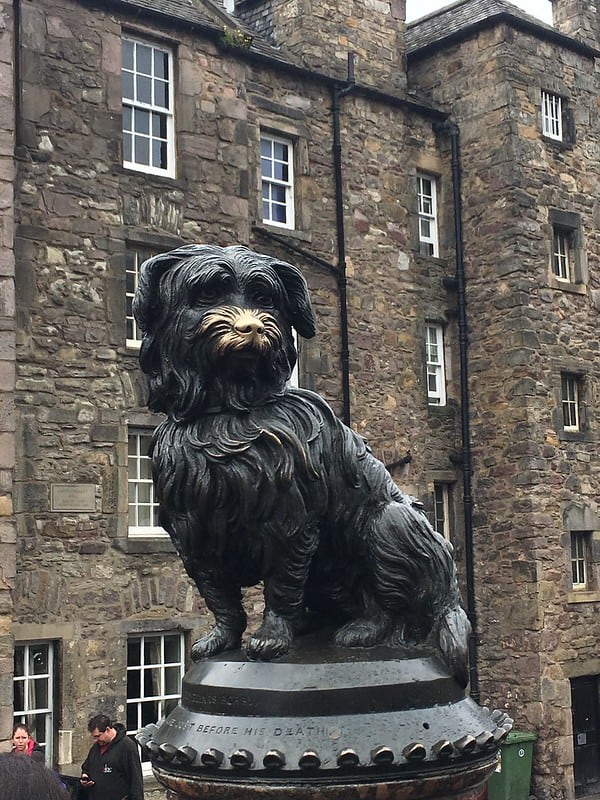 In the 1850s a gardener named John and his family arrived in Edinburgh. John joined the Edinburgh Police Force and took on a faithful companion named Bobby, a diminutive Skye Terrier. This humble pair of "watchdogs" walked the cobbled streets until 1958 when John passed.
Bobby touched the hearts of residents by refusing to spend a day apart from his owner. Neither storms nor the keeper of Greyfriars could drive Bobby away. For the next 14 years, Greyfriars Bobby would draw a crowd at the Kirkyard entrance as they waited for the watchdog to take leave for his midday meal. A statue now stands opposite Greyfriars Kirkyard in Bobby's honour.
Address: Edinburgh EH1 2QQ
10. The National Museum of Scotland

National Museum of Scotland by This is Edinburgh / CC BY 2.0
The National Museum of Scotland is one of the UK's top 10 visitor attractions. It reflects both Scottish history and the desire for international culture, physical and natural sciences.
See a hoard of Viking treasure and an exhibition of contemporary Japanese design under one roof. Entry to the museum is free.
Address: Chambers St, Edinburgh EH1 1JF
11. Stroll through tranquil Dean Village

Dean Village by Gary Cambell-Hall / CC BY 2.0
Five minutes from Princes Street lies a tranquil oasis in the form of Dean Village. The village used to be an industrial hotspot. Take a stroll while looking out for millstones and carved stone plaques with pies and baked bread. Picturesque is an understatement. The winding waterway is stunning.
Keep in mind that Dean Village is entirely residential. Be mindful of those who live there. If you fancy lunch or a visit to the loo, you'll need to walk uphill on Bells Brae to find either.
Address: Dean Path, Edinburgh EH4 3AY
12. See the National disgrace err Monument of Scotland

National Monument of Scotland by Henry Burrows / CC BY-SA 2.0
At the top of Calton Hill, in Edinburgh, stands the National Monument of Scotland. It's a memorial to the Scottish soldiers who fought bravely and lost their lives in the Napoleonic wars. The monument's construction started in 1826 and prematurely halted when funds ran dry. The twelve pillared Parthenon earned names such as "Scotland's Folly", "National Disgrace" and "Pride and Poverty".
Address: 86-88 Grassmarket, Edinburgh EH1 2JR
13. Touch the toe of Hume's Statue for good luck

David Hume's Statue by This is Edinburgh / CC BY 2.0
Local traditions in Edinburgh include eating Haggis and touching the toe of David Hume to bring good luck. It's ironic considering Hume vehemently rejected all forms of superstition. Shortly after Stoddart erected the great enlightenment philosopher's statue, philosophy students began making pilgrimages to rub its toe for luck. Decades of visitors have polished Hume's toe leaving it a shining golden fetish on an otherwise decrepit likeness.
The statue has recently come under fire in BLM's wake for Hume's controversial race relations beliefs.
Address: Royal Mile, Edinburgh EH1 1RN
14. Go underground with Vault Tours ££

Vaults inside the southbridge by Helen Simonsson / CC BY-SA 2.0
At street level, you might follow twists and turns of meandering Edinburgh alleys without ever knowing about Edinburgh's Vaults. Underneath your very feet is a network of 120 caverns. Traders used them before brothels, and slum dwellers took them over.
We lost all trace of the Vaults until they were unearthed again in the 90s. You can only visit them with a guide so book a tour.
Recommended tours
Historic tour
Ghost tour
15. Try Haggis (and drink the nectar of gods)
Scots are famous for wearing kilts, drinking Irn Bru (a fizzy orange drink glowing in every Edinburgh corner-shop fridge) and eating Haggis.
Like marmite, Haggis separates us. Love it or hate; you've got to try it! Haggis gets made from lamb and beef with oats, onions and spices all brought together and cooked in an animal stomach. It's traditionally a winter food, but you can find it year-round in Edinburgh's restaurants.
Recommended places to try Haggis
Value for money
Address: 9 & 12 Bank St, Edinburgh EH1 2LN
Local experience
Address: 48 Cockburn St, Edinburgh EH1 1PB
Fine dining
Address: 267 Canongate, Royal Mile, Edinburgh EH8 8BQ
16. Hit the Scottish dry slopes £££

Midlothian Snowsports Centre by Richard Barret-Small / CC BY 2.0
Just outside of Edinburgh, flirting with the city, is Midlothian Snowsports centre. Edinburgh is great, but sometimes you need to pump adrenaline by rushing headfirst down a ski-slope.
Even at Midlothian, there are stunning panoramic views of Edinburgh from the slopes.
Address: Biggar Rd, Edinburgh EH10 7DU
+44 0131 445 4433
17. See Heriot's Hogwarts

Herriot's by PunkToad / CC BY 2.0
George Heriot's is a Brobdingnagian school grounds often thought of as the inspiration for Hogwarts which is also in Scotland. Like Hogwarts, Herriot's sorted boys into four houses in four towers with the same colours as Slytherin, Hufflepuff, Gryffindor and Ravenclaw.
You can't enter the school so plan a scenic walk nearby to take in the grounds in all their hulking glory.
Address: Lauriston Pl, Edinburgh EH3 9EQ
The school is not open to the public. Please be respectful and keep your distance.
18. New Year's Hogmanay Street Party £

Hogmanay Firework Display by John Haslam / CC BY 2.0
Edinburgh is well known for exploding into the new year with a bang. Hogmanay is the Scottish name for New Year's eve. Like most countries, Scots' watch light shows and fireworks and go on to follow several traditions. One such practice is called first footing. The goal is to be the first visitor to your friend's houses. It's traditional to bring a black bun or a lump of coal to place on your friend's fire. The street party is a significant social event where you can observe Hogmanay traditions outside. Dress warmly.
The street party is ticketed. You'll need a wristband to get in. Save money by bringing your booze. Each person can take up to 4 plastic containers or cans provided they don't exceed 500ml.
19. Visit Craigmillar Castle ££

Craigmillar Castle by Magnus Hagdorn / CC By-SA 2.0
Craigmillar Castle is a ruined castle that still retains most of its original shape! It's best known for being the birthplace of a plan to kill Mary Queen of Scots husband. Mary Queen of Scots visited the castle in 1566. Nobody knows if she was involved in the "Craigmillar Pact" to dispose of her Husband. Couples can take their vows in the main hall with up to 60 guests.
Book ahead online if you're planning to visit.
Address: Craigmillar Castle Rd, Edinburgh EH16 4SY
Places to eat
20. Globe Bar £

Beer! by Andrew Girdwood / CC BY 2.0
Globe Bar is Edinburgh's busiest backpacker haven. It's a great place to grab a drink without parting from too much hard-won cash. Globe Bar has fantastic discounts for students and backpackers alike. During Fringe there are also free daily comedy shows!
Since no list of things to do in Edinburgh would be complete without places to eat and drink, let's move onto something else that'll sate your thirst.
Address: Niddry St, Edinburgh EH1 1LG
+44 0131 557 4670
21. Scotch Whiskey Experience £££

Whiskey on the rocks by Dominic Guzzo / CC BY 2.0
For whiskey lovers and first-time visitors, The Scotch Whiskey experience is unmissable. You'll be joined by a local connoisseur who will walk you through Old Town and its whisky history. As part of the tour, you'll visit a local whiskey cellar and pub where you'll try four that are unique to Scotland.
This tour takes 3 hours so plan accordingly and book ahead.
Address: The Royal Mile, 354 Castlehill, Edinburgh EH1 2NE
+44 0131 220 0441
22. The Witchery by the Castle £££

The Witchery dining room by eenwall / CC BY 2.0
The Witchery oozes romance and class, which is why it's one of Edinburgh's most famous restaurants. It's pricey for a reason. There is an award-winning wine list and phenomenal food. The interior is a cross between a manor and a luxury hotel – you can even stay overnight. The suites are fit for royalty.
When reserving a table, you can pick the secret garden and the dining room. The former is romantic and candle-lit while the latter boasts oak panelling and a full Baroque dining room.
Opening hours: 12 – 11:30pm
Address: 352 Castlehill, Edinburgh EH1 2NF
+44 0131 225 5613
23. The Devil's Advocate £££

Cocktails by Mark Longair / CC BY-SA 2.0
The Devil's Advocate features over 300 whiskeys, a cocktail menu and seasonal food using Scottish ingredients.
Address: 9 Advocate's Cl, Edinburgh EH1 1ND
+44 0131 225 4465
24. Mosque Kitchen £

Mosque Kitchen By Chris Malcolm / CC BY 2.0
If you want remarkably cheap good food, head to the Mosque Kitchen. It's in the student part of Edinburgh and is excellent for all things curried.
Opening hours: 11:30am – 7:30pm
Address: 31-33 Nicolson Square, Edinburgh EH8 9BX
+44 0131 667 4035
25. Maison de Moggy ££

Maison de Moggy by TJDeGroat / CC BY 2.0
A great place to go if you're feline down. Maison de Moggy is a cosy cat cafe. There are 12 cats with traits displayed by various breeds and a cat nanny around if you have any questions. The cats are there by choice and can retreat to a separate bedroom at any time for a quick nap away from loving customers.
Address: 17 West Port, Edinburgh EH1 2JA
+44 0131 629 5530
Where to stay
Accommodation in Edinburgh can be pricey. Hotels in the city range from £70-£520. Hostels are a great alternative with some beds being as little as £11 a night. I love hostels passionately, but my partner doesn't. If you're looking for privacy without the hotel price tag, check out Airbnb. Rooms average at £50 and houses at £115.
26. Containers Hostel £ (July-October)
When I remember Edinburgh, I have fantastic memories of Containers. Containers is barebones. In essence, you'll get a locker and bunk inside a shipping container. This super budget hostel is all about the people. It beats the next cheapest hostel by £28 a week. If the vagabond life scares you, book elsewhere.
Address: 357 Gorgie Rd, Gorgie, Edinburgh EH11 2RP
+44 07921 074218 (July-October)
27. Belford Hostel £
Belford is my favourite budget hostel in Edinburgh. It's an old converted church and has a lot of cool details. There's a locked room on the top floor, making visitors feel naughty for trying to gain access. A former resident painted a muralistic history of Scotland on the stone walls of the staircase. There's even a bar on site.
Address: 6-8 Douglas Gardens, Edinburgh EH4 3DA
+44 0131 225 6209
28. Ibis Styles Edinburgh St. Andrew Square ££
The room quality at this location is better than the average Ibis hotel. They are centrally located with easy access to Waverley Station & Princes Street. This Ibis Styles is good value for money, albeit the catering is quite limited.
Ibis Styles Edinburgh St. Andrew Square
Address: 19 St Andrew Square, Edinburgh EH2 1AU
+44 0131 292 0200
29. The Waldorf Astoria, The Caledonian £££
This opulent hotel is a step towards luxury. Rooms come with fluffy bathrobes, modern televisions and views of Edinburgh Castle. The staff excel. There are several food options inside the hotel, and you're perfectly situated should you choose to eat out.
Waldorf Astoria, The Caledonian
Address: Princes St, Edinburgh EH1 2AB
+44 0131 222 8888
30. Malmaison Hotel Leith £££
Malmaison Hotel Leith sits by the bank of the Forth in Leith. Much like the Caledonian, This hotel boasts luxury. Enjoy free wifi, satellite television, a well-stocked wine cellar, cocktails, classic British food and free parking (which is incredibly rare in Edinburgh).
Address: 1 Tower Pl, Leith, Edinburgh EH6 7BZ
+44 0131 285 1478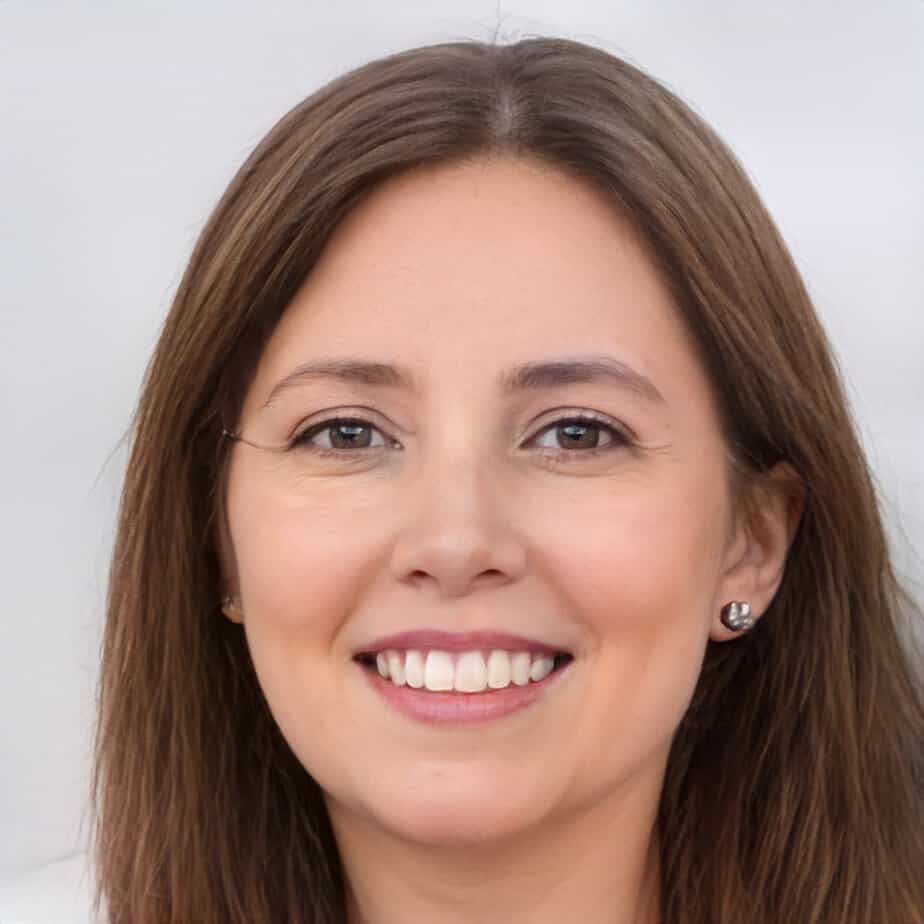 Jill Miller is the founder of Your RV Lifestyle. Trading corporate America for the open road, Jill, along with her partner Jose, began their RV journey, making an unconventional start by wintering in New Jersey. A natural adventurer, she was motivated by a desire to explore the USA and beyond, embracing the varied landscapes, communities, and cultures across the country.
For Jill, the allure of RV living was not about material accumulation, but rather the pursuit of an adventurous, fulfilling lifestyle. A lover of golf, bicycling, hiking, and line dancing, she has carried her passions across the country, engaging with them in diverse settings. Jill's commitment to the RV lifestyle came after years of careful research, numerous consultations with RV owners, and personal trials, including living in a rental RV.