Amsterdam is the largest city in The Netherlands, which you might have also heard called Holland. The Dutch are great to talk to, and everybody speaks English. Back in the 17th century, Amsterdam was an economic centre for the world, quadrupling in size. Many warehouses built by the canal date back to this period. Did you know that Amsterdam has more canals than Venice? This list won't include canals as I've chosen a range of things to do in Amsterdam which will take you along some of the city's most famous and beautiful waterways.
Top 10 Museums in Amsterdam
Skip past this section if you want to read about the best things to do in Amsterdam which aren't museums.
Start off by getting an I Amsterdam City Card which will allow you to travel for free by public transport city-wide (this includes metro, tram, bus and ferry), as well as giving you access to more than 70 museums. Once you have a card, download the app – it'll simplify planning your trips and excursions. It is worth noting that this card is extremely economic if you're a museum-lover. If you don't want to see many museums, it's probably cheaper to rent a bicycle and pay the occasional transport fee.
1. Gogh to Van Gogh Museum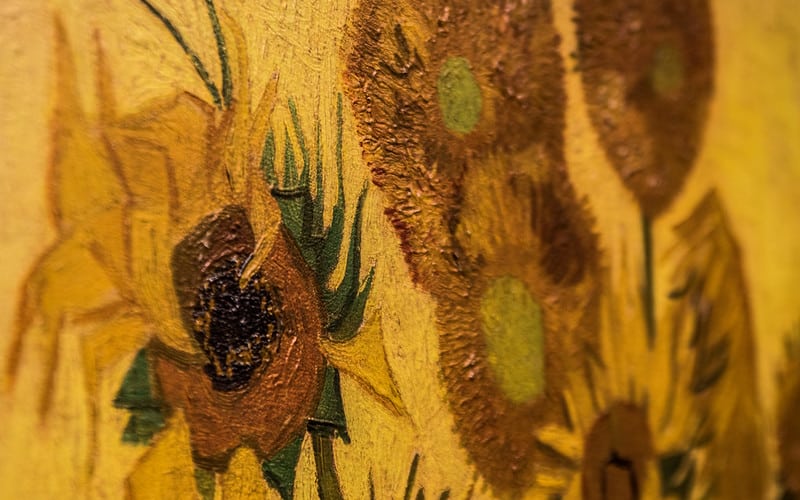 Van Gogh's "Sunflowers" by Tomasz Baranowski / CC BY 2.0
The Van Gogh Museum houses the world's most extensive collection of artworks by Vincent van Gogh (1853-1890). It opened in 1973 and has since become the home of 200 paintings and over 1,000 drawings and letters.
The artwork hangs in chronological order representing five periods of Van Gogh's artistic life. There is so much to appreciate, but I recommend seeing his crowning works: Sunflowers, Bedroom in Arles, Almond Blossoms and Wheatfield with Crows.
Van Gogh Museum is the most famous museum in the Netherlands, with more than 2.1 million visitors each year.
Address: Museumplein 6, 1071 DJ Amsterdam, Netherlands
2. Rijksmuseum, Amsterdam's finest Museum

Rijksmuseum by a.canvas.of.light / CC BY 2.0
You've seen Amsterdam's most famous museum; now it's time to see the second. If it were easier to spell, Rijksmuseum would easily take the top spot. This museum is an extraordinary collection of historical artefacts and Dutch art. At any time, there are some 8,000 pieces on display representing over 800 years of Dutch history.
Beauty might be inside, but the Rijksmuseum is gorgeous outside too. The architecture is a purpose-built neo-Gothic palace. Learn about the Dutch Golden Age of art (1609-1702), in which there was a period of great wealth and cultural growth.
Address: Museumstraat 1, 1071 XX Amsterdam, Netherlands
3. See the Anne Frank House

Anne Frank House by Julius Cruickshank / CC BY 2.0
Anne Frank was a young girl with a bright future stolen from her when the Nazi's invaded the Netherlands and began introducing a series of laws persecuting Jews. By 1942 persecution and antisemitism had turned violent. Dutch Jews were being taken to 'labour camps' where they were murdered or forced to work until they died. Anne Frank, a child, spent two years in hiding before being discovered. She died soon after in Bergen-Belsen concentration camp.
Anne's writing during her short life made a deep impression on her father, Otto, who published the diary she had kept while in hiding. So harrowing and pure is Anne Frank's account of her time in the secret annexe that the book is sold in over 70 languages today.
Take a tour of the annexe that was the Frank's home and prison for two years. This tour takes around two hours.
Address: Westermarkt 20, 1016 GV Amsterdam, Netherlands
4. Stedelijk Museum (of Contemporary Art)

Intermission by Rob Oo / CC BY 2.0
Known by most Amsterdammers simply as the Stedelijk, this is the third most visited museum in the city. Its collection of modern and contemporary art has work from Vincent van Gogh onwards. Feast your eyes on paintings, sculptures, videos, prints, posters, design and books.
The collection is enormous. Piet Mondrian, Kandinsky, Jackson Pollock, Matisse, Karel Appel, Warhol and Barbara Kruger are just a few masters you'll get to admire when you visit.
Address: Museumplein 10, 1071 DJ Amsterdam, Netherlands
5. Rembrandt House Museum

Rembrandt House by Thomas Quine / CC BY 2.0
The Rembrandt House is an art museum inside the actual house where master painter Rembrandt lived and worked. The house was erected in 1606 and rebuilt around 1627. Dutch artist Rembrandt lived and worked in the building from 1639-1658. The house was falling apart in the 20th century until it Karel de Bazel restored it and opened a museum. Rembrandt House reconstructs the working space the master kept while an extension is housing a huge collection of his work. There are even broken pots dating back to Rembrandt's stay.
Address: Jodenbreestraat 4, 1011 NK Amsterdam, Netherlands
6. Amsterdam Sex Museum

Sexmuseum by JoAnna Kopp / CC BY 2.0
Sexmuseum Amsterdam has a minimum entry age of 16 years. They humorously call themselves the 'Venus Temple of Amsterdam'. It's the oldest sex museum in the world. Feast your eyes on an extensive collection of erotic paintings, sculptures, objects and more. The museum shows a range of forms that eroticism has taken over the centuries. You've got to come, err I mean go.
16+ only.
Address: Damrak 18, 1012 LH Amsterdam, Netherlands
7. Tropenmuseum

Mexican sculpture at Tropenmuseum by Kevin Gessner / CC BY 2.0
Tropenmuseum Amsterdam is an ethnographic museum. It's entirely dedicated to different cultures from around the world. This museum was founded in 1864 and hosts a number of permanent and temporary exhibitions. If you're interested in seeing works of art, sculptures and tools from other cultures, countries and distant lands then you absolutely have to go.
Address: Linnaeusstraat 2, 1092 CK Amsterdam, Netherlands
8. Scheepvaartmuseum

Model antique sailboat by Thomas Quine / CC BY 2.0
The National Maritime Museum is extremely popular. It tells inspiring stories for shipping enthusiasts that will convince you sailing is in our genes. The building itself is in an old colonial warehouse, and its contents show how the sea has shaped Dutch culture. There are maps by eminent cartographers, weapons and models, and all sorts of navigational instruments. In front of the Museum is a replica of the Amsterdam, a wrecked cargo ship discovered in 1969 from the Dutch East India Company.
Address: Kattenburgerplein 1, 1018 KK Amsterdam, Netherlands
9. Moco Museum

Moco Museum by Yann Caradec / CC BY-SA 2.0
One of Amsterdam's recent unveilings; This museum was founded in 2016 by Lionel and Kim Logchies. It houses contemporary art pieces which have often been hidden from the public. Lucky for us, Lionel and Kim's industry contacts granted the couple access to a lot of new works.
In 2018, this boutique museum hosted the first formal collection of works by Banksy in the world. Icons like Girl with Balloon and Flower Thrower featured.
Address: Honthorststraat 20, 1071 DE Amsterdam, Netherlands
10. Madame Tussauds Amsterdam

Spice Girls at Madame Tussauds Amsterdam by Steve / CC BY-SA 2.0
Madame Tussauds is a famous wax museum with locations in several major cities. You can meet and pose with lifelike wax replicas of Royals, A-list celebrities, fictional characters and musicians. The biggest stars are all within spitting distance. Who do you want a picture with?
Address: Dam 20, 1012 NP Amsterdam, Netherlands
Top things to do in Amsterdam
1. Hire a Bike

Cyclists by Franklin Heijnen / CC BY-SA 2.0
Central Amsterdam has more bikes than people. It's the most bicycle-friendly city in the world. Most streets have bike lanes, and the city is easy to traverse, even for those with training wheels and colourful backpacks. You'll have no trouble finding somewhere to hire a ride, but if you're looking for a safe option MacBike is popular. You can spot them easily because of their bright red frames, and there are eleven kinds of cycle!
Amsterdam promotes cycling, so you'll have no trouble taking your bike on the ferry for free.
2. Visit Dam Square

Dam Square by Christopher Elison / CC BY 2.0
This picture shows the Royal Palace overlooking Dam Square. Dam Square is an expansive cobbled space created in the 13th century when a dam was built to prevent the river Amstel from flooding with water from the Zuiderzee sea. Today it is one of Amsterdam's main tourist attractions and has seen famous groups like The Trouble Notes perform. There are plenty of food options nearby.
Address: Dam, Amsterdam, Netherlands
3. Vondelpark

Vondelpark by _dChris / CC BY 2.0
Vondelpark is a vast green space with an open-air theatre. It's a public urban park with 120 acres of space. It was opened as Nieuwe Park (New Park) in 1865, the name changed after the 17th-century playwright Joos van den Vondel. Interestingly the park naturally sinks and has to be renovated and landscaped every generation, or it will become waterlogged and eventually submerged.
Visitors to the park can see more than 70 types of rose in the central rose garden, a sculpture by Picasso and an open-air theatre with cabaret from June to August each year.
Address: Van Baerlestraat & Vondelpark Museum Quarter, Amsterdam, The Netherlands
4. Red Light District

Red Light District by Thijs Paanakker / CC BY 2.0
Amsterdam's Red Light District (also called Rosse Burt) is gorgeous at night. The whole area is lit up in beautiful hues of red, purple and pink. Of course, you've heard of it. The Red Light District needs no introduction. But, for those of you reading with your partner, it's actually three different places. The most popular, most colourful and most beautiful one is located inside the city centre. Red Light Districts are neighbourhoods that teem with brothels, sex shops, museums and more. Contrary to what you might imagine, these areas are pretty safe.
Amsterdam Red Light District has a friendly atmosphere, mostly down to the liberal and tolerant attitude of the city. Dammers accept and embrace that many people are into soft drugs, porn and prostitution. The lack of danger and risk that comes with allowing adults to make their own choices has made everyone, from sex workers to tourists, much safer.
5. Heineken Experience

Heineken Experience by Maria Eklind / CC BY-SA 2.0
Heineken, it refreshes the parts that other beers can't reach. There's something illogical about the pleasure of a pint of Amsterdam's finest. You can visit the Home of Heineken, where you will learn about its humble start and how the world shaped this reassuringly golden beer over the next 150 years.
At the end of the Heineken Experience, you'll understand what goes into making the perfect, refreshing, ice-cold pint. You will see, smell, touch and most importantly, taste your favourite beer.
Tickets are around €20.
Address: Stadhouderskade 78, 1072 AE Amsterdam, Netherlands
6. Amsterdam North Ferry

Amsterdam Ferry by Michael Coghlan / CC BY-SA 2.0
Amsterdam is a city full of beautiful sights and gorgeous waterways. Most tourists are surprised to find that there's a free 24-hour ferry service from Central Station.A ferry ride is a wonderful way to see a little more of the city and to scope out places you may want to visit. When you leave the ferry, you'll be minutes from The EYE and A'Dam Toren. I recommend taking a bike on the ferry (it's still free) so that you can ride around Amsterdam's residential village.
7. The EYE Film Institute

The EYE by martin_vmorris / CC BY-SA 2.0
Technically it's a museum, but I think that this building belongs on this list because of the screens. The IJ is a body of water in Amsterdam. Impossible to miss opposite Central Station and over the IJ is the very modern building which serves as home to The EYE Film Institute Netherlands. The building is a striking white that steals attention. It was designed and unveiled in 2012 by Delugan Meissl. The EYE came about when four smaller film institutions came together and combined into one. There are four screens for those looking to watch a film and lots of temporary and permanent exhibits. Down in the basement is an exhibition on cinema's history and there is a lovely restaurant with gorgeous views out of the floor to ceiling windows.
Address: IJpromenade 1, 1031 KT Amsterdam, Netherlands
8. A'Dam Lookout

A'dam Lookout and The EYE by Maximilian Paradiz / CC BY 2.0
The A'Dam Lookout is right next to The EYE, which is why I like to recommend them together with the ferry. It's an observation deck with stunning panoramic views of Amsterdam. You'll ascend to the 20th floor in a state of the art elevator with a light show. At the top, there is a restaurant and bar where you can grab a spot for lunch. There's also an over-the-edge-swing which I recommend before eating.
Address: Overhoeksplein 5, 1031 KS Amsterdam, Netherlands
9. Concertgebouw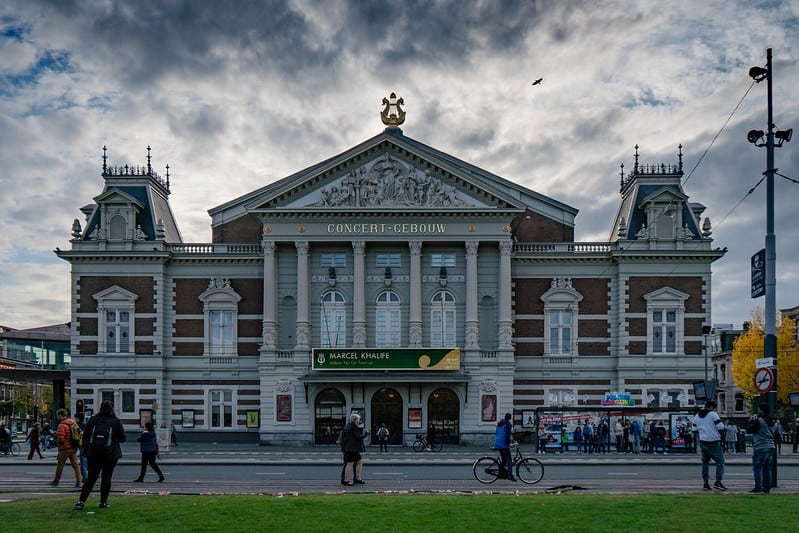 Concertgebouw by Alexander Svensson / CC BY 2.0
Or, as it's better known, Royal Concertgebouw. Queen Beatrix gave the concert hall its royal title on its 125th anniversary. It's one of the world's great concert halls in terms of talent and grandeur. The Royal Concertgebouw is well-known for its fantastic acoustics, which compliments late-romantic classical music.
Go at lunchtime for a free concert in the recital hall every Wednesday (except during July & August) or check out the programme.
Address: Concertgebouwplein 10, 1071 LN Amsterdam, Netherlands
10. Albert Cuyp Markt

Flowers at the market by Franklin Heijnen / CC BY-SA 2.0
The Albert Cuyp Market is similar to Camden in London. It's an open-air market where you can find fresh foods like fish, cheese or takeaways, and just about anything else you need, from clothes to gardening equipment. It's on a long pedestrian street in the Oud-Zuid district. Whether you're shopping or eating, you'll be sure to find something no matter your taste.
Address: Albert Cuypstraat, 1073 BD Amsterdam, Netherlands
Places to eat in Amsterdam
1. Ron Gastrobar ££

Dumplings at Ron Gastrobar by Franklin Heijnen / CC BY-SA 2.0
Ron Gastrobar is described as Michelin without the fuss. This European restaurant is vegan and gluten-free friendly with a lunch, dinner and late service. Ron Blaauw, brains and tongue behind the gastrobar, took his two-star restaurant and transformed it into a simple gastro in 2013. Amsterdam met the transition with instant love and approval. Michelin guide called this restaurant one of their most delightful places.
Try the boneless spare ribs; they're divine. There are three locations to choose from in Amsterdam, I recommend all three.
2. FoodHallen ££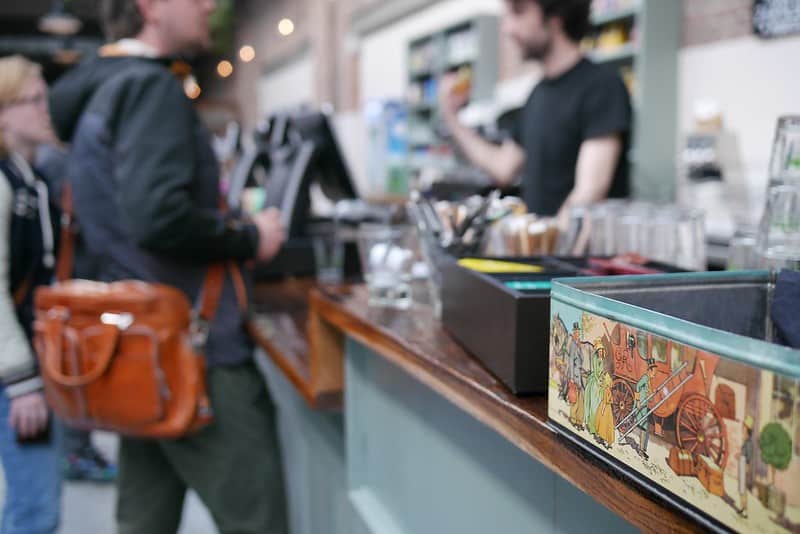 Foodhallen by Franklin Heijnen / CC BY-SA 2.0
Foodhallen is similar to Time Out Food Markets, such as in Lisbon or a smaller version of Borough Market in London. There is an impressive variety of restaurants allowing for everyone to choose something different and communal tables. This place is perfect for groups or anyone looking for a tapas or sampler style lunch.
It's not touristy at all, so you can lay your fears to rest. Foodhallen is full of locals. It's the kind of place you can go to two days in a row because of the wide restaurant variety.
Address: Bellamyplein 51, 1053 AT Amsterdam, The Netherlands
3. Gollem's Proeflokaal ££

Golem's – a great place for beer in Amsterdam by ctj71081 / CC BY-SA 2.0
Gollem's is an excellent pub with a fantastic selection of beers, excellent service and excellent food. Any recommendations? Try the Flemish stew and a few sides. The vibe is atmospheric with a healthy buzz of semi-regulars. Technically it's a diner, but Gollem's is more like a second home.
Did I mention that it's a beer haven – More like beer heaven.
Address: Overtoom 160-162, 1054 HP Amsterdam, Netherlands
4. Barney's Coffeeshop ££

Cannabis by Not4rthur / CC BY-SA 2.0
In Amsterdam, tourists can buy and enjoy small amounts of cannabis, hash and magic truffles. Anyone above 18 can enter coffee shops, but you may need an ID to visit.
Barney's is one of the most popular coffee shops on Haarlemmerstraat. The staff are incredibly knowledgeable and provide fantastic service. There's a reason Barney's has won so many "High Times Cup" awards. This coffee shop is popular with locals and tourists looking for a legal high and a fantastic breakfast, lunch or dinner.
Address: Haarlemmerstraat 102, 1013 EW Amsterdam, Netherlands
5. De Kas – Organic homegrown food £££

Restaurant De Kas by Dorine Ruter / CC BY 2.0
De Kas serves the finest, freshest food you could want. The food is delightful, beautifully cooked and best of all: locally sourced – as in 100 feet away from local. All De Kas herbs and vegetables are grown onsite. The menu showcases each ingredient at its best. The menu is fixed. There is no à la carte.
Address: Kamerlingh Onneslaan 3, 1097 DE Amsterdam, Netherlands
6. SOTTO Pizza £

Pizza by Leandro Neumann Ciuffo / CC BY 2.0
Pizza in The Netherlands doesn't get much better than Sotto. This humble pizzeria is one of only two in the whole country to be given membership to the prestigious Associazione Verace Pizza Napoletana.
Go for a classic Italian pizza. There are two locations, and it's worth booking ahead.
7. Restaurant GUTS £££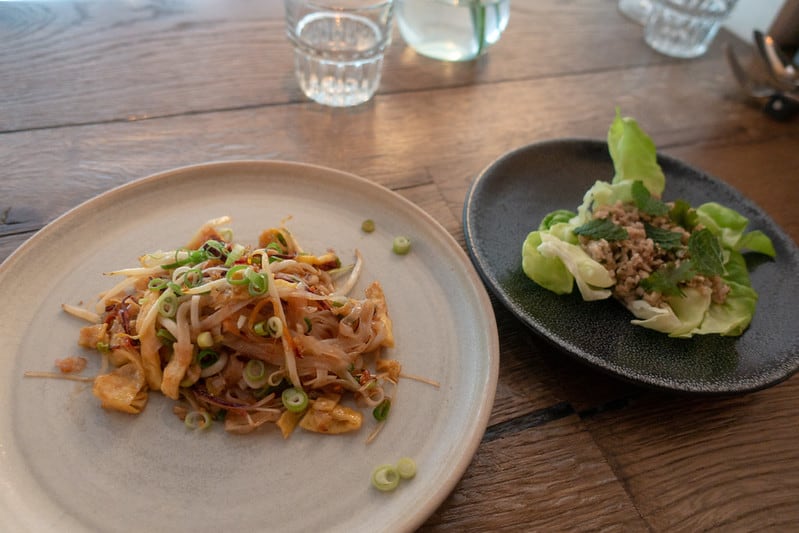 GUTS by Kent Wang / CC BY-SA 2.0
GUTS is a hot restaurant that focuses on seasonal dishes with barbecued meat and fish. The experience is fantastic. You can choose from either a 5-course or 7-course tasting menu when eating in the restaurant. They've also launched a takeaway and delivery service.
Address: Utrechtsestraat 6, 1017 VN Amsterdam, Netherlands
8. Restaurant Blauw ££

Food at Restaurant Blauw by Kent Wang / CC BY-SA 2.0
Blauw is a beautiful restaurant with authentic Indonesian cuisine and a menu full of traditional dishes and street food. The colours are vibrant, as is the food; some of the flavours will knock your socks. The menu is veggie-friendly, with options for vegan and gluten-free diets. The service is superb for the price.
Address: Amstelveenseweg 158-160, 1075 XN Amsterdam, Netherlands
9. Bord'Eau £££

Bord'Eau by Christophe Bayard / CC BY 2.0
With a Michelin star, Bord'Eau and Chef Van Kranen masterfully combine precision and flavour. This restaurant is elegant, blissful and comfortable. Sit near a window for breathtaking views of Amsterdam and its canals. There is also an impressive wine list and cheese selection.
The menu is a simple five-or-six course showcase of top-notch ingredients. Tables are by reservation only.
Address: Nieuwe Doelenstraat 2-14, 1012 CP Amsterdam, Netherlands
10. Restaurant de Plantage ££

De Plantage by Franklin Jeijnen / CC BY-SA 2.0
De Plantage is a veggie-heavy restaurant and cafe with a fantastic location, gorgeous conservatory and menu. De Plantage's layout is quite spacious and reminiscent of a garden. The burrata is delicious, a definite must-order. Unfortunately, the service since covid isn't up to the usual standard – even so, De Plantage still makes my list.
Address: Plantage Kerklaan 36, 1018 CZ Amsterdam, Netherlands
Where to stay in Amsterdam
Amsterdam is one of the few cities where I wouldn't recommend staying in a hotel at all – rooms are seriously overpriced. If you're planning a trip to Amsterdam, then I suggest booking an Airbnb. There are plenty of options. Figure out what parts of the city you'll be in most before choosing a room, but don't stress as Amsterdam is a very small city. Most of it is within walking distance.