Nestled in between North America and Europe, Iceland is the perfect getaway for nature lovers. With sky-high waterfalls and breathtaking glaciers, Iceland packs lots of things to do in just one island. With most journeys between attractions taking a mere two hours by car, you can visit many nature hotspots in one day.
Iceland has a population of just over 350,000 people, and with a surface area of 103,000 square kilometres, it is certainly not a densely populated country. The capital, Reykjavik, is the largest city and is quite far from the definition of "busy". However, there is still plenty to do and see in Reykjavik for a day or two.
The rest of the island is packed with evidence of high volcanic and geological activity. Flat lava fields, glaciers, volcanoes, mountains and waterfalls will surround you from everywhere. It really looks like something out of this world.
Iceland is also a very popular destination for hikers. There are a number of world-famous treks that are in Iceland, particularly around the Eyjafjallajokull volcano area (which is an active volcano and last erupted in 2010).
The climate is classed as polar – meaning there is a lack of warm summers, with maximum temperatures of roughly 15 degrees celsius in the summer, so, pack warm.
In this article, we will explore the numerous number of activities Iceland has to offer.
1. Visit the Gunnuhver Hot Springs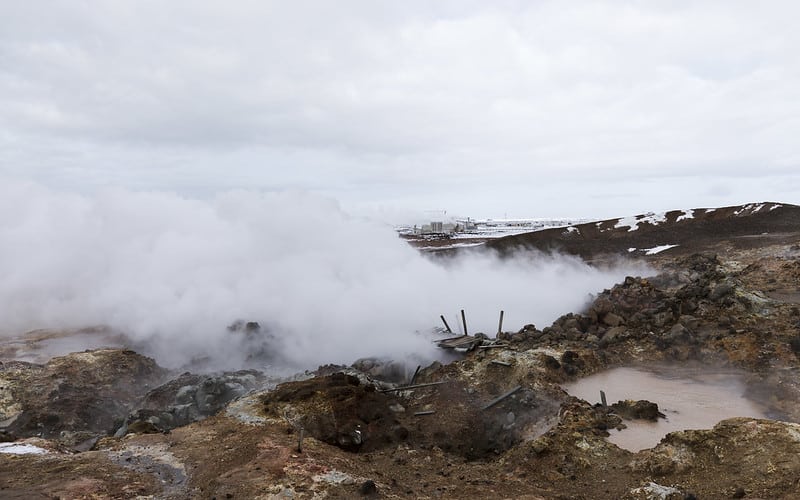 Gunnuhver Hot Springs // Laurent Ribot // CC BY-NC-ND 2.0
Known as Iceland's most famous mud pool, Gunnuhver houses a number of pools, with the largest one being 20 metres in width containing vigorously boiling mud.
Feel the hot steam sliding across your face, experience the empowering, yet also disgusting, smell and soak in the simply beautiful terrain that surrounds you.
In addition to the hot springs, as Iceland's primary energy source is geothermal energy, expect to see a lot of geothermal energy plants that are dotted around some of the most geothermically active spots.
The springs are open 24/7, however, access may be restricted at certain times.
Address: Gunnuhver, Iceland.
2. Ride around Ring Road
Route 1, also known as Ring Road, is a road that encircles the whole island of Iceland. The road visits the most populated areas of Iceland, but it still has bits that cross the uninhabited wilderness of the interior.
The road offers some of the most pristine views of Iceland – from glaciers, to miles and miles of classic Atlantic coastline – there's so much to see and do whilst you're driving around.
3. Go to the Blue Lagoon

Blue Lagoon // Dan Nguyen // CC BY-NC 2.0
Perhaps as one of the best things to do in Iceland, the Blue Lagoon is simply one-of-a-kind. This geothermal hot spring is the most popular destination for tourists in Iceland, and rightly so.
Although busy at times, the lagoon provides a magnificent main, natural pool filled with very warm water. The transition from the cold air to the warm water is simply sensational.
Another thing that the Blue Lagoon is known for is its incredible spa amenities and offerings. From full-body mud massages to a soothing facial treatment, there's loads of amenities on offer for everyone.
Bookings can be made online via their website. You can even spend a night on their on-site accommodation!
Opening hours vary between seasons but they are as follows: 1 Jan – 22 Mar (8 AM to 9 PM). 23 Mar – 18 Jun (8:30 AM to 9 PM). 19 Jun – 21 Aug (3 PM to 10 PM). 22 Aug – 31 Dec (2 PM to 10 PM).
Address: Norðurljósavegur 9, 240 Grindavík.
4. Go Whale Watching in Reykjavik

Whale // Lundur39 // CC BY-NC-ND 2.0
Whale watching is a must-do for any visitor to Iceland. There are a number of tours that depart from Reykjavik, however, most visit the same whale hotspots.
Watch as whales jump out of the water and leave immense waves behind them due to their shear size.
Due to the number of krill, whales' main source of food, Iceland is home to a wide range of whales such as: minke whales (most common in Iceland – exceed 9 metres in length), orcas (a species of dolphin, also known as killer whales), humpback whales (they're known for their acrobatic behaviour).
Check out this amazing whale watching tour.
5. Visit The Perlan

The Perlan // Chilli Head // CC BY 2.0
This fantastic museum is home to various exhibitions that feature Iceland's nature. Learn about Icelandic nature with interactive displays and intriguing activities.
At the heart of the Perlan is the prominent dome. This is home to the Planetarium, which houses the daily Aurora show where you get to see the immersive northern lights. Although artificial, the experience attempts to mimic the real northern lights, with great success.
Opening hours: Monday to Sunday, 10 AM to 6 PM.
Address: Varmahlid 1 Oskjuhlid, Reykjavik 105 Iceland
6. Go to the Kerid Crater

Golden Circle // Kulen Ruiz Luzuriaga // CC BY-NC-ND 2.0
This stunningly magnificent lake, located in the middle of a volcanic crater, is one of the most beautiful sights in Iceland. It is located around Iceland's well-known Golden Circle, and around two hours' drive from Reykjavik.
The sapphire-colored waters, combined with the prominent bright colors of the surrounding mountains, make this a true hidden gem.
During winter, the lake freezes over, and for the most adventurous of tourists, this becomes a huge, all-natural ice rink.
Tickets are very cheap by Icelandic standards and an informational brochure is provided.
The crater is open 24 hours a day, 7 days a week, but access is sometimes restricted during certain hours.
Address: Route 35, Selfoss Iceland.
7. Look at the Selfoss Geyser

Selfoss Geyser // Jared Yeh // CC BY-NC-ND 2.0
The Strokkur geyser is one of Iceland's most famous geysers, erupting every couple of minutes. By doing so, it throws up an amazing fountain. All of this is surrounded by boiling pools of mud and water.
Additionally, there are informational displays that are put up across the site that describe the formation of the geyser.
The eruption blasts water up to around 10 metres. Whilst this doesn't seem that high, it is still a very spectacular moment to witness. Bare in mind, that this is 100% natural.
This geyser is located right next to the Kerid crater – so why not kill two birds with one stone and visit both at the same time?
Address: Gesyir Center, Selfoss 8001 Iceland
8. Experience the Godafoss Waterfall

Godafoss Waterfall / Leon Dolman // CC BY-NC-ND 2.0
Rather inconveniently located in northern Iceland, Godafoss waterfall is a 12-metre-tall waterfall with numerous paths leading up to some viewpoints.
Its location is mediated by the fact that it is accessible via the ring road – making it a three hour journey from the country's capital.
The waterfall is not one to miss – it's truly breathtaking and is regarded as one of Iceland's most famous waterfalls.
Address: Akureyri, Iceland.
9. Visit the Hallgrimskirikya

This massive church, located in Reykjavik, is one of the city's most prominent constructions. With a height of 74 metres, this Lutheran church is one of the country's tallest structures.
The church is an excellent example of Gothic architecture, as it was built back in the 17th century.
Upon entry, you will be greeted by a cosy Scandinavian interior. You can even walk up the seventy-metre tower onto a viewing platform that gives you a 360-degree view over Reykjavik and the surrounding area.
The entry tickets are very affordable, making it one of the most visited tourist attractions in Iceland.
Opening hours: Monday to Friday, 11 AM to 4 PM.
Address: Hallgrimstorgi 1, Reykjavik 101 Iceland
10. Go to the National Museum of Iceland
This museum houses exhibits that describe the making of the nation, whilst also celebrating Iceland's most famous people.
There are various exhibitions on offer, such as "Discovering Iceland's Monasteries", "Saga of Hofstadir, Unearthing the Past of Northern Iceland" and much more.
Entry to the museum is very affordable and this museum is conveniently located in Reykjavik.
Opening hours: Tuesday to Sunday (10 AM to 5 PM). Closed on Tuesdays.
Address: Suðurgata, 101 Reykjavík, Iceland
11. Walk along Black Sand Beach

Black Sand Beach // Claudia Regina // CC BY-SA 2.0
You've probably seen this world-famous beach before, so you're most likely dying to see it in person. Well, even if you've never heard of this beach, it's well worth a visit.
The beach is located on the South Coast of Iceland, in a town called Vik i Myrdal.
The huge basalt stacks, combined with the enormous waves of the Atlantic ocean make this beach a true gem. National Geographic also voted this beach as the top 10 non-tropical beach to see. It was also the place where a scene of The Game of Thrones was built.
Why not spend the afternoon walking around the shores of Reynisdrangar, or just sit and watch the sunset?
12. Look at the Dettifoss Waterfall

Dettifoss Waterfall // Shadowgate // CC BY 2.0
Located in Vatnajokull National Park, Northeastern Iceland, this 44-metre, natural wonder is one of the most amazing sights in the whole of Iceland. It is the second most powerful waterfall in the whole of Europe.
Other facilities such as a car park, toilets and more are available around the site.
There are also a number of tours on offer that guide you around Dettifoss and other waterfalls in Iceland. Find an example of a tour here.
Address: Dettifoss, Iceland.
13. Explore Eyjafjallajokull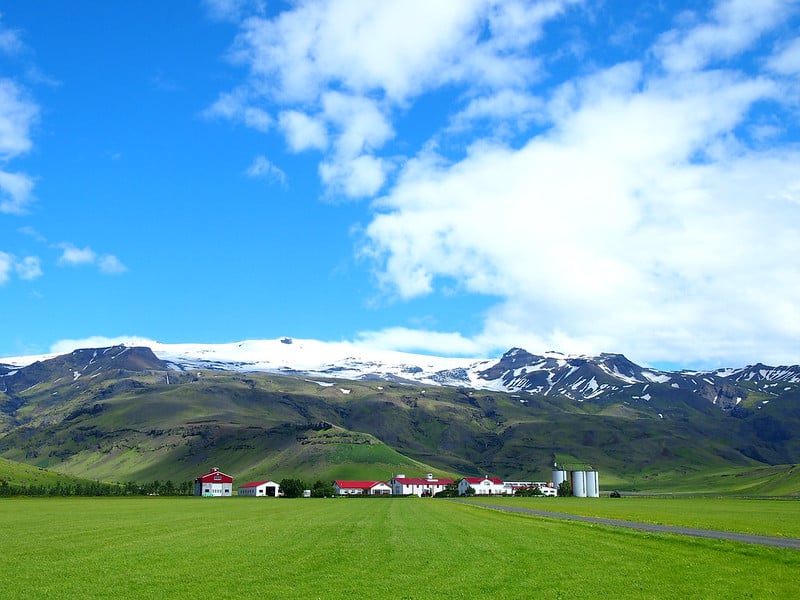 Eyjafjallajokull // momo // CC BY 2.0
Eyjafjallajokull is an active volcano, currently covered by a large ice cap. The last eruption was in 2010, which caused a large swathe of dust to cover most of the European continent.
You can visit the glacier and the surrounding volcanic terrain on your own, mostly on foot. But, many tours take you around the areas of the volcano. There is a tour centre in the town of Hvolsvollur, and the family who runs it tells the story of when their property was destroyed by lava, floods and ash.
The volcano is unlikely to erupt in the next 100 or so years, but its next-door neighbour, the Katla volcano, is past its eruption due-date.
Explore some of the tours on offer here.
14. Experience the Vatnajokull Glacier

Vatnajokull // Andres Martin Rodruguez // CC BY-SA 2.0
The shear size of this glacier is the number one thing that amazes most people. It is the largest glacier in Europe, and covers a stark 8% of Iceland's total landmass.
Due to its size, most people visit this glacier on guided tours. Please, do not attempt to hike on the glacier on your own. It is very dangerous!
The activities on offer are quite substantial. You can do anything from hiking on the glacier (with a tour guide, of course), sailing through the Jokulsarlon glacier lagoon, or even go on ice caving tours between the months of November and March, when the weather is cooler and when the chances of finding multiple, safe ice caves are far greater.
Check out this multiple-day tour here.
15. Visit the Aurora Museum, Reykjavik
This exciting museum, located in Reykjavik, is a museum focusing on the subject of The Northern Lights, also known as the Aurora Borealis. The museum is home to various exhibits, such as the famous northern lights simulator, where you get to experience the effects of the northern lights first hand.
There are also a ton of informative lectures and talks given upon your visit. Additionally, what sets this museum apart is the true passion shown by the owners of the museum. They genuinely want you to learn, and they also run guided tours of the museum.
You can find more information here.
16. Bathe in the Myvatn Nature Baths
Experience the true definition of relaxation at some of the most amazing heated lagoons in Iceland.
Relax in the alkaline, bathing lagoon and enjoy the breathtaking scenery on offer.
The advantage over the blue lagoon is the absence of large crowds, as this is located in the north-east of Iceland, where tourists tend to not go due to the fact that the area is remote.
You can even get to see the northern lights and/or the sunset and sunrise, all from the terribly relaxing baths.
There is even a steam bath on-site, and even a cafe!
Opening times: Monday-Friday, 4 PM to 9 PM. Saturday-Sunday, 12 PM to 9 PM.
Address: Jarðbaðshólar, 660 Mývatn, Iceland
17. Visit the Ljosafoss Power Station
This geothermal power station was Iceland's first. It was built in 1937 and has since generated millions of gigawatt-hours of electricity for the whole country.
The power station has since opened a learning centre, where you can learn anything that has to go with generating electricity using geothermal heat.
There are also tours on offer which you can view online.
Opening hours: 10 AM to 5 PM.
Address: Ljosafoss, Selfoss, 801 Iceland
18. Look around the Jokulsarlon Glacier Lagoon

Glacier Lagoon // Rachel Knichmeyer // CC BY-NC-ND 2.0
Surround yourself with immense beauty when you visit the Jokulsarlon Glacier Lagoon. This amazing nature spot offers some of the most calming, yet pristine views of Icelandic glaciers.
Some of the things that sets this lagoon over others is the opportunity to take loads of boat tours, from zodiac tours to amphibian watching tours to ice cave tours – there's something for everyone to see and experience.
Check out these tours here.
19. Visit the Thingvellir National Park

Thingvellir NP // Daniel Gillaspia // CC BY-NC-ND 2.0
Established in 1930, Thingvellir National Park boasts incredible scenery for you to explore. Take day hikes, or multi-day hikes, or just ride around the park in your vehicle. You can do anything you want really.
The scenery is the thing you have to explore for sure. It's one of the best in Iceland.
Someone else for you to see is the Thingvellir church, and the historic site of Althing – the site of the old Icelandic parliament (from the 10th century to the 18th century).
Address: Thingvellir, 801 Selfoss, Iceland
20. Go to the Husavik Whale Museum
Situated in Husavik, a small, north-eastern Icelandic town, Husavik Whale Museum has lots of things for you to see that are all about whales. Believe it or not, but whales are actually endangered animals, due to whale hunting.
This museum will certainly be food for thought for you and is not a disappointment.
Opening times: daily 11 AM to 3 PM.
Address: Hafnarstett 1, Husavik 640 Iceland
Best Hotels in Iceland
Hotel Borg
Hotel Borg was the first luxury resort to be built in Iceland. Set right in the centre of Reykjavik and with rooms overlooking parliament square, this hidden gem's well-known art deco will leave you with a smile. There are also other excellent facilities on offer, such as the spa and the restaurant.
Address: Pósthússtræti 11, 101 Reykjavík, Iceland
Phone number: +354 551 1440
Reykjavik Residence Hotel
Reykjavik Residence Hotel, as expected, is located in Reykjavik. Its central location is a certain plus, and when combined with its luxurious, yet homey interiors, makes this hotel an excellent choice. The price is a bit high, but by Icelandic standards it is not that expensive.
Address: Hverfisgata 60, 101 Reykjavík, Iceland
Phone number: +354 561 1200
ION Adventure Hotel
ION Adventure Hotel, surrounded by the breathtaking volcanic landscapes of the Thingvellir National Park, is a great choice for those who are looking for a nature-oriented stay. The design keeps nature in mind, and combined with the luxurious facilities on offer, such as an outdoor hot tub and spa, makes this hotel quite cosy. The price, although eye-wateringly high, is well worth it.
Address: ION Adventure Hotel, Iceland
Phone number: +354 578 3720
Kex Hostel
For those looking for a cheap hotel, Kex Hostel is the one for you. It is a modern, yet slick hotel-hostel with excellent rooms and amenities that include a cafe-bar, a gym and a lounge with live, local bands on the weekends. All-in-all, a great option for those on a tighter budget.
Address: Skúlagata 28, 101 Reykjavík, Iceland
Phone number: +354 561 6060
Hotel Kriunes
Hotel Kriunes, which is a family-run hotel and is a 30 minutes' drive away from Reykjavik, is sat right next to a lake. The relaxed, country atmosphere and a mix of traditional and modern rules, combined with the stellar views of the countryside and an excellent opportunity to see the aurora lights makes this a great choice for everyone.
Address: Kríunesvegur 12, Kópavogur, Hotel Kriunes, 203 Kopavogur, Iceland
Phone number: +354 567 2245
Best Restaurants in Iceland
Fjorubordid
Fjoruborodid, located in the town of Stokkseyri, serves amazing seafood and mouth-watering soups. The food is described, by the locals, as the best in Iceland. The prices are more on the expensive side, but the food will absolutely not disappoint you.
Address: Eyrarbraut 3a, Stokkseyri, Iceland
Opening times: Monday to Tuesday, closed. Wednesday – Friday, 4 PM to 9 PM. Saturday to Sunday, 12 PM to 9 PM.
Phone number: +354 483 1550
Íslenski Barinn
Íslenski Barinn, in Reykjavik, is a typical Icelandic bar serving classic Icelandic cuisine. If you're looking for something cosy, relaxing and homey, then Islenski Barinn is definitely for you. Enjoy some reindeer meatballs or an Icelandic meat soup within the comfort and warmth of the bar.
Address: 1a Ingólfsstræti, 101 Reykjavík, Iceland
Opening times: Monday to Thursday, 11:30 AM to 1 AM Friday to Saturday, 11:30 AM to 3 AM. Sunday, 11:30 AM to 1 AM.
Phone number:
Otto Matur & Drykkur
Otto Matur & Drykkur, nestled in Hofn, a tiny fishing village in the east of Iceland, is an amazing seafood restaurant. Whilst it is a six-hour drive away from Reykjavik, you absolutely have to eat at this restaurant if you're passing by the area. The smoked cod is to die for.
Address: Hafnarbraut, Höfn í Hornafirði, Iceland
Opening times: Monday to Sunday, 11:30 AM to 10 PM.
Phone number: +354 478 1818
Rub 23
If you're looking for something Japanese, then why not pop by Rub 23 in Akureyri? This modern, chic restaurant mimics some that you might find in London. Rub 23 serves freshly made sushi and other Japanese dishes. This is, perhaps, one of the best places to eat sushi in the whole of Iceland.
Address: Kaupvangsstræti 6, 600 Akureyri, Iceland
Opening times: Monday to Thursday, 5 PM to 9 PM. Friday to Saturday, 5 PM to 10 PM. Sunday, 5 PM to 9 PM.
Phone number: +354 462 2223
Tryggvaskali
Tryggvaskali, located in Selfoss, serves authentic Icelandic dishes at a reasonable cost. How about you pop by this restaurant after exploring all of the local sites that are in the Selfoss area?
Address: Tryggvatorg, 800 Selfoss, Iceland
Opening times: Monday to Thursday, 11:30 AM to 9 PM. Friday to Saturday, 11:30 AM to 10 PM. Sunday, 11:30AM to 9 PM.
Phone number: +354 482 1390
Best Hikes in Iceland
The Laugavegur & Fimmvorduhals combined trek is one of the best in Iceland if you're looking for magnificent views. Pass through lava fields, bubbling pools, steaming hot ground and huge mountains that surround you. Although challenging at times, and taking 6 days to complete, this trek is definitely worth it if you're looking for an amazing experience. There is, also, a chance of bad weather en-route.
A variation of the above, the Laugavegur trek takes you along most of the sites that the Laugavegur & Fimmvorduhals combined trek takes you but it is way easier to do. The paths are well-signed, well-travelled and are generally in excellent condition. Although snowy at times, the fairytale-like landscape certainly makes this well worth it.
The Kjolur Route takes you right between two glaciers in the heart of the highlands. Although hard at times, this route will bless you with amazing views of glaciers and mountains. The route, however, is less travelled and therefore is in a worse condition than other hiking trails.
The Glymur Waterfall hike is an easy, one-day hike that takes you to and around the highest waterfall in Iceland. With the path taking you around several majestic caves and eventually taking you to several viewpoints that surround the waterfall. The duration is approximately 5 hours and it covers 6 kilometres. Be aware, though, that there are several steep climbs along the route.
Looking for something challenging that can be completed in one day? Then the Hvannadalshnukur is for you. Hvannadalshnukur is Iceland's highest peak, and is certainly the most majestic summit in Iceland. You'll climb across glacial terrain, surrounded by beautiful scenery. With a distance of 24 kilometres to be covered, and a duration of 14 hours, this is certainly not the easiest trail. However, the feeling you'll get when you reach the highest summit of Iceland is well worth it.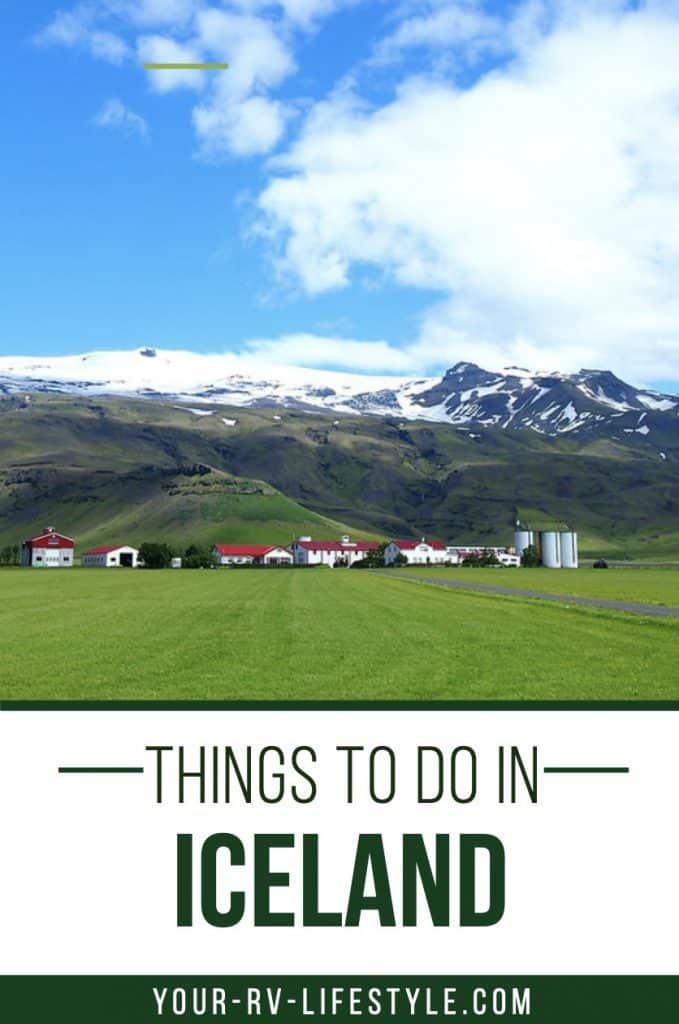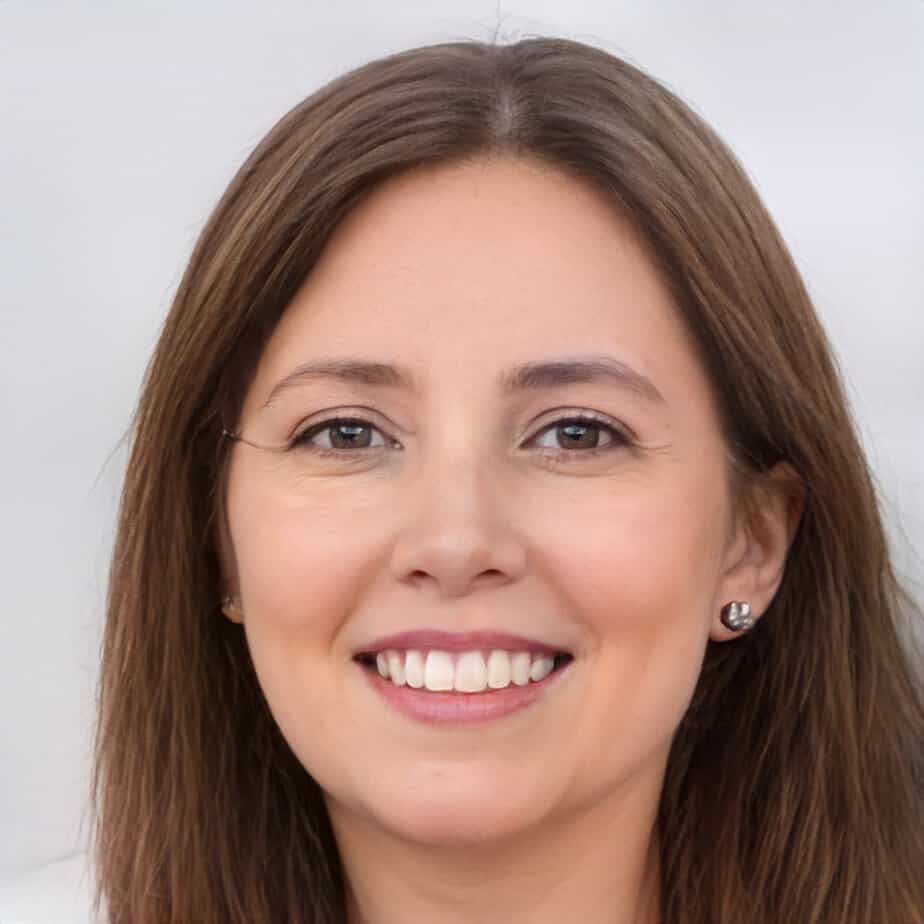 Jill Miller is the founder of Your RV Lifestyle. Trading corporate America for the open road, Jill, along with her partner Jose, began their RV journey, making an unconventional start by wintering in New Jersey. A natural adventurer, she was motivated by a desire to explore the USA and beyond, embracing the varied landscapes, communities, and cultures across the country.
For Jill, the allure of RV living was not about material accumulation, but rather the pursuit of an adventurous, fulfilling lifestyle. A lover of golf, bicycling, hiking, and line dancing, she has carried her passions across the country, engaging with them in diverse settings. Jill's commitment to the RV lifestyle came after years of careful research, numerous consultations with RV owners, and personal trials, including living in a rental RV.