Nestled in central Europe, the historic city of Prague, the capital of the Czech Republic and Europe's 13th largest city, is a popular city-break destination for a lot of tourists. Nestled on the Vltava river, the city packs numerous architectural styles from the Baroque, Gothic and Renaissance eras. The surrounding metropolitan area is home to 2.7 million people – certainly not a small town.
The city of Prague houses some of Europe's most famous tourist attractions, such as Prague Castle, Old Town Square and Charles Bridge. Most of these attractions were built a long time ago and most of them are listed in the UNESCO list of World Heritage Sites.
With Prague having been the capital of various previous states, such as the Habsburg Monarchy, the Austro-Hungarian Empire and, more recently, Czechoslovakia, there are lots of historic architectural sites to explore, such as old parliament buildings, churches, houses and more.
The climate is classed as temperate oceanic, the summers are warm but the winters are bitterly cold. So, if you're planning for a mid-winter getaway, then do pack warm. Otherwise, enjoy the warm, sunny weather during summer time.
Prague is also the Czech Republic's educational centre. The city is home to tens of major museums and the oldest university of Central Europe – Charles University.
In this blog post, we will explore what activities Prague has on offer and what you can do to make the most out of your stay. Here are 15 best things to do in Prague
1. Go to St. Vitus Cathedral
St Vitus Cathedral is one of Prague's main cathedrals. It was completed in 1929 (construction started in 1344 – it took 600 years for construction to complete) and is an excellent example of gothic architecture. The cathedral was commissioned by Charles IV. It is one of the most famous structures of Prague, and should definitely be the first site you visit upon your arrival to Prague.
With a height of just under 100 metres, the cathedral is centrally located, more precisely in the Vitus metropolitan area.
There are a number of guided tours available which can be pre-booked online or at the entrance.
Opening hours: Monday to Saturday, 9 AM to 5 PM. Sunday, 12 PM to 5 PM.
Address: III. nádvoří 48/2, 119 01 Praha 1-Hradčany, Czechia
2. Walk around Staromestske Namesti

Old Town Square // Kirk K // CC BY-NC-ND 2.0
Staromestske Namesti, otherwise known as the Old Town Square, is the historic hotspot of Prague. The construction of the beautiful, modern, yet at the same time old-looking square started in the 14th century.
The centre of the square is the Prague Orloj, the third oldest astronomical clock in the world. It was first installed in 1410, and is still in operation. Fun fact, it is the oldest astronomical clock that is still in operation.
Also located on Old Town Square is St. Nicholas Church and the Church of Our Lady before Tyn. Both of these must be visited.
There are also various other statues of notable people that are located on the square, such as the religious reformer Jan Hus.
During Christmas and Easter, markets are held on the square. A musical stage is erected, too.
The square can be accessed 24/7.
Address: 110 00 Staré Město, Czechia
3. Visit Prague Castle

Prague Castle // Brian Scott // CC BY-NC-ND 2.0
Prague Castle is the Czech Republic's most well-known and most visited attraction. It is one of the most important sites of the Czech Republic. Construction started in the year of 880 and since then it became the largest castle complex – with an area of 70,000 square metres.
It is also classed as a UNESCO World Heritage site, consisting of large buildings constructed with gothic architecture in mind.
There are multiple promotions on offer – such as several discounted entrance fees and with a circuit ticket, you can enter the Charles Bridge Museum for free.
In addition, countless guided tours are on offer. Although at an additional cost, the information that the professional tour guides give you will fulfill your thirst for knowledge.
Opening hours: Monday to Sunday, 6 AM to 11 PM (whole complex). Where tickets are required for entry, Monday to Sunday, 9 AM to 4 PM.
Address: Hradčany, 119 08 Prague 1, Czechia
4. Explore Prague Zoo
With the opening of the zoo celebrating it's 130th year anniversary, Prague Zoo is one of the most interesting attractions in the city of Prague. There are a large variety of animals housed in the zoo; from gorillas to elephants to lions, there's something to see for everyone.
Recently, the zoo celebrated the magical birth of a baby orangutan, and with the zoo containing over 150 exhibits, there'll probably be many more births.
Must sees include the Hippo House, the Indonesian Jungle and the African House. Each contains lots of different species from all over the world.
And with guided tours on offer, there's no better way to explore the thousands of animals that live in the zoo.
Opening hours: Monday to Sunday, 9 AM to 4 PM.
Address: U Trojského zámku 120/3, 171 00 Praha 7, Czechia
5. Stroll around the Lesser Town

Lesser Town Bridge // Andrew Milligan sumo // CC BY 2.0
Splunged across the river from the Old Town Square, the Lesser Town is known for its rich history. With excellent architecture to see and with the Lesser Town being directly connected to the Old Town Square and Prague Castle by the historic Charles Bridge, there is no excuse for not visiting the Lesser Town
Soak up the sun whilst you're dazzled by Prague's pristine buildings, surround yourself with market stalls that serve delicious food and interesting souvenirs, or just go out for a walk. There's so much to do and see in the Lesser Town – so don't underestimate it!
The Lesser Town can be accessed at any time of day.
Address: Malá Strana, Prague 1, Czechia
6. Visit Vysehrad National Cultural Monument
With several attractions making up this historic cultural monument, Vysehrad National Cultural Monument is considered to be the birthplace of Prague. Unfortunately, the high castle was destroyed in the early 15th century, however, multiple other buildings still stand, such as the cemetery, multiple churches and several fortifications.
There are a number of tours available which guide you around the various buildings that are located in or around the cultural monument.
This is a great attraction that you should most definitely visit if you love to see various examples of historic architectural styles, or are just a history lover.
Opening times: Monday to Sunday, 9 AM to 5 PM.
Address: V Pevnosti 159/5b, 128 00 Praha 2-Vyšehrad, Czechia
7. Go to Lobkowicz Palace

Lobkowicz Palace // tulon.cz // CC BY 2.0
This palace, located in the Prague Castle complex, is the largest private art collection in the Czech Republic. There are some of the world's most famous buildings here, such as paintings by Velazquez, Brueghel and Canaletto. Some other highlights of the exhibits are handwritten manuscripts by Haydn, Mozart and Beethoven.
The collection summarises 700 years of European art history.
Why not book a tour and explore the numerous interesting collections at Lobkowicz Palace? This tour even gives you access to a concert of your choice performed right at the Palace.
Opening times: Monday to Sunday, 9 AM to 5 PM.
Address: Jiřská 3, 119 00 Praha 1-Hradčany, Czechia
8. Explore the Gallery of Steel Figures
Want to see some gorgeous looking sculptures? Then head over to the Gallery of Steel Figures. However, this is no usual gallery. All sculptures held at the gallery are made from recycled scrap metal.
With all figures being hand-made, the level of detail, as a result, is outstanding.
Look at sculptures of lions, cars, and other items. There are over 600 sculptures at the Prague branch so there's plenty to explore.
For more information please visit their website.
Opening hours: Sunday to Thursday, 10 AM to 10 PM. Friday to Saturday, 9 AM to 10 PM.
Address: 28. října 377/13, Praga 1.
9. Walk around Charles Bridge

Charles Bridge // Karel Macalik // CC BY 2.0
With construction starting in 1357, Charles Bridge is the oldest structure that stands on the Vltava river. It connects the historic areas of Old Town Square and the Lesser Town, meaning that you can visit all three attractions in a couple of hours.
This is, arguably, one of the most beautiful bridges you probably have ever seen. Everything from the arches, to the material that the bridge is made out of means that the bridge is very visually appealing, and makes for a great photo!
Why not also visit the Charles Bridge museum, where you can learn everything about the bridge; how it was made, the materials it's made up of, and you'll even see several displays that mimic the construction process.
Understandably, over the years the bridge underwent several restoration projects that made it look a bit different to the original design, however, the general gist still remains.
Museum opening hours: Monday to Sunday, 10 AM to 7 PM.
Museum address: Křižovnická 191/3, 110 00 Josefov, Czechia.
10. Go to Obecni Dum

Obecni Dum // A.Davey // CC BY-NC-ND 2.0
Obecni Dum, otherwise known as The Municipal House, is a majestic building located in central Prague. It houses several interesting amenities, including several exhibitions of historic art, modern/pre-modern photography and much more.
You can also relax in the restaurant or shop at some fantastic souvenir shops.
You can even take a guided tour around the exhibitions and learn more about the history of Obecni Dum.
Opening times: Monday to Sunday, 10 AM to 7 PM.
Address: nám. Republiky 5, 111 21 Staré Město, Czechia
11. Have a stroll through Letna Park

Letna Park // Leon Barnard // CC BY-NC-ND 2.0
This park is excellent if you'd like to go on an afternoon walk and get away from the hustle-and-bustle of Prague at the same time. Located on the steep banks of the Vltava River, you'll be blessed with excellent views of the river, and views of the city from the other side of the bank.
The park is popular with tourists and locals alike; with hiking, picnics and other outdoor activities being carried out by people from all over the world.
Letna Park is just an amazing place to go to spend some time with the whole family.
Opening times: Monday to Sunday, 12 AM to 11:59 PM (basically, it's open 24/7)
Address: Praha 7, Prague 170 00 Czech Republic
12. Go to the Museum of Senses

Museum of Senses // Victoria Pickering // CC BY-NC-ND 2.0
This amazing museum is certainly one-of-a-kind. Located in central Prague, this museum will definitely test your ability to pick out optical illusions and much more.
This fun, yet educational museum is a great place to go for everyone. It's great for both children and adults, with attractions such as a mirror room, a spinning tunnel and several mind puzzles for you to solve.
The entrance fee is very cheap and gives you unlimited access throughout the museum.
Opening times: Monday to Friday, 10:30 AM to 7 PM. Saturday to Sunday, 9 AM to 8 PM.
Address: Jindrisska 939/20, Prague 11000 Czech Republic
13. Walk around Wallenstein Palace Gardens

Wallenstein Palace Gardens // johnandmary.F // CC BY-NC-ND 2.0
Nestled just out of central Prague, Wallenstein Palace Gardens is a true hidden gem. Filled with classic bronze statues, sprouting fountains and elegant gardens, Wallenstein Palace Gardens is great if you're looking for somewhere to walk around.
It is usually not that busy and you can get great photos of the nearby Waldstein Palace.
The buildings that surround the gardens are actually part of the Czech Senate, and you can even find lots of birds, such as peacocks and swans, around or even inside the gardens. They usually swim on the lake itself.
The palace gardens are conveniently located next to Charles Bridge, and are therefore right next to Old Town Square and the Lesser Town.
All-in-all, Wallenstein Palace Gardens is a great way to spend an afternoon whilst you're walking from Old Town Square to the Lesser Town.
Opening times: 7:30 AM to 5:30 PM.
Address: Letenská 123/4, 118 00 Malá Strana, Czechia
14. Go up Petrin Hill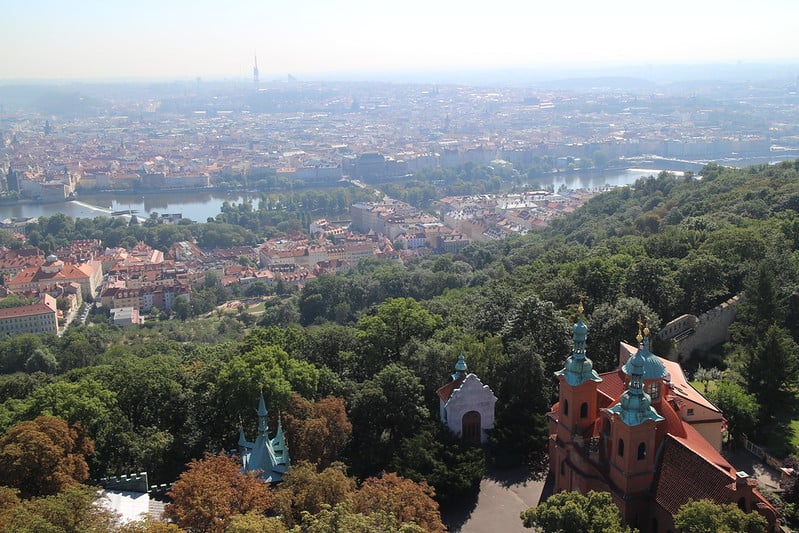 Petrin Hill // jockrutherford // CC BY-SA 2.0
Petrin hill overlooks the central part of the city of Prague, and therefore is an amazing place to shoot some wonderful photos of the Prague city skyline.
On top of the hill is also a historic lookout tower, called The Petrin Lookout Tower. It actually looks like the Eiffel Tower, and you can climb up it to get an even better birds-eye view of the city.
If you're not up for the walk, then you can always take the Funicular Railway that's conveniently connected with the city's metro system.
You can also visit the nearby Stefanik Observatory, which houses several astronomical-related exhibitions, or alternatively you can go to the Strahov Monastery, which houses a historic library and an ancient brewery.
Opening times of the lookout tower: Monday to Sunday, 10 AM to 10 PM.
Address: Petřínské sady 633, 118 00 Praha 1-Malá Strana, Czechia
15. Visit the Speculum Alchemiae Museum
As the Czech Republic was home to various world-famous chemists who made a lot of scientific discoveries, this museum houses several chemistry-related exhibits that are closely related to medieval and early modern times.
You can experience the world-famous Eternal Youth Elixir (of which the effects are still debated), and bring magic into your life.
Opening times: Monday to Sunday, 10 AM to 6 PM.
Address: Haštalská 1, 110 00 Staré Město, Czechia
Best Hotels in Prague
The Fusion Hotel
The Fusion Hotel, located close to Wenceslas Square, is a mix between a backpacker and a design hotel. Some of the amenities include a revolving bar, a games room and individually decorated rooms. The fact that no two rooms are the same really sets this hotel apart, emotionally. It is also priced very well, with prices being on the cheap side. All-in-all, this is a great hotel for those not looking for a luxury experience. Phone number: +420 226 222 800.
Alchymist Grand Hotel and Spa
Contrary to the above, the Alchymist Grand Hotel and Spa lives up to its name. With bold, chic interiors and with the hotel having a medieval feel to it, due to several stone-walled underground passages, this five-star hotel houses a good restaurant, a basement spa and a house chocolatier. The service is also top-notch. However, the prices may scare you off a little as they are on the expensive side. Phone number: +420 257 286 011.
The Augustine
Similar to the Alchymist Grand Hotel, the Augustine is a better option for those looking for a well-designed, conveniently located hotel. With a fancy courtyard and a terrace restaurant with a cocktail bar, the Augustine shows off some classy interiors and a comprehensive spa. All-in-all, a medium-highly priced hotel with great design. You should definitely consider this option. Phone number: +420 266 112 233.
Hotel Savoy
Hotel Savoy has been a world-famous hotel for years. With guests such as David Bowie, Bruce Willis and Princess Caroline of Monaco having stayed here, the combination of a wonderful spa and a high-end restaurant will certainly make you smile. Although its famousness has faded over the years, this hotel is still a good one. It is also very well priced, so even those on a tight budget can afford to stay here. Phone number: +420 224 302 430.
La Ballerina Hotel
La Ballerina Hotel, located in central Prague, and designed with history in mind, is a great place to stay at. With charmy interiors, good food and a central location, this hotel is all that you need really. The price may also attract some of the budgeteers. Phone number: +420 221 511 100.
Best Restaurants in Prague
Kantyna
If you're looking for something on the cheaper side, yet incredibly tasty, then Kantyna is for you. The freshly butchered and cooked meats, freshly picked fruits and vegetables and much more make this place heaven. Also, the restaurant has a waste-no-part-of-an-animal approach, so you'll probably find some weird dishes here. Be quick, though, as the place fills up fast with customers who are eager to try the amazing food that they have on offer.
Address: Politických vězňů 1511/5, 110 00 Nové Město, Czechia.
Opening Hours: Monday to Sunday, 10 AM to 9 PM.
Eska
This mouth-wateringly good bakery is what makes or breaks your day. The smell of freshly baked bread and other pastries fills the bakery all the time. There is also a small, cosy sitting area if you'd like to grab a quick bite to eat. Also, Eska has freshly made, handmade sandwiches available for purchase. Why not grab a cup of coffee too? It's an ideal place for breakfast, or a snack.
Address: Pernerova 49, 186 00 Karlín, Czechia
Opening Hours: Monday to Friday, 8 AM to 8 PM. Saturday and Sunday, 9 AM to 8 PM.
Phone number: +420 731 140 884
Terasa U Zlate Studne
Nestled just below Prague Castle, Terasa U Zlate Studne, a part of the Golden Well Hotel, is the place to go if you're up for a mind-blowingly good experience that will tickle all your senses. This place is small and cute, meaning it's perfect for a night out with a loved one. Crack open a bottle of wine or two and enjoy the sun set over the city. This place is, however, quite expensive when compared to other restaurants in the area.
Address: U Zlaté studně 166/4, 118 00 Malá Strana, Czechia
Phone number: +420 257 533 322
Engawa Barbecue & Sushi
Whilst a combination of barbecue and sushi rarely go together, the reasoning is simple. Enjoy your favourite sushi rolls with friends or family who are not so fond of it. The sushi is so fresh and so good, yet the grilled meats are fresh and tender. The prices, however, a quite high, but the experience is worth it.
Address: Petrské nám. 1664/5, 110 00 Petrská čtvrť, Czechia
Opening times: 11:30 AM to 10 PM
Phone number: +420 775 383 999
Fresh & Fat Bistro
If you are very indecisive, then this place is not really for you. Fresh & Fat Bistro's menu is as large as the eye can see. Anything from risottos to poke bowls to goat's cheese salads – they've got you covered. Once you enter, a bold and chic decor welcomes you. It gives you minimalist vibes – unlike the menu. Come here with your loved ones during lunch or dinner and enjoy some of the delicious food on offer. Be aware though, that Fresh & Fat Bistro is usually busy during lunch hours.
Address: 21, Štefánikova 216, Smíchov, 150 00 Praha, Czechia
Opening times: 10 AM to 8 PM
Phone number: +420 777 744 009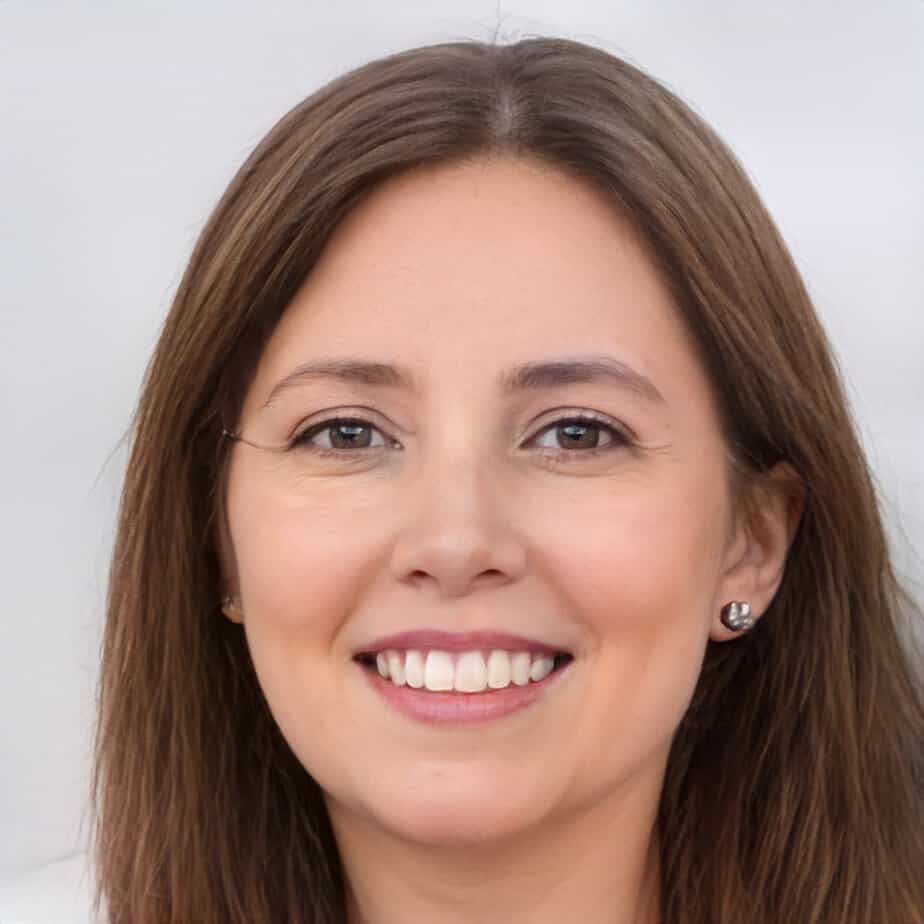 Jill Miller is the founder of Your RV Lifestyle. Trading corporate America for the open road, Jill, along with her partner Jose, began their RV journey, making an unconventional start by wintering in New Jersey. A natural adventurer, she was motivated by a desire to explore the USA and beyond, embracing the varied landscapes, communities, and cultures across the country.
For Jill, the allure of RV living was not about material accumulation, but rather the pursuit of an adventurous, fulfilling lifestyle. A lover of golf, bicycling, hiking, and line dancing, she has carried her passions across the country, engaging with them in diverse settings. Jill's commitment to the RV lifestyle came after years of careful research, numerous consultations with RV owners, and personal trials, including living in a rental RV.