Trucks can be used for a variety of reasons. Whether it be as an everyday driver or used for work purposes, their reliability, ruggedness, power, and available utility space makes them very useful. Nearly all trucks come standard with four-wheel drive (4WD), but this is not the same as all-wheel drive (AWD). What are some of the Best AWD Trucks? Before getting to that, let's briefly explain AWD and 4WD. Part-time 4WD is a setting you manually put your truck into. It will provide power to all four tires, but is exclusively used for driving at low speeds on extreme terrains and engages all the tires to rotate at the same speed. Normally tires on the left and ride side of a vehicle would have to rotate at different speeds while turning. This is because the tires on the outside of the turn will have to cover more ground, similar to how track athletes will start at different points to make up for the difference of being in the outer lane. 4WD is designed to produce maximum traction, giving it an advantage over other drivetrains when used while off-roading.

1968 Ford Pickups by Alden Jewell / CC BY 2.0
Pickup trucks have been used for decades and have only become more popular. Models dating back to the 1940s had less than 100 horsepower and could only tow around 500 pounds. In 2021, trucks now have three times that amount of horsepower and can tow significantly more weight. AWD was first implemented in the 1947 WIllys Pickup and was followed by Ford in 1959 when they released their first 4WD pickup.
AWD is similar, but different. This is a drivetrain that powers all the tires but is used for all types of driving not just for off-roading or rough terrain. AWD systems are smart enough to power each tire specifically as needed. If it senses the front tires are slipping in snow it can accommodate by providing more power to the rear tires. AWD has many benefits including additional traction and overall control. More and more vehicles are turning to the AWD drivetrain, including plenty of trucks. With seemingly only benefits coming from AWD why wouldn't all vehicles use it? The main reason would be the additional cost. Because of the inclusion of additional technology and mechanics, a vehicle with AWD will typically cost more than front-wheel drive (FWD) or rear-wheel drive (RWD). In addition, an AWD drivetrain generally uses more gas than the other options. Because of this not all cars will employ AWD if they don't deem it necessary in order to help keep the costs low.
Since AWD systems allow drivers to traverse tough and rough terrains it's no surprise to see trucks utilizing it. Full and mid-size trucks now come available with AWD, but which is right for you and what are the best AWD trucks currently in the market?
2020 Honda Ridgeline
Honda may not be overwhelmingly known for their pickup trucks, but the Ridgeline is definitely nothing to glance over if considering purchasing a truck. It may not be the best looking of the trucks but as far as mid-size pickups go it is ergonomic and efficient for moderate to light towing, and daily driving. One of its main features is the roominess of the cabin. With enough room to fit you and your family you won't have your knees scrunched to your chest if sitting in the back seat. The bed of the truck is large enough for your daily chores or moving your work materials but isn't as large as some of the other AWD trucks, so if you need that extra space for lumber or tools you may want to look further.
The Ridgeline looks to separate itself from the rest of the AWD trucks by focusing on its fuel efficiency and comfortability, compared to outright power. It uses a common engine for pickup trucks harnessing a 3.5-liter V6 engine to produce 280 horsepower and 262 lb-ft of torque allowing it to tow 3,500 pounds with its front-wheel drive model. But we are looking at trucks with AWD because of the many benefits it has to offer, including additional tow weight. Upgrading to the AWD model will allow you to not only drive with more confidence in less than favorable road conditions, it also enables you to tow a total of 5,000 pounds. That is an additional 1,500 pounds just by powering all 4 wheels, so you can really begin to understand how much of a difference AWD can make.
It's not only the comfortability of the car that makes it a great everyday driver but also the smoothness of the ride, along with its efficient gas mileage. The Ridgeline's independent rear suspension aides with the overall ride quality so you won't have to feel every bump in the road. The throttle is exceedingly responsive especially when looking for a hard acceleration. Coupled with electrically assisted steering, the Ridgeline drives like a dream. A dream that won't hurt your pocket either. The Honda Ridgeline gets an impressive 28 mpg of highway driving which beats out the other V6 engines in its class.
Looking at one of the few negative aspects of the Ridgeline, it did prove to be less than favorable when testing the 70 mph to zero stopping time. But with that being said, the 2020 model did earn a five-star rating from the National Highway Traffic Safety Administration and comes available with a suite of driver assisted technologies so you can feel safe when behind the wheel.

Honda Ridgeline RTL 2019 by RL GNZLZ / CC BY 2.0
The 2020 Honda Ridgeline has a 64-inch by 50-inch bed space to fit small to moderate sized cargo.
2020 Chevrolet Colorado
The Chevy Colorado is a profound name in the space and is well known for its adaptability to handle any driving scenario you may be faced with. Available in several different models and trims, you can pick and choose which features you will need. Depending on the model you can choose the cabin size, cargo-bed size, and engine displacement. We will focus on the mid-level option, the Colorado LT, which comes stock with the AWD drivetrain.
The interior, although not overwhelmingly spacious, comes equipped with several storage spaces, a deep center-console container and a large compartment area for the crew cab's rear seat. In addition, the rear seats are able to be folded down creating even more room in the cabin. The bed is on the larger side compared to the Ridgeline and can fit a fair amount more with its additional capacity.
Looking at the LT model we opted into the larger engine displacement for the Colorado to give it that extra power and AWD. The 3.6-liter V6 produces 308 horsepower and 275 lb-ft of torque. This allows a driver to tow a total of 7,000 lbs. The Colorado also comes available with an engine that uses diesel as well. There is a fair difference in the two when it comes to drivability but you will also notice it while accelerating. The V6 with normal gasoline will run about a 6 second 0-60mph with the diesel model coming in at about 3 seconds longer. However, the diesel will give you a bit more torque and will allow for a towing capacity of 7,700 lbs.
2020 Chevrolet Colorado Available Engines
2.5L 4-cylinder
2.8L 4-cylinder diesel
3.6L V6
Gas mileage is what you would expect from a truck of this size coming in at about 23 mpg for highway driving, which compared to other models in its class is fair. As far as safety features go, Chevy's driver assisted technologies, lane-departure warning and forward-collision warning, come available in the LT trim. An interesting feature it comes standard with is a "Teen Diver System" making it a great choice for a young driver.

Chevrolet Colorado LTZ 2019 by RL GNZLZ / CC BY 2.0
The 2020 Chevrolet Colorado LT comes available in a total of 14 different exterior colors compared to the base trim with only 8. This particular car is in the Silver Ice Metallic.
2021 GMC Sierra 1500
Like the other vehicles listed, the GMC Sierra comes available in different trims giving it a variety of features, dimensions, and engines to pick from. One of the available options is AWD which we will of course opt into. Following the example of the other trucks, we chose a mid-tier level to get all the features we need while not going overboard on the total cost. But considering that it is available, and does make this truck more realistic for its designed purposes we splurged on the V8 engine with regular gas rather than the V6 or diesel models. The Sierra does come at a higher price than some of the other trucks, but for good reasons.

Red Sierra by Truck Hardware / CC BY 2.0
The stunning Cardinal Red color is available for all recent GMC Sierra 1500 models.
Overall, it is a good-looking truck with a generous amount of power. The 6.2-liter V8 generates 420 horsepower and 460 lb-ft of torque. This much power allows it to tow a total of 12,200 pounds which is significantly more than our previous mentioned trucks. However, the larger engine will use more gas. The V8 Sierra uses 20 mpg for highway driving and 16 mpg for city driving so you may find yourself filling up on gas more than you care to.
2021 GMC Sierra 1500 Available Engines
2.7L 4-cylinder
3.0L 6-cylinder diesel
4.3L V6
5.3L V8
6.2L V8
Beyond the studly appearance of the Sierra, it comes stocked with features to make it a safe and enjoyable ride. One of the new features included is the jack-knife alert. This safety precaution is an indicator to alert the driver if nearby traffic is potentially going to interfere with the attached trailer which can be tremendously helpful if towing a large trailer. Inside the cabin comes stock with a touch screen infotainment system and mobile hotspot for Wi-Fi making it a modern day car with helpful features.
Surprisingly the 2021 GMC Sierra 1500 did not earn the Top Safety Pick by the Insurance Institute for Highway Safety but did manage a four-star crash-test rating from the National Highway Traffic Safety Administration. It also comes available with a slew of driver-assistance technologies including blind-spot monitoring and forward collision warning. With all this being said, we feel good about including the Sierra 1500 as one of the best AWD trucks.
2020 Ford F-150
We would be remiss if we didn't include the Ford F-150 in our list of best AWD trucks. Being one of the more popular trucks in the space, it is lauded for its versatility and reliability. Selecting one the higher trims with all of the additional features can get the price up pretty high but being able to pick and choose what is right for you can help to keep the cost down. Like the other AWD trucks, it will have a variety of engines available and the option of AWD, so we will of course go with the AWD. Offered as a V8 or a V6, the Ford F-150's V6 actually manages to keep up with some of its competitors V8 engines. In addition to being able to choose the engine, the cabin and bed sizes can vary depending if you want more room for supplies or your family, making it extremely customizable.
Available in four different engine models using regular gas and one that uses diesel you can pick just how much horsepower and torque you would need while considering how much gas you're willing to use. One of the best options would be the turbocharged 3.5-liter Ecoboost V6. Not only will you get 24 mpg for highway driving, you also get a staggering 375 horsepower and 470 lb-ft which is remarkable for a V6. This engine particularly is an excellent choice if you need to tow heavy loads and allows you to pull a total of 13,200 pounds.
2020 Ford F-150 Available Engines
2.7L V6
3.0L V6 diesel
3.3L V6
3.5L V6
5.0L V8
The interior of the F-150 is nothing to overlook either. It brings the luxury of Mercedes to the ruggedness of a truck for an exceptional driving experience. The infotainment system has sharp graphics and is easy to learn the many useful features. With enough room to not feel cramped, you can drive comfortably and enjoy the nice weather with the optional panoramic sun rough. But wait, there's more. Add in the additional feature of massaging seats to relax your back after heaving your work materials into the bed. Bring a couple cucumber slices and you can have a spa day from the driver seat of your truck.
The F-150 didn't hold back when it came to safety either. Being listed as one of the safest pickups in the market by the Insurance Institute for Highway Safety, the F-150 is equipped with nearly every safety feature offered in passenger cars. This includes pedestrian detection with automatic emergency braking and lane-departure warning.

Akron Police Ford F-150 by Raymond Wambsgans / CC BY 2.0
Ford F-150s are commonly used by not only private businesses but also local municipalities as well. Their reliability and utility makes them a great fit for police officers who may need to drive on more than just paved roads. This truck attached a bed cover to keep its cargo out of the weather.
2021 Nissan Titan
Proving that America is not the only country to build competent pickup trucks, the 2021 Nissan Titan is a beast of a truck, great for work purposes. It may not be as popular as its counterparts but that does not mean it is not powerful, spacious, and safe. The Titan is also offered in the Titan XD model which is just beefier and more powerful version but may not be necessary unless hauling the heaviest of loads or trailers. The base Titan is definitely sufficient for its purposes and for a little extra comes available with AWD.
The Nissa Titan doesn't care for smaller engines and only comes available with a 5.6L V8. It produces a whopping 400 horsepower and 413 lb-ft of torque allowing it to tow a total of 9,660 pounds. Larger engines typically will use more gas, but the Titan is able to earn about 21 mpg of highway driving so you won't have to worry about hitting the gas station too often. Either on pavement or off-roading, the Titan can handle almost any scenario, but does put an emphasis on rough terrain compared to road driving. The steering and handling may not be as refined as other AWD trucks but it is made up for in its ability to handle a difficult landscape. Being focused on work purposes, the Titan comes in as one the best AWD trucks because of its cargo control. The spring-assisted tailgate makes it easy to load and unload while the available in-bed cargo boxes offer ample space to store tools and supplies. The bed itself comes available in 3 different sizes and can vary from 8.2 feet, being the largest, to 5.6 foot being the smallest.
The cabin is elegant and offers premium materials with the Platinum Reserve trim. It may not have massaging seats like F-150 but does come equipped with Nissan's "Zero Gravity" front seats which makes it feel like you are being cradled by a cloud. Every model comes standard with an 8 inch infotainment touch screen that can be upgraded to 9 inch if needed. The Titan employs its modern NissanConnect infotainment software to give an easily navigable user experience. It comes stock with most of the common safety features and can also include a 360 degree camera along with a motion-detector system.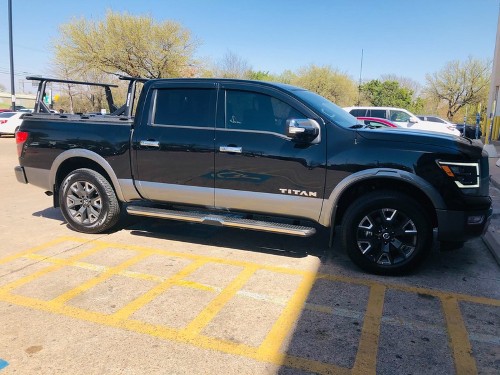 A Rack and Heavy Duty Truck Bed Cover On A Nissan Titan by DiamondBack Covers / CC BY 2.0
This 2021 Nissan Titan is fitted with a bed rack to help carry additional tools such as a ladder.
Conclusion
All-wheel-drive trucks are becoming more and more popular in today's market. Whether you own a truck for daily driving or as part of a construction business we included five AWD trucks to fit the many needs of the user.
Honda Ridgeline
Low to Moderate power
Good gas mileage
Spacious Cabin
Great safety rating and features
Chevrolet Colorado
Moderate power
Plenty of interior cargo space
Decent gas mileage
Customizable
Plenty of safety features
GMC Sierra 1500
Very powerful
Strong towing capability
Decent gas mileage
Modern infotainment center and features
Ford F-150
Customizable
Very powerful
Luxurious interior
High safety rating
Good gas mileage
Nissan Titan
Very powerful
Luxurious interior
Ample cargo space
Decent gas mileage
Depending on what you are looking for, each pickup truck has its benefits and negatives, but because of the many different trims and features offered you can get exactly what you need out of the AWD trucks in today's market.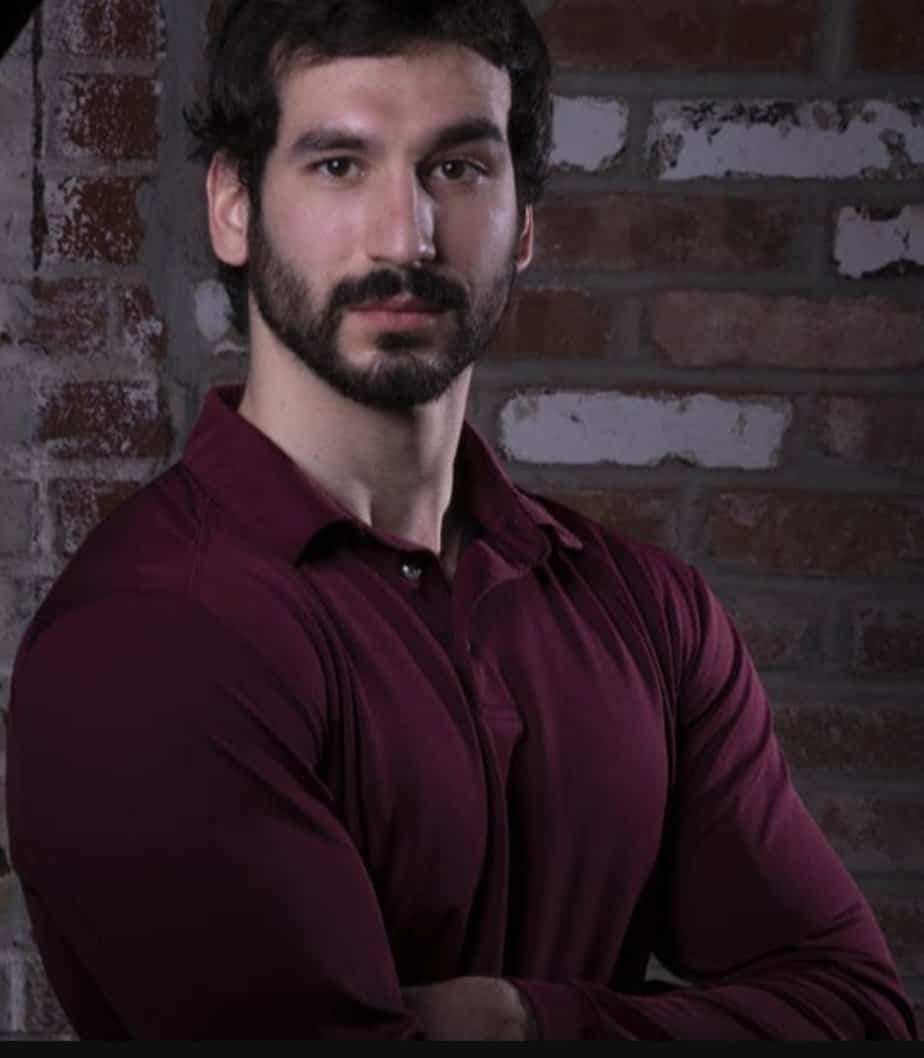 Jason is a car enthusiast who spends his time writing for Your RV Lifestyle and enjoying the great outdoors in his RV. His greatest pride and joys are his Atlas Airstream motorhome, Volkswagen Golf R and GSX-R750 motorcycle. Although he lives in New Jersey, he finds plenty of farm and back roads to cruise. Jason isn't afraid to get his hands dirty and is familiar with working on his car and bike to keep them and peak performance.