Buying a car for beginners and young drivers can be a difficult task (buying an RV isn't easy either.) With factors such as the price, safety, and drivability, you will want to find a car that will not only help a new driver learn, but will keep them safe in case of accidents. One determining factor we can establish now is the type of transmission being used. Manual transmissions have become considerably less popular over the years and are not exactly conducive for beginner or young drivers to learn with. With that being said, the cars mentioned here are all automatic transmissions.
Safety
According to the CDC, young drivers have a significantly higher chance of being involved in an accident so it should go without saying, safety is a top factor. Inexperience is a leading contributor when it comes to the risks of a young or beginner driver so it is helpful to look for vehicles with driving assistant technologies and protective crash features.

"Nissan Pathfinder Dash" by Stevan Sheets / CC BY 2.0
Airbags are possibly the most important safety feature to any vehicle. A supplemental restraint system (SRS) airbag is an additional safety feature that is common in most vehicles to help improve protection of the driver and passenger.
Drivability
Ok, so safety is a priority but let's consider another factor previously mentioned. Drivability is exceedingly important when considering a car for beginners and young drivers. It refers to the smoothness and steadiness of the acceleration along with overall ease of driving the car. You wouldn't want a beginner learning on a Lamborghini Aventador because it is not exactly an easily driven car. As you could imagine the gas pedal is way more sensitive than your typical sedan so it could be a bit scary for a beginner who is just trying to learn in their neighborhood. Not only is the gas pedal more sensitive, but the car itself is a bit on the larger size considering its width and length. A larger car can be more difficult to handle because of the wider turning radius and ability to fit into tighter spots. Driving in traffic or navigating small parking lots would be something to avoid in anything that could be too long or wide for a first time driver. Another factor to consider is the tightness of the suspension. Suspensions can vary depending on the particular purpose of a car. A sports car typically will have tight suspensions while a normal SUV or sedan will have a looser suspension allowing the driver to have a smoother ride on bumpy roads.

"2015-07-08 09.45.36" by Erocsid / CC BY 2.0
Parallel parking can be a daunting task for beginners and young drivers. It is typically the apex of the driving exam and is practiced more than any other aspect. Larger cars can be more difficult to parallel park because of their size and lack of visibility in tight places.
Price
We know we are looking for a safe and drivable car for beginners and young drivers, but let's not glance over the other important factor here, your wallet. We already talked about the fact young drivers are more likely to be involved in accidents so how much exactly are you willing to spend on a car that may be crashed? With a decent insurance plan, it is not the end of the world to be in an accident or total a car, but it's not always guaranteed you will receive the full amount you paid from your insurance agency, if you even have comprehensive insurance. With that being said you will typically want to look for cars on the cheaper end of the spectrum and hold off on the Aventador until they have at least a few years' experience.
Considering these three factors here is a list of 10 cars for beginners and young drivers, in no specific order.
1. 2020 Nissan Sentra

2020 Nissan Sentraby Gold Pony is licensed under CC BY 3.0
The 2020 Nissan Sentra comes available in a total of ten colors varying from Monarch Orange to Aspen White. This particular example is of the Electric Blue Metallic.
The Nissan Sentra is probably a car you are familiar with seeing on the road, and for a good reason. This compact sedan is a great car to learn with and comes with some key features that will be helpful for beginners and young drivers. The 2020 Nissan Sentra comes in a few different trim packages that would include additional features such as a remote engine start system or 18" aluminum-alloy wheels. But with a new driver just getting a feel for how close to park to the curb you can probably skip out on the larger rims and spare the pain of those deep scratches. The Sentra has a suspension tuned for your around town driving and comes with 149 horsepower. You won't have to worry about accidentally accelerating past the speed limit, but you won't have trouble getting on to the highway either.
The 2020 Nissan Sentra comes at a reasonable price even when purchasing as brand new. Standard safety features include anti-lock brakes (ABS) and stability control, which are two key features that help the Sentra maintain control in low traction scenarios. In addition to these, the Sentra also utilizes automatic braking for both the front and rear tires, along with blind spot monitoring to help a young driver getting used to their blind spots.
2. Honda Civic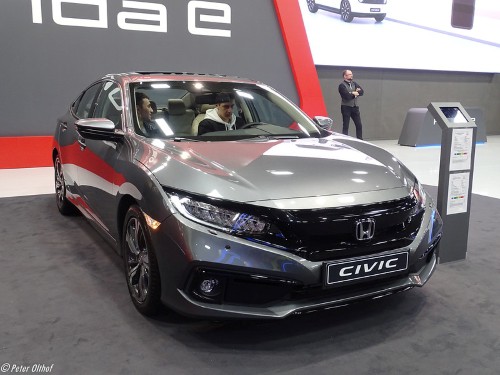 "2020 Honda Civic Sedan" by peterolthof / CC BY 2.0
The 2020 Honda Civic is a sleek looking sedan available in eight different colors. This example is of the Modern Steel Metallic color being showcased at the Auto Salon Brussel Motor Show.
It's probably no surprise to be seeing the Honda Civic included in a list of top cars for beginners and young drivers, but why is that? The 2020 Honda Civic is a reasonably priced reliable sedan. The easy-going suspension coupled with its moderately powered 1.5-liter engine gives the driver a smooth ride while driving around town or on the highway.
Watch a video here on the standard safety features that come with Hondas, including the 2020 Civic.
These types of driver assisted technologies are great for beginner drivers who may be slower with their reaction times or unfamiliar with their car's blinds spots.
3. Toyota Corolla

2020 Toyota Corolla LE" by Kevauto is licensed under CC BY-SA 4.0
The 2020 Toyota Corolla comes available in six different trims. This particular shot is of the LE. The LE comes available with eight different exterior colors and 5 different interior colors.
The Toyota Corolla is another standard sedan for daily use. With over 250,000 2020 Toyota Corollas being sold in 2020 alone, it has proven itself year over year to be a reliable and safe car. The price is nothing to complain about and the highway miles per gallon can be as high as 43 which is great for saving money. As far as safety goes, the Corolla boasts its 5-star safety rating from the National Highway Traffic Safety Administration (NHTSA.) The NHTSA helps buyers compare the safety of vehicles when considering a purchase.Features such as forward-collision warning and emergency braking systems come standard in the 2020 Corolla and will help to prevent accidents.
4. Toyota Rav 4

A common upgrade for the Toyota Rav 4 is the roof rack. It is easily installed to the mount points that come standard on the roof rail.
Although the 2020 Toyota Rav 4 comes at a slightly higher price than some of our other suggestions, it has loads of features that still make it a great car for beginners and young drivers. The Rav 4 is a surprisingly versatile compact sport utility vehicle. With a 37.6-cubic foot cargo hold, the Rav 4 has enough space to fit your high school student's sports equipment and teammates, all while keeping them safe with the Toyota Safety Sense 2.0 Suite. The 2.0 suite includes features such as the pedestrian detection, lane tracing assist, automated high beam assistance, in addition to Toyota's standard Star Safety System™.
5. Kia Rio

"File:Kia Rio FL 2020 Russian (cropped).jpg" by Milhouse35 is licensed under CC BY-SA 4.0
This 2020 Kia Rio is of the Currant Red color available in the S trim package.
The 2020 Kia Rio sedan is a nice and basic car for beginners and young drivers. Although being one of the cheaper cars for 2020 models, the Rio will have no problems getting you to your destination without any issues. It has 4.5 out of 5 reliability ratings from the global market research company, J.D. Power, and has proven itself against Kia's reliable reputation. However, because of its cheaper pricing you will lose out on some of the preventative safety features that its competitors may have. The Kia still comes standard with front, side, and overhead airbags for those worse case scenario accidents.
6. Hyundai Sonata

2020 Hyundai Sonata SEL (Quartz White)by Mr.choppers is licensed under CC BY-SA 3.0
The 2020 Hyundai Sonata SEL is the mid-tier trim level. Available in seven different exterior colors and 2 different interior colors you can customize it to your taste.
The 2020 Hyundai Sonata comes in with a slightly higher price then some of our other suggestions but for good reasons. This midsize sedan is stylish and definitely gives a sportier feel to match its 180 horsepower. This is just enough horsepower to have a quicker drive but not enough to overwhelm. But the Sonata is more than just a sporty looking sedan,. it comes loaded with safety technology to help keep beginners and young drivers alert and aware of their surroundings. With 13 ultrasonic sensors, five cameras, and three radar sensors the Sonata's safety features are reliable and effective.
7. Toyota Prius

This 2020 Toyota Prius was showcased at the Montréal International Auto Show in Canada. The text decal on the right side translates to "designed for life in Canada" which is a way for Toyota to boast about the available AWD drivetrain for the Prius.
The Toyota Prius is the trend setter for hybrid cars. Improving its technology year over year, the Prius gets up to 58 city MPGs and 53 highway MPGs which will help to offset the slightly higher retail price. Like the Toyota Rav 4, the 2020 Prius comes standard with Star Safety System™ and Toyota Safety Sense™. If you aren't familiar with lane tracing assist included with Toyota Safety Sense™ watch the video here to learn just exactly what it does and how it operates.
8. Volkswagen Jetta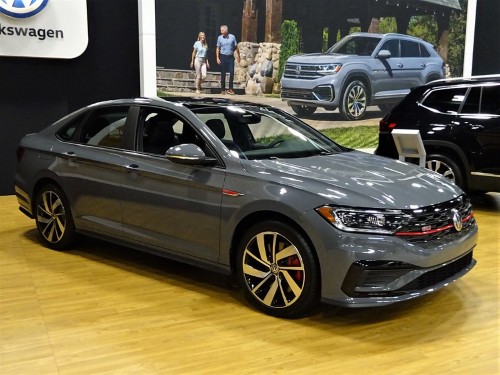 2020 Volkswagen Jetta GLI by harry_nl / CC BY 2.0
The Volkswagen Jetta GLI is the top of the line Jetta that comes with the inclusion of a turbo, giving it 229 horsepower.
Even though it's a Volkswagen, you won't be disappointed to see the price for the 2020 Jetta. Along with the reasonable retail price, it also has efficient gas usage, using only 30 MPGs for city driving and 40 MPGs on the highway so you won't have to worry about burning a whole in your pocket if going to travel or take a trip. Looking at the safety features, there are some driver assist features that do come standard with any 2020 Jetta while others are only available in the higher trim levels. If you are looking for lane-keeping assistance and adaptive cruise control you will have to opt in to one of the top two trim levels.
9. 2020 Chevrolet Sonic

Chevrolet Sonic by RLGNZLZ / CC BY 2.0
The 2020 Chevorlet Sonic comes standard as a sedan but is also available as a hatchback. This particular example is of the hatchback colored in Chevrolet's Silver Ice Metallic.
Coming in as one of the cheaper cars in our list, the 2020 Chevrolet Sonic is on the smaller side of the sedans making it an easily driven car in those tight parking lots. With a turbocharged engine the Sonic pushes out 138 horsepower making it a quick and zippy car without the worry of losing control. The Sonic comes standard with a whopping ten airbags to help protect the driver and passengers. Preventative safety features are available and include forward collision alert, lane departure warning, and a rear vision camera.
10. Subaru Impreza

"2020 Subaru Impreza Hatchback" by peterolthof is licensed under CC BY-ND 2.0
The 2020 Subaru comes available as either a sedan, hatchback, or sports hatchback. The hatchbacks come in at a slighter higher price but do offer a larger cargo space.
The 2020 Subaru Impreza is one of the few all-wheel-drive (AWD) sedans sold in the price range for beginners and young drivers. AWD has many benefits making the car safer and more drivable in less than favorable conditions. Not to be mistaken with 4WD, AWD can be utilized for everyday driving and does not have to be initiated.
The Impreza comes standard with common safety features such as ABS, stability control, and several impact airbags to reduce the chance of injury in an accident. Not only does it rank a 5 out of 5 for the NHTSA front crash rating but the Insurance Institute for Highway Safety (IIHS) deemed it a "2020 Top Safety Pick."
Conclusion
Vehicles can be offered in more than one body type, drivetrain, and trim packages so it is important to research what exactly you may want when considering a purchase for beginners and young drivers. Prices will vary depending on those factors but if you are looking for a specific safety feature, or maybe that AWD, you will need to make sure you are looking at that specific model.
As you probably noticed the only cars listed here are 2020 models. Considering our three factors; price, drivability, and safety, it makes sense to be focusing on the newer models. With 2021 models being sent to dealerships, they will be more eager to get the older model off the lot so this could be an opportunity to get a new car for a cheaper price.
Even with the risk of damaging your new car, it's beneficial for beginners and young drivers to start on a 2020 or newer. Manufactures are constantly improving their vehicles year over year so if you want safety features such as automatic braking or lane assistant the older models may not have them available. Buying a used vehicle can also come with potential issues making it unsafe for a new driver so it could be worth it to pony up and buy that new car with the state-of-the-art technology and new car smell.
Interested in more than just cars? Looking to explore the possibilities of becoming an RV enthusiast? Take your first step here when considering if you should buy or rent an RV.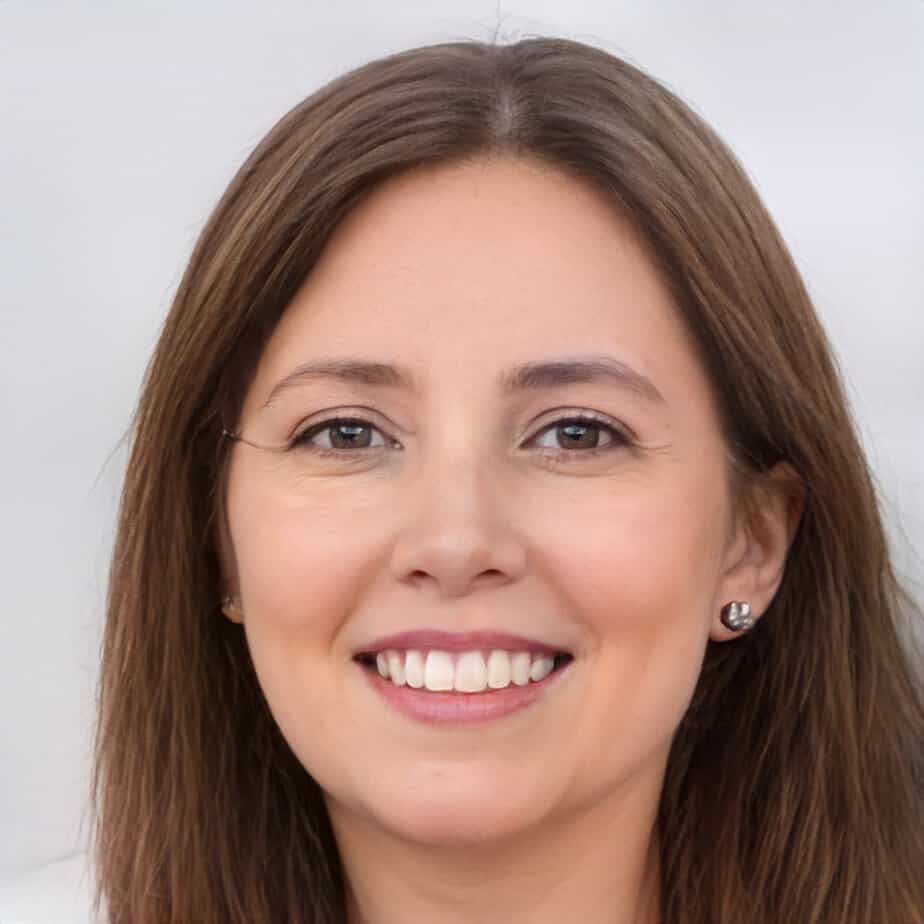 Jill Miller is the founder of Your RV Lifestyle. Trading corporate America for the open road, Jill, along with her partner Jose, began their RV journey, making an unconventional start by wintering in New Jersey. A natural adventurer, she was motivated by a desire to explore the USA and beyond, embracing the varied landscapes, communities, and cultures across the country.
For Jill, the allure of RV living was not about material accumulation, but rather the pursuit of an adventurous, fulfilling lifestyle. A lover of golf, bicycling, hiking, and line dancing, she has carried her passions across the country, engaging with them in diverse settings. Jill's commitment to the RV lifestyle came after years of careful research, numerous consultations with RV owners, and personal trials, including living in a rental RV.