An RV adventure is a great excuse to crank up the barbecue and get grilling. But barbecues don't have to be for meat-eaters only. Whether you are already vegetarian or vegan, or just want to go greener and try something a little different, there are plenty of vegan and vegetarian barbecue ideas to try.

A vegan or vegetarian barbecue definitely does not have to be limited or boring!
Why Choose Vegan and Vegetarian Barbecue Options?
There are plenty of reasons to opt for vegetarian or vegan recipes for your next barbecue. First of all, having the same old boring burgers and steaks can quickly get old if you are grilling all the time on an RV trip, or enjoying regular barbecues when enjoying the RV lifestyle full time.
For another thing, all that meat is not exactly great for your health. Incorporating some fresh, healthy vegetables into your diet is, of course, a good way to go. You may still want the odd meat-fix, but even so, the variety will be better for your health. You may be amazed by just how filling and satisfying a meat-free meal can be. Who knows, you might even be a convert.
Aside from the obvious health benefits and the variety in taste sensations that you can enjoy when you go for vegetarian and vegan barbecue options on your RV trips, there are also wider reasons to choose one of these recipes.
Eating lots of meat is unfortunately a bad choice for the environment. Did you know that cutting beef from your diet would reduce your carbon footprint more than giving up a gas-guzzling vehicle for a year?! Many RV owners who worry about green issues are concerned about the impact of driving their RV – but some should be more worried about the impact of their diet on our planet.
There is plenty that RV owners can do to minimise their carbon footprints and do their bit for the planet, from saving fuel, to reducing energy use and moving towards a zero waste lifestyle. Opting to eat more meat-free meals is another great way to go greener that should be added to the list.
Vegetarian & Vegan Barbecue Ideas
First of all, vegetarians and vegans should remember that there are actually plenty of meat-free options that you can just buy and pop on the barbecue. There are plenty of commercial veggie and bean burgers, veggie sausages, Quorn or tofu items to choose from. But though these can sometimes by handy if time is short – it is often so much better, more varied and more satisfying to make your own vegetarian or vegan options from scratch. Some of the recipes below are more complex than others, but each offers a delicious and healthy alternative to traditional meat-feast barbecues. Why not try one or more of them on your next RV adventure?

Making your own veggie burgers means you can tailor them to suit you down to the ground. 
Veggie Burgers
Making your own veggie burgers is far better than buying ready-made examples, because you can customise them to perfectly suit the tastes of yourself and your family. You can use practically any vegetables, so this can also be a great way to reduce food waste and use up what you have to hand in a given season. There are a range of different ways in which you can bind your vegetables together to form your burger patties. You can use breadcrumbs and egg (or chia seed substitute), for example. Oats can also work well in a veggie burger, as an alternative to breadcrumbs or an addition, and buckwheat is another protein-rich ingredient that you might like to include. For an extra protein bump, you could also consider including pulses like lentils or chick peas in your veggie burgers.
Once you have your basic veggie burger recipe, you can upgrade it however you see fit, with a range of different herbs, spices, condiments and seasoning to taste. Remember, you can also make your own ketchups and sauces to make the ultimate vegetarian or vegan burger to suit you, and top your burger with pickles, salad or whatever other additions you personally enjoy.
Bean Burgers
All you really need to make bean burgers is a tin of beans (without sauce), or some fresh beans, some bread, crumbed, an egg (or chia seed substitute), and whatever herbs, spices and seasoning you want. Simply wash your hands and spend some time squishing the whole lot together in a bowl or pot before you pop them over the coals. The great thing about these easy and flexible burgers is that you can be as tame or as adventurous as you like – add onions and/or garlic if you like, add some blanched foraged greens if you want, or go super spicy if you crave some heat. Why not experiment a little to see which versions you like best? Adding crushed nuts or some mixed seeds is one other way to liven these up a bit.

Using skewers to hold vegetables is a great way to pop them on a barbecue.
Spicy Vegetable Skewers
You can use sticks that have been held over the heat to hold an array of delicious vegetables to grill on the barbecue. Try peppers, onion, garlic, tomato, mushrooms. There are plenty of other things to skewer so use your imagination. The thing that can really bring these skewers to life is a marinade. There are plenty of different recipes to choose from. Why not try a combination of hot sauce and soy sauce, or sesame oil, ginger, soy sauce and honey? A traditional barbecue or tomato based ketchup can also work well.
The skewer idea can also extend to dessert. Pop pineapple, strawberries or other fruits on a skewer, ether on their own or coated with a herb, honey or agave based condiment and enjoy on their own, or with ice cream. You could also dip your grilled fruit in chocolate for an extra sweet treat.

You can grill eggplant whole on your barbecue – or do something a little more interesting with it… the options are nearly endless.
Grilled Eggplant
One of the great things about eggplant is that it can easily absorb whatever flavours you add to it. There are plenty of different ways to season grilled eggplant. Personally, I find that is works particularly well with a sweet miso sauce and a sprinkling of sesame seeds – though you could also make a spicier version using a blend of exotic spices. Char the sliced, scored aubergine over the grill and then wrap in foil parcels along with your flavourings and return to the heat before serving.
Cauliflower Steak
One of the easiest vegetable options for a barbecue, cauliflower steaks take just moments to prepare, and around 5-10 minutes on each side to cook. While no one is pretending that these taste anything like a 'real' steak, they are an amazingly satisfying addition to a barbecue menu. If you are used to boiled cauliflower and have never tried it grilled – you will be astounded by how much grilling can intensify its flavor. Simply slice your cauliflower, bring both sides with olive oil, season with salt and pepper to taste and grill. Half way through cooking, you can also brush on some barbecue sauce or other sauce and continue to cook to allow the flavors to come out.
Pulled Jackfruit (An Alternative to Pulled Pork)
Pulled jackfruit can be cunningly used to make a vegan alternative to pulled pork that tastes great along with all the usual barbecue trimmings. The seasonings and sauces can be altered to suit your own personal taste, so be sure to tinker with the recipe until you get it right for you and your family.
Some vegans have even discovered that a cheaper (and perhaps easier to source) alternative to jackfruit is banana peel – yes, you can eat banana peel – just make sure it is well-washed and organic. A banana peel vegan pulled pork sandwich may sound super weird – but if you are working towards a zero waste lifestyle, it could be something a little different to try on your next RV trip.
Barbecue Tofu
Tofu is a vegan and vegetarian staple and can be used in a range of different barbecue recipes. Some people just don't like tofu, but when treated right, it can truly be a treat and you might be a convert. First, find extra-firm tofu, and press it to get rid of the excess water before you start. Once you have done that, slice the tofu into slices ½ inch thick and marinade it in barbecue sauce (or another sauce of your choice) for at least an hour. Once marinaded, simply pop your tofu on the grill, brushing on more sauce and turning half way through cooking. One the tofu is nicely browned on the edges, it is time to serve it. Even if you don't think you are a fan of tofu, it is worth giving this simple recipe a go.

Seitan is a meat substitute that can lend itself to a wide range of vegetarian and vegan barbecue recipes.
Seitan 'Ribs'
If you want to enjoy something more 'meat-like' but do not want to give up on the idea of a vegetarian or vegan barbecue, you could try one of the more popular vegan meat substitutes – seitan. Seitan is made using vital wheat gluten, and can be used to provide an alternative to some common barbecue meat dishes. One great recipe allows you to make bone-free ' barbecue ribs' – a dish that has been known to satisfy even the most confirmed of meat eaters.
Seitan 'Hot Dogs'
Seitan is a truly versatile vegan option. It can also be used to make a wide range of other meat-like substitutes, including these family-friendly vegan hotdogs. Though no one can say that they taste exactly like meat hotdogs, once you taste them, there is no way that you will feel like you are missing out.

Halloumi is great for a vegetarian barbecue, and is also great in salads the next day.
Halloumi & Other Grilled Cheese Options
If you are vegetarian rather than vegan then you may still wish to include some cheese on your barbecue menu. Halloumi is the king of barbecue cheeses – known to some as 'squeaky cheese', it could quickly become a new favourite. It lends itself well to inclusion on vegetable skewers, but can also simply be placed on the barbecue on its own as it holds together pretty well. You can also place halloumi with herbs and various sauces in foil packages as, like eggplant and tofu, it can be really good at soaking up the flavors of whatever you choose to cook it with.
Flatbread Wraps
Even while camping in an RV, it is easy to make a simple flatbread no-yeast dough to make some rustic flatbreads to grill. You just need flour, water and salt and you have a basic dough that you can roughly stretch out to make a flat(ish) disk that will cook very quickly over the coals.
You could use these flatbreads to scoop or hold some of the veggie options above, as an alternative to a traditional bread roll or burger bun. These flatbreads can also be used to enjoy a wide range of traditional barbecue side dishes such as coleslaw, leafy salads, potato salad, guacamole, salsas and dips…
You could add other herbs, spices, garlic or pesto to the flatbreads to enhance the flavour if you are feeling more adventurous. Use your imagination. The flatbreads are wonderful with a range of savory dishes but they can make a sweet treat for desert too. Why not add some foraged fruits to the dough, spread them with jellies or sweet compotes and roll them up for an easy desert? You could also spread them with nut butter, banana and honey or agave, or chocolate and melted marshmallow. There really are almost endless options when you master a basic flatbread dough.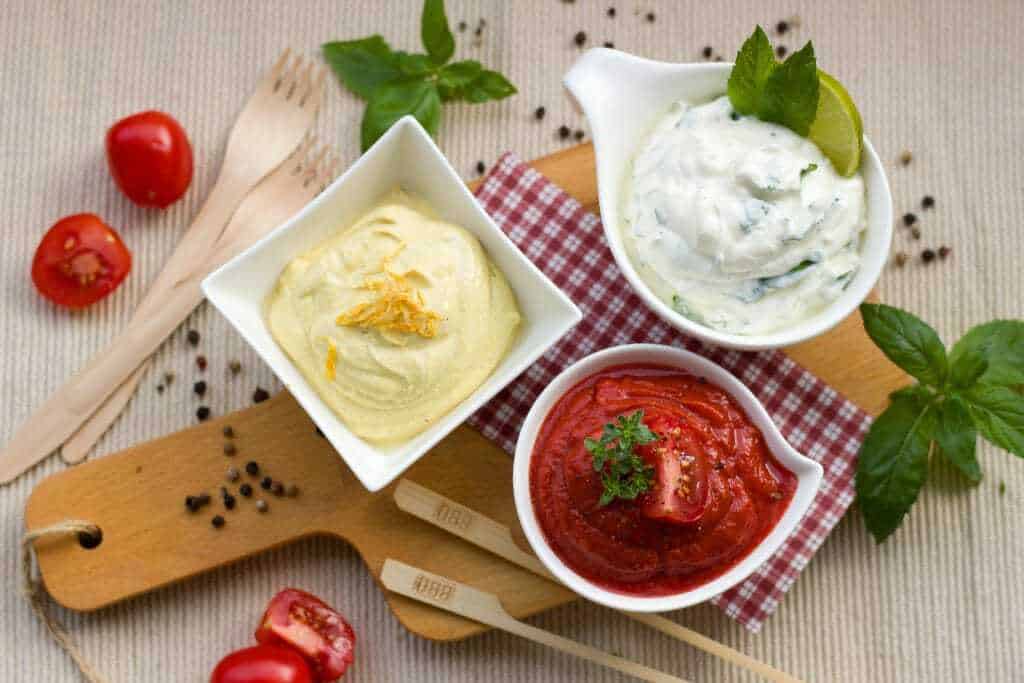 Vegan and vegetarian dips and side dishes can dramatically increase and variety of your barbecues on your next RV trip.
Vegan and Vegetarian Barbecue Side Dishes
When you add in all the cold foods, salads, pestos, salsas and dips you can also have in addition to all the options in the above categories you can see that being vegetarian does not give you limited choices when it comes to having a barbecue whilst living the RV lifestyle. When planning your barbecue, don't neglect the side dishes – these can really make or break the meal.
As you can see from the above, there are plenty of options for a barbecue that do not include meat. So, for the good of your own health, and the good of the planet, why not consider enjoying a meat-free barbecue on your next RV adventure?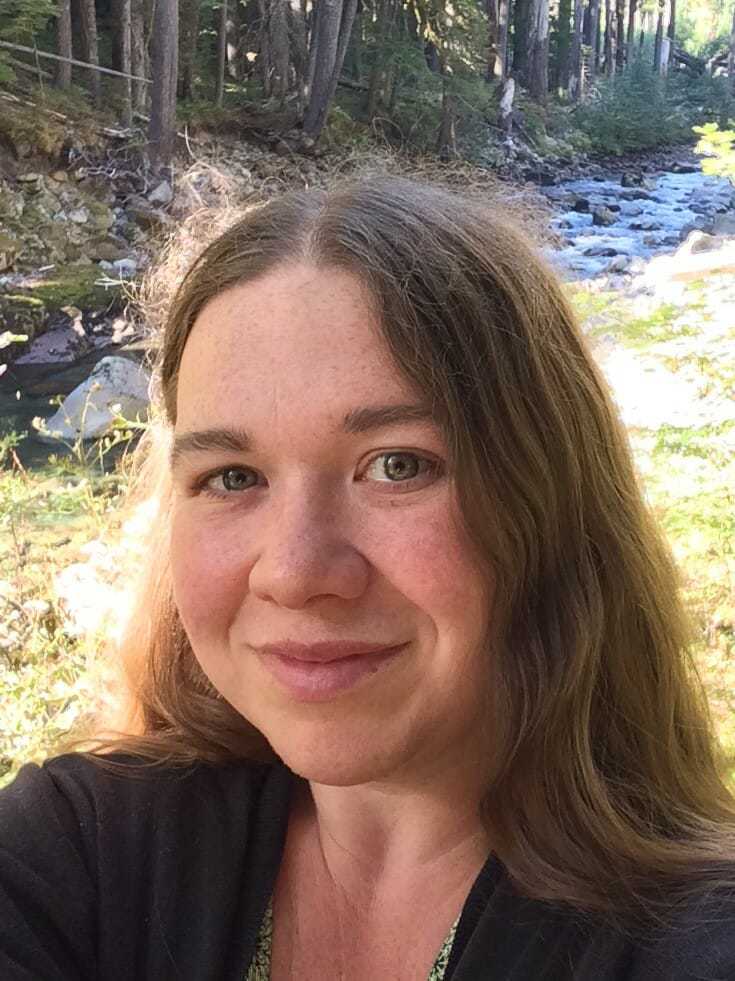 Elizabeth Waddington has an MA from St. Andrews University and a Permaculture Design Certificate. She is a green living consultant, with a passion for sustainable travel, permaculture and the natural world. She lives in rural Fife, just north of Edinburgh, close to the Firth of Forth on the east coast of Scotland.
No stranger to RV travel, Elizabeth has travelled all over Scotland, the UK and beyond in search of natural wonders in her RV. Her camping adventures have taken her to the Grand Canyon, up the Pacific Coast of the US, to Yellowstone National Park, the Grand Tetons and to explore the wonders of Utah. She has travelled extensively in the Pacific Northwest, and around New England. In Europe, she has taken trips through much of the western part of the continent, travelled up to Norway, and down through Romania and Bulgaria to Istanbul. She looks forward to further eco-friendly adventures.