Whether you're pulling a fifth wheel or a pull-behind RV, your truck is the most important part of the setup — it's either getting you there or it's not.
As RVers, we don't want to just get there though. As RVers we want to have an awesome experience on the road. Truck accessories are one of the things that make life on the road much easier and more enjoyable.
Part of the article is going to be about the accessories you need for your truck and the other part will be accessories you can use even if your RV of choice is a class A, B or C or if you're living van life.
Continue reading this article and learn about must-have RV accessories & RV supplies.
These Must-Have Truck Accessories for RVers Will Make Your RV Life Easier
Depending on your travel style, the type of RV you have and what RV upgrades you've done, some of these may or may not work for you. Take what works for you and recommend the other things that don't work for your setup to friends that might find them helpful.
1. Truck Bed Cover

We've been using our truck bed cover for almost a year now and it's holding up great. 🙂
When we first got our truck, we didn't have a truck bed cover. Since we had a Forest River Cherokee Wolf Pup 18TO  with very limited storage space, we had a lot of things in the back of the truck. We couldn't put anything in there that we didn't want to get wet though.
We got a truck bed cover and were able to easily store our things and keep them dry even when it was raining like crazy down in Florida.
Even when we upgraded to our Prime Time Avenger 24BHS, we still kept our things in the back of the truck because it did such a good job and we were able to get more stuff to fill our RV.
If you're learning how to downsize for full-time life — you know the struggle.
It only took a short time to put the cover on our truck and it's made our life so much easier. I was always worried that people were going to steal things out of our truck when we went places before we got the truck bed cover. It also looked messy with all of the stuff in the back of the truck when we didn't have it.
Make sure you get the right truck bed cover for your bed by checking which size of truck the cover you're looking at fits.
2. Spray-On Bedliner
Our truck came with the spray-on bedliner when we bought it but if yours doesn't have it, you should totally get it done.
Besides for the fact that it makes your truck bed look better, it protects your truck from UV rays that can make your truck look worn out before its time. Your vehicle's value will stay in tact the more that you protect it from environmental damage and this is an easy way to do it.
If you are getting in and out of your truck bed a lot because you're loading and unloading your chairs and other things for your RV setup, make sure you get the non-slip spray-on liner. Nothing can ruin your day like wiping out in the back of your truck.
You can DIY the project or you may wish to take it to a professional and let them take care of it for you.
3. Tow Package
If your truck isn't equipped with a tow package, this is a must if you're going to haul an RV. You need to know the size of truck you need for hauling your RV as well as what your tow package is rated for.
Check to see how much your truck can pull before you start picking out RVs or be ready to change your truck out if your dream RV is too heavy. If you try to pull an RV with a truck that isn't rated for it — look out transmission trouble.
You can see the different types of towable trailers and then see what is going to work for your truck. Or you might want to buy a new truck and get the perfect RV for your needs.
4. Cargo Stabilizer Bar
When you're driving around, you don't want your cargo to slide around in the back of your truck. This is especially true if you're hauling propane tanks around in the back of your truck.
A cargo stabilizer bar will help you keep things in place so you can drive around without worrying.
5. Truck Bed Lighting Kit
Getting to the campsite late to set up? A truck bed lighting kit will light up the whole back area so you can see what you're doing without needing a flashlight. 
6. Running Boards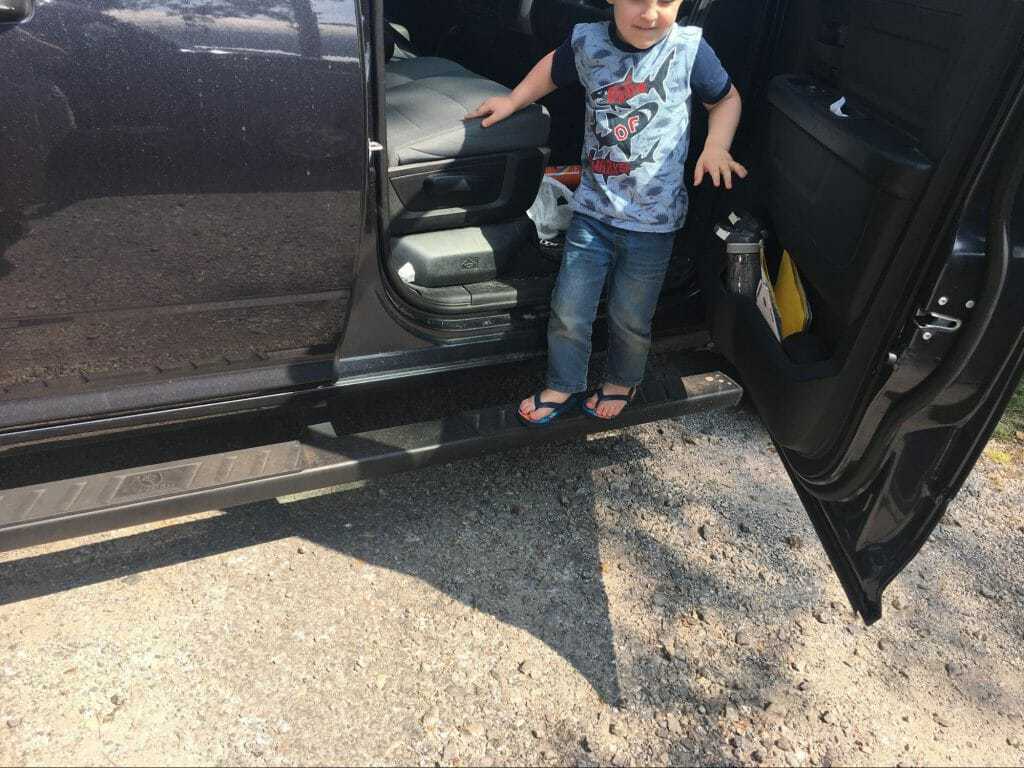 My cutie pie JoJo getting out of the truck with the help of the running boards. 🙂
Unless you're really tall, running boards are going to make your life easier. We have 4 kids and I'm short — so we have to have these running boards.
The Tyger ones that we got have been really good and they were pretty simple to install as well. I would never get the round ones. Round running boards are a recipe for slipping when it is wet.
Make sure you find running boards that are going to fit your specific truck.
7. Mirror Extenders or Towing Mirrors

Showing off our mirror extenders at the Gettysburg RV Park.
We don't have towing mirrors so we use mirror extenders on the passenger side so I can see when we're driving. If you don't have towing mirrors you can either get the mirror extenders or you can have towing mirrors installed.
We only need ours on moving day so we decided to stick with the mirror extender and have the smaller mirrors for the rest of the time.
Make sure you find mirror extenders that fit your specific truck.
8. Backup Camera
I love, love, love our truck's backup camera. It is definitely on the must-have truck accessories for RVers list. If you don't have a backup camera, you don't know what you're missing so go drive a truck that has one and come back.
You can even get a kit that has two cameras for your truck and your RV.
Pro Tip: Use the backup camera to load up the RV solo. No need for a spotter.
9. Tailgate Ladder
If you don't want to crawl up onto your tailgate, you can grab a tailgate ladder that fits perfectly to your truck. These are pretty simple devices and they are easy to store since they are small.
10. Tire Step
Want a step up so you can reach into each side of your truck? Use one of these tire steps.
11. Tailgate Assist
If you're not careful, it is easy to slam your tailgate open. If you do it too much, it can hurt your truck. Tailgate assist makes sure it comes down nice and easy so your truck isn't damaged and it also don't smash a small child on the head or something like that.
Make sure that you choose one that is right for your specific truck.
12. Brake Controller
The brake controller is an electrical device that tells the trailer brakes when to brake. If you don't have a brake controller, you're depending on your truck's brakes to stop your whole rig. We don't recommend that at all.
There are factory brands and aftermarket brands. Most dealerships won't install aftermarket brands but you can still get the computer work done there.
If you don't get the computer work done on the truck, the brake controller will not work because the truck's computer won't recognize it as an option.
Most trucks nowadays come prewired for brake controllers and have a spot ready for you to put the brake controller controls — if you get a factory model. If you get an aftermarket one, you likely will have a clunky brake controller panel in the way but check to make sure if you see one that you really like.
Pro Tip: A factory model brake controller is easy to install yourself if you want to save money on the installation because if the truck is prewired, it usually already has the mounting brackets and holes predrilled. Installation is quick and simple and you won't have to shell out the $200 or so for labor.
Make sure to check to see which brake controller you need for your specific truck.
13. Navigation System
Many of us use our phones to navigate from one place to the next. While this does work, it drains our phones and if the phones get too hot, they can shut off — leaving you high and dry without directions.
In some areas it is illegal to mess with your phone but with a navigation system, you won't be falsely accused of being on your phone. They also normally have bigger screens so you can see where you're going easier.
It's easy to save locations as favorites as well as being easy to delete them. This works great if you're staying at a certain campground for a few weeks and there are spots you're going to visit more than once while you're there.
No products found.
14. GPS Suction Mount
If you have a navigation system without a suction mount, it makes it more difficult for you to see the system. It will slide around on your dash or fall down in the floorboard.
While GPS usually come with a suction mount already, if yours breaks — get one that is high-quality so it's less likely to break again.
15. Car Power Inverter
When we were in Arley, Alabama on our first trip of our full-time RV life, there was barely any internet where we were staying. We were there for three weeks and it was a disaster since I worked online.
I had to take my laptop out to a parking lot in the town's Dollar General and work in the car. My laptop had to have some power source so I got a car power inverter which worked like a charm.
Mine only had one plugin but later on we upgraded to a multi plugin with multiple USB ports so we could easily charge the kids tablets while we are on the road. Well, their tablets and our phones too.
We have a lot of devices!
16. Dash Cell Holder
If you don't get a GPS and you do want to use your phone's navigation then get a dash cell holder. There are many different designs so make sure you get one that is going to hold tight through all of the long trips.
17. Car Backseat Cover Protector
Do you have a friendly Fido riding in the backseat? It's easy to amass tons of dog hair on moving day.
If you don't want your dog to make a mess, grab a cover for the backseat. This is especially helpful if you plan on going swimming with pets and kids. 
18. Armrest Soft Protector for Center Console
Do you enjoy riding with the windows down? Sometimes the fresh air attitude means that you're going to get some extra heat in the vehicle.
The center console armrest area might get a little sticky and hot on your arm. You can use an armrest soft protector to cushion your arm and also keep your arm from burning on those hot windows down kind of days.
19. Cup Holder, Door & Console Liner Kit
Lining your cup holders, door areas and console will not only make your truck look cool but it will help to protect those areas. Instead of getting dirt in those areas, you can get it on the liner and keep the actual vehicle clean.
You'll need to get a kit that is made for your specific truck or you may need to cut them.
20. Headrest Hooks
There's always something extra we want to bring with us. With these hooks, you can easily put a purse or other type of bag on the back of your seats for easy access.
RV Accessories & RV Supplies for the Best Night's Rest
If you're anything like me — you need to get plenty of sleep. If I don't get enough rest, I'm taking a nap the next day!
Here are some of the things that can help you get a good night's rest when you're RVing.
21. New Mattress
We never slept on the factory RV mattress. That's a recipe for a backache and with my husband's sleep apnea and other issues, we have to have a good mattress.
In our RV, we have a short queen mattress but — we didn't know that when we went to the mattress store. DOH. We got a queen (because that is what the RV salesperson had said it was) and it obviously didn't work out.
We did some research and found out that we had a short queen so we ordered one online and it's been great. It came smashed together in the box since it was memory foam and it had to open up for a few hours before we were supposed to use it.
22. Mattress Topper
Even a good mattress isn't good enough for us though. We've had a latex mattress topper for over 7 years now and we find it difficult to sleep without it. We often take it with us when we go to hotels if we drive to them.
If you are wincing at the price — know that it lasts a long time. We have a cover over it and just wash the cover. It is pretty annoying to get back into the cover but it's worth it.
We were able to use our queen mattress topper on our short queen bed without a problem.
23. Zip Up Bedding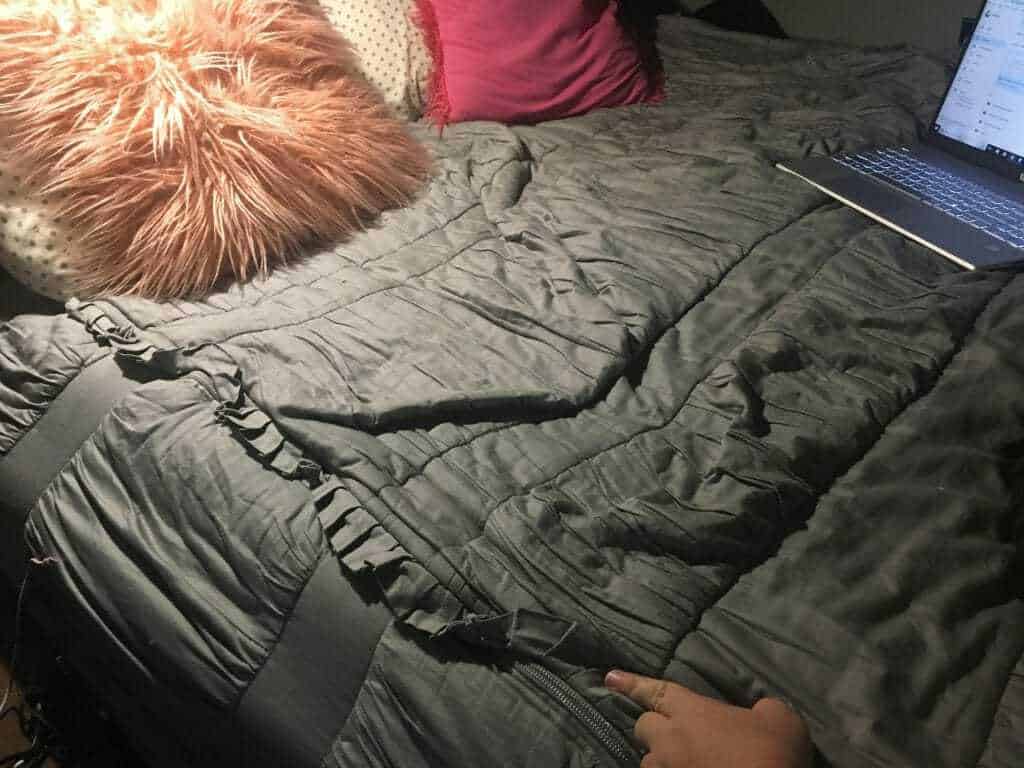 This gray Beddy zip up bedding is a perfect match with our room decor.
We kept seeing these zip up bedding ads on Facebook and were a little skeptical about whether they would be that helpful or not but now we wouldn't go without them. We can make our bed in 2 minutes and it's easy to take it off so we can wash it too.
We use Beddy's and I don't think I see any other bedding out there that does this as of yet.
24. Blackout Curtains
One time when we were in Vegas, we were parked super close to all of our neighbors. One of them had a motion light on their RV and it faced our window where our kids and pets were sleeping. Every time our kids or pets would move, it would come on and blind everyone and make the cat go wild.
Not long after we went out and got black out curtains so we could avoid this super annoying situation. 
You may need to cut and hem the curtains so they fit your RV's windows.
25. Day/Night Shades

So glad we got these day/night shades. Without these shades, we always kept the windows closed during the day and felt like we were in a cave.
We decided we wanted to make our lives a little easier so be got day/night shades to put on our big window. We could only find RecPro that custom makes these for your RV. There were some other companies but they asked that you bring your RV in to get it installed and that wasn't going to work for us.
26. Sound Machine
RV parks can be pretty noisy if you're around a loud crowd with disregard for the campground's quiet hours. A sound machine can help you drown out those noises so you can get some peace and quiet for sleepy time.
27. Box Fan
If you don't feel like lugging another gadget around with you — use a box fan to keep the noise at bay. You can use the box fan to keep you cool and quiet. Bonus!
No products found.
General RV Accessories
Here are some things you've got to have to operate your RV and keep everything and everyone running properly.
28. Drinking Water Hose

Here's our drinking water hose and the inline water regulator. Must-haves for sure!
Make sure you get a drinking water hose that doesn't have harmful chemicals in it. Even if you have a good filter on your RV, you should make sure your water hose is a good one.
29. Sewer Hose

It's not glamorous but she's a good one. Only the 2nd one we've had to get in almost 2 years.
You don't want to skimp on the sewer hose you get. You should get one that makes it easy to empty your tanks whether you have a full hookup or if you're at the dump station.
30. Upgraded Shower Head
Using the standard shower head in your RV isn't always a great option. Most of the time the shower head that comes with your RV only has one spray setting. If it doesn't have the ability to give you a luxurious stream of water fit for a queen or king — pass it up.
You're glamping after all.
31. RV Leveling Blocks

We have 40 or more of these leveling blocks so — stock up!
Please, don't do what we did when we first started RVing. When we first started RVing, we didn't have many of the must-have RV accessories & RV supplies. 
One of the things we didn't have was the RV leveling blocks. We just cranked our stabilizer jacks all the way to the ground and hoped for the best.
Now we know how to stabilize our RV on even and uneven campsites. We have a lot of RV leveling blocks now and stack them up pretty high so the stabilizers on the RV aren't stretched out much at all.
32. Water Pressure Regulator
Please don't use water hookups without a water pressure regulator. If you don't use one of these, you're likely to experience plumbing issues much sooner than you ever should.
33. Water Hose Quick Connect
A water hose quick connect helps you make it faster between one hook up to another. For instance, if you have your hose hooked up to your RV instead of having to untwist everything and turn off the water — you'd be able to leave the water on and just unhook the female portion and reconnect it to a male part on another area.
If you don't have a back flush, you can always use this easy method to spray the water up your tank without forgetting to turn the water back on after you've reconnected water to your RV.
34. Hose Y
If you want to hook up two hoses to one spigot then a hose Y is what you need to do this quickly and easily.
35. Walkie Talkies
While we have cellphones, it can still be a little dodgy when you're out in the wild. Maybe you're trying to back up the rig but you can't get a signal. Now you're yelling at each other trying to figure out what you're trying to say.
Walkie talkies can fix that little issue right up.
Kitchen
The kitchen is one of my favorite places. We have big windows where I can look out and see all of the beauty around us. Here's some things that can help you enjoy your kitchen too.
36. M&M Coffee Mug from Las Vegas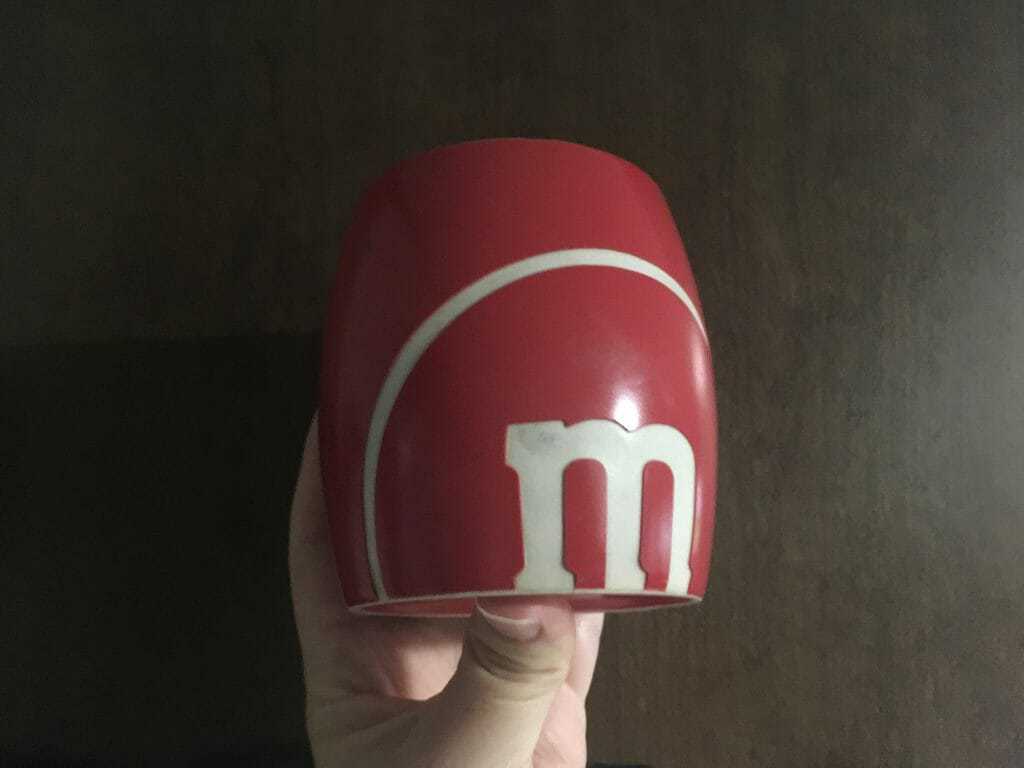 Every day, I remember Vegas.
When you're on the road — you need a lot of fuel. That includes coffee for us. 
We were in Vegas and stopped by M&M world and got these big coffee cups. Say goodbye to little coffee cups on the road.
These things are pretty durable so if you accidentally leave them on the counter on moving day, they should be good.
37. Countertop Ice Maker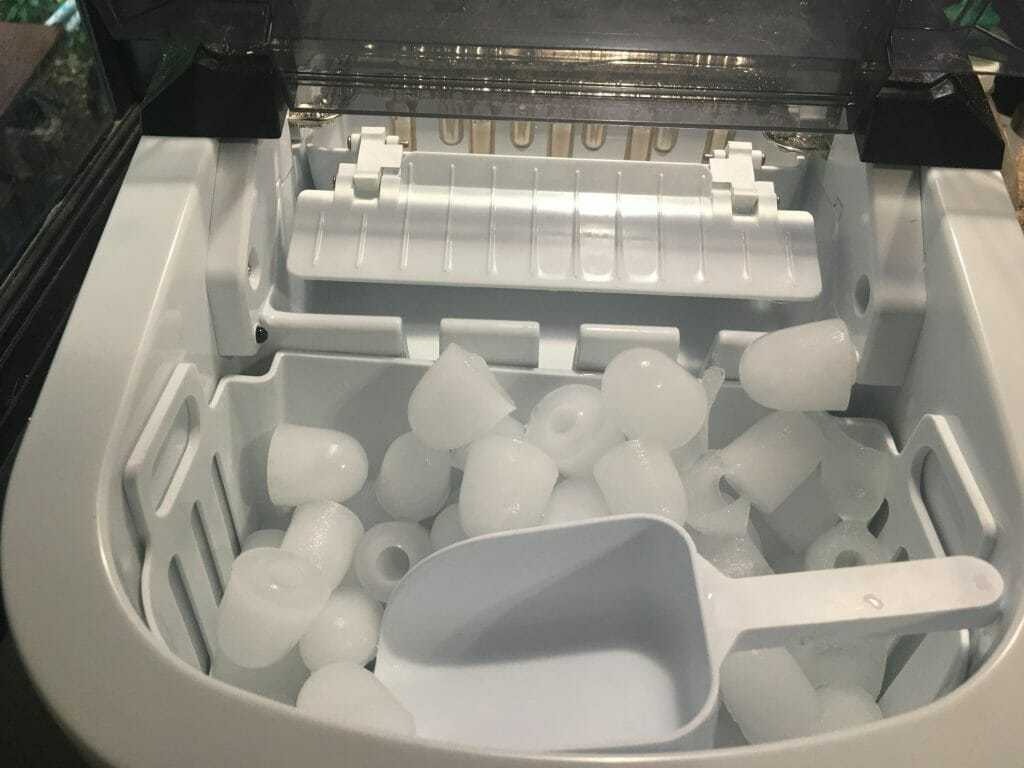 This is the ice on the small ice setting.
With all 6 of us drinking plenty of sweet tea, we have to have a countertop ice maker. We lived without it for a year and a half while we were on the road but now we couldn't live without it.
Ice trays take up too much room in our freezer and we have enough countertop space to sacrifice so here we are. You have to decide how much on-demand ice is worth to you but it's worth losing the space for us.
38. Instant Pot
If you want to make a quick meal that still tastes delicious then the Instant Pot is where it is at. Even if you love cooking, you don't want to spend your whole camping trip over the stove.
Plus — there are so many different recipes online that you can eat something new all of the time.
39. Small Coffee Maker

This little guy doesn't take up much space and can fit right beside our sink and stove top.
We had a big Keurig when we started out RVing but that took up much loved counter space. Now we have a thin coffee maker and it does just fine.
No products found.
40. Compact Toaster
If you have a big and bulky toaster, it's time to sell it on marketplace. It's taking up a lot of energy for no good reason and the space it's taking up is too much too.
A compact toaster can fit almost anywhere but still gets the job done.
41. Compact Electric Can Opener
I can't deal with a manual can opener so I have an electric one. You can get a compact can opener so you still have the luxury of an electric can opener while camping.
42. Fingerprint Resistant Metal Trash Can
Get a metal trash can so you don't have to worry about breaking your plastic can all of the time. Also make sure it is fingerprint resistant so you don't have to clean it all of the time. Get one that is rectangular as well so that it's easy to put wherever you want it.
We've had ours for almost a year and it's still holding up.
43. Stackable Bowls
In our RVs, we don't have a lot of extra space so stackable bowls can help you decrease the amount of storage you need. If you find bowls that nest that's another bonus when your trying to save space in your RV.
Staying Connected
If you're like us — you need to stay connected! Or at least really want to. Here are our best accessories to do so.
44. Mobile Hotspot
You can find some deals online that people sell you a subscription to unlimited WiFi. Make sure to look and see how their reviews are but we've had an unlimited 4G set up for a while now and it's a lifesaver.
Before, we had multiple hotspots through our other carrier and it was not unlimited. We would lag so bad — it was horrible.
45. Signal Booster
If you have 0 signal then a signal booster isn't going to help you. On the other hand, if you have a low or decent signal — a signal booster can make a world of difference.
Comfort Items
These comfort items may be "extras" but they make life so much better!
46. Patio Shield for Mosquitos
What is worse than a mosquito bite? Multiple mosquito bites, of course.
When you're trying to enjoy your time outside and all you get for your efforts are mosquito bites — it's easy to ruin a camping trip.
This patio shield protects you and everyone else within its 15 foot range. There's no need for plugins or for batteries so if you're boondocking, it won't make your life more difficult.
47. Table Fan
A little gust of air may be all you need to keep cool on those super hot days. A battery-powered and rechargeable table fan is perfect when you want to make your own breeze but don't have an outlet nearby.
48. Reflectix for RV Windows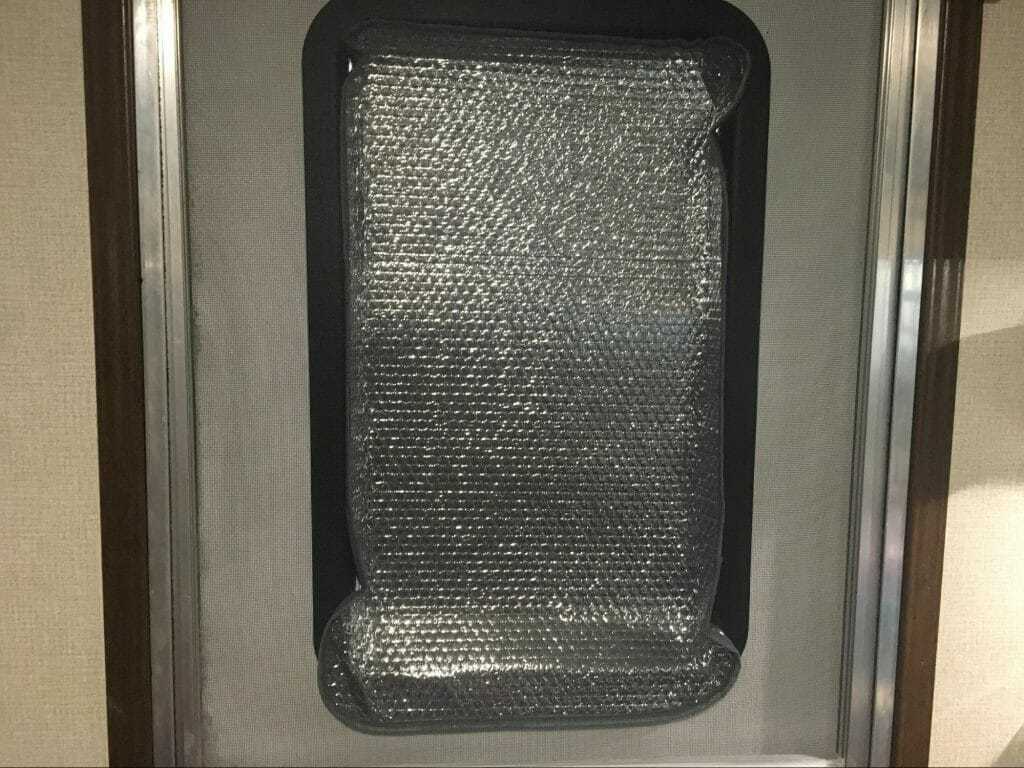 Reflectix on our door window.
It can get pretty hot if you're out in the bright sun and one of the easiest and cheapest ways to keep the rays out is reflectix.
It's such a big difference when you have these in your windows that you likely will be able to decrease the amount of energy you're using for your AC.
Outdoor Accessories
A big part of camping is enjoying the great outdoors and these outdoor accessories will make your life a lot easier.
49. Clam Shelter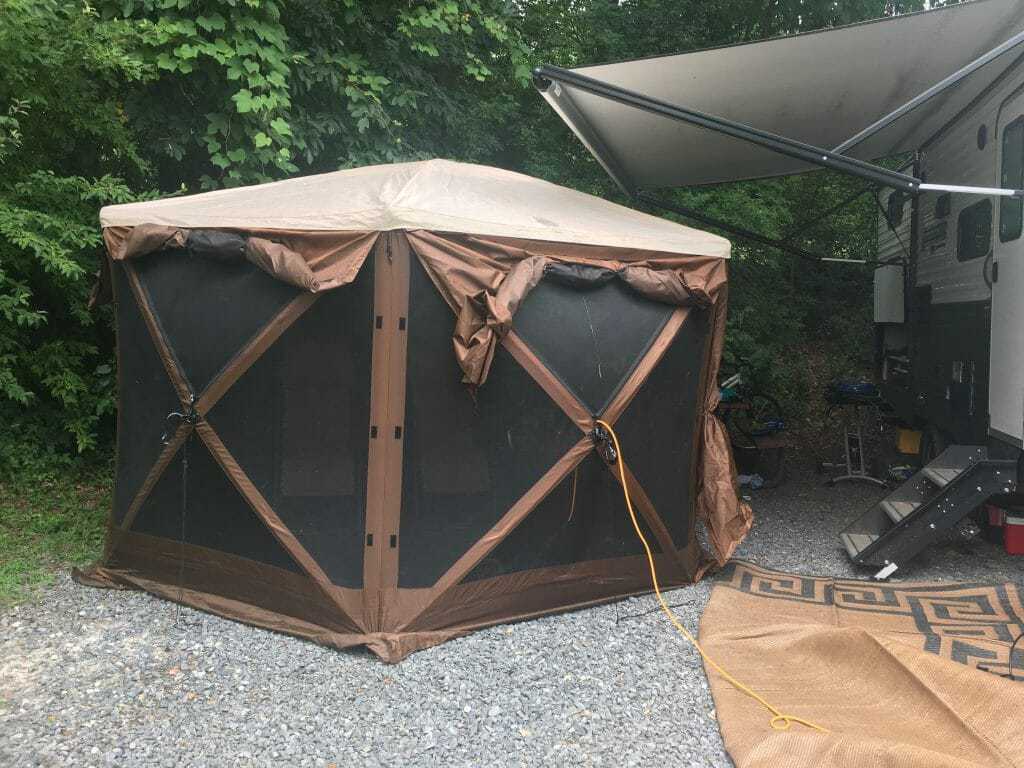 Here's a whole extra room that keeps out the bugs but lets fresh air in.
There are some shelters that may keep out mosquitos but they still let in those terrible no see ums. When you have this clam shelter zipped up, you don't have to worry about that anymore.
We put our zero gravity chairs inside and enjoy the outside without the outside enjoying us.
50. Tent for Extra People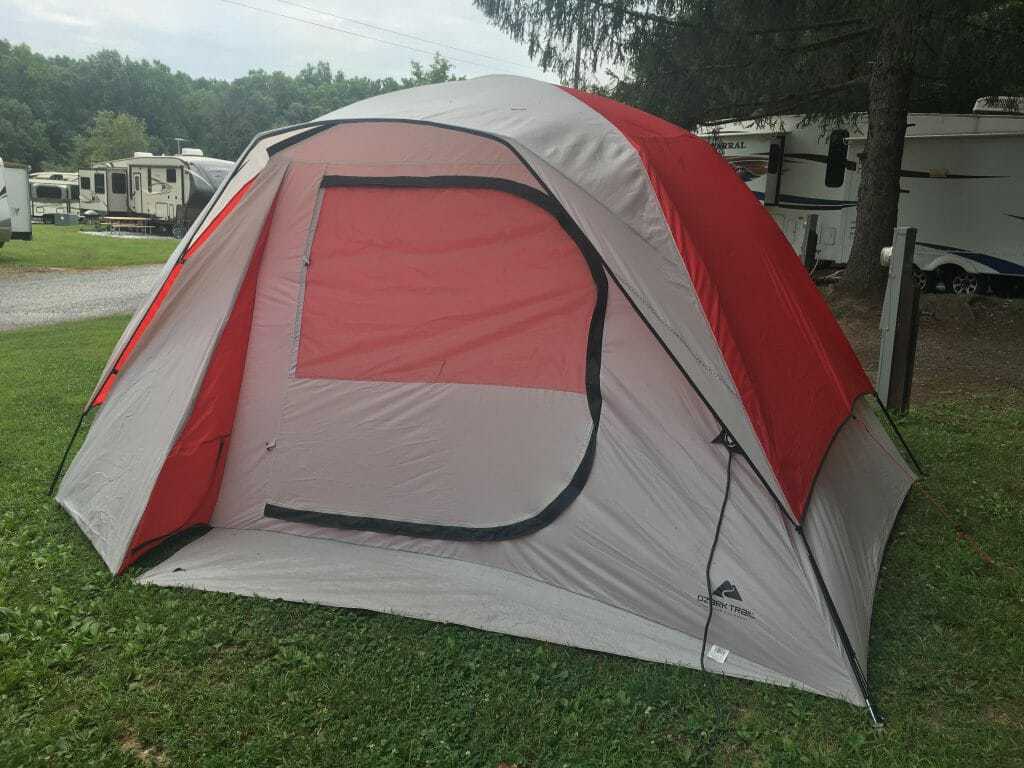 My son's tent and domain.
If you're like us then you might have a lot of people in your camping crew. There are 6 of us. 2 adults and 4 kids.
My oldest is a teenager and he has his own tent and feels pretty independent in his own space.
51. Propane Fire Pit
Not all campsites have a fire pit and a wood burning fire pit is much different than a propane fire pit. If you want on demand fire then propane fire pit it is.
S'morez anyone?
52. Portable Grill

We've been using this for almost a year now and it does really well.
We have a portable grill even though we have a stove and an oven in our RV. Sometimes it is too hot to cook inside so it's grill cooking for us as long as the heat wave is hitting us.
53. Zero Gravity Chairs

Here's my comfy setup and writing spot for this RV site.
Zero gravity chairs make it easy to kick back and relax without having to get out of your chair and resituate it. Sitting up, leaning or laying — it's easy!
54. Outdoor RV Patio Rug
We have small kids that like to play on the patio rug so that makes it a must for us but even without them — it just makes it look so much nicer outside of the rig.
You definitely want to have something that is breathable so it doesn't kill all of the grass. Having a breathable patio rug also lets any rain go through it as well so you aren't stuck with a soggy mess.
55. Tablecloths for Your RV Campsite Table
Having a tablecloth on your RV campsite table really dresses it up and gives you the ability to put a little person flair on things.
You can invest in some really high-end tablecloths or you might just opt for the disposables and change it up every campsite.
56. Tablecloth Clips
The problem we kept having was that our tablecloths would blow off — or at least blow over whatever we had put on them to keep them from blowing away.
It was super annoying and it didn't look good. The tablecloth clips allowed us to easily keep things in place. 
57. Hammock
Hammocks aren't only meant for the beach. And good news — trees aren't the only place hammocks can be. You can enjoy free standing hammocks anywhere you wish.
58. Solar Oven
Cooking with the sun? How cool is that?
Solar ovens can bake, broil or steam food. The way solar ovens work, you shouldn't worry about burning it. Just keep an eye on it so you'll be able to get it out when it's just right for you.
It doesn't matter if it is hot or cold — you can cook as long as you've got the sun.
59. Inflatable Solar Lights
Solar lights? Brilliant!
You can get little solar lights to put all around and light up your night but don't think they won't pack a punch. The best brands really do give you a nice amount of light and are perfect for boondocking.
60. Folding Camping Table
While your campsite might have a picnic table, a folding camping table is easy to tote to where you want it to be. Moving the picnic table isn't always the easiest feat. 
Even More Accessories for RV Life
That isn't enough for you? Don't worry! We have more must-have accessories and RV supplies for you below.
61. Xbox One
We have an Xbox 360 and an Xbox One but you need the One to play all of the latest games. We can watch Netflix through it as well as YouTube, DVDs and other things so it's a no-brainer for us.
62. Game Pass
We don't want to have a bunch of games in our RV so we make good use of the Game Pass where we can download a bunch of games and play them. The kids go through games like nobody's business so a few bucks a month is worth it for almost unlimited games.
63. Dish Playmaker & Dish Satellite Service
We only use our dish playmaker and satellite service when the internet won't work for Netflix and YouTube. Sometimes it really comes in handy though because of the lack of internet access.
If you're stuck inside on rainy days then you really need some entertainment. You don't want to have to go down to the clubhouse all day to get the WiFi access. 
Learn More Great RV Life Tips
Now that you know about these must-have truck accessories for RVers, why not learn more about full-time RV life? We have many great articles that can help you get more comfortable with the thought of hitting the road full-time.
Navigate to your favorite parts of our site and don't forget to drop a bookmark for more great reads.