Small RVs, such as pop-up trailers, teardrop campers, and class B vans, can go many places that larger RVs can't. However, the downside is that you have to either seriously downsize your possessions, or you have to get creative with how you use space.
We recently started traveling full-time in our class B RV and discovered this ourselves, so we came up with 15 space-saving solutions to keep everything in place. Take a look — you may want to try some of these ideas in your RV.
1. Add pockets to sloped ceilings
Many small RVs, such as class B vans and teardrop campers, have irregularly shaped walls and ceilings. That doesn't mean that you have to let that space go to waste. A set of large pockets is perfect for storing maps, travel guides, documents, and more.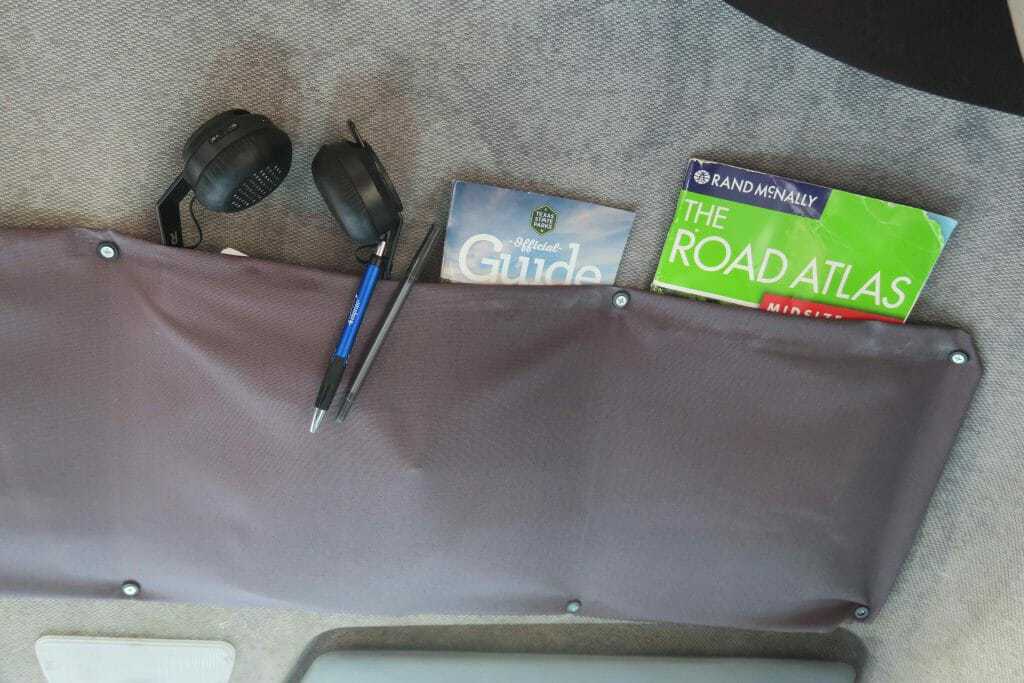 These pockets are above the driver and passenger seat of our small RV. They store our road maps, guide books, and other things we use often on long drives.
To make your own set of simple and inexpensive pockets, follow these steps:
Get a few screws, washers, and a single piece of durable fabric cut to the size you want.
Fold over the edges of the fabric to make it look finished.
Punch a few holes where you want to screws to go.
Secure the fabric to the ceiling with the screws, being sure to use a washer each time to protect the fabric.
2. Build boxes in wasted space
Looking around your small RV, you may see some empty space that could be put to good use. For us, it was the spot directly behind the chairs in our class B van. A simple box out of cheap planks from a local home improvement store is an instant way to add more storage.

This box stores things we use often or need quick access to, such as cleaning supplies and a fire extinguisher.
Whatever you choose to build, be sure to seal it with paint, stain, or a matte polyurethane coating. This protects the wood from warping or taking on moisture over time. In this case, we put on two coats of a polyurethane-based sealant slightly thinned with mineral spirits.
3. Get seat covers with extra pockets
Many people put on seat covers to protect their seats or to provide extra support for their backs. If you're going to do that, you might as well buy covers that already have pockets on the back.

Our seat covers store bug spray, a headlamp, a hammock, and handkerchiefs.
Use the pockets to store small items that you use often, such as:
Bug spray
Sunscreen
Headlamps
Pens
Chargers
Maps
4. Add grommets to rags and store out of sight
If you want the convenience of a mounted paper towel roll but the eco-friendliness of dishrags, then this DIY project is the perfect happy medium.
This is just one of the many ways you can keep your tiny kitchen tidy.

Our dishrags hang on a carabiner that hangs on a hook under the sink. 
Dishrags on their own can create clutter and take up precious space in your drawers. Instead, simply add large grommets to the corner of some rags, then store them all on a single carabiner and hang it on a hook. Use one rag at a time the same way you would a paper towel.
5. Build a spice rack above a window or door
The space above doors might seem too small for anything usable, but it's exactly the right size for spice jars or other small items.

We put a spice rack above the side door of our class B van. 
This rack was easy enough to make with 1×4 boards. We sealed it with the same polyurethane sealant that we used to build the boxes in #2.
You'll need access to a table saw in order to make one, but if you don't feel confident or don't have the right tools, you could buy a premade wall-mounted spice rack like this one. There are also larger versions that can fit cans or jelly jars.
6. Hang sponges from the tap in your sink
Sponges and scrub brushes left on the counter can make your small kitchen look cluttered, and leaving them in the bottom of the sink makes it difficult for them to dry out. Instead, hang them over the side of the sink.

Our cleaning supplies hang off the soap dispenser in our RV's sink.
For a quick fix, cut a piece of ribbon and either loop it or pin it to your brush or sponge. Then, hang the loop over the tap or soap dispenser.
If you don't like the look of the ribbon, you could buy a sink caddy that attaches to the side of the sink using suction cups. It'll hold a sponge, a bar of soap, and a scrub brush all at once.
7. Put a dustpan on a hook by the door
One of our favorite hacks for cleaning inside an RV is to always clean from top to bottom. The same goes for storing your cleaning supplies. You don't want to put brooms or other supplies someplace that could leave a mess, but you also want to have them easily on hand for quickly cleaning up.

Our broom and dustpan hang on a hook next to the door and near the floor.
Having a small broom and dustpan always on hand makes it more likely that you'll sweep out the RV daily. Hanging it on a hook next the floor not only makes it convenient but also keeps any leftover dust in the broom from spreading all over the RV.
8. Add cup hooks for frequently used things
One thing you can never have enough of in an RV are hooks. We have several in our van for jackets, bags, and towels, as you can see on the left in this picture.
Cup hooks, which are even smaller than wall-mounted hooks, are useful for holding small things that you use often.

We added six cup hooks to the bottom of our jar and coffee cup holder.
Cup hooks screw to the bottom of cabinets or other wood services. They're traditionally used to hold coffee mugs. You can get them in packs of 8-10 at the store or even in a pack of one hundred in assorted sizes.
I love the cup hooks in our van because it allows me to grab what I need when quickly making a one-pot meal.
Besides coffee mugs, some things you can hang on cup hooks are:
Your most used spatulas or spoons
Measuring spoons and cups
The towels with grommets from #4
Bottle opener
Any other small items you use regularly
9. Use bungee cords to hold things under benches or beds
We had a lot of large, flat objects that were creating more clutter in our main storage spaces. We use them daily and needed to be able to easily access them, but we also wanted them kept out of the way. That's where bungee cords come in.

This bungee cord system beneath our bed holds a lap desk, homemade window shades, and a rug we use outside.
Using just eye screws and a few short bungee cords, you can turn any surface into extra storage space for large, flat items.
Other things you can store with this system include:
Skis and ski poles (yes, we do this!)
Umbrellas
Tarps
Empty hiking packs
Spare folding table
10. Store linens in underused spaces
The space between the top of the cabinet might seem too small to store anything important, but in fact, it's the perfect place to put bed sheets, towels, and beach blankets.

The space above our cabinets holds most of our linens. They may not be folded neatly, but at least they're out of the way!
We designed our cabinets to have an extra lip to goes above the top of the cabinet to hold the linens in place. You could also add a length of trim from your local home improvement store that does the same thing.
11. Build a cabinet next to the bed
Small RVs often forgo many conveniences that larger RVs have. One thing you might not be willing to go without is bedside tables. With a little creativity, you won't have to.

We shortened the width of our bed and built these handy cabinets on both sides. 
One option is to shorten the width of the bed and add small cabinets on both sides. If there's already extra space on both sides of the bed, you could also turn that into extra storage.
While this makes it a little difficult to enter and exit the bed, the extra storage is invaluable. I love being able to store books, toiletries, and other things that I would normally keep on a bedside table.
These cabinets also provide you with extra tabletop space, so you can fall asleep with a glass of water, a phone, or whatever else you want to keep next to your bedside.
12. Store clothes in bins and packing cubes for easy access
Nothing is worse than trying to get clothes out of your cabinets without pulling out the whole stack. Bins and packing cubes keep your cabinets need and speed up the time it takes for you to find and get the clothes you need.

Our bins hold most of the clothes in our cabinets.
With bins or packing cubes, you can grab exactly what you need and put it back with ease, all without creating even more mess.
Best of all, this is an inexpensive solution that you can find at any Walmart, Target, or home goods store.
13. Hide storage bins with a curtain
Creating extra storage doesn't have to involve building new cabinets or other major upgrades. You can take advantage of the space you already have, then keep things looking tidy by covering it up with curtains.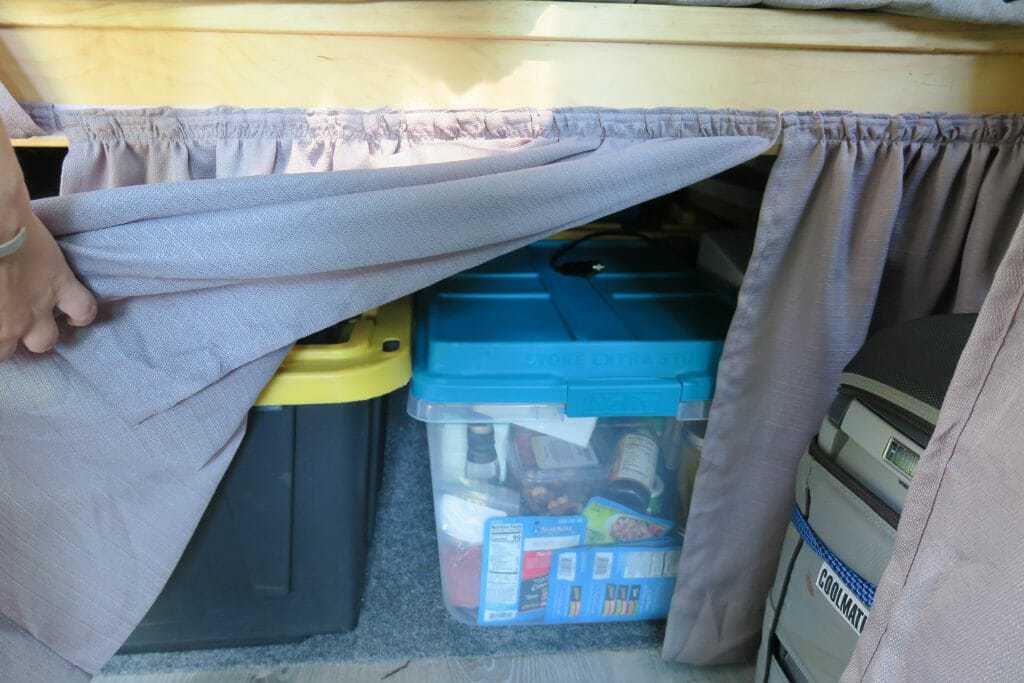 We hide storage bins under our bed with curtains that are velcroed to the platform.
You don't need to be a sewing master to make these curtains. Just follow these steps:
Buy cheap, ready-made curtains from Walmart or a home goods store.
Cut them to the length you need, being careful not to cut the end that already has a hem.
Fold and sew the cut side to give it a finished edge.
Attach Velcro to the top of the curtain and the surface you want to hang them from.
With that, you have a set of storage-hiding curtains that you can detach as needed!
14. Put a textured rug under storage bins to prevent slipping
Small RVs tend to absorb a lot of shock when underway so things may be prone to moving around. Adding a textured, non-slip rug beneath storage boxes can help keep them in place while you're driving.

This textured rug prevents storage bins from slipping while the RV is underway.
You can get this rug for only a few dollars from the store, or you can order a ribbed utility mat on Amazon.
15. Hide a table for an extra surface area when you need it
Your RV might be so small that you can't have a permanent table. With this space-saving solution, you'll be able to set one up and put it away in seconds.

We secure our folding table inside the back door of our van.
You can secure a folding table to the inside of a door or a wall with a few angle brackets and a bungee cord. Note that you'll also want to put a few angle brackets on the bottom so that the table will have something to rest on.
Start Organizing Your Small RV
When it comes to organization, small RVs can present a big challenge. You may find yourself wondering how you're ever going to make it work. Before you throw in the towel and invest in a larger rig, take a look around your space and think creatively about how you can store all everything you need. You'll probably find that some of the best DIY organizational projects are quick, easy, and inexpensive.
Want even more ideas for how to keep your RV organized? Check out these tips for storage solutions or these 15 brilliant space-saving ideas to keep your kitchen, bedroom, and bathroom tidy.
Also check out this video of how one van owner organizes her space to live in it full-time.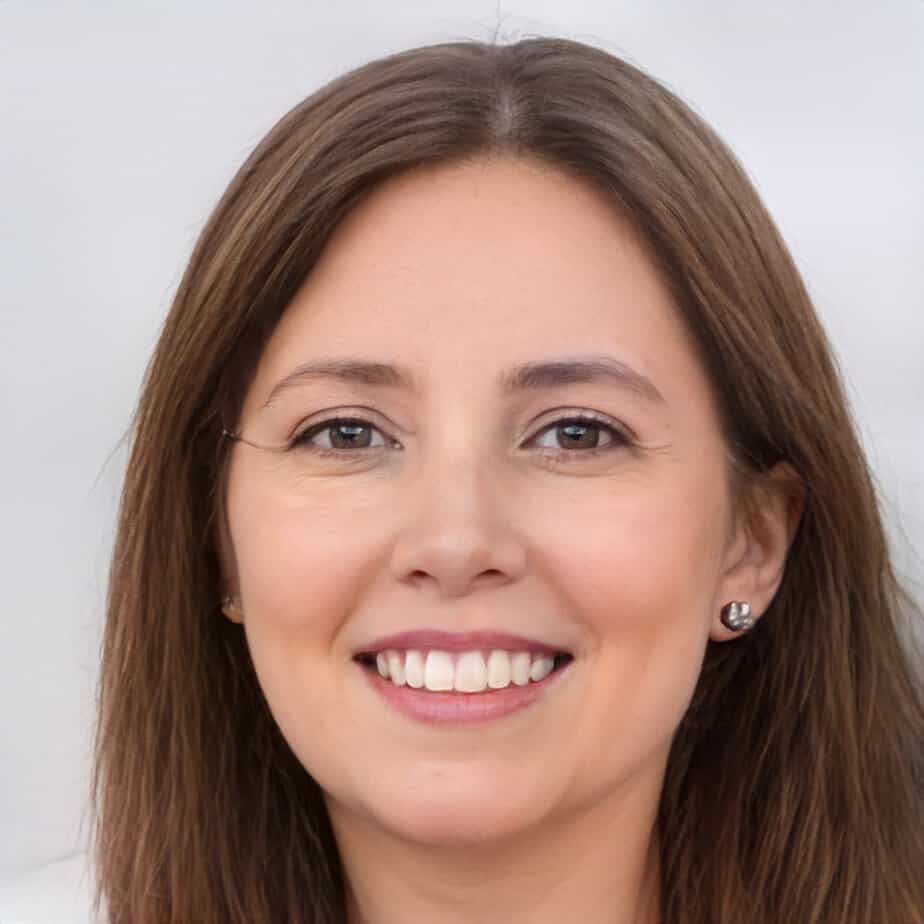 Jill Miller is the founder of Your RV Lifestyle. Trading corporate America for the open road, Jill, along with her partner Jose, began their RV journey, making an unconventional start by wintering in New Jersey. A natural adventurer, she was motivated by a desire to explore the USA and beyond, embracing the varied landscapes, communities, and cultures across the country.
For Jill, the allure of RV living was not about material accumulation, but rather the pursuit of an adventurous, fulfilling lifestyle. A lover of golf, bicycling, hiking, and line dancing, she has carried her passions across the country, engaging with them in diverse settings. Jill's commitment to the RV lifestyle came after years of careful research, numerous consultations with RV owners, and personal trials, including living in a rental RV.