We cover numerous RV topics on our site. You can read about RV fulltiming, costs for the RV lifestyle, internet access and working on the road.   We have written about RV clubs, campgrounds, publications and places to RV.
RV Topics for All…
We hope this information helps those who are just getting started, as well as those looking for other perspectives and opinions.   And we always want to hear from other RVers.   Be it technical expertise, ways to maximize living or storage space, ideas for traveling down the road or saving money.   Maybe something you just learned that you want to share with other RVers.      You name it, we want to know what you think.
---
We welcome your tips, expertise, solutions to problems, things you have learned along the way…
12 volt system
I have a 1985 ford/coachman RV. The lighting inside the RV only works on household current or the generator, it doesn't work off the battery only. Can …
New Product – ReVo Leveler
A description of ReVo Leveler:
ReVo Leveler is an aftermarket product to be used on travel trailers, bumper pull and fifth wheel, that do not have the …
Question on RV water pump: I just replaced my water pump. Now when I open a faucet, it does not run for 30 to 40 seconds just drips and then comes on, is there an adjustment for that? (it is a Sureflo).
Answer: Since we've not had to change our water pump we do not have experience in your particular problem. However, we suggest that you contact Shurflo for technical assistance.
Pump to connect an above ground water tank? by Tim Kohlsmith, Leduc Alberta Canada
Question: I have a 750 gallon above ground water tank located next to where I mostly use my RV. I have electricity available in this location. What kind of pump do I use to pipe water from the tank into my city water inlet? I'm guessing that one with too much pressure could blow the lines. How should it be hooked up?
Towing doubles, when to use an anti-sway bar by Eric, Boise Idaho USA
Question: After pulling a 22ft Nash trailer with a 14ft 4 wheeler trailer attached to the back I had a very scary sway problem with the 4 wheeler trailer. I am pulling with a Chevy 1 ton Crew cab. Should I be using a anti sway bar on the Nash trailer, should I have a anti sway bar on the 4 wheeler trailer, or on both? Any info would be appreciated. Eric
Answer: We are not experts in this situation or your specifics. We suggest you search your question on-line for "double towing tips" and take a look at some of the results. Other input is welcome.
The Best Days of Our Lives Have Been in an RV. by Mary, Titusville, Fl.
My husband and I have lived full time in an RV and loved it. As we traveled, we found a great place to stay in the winters which was so much more than just a campground.
It is "The Great Outdoors" In Titusville, Florida. It is by the ocean by 11 miles and Mickey Mouse is 45 minutes away!
After owning two lots there and a house for 8 years, it is now time to end our travels due to age. We have a beautiful home for sale at this 10/10/10 rated Goodall facility with the loveliest homes accommodating RV's and our home accommodating a 45 foot one!
One can stay for a night or a lifetime.
Our home can be seen on http://tour.circlepix.com/home/VKQX9D Or via Re/Max MLS 726360. This is one of a kind, built like a fort and cute as can be on the outside. The amenities at this RV park are too numerous to mention.
If anyone needs advice on motor homing, we have owned three of them all class A's. We bought them for the dogs.
Holding Things in Residential Refrigerator and Cabinets in RV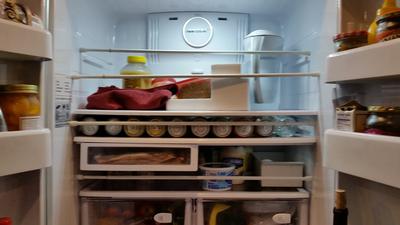 We have a 2015 Fleetwood Bounder and the residential refrigerator and the cabinets are not the sizes of the current expandable shelf rods.
I bought expandable drapery rods at Walmart that fit my refrigerator so that I am sure the things that are in there are not shifting around so they will fall out when I open the doors after we have been on the bumpy roads.
I also bought a clear jar of tiny bungee cords at Walmart that I have knotted two together to create the correct length for all the shelves in all the cabinets in our RV to keep things from falling out at me when I open the doors. I can take them off easily because I put in small eye screws on the sides of the shelves at whatever height I need them to secure the tall items that seem to shift when we travel down the roads. When we are setup for several days, I just remove them and throw them into the drawers or place them on the shelves until we are ready to travel again.
Tip For Emptying Low Point Drains To Bypass the Bins
We have a 2015 Fleetwood Bounder and the Low Point Drains for the Hot and Cold Water are in the same bin where the dump and electric are. If you open the valves, the water drains directly into the bin.
We have the pool noodles that we have sliced open to use for slide protectors since I have sliced my head open twice on our slides (Ugh!) and my husband used one of those to place on the drain valves in order to direct the water outside the bins. AWESOME!!!
1996 travle trailer prowler mirror
Question: I have a 1996 Prowler Trailer and I want to remove the wall mirror . How were they installed and how do you remove it ? Thank you for any help you can give me .
Answer: We can't offer any specific help remotely. Maybe you can call the manufacturer, or ask at a dealer who sells this type of RV or a RV renovation place. Or look for a forum of owners of the same type of RV. In the meantime, we post your question in case anyone wants to comment.
Drivers License for Fulltime RVing
Question: Hello, I have looked at Motor Homes, and would like to sell my home. But, without a permanent residence what do folks do about there drivers …
Options: Internet Access on the Road
When I was five years old, my family bought a Damon Intruder, and we set out on a road-trip. It was the summer of 1995. My parents, along with my three …
Mold Allergy and Water Damage
Question: My daughter and I have several autoimmune conditions. We've been sick for over 5 years now. I had to quit my job and she is now home …
Towing Tips
One of the most important subjects to understand as an RVer is the definitions and logistics associated with RV weight and towing capacity.
Over the years, there have been strides made in standardizing RV vehicle weight definitions, through the efforts of the Recreational Vehicles Industry Association (RVIA), RV Dealer's Association (RVDA) and RV Safety Education Foundation (RVSEF).
This is certainly a big help. But it is still up to individual RVers to pay attention, know what they are doing and operate in accordance with safe practices.
Being knowledgeable about towing means increased safety and enjoyment in your RV travels. Know how to tow before you buy, and every time you head out on the road. You will have less hassles, more fun and will help promote RV safety.
We suggest that all RVers know the meaning of the various weight and weight rating definitions. It is critical to learn safe towing practices and make them part of your regular RVing routine. This is not an area to become complacent.
Taking the time to do things right and maintain safe equipment can avoid mishaps. After all, you want to have the fun RVing adventures – not the dangerous and expensive ones.
RV Pests (Mice)
by Lee Boyer
(Longville, MN )
I keep a pop-up camper parked permanently on land near an 800-acre lake. I use the camper at least 20 weekends out of the year. It used to be a hassle to load and unload my dry food goods (rice, flour, pancake mix, navy beans, potatoes, etc) with each use. The mice are quite thick in the area and the dry goods are always at danger of being invaded.
A friend turned me on to a device that has made life much easier. It's an anti-rodent food bag called Grubpack. It is largely sold to hikers and backpackers, but also serves my camper purpose.
It is made of a metal wire mesh material which the mice can't bite through. Grubpacks are sold in various sizes online. I have a couple small ones for the boxed goods and a large one for my potatoes, onions and other loose raw fruits and vegetables.
---
How to Sanitize RV System: Sanitizing your RV fresh water tank and associated fresh water lines should be part of every RV's maintenance program.
RV Clubs Rally and Save You Money RV clubs benefit RV wannabees, new and experienced RVers. Choose from many clubs for campground discounts, rallies, magazines, services ideal for RVers, and more savings.
Budget for RV Costs Plan a budget for RV costs. Estimate RV costs, financing, insurance, and living expenses. Enjoy your RV lifestyle more by planning ahead.
RV Rentals: Try before you Buy Guide to renting RVs. A great way to try out the RV lifestyle firsthand, travel, and see new places. Advice and resources for renting.
Selecting a Home Base:   Fulltimers need to consider multiple factors when choosing a legal address.  Here are some things to think about.
Have more to share?  We'd love to hear your opinions on the best campgrounds and best places to visit.   We showcase a lot of places we have visited on our RV travel page, but we are always on the lookout for our next adventure.  So let us know your favorites.
Also check out our Memorable Moments,  Frequently Asked Questions and more RV topics.