It's no coincidence that Dubai has ranked the best city in the Middle East by Mercer's 2018 Quality of Living Survey. The sandpit, as the locals like to call it, is one of the few cities in the world that really speaks modernity, but breathes tradition. Situated at the heart of the Arabian Peninsula, Dubai is home to three million inhabitants including Emirati locals and expats from 200 countries. Last year, Dubai hosted 15.8 million tourists and became the fourth most popular destination globally. It is vibrant, hot, and safe; and if you are up to it, here is a list of the top 50 things to check off your list.
1. At.mosphere (Downtown Burj Khalifa)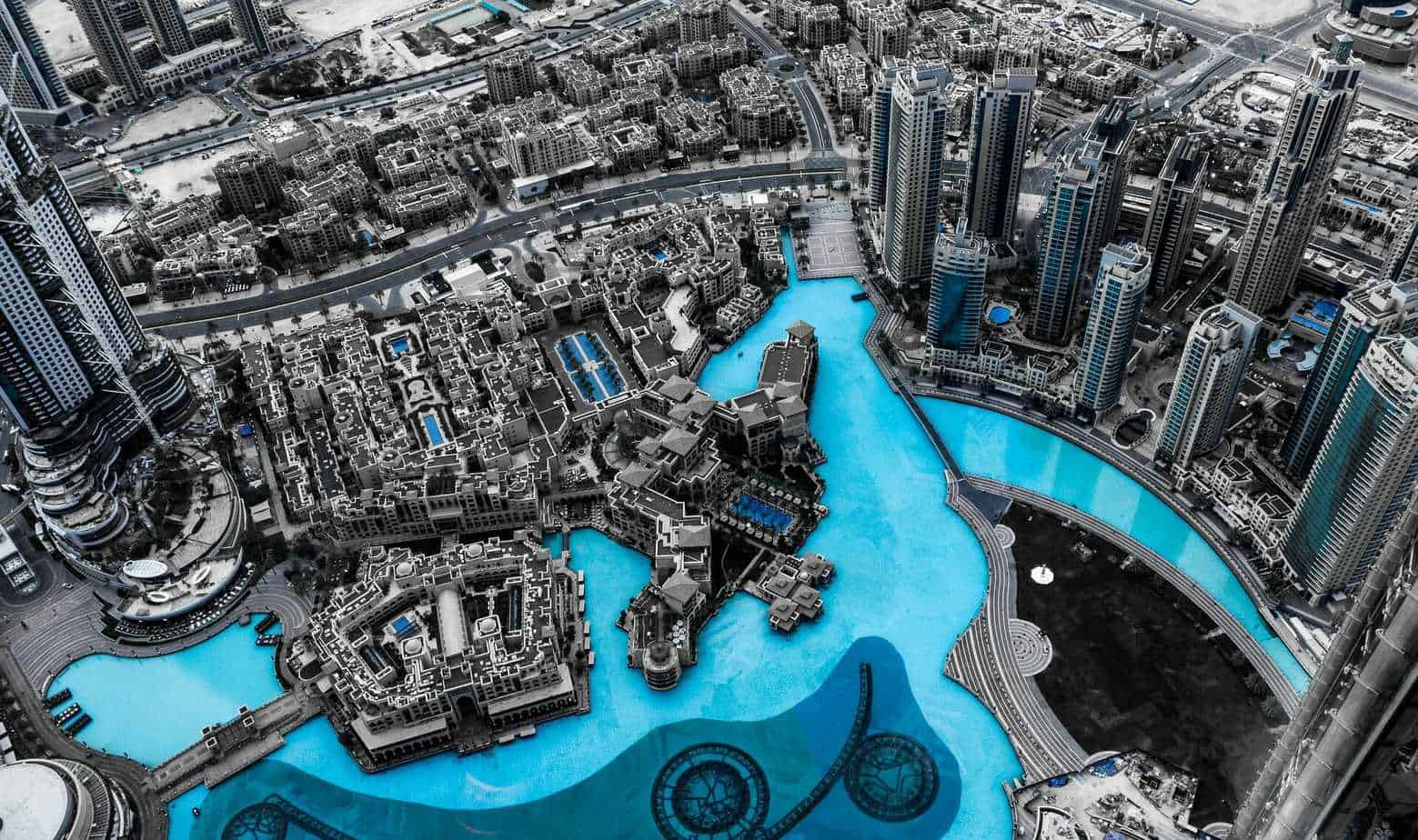 Book a table at Burj Khalifa's exclusive At.mosphere restaurant and indulge in an ultimate fine dining experience with a view to remember. Situated in the 122 level of the world's tallest building (Burj Khalifa), At.mosphere is a Dubai culinary pride you don't want to miss. A dinner at At.mosphere will take about two hours of your evening.
2. Dubai Opera House (Downtown Burj Khalifa)
Since it opened its doors to the publics two years ago, Dubai Opera House has been dazzling visitors with world-renowned performances such as La Boheme (opera), Swan Lake (musical theatre), and Harry Potter and the Philosopher's Stone (symphony orchestra). Attending a show at the Dubai Opera House is a unique experience for art lovers that last for two to three hours.
3. Dune Bashing (The Empty Quarter)
This is one of the most popular and thrilling outdoor activities among both Dubai visitors and residents. Hire a certified off-road chauffeur-driven 4×4 for an unforgettable adventure across the majestic Arabian Empty Quarter dunes. Many tour operators provide tailored programmes that, in addition to dune bashing, include camel rides, belly dancing shows, henna tattoos, and a mouth-watering bedouin tent dinners. If you prefer going solo, try Al Khawaneej Desert were you can safely park your RV on the side of the road and enjoy a desert barbecue grill. It really depends on your preferences but such an experience will take you from two to eight hours.
4. Burj Al Arab Terrace (Umm Suqeim)
With breathtaking views on the Arabian Gulf, Terrace is a 10,000 square meter ultra-luxurious facility hosting some of the top restaurants and bars in Dubai, an exquisite infinity pool, and a dreamy private beach. If you want to live like a millionaire for a day, get a 12 hours pass at Burj Al Arab (the world's only seven star hotel), and be ready to experience the best of Arabian hospitality.
5. The Dubai Fountain (Downtown Burj Khalifa)
No one would ever have enough of watching the astonishing Dubai Fountain dancing to the finest world-renowned melodies. Located right outside Dubai Mall, the 152-meters-high water splash will leave you speechless for the entire show. It occurs every 30 minutes and charms hundreds of visitors every day.
6. Ski Dubai (The Mall of the Emirates)
If you want to slide over an 85-metre-high mountain slop in the middle of the desert, head to the Mall of Emirates for an indoor ski experience at Ski Dubai. This unique winter-themed attraction not only features five slopes where you can enjoy skiing and snowboarding in temperatures as low as minus four degrees, but is also home to more than 20 happy King and Gentoo penguins (probably the most pampered in the world!) that you can greet and cuddle with as part of the experience! You can spend a whole day at Ski Dubai, but two to three hours would also do.
7. Madinat Jumeirah (Umm Suqeim)
Madinat in Arabic means "city" and Madinat Jumeirah is a mini-city within Dubai hosting three of the most luxurious hotels in town: Al Qasr, Mina Salam, and Al Naseem; more than 50 F&B outlets, a traditional souk, a theatre, as well as a Venise-inspired artificial river you can walk aside or float on with one of the Abra's available at the facility. An afternoon is more than enough to cover the Madinat Souk, an Arabian coffee break, and a river ride.
8. Relax RV Camping (Ras Al Khaimah)
Whether you are an RV traveller or simply a camping enthusiast who wants to safely party in the desert, check out Relax RV Camping when you visit Dubai. Located at Exit 119 on Sheikh Mohammed Bin Zayed Road (one hour / 90 kms drive north from Dubai), it is the only RV camping resort in the UAE featuring not only a stunning oasis landscape, but also many facilities that will upgrade your desert camp experience. Swimming pools, snack bars, and a party and game zone are just examples of these. Tip: It gets really hot during the day, so make sure your RV air conditioner is functioning properly.
9. Dubai Parks & Resorts (Jebel Ali)
If you want to revive your magical childhood memories while still having loads of fun as an adult, make sure to have this one on your list. Featuring three themed parks (Motiongate, Bollywood, and Legoland), Dubai Parks & Resorts is a heaven of fun where more 100 attractions will keep you charmed and entertained throughout the whole day. Plan to spend at least four hours at Dubai Parks & Resorts.
10. Dubai World Cup (Meydan Racecourse)
If you are planning to be in Dubai around the last week of March / first week of April, reserve a seat at the world's most exclusive horse race ever, the Dubai World Cup's Final. Attended every year by royalties celebrities , and VIP's, this event is definitely worth joining. It is a world-class party that hosts not only a race where the world's most beautiful and strongest horses compete, but also fashion contests, terrace brunches, and a closing ceremony with a mind-blowing fireworks show. This is a day-long party (10 am to 10 pm) that you'll never forget!
11. Dubai Miracle Garden (Al Barsha South)
It doesn't matter if you are into parks or not, Dubai Miracle Garden will leave you impressed with its 50 million flowers collection covering recognizable structures including the famous Emirates Airbus A380, the Eifel Tower, and the Pyramids of Giza. It is one of the most photographable places in Dubai, so be camera-ready please! Your visit to Dubai Miracle Garden should take about one to two hours.
12. Skydive Dubai (AlSufouh)
Do you want to have an eagle's-eye view over beautiful Dubai? If the answer is yes, then make sure you book a session at Skydive Dubai. This incredible free-fall over the Palm Jumeirah will be a one-of-a-kind experience that you'll brag about for years to come. First timer? No issues! You will be assigned a certified mentor who will guide you throughout the whole journey. Such an experience cannot be complete without a memory to take home, this why Skydive Dubai hired professional videographers to capture your entire journey from A to Z.  If you are up to it, keep three hours aside and make sure you book your session online at least one month ahead of your trip to Dubai.
13. Khasab and Al Sayah Plateau, Musandam (Oman)
If you are open to drive for four hours and cross the northern border to Oman, you will be rewarded by one of the most beautiful landscapes in the Gulf. Drive across Al Rams – Musandam road reaching to Khasab beach where you can camp in your RV or tent for the night before heading to Al Sayah Plateau. Hiking, snorkelling, and biking are just some of the many activities you can enjoy while camping in Musandam. This is a two-day adventure you'll never forget. For a hassle free trip, don't forget to charge your RV battery, ge an Oman insurance for your vehicle, and bring your passport!
14. Ravi (Sawta)
Every fancy city around the world has a non-fancy hot restaurant that residents swear by. In Dubai, this restaurant is Ravi: a shockingly affordable restaurant specialised in Pakistani street food. Located in Satwa (one of Dubai's working-class neighbourhoods), Ravi is a must-try for every hungry person visiting the town. From tender butter chicken curries to laced lamb biryanis and mouth-watering bihari kebabs, Ravi will stir up your senses and take you on a short trip to Islamabad streets with a swing of fork. One hour at Ravi is enough, two is too much (if you see what I mean!).
15. Dubai Creek (Old Dubai)
If you want to live a moment of authenticity while enjoying spectacular views, head to Bur Dubai and take an abra (traditional boat) from the Creek towards Deira. This one dirham ride will add a nostalgic effect to your Dubai trip. For an even more magical touch, try it at night. This ride will take you about 10 minutes, but its memory will remain with you forever.
16. Al Fahidi Historical District (Bastakiya)
One of the most celebrated heritage sites of Dubai, Al Fahidi District is an old affluent quarter where wealthy Emirati families used to live in the 60's, 70's. Its fascinating Arabian architecture and narrow streets will take you back to an olden time. The whole neighbourhood has now been transformed to shaded tea shops, art exhibitions, and original bazars, making it the best spot to wander for a couple of hours.
17. Dubai Mall (Downtown Burj Khalifa)
Dubai Mall is one of the biggest and most sophisticated shopping malls in the world. It is home to more than a thousand global and local brands, 150 F&B outlets, the best ice rink in the Middle East, as well as the magnificent Dubai Aquarium and Underwater Zoo.  No matter what your age, budget, or interests are, Dubai Mall will not fail them. In one visit, you can spend up to six hours at Dubai Mall.
18. The Palm Jumeirah (Dubai)
One of Dubai's main landmarks, the Palm Jumeirah is a palm tree shaped artificial island,one of the biggest in the world. It features a wide selection of extravagant hotels and resorts such as the the one-of-a-kind Atlantis, the iconic Fairmont The Palm, and the newest addition, Jumeirah Zabeel Saray. A ride along the Palm Jumeirah's corniche takes between 30 minutes and two hours, depending on traffic.
19. Al Rafaah (Umm Al Quwain)
At an hour and a half drive north from Dubai, you can find one of the best beach camping destinations in the UAE. Gear up with kayaks, fishing equipment, and ideally, a waterproof screen room and head to a day or overnight trip to Al Rafaah. On your way, stop by Al Raas's old fishing villages and watch flamingos chilling by the mangroves. This is a full-day trip that could potentially turn into an overnight camping by the beach, so get ready for loads of fun, fishing, and sightseeing.
20. Kite Beach (Jumeraih)
Kite Beach is the most popular water activities spot in Dubai, however; there are so many other things you can do outside the waters! Enjoy a freshly squeezed watermelon juice with a view; hire a bike or roller blades and slide across the 12 kms-long skate square. You can spend between two to six hours at the Kite Beach.
21. IMG Worlds of Adventure (Dubai Land)
Sand storms are very common in Dubai and no matter how good your planning skills are, sometimes; they would take you by surprise. IMG Worlds of Adventure is an incredible indoors themed park that will make you forget about the grumpy weather and keep you entertained for a good part of the day. It is suitable for children and adults and will consume about four hours of your time.
22. Dubai Frame (Zabeel)
The newest addition to the city's top landmarks, Dubai Frame, is located in Zabeel Park, right in between old and new Dubai. It is a 150-meters-high double tower structure featuring not only spectacular views of Dubai, but also an interactive timeline concept taking visitors in a journey over time while teaching them about the Dubai story. A visit to Dubai Frame will take you about 45 minutes from start to end.
23. Jebel Jais Via Ferrata (Ras Al Khaimah)
If you are a passionate hiker, then you don't want to miss the UAE's first ever Via Ferrata (Iron Road). Located in the majestic Jebel Jais Mount in Ras Al Khaimah (two to three hours drive from Dubai), the one-kilometre-long course contains three secured itineraries of hiking, trail-biking and zip-lining. This activity will take up to six hours of your time and you'll need a spa evening afterwards! PS: Although there are no proper camping facilities around, It is easy to find a nice camping spot to enjoy the landscape from the top of the mount.It gets really cold at Jebel Jais especially in winter, so make sure your RV is equipped with a good heater to keep you warm under the stars.
24. La Mer (Jumeirah)
If you want to spend quality time with your special ones at one of Dubai's hottest spots, head to La Mer. You'll be pleased, not only with the quality and variety of culinary choices available, but also with the views and good vibes this place will offer you. Treating yourself with a fine dining session while watching the azure Arabian Gulf waters is something you will always remember. If you are into shopping, get your wallet ready for the 130 retails located at the heart of the project. Three hours are good to dine, shop, and walk at La Mer.
25. The Global Village (Dubai Land)
Imagine one giant fair that guarantees a fun day out. At the Global Village, you can visit more than 30 countries pavilions, try exotic food, shop at mysterious bazaars, and even watch folklorik performances and celebrity concerts. And if you still have some energy to drain, stop by the attraction park for some of the best games ever. You will spend about four to six hours at The Global Village.
26. Dubai Safari Park (Al Warqa)
If you want to encounter lions and crocodiles while driving a solar powered off-road vehicle,  then visit Dubai Safar Park. It is home to 2,500 wildlife species inhabiting four themed villages: the Arabian, Asian, African and Safari. You need about three hours to enjoy your excursion at the Dubai Safari Park.
27.  The Old Souks of Dubai (Old Dubai)
Dubai will never be the same again once you take this very special trip to the old souks. First, head to Deira for a stroll around the Perfume Souk where you can discover the most sensual Arabian Ouds. Once your senses are awaken, walk towards the Gold Souk and treat yourself to unique traditional jewel pieces. The Dubai souks round is never complete without an hour or two in Bur Dubai's Textile Souk, where pure colourful silky fabrics from the East will make you feel like an Arabian princess or an Indian Maharaja shopping for their wedding. If you are a shopaholic, be ready to spend at least four hours around Dubai's old souks.
28. Desert Horse Riding (Bab Al Shams)
Dubai's heritage lays on a longstanding relationship with Arabian horses. It comes naturally then that the city features some of the world's best horse riding facilities. For a memorable horse ride across the magnificent Arabian Desert, visit Bab Al Shams Resort and embrace the peaceful sensations this experience will awaken in you. A one hour ride on the back of an Arabian horse will leave you mesmerized forever.
29. Ras Al Khor's Wildlife Sanctuary (Ras Al Khor)
If you are a bird lover and happen to be in Dubai, you don't want to miss visiting Ras Al Khor's Wildlife Sanctuary. This natural wonder hosts more than 400 gorgeous bird species in their annual Asian African migration trip. The visit will take you a maximum of one hour.
30. Platinum Heritage (Dubai Desert)
Imagine yourself rising among the clouds over a horizon set on golden dunes, green havens, and wandering camel herds. This is the scenery you will enjoy during a hot air balloon ride in Dubai Desert by Platinum Heritage. Whether you choose a sun rise or a sun set ride, this three hours experience will stick to your mind and heart forever.
31. Falconry Show  (Al Maha)
Just like horses, falcons have been part of the UAE heritage for ages. Head to Al Maha Resort and watch these majestic birds fly over the Arabian Desert skies before swooping down at a terrific speed. You will be amazed by the strong relationship falcons have with their falconers. It is like magic, and it is worth witnessing. A ride to Al Maha from Dubai and a falconry show will take about three  hours of your time.
32. Al Hajar Mountains(Hatta)
One of the locals' favourite weekend activities, a road trip to Hatta is an adventure to consider while in Dubai. Hire an RV and explore the spectacular landscape that gradually shift colours from reddish and sandy to green and rocky as you get closer to the Al Hajar Mountains.You can stop for a little dip in the Hatta Rock Pools, enjoy water activities such as kayaking and snorkeling before heading to Hatta's 18th century heritage village for a walk. This trip will take you up to 12 hours, depending on the activities you select.
33. Yoga in The Lost Chambers (Atlantis The Palm)
There are many wonderful things that Atlantis the Palm is famous for, but practicing Yoga in The Lost Chambers Aquarium is not a common activity for tourists. Imagine how special it would be to meditate surrounded by blue waters and 65,000 marine species?  This yoga class is for all levels and lasts for one hour.
34. The Irish Village (Al Garhoud)
Standing still for over two decades, the Irish Village never fails to charm its visitors. With its shady wooden rural interiors and extensive courtyard, this places pushes customers to come back over and over again. The amazing atmosphere, the reasonable prices, and the good Irish drinks and food are everything you need to spend a pleasant afternoon or evening at the Irish Village, and you'll always come back!
35. Camel Race (Al Marmoum)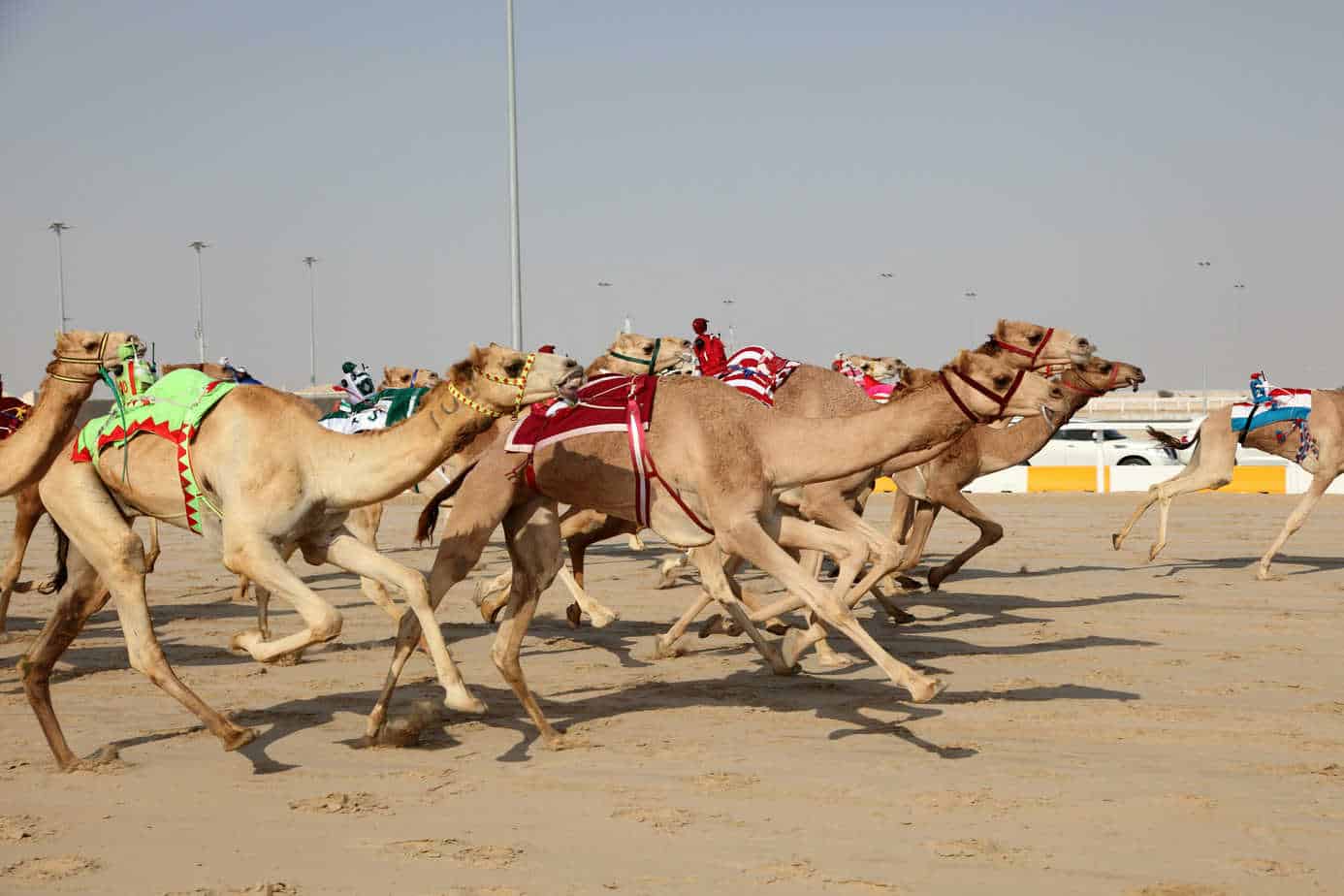 Ok, this is one of the not very common things to do, but it is definitely one of the most joyful and unique to Dubai experiences ever. Head to Al Marmoum Camel Racetrack and watch camels impressing spectators for free! Count for four hours including a return ride to Dubai, the race, and a selfie with the winner (camel).
36. Deep Sea Fishing (Jumeirah)
If you want to have one of those proud facebook profile pictures posing with a huge fish in your hand, then check out this one! Dubai is well-known for being a perfect place for deep sea fishing and there are many yacht charter operators who will take you in a trip to remember. You'll be surprised of your own fishing abilities and even more of your catch! A deep sea fishing trip usually take about three to four hours.
37. The Local House for a Camel Burger (Dubai)
"Only in Dubai" is an expression overused by locals and residents who (rightfully) love to brag about Dubai's unique features. Sometimes it's exaggerated, but tell me please, when was the last time you had the chance to try a camel burger?! If the answer is never, you really need to visit Local House, the restaurant that exclusively introduced camel burger to the UAE. It is also famous for the tasty Khameer bread, an Emirati trademark. A 30 minutes stop at Local House will do the job.
38. Gold ATM (Dubai Mall, Atlantis The Palm, & Souk Madinat)
If you fancy owning a pure 24 carat gold piece, Dubai's Gold ATM's will make it happen! It is exactly the same concept as money ATM's, the only difference is that you insert cash or your credit card et voila! You get a shiny sharp gold piece to take home. Gold ATM's are available at Dubai Mall, Atlantis the Palm, and Souk Madinat Jumeirah, and it'll take you less than a minute to cash gold!
39. Sheikh Saeed Al Maktoum House (Al Shindagha)
Sheikh Saeed Al Maktoum is the grandfather of Sheikh Mohammed bin Rashed Al Maktoun, the current ruler of Dubai. His house, that was built in 1896 and served as the royal residence for many years, has been restored as a museum which demonstrates the finest of Arabian art and architecture.  It also contains rare photographs of 1940's Dubai, as well as ancient collectibles such as coins, maps, and stamps telling the charming story of the city's impressive evolution. You can spend up to 45 minutes in Sheikh Saeed Al Maktoum House.
40. Al Jumeirah Mosque (Jumeirah)
While in Dubai, don't miss the opportunity to visit one of the most beautiful mosques in town, Al Jumeirah Mosque.  A precise copy of Al-Azhar Mosque in Cairo, this sacred prayer house is another example of the fine Islamic architecture. To make your visit more insightful, book a guided private tour where an expert will take you through the details and history of the building and answer any questions you might have regarding Islam.  The tour lasts approximately for one hour 30 minutes.
41. The Heritage and Diving Village (Shindaga)
This place is one of the landmarks that make Dubai – the modern cosmopolitan city – also a hub of tradition and heritage preservation. It celebrates maritime trade that had been the main economic activity of Dubai locals for decades. It is a very special part of the town that means a lot to the locals and leaves a special effect on tourists. It is also very instagramable, so get your camera readyfor many stunning pictures during an hour stroll around the village.
Al Serkal Avenue (Dubai Design District)
Set to be Dubai's art hub, Al Serkal Avenue already hosts some of the most prominent art exhibitions in town. If you are into contemporary art and wish to explore Dubai's modern spirit, check it out. Al Serkal Avenue features rotating collections celebrating both mature and young talent. Put your shades on, and get ready for an afternoon walk between art galleries and outdoor exhibitions. The Avenue will impress you enough to spend a couple of hours wandering around its art-breathing streets.
43. Dine in the Sky (Al Sufouh)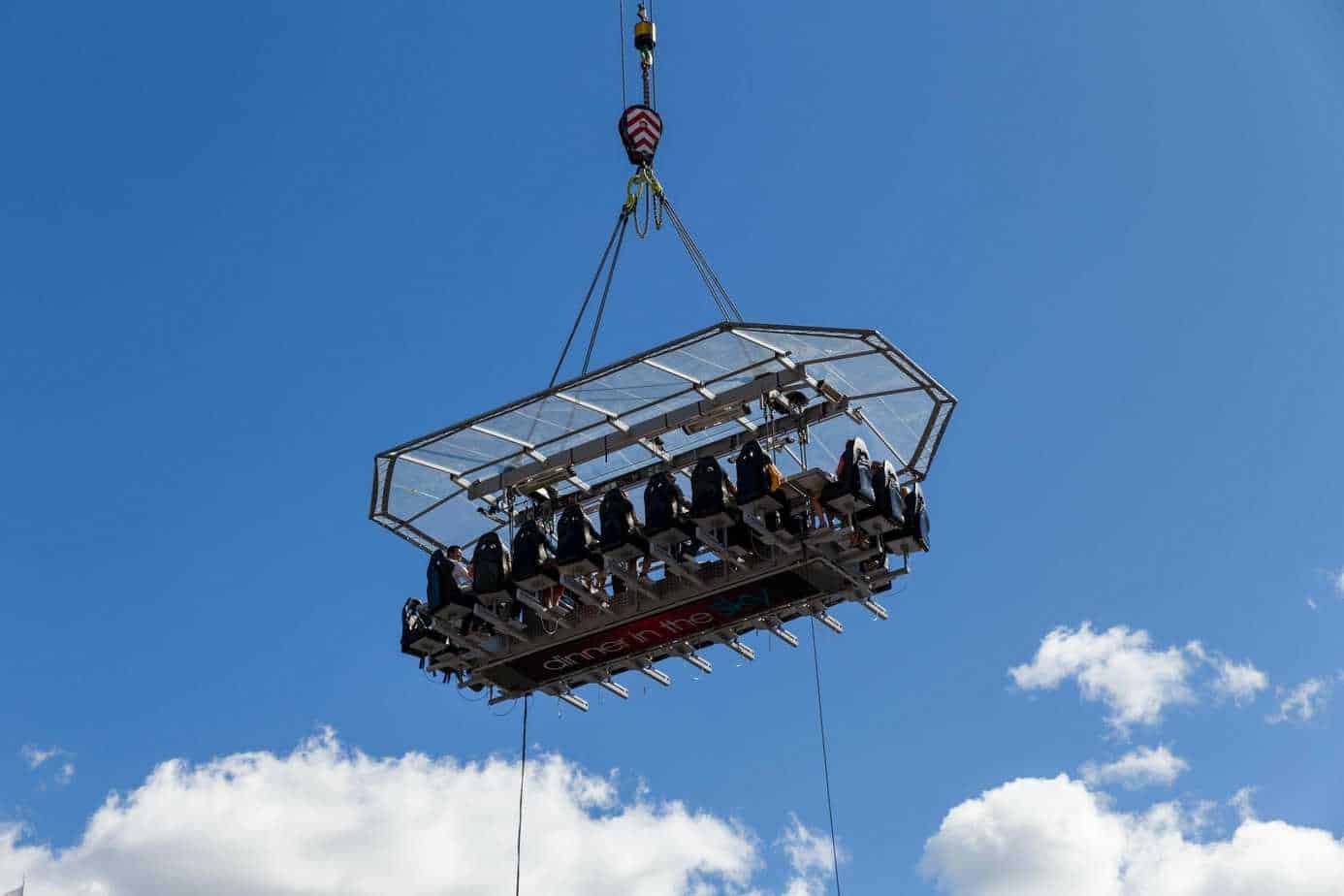 Have you ever thought about dining in the sky? Dubai got that sorted for you with a unique dining experience 50 meters in the air. You will be offered chef selections from Le Meridien and The Westin's five star kitchens.  One hour is all you need to dine in the sky.
44. Dubai Autodrome (Motor City)
Fancy driving a supercar across a five kilometres formula 1 quality race track?  Head to the Dubai Autodrome in Motor City and unleash your speed on board of one of the 12 supercars showcased for track experiences. Ferrari,, McLaren, and Porsche are part of the fleet. Passenger options are also possible for those who are not comfortable with track driving, but who still want to feel the thrill. Packages from one hour to half a day are available at the Dubai Autodrome.
45. The Sheikh Mohammed Centre for Cultural Understanding (Shindaga)
Interested to understand the real Emirati culture and Muslim faith? Book a private session at the Sheikh Mohammed Centre for Cultural Understanding and enjoy a 100% Emirati morning starting with a tasty local breakfast, before your host takes you in a guided tour around the old pathways of Bur Dubai, addressing your questions about the country's history and people.
46. Seaplane Tour (Dubai Creek)
Treat yourself to an ultra-luxurious seaplane tour soaring over Dubai's most magnificent landmarks. Taking off from Dubai Creek waters, the trip will cover the glorious Burj Khalifa Tower, the wonderful Palm Jumeirah, and the world's only seven star hotel, Burj Al Arab. Take make pictures to show your pals back home!
The Beach (Jumeirah Beach Residences)
The Beach is an open-air complex of retail outlets including shops, restaurants and cafes strategically located on one of Dubai's trendiest beaches in the JBR District. Chill at a terrace of one of many cafes overlooking the infinite horizon view of the Arabian Gulf, or jump on a bean bag and watch the latest Hollywood productions in the outdoor movie theatre right in front of the shoreline. Save three hours to spend at  The Beach.
48. Pier 7 (Dubai Marina)
Pier 7 is one of the best spots to dine with a view of the dazzling Dubai Marina. It is a culinary wonder featuring seven fine dining outlets, each on a floor. Choosing your restaurant will not be an easy mission, so we wish you good luck! Two hours are enough to get through a three course meal and a few drinks at Pier 7.
Nasimi Beach Night Pool Party (The Palm Jumeirah)
If you want to join a pure Dubaian pool party, head to Nasimi Beach at the Palm Jumeirah, it won't fail to impress you. The poolside bar, the DJ vibes, and the gold hunting games will make your evening a special one to remember! You'll spend at least three hours at Nasimi Beach.
50.The Courtyard Majlis (Al Sufouh)
To sum up your Dubai experience, save your last night for a pure Arabian evening in the special Courtyard at the One & Only Royal Mirage. From the oriental majlis seating, to the hot mezzehs and misty shisha, everything at the Courtyard will make you feel like a real Arabian bedouin. Save three hours for your majlis experience, and thank us later!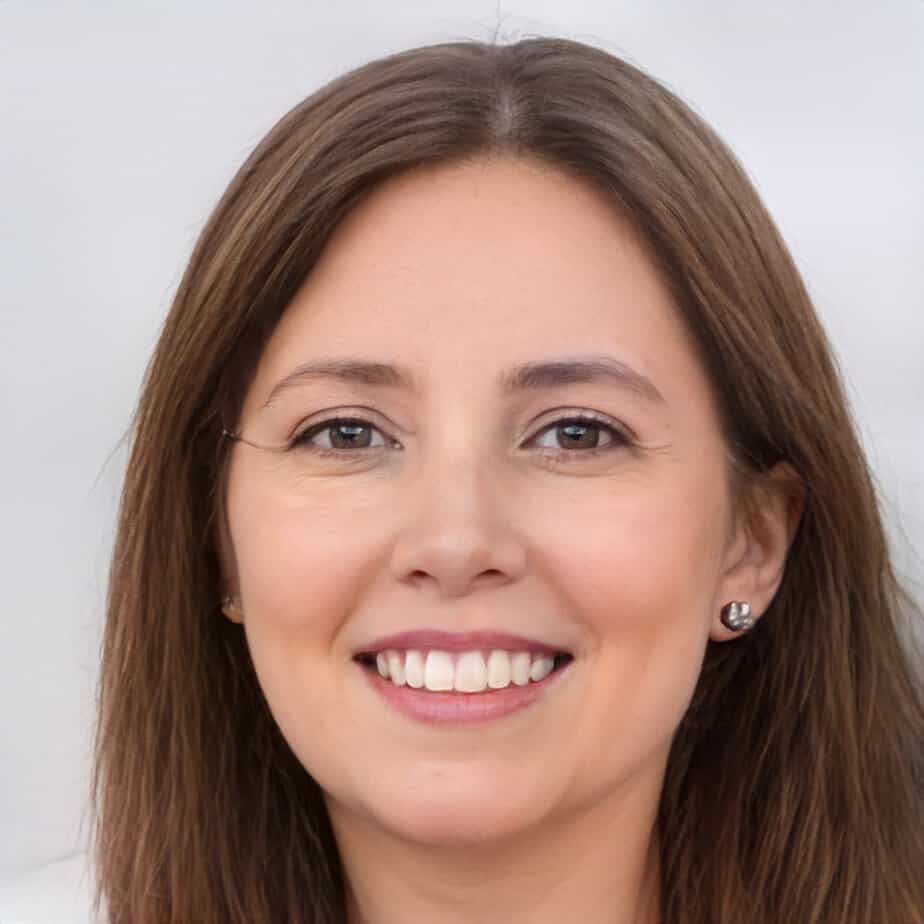 Jill Miller is the founder of Your RV Lifestyle. Trading corporate America for the open road, Jill, along with her partner Jose, began their RV journey, making an unconventional start by wintering in New Jersey. A natural adventurer, she was motivated by a desire to explore the USA and beyond, embracing the varied landscapes, communities, and cultures across the country.
For Jill, the allure of RV living was not about material accumulation, but rather the pursuit of an adventurous, fulfilling lifestyle. A lover of golf, bicycling, hiking, and line dancing, she has carried her passions across the country, engaging with them in diverse settings. Jill's commitment to the RV lifestyle came after years of careful research, numerous consultations with RV owners, and personal trials, including living in a rental RV.