If you've been RVing for any amount of time, full-time RV life or otherwise, you at least know someone that has experienced an RV slideout leak. Many of our friends have had these problems and thankfully, we have learned from their mistakes so we haven't had to deal with a slideout leak. Instead of having to go through it yourself, we are going to share what we've learned about how to maintain RV slideouts to prevent leaking with you. Continue reading to learn how to protect your RV slideouts from leaking.
Whether you're a full-time RVer or you're only RVing part-time, no one wants to deal with a slideout leak. Slideout leaks can cost thousands of dollars in damages if you don't catch them quickly.
Check the Windows of Your Slideout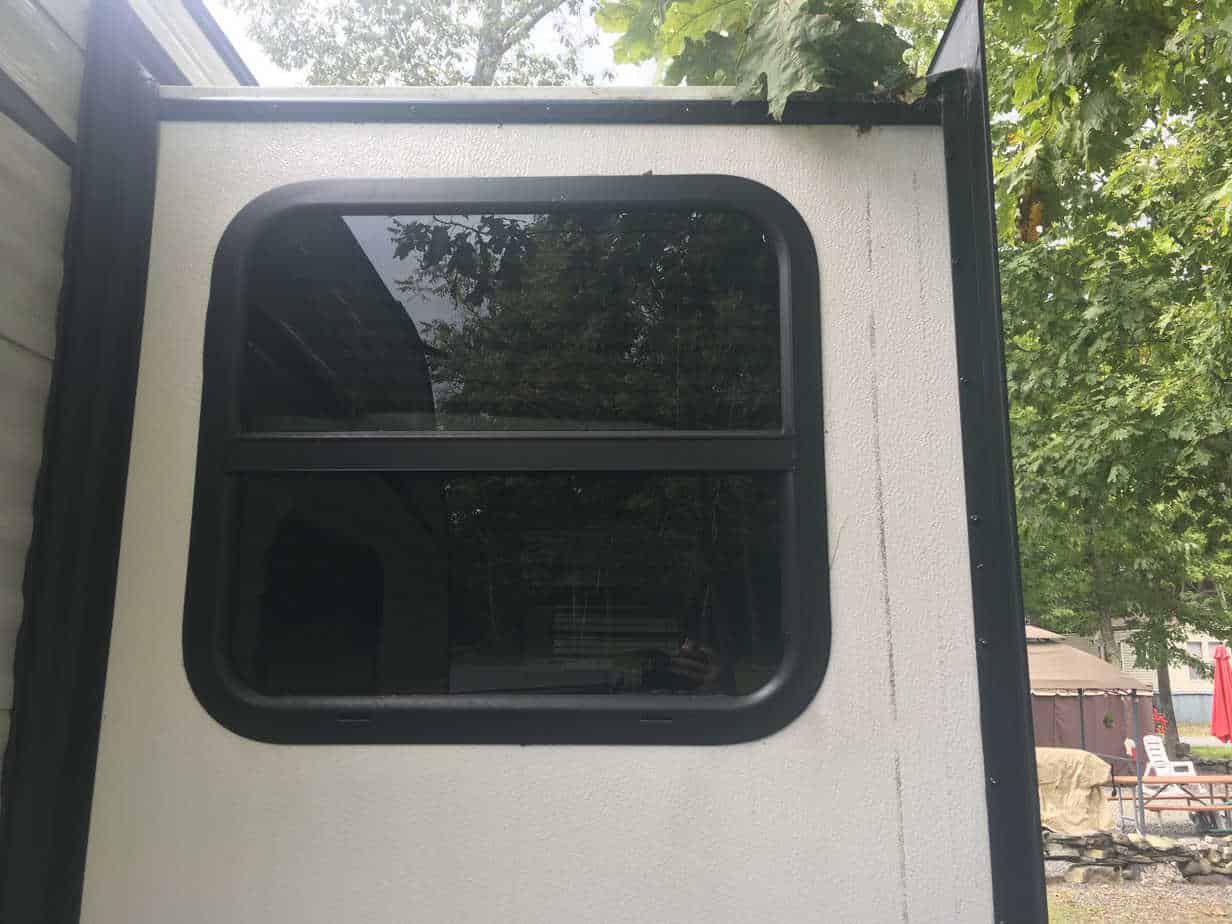 Our window is closed and no cracks around it. Make sure to check!
One time, we left our window open to let a cable run out so it we could get satellite TV. Most of the time, it wasn't a problem but it started raining sideways when we were in Florida and it started raining in the tiny opening. Thankfully, we were there and easily closed the window but don't underestimate how much water a little crack in your window will let in.
Use Slideout Rubber Conditioner

Joe spraying rubber conditioner to keep the weather sealing working as it should.
Use slideout rubber conditioner at least twice a year to make sure your rubber weather seals don't crack. If those seals crack, when it rains, you're going to know it. When you use the rubber conditioner on your weather seals, it will protect them from UV rays and other adverse weather conditions. This rubber conditioner isn't expensive but you can save thousands of dollars by using this to properly maintain your slideout weather seals.

Keep a close eye on the corners since this is one of the areas that can cause the most problems.
Do Your Weather Seals Need to be Replaced?
If your seals are cracked or damaged in any way, you might need to replace them. If you aren't sure if you need to replace them, call a local RV repair person and ask them. It's better to take care of it before the rain decides to make its way inside. If you're not living in the RV, you could also take it into the dealership and let them take care of it in the shop so you don't have to wait around for a repair person to come to your rig.
Get Slide Topper Awnings

Notice the covers over the slide. Nothing is getting on those slides!
We don't have a slide topper on our RV and it is a major pain to make sure the top of the RV slide isn't collecting water or debris on top of the slide. If the side of the RV with the slide is too high up, it's pretty annoying trying to take care of it because the ladder can feel a little rickety going up to the very top.
When we bought our RV, they didn't think to upsell us on the RV slide topper awning before we went in to pick up our RV. When we got there, they decided to ask us if we wanted them to do it right then. How long was it going to take? 4 to 5 hours!
My point? If you're going to get a slide topper put on your new awning, make sure it is on the list of things to do and have ready before you go to pick it up. We had 4 impatient kids in the truck waiting to pick up their new RV and I wasn't able to wait for another 4 to 5 hours.
We are getting a new fifth wheel next year and all four of the RV slideouts are going to have awnings on them to keep out dirt, debris and anything else that might want to make its way onto the slideout.
Check the Levelness of Your RV
How important is it to get your RV level when you get to a new site? If your RV isn't level, the seals on your slides might not be able to do their work. While they aren't damaged or cracked in anyway, the water is still able to maneuver its way inside. While this doesn't always happen, you don't want to take the chance. Learning to level and stabilize your RV on an uneven spot may take some time but it is worth learning.
You may have an RV that has an automatic stabilizing system — which is great. Just make sure it is properly calibrated or that's a whole other problem. You can check how level you are by sight, use an app on your phone or get a real RV level checker. RV levels make it easy to see which areas are high and low so you can adjust it accordingly.
Sale
Get It Dry ASAP
As soon as you see that you have leaks in your RV, make sure you get the area dry ASAP. The longer that you leave the water on your RV floor, wall or elsewhere, the more likely it is going to swell up and start cracking. If you have a fan, point the fan toward the area that is wet and let it dry out. Once it stops raining, open up your windows, door and turn on the vent fans in your RV so the area will dry. If the spot is small enough, grab your trusty hair dryer and get to work on drying out the area. I personally would be rather safe than sorry because once you get a soft floor in your RV, the RV value goes way down.
Learn More About Living the RV Lifestyle
If you are full-time RV living, you most likely have slideouts on your rig. Most full-timers with families have at least one slide on their rig and now you know how to maintain RV slideouts to prevent leaking. Why stop learning there? We are building a comprehensive library of articles that will help you with anything from making RV shades to choosing the right truck to pull your rig.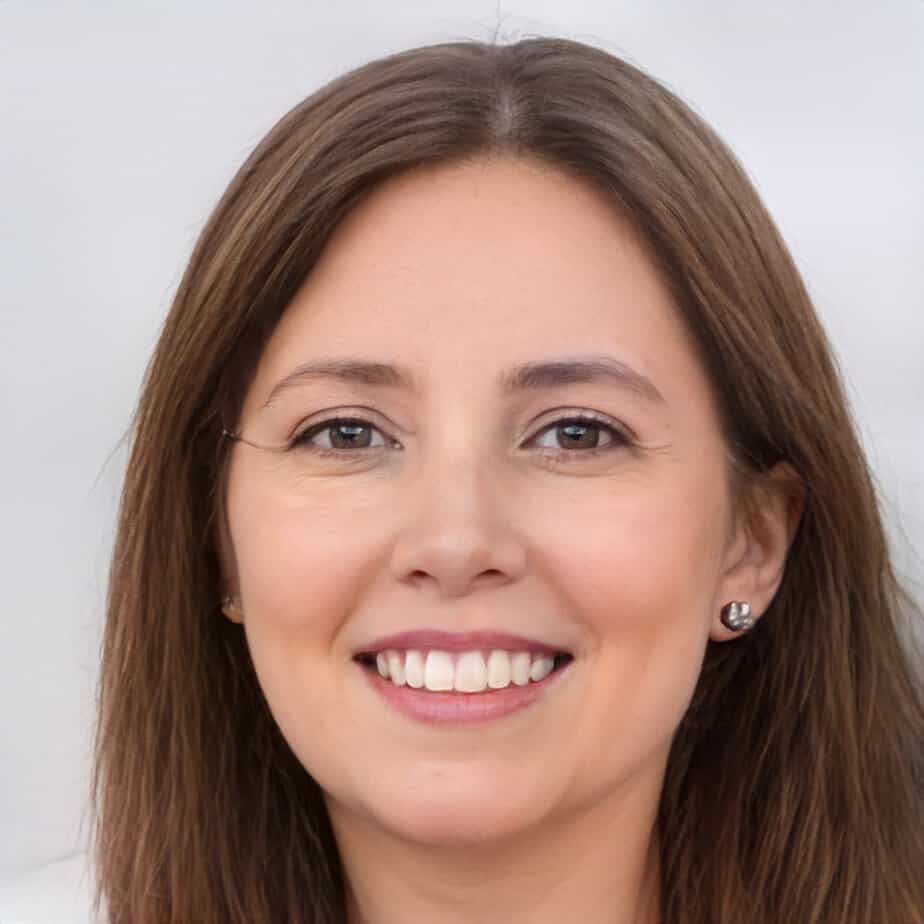 Jill Miller is the founder of Your RV Lifestyle. Trading corporate America for the open road, Jill, along with her partner Jose, began their RV journey, making an unconventional start by wintering in New Jersey. A natural adventurer, she was motivated by a desire to explore the USA and beyond, embracing the varied landscapes, communities, and cultures across the country.
For Jill, the allure of RV living was not about material accumulation, but rather the pursuit of an adventurous, fulfilling lifestyle. A lover of golf, bicycling, hiking, and line dancing, she has carried her passions across the country, engaging with them in diverse settings. Jill's commitment to the RV lifestyle came after years of careful research, numerous consultations with RV owners, and personal trials, including living in a rental RV.