Surrounded by the Sargasso Sea in the heart of the North Atlantic Ocean, Bermuda is an island paradise with pink-hued sandy beaches, balmy gin-clear waters, and lush tropical greenery. The British island territory boasts a distinctive blend of British and American culture with charming pastel-colored cottages tucked between stately mansions and villas and draped with brightly colored bougainvillea and fragrant frangipani frame.
Despite its size – the island is just 20 miles long and two miles across – Bermuda has a rich history that is evident in some excellent museums, art galleries, and cultural institutions. It's also an outdoor lover's paradise with world-class scuba diving and snorkeling, warm turquoise waters are ideal for water sports, many hiking trails, and award-winning golf courses.
Whether you are looking for an adventure holiday or a laid-back, lounge-on-the-beach getaway, Bermuda has it all. Here are some of the best things to do in Bermuda.
1. Soak up the Pink-Hued Beauty of Horseshoe Bay
Horseshoe Bay Beach is arguably one of the most beautiful beaches in the world. Shaped like a horseshoe with exquisite pink sands lapped by azure blue waters and bordered by limestone rocks, the beach is a popular spot for swimming, snorkeling, and soaking up the sun. There are several secluded coves within a short stroll from the beach for extra privacy, and there are lifeguards on duty in the summer.
Horseshoe Bay Beach is close to the Port Royal Cove in Southampton and has restrooms and changing areas and a casual beach café. Several pathways connect to other beaches nearby, including Jobson's Cove, Chaplins Bay, Warwick Long Bay, and Stonehole Bay.
Address: Horseshoe Road, off South Road
Suggested Tour: Horseshoe Bay Beach Nature Trail Tour
2. Explore the Capital of Hamilton

The Capital City of Hamilton by kansasphoto / CC by 2.0
Hamilton is the beating heart of Bermuda, boasting a chic, cosmopolitan vibe and dearth of things to see and do. Referred to by locals as "town," Hamilton has picturesque streets lined with colorful houses and beautiful buildings overlooking the pretty harbor.
The vibrant waterfront Front Street is where all the action is and is home to stylish boutiques, excellent restaurants, and several museums and galleries. During the summer, this is the place to be on Wednesday nights for the weekly Harbor Nights festival when the street comes alive with Gombey dancers, live music, local artisans showcasing their works, and food stalls selling local fare.
Where: Pembroke Parish
Suggested Tour: City of Hamilton Walking Tour
3. Delve into Bermuda's Rich History in St. George's

St. George's Town by Captain-Tucker / CC BY-SA 3.0
Located on the East End of the island, St. George was the first capital of the island, established by the British in 1612 after a ship from the English Virginia Company ran aground onto the surrounding reef and they came ashore. The coastal town was the oldest English settlement of the New World.
The UNESCO World Heritage Site has charming cobblestoned streets lined with taffy-colored stone buildings and several excellent museums that are worth exploring like the Bermudian Heritage Museum, the St. George Historical Society Museum, and the Bermuda National Museum Trust.
Nearby attractions include Tobacco Bay Beach, the Crystal Caves of Bermuda, Tom Moore's Jungle, and Cooper's Island Nature Reserve. Head to the Ferry Reach National Park to see some rare species of flora and birdlife.
Where: St. George's Parish on the island's East End
Suggested Tour: Historic City Tour of St George
4. Wander Around the Unfinished Church

The Unfinished Church in St. George's by Captain-Tucker / CC BY-SA 3.0
Standing on a hill above St. George's, the appropriately-named Unfinished Church is an unusual attraction worth taking a stroll around. The construction of the church began in 1874 to replace the Church of St Peter that was damaged in a storm. However, due to various reasons, it was never completed and still stands in all its incomplete glory today.
Today, the Unfinished Church is a well-tended national landmark, and visitors can wander through the arches and apses and explore the half-raised stone towers, as well as learn all about the history of the Anglican parishioners of St. George's.
Where: St. George's Parish on the island's East End
5. Go Snorkeling at Tobacco Bay

Tobacco Bay by David Broad / CC BY 3.0
Situated on Bermuda's northern shore, Tobacco Bay is one of the best places on the island to go snorkeling. The beautiful bay with powder-white sands is one of Bermuda's national parks and its crystal-clear waters are home to shallow colorful reefs that teem with marine life.
Named for the wild tobacco that the British crew from the wrecked Sea Venture found on the beach when they were exploring the island, Tobacco Bay is an area of outstanding natural beauty and popular with both locals and tourists alike.
Facilities at the beach include restrooms and changing facilities with showers and lockers, and water-sport equipment rentals. The Tobacco Bay Beach Bar & Restaurant is a lively spot that serves traditional cocktails like the traditional rum swizzles, healthy food, and hosts live music against a backdrop of spectacular sea views.
Where: 9 Coot's Pond Road, St. George, Bermuda
Suggested Tour: A Daylong Excursion at Tobacco Bay
7. Explore the Crystal & Fantasy Caves

The Crystal & Fantasy Caves by Captain-Tucker / CC BY-SA 3.0
The Crystal & Fantasy Caves are one of the country's top attractions and for good reason! Nestled between St. David's Island and the Main Island, a subterranean network of caves and caverns, passageways and tunnels, and crystal-clear underground pools with floating pontoons promise to leave you in awe.
Believed to be over 1.6 million years old, the caves feature incredible rock formations, bulbous boulders, soaring stalagmites, and giant limestone stalactites dripping from the ceiling like frozen waterfalls. The caves are lit up with a state-of-the-art lighting system, making them even more spectacular, and can be explored on fun, interactive guided tours that leave every 20 minutes.
Address: 8 Crystal Caves Road, Hamilton Parish
Opening Hours: 9:00 am- 5:00 pm, daily
Suggested Tour: Crystal Caves, Shopping and Beach Tour
8. Take a Break at the Bermuda Botanical Gardens

Common Passion Fruit Flower by Captain-Tucker / CC BY-SA 3.0
Based in the Paget Parish, the Bermuda Botanical Gardens boast over 35 acres of beautifully maintained flowers, shrubs, and trees and is a lovely way to spend a morning before heading to the beach. Established in 1898 as part of an effort to protect and cultivate native and endemic flora, the gardens are home to banyan trees, hibiscus, subtropical fruit trees, and an aviary, as well as an aromatic garden designed for blind visitors.
Large conservatories housing orchids and cacti are surrounded by exquisite formal gardens and lawns and a Visitor Center offers a wealth of information about the gardens. Free walking tours of the Gardens are offered on Tuesdays, Wednesdays, and Fridays starting at 10:30 am from the Visitor Center.
Address: Point Finger Road Pharmacy, 16 Point Finger Road, Paget Parish
Opening Hours: Sunrise – sunset, daily. Visitor Center: 09:30 am – 3:30 pm, Monday – Friday.
Suggested Tour: Escorted Garden Tours in Bermuda
9. Cliff-Jump, Spelunk, and Explore Caves in the Blue Hole Park

The Blue Hole in Bermuda by JERRYE AND ROY KLOTZ MD / CC BY-SA 3.0
Named for the incredible Blue Hole at its center, the Blue Hole Park is an adventure-lovers paradise. Located next to the Walsingham Nature Preserve and Grotto Bay on the east end of the island, the 12-acre park features a network of underground tunnels, caves, grottoes, and beautiful blue pools that are perfect for cliff-jumping and swimming.
The Blue Hole is deep and blue and fringed by lush mangroves and is an idyllic spot to float around in for a few hours. The caves surrounding the pool are ideal for spelunking and exploring, all of which are relatively secluded and mostly visited by locals only.
Address: Blue Hole Park, Blue Hole Hill, Hamilton Parish
Opening Hours: Daily from dawn to dusk
10. Swim with Dolphins
Experience a once-in-a-lifetime opportunity and swim with dolphins. Committed to the conservation and preservation of the planet, Dolphin Quest offers interactive, dolphin-friendly, and inspiring experiences for visitors who love and are interested in conserving the living oceans.
Based at the National Museum of Bermuda in the dockside complex, the institution offers a variety of experiences ranging from Dolphin Dips and Sea Quests to Dolphin Quest camps and Trainer for a Day. You can also adopt a dolphin and help to feed and support your own marine mammal.
Address: Maritime Lane, Bermuda
Opening Hours: 9: 30 am – 5:00 pm, daily
11. Explore Bermuda's Underwater World on the Bermuda Reef Explorer

Bermuda Reef Explorer by James Jordan / CC BY 2.0
Take to the water to explore the vibrant reef system and the wealth of marine life that call it home on the Bermuda Reef Explorer, a custom-built glass-bottom boat. These fantastic tours allow visitors to see and experience the spectacular reefs and waters around the island.
There are a variety of tours from two-hour underwater tours and three-hour snorkeling cruises to quiet, sheltered coves, as well as nighttime Pirate Adventure Cruises that explore the ocean's nocturnal creatures. Tours depart from the Island Tour Centre in Hamilton and Captain Michael Gladwin shares interesting stories about Bermuda's buccaneering past.
Address: Island Tour Centre, Suite 251, 48 Par-la-Ville Road, Hamilton HM 11, Bermuda
Opening Hours: 9 am – 5 pm, daily
12. Check Out the Oldest Operating Anglican Church Outside Britain

St. Peter's Church by JoeyBagODonuts / CC BY-SA 3.0
If you are a lover of beautiful and historic churches, a visit to St. Peter's Church is a must. Built in 1612 when St. George's was established, the church is reportedly the oldest surviving and continually operating Anglican church outside Britain.
The original building was destroyed in a storm and was reconstructed and improved and houses some striking artifacts, including communion silver from the 1600s and an 18th-century throne salvaged from a shipwreck. It has two historic cemeteries that were segregated for white and black Bermudians and forms part of the African Diaspora Heritage Trail.
Address: St. George's, East End
Opening Hours: Monday – Saturday 11 am – 2 pm
Suggested Tour: Historic City Tour of St George
13. Visit the Bermuda Aquarium, Natural History Museum & Zoo

Flamingos by Kim Pardi from Carbondale, USA / CC BY 2.0
Situated in the picturesque Flatts Village on the North Shore, the complex is home to a wealth of animals and marine life in naturalistic environments. The Bermuda Aquarium has several large tanks housing all kinds of fish from grouper and moray eels to barracudas and sharks, while tabletop tanks house smaller species like mollusks, sponges, and coral. Don't miss feeding time for the seals – lots of fun to watch.
The Natural History Museum houses displays on the geology and marine biology of Bermuda, and the Zoo has over 300 birds, mammals, and reptiles from the oceanic islands in beautiful natural habitats. The flock of pink flamingos is a lovely sight.
Address: 40 N Shore Rd, Bermuda
Opening Hours: 9 am – 5 pm, daily
Suggested Tour: The Bermuda B.U.E.I and Aquarium Adventure Day Experience
14. Take High Tea at Lili Bermuda Perfumery
Enjoy a traditional high tea in the lovely gardens of the elegant Lili Bermuda Perfumery, a dreamy boutique that sells island-inspired colognes, perfumes, and Eau de toilettes. Twice weekly, on Wednesdays and Saturdays, the shop pays homage to the quintessentially British pastime of high tea and serves a smorgasbord of delights from tiered trays of finger sandwiches and petits-fours to tiny cakes and warm scones with clotted cream.
Located inside a 1730s stone cottage, the perfumery sells an aromatic array of perfumes, body lotions, soaps, and candles with Bermuda-inspired scents like jasmine, frangipani, and oleander.
Address: 5 Queen St, St.George's
Opening Hours: Monday – Saturday, 11 am – 4 pm
15. Hike Through the Walsingham Nature Reserve
The Walsingham Nature Reserve is a 12-acre expanse of lush forests and tropical vegetation, hidden caves and tunnels, and secret swimming holes. Known to most locals as Tom Moore's Jungle, named for the celebrated Irish poet, Thomas Moore, who spent three months in Bermuda in the early 19th century, the Reserve has some lovely, secluded nature walks through the reserve's natural landscapes.
The reserve is home to the Blue Hole Park with its deep, crystal-clear mangrove pond, and the Crystal Caves which boast spectacular limestone formations, dramatic stalactites and stalagmites, and deep-blue pools.
Address: Blue Hole Park, Blue Hole Hill, Hamilton Parish
Opening Hours: Daily from dawn to dusk
16. Explore Fort St. Catherine

Fort St. Catherine by Malay_EA / CC BY-SA 3.0
Located between Achilles Bay and St. Catherine Beach at the northern tip of St. George, Fort St. Catherine is a sprawling, well-preserved coastal fortification dating back to the 15th century. Built by Bermuda's first Governor, Richard Moore in 1612 to defend Bermuda from Spanish attacks, the fort has a network of ramparts, towers, and tunnels that can be explored.
Surrounded by a dry moat and accessed by a drawbridge, the fort also has a museum with fascinating displays that delve into Bermuda military history from the 17th century to the present. There are guided tours of the fort hour on the half-hour, and a cannon-firing ceremony on Saturdays during the summer.
Address: 15 Coot Pond Road, St. Catherine's Point, St. George
Opening Hours: Monday – Friday, 10:00 am – 4:00 pm
17. Climb the Gibbs Hill Lighthouse

Gibbs Hill Lighthouse by dbking – flickr / CC BY 2.0
For some of the most spectacular views in Bermuda, climb the hill and then the tower of the Gibbs Hill Lighthouse above Cross Bay. Built in 1844 by the Royal Engineers, the lighthouse stands 245 feet tall on one of the highest hills on the island and features a Fresnel lens which can be seen from over 40 miles away by ships and 100 miles away from airplanes.
The 185 steps to the top are well worth it for the breathtaking panoramic views, which span from Little Sound in the north to the South Shore and east from Hamilton to Dockyard. After all that climbing, enjoy lunch at the Lighthouse Tea Room, a charming café at the base of the lighthouse's tower in what used to be the lighthouse keeper's quarters.
Address: Lighthouse Road, St Anne's Rd, Cross Bay SN 01
Opening Hours: Monday – Saturday 9: 30 am – 4:30 pm / Sunday 10 am – 4:30 pm
Suggested Tour: Titan's Touch of Bermuda
18. Take a Walk on the Ocean Floor
Tropical Fish by Jan Derk / Public domain
Hartley's Undersea Walk offers unique bell diving experiences off Bermuda's western shore where visitors can get up close and interact with an array of tropical fish, vibrant corals, and other sea life. Sea-goers wear bell diving helmets with attached air hoses to provide fresh air from above.
Hartley's Undersea Walks last for about 30 to 40 minutes during which time divers can enjoy guided walks led by professional scuba divers, exploring the reefs and feeding the fish. This is definitely an experience not to be missed!
Address: 12 Rockywold Road, Sandys SB-03
Opening Hours: Monday – Friday 8:30 am – 10 pm / Saturday 9:30 am – 10 pm / Sunday 10 am – 10 pm
Suggested Tour: Hartley Helmet Diving in Bermuda
19. Soak Up Some Art at the Bermuda National Gallery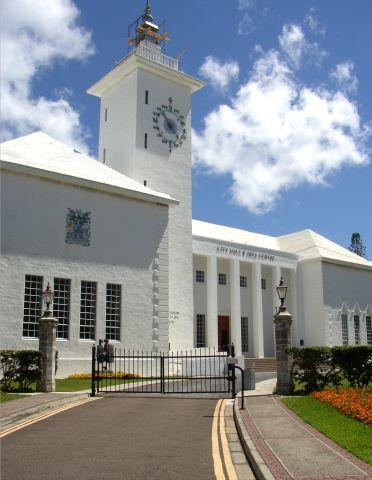 The Bermuda National Gallery and City Hall by http://kestan.com / GNU Free Documentation License
The Bermuda National Gallery features three permanent collections of local and West African art spanning from the 1600s to the present day. Housed on the second floor of the City Hall and Arts Center, the gallery also exhibits contemporary art and photography by local and international artists.
The Bermuda Collection is the centerpiece of the Museum and explores the history and culture of the island and its people. Other exhibitions include the Watlington Collection showcases centuries of European art, and the African Collection, which celebrates the artistic traditions of West African cultures.
Address: 2nd Floor, City Hall & Arts Centre, 17 Church St, Hamilton
Opening Hours: Monday – Saturday 10:00 am – 4:00 pm.
20. Explore Shipwrecks at the Bermuda Underwater Exploration Institute

R/V Atlantic Explorer at the dock of the BUEI by Twardman / CC BY-SA 3.0
One of the top tourist attractions on the island, the Bermuda Underwater Exploration Institute (BUEI) has a variety of interactive exhibits that explore the mysteries of the ocean. The Treasure Room is filled with artifacts found by divers, and the Shipwreck Gallery features numerous exhibits of the 300 shipwrecks dotted about the coast of Bermuda and their tragic stories.
Other fascinating displays include glassware from the wrecks of Lord Amherst (1778) and L'Herminie (1838) and a replica of the jaws of the largest Great White Shark ever caught.
Address: 40 Crow Lane, off Eastern Broadway, Hamilton City, Pembroke
Opening Hours: 10:00 am to 5:00 pm, daily
21. Hike or Bike the Bermuda Railway Trail

Walking the Bermuda Railway Trail by slgckgc / CC BY 2.0
The Bermuda Railway Trail is a fantastic way to explore and see the island on foot, bike, or horseback. The trail follows the nearly 22-mile-long railway that extended from one end of Bermuda to the other in the middle of the 20th century.
Tracing a route along the water from St. George's to Sandys Parish, the trail which is 18 miles is a mixed-use walking and running, biking, and horseback riding trail and a national park with beautiful landscapes and breathtaking views of the coastline and surrounding waters.
Where: St. George's Parish to Sandy's Parish
22. Pick Up a Souvenir at the Dockyard Glassworks

Glass-Making by Tony Hisgett / CC BY 2.0
Based in the historic Royal Naval Dockyard, the Dockyard Glassworks is an iconic Bermuda shop that specializes in handmade intricate glassware. Visitors can watch artisan glass masters at work in the working studio making objects d'art, jewelry, and other one-of-a-kind pieces and purchase some beautiful pieces in the Glass Gallery.
Another shop worth visiting is the Bermuda Rum Cake Company whose moist, buttery rum cakes made with Gosling's Black Seal Rum are made on-site and wrapped in heat-sealed packaging that keeps them fresh for months. Perfect for gifts and souvenirs.
Address: 19 Maritime Lane, Royal Naval Dockyard, Hamilton
Opening Hours: Daily from 9:00 am to 5:00 pm (9:00 pm when cruise ships are in port)
23. Go Scuba Diving at Elbow Beach
Nestled between Coral Beach and the luxurious Elbow Beach Resort, Elbow Beach is one of the most famous beaches on the island. The beautiful white sandy beach in Paget Parish is named for its unique gentle curved shape that resembles an elbow and boasts pristine white sands and gin-clear water.
Elbow Beach has an array of facilities, ranging from bathrooms and changing facilities to beach equipment like snorkeling gear, sun loungers, and beach umbrellas for hire. Bluewater Divers operates out of the Elbow Beach Resort and offers an array of dive excursions along the spectacular coral reefs just off the shore, as well as the Pollokshields shipwreck.
Address: 60 South Shore Road, Paget PG04, Bermuda
24. Take a History Lesson at the National Museum of Bermuda

The Commissioner's House by SeanMD80 / CC BY-SA 3.0
Based on the grounds of the fortress Keep in Sandy's Parish on the Ireland Island, the National Museum of Bermuda is dedicated to showcasing more than 500 years of Bermuda's history. Formerly the Bermuda Maritime Museum, the museum is housed in several historic fortifications in the Royal Naval Dockyard, ranging from the Commissioner's House and Casemates Barracks to Bermuda's largest fort – The Keep.
The rich cultural and maritime history of the island is highlighted in an array of historical artifacts, treasures from shipwrecks, artworks, bastions, cannons, and watercraft. The Museum Playground & Playhouse has a lighthouse and giant moray eel for the kids.
Address: The Keep, Maritime Ln, MA 01, Bermuda
Opening Hours: 10 am – 5 pm, daily
25. Picnic in Somers Garden

Moon Gate in Somers Garden by Captain-Tucker / CC BY-SA 3.0
Somers Garden is a public park with beautifully manicured lawns, lush greenery, and plenty of tree-shaded space for picnics. Named after Admiral Sir George Somers, founder of Bermuda in 1609, the garden is a favorite among locals and visitors alike for relaxing and enjoying the beautiful surroundings.
There is a large fountain at the heart of the gardens, and several walking trails and benches around the park. A tombstone marking the death of Admiral Sir George Somers also rests in the garden, along with a unique moon gate.
Address: Government Hill Rd, St. George's, Bermuda
Opening Hours: Open daily year-round between sunrise and sunset
26. Enjoy Bermudan Artworks at the Masterworks Museum of Bermuda Art (MMOBA)

Masterworks Museum of Bermuda Art by Jeremy T. Hetzel / CC BY 2.0
Tucked away in the heart of the Bermuda Botanical Gardens, the Masterworks Museum of Bermuda Art (MMOBA) showcases art made in and inspired by Bermuda. The Museum's permanent collection includes paintings and drawings dating back to the early 1800s with works by notable artists like Georgia O'Keeffe, Henry Moore, Winslow Homer, and Marsden Hartley.
You can grab a coffee and a bite at the museum's casual café and the charming little Arrowroot Gift Shop sells art and crafts created by local artisans.
Address: 183 South Rd, Bermuda
Opening Hours: Monday – Saturday from 10:00 am to 4:00 pm / Sundays from 11:00 am to 4:30 pm.
27. Horseback Ride on Warwick Long Bay Beach

Warwick Long Bay Beach by CMy23 / CC BY 2.0
Renowned for its long, pink-hued sandy beach lapped by gin-clear blue waters, Warwick Long Bay is Bermuda's longest and most popular beach. Curling in a half-moon shape along half a mile of Bermuda's spectacular South Shore, the beach is perfect for long walks or horseback rides, and colorful reefs just offshore making for excellent snorkeling.
Swaying palms and cedar trees offer some shade and facilities include restrooms, a playground, and rental equipment for snorkeling.
Where: South Shore, Bermuda
28. Play a Round on the Legendary Port Royal Golf Course

Port Royal Golf Course by Andrea / CC BY 2.0
The shimmering green undulations of the fairways and rough at Port Royal are nothing less than breathtaking and if you are a golf-lover, it's a must to play a round on this legendary public course. Port Royal Golf Course is not only celebrated around the world for its signature 16th hole, which is considered one of the premier par-3 holes in golf – it is also a driving range with ocean views and practice distances for golfers of all levels.
Address: 5 Port Royal Golf Course Road Southampton SB, 03, Bermuda
Opening Hours: 7 am – 6 pm, daily
29. Unwind at a Spa in a Cave

Grotto Bay Beach Resort by Kate Webster / CC BY 2.0
Be pampered and preened in a natural cave while you gaze down at mesmerizing sapphire mineral waters against the backdrop of the natural sounds of dripping water and soothing soft music. The elegant Natura Spa at Grotto Bay Beach Resort offers signature spa treatments in a treatment room set in the Serenity Cave, which was discovered in 1609. The Grotto Bay's Serenity Cave Experience is truly a one-of-a-kind experience and promises to revitalize body, mind, and soul.
Address: 11 Blue Hole Hill Hamilton, Hamilton Parish CR 04, Bermuda
Opening hours: 24 hours, daily
30. Explore an Abandoned NASA Station

Cooper's Island Nature Reserve by TravelingOtter / CC BY 2.0
Cooper's Island Nature Reserve is a tropical paradise that was once a NASA space exploration station and housed ammo bunkers and underground storage tanks during World War II. NASA built a tracking station on the island in 1960 there to keep tabs on the Mercury, Gemini, and Apollo missions.
The eastern end of Cooper's Island became a wildlife refuge and was opened to the public in 1995 as a serene, wooded reserve with picturesque landscapes. One of the NASA radar towers was converted into a birdwatching station in 2013 and the reserve has an extensive network of walking trails with gorgeous views of Castle Harbor.
Where: St. David's Island, Bermuda
The Best Hotels and Resorts in Bermuda
Cambridge Beaches Resort & Spa

Cambridge Beaches Resort & Spa by Andrew Currie / CC BY-SA 3.0
Nestled on the tip of a peninsula at Bermuda's far west end and surrounded by white sand and azure waters, Cambridge Beaches Resort & Spa is a magnificent 30-acre resort with lush grounds, private beaches, and endless ocean views. Secluded beach cottages are tucked away among lush greenery and luxury amenities include a five-star spa and fitness center, outdoor swimming pools, tennis court, a championship golf course, and a private marina.
Address: 30 Kings Point Road Somerset Village, MA 02, Bermuda, Phone: +1 441-234-0331
The Reefs Resort & Club

The Reefs Resort & Club by The Reefs / CC BY-SA 3.0
Set on a coastal cliff with spectacular ocean views, The Reefs Resort & Club is a breezy resort set on one of the best beaches in Bermuda. The deluxe oceanfront boutique resort has beautifully decorated suites with private patios and whirlpool baths and cozy cottages with outdoor hot tubs. Several dining options include a beachfront eatery, a terrace cocktail lounge, and a fine-dining restaurant with a bar and a luxury spa outdoor infinity pool make this the perfect spot for a laid-back beach holiday.
Address: 56 South Shore Road, Southampton SN 02, Bermuda, Phone: +1 441-238-0222
Rosewood Tucker's Point

Castle Harbor by Carl Raether / CC BY 2.0
Set on a hilltop overlooking Castle Harbor, Rosewood Rosewood Tucker's Point is the epitome of extravagance. Expect all the bells and whistles of a full-service luxury stay from whitewashed marbled corridors to a full-service Sense Spa, a brand-new state-of-the-art fitness center, and several swimming pools. A Robert Rulewich–designed, championship golf course delights golf-lovers and a private beach is an idyllic island-paradise haven for lazing on the beach and enjoying a range of watersports.
Address: 60 Tucker's Point Drive, Hamilton Parish HS 02, Bermuda, Phone: +1 441-298-4000
The Best Restaurants in Bermuda
Blu Bar & Grill
Bermuda's most beloved restaurant, the Blu Bar & Grill has a huge menu with every dish you can think of from ocean-fresh seafood and handmade sushi to classic osteria caviar, world-class steaks, and Asian fusion fare. While the menu may be daunting, the views are unrivaled, and this is a fantastic spot to enjoy great food and Bermuda-style cocktails in a sublime setting.
Address: 25 Belmont Drive Warwick BM WK06, Bermuda, Phone: +1 441-232-2323
Blackbeard's Hideout
Endless Views by Dtrain891 / CC BY 2.0
Blackbeard's Hideout is all about the views. Set high on a cliff on Bermuda's far east end with tables hugging the rail and offering an unobstructed view of the horizon, there is no better place to sip a rum swizzle as the sun sinks below the sea beyond St. Catherine's Fort. The dreamy, cliffside restaurant serves delicious seafood, chowder, steaks, burgers and ribs, and a great cocktail menu. Book a cliffside table for the best views!
Address: 5 Coot Pond Rd, St. George's, Bermuda, Phone: +1 441-297-1200
Mad Hatters

The Mad Hatter Restaurant by TravelingOtter / CC BY 2.0
Mad Hatters is a charming, whimsical eatery in northwestern Hamilton and a favorite among locals. Named after the beloved Alice in Wonderland character, the cozy hideaway has quirky appeal – you'll be asked to don one of its in-house collection of hats from a pirate tricorn to rasta dreads – and serves inventive European cuisine. Tuck into jumbo lump blue crab cakes and mussels in Thai coconut curry. Perfect for an evening of good food and lots of laughs.
Address: 22 Richmond Rd, Hamilton, Bermuda, Phone: +1 441-297-6231
The Best Bars in Bermuda
The Swizzle Inn

The Swizzle Inn by djLicious / CC BY 2.0
Bermuda's oldest pub is renowned for serving perfect versions of the country's two national drinks: the Dark n' Stormy, a concoction of Gosling's Black Seal Rum and ginger beer, and the Rum Swizzle, a punch-like cocktail invented at the Swizzle Inn on its opening in 1932. Not much has changed since then – graffiti from decades of customers is still scribbled all over the walls, Bermuda fish chowder is the star of the menu, and the cocktails are just as potent. Be prepared to "Swizzle Inn and Swagger Out".
Address: 3 Blue Hole Hill Bailey's Bay Bermuda, Phone: +1 441-293-1854
The Pickled Onion

The Pickled Onion by Nick Paglia / CC BY 2.0
The Pickled Onion is a cozy spot with a wooden dance floor that hosts a live band five nights a week. One of the late-night spots in Hamilton, the bar has comfy indoor seating for those who want to enjoy the music and quieter seats on the open-air balcony with beautiful views of Hamilton Harbor if you prefer to watch the world go by.
Address: 53 Front St, Hamilton, Bermuda, Phone: +1 441-295-2263
The Dog House

Front Street by Night by Malcolm Manners / CC BY 2.0
The Dog House is a popular spot on Front Street in Hamilton where most hardcore revelers end up partying until the doors close at 3 am. The American-style sports bar opens at 4 pm and serves all the usual suspects – beers, wine, cocktails, and bar fare, and turns into a buzzing nightclub after midnight.
Address: 91 Front St, Hamilton, Bermuda, Phone: +1 441-232-3644