Cheerful, charming, and champions of contentment and quality of life, Denmark is one of northern Europe's most appealing countries. Old-fashioned charm and modern design seamlessly intermingle in the capital city of Copenhagen, which is contemporary, chic, and oh-so-cool.
Located on the coastal islands of Amager and Zealand, the avant-garde city boasts the perfect blend of culture and history with beautiful castles and palaces, forward-thinking architecture, world-class museums, art galleries, and the world's oldest amusement park.
History meets progression in this sustainable Scandinavian city and there is a perfect blend of beautiful historic buildings lining cobblestone streets and sleek modern architecture. It is home to colorful and charismatic neighborhoods, each with its own character and vibe, and the city is one of the most bike-friendly cities in the world so getting around is easy.
Linked to Sweden via the Öresund Bridge, an incredible feat of engineering that connects the two countries by rail and road, Copenhagen is not only one of Europe's design capitals but has a burgeoning foodie scene with a profusion of Michelin-starred restaurants.
Hygge, meaning "cozy and comfortable" is in the hearts of the Danes, who love camaraderie and getting together to share stories and delicious local Danish cuisine. Hailed as being one of the most liveable and happiest nations on Earth, Denmark will take you into her 'hyggeligt' embrace and make you feel right at home.
Here are some of the best things to do in the city of Copenhagen.
1. Ride the World's Oldest Wooden Roller Coaster at Tivoli Gardens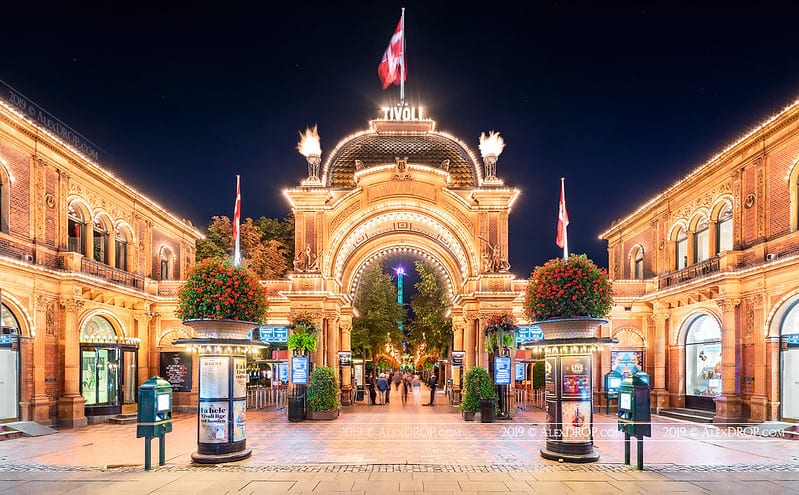 Tivoli Gardens by Alex DROP / CC BY-NC-ND 2.0
Based in the heart of Copenhagen, this famous amusement has been attracting visitors since the 19th century and still delights visitors today. The theme park features beautifully manicured gardens and grounds filled with rollercoasters, carousels, old-fashioned carnival games, and fun rides.
Inspired by the famous Danish author Hans Christian Anderson and Walt Disney, the park has a fairytale-like feel, particularly at night when it is lit up with thousands of twinkling lights. The park is seasonally decorated and there plenty of charming little souvenir shops, cafés, and restaurants dotted among the rides. Don't miss a go on the world's oldest wooden roller coaster, which dates back to 1914!
Address: Vesterbrogade 3, 1630 Copenhagen V, Denmark
Opening Hours: 11 am – 10 pm, daily
Suggested Tour: Copenhagen Tivoli Gardens 1-Day Unlimited Rides Ticket
2. Visit the Little Mermaid Statue
The Little Mermaid is a long-standing and much-loved symbol of the city and Denmark. Sculpted by Edvard Eriksen in 1913, the bronze statue was inspired by Danish author Hans Christian Andersen's eponymous fairytale. The mermaid sits elegantly on a rock next to the water at the Langelinie promenade and is just four feet high.
Address: Langelinie, 2100 Copenhagen Ø, Denmark
Suggested Tour: Copenhagen: Little Mermaid Charming Game and Tour
3. Shop Until You Drop in Strøget

The Pedestrianized Shopping Area of Strøget by jpellgen (@1179_jp) / CC BY-NC-ND 2.0
Strøget is a pedestrianized shopping area in the heart of the city that stretches for almost a mile from City Hall Square (Rådhuspladsen) to Kongens Nytorv. It is one of the longest pedestrian shopping streets in Europe and is home to a wonderful mix of retail stores from trendy brand stores and high-end boutiques to budget-friendly chains and souvenir shops.
As you stroll down the street, look up and down the side streets to catch glimpses of some of Copenhagen's most beautiful sights and attractions, such as Helligåndskirken, the courthouse at Nytorv Square, the Church of Our Lady, and the Stork Fountain at Amagertorv Square.
Strøget is also a popular hangout for street performers and you can often see performances by acrobats, magicians, and musicians, especially at Amagertorv Square.
Address: City Hall Square (Rådhuspladsen) to Kongens Nytorv
Suggested Tour: Copenhagen: 2-Hour City Walking Tour
4. Experience the Charm of Nyhavn
Nyhavn is the most iconic landmark in Copenhagen and one of the city's gems. The historic waterfront area has a charming 17th-century harbor with traditional wooden ships and modern boats. The quay is lined with pretty pastel-hued, 18th-century merchants' houses, three of which were once home to fairytale writer Hans Christian Andersen.
The picturesque quay is also lined with numerous bars, cafés, and restaurants, some of which serve the best seafood in the city. It is perpetually bustling with locals and visitors but is a must-visit when exploring the city.
Suggested Tour: Copenhagen: 2-Hour Private Walking Tour of Must-See Sights
5. Wander the Halls of Rosenborg Castle
Rosenborg Castle by Alex DROP / CC BY-NC-ND 2.0
Rosenborg Castle is a fairytale castle set in one of Copenhagen's oldest royal parks. Built by King Christian IV in 1606 as his summer residence, the spectacular Renaissance castle features lavish interiors filled with tapestries, artworks, and treasures, including an impressive Venetian glass collection and the Danish crown jewels.
The King's Gardens (Kongens Have) surrounding the castle are a popular spot for walking and picnicking with locals. There are plenty of leafy spots for relaxing, a charming café, a traditional puppet theater, and two pétanque pistes.
Address: Øster Voldgade 4A, 1350 Copenhagen, Denmark
Opening Hours: Tuesday – Sunday, 11 am – 4 pm
Suggested Tour: City Tour including Rosenborg Castle
5. Delve into Danish Cultural History at the National Museum

National Museum of Denmark by Richard Mortel / CC BY-NC-ND 2.0
The National Museum of Denmark in Copenhagen is Denmark's largest museum and boasts a spectacular display of Scandinavian cultural history. Located in the 18th-century Prince's Palace, the museum features exhibitions from the Stone Age through the Viking Age to modern Danish history.
Be sure to check out the incredible Trundholm Sun Chariot, a Bronze Age artifact dating back to 1,400 BC of a bronze statue of a horse pulling a gold disc representing the sun. Be prepared for crowds in the high season.
Address: Prince's Mansion, Ny Vestergade 10, 1471 Copenhagen K, Denmark
Opening Hours: Tuesday – Sunday, 10 am – 5 pm
Suggested Tour: Copenhagen: 72-Hour Hop-On Hop-Off Classic Copenhagen Route
6. Explore Christiansborg Palace

Christiansborg Palace by Eugene Phoen / CC BY-NC-ND 2.0
Set on the small islet of Slotsholmen in the heart of Copenhagen, Christiansborg Palace was once a royal palace and is now the seat of the Danish Parliament and home to the Danish Prime Minister's Office, and the Supreme Court of Denmark.
The palace has some exquisite rooms, some of which are used by the Royal Family for various functions and events, such as the Tower Room and the Oval Throne Room where the Danish monarchs are proclaimed. The Great Hall is where all the Queen's tapestries hang, depicting 1,000 years of Danish history.
Guided tours of the palace include visiting the Riding School and the little court theatre which was built in 1767.
Address: Prins Jørgens Gård 5, 1218 Copenhagen, Denmark
Opening Hours: Tuesday – Sunday, 10 am – 5 pm
Suggested Tour: Copenhagen City & Christiansborg Palace Private Walking Tour
7. Cycle Around the City

Cycling in Copenhagen by Kristoffer Trolle / CC BY-NC-ND 2.0
Copenhagen is one of the most bike-friendly cities in the world and there is no better way to explore than by bike. There are countless companies offering rentals in Copenhagen, but the long-standing hi-tech City Bike scheme has been running the longest. Some bikes even come with a touch-screen tablet with built-in GPS!
Suggested Tour: Copenhagen: Complete City by Bike Tour
8. Stroll Around the Copenhagen Botanical Gardens

The Copenhagen Botanical Gardens by Mike Linksvayer / CC BY-NC-ND 2.0
The Copenhagen Botanical Gardens are a 10-acre green oasis in the center of the city and worth a visit to see the magnificent gardens and the majestic 1870s iron and glass structures that house them. The arboretum is home to more than 13,000 plant species of living flora, housed in a complex of historic 19th-century greenhouses.
Highlights include the Arctic house, in which hi-tech air-conditioning recreates a polar environment for the gardens' Arctic species, the rhododendron garden, and a glasshouse with cast-iron spiral staircases leading to walkways above the trees. There is also a butterfly house to explore in the summer.
Address: Gothersgade 128, 1123 Copenhagen K, Denmark
Opening Hours: 8:30 am – 4 pm, daily
Suggested Tour: Copenhagen: 2-Hour Private Walking Tour
9. Experience Copenhagen's Counterculture in Christiania
Freetown Christiania by Laura/ CC BY-NC-ND 2.0
Freetown Christiania, or simply Christiania, is a commune on the site of old military land in Christianshavn. The autonomous anarchist district was established back in 1971 during the counterculture movement in the city and features artists' studios, organic shops, cafés, and music venues owned by people who seek autonomy from the government.
There are good vegetarian restaurants like Morgenstedet and at Grønsagen and several live music venues. Christiania is also home to ALIS Wonderland, one of Copenhagen's most famous skateparks. The commune is renowned for its drug activity, so be aware of the "do's and don'ts" before entering.
Suggested Tour: Copenhagen: Free Spirited 1.5-Hour Guided Walking Tour
10. Have Some Old-Fashioned Fun at Bakken Amusement Park

Bakken Amusement Park by Sarah Lou / CC BY-NC-ND 2.0
Nestled in the beech woodlands of Dyrehaven just outside Copenhagen, Bakken is an amusement park that has been operating since 1583, making it the oldest operating amusement park in the world.
The historic park exudes a nostalgic, old-time quality with many fun rides, including an 82-year-old wooden rollercoaster, shooting stalls, gaming arcades, the Hvile music hall, which hosts cabarets, and an array of restaurants, ice cream parlors, and souvenir stalls. Watch out for Pjerrot, the white-faced clown who has been delighting visitors to the park for more than 200 years.
Address: Dyrehavevej 62, 2930 Klampenborg, Denmark
Opening Hours: 12 pm – 12 am, daily
11. Soak up Stunning City Views from the Church of Our Savior

Church of Our Savior by JD Lasica / CC BY 2.0
Copenhagen's Church of Our Savior offers one of the most beautiful views of the city. The beautiful baroque church has a towering helix spire with a corkscrew-shaped staircase that can be climbed to overlook the gorgeous Danish city. Not recommended if you suffer from vertigo!
The church was built by King Christian IV in 1695 as part of an effort to expand Copenhagen. The spire was designed by Lauritz de Thurah, who drew inspiration from Rome's Sant'Ivo alla Sapienza.
Address: Sankt Annæ Gade 29, 1416 Copenhagen, Denmark
Opening Hours: 9: 30 am – 7 pm, daily
Suggested Tour: Copenhagen: Private Walking Tour
12. Scope Some Scandi Design at the Design Museum Danmark

The Kaare Klint-Designed Reading Room by lglazier618 / CC BY 2.0
Danish design lovers will delight in the Design Museum Danmark. Housed in a beautiful Rococo building that was Denmark's first public hospital and is an artwork itself, the world-class museum features one of the world's largest collections of Danish design.
Exhibits include a wealth of decorative art, ceramics, glass, fashion, textile, and poster art, as well as industrial design from Denmark. You'll find works by Danish designers like Arne Jacobsen, Kaare Klint, Finn Juhl, Poul Kjærholm, Hans Wegner, and Verner Panton and can enjoy interactive workshops and in-depth guided tours.
Address: Bredgade 68, 1260 Copenhagen, Denmark
Opening Times: Tuesday to Sunday from 10:00 to 18:00 (Sunday: free 30-minute guided tour in English at 14:00)
Suggested Tour: Copenhagen: Inner City Day Trip
13. Go Skiing at CopenHill (Amagar Bakke)

CopenHill (Amagar Bakke) by News Oresund / CC BY 2.0
Designed by Danish architect Bjarke Ingels, CopenHill (Amagar Bakke) is a multi-use waste-to-energy plant and the city's epicenter for urban mountain sport. The architectural marvel has a 1,300-foot skiing and snowboarding slope on top of the center, as well as the world's tallest climbing wall and a "Garmin Tracket" – a track up the side of the building resembling a mountain trail.
If you aren't into mountain sports, walk to the top for some fabulous views of the Øresund strait and enjoy a cold beer at the café.
Address: Vindmøllevej 6, 2300 Copenhagen, Denmark
Opening Hours: 11 am – 8 pm, daily (Check website for various opening times for each section)
Suggested Tour: Copenhill Guided Tour
14. Tour Copenhagen's Canals by Boat

Canal Boat Tour in Nyhavn by Jonathan / CC BY 2.0
Get another perspective of the city from the water. Join a hop-on/hop-off boat tour that allows you to board the boat at seven unique spots at any time for 48 hours and see the city in a new light. Glide past famous sights like Amaliehaven, the Little Mermaid statue, and Christiansborg Palace.
You can also skipper a solar-powered GoBoat around the city's harbor under your own steam. These comfy boats putter along at a leisurely pace and you can take in famous sights like the multicolored houses of Christianshavn, the Royal Danish Opera House, and the striking Black Diamond library.
Suggested Tour: Copenhagen: 1-Hour Canal Cruise from Ved Stranden or Nyhavn
15. Watch the Changing of the Guard at Amalienborg Castle

Changing of the Guard at Amalienborg Castle by Bente Jønsson from Pixabay
Boasting beautiful views of the Copenhagen harbor and the Royal Danish Opera House, elegant Amalienborg Castle is the home of the Danish Royal Family. Originally built for four noble families, the palace burnt down in 1794 and after being rebuilt was sold to the Royal Family.
The palace features four identical classical palace façades around an octagonal courtyard which has a monumental equestrian statue of Amalienborg's founder, King Frederick V in the center. Watch the changing of the guards every day at 10 am and noon.
Address: Amalienborg Slotsplads 5, 1257 Copenhagen K, Denmark
Opening Hours: Tuesday – Sunday, 11 am – 4 pm
Suggested Tour: Guided Tour of Amalienborg Castle
16. People Watch on Jaegersborggade

Jægersborggade in Nørrebro, Copenhagen by Bex Walton / CC BY 2.0
Jaegersborggade is a charming, cobbled street in Copenhagen's Nørrebro neighborhood lined with brightly colored buildings and a slew of organic produce shops, ceramics and jewelry designers, art galleries, and buzzing bars.
You'll find the best coffee in town at a specialty micro-roastery and coffee consulting company, The Coffee Collective, and the Michelin-starred restaurant Relæ for an out-of-this-world fine dining experience. The only caramel cookery in Copenhagen is on this street and should not be missed for a sweet treat.
The street's southern end is home to Assistens Kirkegård, a leafy and exceptionally picturesque cemetery where famous Danes such as Hans Christian Andersen and Søren Kierkegaard are buried.
Address: Jaegersborggade, Nørrebro
Suggested Tour: Copenhagen: 2-Hour Private Walking Tour
17. Snack at Torvehallerne Food Market

Smørrebrød at the Torvehallerne Food Market by Jessica Spengler / CC BY 2.0
The Torvehallerne Food Market is a gourmet food market and a foodie's wonderland. Twin glass halls house a cornucopia of fresh produce, meats, seafood, and baked goods, as well as gourmet items from around the world.
There are plenty of stalls selling freshly prepared dishes to enjoy at the market or to take home – try popular favorites like the bánh mì from LêLê street kitchen, gourmet porridge at Grød, and confit duck sandwiches at Ma Poule.
Address: Frederiksborggade 21, 1362 Copenhagen, Denmark
Opening Hours: 10 am – 7 pm, daily
Suggested Tour: The Copenhagen Culinary Experience Food Tour
18. Explore the Wonders of the National Gallery of Denmark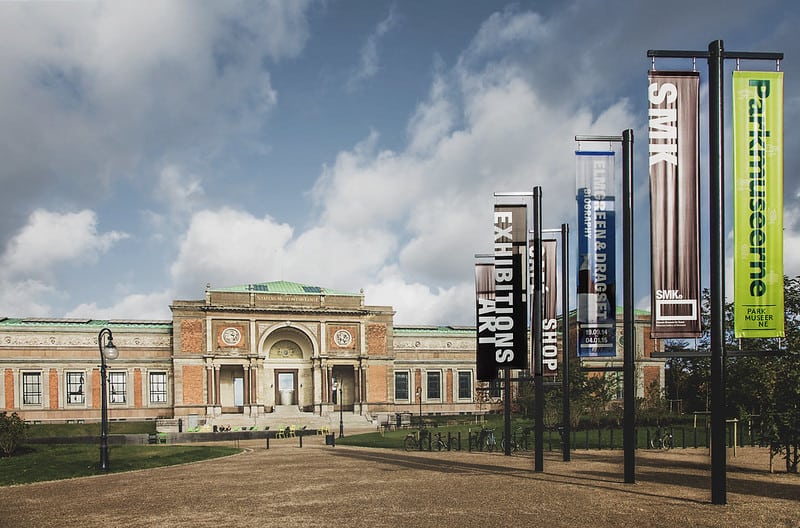 The National Gallery of Denmark by SMK Statens Museum for Kunst (Officiel) / CC BY 2.0
The National Gallery of Denmark (Statens Museum for Kunst) is Denmark's largest art museum and is famous for its breathtaking collection of Danish Golden Age art, Danish contemporary art, and one of the world's best Matisse collections.
Located in Østre Anlæg Park, the gallery houses outstanding collections of Danish and international art dating back seven centuries, as well as special exhibitions, royal collections, guided tours, and workshops.
Make a stop at the Kafereria after your visit to admire the exquisite Danh Vo-designed interiors that feature classic Danish furniture combined with cool designs from Italy and Japan.
Address: Sølvgade 48-50, 1307 Copenhagen K, Denmark
Opening Hours: Tuesday – Sunday, 10 am – 6 pm / Wednesday 10 am – 8 pm
Suggested Tour: Guided Tour of the National Gallery of Denmark
19. Have a Peaceful Moment in the Marble Church

Marble Church in Copenhagen by Jeanie Mackinder / CC BY 2.0
The Marble Church, officially known as Frederik's Church (Frederiks Kirke – Marmorkirken), is an exquisite Rococo church that was built in 1749 by King Frederik V. Standing sentry over the Frederiksstaden district of Copenhagen, the Evangelical Lutheran Church is said to be one of the most fantastic places of worship in the city.
Escape the hustle and bustle of the city for a moment of peace in the church with its characteristic copper green dome and striking artworks. The church room is open to the public every day and it is one of the most popular places in the city to get married.
Address: Frederiksgade 4, 1265 Copenhagen K, Denmark
Opening Hours: Monday – Thursday / Saturday: 10 am – 5 pm; Friday: 12 pm – 5 pm; Sunday: 12:30 pm – 5 pm
Suggested Tour: Copenhagen Canal Tour – Exploring Hidden Gems
20. Stroll Around the Kastellet

Moat of the Citadel by Stefan Jürgensen / CC BY 2.0
The Kastellet (Citadel) is a 17th-century fortress in the heart of Copenhagen and one of the most beautiful landmarks in the city. Set on the border of inner Copenhagen and the area of Østerbro, the Citadel was founded by Danish King Christian 4 in 1626 and is used as an HQ for military operations today.
Constructed in the form of a pentagon with sturdy bastions at each corner, Kastellet is one of the best-preserved fortresses in Northern Europe. It is open for the public to enjoy and has several walking and jogging tracks that wind around the Citadel.
Address: Hovedvagt, Kastellet 1, 2100 Copenhagen
21. Take in Panoramic City Views from the Round Tower

The Round Tower (Rundetårn) by Avda / CC BY 3.0
The Round Tower (Rundetårn), formerly known as Stellaburgis Hafniens, is a 17th-century tower located in central Copenhagen and the oldest functioning observatory in Europe. The tower was built as an astronomical observatory as one of the many architectural projects of Christian IV of Denmark.
Today, the observatory is still used by amateur astronomers and can be visited by the public. It is encircled by an outdoor platform that can be reached by a 700-foot spiral walk and provides magnificent views of the old part of Copenhagen. There is also a library hall at this level which once housed the entire book collection of the university and was often frequented by famous Danish writer H.C. Andersen.
Address: Købmagergade 52A, 1150 Copenhagen K, Denmark
Opening Hours: 10 am – 6 pm / 9 pm (Tuesday and Wednesday)
Suggested Tour: Guided Tours of the Round Tower
22. Soak in a Hot Tub at CopenHot

Pretty Views from the Hot Tub by Christoffer Grann / CC BY 2.0
Take a break from sightseeing and have a soak against a backdrop of beautiful views. CopenHot is a contemporary and ultra-cool fresco spa in the industrial-hip Nordhavn neighborhood that is perched right on the water with unbeatable views.
This only-in-the-know attraction features a cluster of wooden hot tubs and saunas filled with mineral-rich saltwater and heated from a crackling fire below. This is the perfect spot to unwind and enjoy a romantic sundowner.
Address: Refshalevej 325, 1432 Copenhagen K, Denmark
Opening Hours: Wednesday – Sunday 11 am – 7 pm
23. Take a Ride on the City Train

Copenhagen's City Train Tours by Leif Jørgensen / CC BY-SA 4.0
Jump on Copenhagen's City Train and see the city from a different perspective as you sit back and relax and enjoy the ride. The beautifully restored train begins the journey at Round Tower and chugs along at a leisurely pace, passing all the top attractions until it reaches the Copenhagen Cathedral. The full tour takes approximately 45 minutes.
Suggested Tour: Copenhagen Train Tour
24. Venture into the Cisternerne

The Cisterns by Wayne Feiden / CC BY 2.0
The Cisterns (Cisternerne) is a multimedia installation space located below the grounds of Søndermarken park and forms part of Frederiksberg Museums as a venue for art exhibitions and other events. The main attraction of the Cistern is the space itself, which was once a vast subterranean reservoir filled with drinking water for the city.
The reservoir also served as a reflection pool for the nearby Frederiksborg Castle and was the only dripstone cave in Denmark. Today, the damp and gloomy labyrinth which is filled with stalactites and stalagmites makes for an interesting, albeit a rather noir exhibition space.
Address: Cisternerne i Søndermarken, Frederiksberg, Denmark
Opening Hours: Tuesday – Sunday, 11 am – 6 pm / Friday 11 am – 8 pm
Suggested Tour: Guided Tour of the Cisternerne
25. Connect with Nature at Jægersborg Dyrehave

Jægersborg Dyrehave by .bastian – Flickr / CC BY-SA 2.0
Escape the city and head into the great outdoors at the beautiful wildlife sanctuary of Jægersborg Dyrehave, also known as Deer Park. Located on the northern side of Copenhagen, the seven square mile forest park is home to huge, ancient oak trees, rolling grasslands, and over 2,000 red and fallow deer.
You can enjoy a range of activities in the park from hiking and mountain biking to horseback riding, fishing in Stampedam, kite-flying, and picnicking.
Address: Dyrehaven, 2930 Klampenborg, Denmark
Opening Hours: Open 24 hours, daily
26. Dine at Reffen Street Food

Reffen Street Food by Stig Nygaard / CC BY-SA 2.0
Reffen Street Food is the largest street food market in Scandinavia, and you'll find food from all over the world here and a fantastic social vibe. Gastronomy, craft, culture, and community come together in this urban playground set on the quay in Refshaleøen where over 40 vendors sell a variety of organic produce, delicious ready-to-eat meals, and other gourmet delights.
Grab a bite and a drink and hit one of the sun chairs on the quay where you can sit and watch the life at the Copenhagen harbor.
Address: Refshalevej 167 Unit A, 1432 Copenhagen, Denmark
27. Check Out the Design-Centric Superkilen Park

Superkilen Park by Comrade King / CC BY-SA 2.0
Located just north of the city center in one of Copenhagen's most ethnically diverse neighborhoods, Superkilen park is an ultra-modern diversity park that celebrates diversity through design. The park is divided into three different zones: The Red Square, The Green Park, and The Black Market, each of which features globally-inspired design elements with futuristic high art touches.
From a neon pink, orange, and red public walkway to a glistening black octopus that forms a children's playground and lawns formed into round shapes and blobs of nature, this psychedelic urban area garnered international acclaim and is a must-visit if you are a design-lover.
Address: 210 Nørrebrogade, Copenhagen, 2200, Denmark
28. See the World's Largest Beer Collection

World's Largest Beer Collection by jill, jellidonut… whatever / CC BY-SA 2.0
Home to more than 22,000 bottles of beer, this collection is simply breathtaking to see. Leif Sonne, an engineer from the small town of Svendborg, has been collecting bottles of beer in every style and brand, and from countries around the world since 1968.
When the collection grew too large for his home, it was moved to Carlsberg Breweries where visitors can take a look at the incredible collection. Leif Sonne now holds the Guinness Book of Records for owning the largest collection of beer bottles in the world.
Address: 100 Ny Carlsberg Vej, Copenhagen, 1760, Denmark
Opening Hours: Tuesday – Sunday, 10 am – 5 pm
29. Marvel at Grundtvig's Church

Grundtvig's Church by Hans Andersen / CC BY-SA 3.0
This monumental Gothic-style church is a rare example of an expressionist church and simply breathtaking to look at. Located in the Bispebjerg district of Copenhagen, the sublime architectural marvel is one of the most distinctive buildings in the city with its soaring facade that evokes the shape of a church organ.
The church was designed and constructed by master builder and architect Peder Vilhelm Jensen Klint in honor of N.F.S. Grundtvig, a 19th-century Danish philosopher, poet, historian, and reformer. It features more than six million yellow bricks and a serene, peaceful ambiance.
Address: På Bjerget 14B, 2400 Copenhagen NV, Denmark
Opening Hours: Tuesday – Saturday 9 am – 4 pm / Sunday 12 pm – 4 pm
30. Find the Underwater Sculpture of Agnete and the Merman
Agnete and the Merman Statue by martin_vmorris / CC BY-SA 2.0
Almost hidden by the waters of the Frederiksholm canal beneath the Højbro Bridge, is one of Copenhagen's hidden gems. It is an underwater sculpture by the Danish artist Suste Bonnén inspired by the Danish ballad "Agnete og Havmanden" (Agnete and the Merman).
The bronze sculpture depicts the haunting scene of Agnete's merman husband and her abandoned mer-children longing for their long-lost mother as they reach up towards the surface. It's easy to miss so keep a keen eye out as you pass by on the boat.
The Best of Copenhagen
Best Neighborhoods to Stay in Copenhagen
1. Indre By (Copenhagen Old Town)

Copenhagen Old Town by Hanlu Cao / CC BY-SA 3.0
Indre By (also known as Copenhagen Old Town or the City Center) is Copenhagen's oldest neighborhood with a charming medieval vibe. It's the best place to stay if you want to be in the heart of the city and close to all the main attractions like Amalienborg Castle, Christiansborg Palace, and the Rosenborg Castle. It is also the top spot for shopping in Strøget and Købmagergade, and has a great nightlife.
2. Vesterbro

Vesterbro by Andrea Lai / CC BY-SA 2.0
Vesterbro is cool and trendy and a firm favorite hangout spot for local youngsters, backpackers, and the arty crowd. This is the artistic part of the city where artists, designers, filmmakers, and photographers live and has a fantastic selection of coffee bars, cocktail bars, and live music venues. It's also home to the famous Tivoli Gardens.
3. Nyhavn (New Harbor)

Nyhavn by Sam Amil / CC BY-SA 2.0
Nyhavn is one of the most iconic and picturesque places in Copenhagen. It's close to the city center and a short walk from Christianshavn, Christiania, Refshaleøen, and Holmen, and there are plenty of charming cafés, bars, and restaurants.
4. Nørrebro

Nørrebro by Ellyodd / CC BY-SA 3.0
Sitting just north of the City Center, the multicultural neighborhood of Nørrebro has a great selection of museums, art galleries, as well as independent shops and boutiques, and Superkilen Park, the design-centric urban park. Nørrebro is great for all budgets.
5. Østerbro

Fælledparken by Stig Nygaard / CC BY 2.0
Just north of the City Center is the charming neighborhood of Østerbro. It is ideal for families with a laid-back vibe and affordable accommodation, an authentic Danish atmosphere, and is within walking distance of the main attractions. This area is home to Fælledparken, a fantastic inner-city parkland with football pitches, a skate park, and a waterspouts area.
6. Christianshavn

Christianshavn by Arne List / CC BY 2.0
Christianshavn is a very special part of Copenhagen and one of the coolest neighborhoods in the city. Set on a man-made island constructed in the 1600s, the area is full of beautiful canals and pretty colorful houses. It's the perfect place to stay if you are looking for a quiet, romantic spot.
Best Hotels in Copenhagen
Luxury: Hotel d'Angleterre

Hotel d'Angleterre by Dornum72 / CC BY-SA 3.0
The Hotel d'Angleterre epitomizes grandeur. Overlooking Kongens Nytorv, Copenhagen's largest public square, the Royal Danish Theatre, and Charlottenborg Palace, this is the city's most famous hotel. Based in a 1755 Neoclassical palace that was once a restaurant, this award-winning hotel is an icon of evolving luxury. Five-star amenities include an acclaimed restaurant, an elegant champagne bar, a luxury spa, and fitness center, and an indoor pool.
Address: Kongens Nytorv 34, 1050 Copenhagen, Denmark, Phone: +45 33 12 00 95
Mid-Range: Absalon Hotel
Absalon Hotel by EHRENBERG Kommunikation / CC BY-SA 2.0
This is a fantastic family-run hotel in the vibrant Vesterbro district with vibrant décor by Designers Guild, comfortable guest rooms, and a popular Scandinavian breakfast buffet. The hotel is within a short walk from Copenhagen Central Station and Tivoli Gardens and is close to the popular Kødbyen neighborhood (Meatpacking District). It also offers bicycle rentals for exploring the city.
Address: Helgolandsgade 15, 1653 Copenhagen, Denmark, Phone: +45 33 31 43 44
Budget: Danhostel Copenhagen City
Danhostel Copenhagen City by Maria Eklind / CC BY-SA 2.0
Boasting an incredible location on Langebro Bridge, Danhostel Copenhagen City offers comfortable private rooms and dorms. All private rooms have en-suite bathrooms and there are a modern bar and shared kitchen facilities. Facilities are basic, but there are plenty of common areas and free Wi-Fi throughout the hotel.
Address: H. C. Andersens Blvd. 50, 1553 Copenhagen, Denmark, Phone: +45 33 11 85 85
Best Restaurants in Copenhagen
Noma
Noma by tomislav medak / CC BY-SA 2.0
The restaurant that coined New Nordic cuisine, Noma is a gourmand's dream. The two-Michelin star restaurant has made it onto The World's Best Restaurant list no less than four times… and counting. Located on the artsy Refshalevej Island, the restaurant offers three menus per year with around 20 courses based on the top seasonal ingredients that are available. The sublime cuisine is accompanied by a world-class globally-inspired wine list presented by renowned sommeliers.
Address: Refshalevej 96, 1432 Copenhagen K, Denmark, Phone: +45 32 96 32 97
Restaurant Alchemist
Restaurant Alchemist is another Michelin-star studded restaurant and bucket-list dining destination in the heart of Copenhagen and one of the world's most unique restaurants. Located just next to the harbor in Refshaleøen, the restaurant offers a dining experience like no other. The dinner experience is divided into 5 acts which are divided over 5 areas and for a few hours, guests are guided through these zones as they dine on no less than 50 courses. Guests choose their wines from the 10,000-bottle cellar from an iPad with a custom-made application. Be prepared for an eye-wateringly high bill… but oh-so-worth-it.
Address: Refshalevej 173C, 1432 Copenhagen K, Denmark, Phone: +45 31 71 61 61
Høst
Høst is a stylish restaurant with rustic wooden tables and a relaxed ambiance that serves a delicious blend of contemporary Scandinavian cuisine. Located in a classic building on the corner of Nørre Farimagsgade and Ahlefeldtsgade, Høst, meaning "harvest" uses fresh seasonal ingredients and Nordic products to create an award-winning menu of sublime cuisine.
Address: Nørre Farimagsgade 41, 1364 Copenhagen, Denmark, Phone: +45 89 93 84 09
Best Bars in Copenhagen
Ruby

Ruby by Lou Stejskal / CC BY-SA 2.0
Situated in an 18th-century townhouse on Nybrogade, this elegant canalside bar is the place to go for cocktails in the city. It's been turning out creative and well-wrought libations since 2007 with playful menu favorites like the Gin 'N' Colada #2, and the Rita & Ruby with licorice-infused Don Julio reposado tequila.
Address: Nybrogade 10, 1203 Copenhagen K, Denmark, Phone: +45 33 93 12 03
The Barking Dog

The Barking Dog by OneTwoTrip Travel Expert / CC BY-SA 2.0
Located on a quiet lane in Nørrebro, The Barking Dog is a chill bar for drinks and good conversation. A creative menu boasts numerous cocktails, including classics like margaritas and daiquiris, Swedish-inspired vodka-tonic-lingonberry highballs, and the mind-blowing Mexican 8-Ball, made with tequila and absinthe.
Address: Sankt Hans Gade 19, 2200 Copenhagen, Denmark, Phone: +45 35 36 16 00
Balderdash

Balderdash is a quirky bar housed in a circa-1732 building in the heart of the city that serves an array of madcap creations with unusual ingredients like smoked bone marrow, bacon salt, horseradish perfume distillates, and lemon curd. Think charred tomato-strawberry gazpacho and tonic. For the less daring, there also a range of fine wines and beers and other usual suspects.
Address: 1151 k, Valkendorfsgade 11, 1151 Copenhagen, Denmark, Phone: +45 53 10 78 85
Best Coffee in Copenhagen
The Coffee Collective

The Coffee Collective by The Coffee Chronicler / CC BY-SA 2.0
The Coffee Collective is Copenhagen's go-to coffee spot. Slick and modern, yet still 'hygge,' the micro-roastery has two coffee shops and a coffee school that focus on the entire process of coffee making. Friendly baristas greet you with a smile and the coffee is superb. Find them on Jægersborggade and in Torvehallerne, Bernikows Gade, and Godthåbsvej.
Address: Jægersborggade 57, 2200 Copenhagen N, Denmark, Phone: +45 60 15 15 25
Prolog Coffee Bar
Prolog is a roastery, café, and very cool hangout in the heart of the bustling Meatpacking District on Vesterbro that takes coffee to the next level. They roast their own beans out on Refshaleøen and the cappuccinos and filter brew are some of the best in town. Drinks are served with mouthwatering croissants and pastries from Il Buco on Islands Brygge.
Address: Høkerboderne 16, 1712 Copenhagen, Denmark, Phone: +45 28 87 48 46
Darcy's Kaffe
Tucked on the corner of Rantzausgade in Nørrebro, Darcy's Kaffe is a cozy neighborhood coffee joint that brews sublime coffee with the best beans from the world's top roasters and serves them with perfect pastries from Democratic Coffee and bread from Bageriet Brød. The café has a cool Copenhagen apartment feel with nooks for reading and working and sunny and window spots for watching the world go by.
Address: Rantzausgade 2, 2200 Copenhagen N, Denmark