Everyone loves a transformation.  After all, it's what all good stories have in common:  Cinderella becomes a beautiful princess, Mulan becomes a warrior hero, the geeky kid becomes Spiderman… we love them all.
And fabulous remodels capture us in the same ways.  We love HGTV shows like Fixer Upper, the Property Brothers, Extreme Home Makeover, to name a few.  But the latest craze to hit Pinterest is RV Renovations. RV enthusiasts like just can't resist seeing how people transform their boring and drab RV interiors into beautifully unique homes on wheels.
While Pinterest is the go-to search engine for home decor ideas, I recommend Instagram for finding your next RV interior inspiration.  You can search hashtags like #rvrenovation, #rvremodel, #rvinspiration and #cozyonwheels for all the eye candy you can handle.
That's just what I've been doing and I am excited to share with you some of my personal favorite RV Renovations that you just have to SEE to believe!
RV Renovations
What we love:  The neutral palette with pops of color.  Black and white with wood tones feel classic and cozy at the same time.  Plus, she painted her DOOR! Who does that? She did and she'll make you want to paint yours too!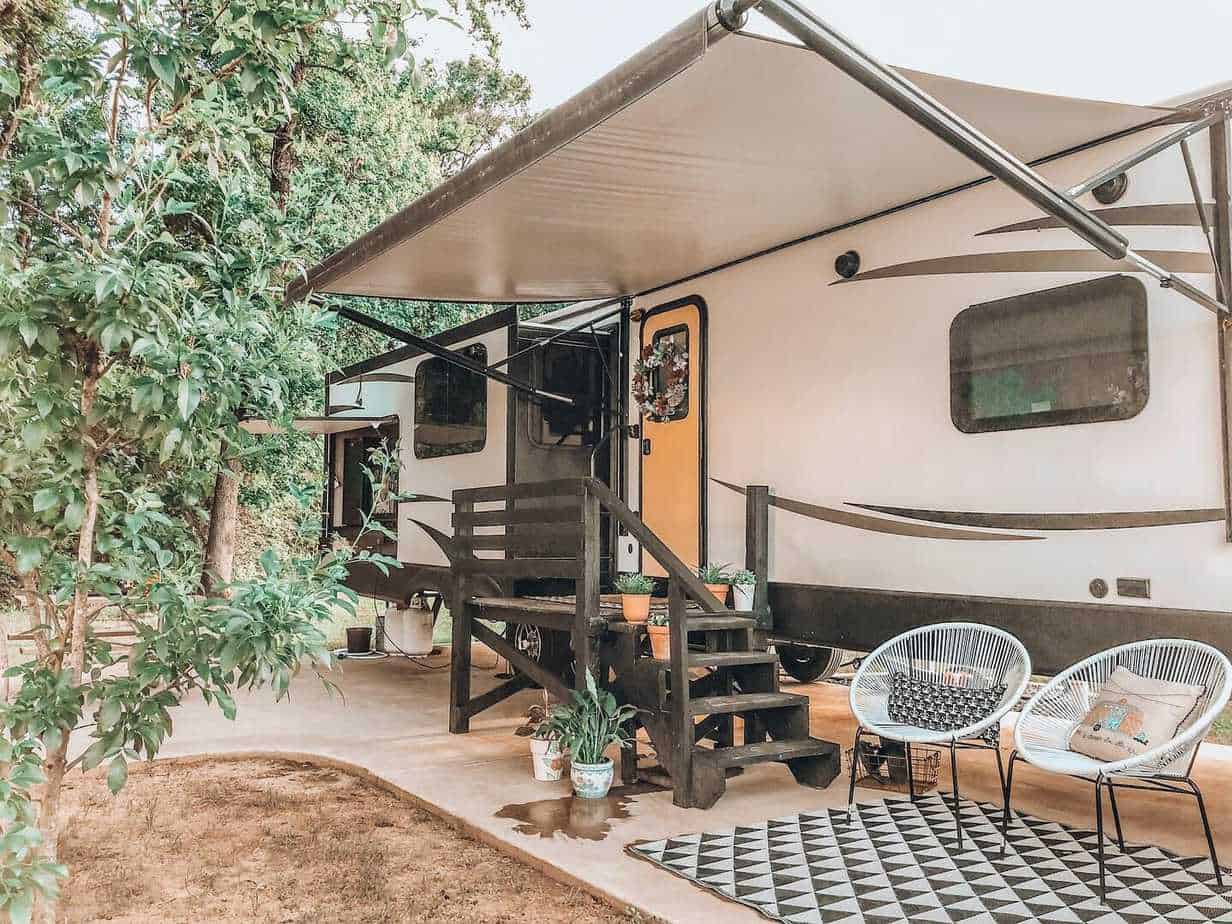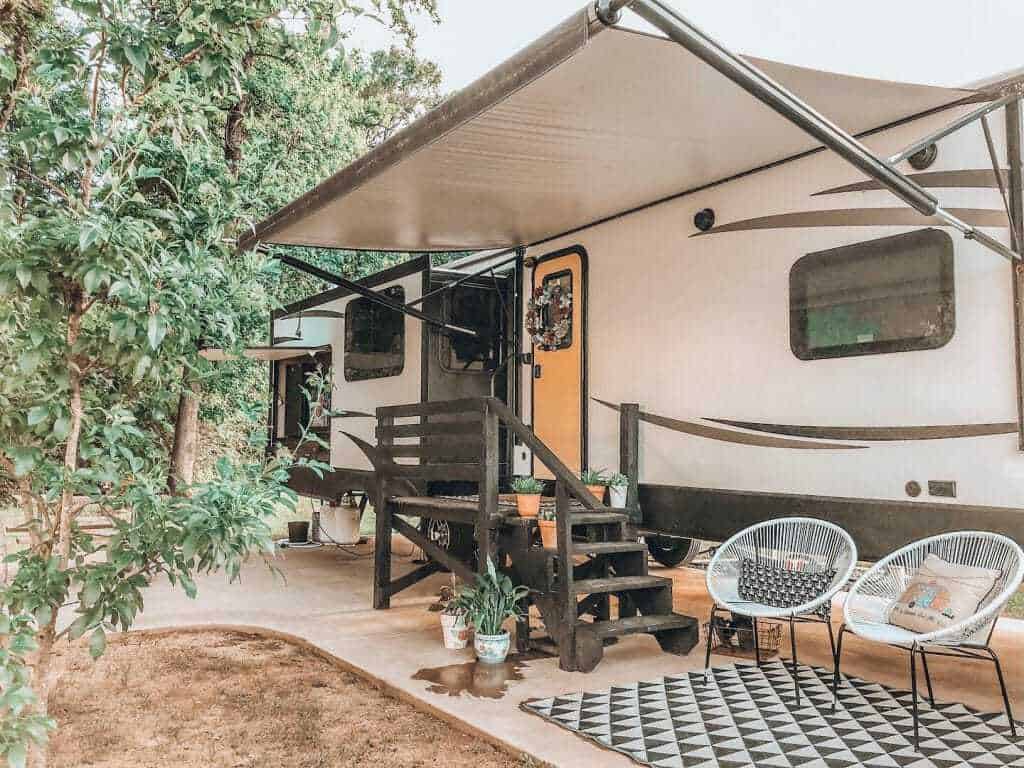 This painted door changes the whole look of the RV and makes it feel more like home.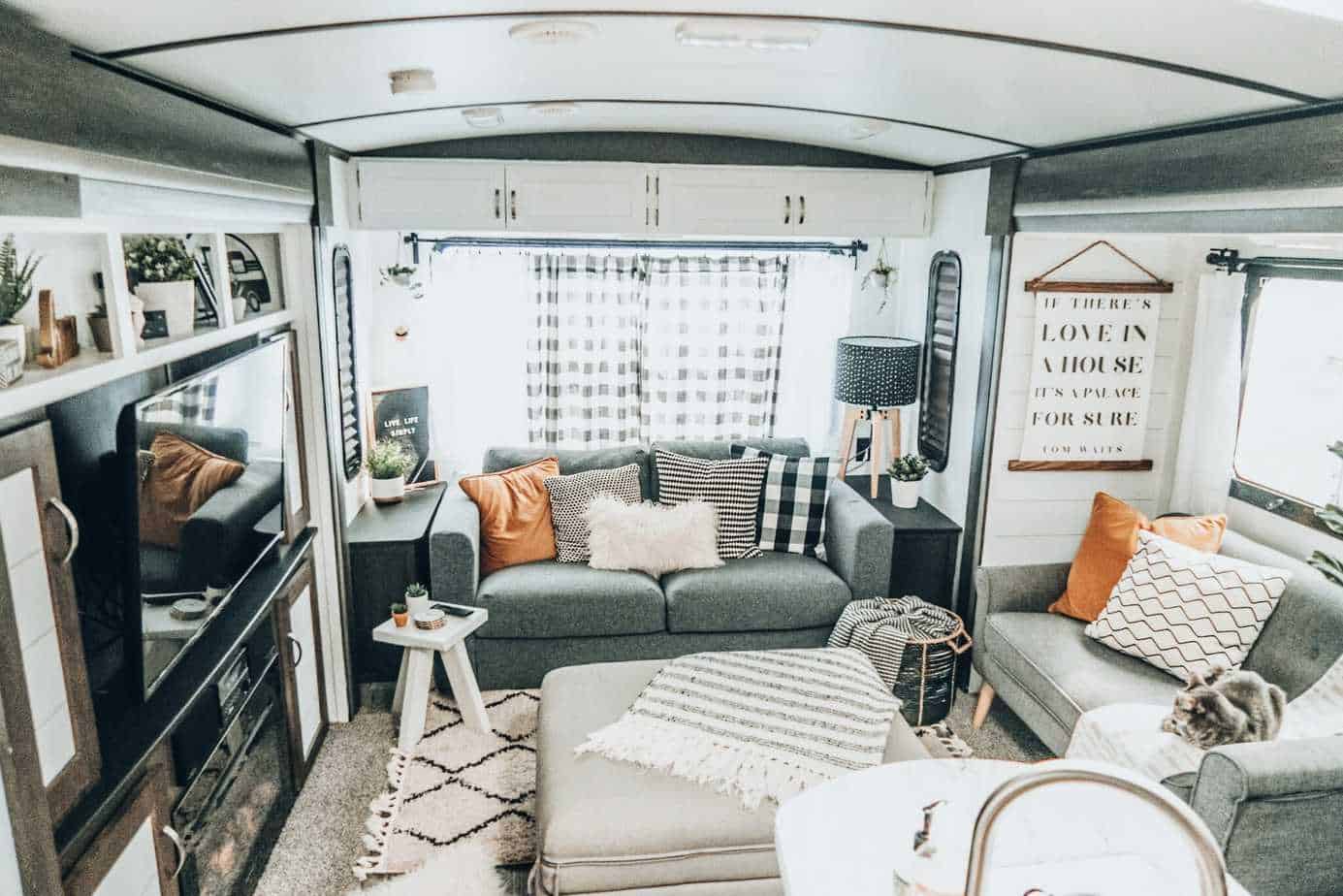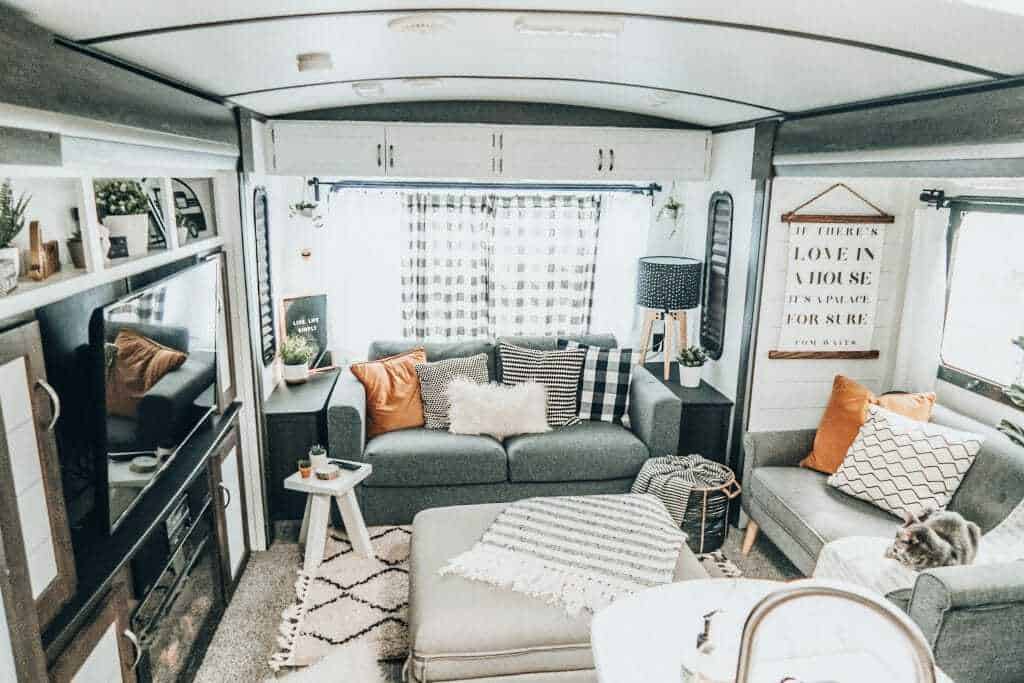 This cozy renovated living room hardly feels like it's in an RV.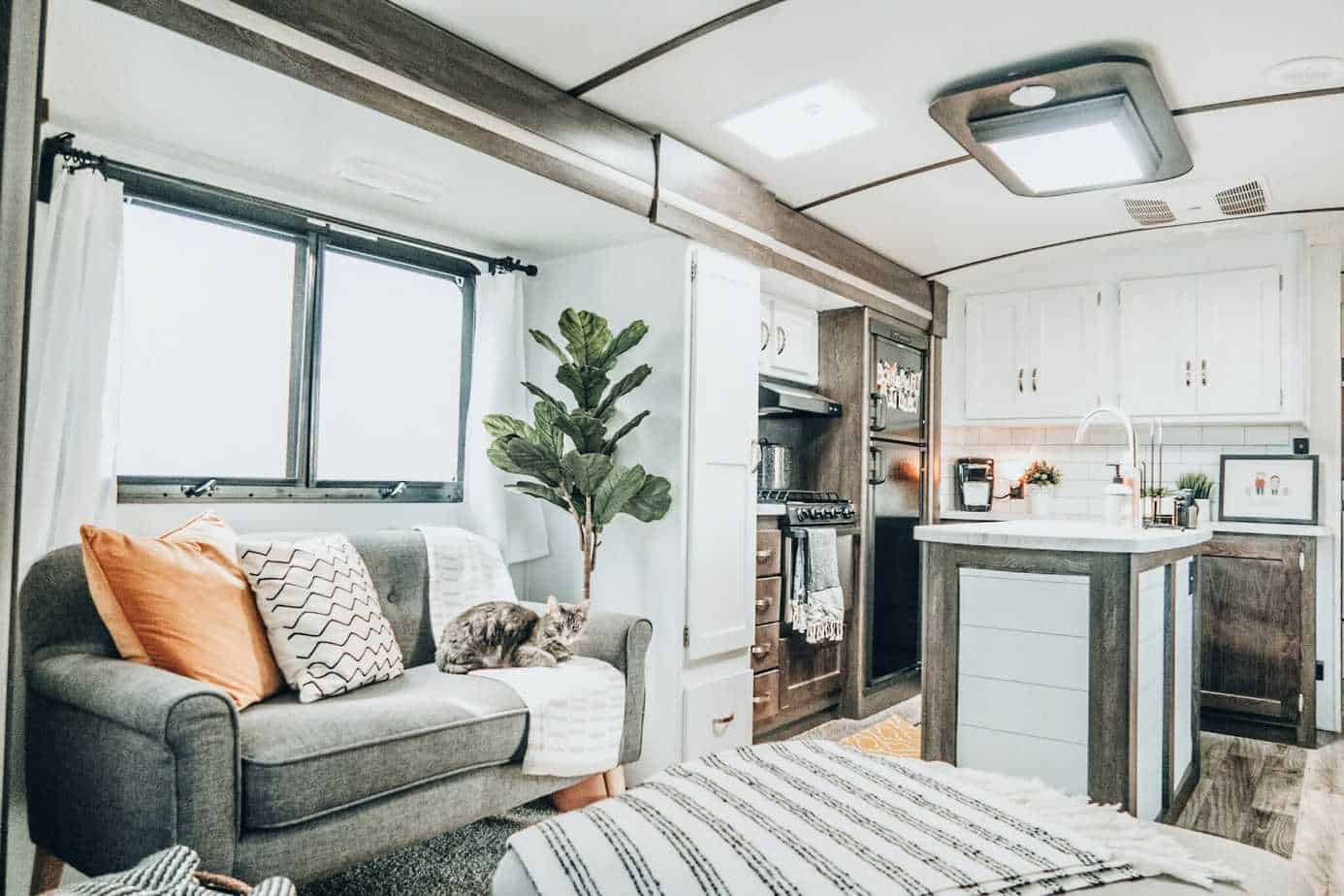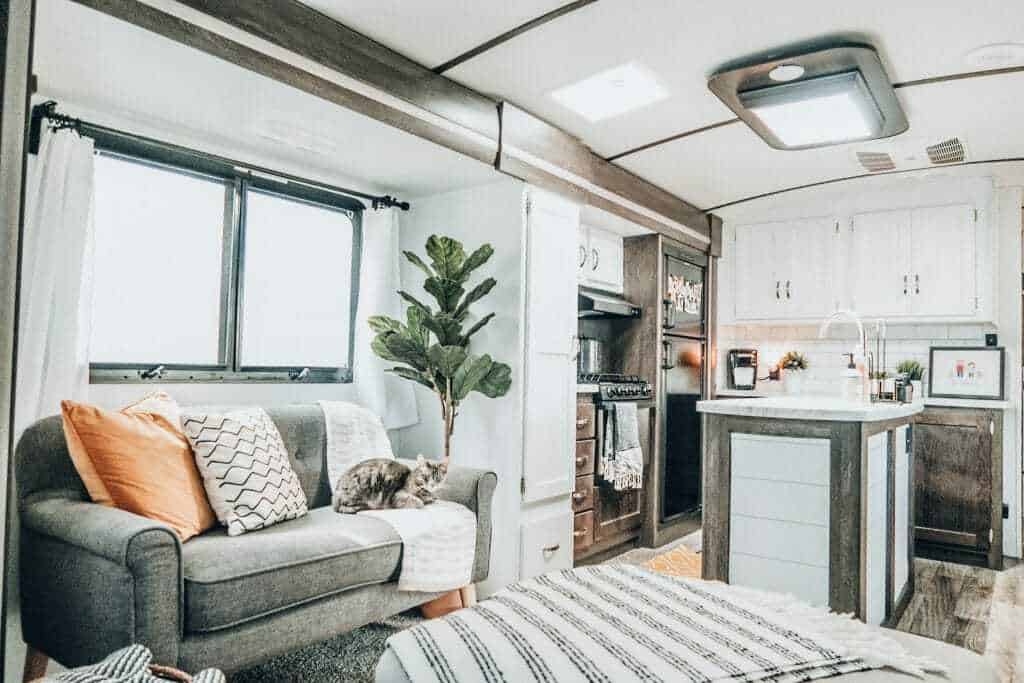 This small RV kitchen is light and airy thanks to the painted cabinets.
Bethany says her favorite part of the renovation is the living room:  "Painting the walls, cabinets, replacing the furniture, adding some wallpaper, and adding decor made such a huge difference. The space went from looking like a camper to looking like a home!"  We couldn't agree more!
What we love:  Where do we start?  There is so much to love about this RV renovation.  How about the plants!? The greenery in this space adds so much life!
The surprises in this RV just keep coming, from the choice in wallpaper to the mural in the bathroom.  I mean, who wouldn't want to stay in bed all day in this master bedroom?

This master bedroom is so luxurious, you would never believe you are in an RV.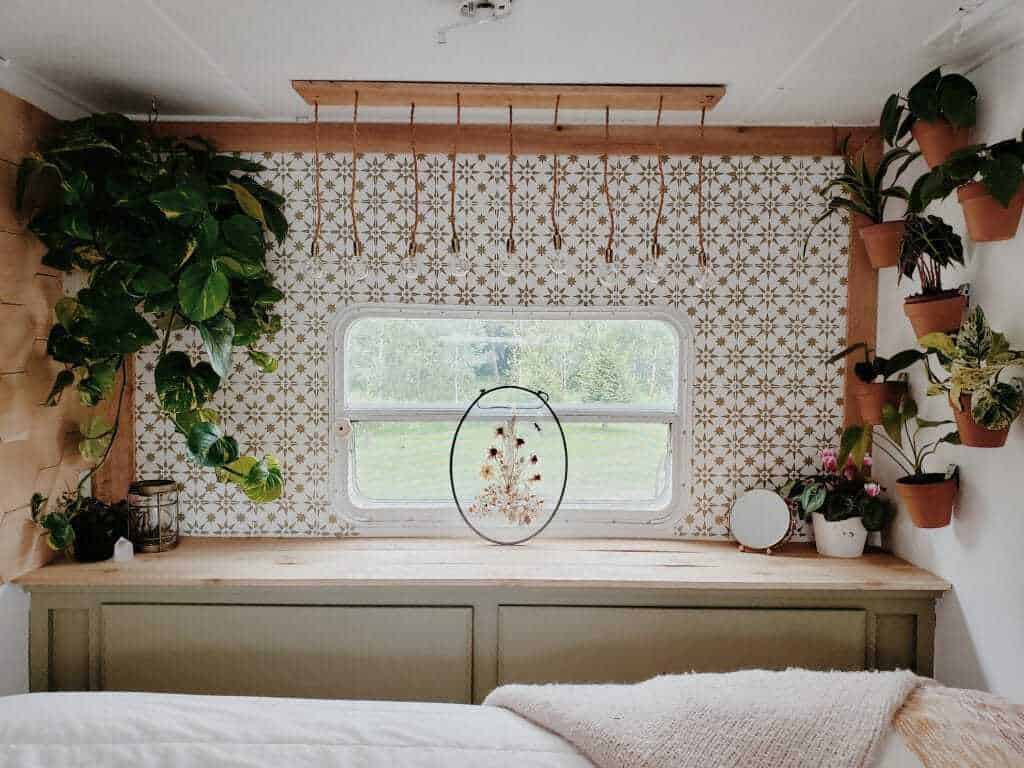 This small RV window nook is a show stopper!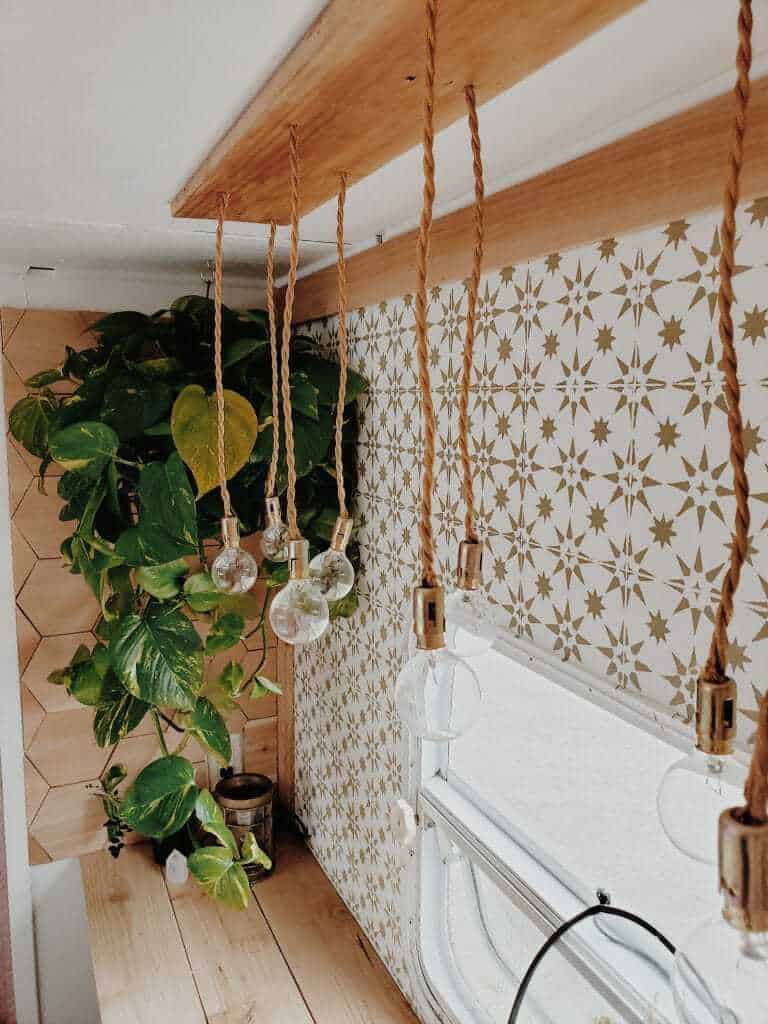 This light fixture is a unique detail in the window nook.
All the plants make this corner POP!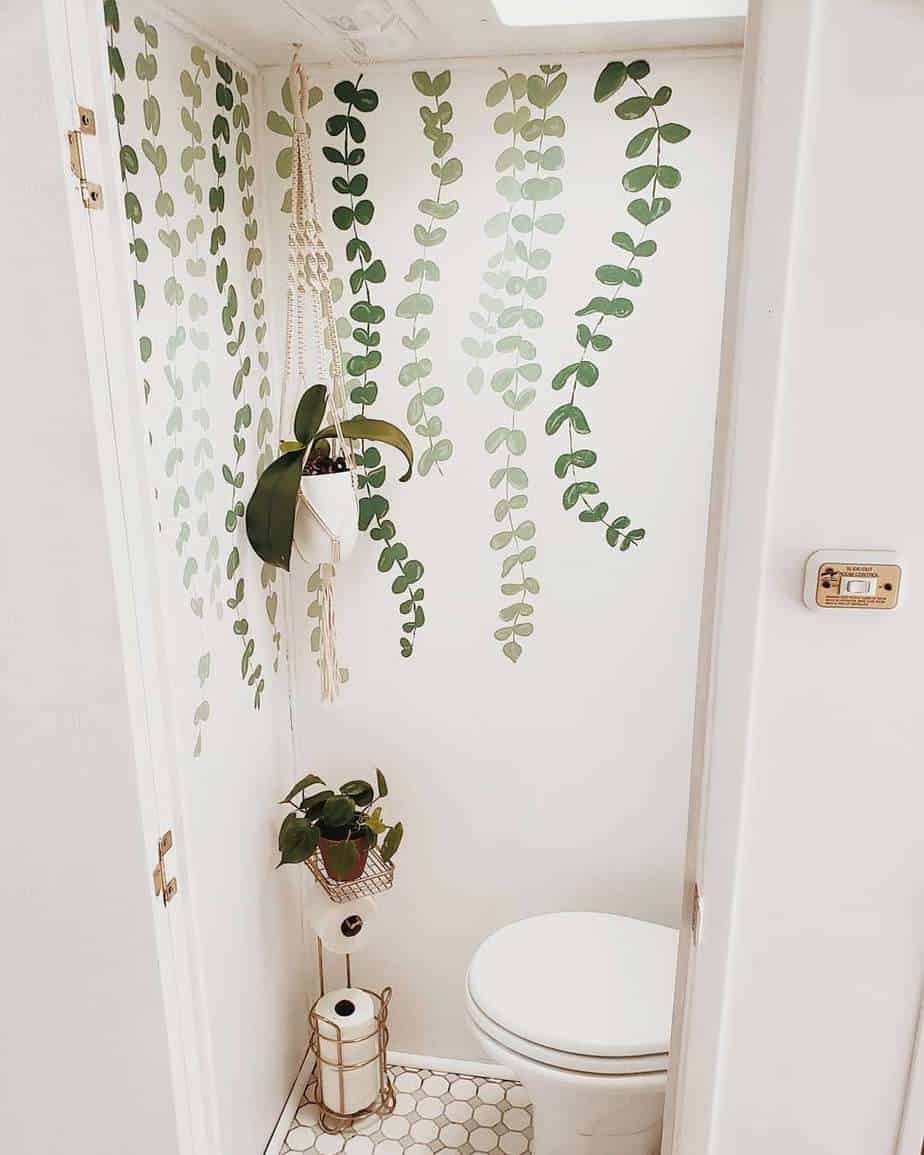 The mural in this tiny RV bathroom proves that with a little creativity, even small windowless rooms can have greenery.
LeeAnn shares that her inspiration came from seeing other renovated RVs on Instagram.  She states "With my own designs I am greatly inspired by mid century details and decorating with plants.  Any new piece I get for the trailer I think, 'How can I design a plant around this?'"
What we love: The boho beach feel of this RV make it feel like a getaway in and of itself.  The unique pieces like the woven kitchen rug and the dining room light fixture make this renovation one-of-a-kind.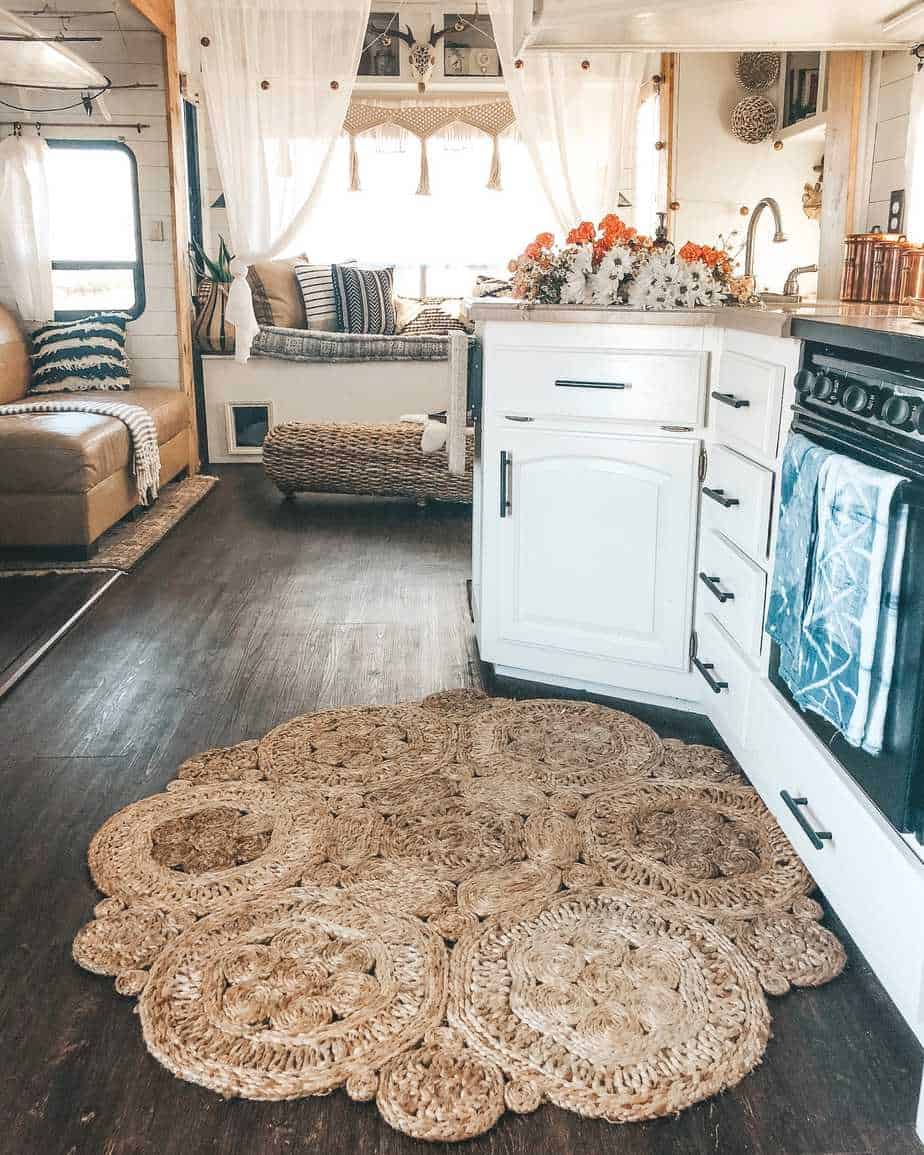 From the kitchen rug to the macrame on the window, the decor invites you in.
The turquoise mini-fridge adds a nice pop to this renovated RV kitchen.
This DIY breakfast nook reminds me of sipping coffee on a deck overlooking the beach.
Shelby found her inspiration from beach themes, sharing "A big inspiration for our RV was the design book Surf Shack by Nina Freudenberger. We discovered we would be stationed in Southern California so the design style was fitting."
Of the decor, Shelby states, "The majority of our decor was DIYed or thrifted. For example, I made our curtains from Turkish towels and bamboo rods, our kitchen pendant light is made from a $5 straw hat I thrifted, flipped upside down and strung a light through."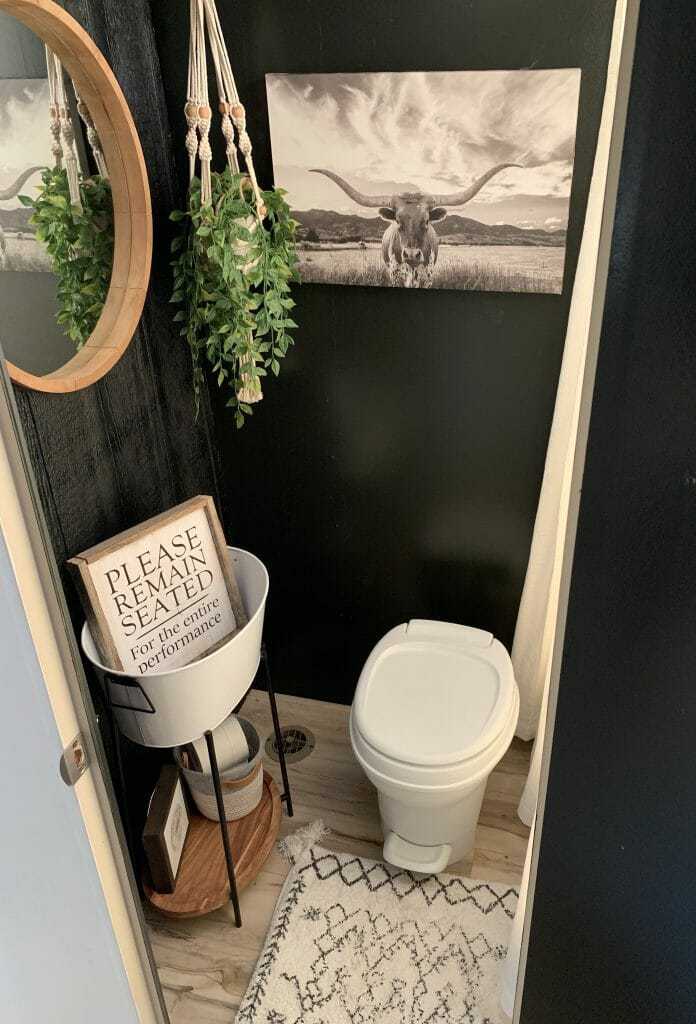 What we love:  It's the details in a tiny dwelling that make it feel like home, and Mariah proves this to be true when you see how much love she put into the bunkroom and bathroom.  Is it weird to love a bathroom so much?  Because I do!
From the longhorn art to the cheeky sign, this renovated RV bathroom shows that even the tiniest of spaces can be beautiful.
The simplicity of this vanity is what makes it so beautiful.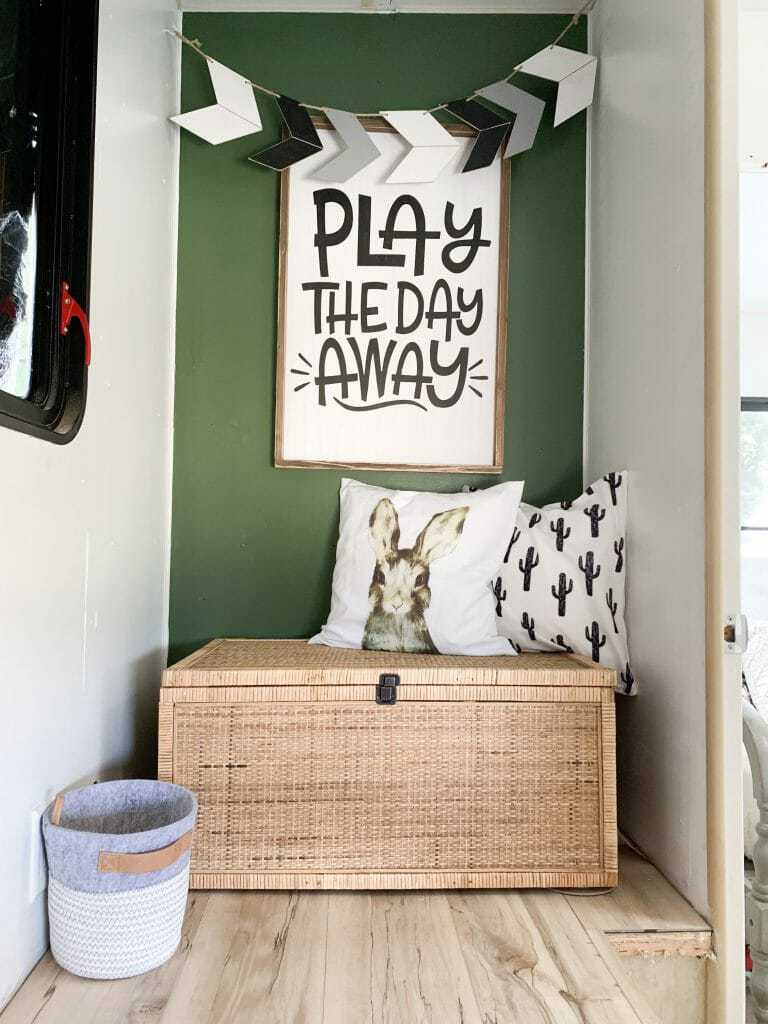 Tiny spaces for tiny humans: the green wall adds the perfect pop of color to this renovated bunk room.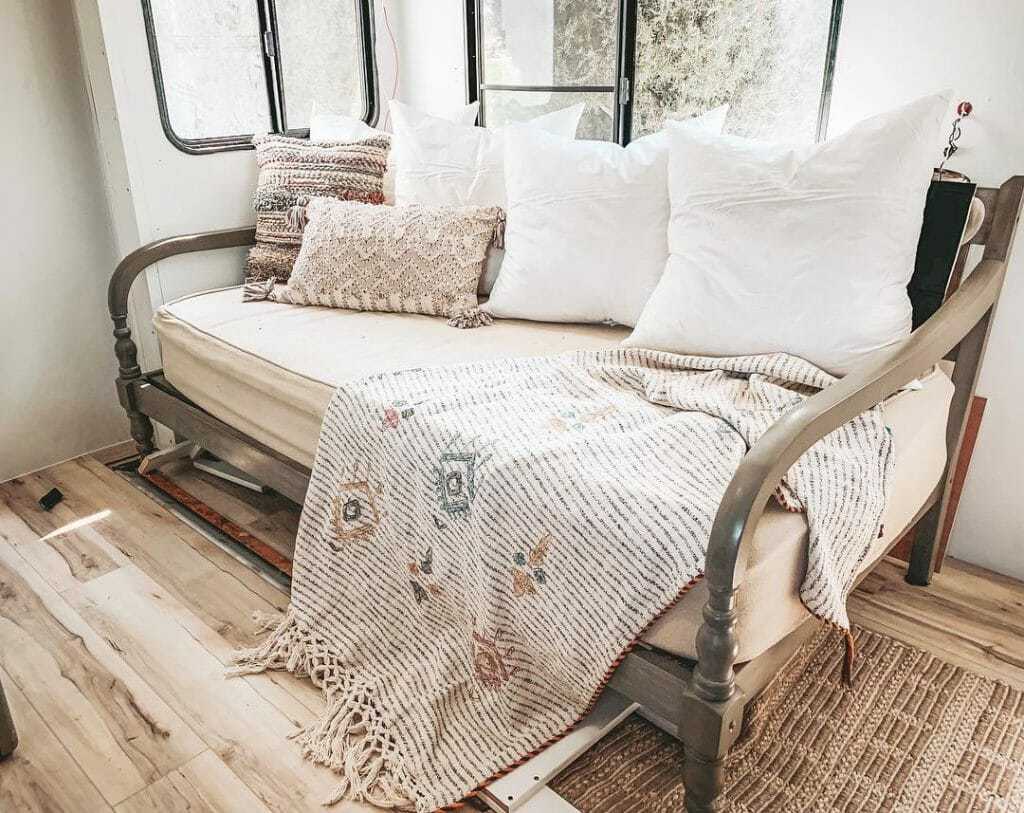 We just love when people replace their RV furniture with unique finds, and this daybed-turned-couch is no exception!
Mariah shares of the renovation, "my favorite part has to be a tie between our son's bunkhouse, which we've made special just for him, and our bathroom."
But renovating an RV isn't easy!  "There was a time that we had been working so, so hard, and looked around and realized we were not even close to done, not even close to half-way finished! We're so glad we kept going through those tough days that felt like they were never going to end… because now, looking back, we're SO thankful we kept going."
What we love:  The bold use of color with the mix of modern and repurposed furniture finds.  This RV remodel is unlike any other!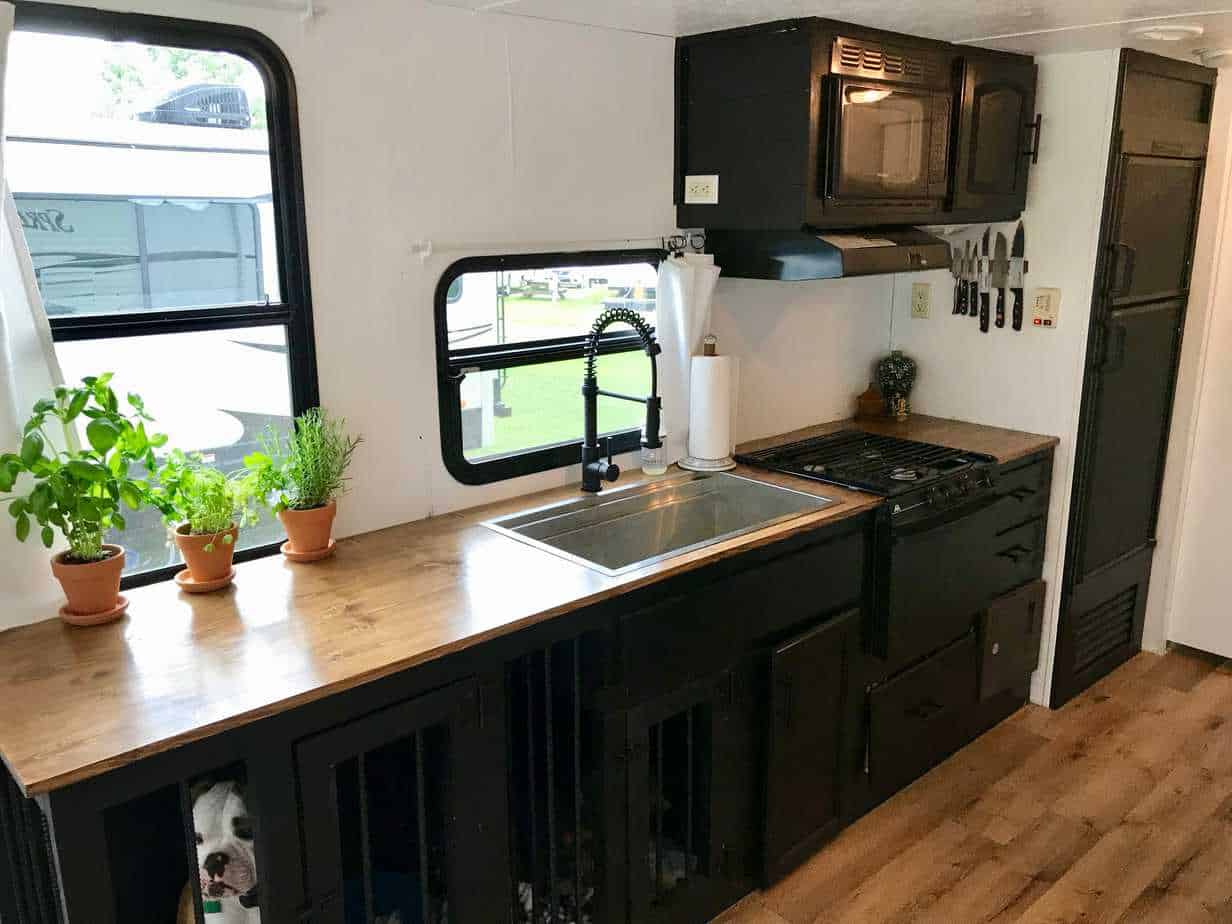 Did you see the hidden surprise under the kitchen counter?  It's a built in dog kennel!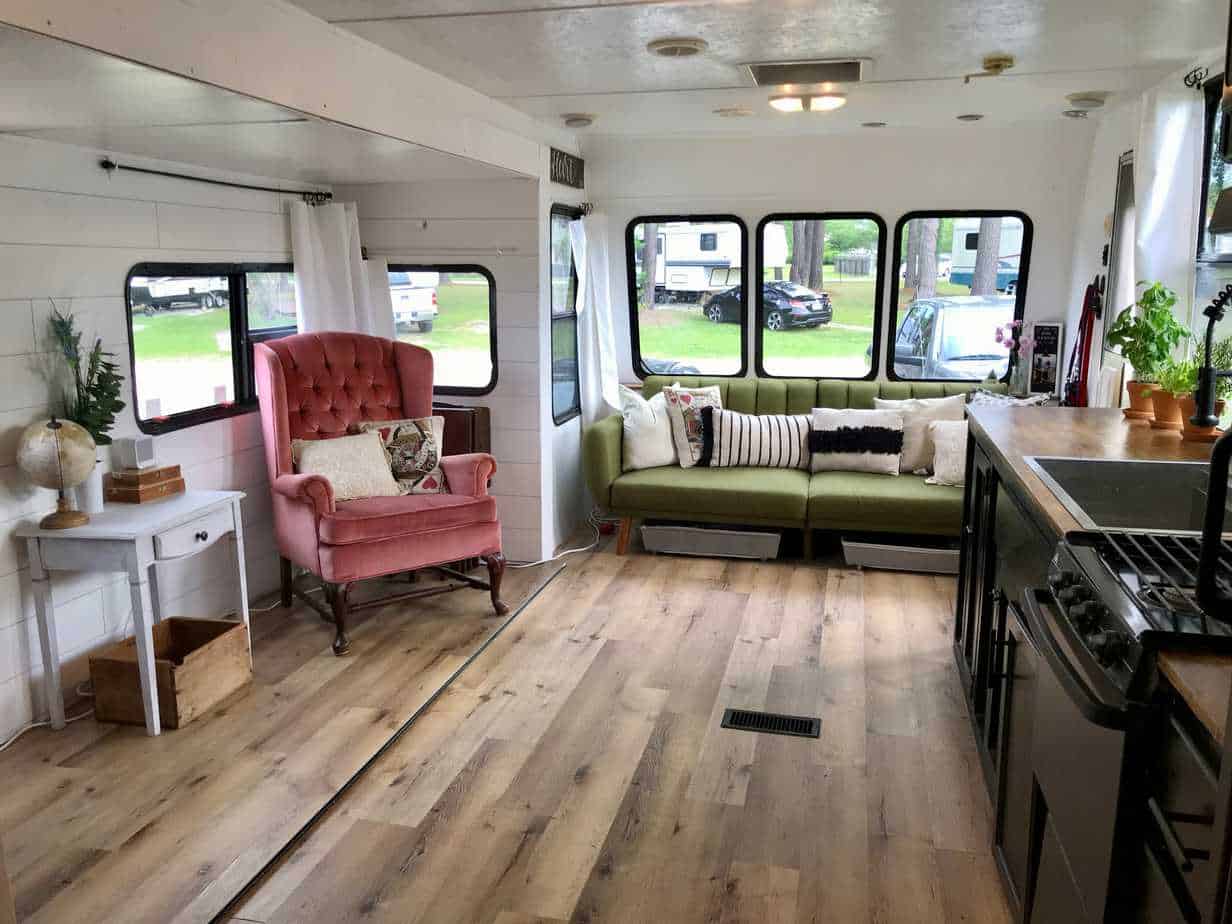 A wing-backed chair is a bold choice for a remodeled RV living room, but a pink one?  It just works!
The lime-green with the black and faux marble and… hold on… is that  double sink in an RV???
Mariah tells us that "Most of my decor finds are from thrift stores and second hand shops. We've brought home things from our travels as well so I have a couple pieces from Mexico, Thailand, Korea, Romania and Kuwait!"
What we love:   Even though this RV is painted mostly white, the rugs and furnishings make the whole place feel warm and inviting.   The eclectic decor makes this renovated RV feel like home.
Even the dog looks at home in this renovated RV.
The tan couch and oriental rug contrast the white paint providing both a cozy and bright feel to this RV living room.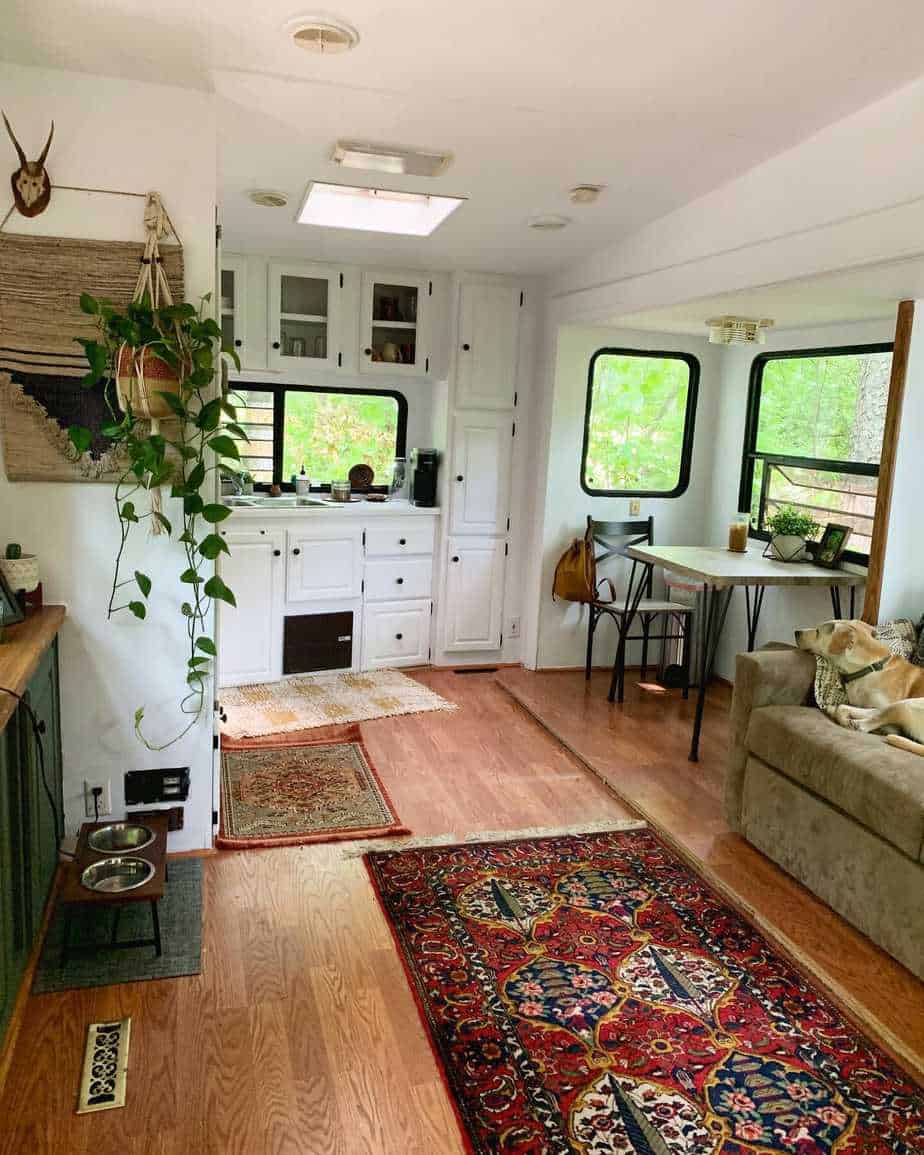 This renovated RV has an open and comfortable vibe.
When asked what inspired the renovation, Lizzie states, "We've always loved the idea of going tiny. We are very environmentally-conscious and wanted to live with a smaller footprint. We then started following RV bloggers on Instagram and we realized from their stories that living in a homey, well put-together tiny house was possible even with a smaller budget."
What we love:  The creative use of space in this Toy Hauler Travel Trailer with no slide outs is inspiring to say the least!  From the gorgeous herringbone tabletop, to the open shelving, to the buffalo paid, there's something to love for everyone in this innovative RV renovation.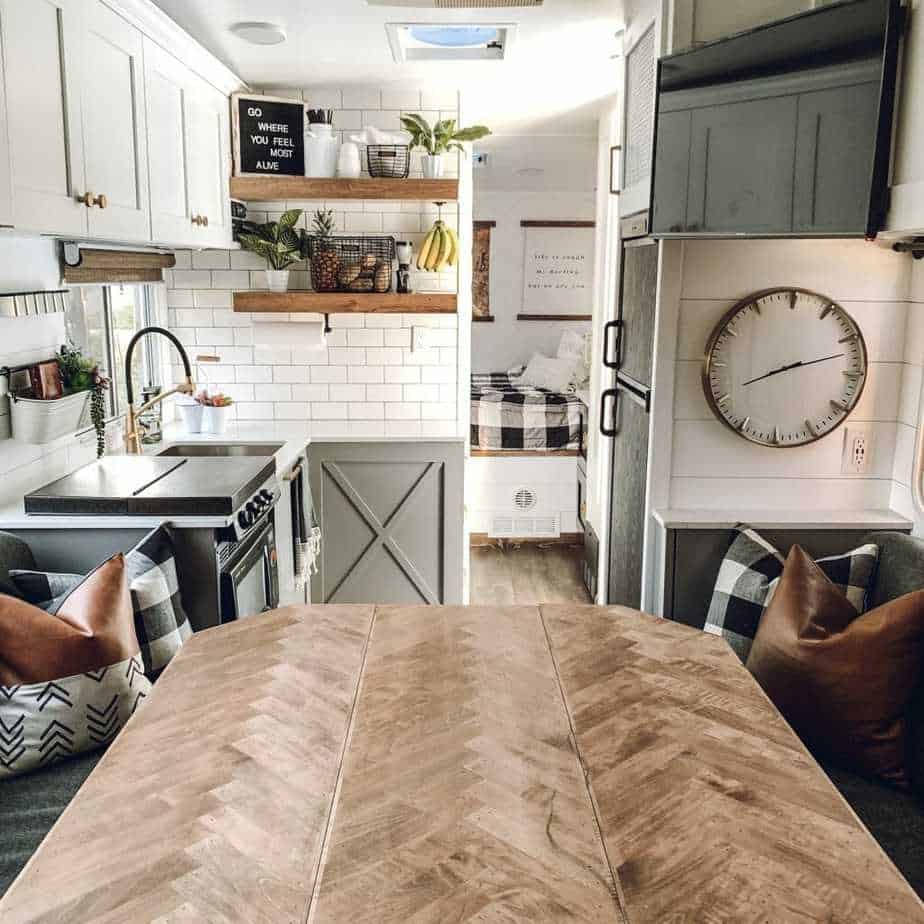 This herringbone tabletop with the leather throw pillows make this renovated dining space so inviting!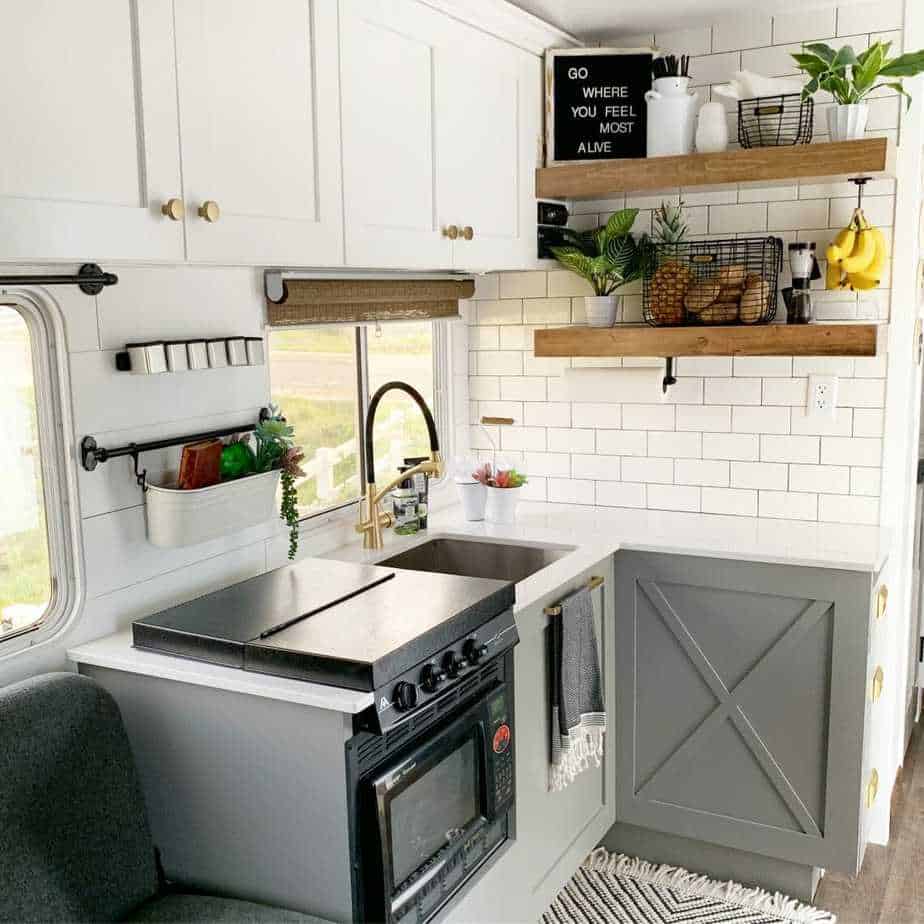 This tiny RV kitchen has a farmhouse feel with the open shelving and the barn door cabinets.
The real surprise of this renovation is that it is a Toy Hauler!  Those garage bunks can sleep 4 kids and go up to the ceiling when not in use!  WOW!
Nikki shares that she was inspired by Instagram for this RV renovation and wanting to make it feel as much like home as possible.  In regards to decor? She states, "I am huge Amazon girl. Most things these days can be found there. But I also love to shop small so several items of décor are from small shops."
What we love:  The bunkhouse was completely gutted and built from scratch.  The final product? Functional and cute as can be!  And what is with all these gorgeous remodeled RV bathrooms?  This one proves no exception. This renovated fifth wheel will make you swoon!
These guys managed to fit a full-size crib and two loft bunks in their renovated bunk room.  This RV is ready for adventure!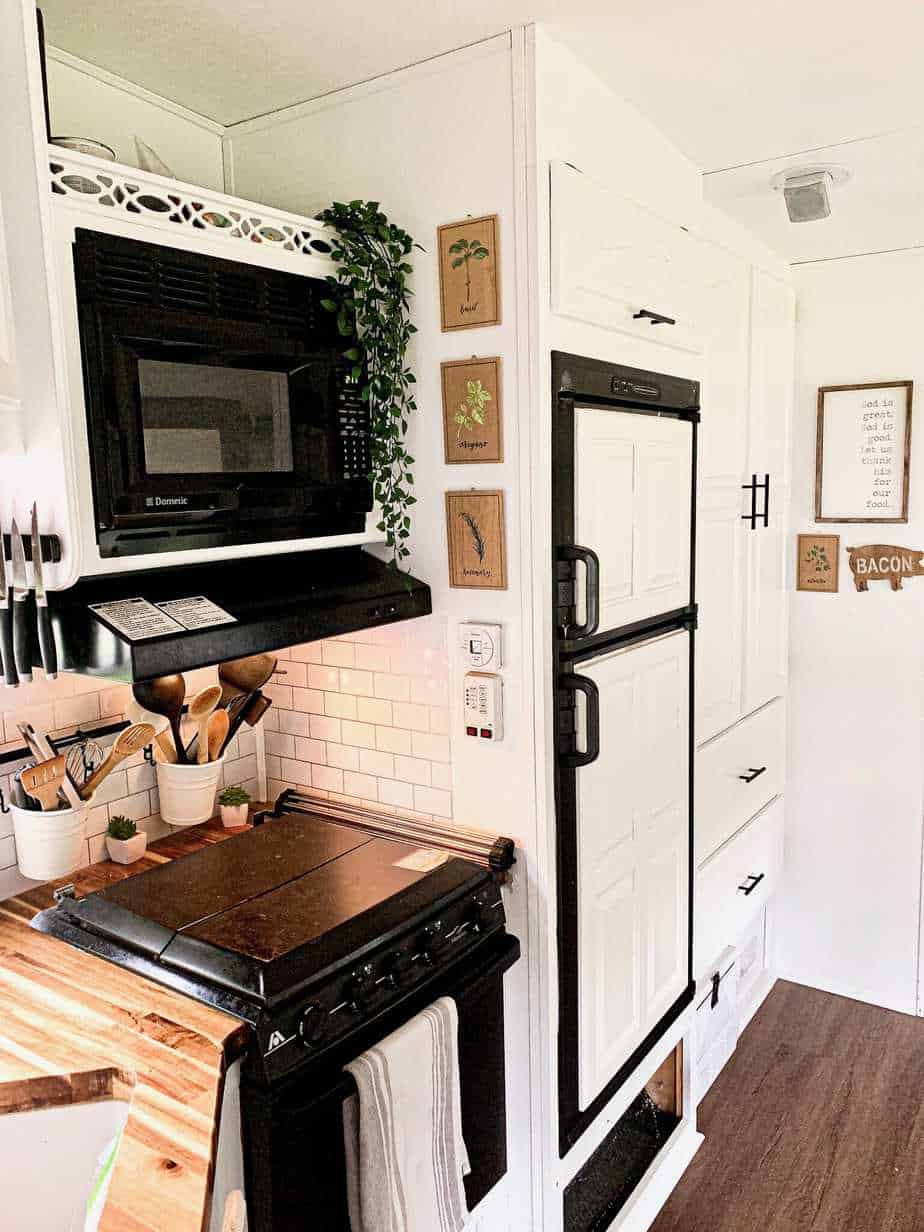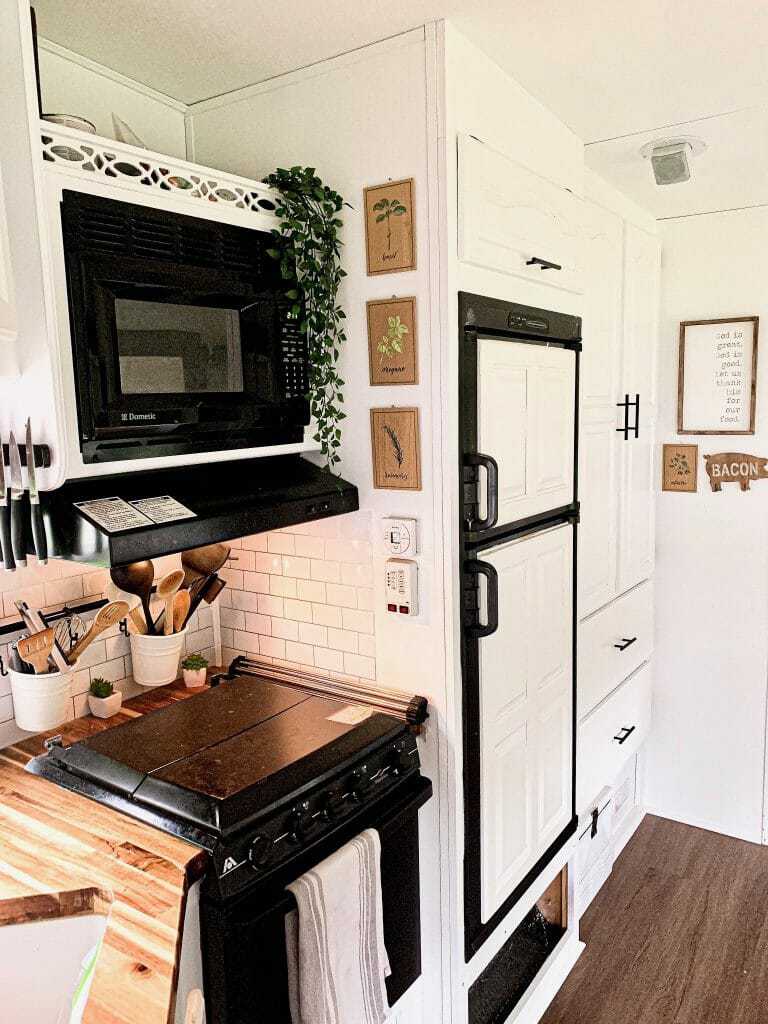 The clean white RV kitchen with custom butcher block counter- need we say more?
Another gorgeous RV bathroom renovation.
Of the RV renovation, Mallory states, "My favorite part of the renovation was the bunkhouse overhaul for our three little boys (4, 2, 1)! We completely gutted and rebuilt it to better fit our family's needs. It was so fun to see a space we dreamt about (and spent many late nights planning) come to life!"
Instagram wins for RV Renovation and Remodel Inspo
The next time you are perusing Pinterest for RV remodel ideas, consider instead browsing on Instagram.
With accounts like the ones featured here, you are bound to find inspiration for your RV renovation.  And if you aren't planning a full RV renovation, the decoration ideas you will find are as innovative as they are beautiful.  Happy browsing!